Joe's Lucha Libre Weekly: News & Analysis (3/3/19)
Joe Dinan takes you on a journey through the crazy world of Lucha Libre for this week!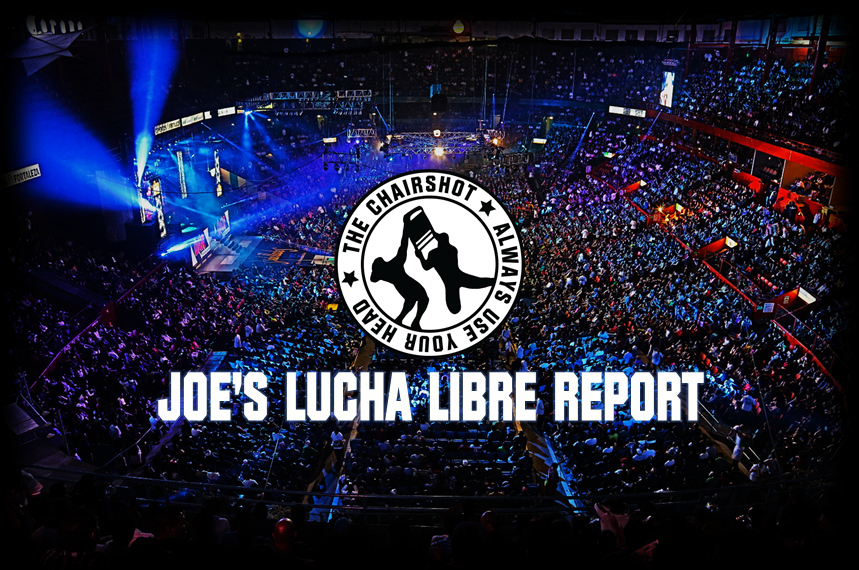 Joe Dinan takes you on a journey through the crazy world of Lucha Libre for this week!
CMLL
No news this week for CMLL as far as I can tell. They'll be on Televisa now and I've heard nothing of removing the Friday stream. I assume they'll keep it since it's airing on delay.
Arena Mexico Last Friday/This Friday
Caristico, Volador, and Mistico faced Sanson, Cuatrero, and Forastero in the main event. It was a very good match which saw the former taking the match in 3 falls with a Caristico arm bar on Forastero. Co-Main event was Angel de Oro, Niebla Roja, and Diamante Azul faced Gilbert El Bourica, Terrible, and Bestia. This wasn't much of a match, it was just furthering the angle. The real match here was Titan vs Cavernario. It was a spectacular match, some calling it match of the year so I suggest you check it out. Titan ended up winning the match which makes you hope they'll give him a push. It also makes you hope they air this match on Televisa.
This Friday's show is looking like this Volador, Angel de Oro, and Niebla Roja vs Rush, El Terrible, and Bestia del Ring. The co-main event is Caristico, Diamante Azul, and El Valiente vs Gilbert El Bourica, Ciber the main man (Cibernetico) and The Chris (El Zorro). So it's interesting that they're back. Titan will face Templario in a lightning match. I wonder if they change it to a normal match like they did with Cavernario.
Arena Puebla Monday
The main event of this show was Ultimo Guerrero vs Vangellys in which Vangellys won. So i have to think down the line it'll set up a rematch for the title in which I assume Ultimo Guerrero will win. Caristico, Mistico, and Soberano faced Mephisto, Ephesto, and Luciferno in the co-main event which saw Mephisto remove Mistico's mask for the DQ. Mistico was upset afterwards. Caristico pointed at everyone in the crowd.
Arena Mexico Tuesday
The main event saw Mistico, Atlantis, and Valiente taking on Villano IV, Ultimo Guerrero, and Hijo Villano III. So Ultimo Guerrero basically worked baby face yesterday but not here. Whatever, who cares about consistency in wrestling. Villano IV removed Atlantis' mask for the DQ. I wonder if they wanna let Atlantis claim Villano IV's mask before he loses his own. I can't imagine Villano IV has much left in the tank. The co-main event saw Kraneo, Volcano, and Stuka take on Mephisto, Luciferno, and Ephesto. It was your standard Kraneo and Volcano match but luckily Los Hijos Del Infiernos won.
AAA
Well they ran no show but I believe Pentagon and Fenix aren't working the CMLL show on the 15th because AAA probably wants to make sure Fenix doesn't kill himself again before a big show. AEW has to worry about this now since Fenix and Pentagon are scheduled to work 7 shows over WrestleMania season.
The upcoming show on March 3rd looks like this, Psycho Clown, Pagano, and Aerostar vs Rey Escorppion, Chessman, and Monster Clown. Not exactly the strongest main event for the go home show to Rey de Reyes, but most feuds are already set. Co-main event looks like Brian Cage, Laredo Kid, and Hijo del Vikingo vs Texnao Jr, Taurus, and Hijo Del Fantasma. That should be fun assuming everyone gets to the show.
Here & There
March 15th will see Rush compete against Bandido at ROH anniversary. Odd that CMLL is letting him miss their show. I guess since he isn't the drawing card. CMLL fans can feel relief that he won't interfere in the main event now. MLW runs live on Saturday where LA Park will take on Mance Warner. I believe the Lucha Bros will be in action as well. MLW also announced a 2 hour live special for WrestleMania weekend. MLW seems to be ramping up the live events. They have to do something to put their name back in and maybe a live show every week for an hour or two will help. I suppose they'll stick to the tape 4 shows and then have a live event formula. With the live show being their pseudo PPVs. There's no other news I can think of at the moment… If there is there's always next week.
Catch CMLL Friday live at 9:30 eastern. You can get there on their website or find a link via Luchablog on twitter. Also AAA will be live around 7-8 eastern time on Twitch. Free for live viewers. If you have a VPN and want to see how the Televisa broadcast looks you can do that. I might. Or if you live in Mexico and come across this. (I doubt it. if so Hola mi amigos.)