Joe's Lucha Libre Weekly: News Analysis (3/9/19)
The crazy world of Lucha Libre continued this week–let's see what happened…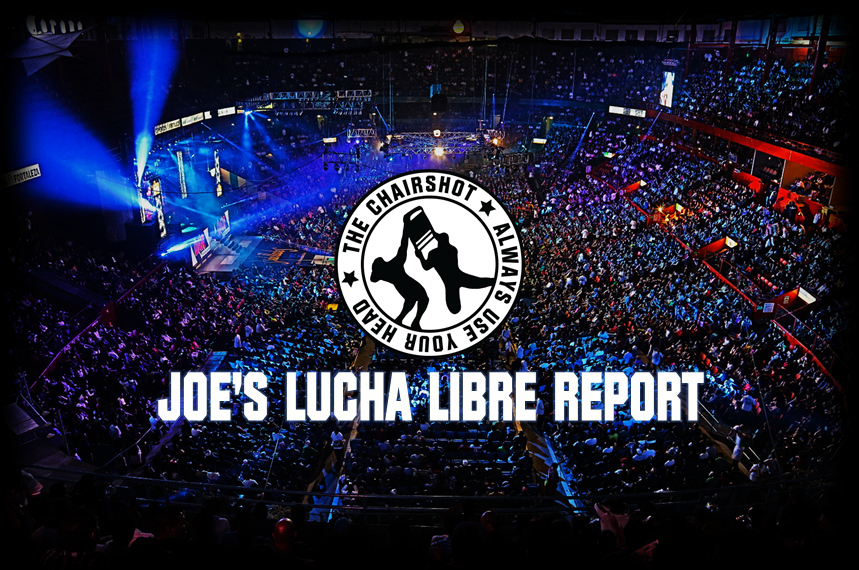 Joe Dinan keeps you up to date on the happenings in the world of Lucha Libre in this week's Lucha Libre Weekly!
The crazy world of Lucha Libre continued this week–let's see what happened…
CMLL
Last Friday/This Friday
The main event of this show was Volador, Angel de Oro, and Niebla Roja faced Rush, El Terrible, and Bestia del Ring and it was a match. It was a two fall match where Angel won the match by DQ groin shot. Rush cut a promo but to me it all hurts because Rush is booked for the ROH ppv the same day as Homenaje Dos la Leyenda. Now maybe the Mexican fans don't know this but I do and anyone with internet who's a die hard wrestling fan in Mexican and who follows independent wrestling because maybe they follow the Crash knows Rush won't be there. Another name who won't be there is Volador apparently. He is booked for another show that day, the same show Pentagon and Fenix are booked for as to why they won't show up. CMLL took Pentagon and Penix off the listing really quick but have left Volador on. So maybe they find a way to get Volador off that booking.
Caristico, Diamante Azul, and Valiente faced Gilbert El Bourica, Cibernetico, and El Zorro or The Chris as they call him. It was a pretty fun match where Azul's mask got removed by Gilbert in the third fall for the win. Azul challenged Gilbert to a mask vs hair match so let's see what happens with that. Titan and Templario had a pretty fun lightning match before all that. This upcoming show will be a hold over show till next week so I don't expect much. Caristico, Angel de Oro, and Niebla Roja will face Rush, Terrible, and Bestia in the main event. So it's basically last weeks match except with Caristico. Co-main event is Diamante Azul vs Gilbert el Bourica in a proper singles match. No mask or hair on the line but it should still be good. I don't know why it couldn't be saved for the PPV. Atlantis, Dragon Lee, and Valiente will face Sanson, Cuatrero, and Forastero. Cards actually not that bad.
Arena Puebla Monday
The main event of this show was Ultimo Guerrero facing Vangellys in a match for the heavyweight championship. It was an alright match but the crowd wasn't that into it. Ultimo Guerrero retained his title. Co-main event Caristico, Mistico, and Soberano took on Mephisto, Ephesto, and Luciferno in a really fun match. Mephisto loss the match by kicking Mistico below the belt.
Arena Mexico Tuesday
The main event of this show was Mistico, Titan, and Soberano facing off against Terrible, Mephisto, and Ephesto. It was supposed to be Negro Casas but he wasn't there but they kept him on the listing anyway. CMLL doesn't typically do that. El Terrible's team won which makes sense because he's in the main event at Dos leyenda. Atlantis, Stuka, and Flyer faced Hechicero, Templario, and El Felino in the co-main event Atlantis beat Hechicero with a roll up in the third fall. Blue Panther faced Luciferno in a lightning match and it was really fun. It's amazing how good Blue Panther is at 58. He did 4 dives in the match and looked like he had so much energy.
AAA
Live on Twitch 3/3
Well boy was this a show. So the main event which wasn't announced on the billboard of the show was the Perro Aguayo Jr cup between La Parka, Blue Demon Jr, and Dr. Wagner Jr. Perro Aguayo Jr was the poor kid Rey Mysterio accidentally killed. A total freak accident. An 80 year old man can take that spot and be okay but either it was a .00001 percent chance of happening or the kids neck was messed up. So this match was odd. Something happened to Blue Demon that busted him open and I believe legitimately rocked him. So he was dazed and the two baby faces double teamed him because they're old school professionals and that's how you work but here it doesn't make sense. The crowd starts to boo them and it's making Blue Demon a baby face which it's not supposed to be. So a bunch of people get sent out. The Mercenaries come out and lay out La Parka to establish him as a baby face again. Dr. Wagner gets beat on and bloodied by Blue Demon when he recovers himself to establish him as the heel again. Regardless he ended up winning in such a weird main event.
The co-main event was Psycho Clown, Pagano, and Aerostar facing Rey Escorpion, Chessman, and Monster Clown. This was a straight up brawl as the main events usually are except this wasn't the actual main event even though I thought it was. Monster Clown pinned Aerostar with a slam where he landed on his head. Everything else was basically a hold over show until the next big AAA show Rey de Reyes. I put the match card in the previous review so look at that if you want to see it.
Here & There
MLW had a good live show last Saturday. The Lucha Brothers faced Laredo Kid and Taurus. You should watch that match for sure. I think LA Park faced Mance Warner at the taping and he's set to face Pentagon Jr on Thursday April 4th. He was supposed to face Rush but Ring of Honor had to ruin that by making him some random wrestler on their horribly booked program where they still wrestle inside of a box except for the G1 super show in which they can thank New Japan for. I still expect Ring of Honor to plummet. New Japan will rebound because they have a great booker. More news of that show is, Dragon Lee will face Bandido and Ishimorii for the New Japan Jr Heavyweight belt. That should be great as well. Impact is doing the Lucha Bros vs Sabu and RVD I believe the same day as LA Park vs Pentagon. That's gonna be a tiresome weekend for top independent guys. Let's hope Fenix doesn't kill himself before Double or Nothing.