Rob: Making A WWE Off-Season Work
A WWE off-season has benefits, but how do you make it work?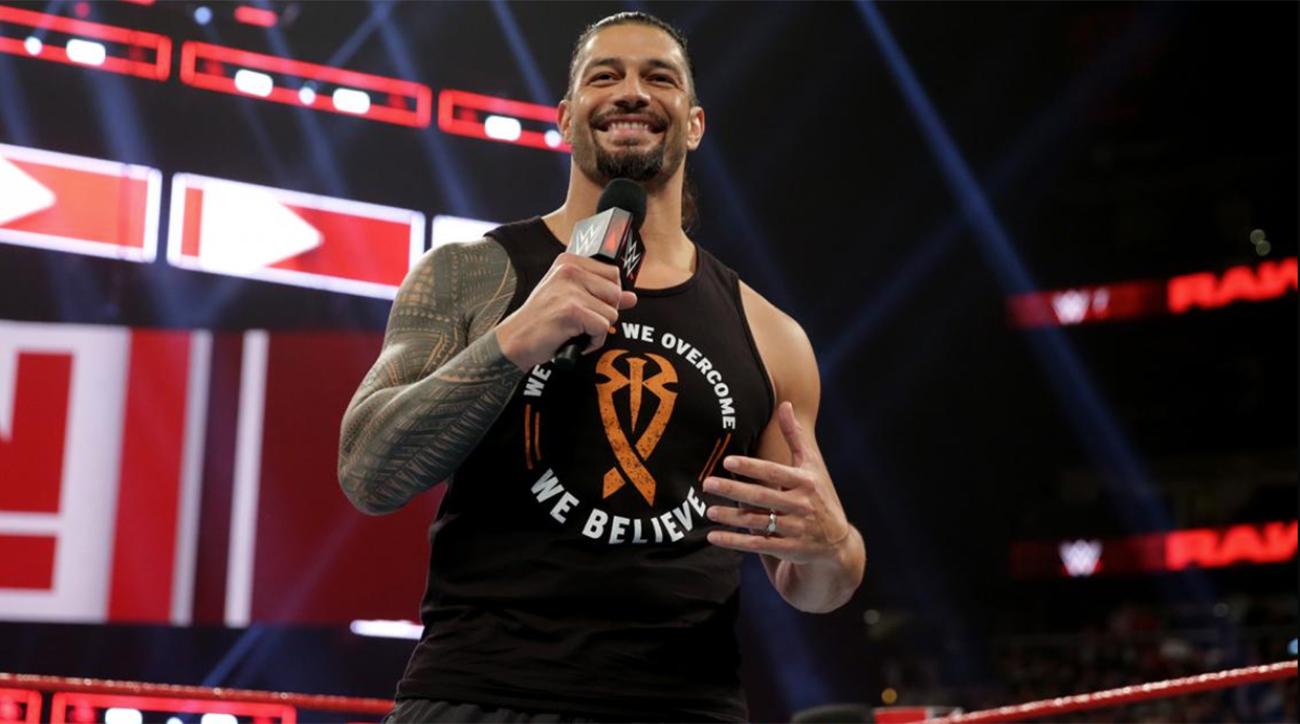 Many have been calling for a WWE off-season for quite some time. How does it work? Rob has some ideas.
One of the highlights of the round of interviews that Roman Reigns did this past week was his support of having some kind of off-season for the wrestlers.  Now that's something I've seen kicked around on Twitter for a while now, especially when we hit one of those stretches where the injuries start piling up. 2015 and 2018 ended particularly bad on the injury front, to the point of seriously affecting the following year's WrestleManias, and 2014 got derailed pretty bad towards the end as well.  So given that three of the last five years saw a lot of people go down in the closing months it definitely makes sense to consider some kind of way to not have all the top guys and gals grinding out every weekend from Friday through the following Monday (and in the case of the Smackdown roster Friday through the following Tuesday) year round.
The only problem is: how do you do it?  As bad as the schedule seems now this is actually the lightest it's ever been; they used to do three or more weeknights plus double headers on Saturdays and Sundays, with significantly worse medical care and time off for injury.  There's a real question as to how you can lighten up the schedule any more than they have.
But that's not all.  There's also the issue of getting guys and gals to agree to take time off in the first place.  Missing a month or more, even for your own good, can be the difference in you getting a title program or missing a show like Money in the Bank or TLC where you have a chance to put on a memorable performance in a signature match.  And that's just for the top people who are sure to get something upon their return.  For the mid and lower card people missing a month or two means losing precious TV time to better familiarize the audience with you, which can in turn affect future pushes or angles for you.
Imagine if Becky Lynch had been scheduled off in November and December of 2018; that would have totally changed the booking of her and Charlotte's match at Evolution (Charlotte wins the title back then for sure) and would have had her off TV entirely right when the infamous Nia Jax punch happened.  More than likely that means no Rumble win and no WrestleMania main event for her.  Even if she was really worn down and needed a break really badly, you think she's gonna just accept it right when she was reaching the hottest point of her career?
So…….what to do?  We have to make a couple of big concessions first.  One is that the company is running all year.  The networks are paying for twelve months of programming, and a lot of that time is during months where TV is otherwise dormant and they can capitalize on less competition.  RAW getting 2 to 3 million viewers in the middle of July and even up against Monday Night Football is a huge win for USA network, probably more so than during WrestleMania season, because those July numbers are happening when most everyone else's are a fraction of what they usually get.  That will apply to Smackdown as well, both for the next few months on USA and especially on FOX.
Wrestling is an out of sight, out of mind form of entertainment and they will never risk going dark for three months and giving people time to get into something else.  The other concession is that during WrestleMania season it's all hands on deck.  You'd have to lock someone in prison to get them to forego a run during that time and the possibility of a WrestleMania moment and bonus.  I don't care what kind of physical condition Kofi Kingston is in right now there is no way that he'd have elected to go home given what's on deck for him.
So…..what can we contemplate here?
House Show Relief
This is the first and easiest option, I think.  Right now RAW runs house shows Friday through Sunday and Smackdown does them Friday through Monday.  There's no reason why you have to run the same lineup every night the whole weekend.  They have enough people to swap people in and out so that some RAW guys can get one of those three nights off and the Smackdown guys can get one or two of those four straight nights off.  Like you don't have to run The Usos vs The Bar vs New Day four nights in a row.
Whoever's holding the titles at the time will need to work more but you can swap out either of the other two teams for someone else or no one at all.  Asuka vs Charlotte four nights straight and then one or both doing TV on the fifth night doesn't need to happen; no reason you can't mix in a different challenger one night and have Charlotte take on one of the other women a different night.  You obviously can't give all your important people the same night off but they have enough people to mix it up some now.
Time Off Of TV
This is a bit dicier.  In theory you could write one of your top people off TV at a time so they can get a break, and put them back in as soon as they return.  Roman Reigns, Seth Rollins, AJ Styles, Charlotte Flair, Becky Lynch, and others like them can go away for a month and pick up right where they left off with no problem.  The only issue is what happens if there's a ratings dip.  We've seen how things went on RAW when Roman was out with no end in sight.  A month away may not hurt, and would help from a personal and creative standpoint, but will have a lot of people checking out until he returns.  And on a three hour show like RAW one big absence can leave a crater sized hole.
As for the mid and lower card guys and gals, well a lot of them already get de facto breaks as it is when they get stuck in catering for weeks at a time.  Kinda hard to say they need time off when they get a lot of it anyway.  And given that any of them could get inserted into an angle at a moment's notice I doubt you're going to see them be all that eager to head home for a month and miss their chance.  The only thing I can think of is to give all the major players one Monday or Tuesday night off a month.  If need be you can tape some stuff with them so that they can still appear on the show. But longer stints away probably aren't ever going to become a thing.
So those are my ideas.  A wrestling off-season is something that is great in theory, but is a lot more difficult to execute in a way that does not hurt your business.  I'm open to any ideas or suggestions you guys might have.  I think that it is doable but it's going to take a lot of people from Vince to the wrestlers to us as fans to change how they think.
Andrew's Top 5 Matches: Week Ending 7/21/2019
The G1 Climax is in full swing, along with some other shows and matches. How much of the Top 5 does New Japan dominate?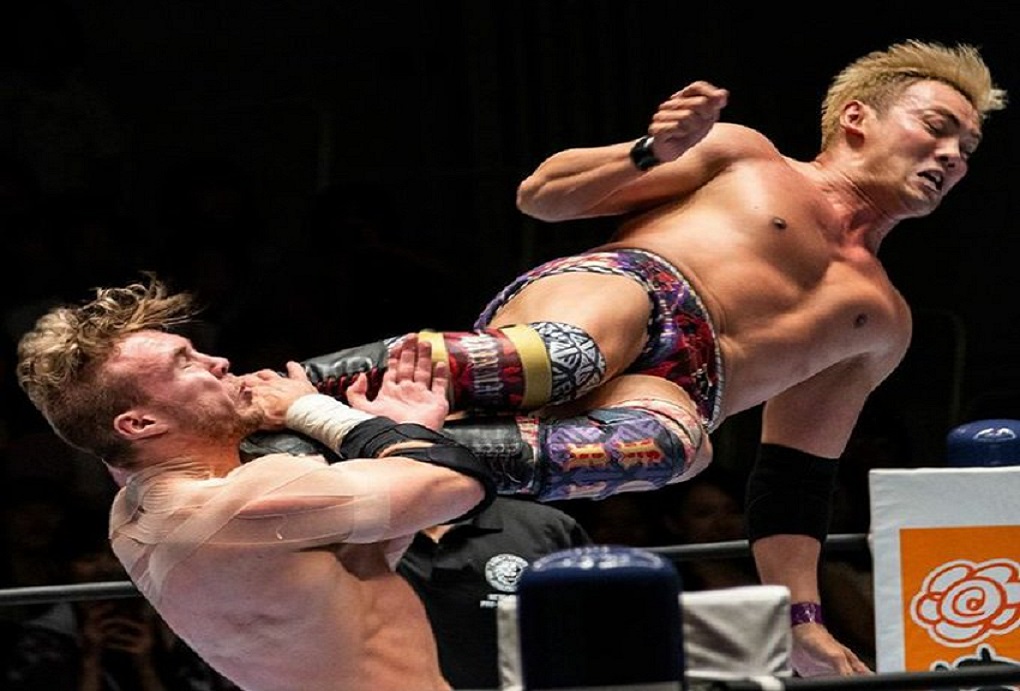 The G1 Climax is in full swing, along with some other shows and matches. How much of the Top 5 does New Japan dominate?
Well in a very close vote last week, NJPW G1 Climax 29 Night 3: Block A: Kazuchika Okada vs Zack Sabre Jr, edges out the competition by 1 vote.
This now makes for another interesting week. ROH had a free match that barely missed the cut, 205 Live had a great match, and to make sure that the week wasn't filled with only Japanese matches, we'll break out to 7 matches this week.
So let's see what we're working with!
5t. NJPW G1 Climax 29 Night 5: A Block: SANADA vs EVIL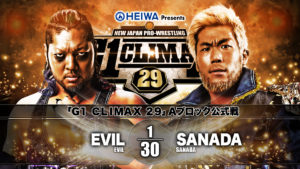 From My Analysis:
EVIL and SANADA have this brotherly rivalry in LIJ. Being former 2 time IWGP Heavyweight Tag Champions, familiarity is obvious. SANADA starts off the match quickly and this is definitely a match of quick bursts when the one gets an advantage. I guess they are transitioning SANADA away from the Paradise Lock since this is the second match where he had it mostly on, but "something happened" and the opponent gets out of the move. We get a bunch of great back and forth, but something that continues to plague SANADA is his limited moveset when it gets down to crunch time. EVIL pulled out a plethora of tricks, including using the referee as an anchor for the Magic Killer. Whereas, SANADA sticks to Dragon Sleeper variants, into Skull End attempt or a Moonsault. With how over SANADA is, I really expect him to start getting more crunch time maneuvers. EVIL wins and quickly wants to bury the hatchet by extending the LIJ fist bump. SANADA bumps fists, and all is fine in our ungovernable world.
Winner: EVIL via Everything is Evil
Rating: **** 1/4
5t. 205 Live: Chad Gable vs Jack Gallagher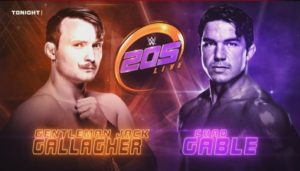 Snippet from Mitchell's Coverage:
Gable throat chops and rolling kicks! But Gallagher uses the ropes to rebound, for the Extraordinary Headbutt!! He falls to the cover, TWO!? Gable survives and Gallagher can't believe it! Both men slowly stir and head for each other. Gallagher grimaces as he SLAPS Gable. Gable SLAPS back and now it's a brawl! They throw forearms and elbows, then Gallagher fires off body shots and windmill fists! The ref counts and Gallagher stops. Gallagher whips Gable corner to corner, then runs in, but misses his dropkick! Gable catches Gallagher into the Canadian Rack! Dominator DDT! Cover, TWO!! Gallagher still lives and Gable is in shock!
Fans fire up as Gable drags Gallagher to a drop zone. Gable climbs up and moonsaults, to get boots to the gut! Gallagher hits his Extraordinary Dropkick!! Cover, ROPEBREAK!! Gallagher is the one in shock now! Gallagher drags Gable up and hoists him to the top rope. He clubs Gable over and over before climbing up top. Gable fights back with elbows, but Gallagher clubs him more. Gallagher still staggers down, but clubs Gable into the post. Gallagher climbs up again, stands up with Gable, SUPER BACK SUPLEX, becomes Gable's crossbody! Gable glares, rolls Gallagher, CHAOS THEORY!! Bridging cover, Gable wins!!
Winner: Gable via Chaos Theory German Suplex
Rating: **** 1/4
3t. NJPW G1 Climax 29 Night 4: Block B: Tomohiro Ishii vs Jay White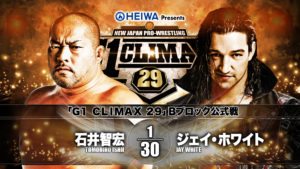 From My Analysis:
Jay White starts off against two of the heavier hitters from Chaos, his former stable. After taking Goto lightly, Ishii comes into this match after a big win over Jeff Cobb. White came into the match less relaxed, but still playing up his smarmy character. Ishii laid into Jay the whole match, where Jay tried to outsmart the Stone Pitbull, but Jay isn't as clever as he thinks he is. A great match with well placed false finishes and a lot of tension. Fantastic back and forth, plus Ishii picking up the win is something special.
Winner: Ishii via Vertical Drop Brainbuster
Rating: **** 1/2
3t. NJPW G1 Climax Night 6: B Block: Jon Moxley vs Tomohiro Ishii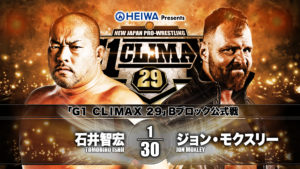 From My Analysis:
Moxley versus Ishii was the insane hard hitting match we expected. Ishii even flew. He hit a splash on Moxley through a table. The Stone Pitbull flew. Yes I realize there is a callback to Masato Tanaka in that move, but you don't understand, Ishii flew. Anyway, the beauty of Red Shoes as a referee is he understands each wrestlers personality, so he gives them a little more leash to do what they like to do. Moxley used weapons, Ishii egged it on, there were huge strikes, Ishii's torpedo style rising headbutts and just good violence. This was a bar fight and no one was upset. Moxley getting the win was a little surprising since most of us assume he won't be available for many if any later dates once AEW TV starts up. This was just a nice change of pace for the usual New Japan and/or Strong Style match.
Winner: Moxley via Death Rider
Rating: **** 1/2
3t. NJPW G1 Climax 29 Night 7: A Block: Will Ospreay vs Kazuchika Okada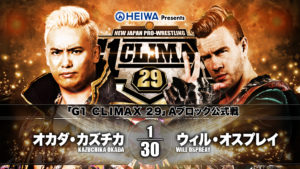 From My Analysis:
Okada and Ospreay were expected to blow the roof off, and well I'd say this was a damn good shot. Ospreay is obviously dinged up, but he fought through the pain and pulled off numerous flipping counters and found a few different ways to hit the Os-Cutter. They both let their personalities fly and this was a lot of fun to watch. Okada always has this older brother aura since he's the one that brought Ospreay to New Japan and Chaos, so whenever they get together, it's very much like two siblings trying to outdo the other. Ospreay had a great flurry at the end, flipping through a Rainmaker attempt, to try his Stormbreaker, but Okada flipped through that and hit a short arm lariat. Rolling Rainmaker and a normal Rainmaker later, Okada edges out the little brother. Great match.
Winner: Okada via Rainmaker
Rating: **** 1/2
Honorable Mentions:
Dragon Gate Kobe World Festival: Open the Dream Gate Championship: PAC (c) vs Ben-K
Winner: Ben-K via Ben-K Bomb
Rating: ****
NJPW G1 Climax 29 Night 6: B Block: Shingo Takagi vs Taichi
Winner: Takagi via Last of the Dragon
Rating: ****
ROH: The Briscoes vs RUSH & Dragon Lee
Winner: RUSH via Horns of the Bull
Rating: ****
NJPW G1 Climax 29 Night 7: A Block: Kota Ibushi vs SANADA
Winner: Ibushi via Kamigoye
Rating: *** 3/4
NJPW G1 Climax 29 Night 4: Block B: Taichi vs Tetsuya Naito
Winner: Taichi via Last Ride
Rating: *** 3/4
NJPW G1 Climax 29 Night 6: B Block: Tetsuya Naito vs Hirooki Goto
Winner: Naito via Destino
Rating: *** 3/4
NJPW G1 Climax 29 Night 5: A Block: Zack Sabre Jr vs Hiroshi Tanahashi
Winner: Tanahashi via Triangle Counter Pin
Rating: *** 3/4
Dragon Gate Kobe World Festival: Ultimo Dragon, Dragon Kid & Masato Yoshino vs Shuji Kondo, Masaaki Mochizuki & Takuya Sugawara
Winner: Ultimo via La Magistral
Rating: *** 1/2
NJPW Climax 29 Night 6: B Block: Jeff Cobb vs Juice Robinson
Winner: Cobb via Tour of the Islands
Rating: *** 1/2
NJPW G1 Climax 29 Night 4: Block B: Juice Robinson vs Hirooki Goto
Winner: Juice via Pulp Friction
Rating: *** 1/2
NJPW G1 Climax 29 Night 7: A Block: KENTA vs EVIL
Winner: KENTA via Go 2 Sleep
Rating: *** 1/2
IMPACT!: Mash-Up Finals Elimination Match: Eddie Edwards & Moose vs Willie Mack & Michael Elgin vs Jake Crist & Wentz vs Sami Callihan & Tessa Blanchard
Winner: Sami & Tessa
Rating: *** 1/4
NJPW G1 Climax 29 Night 4: Block B: Jon Moxley vs Jeff Cobb
Winner: Moxley via Draping Death Rider
Rating: *** 1/4
NJPW G1 Climax 29 Night: A Block: KENTA vs Lance Archer
Winner: KENTA via Game Over
Rating: ***
NJPW G1 Climax 29 Night 5: Shota Umino & Jon Moxley vs Tomohiro Ishii & Yuya Uemura
Winner: Shooter via Fisherman Suplex Hold
Rating: ***
NJPW G1 Climax 29 Night 4: Minoru Suzuki, Yoshinobu Kanemaru, Zack Sabre Jr & Lance Archer vs KENTA, Clark Connors, Karl Fredricks & Hiroshi Tanahashi
Winner: Kanemaru via Deep Impact
Rating: ***
IMPACT!: Trey & Dave Crist vs Sami Callihan & Tessa Blanchard
Winner: Callihan via Piledriver
Rating: ***
NJPW G1 Climax 29 Night 7: Taichi, Minoru Suzuki & Yoshinobu Kanemaru vs Toru Yano, Hirooki Goto & Yuya Uemura
Winner: Kanemaru via Deep Impact
Rating: ***
WWE SmackDown Live: The New Day vs Randy Orton, Elias & Samoa Joe
Winner: Orton via RKO
Rating: ***
2. Dragon Gate Kobe World Festival: Open the Twin Gate Championship Triple Threat: KAI & YAMATO (c) vs Eita & Big R Shimizu vs Naruki Doi & Kaito Ishida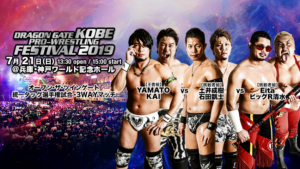 Well we bring ourselves back to Dragon Gate. This show featured the return of Ultimo Dragon after quitting 15 years ago and an Open the Dream Gate match where PAC finally lost. So I was interested in the show for those two reasons, and then decided to watch this as well.
From what I could gather, the story was the Doi and Ishida were the scheduled opponents, but Shimizu and Eita shoehorned themselves into the match in typical heel fashion. It added an interesting dynamic since Doi and YAMATO's teams are fan favorites, so it gave everyone an easy focal point for hatred.
The match started with one man from each team in, but broke down a little bit when the dives and tandem attacks began. The beauty in this match was watching how perfectly YAMATO and Doi work together. Even though they weren't on the same team, there were numerous times the 4 faces ganged up on the heels. Doi would pull off a move and YAMATO would fly in at the perfect time from off camera for nice tandem strikes.
However, the heel team doesn't respect Ishida and took every opportunity to separate him from Doi and pick at the weak link. Eventually Ishida gets pinned, and it comes down to the champions against the heels. Some decent back and forth, more chairs than an Applebees and one very cocky Salamander later, and we have new champions!
The beauty in this match was really how buttery smooth the transitions and strikes were with Naruki, YAMATO and either of the heel wrestlers. Just a damn entertaining match…but Shimizu needs a new finish. The Shot Put Gummy Bear Bouncing Chokeslam needs to get retired.
Winner: Eita wins via Salamander
Ratings: **** 1/2
1. NJPW G1 Climax 29 Night 5: A Block: Kota Ibushi vs Will Ospreay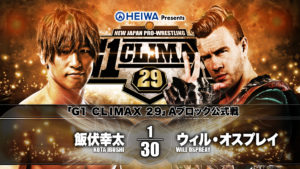 From My Analysis:
There have been well known injuries for both of these men, and they played into the story of the match well. Focusing on each other's injuries, calling back to their Wrestle Kingdom match and just a generally high energy and high impact match. Watching this match, you have to assume one of them will die with their style, but it is damn entertaining. Everyone expected this to be a great match and it delivered.
Winner: Ibushi via Kamigoye
Rating: **** 3/4
Thoughts:
Hey, there's been a lot of wrestling this week and most of what I've seen is from New Japan. Yes, primarily because I'm covering it for the site, but it's also the G1. I'm just happy that 205 Live and Dragon Gate managed to make a big enough splash to get in the Top 7…5…numbers.
I guess I have to pick one, but that's not really easy. Umm…ya know, I did find myself enjoying the Twin Gate match quite a bit, save for Shimizu's Gummy Bear bouncing slam. So I'll give my vote for, Dragon Gate: Open the Twin Gate Championship Triple Threat: KAI & YAMATO (c) vs Eita & Big R Shimizu vs Naruki Doi & Kaito Ishida.
Chris's Insanely Early 2019 SummerSlam Match Predictions
Chris King jumps ahead to WWE SummerSlam 2019 and predicts the card we may see in Toronto next month!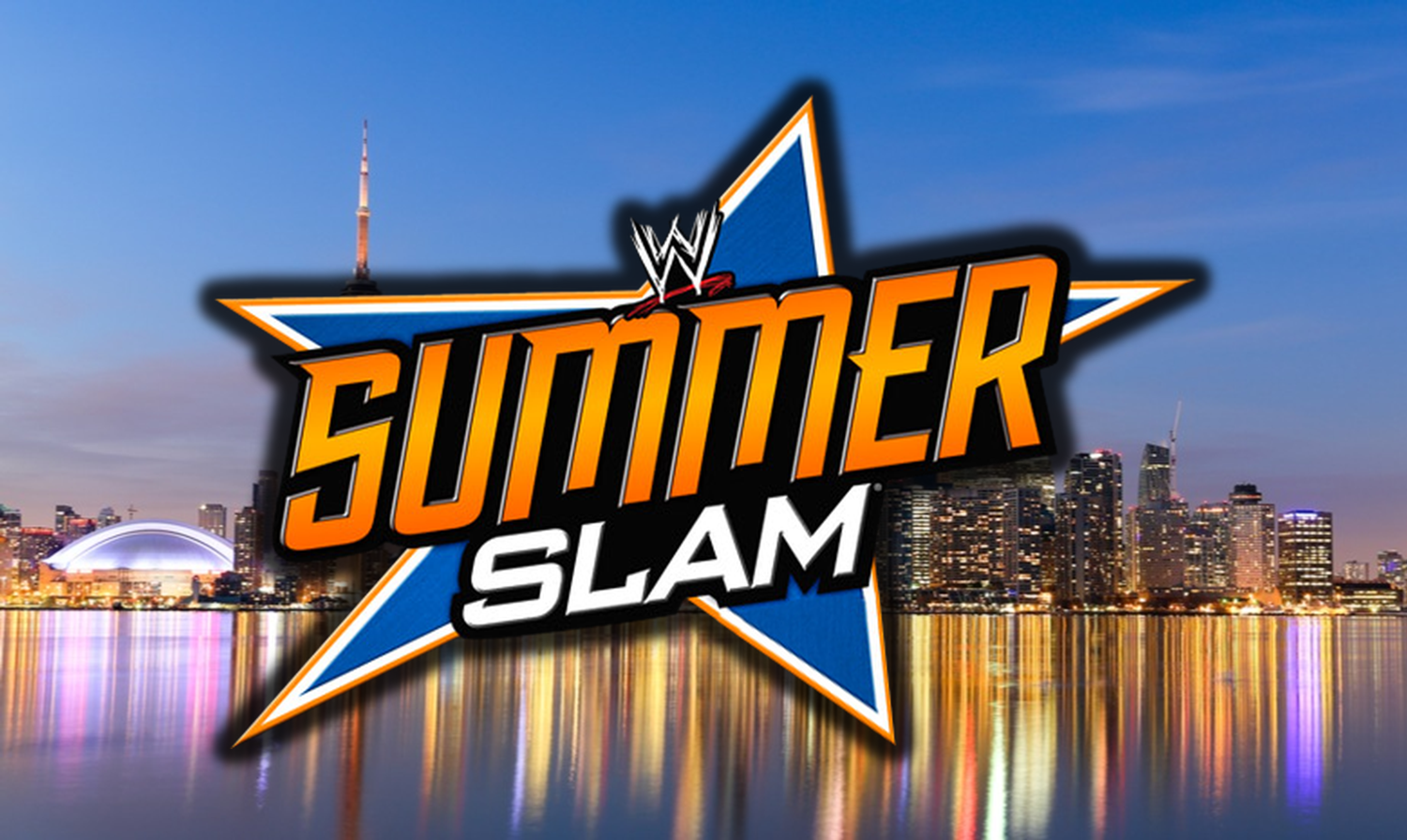 Chris King jumps ahead to WWE SummerSlam 2019 and predicts the card we may see in Toronto next month!
This past Sunday at WWE Extreme Rules the WWE Universe was shaken to its core when Brock Lesnar cashed-in on Seth Rollins to become a 3X-Time Universal Champion! On Raw "The Beastslayer" outlasted nine other competitors (one of them originally announced as Daniel Bryan but then changed to Sami Zayn) in the first-ever cross-brand All-star 10-Man Over-The-Top Battle Royal to get his rematch at SummerSlam.
Natalya also won a fatal-four-way to become The Man Becky Lynch's challenger for SummerSlam. We also witnessed the amazing debut of The Fiend as Bray Wyatt hit Sister Abigail on Finn Balor! Shortly after it was announced that Wyatt and Balor are set to do battle again at WWE SummerSlam!
On this past Tuesday's episode of SmackDown Live, In a six-man tag team match with Randy Orton, Elias, and Samoa Joe vs. The New Day Orton pinned the WWE Champion clean. We also got Round II of Cesaro/Aleister Black, and Black won decisively. Also, Bayley teamed with Ember Moon to face Fire and Desire (Mandy Rose and Sonya DeVille. In their post-match celebration Moon accepted Bayley's challenge for the SmackDown Women's Championship at SummerSlam.
Last but certainly not least, Kevin Owens once again defied Shane McMahon and his myriad of corporate stooges and stunned the boss not once but twice! Below I will be giving my predictions for the rest of the matches to be included for SummerSlam.
Chris's 2019 SummerSlam Match Card Predictions
WWE SummerSlam Kick-Off Show
WWE Intercontinental Championship
Shinsuke Nakamura © vs. Mustafa Ali
Gimmick Match for the WWE 24/7 Championship
R-Truth © vs. Drake Maverick
Fatal-5-Way Match for the WWE Cruiserweight Championship
Drew Gulak © vs. Tony Nese vs. Akira Tozawa vs. Jack Gallagher vs. Oney Lorcan
WWE SummerSlam Pay-Per-View
SmackDown Tag Team Championship
New Day © vs. Heavy Machinery
Fatal-4-Way Tag Team Match for the Raw Tag Team Championship
The Revival © vs. The Usos vs. Luke Gallows and Karl Anderson vs. The Viking Raiders
Charlotte Flair vs. Liv Morgan
2-Out-3 Falls Match for the WWE United States Championship
AJ Styles © vs. Ricochet
Aleister Black vs. Cesaro (part 3)
Triple Threat Match for the WWE Women's Tag Team Championship
The IIconics © vs. The Kabuki Warriors vs. Mandy Rose and Sonya DeVille
Kevin Owens vs. Drew McIntyre
Alexa Bliss vs. Nikki Cross
Samoa Joe vs. Roman Reigns
Bray Wyatt (The Fiend) vs. Finn Balor (The Demon)
Rey Mysterio vs. Baron Corbin
SmackDown Women's Championship
Bayley © vs. Ember Moon
Raw Women's Championship
Becky Lynch © vs. Natalya
WWE Championship
Kofi Kingston © vs. Randy Orton
Universal Championship
Brock Lesnar © vs. Seth Rollins