(NOAH) WEEKLY NEWSLETTER VOL.26 ~ 10TH MARCH 2019
The first new show of the new NOAH era is in the books! Hisame breaks down the aftermath and what it all means!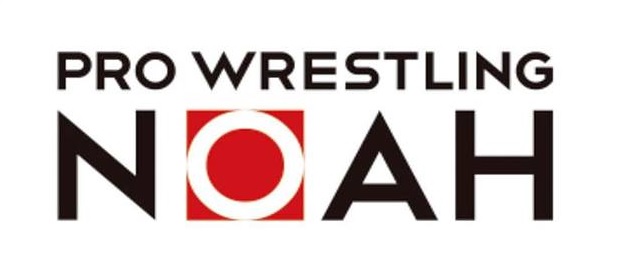 The first new show of the new NOAH era is in the books! Hisame breaks down the aftermath and what it all means!
CURRENT TOUR RECAP
NOAH returned to Yokohama and held their annual big event on March 10th 2019. I am unsure of the exact attendance, as since NOAH changed their site, they are no longer announcing it. 
The green may have been gone from the event, but lingering reminders of NOAH's past remained, and the new owners took pains to remind people that this regime might be "leaving Misawa", but it was not totally leaving Misawa behind.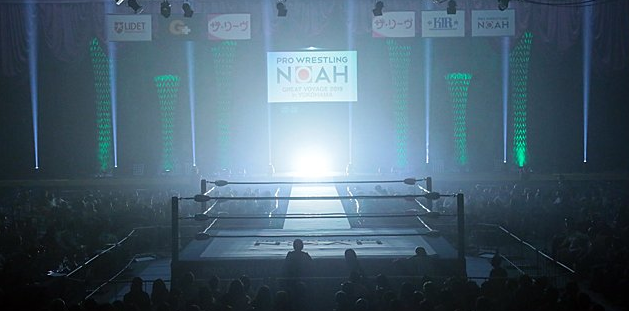 The new ring was black and white, just very simple in design with a white canvas, a black apron, and the NOAH logo in the middle of the ring. The event started with "Spartan X" (Mitsuharu Misawa's theme) playing, and a video tribute to him being shown.
NOAH might have changed, its old colors might have gone, but Misawa is the creator and although his role now might be lesser than it was, his presence will always be on whatever voyage NOAH takes. The roster (including Atsushi Kotoge) came to the ring and lined up on either side of the ramp, with the GHC Heavyweight champion, Kaito Kiyomiya, and Naomichi Marufuji, the challenger (plus the vice president of NOAH), going down to the ring. No one cut a promo, they just stood under a white light. Their actions were symbolic; white of course in Japanese culture being the color of blessings, joy and new beginnings. 

~ Kenoh did not stick around to celebrate with his team when they won, he went stalking to the back scowling, leaving everyone else in the ring.
~ Mitsuya Nagai had an interesting evening to say the least; taking a momentary break from being bald and angry he appeared with 50 Funky Powers wearing flashing disco glasses, however his mood soured when they wouldn't let him pose with them, and then when his team lost, he went back to yelling at them. Nagai later appeared in the ring in the evening saying he was looking for a tag partner for Global Tag League 2019 that would shake things up, and telling a woman she was a "noisy old bag". He got a tag partner, but not one that he thought that he would get, when Atsushi Kotoge appeared and offered to be his partner. Nagai (after looking at Kotoge warily, which is how most people look at Kotoge), accepted, and he left the ring wearing the paisley shawl that Kotoge had bought with him. 
~ NOSAWA Rongai accompanied KAZMA SAKAMOTO to the ring for his match against Takashi Sugiura, but didn't get involved in the match. 
~ Kenta Kobashi came out during the interval and asked for the fans to support NOAH and for the new fans to stay with the promotion and do the same, and ended with "together we can build a new NOAH". Kobashi was also special guest commentator for the second half of the event.
~ Yoshinari Ogawa and Kotaro Suzuki defended the GHC Junior Heavyweight tag titles against HAYATA & Tadasuke. The match lasted only about 11 minutes before Ogawa got HAYATA to tap out.
~ Minoru Tanaka won the GHC Junior Heavyweight title in his 25th year of wrestling, by defeating Daisuke Harada for it. Minoru Tanaka now has held all three Junior belts in what was once known as the "Big Three"; New Japan, All Japan and NOAH.
~ AXIZ (Go Shiozaki and Katsuhiko Nakajima) defended the GHC Heavyweight titles against Eddie Edwards and Masa Kitamiya.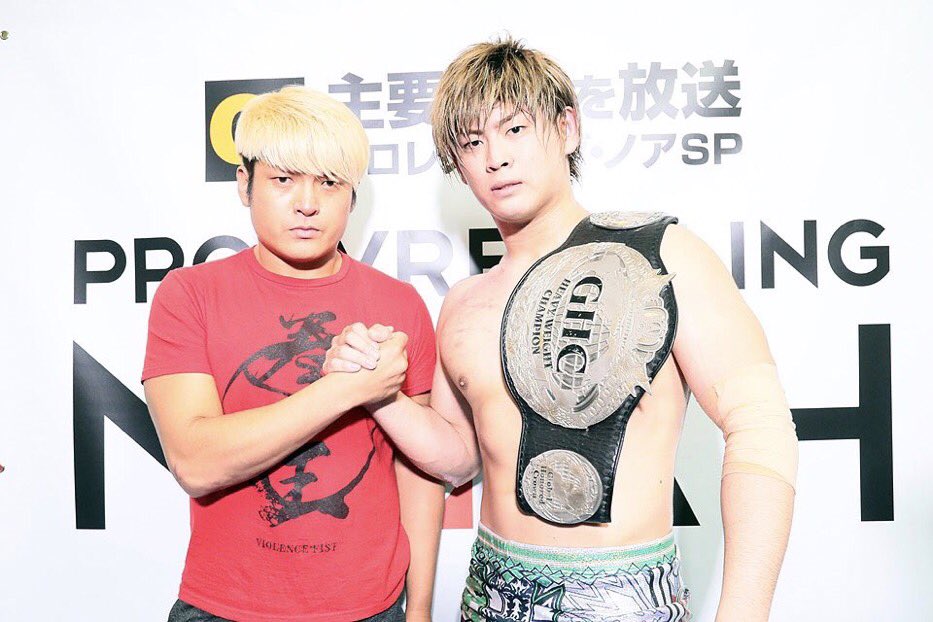 Kaito Kiyomiya defended the GHC Heavyweight Championship against Naomichi Marufuji. After the match he called Kenoh to come to the ring and told him that he wanted them to team together for Global League 2019, and together they would "create a new NOAH". Kenoh (after telling him that he didn't appreciate being called to the ring by this "asshole boy") told him that he saw what he meant and that he would tag with him, and together "we would take you assholes to The Budokan". 

After Kiyomiya had thanked everyone for coming today, green ribbons came down from the ceiling reading, "Mitsuharu Misawa-san, you will forever be in our hearts as we set out on a new voyage" on them. After the ribbons had fallen and the fans left, the arena faded to black with a green spotlight shining on the ring.

No titles were challenged for today, which is unusual for NOAH. 
You can read the detailed event recap here

The next tour is "Spring Navigation 2019" which starts on the 16th March
NEWS
NOAH's Big Announcement
NOAH announced on Friday 8th March that they had some "important news" to announce at the event in Yokohama on the 10th. Most peoples first reaction was that NOAH would announce that KENTA was returning to NOAH. I didn't think this was likely as most people tend to go to ground when they have a ninety day clause in their contact, and KENTA, never known for being particularly loud or vocal about much, has pretty much kept quiet about what he is going to do, except for popping up to say "THANK YOU" about the last green ring in NOAH- but that is no way and indication of any future plans. Other ideas ranged from someone retiring to a freelancer signing with the promotion, to NOAH finally announcing a streaming service.

What the news was in the end was the announcement of two very big (and it must be said, very ambitious), shows that NOAH are going to hold in the autumn and the winter of 2019:
16th September – Osaka Prefecture First Gymnasium (aka Osaka First Arena)
2nd November – Sumo Hall
Osaka Prefectural Hall (otherwise known as Osaka First Arena) is something that Daisuke Harada has been talking about. It's kind of like his own personal Budokan, and for the juniors, Osaka has become an important place as its kind of like their town where they main event and the heavyweights take a smaller role on the card. 

Sumo Hall (I use the Western translation which makes it easier for the majority of my readers, but yes, it is otherwise known in Japanese as Ryōgoku Kokugikan), is of course where NOAH held Naomichi Marufuji's "Flight" in September 2019. 

Probably due to the fact that they feel they have the momentum, and probably due to the schedule of both buildings themselves, and most likely due to the fact it gives them six and nine months to build up to it, and plus their own yearly schedule of events, would explain why NOAH are holding these events later in their year.
"Misawa's Three Forever – Interview with Yoshinari Ogawa & Kotaro Suzuki"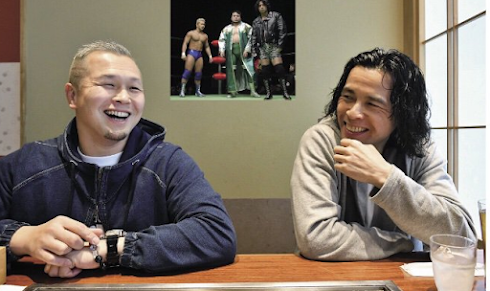 Yoshinari Ogawa and Kotaro Suzuki gave an interview to "Weekly Pro" during the past week. They discussed Misawa and how for the longest time since he died, they can't talk about him; Ogawa says he still can't, but Suzuki is starting to open up a bit, but he doesn't really like to share his memories. Interviews with Yoshinari Ogawa are rare, as he doesn't tend to give them very often, and so this one was a treasure. 

Kotaro Suzuki, while naturally deferential to his senior, isn't scared to tease him once in a while, such as when Ogawa said that he didn't remember teaming with Minoru Tanaka and winning the GHC Junior Heavyweight tag belt last year, or when he asked him the secret of his youth. 
Other subjects they discuss are the NOAH junior, Suzuki returning to NOAH, the missing years of his absence, RATELS and they hint of a coming generational struggle among the juniors. 

Its an interesting interview, and worth a read. 

Atsushi Kotoge's return
Atsushi Kotoge has announced he will return from arm and elbow injury in April, just in time for Global Tag League 2019. 

NOAH's Entrance Theme Music CD

NOAH announced further tracks to be included on the album, which will be released in April, would include:

Katsuhiko Nakajima: Genius of The Kick
Daisuke Harada: KTYM
Quiet Storm: MAD
Pro Wrestling NOAH theme: Brave
GHC Jnr Theme
GHC Tag theme
Kaito Kiyomiya: Explosion Soul
Atsushi Kotoge: Switch On
Masa Kitamiya: Go For Broke
Go Shiozaki: Enforcer
Naomichi Marufuji: Hysteric
Theme of Global League
RAN: SAKURETSU (Pro Wrestling NOAH's official song)

CURRENT CHAMPIONS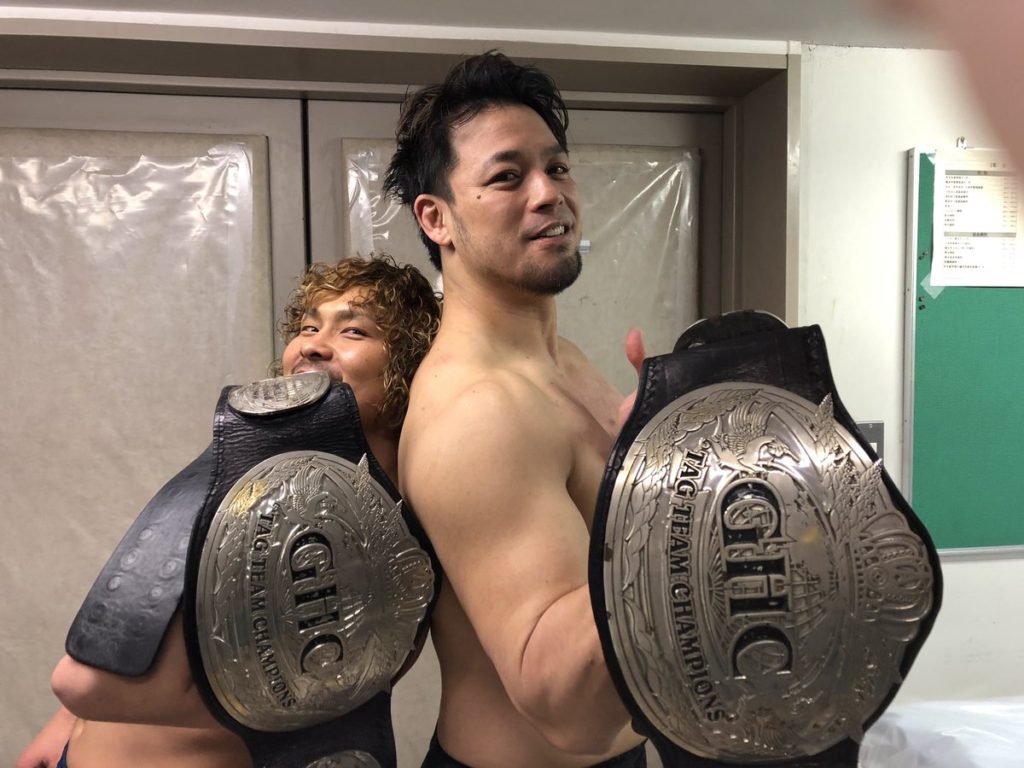 TOUR TIDBITS
~ Tadasuke said that HAYATA and himself became close during the Osaka Pro days when they played table tennis together at the dojo. Management noticed how well they worked with each other when playing it, and a tag was formed from that.
~ HAYATA has dyed his hair black to differentiate himself and Tadasuke from himself and YO-HEY, with YO-HEY they were known as "The Blonde Couple", Tadasuke is also a peroxide blonde.
~ Katsuhiko Nakajima imitated Yoshinari Ogawa, and claimed that he had no memory of either Masa Kitamiya or tagging with Masa Kitamiya or winning the belts with Masa Kitamiya.
~ Kaito Kiyomiya did some MMA training with Sakuraba prior to the match in Yokohama. Sakuraba said he would consider coming to NOAH (where he would face Takashi Sugiura due to the background in MMA) if there was an offer.
~ Katsuhiko Nakajima turned 31 on the 11th March, he will be holding a birthday event later in the month for a few fans. He said his best present was having the belt. 
~ Kenoh said that he might have been teaming with Kaito Kiyomiya, bus his ambition was still the singles belt. 
~ The news came that Wally Yamaguchi, (who worked for NOAH after WWE) has passed away.
~ Recent NOAH videos have begun to be removed from YouTube. This could indicate that a streaming service is finally coming, or, it could just be the network cracking down on something they have let happen for a long time. ~ LEONA confirmed on "Satoko's Lounge" that he will be returning to wrestling after rehabbing from a leg injury he suffered last year.

BROADCASTS
"Great Voyage in Yokohama 2019" will be broadcast on the 16th March at 8.30pm JST on G+
G+ will broadcast the 17th April show on April 20th, they will also show the 28th May Korakuen Hall show live

LINKS
Interview with Tadasuke & HAYATA 
GHC Junior Heavyweight match signing: Minoru Tanaka vs Daisuke Harada 
AXIZ mini interview
Daisuke Harada mini interview
HAYATA & Tadasuke mini interview
Kaito Kiyomiya practices with Sakuraba
Masa Kitamiya mini interview
Naomichi Marufuji vs Kaito Kiyomiya: GHC Heavyweight match signing (translated by purodino)
Takashi Sugiura mini interview
"It's a really good situation to let everyone know and show it to them, how much I have grown in Noah" ~ interview with Eddie Edwards
KAZMA SAKAMOTO mini interview
The Greatest Persons Vibration Side A: interview with Naomichi Marufuji (Part 1)
GHC Champion Kaito Kiyomiya, expresses the "aesthetic consciousness" of mentor Marufuji

YOUTUBE LINKS
Kaito Kiyomiya trains with Sakuraba
GHC Heavyweight Match signing: Kaito Kiyomiya vs Naomichi Marufuji

Picture credits: Noah GHC, PXDX, Katsuhiko Nakajima, Weekly Pro