(NOAH) WEEKLY NEWSLETTER VOL.26 ~ 10TH MARCH 2019
The first new show of the new NOAH era is in the books! Hisame breaks down the aftermath and what it all means!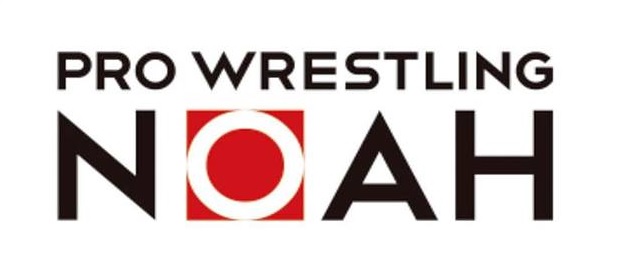 The first new show of the new NOAH era is in the books! Hisame breaks down the aftermath and what it all means!
CURRENT TOUR RECAP
NOAH returned to Yokohama and held their annual big event on March 10th 2019. I am unsure of the exact attendance, as since NOAH changed their site, they are no longer announcing it. 
The green may have been gone from the event, but lingering reminders of NOAH's past remained, and the new owners took pains to remind people that this regime might be "leaving Misawa", but it was not totally leaving Misawa behind.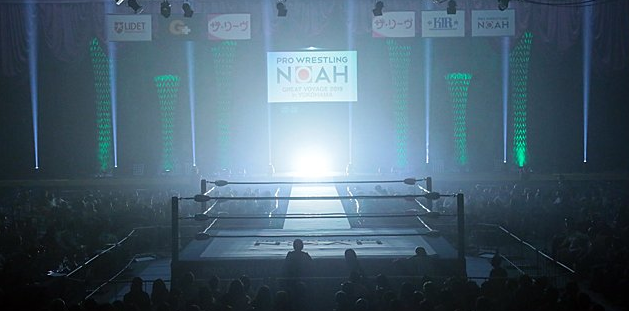 The new ring was black and white, just very simple in design with a white canvas, a black apron, and the NOAH logo in the middle of the ring. The event started with "Spartan X" (Mitsuharu Misawa's theme) playing, and a video tribute to him being shown.
NOAH might have changed, its old colors might have gone, but Misawa is the creator and although his role now might be lesser than it was, his presence will always be on whatever voyage NOAH takes. The roster (including Atsushi Kotoge) came to the ring and lined up on either side of the ramp, with the GHC Heavyweight champion, Kaito Kiyomiya, and Naomichi Marufuji, the challenger (plus the vice president of NOAH), going down to the ring. No one cut a promo, they just stood under a white light. Their actions were symbolic; white of course in Japanese culture being the color of blessings, joy and new beginnings. 

~ Kenoh did not stick around to celebrate with his team when they won, he went stalking to the back scowling, leaving everyone else in the ring.
~ Mitsuya Nagai had an interesting evening to say the least; taking a momentary break from being bald and angry he appeared with 50 Funky Powers wearing flashing disco glasses, however his mood soured when they wouldn't let him pose with them, and then when his team lost, he went back to yelling at them. Nagai later appeared in the ring in the evening saying he was looking for a tag partner for Global Tag League 2019 that would shake things up, and telling a woman she was a "noisy old bag". He got a tag partner, but not one that he thought that he would get, when Atsushi Kotoge appeared and offered to be his partner. Nagai (after looking at Kotoge warily, which is how most people look at Kotoge), accepted, and he left the ring wearing the paisley shawl that Kotoge had bought with him. 
~ NOSAWA Rongai accompanied KAZMA SAKAMOTO to the ring for his match against Takashi Sugiura, but didn't get involved in the match. 
~ Kenta Kobashi came out during the interval and asked for the fans to support NOAH and for the new fans to stay with the promotion and do the same, and ended with "together we can build a new NOAH". Kobashi was also special guest commentator for the second half of the event.
~ Yoshinari Ogawa and Kotaro Suzuki defended the GHC Junior Heavyweight tag titles against HAYATA & Tadasuke. The match lasted only about 11 minutes before Ogawa got HAYATA to tap out.
~ Minoru Tanaka won the GHC Junior Heavyweight title in his 25th year of wrestling, by defeating Daisuke Harada for it. Minoru Tanaka now has held all three Junior belts in what was once known as the "Big Three"; New Japan, All Japan and NOAH.
~ AXIZ (Go Shiozaki and Katsuhiko Nakajima) defended the GHC Heavyweight titles against Eddie Edwards and Masa Kitamiya.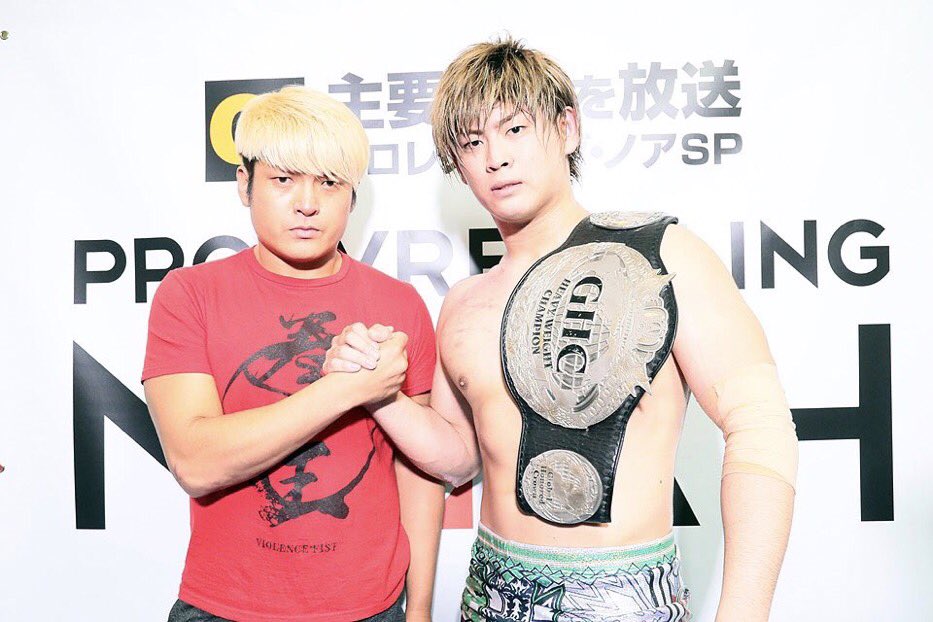 Kaito Kiyomiya defended the GHC Heavyweight Championship against Naomichi Marufuji. After the match he called Kenoh to come to the ring and told him that he wanted them to team together for Global League 2019, and together they would "create a new NOAH". Kenoh (after telling him that he didn't appreciate being called to the ring by this "asshole boy") told him that he saw what he meant and that he would tag with him, and together "we would take you assholes to The Budokan". 

After Kiyomiya had thanked everyone for coming today, green ribbons came down from the ceiling reading, "Mitsuharu Misawa-san, you will forever be in our hearts as we set out on a new voyage" on them. After the ribbons had fallen and the fans left, the arena faded to black with a green spotlight shining on the ring.

No titles were challenged for today, which is unusual for NOAH. 
You can read the detailed event recap here

The next tour is "Spring Navigation 2019" which starts on the 16th March
NEWS
NOAH's Big Announcement
NOAH announced on Friday 8th March that they had some "important news" to announce at the event in Yokohama on the 10th. Most peoples first reaction was that NOAH would announce that KENTA was returning to NOAH. I didn't think this was likely as most people tend to go to ground when they have a ninety day clause in their contact, and KENTA, never known for being particularly loud or vocal about much, has pretty much kept quiet about what he is going to do, except for popping up to say "THANK YOU" about the last green ring in NOAH- but that is no way and indication of any future plans. Other ideas ranged from someone retiring to a freelancer signing with the promotion, to NOAH finally announcing a streaming service.

What the news was in the end was the announcement of two very big (and it must be said, very ambitious), shows that NOAH are going to hold in the autumn and the winter of 2019:
16th September – Osaka Prefecture First Gymnasium (aka Osaka First Arena)
2nd November – Sumo Hall
Osaka Prefectural Hall (otherwise known as Osaka First Arena) is something that Daisuke Harada has been talking about. It's kind of like his own personal Budokan, and for the juniors, Osaka has become an important place as its kind of like their town where they main event and the heavyweights take a smaller role on the card. 

Sumo Hall (I use the Western translation which makes it easier for the majority of my readers, but yes, it is otherwise known in Japanese as Ryōgoku Kokugikan), is of course where NOAH held Naomichi Marufuji's "Flight" in September 2019. 

Probably due to the fact that they feel they have the momentum, and probably due to the schedule of both buildings themselves, and most likely due to the fact it gives them six and nine months to build up to it, and plus their own yearly schedule of events, would explain why NOAH are holding these events later in their year.
"Misawa's Three Forever – Interview with Yoshinari Ogawa & Kotaro Suzuki"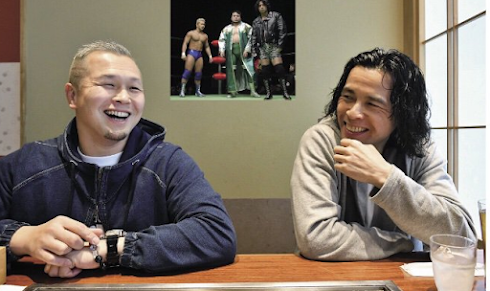 Yoshinari Ogawa and Kotaro Suzuki gave an interview to "Weekly Pro" during the past week. They discussed Misawa and how for the longest time since he died, they can't talk about him; Ogawa says he still can't, but Suzuki is starting to open up a bit, but he doesn't really like to share his memories. Interviews with Yoshinari Ogawa are rare, as he doesn't tend to give them very often, and so this one was a treasure. 

Kotaro Suzuki, while naturally deferential to his senior, isn't scared to tease him once in a while, such as when Ogawa said that he didn't remember teaming with Minoru Tanaka and winning the GHC Junior Heavyweight tag belt last year, or when he asked him the secret of his youth. 
Other subjects they discuss are the NOAH junior, Suzuki returning to NOAH, the missing years of his absence, RATELS and they hint of a coming generational struggle among the juniors. 

Its an interesting interview, and worth a read. 

Atsushi Kotoge's return
Atsushi Kotoge has announced he will return from arm and elbow injury in April, just in time for Global Tag League 2019. 

NOAH's Entrance Theme Music CD

NOAH announced further tracks to be included on the album, which will be released in April, would include:

Katsuhiko Nakajima: Genius of The Kick
Daisuke Harada: KTYM
Quiet Storm: MAD
Pro Wrestling NOAH theme: Brave
GHC Jnr Theme
GHC Tag theme
Kaito Kiyomiya: Explosion Soul
Atsushi Kotoge: Switch On
Masa Kitamiya: Go For Broke
Go Shiozaki: Enforcer
Naomichi Marufuji: Hysteric
Theme of Global League
RAN: SAKURETSU (Pro Wrestling NOAH's official song)

CURRENT CHAMPIONS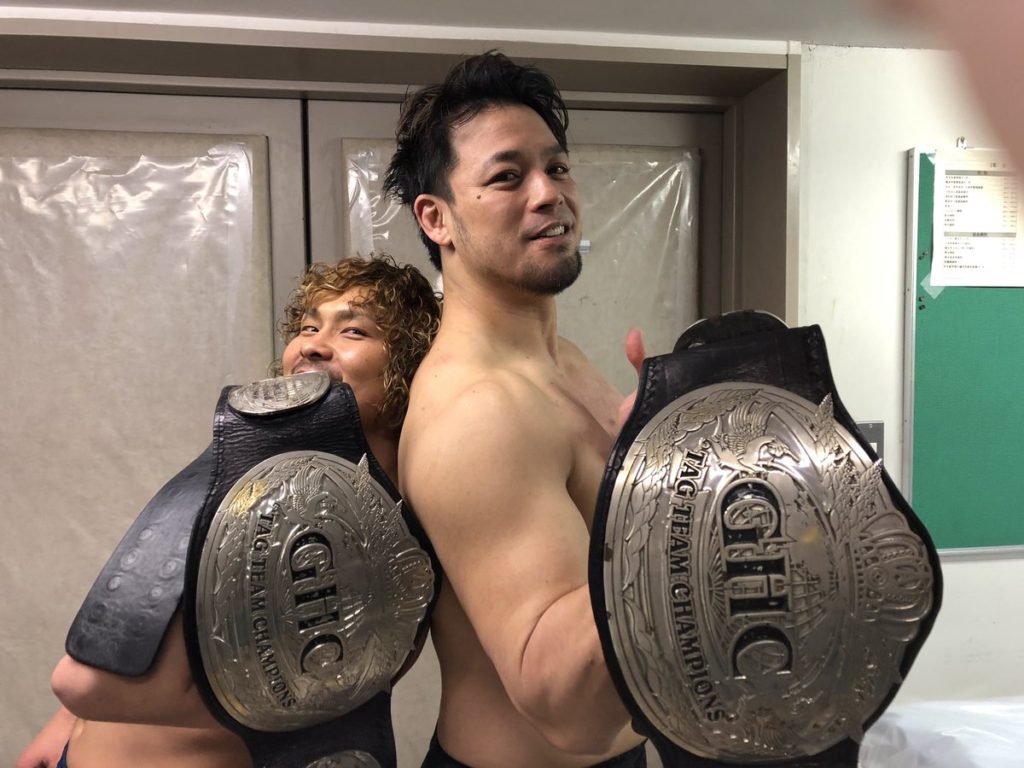 TOUR TIDBITS
~ Tadasuke said that HAYATA and himself became close during the Osaka Pro days when they played table tennis together at the dojo. Management noticed how well they worked with each other when playing it, and a tag was formed from that.
~ HAYATA has dyed his hair black to differentiate himself and Tadasuke from himself and YO-HEY, with YO-HEY they were known as "The Blonde Couple", Tadasuke is also a peroxide blonde.
~ Katsuhiko Nakajima imitated Yoshinari Ogawa, and claimed that he had no memory of either Masa Kitamiya or tagging with Masa Kitamiya or winning the belts with Masa Kitamiya.
~ Kaito Kiyomiya did some MMA training with Sakuraba prior to the match in Yokohama. Sakuraba said he would consider coming to NOAH (where he would face Takashi Sugiura due to the background in MMA) if there was an offer.
~ Katsuhiko Nakajima turned 31 on the 11th March, he will be holding a birthday event later in the month for a few fans. He said his best present was having the belt. 
~ Kenoh said that he might have been teaming with Kaito Kiyomiya, bus his ambition was still the singles belt. 
~ The news came that Wally Yamaguchi, (who worked for NOAH after WWE) has passed away.
~ Recent NOAH videos have begun to be removed from YouTube. This could indicate that a streaming service is finally coming, or, it could just be the network cracking down on something they have let happen for a long time. ~ LEONA confirmed on "Satoko's Lounge" that he will be returning to wrestling after rehabbing from a leg injury he suffered last year.

BROADCASTS
"Great Voyage in Yokohama 2019" will be broadcast on the 16th March at 8.30pm JST on G+
G+ will broadcast the 17th April show on April 20th, they will also show the 28th May Korakuen Hall show live

LINKS
Interview with Tadasuke & HAYATA 
GHC Junior Heavyweight match signing: Minoru Tanaka vs Daisuke Harada 
AXIZ mini interview
Daisuke Harada mini interview
HAYATA & Tadasuke mini interview
Kaito Kiyomiya practices with Sakuraba
Masa Kitamiya mini interview
Naomichi Marufuji vs Kaito Kiyomiya: GHC Heavyweight match signing (translated by purodino)
Takashi Sugiura mini interview
"It's a really good situation to let everyone know and show it to them, how much I have grown in Noah" ~ interview with Eddie Edwards
KAZMA SAKAMOTO mini interview
The Greatest Persons Vibration Side A: interview with Naomichi Marufuji (Part 1)
GHC Champion Kaito Kiyomiya, expresses the "aesthetic consciousness" of mentor Marufuji

YOUTUBE LINKS
Kaito Kiyomiya trains with Sakuraba
GHC Heavyweight Match signing: Kaito Kiyomiya vs Naomichi Marufuji

Picture credits: Noah GHC, PXDX, Katsuhiko Nakajima, Weekly Pro
(NOAH) WEEKLY NEWSLETTER VOL.28 ~ 24TH MARCH 2019
Hopefully the live stream peaked some extra interest in NOAH! So for everyone new or old that needs to catch up, Hisame's Newsletters are the perfect one stop shop!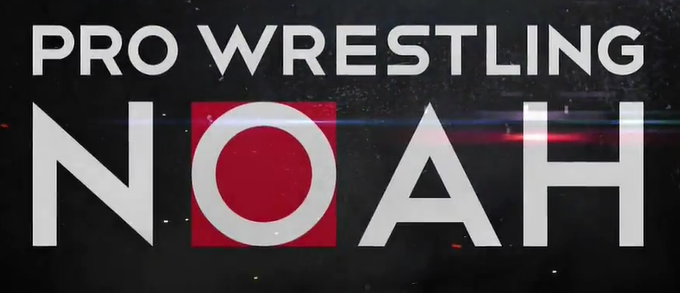 Hopefully the live stream peaked some extra interest in NOAH! So for everyone new or old that needs to catch up, Hisame's Newsletters are the perfect one stop shop!
CURRENT TOUR RECAP
After the excitement of Hakata Stalene, NOAH headed back out to Osaka, and then further into the provinces.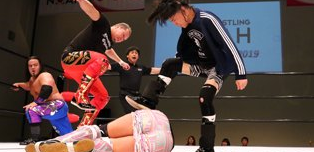 At Osaka World Pavilion, Hi69 finished the match by doing the Stuka Splash on Yoshinari Ogawa, after it Ogawa seemed to be struggling a bit and had to be helped up and out of the ring, although eventually he was well enough to walk unaided.
But when Hi69 & Quiet Storm had their first singles match ever on the 20th March at Toyonaka, after the match the ring was stormed by Stinger members Yoshinari Ogawa and Kotaro Suzuki, who beat down Hi69 in revenge. It is unusual to see this happen in NOAH, although Kotaro Suzuki is capable of it (and people getting jumped does happen), it is very rare to see Yoshinari Ogawa do it. Minoru Tanaka came to the rescue.
Hi69 says he will make weight for the tag challenge ("I will get on the scales any time. However, please tell me the day before"), and has started a weight loss diary on his
Twitter, although he did admit to eating lots of meat and going up to 105.
Minoru Tanaka and Hi69 had their own post match beat down on Stinger on the 21st in Kanazawa.
KAZMA SAKAMOTO and Takashi Sugiura teamed together for the first time before they enter Global Tag League together, they seemed to get on pretty well, with KAZMA later paying tribute to Sugiura as "a symbol of NOAH's strength".
Naomichi Marufuji, who says he is searching for a purpose, had somewhat of a comedy match in Toyonaka with disco poses being pulled and kicking Masao Inoue in the face for messing around, but a new threat appears to be emerging from the next generation of Junior wrestlers regarding their own status being less than the heavyweights, although he didn't make too much of a comment about it at the time, it does look like Daisuke Harada took on board Minoru Tanaka's comments about the GHC Junior being the main event. Marufuji in a post match interview said he could see their hostility building to something, but he didn't know yet.
A huge rivalry is brewing for Global Tag League 2019 between Kenoh & Kaito Kiyomiya and AXIZ (Katsuhiko Nakajima & Go Shiozaki), which started in Toyonaka and was heralded by a vicious kick battle between Kenoh and Nakajima. After the match, the two teams faced off, with Nakajima grinning evilly. Earlier on the tour, Marufuji (a veteran) was put in the unenviable position of teaming with them (the younger generation who are opposed to him), and at the end of a match which according to one attendee had a "sense of distance between them", got kicked in the head by Nakajima after shaking hands with him.
Then Shiozaki lariated him. 
In Kanazawa after the match (whereby Nakajima grinned in Kenoh's face), Kiyomiya and Kenoh declared AXIZ to be a "wanted" tag-team.
Yoshiki Inamura won his second victory over Kinya Okada, whom he now refers to as "my rival". He had teamed with his teacher, Masa Kitamiya, who had a big smile on his face and did genuinely seem pleased with his trainees progress. After three days of being chopped and kicked his chest was….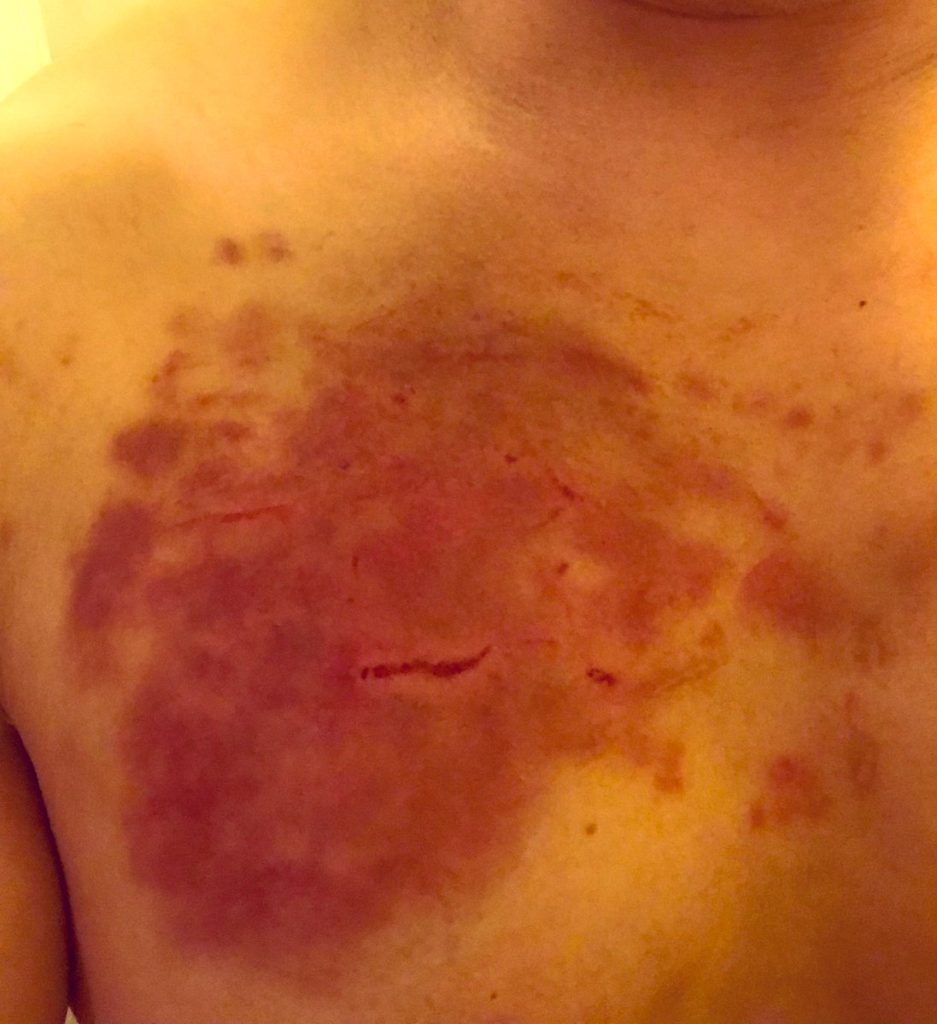 Maybach Taniguchi is still continuing in his monster mode, and refuses to change. His Sasumata is still being bought to the ring and used as a weapon, he is still attacking the ref after matches, speaking in grunts, and even Akitoshi Saito who seemed to be attempting to rehabilitate him, has given up. In Kanazawa they tagged together, but it all fell apart when they accidentally knocked each other down, got into an argument and then Taniguchi was defeated by the Funky Buster Bomb. Taniguchi stood in the ring as he and Saito pointed at each other threateningly as Saito left the ring. 
Takashi Sugiura said that this would do no him no good in the end.
NOAH will celebrate the final night of "Spring Navigation 2019" at Korakuen Hall in Tokyo on Friday March 29th.
Event recaps
March 19th: Osaka World Pavilion (post match promos)
March 20th: Toyonaka City Rose Culture Hall (post match promos)
March 21st: Kanazawa Distribution Agency (post match promos)
NEWS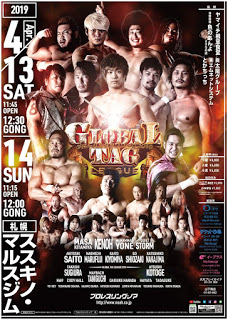 Global Tag League will return on the 6th April 2019, with the first night being held at Edion Arena Osaka on Saturday 6th April and finishing on 4th May at Korakuen Hall.
This years teams are as follows:
Katsuhiko Nakajima & Go Shiozaki (GHC Heavyweight Tag champions)
Kaito Kiyomiya & Kenoh
Mohammed Yone & Quiet Storm
Maybach Taniguchi & Yuji Hino
Takashi Sugiura & KAZMA SAKAMOTO
Atsushi Kotoge & Mitsuya Nagai
Akitoshi Saito & Masao Inoue
Masa Kitamiya & Yoshiki Inamura.
Due to being defeated by Kaito Kiyomiya for the GHC Heavyweight title, Naomichi Marufuji has said that he will not enter the league this year. However, there is a possibility that he may enter in the end, and probably with a surprise partner. Unspoken speculation has it that since KENTA's 90 day release clause is up round about the time Global Tag League starts, it may well be KENTA who he enters with.
Personally, I think it is far more likely that Marufuji will enter with Masaaki Mochizuki.
KAZMA says he fears the team of Yuji Hino and Maybach Taniguchi, as Hino knows how to work Taniguchi, however "that dick is a one-man show."
Atsushi Kotoge has named the team of himself and Mitsuya Nagai "The Revolutionary Cloak Army"
Akitoshi Saito and Masao Inoue were a comedy team last year, with Saito screwing over Inoue, and Inoue not really realizing as Saito kept denying it.
The big rivalry for Global Tag League 2019 this year is Kenoh & Kiyomiya vs AXIZ.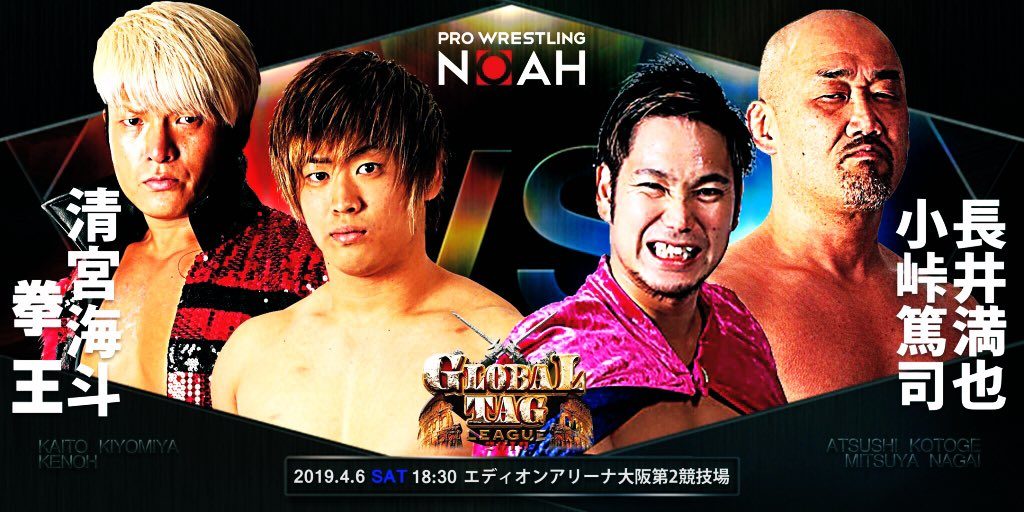 Atsushi Kotoge returns
Atsushi Kotoge will make his return in his hometown of Osaka on the 6th April. Katsuhiko Nakajima took the opportunity to take a shot at Kenoh by looking at the match ("The Revolutionary Cloak Army" vs Kenoh and Kiyomiya) to say, "you are in the opening match" (full card hasn't been announced yet).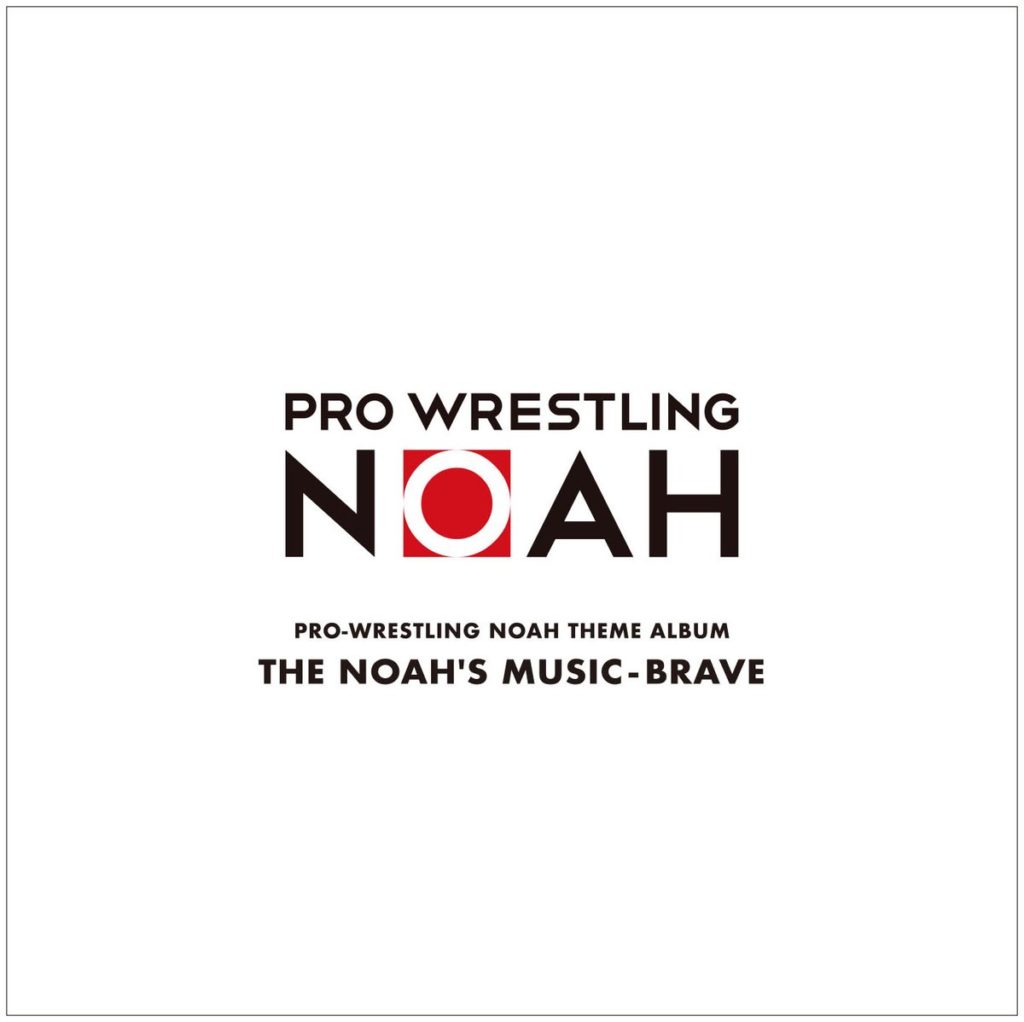 NOAH The Album
Track listing has been confirmed as:
Katsuhiko Nakajima: Genius of The Kick
Daisuke Harada: KTYM
Quiet Storm: MAD
Pro Wrestling NOAH theme: Brave
GHC Jnr Theme
GHC Tag theme
Kaito Kiyomiya: Explosion Soul
Atsushi Kotoge: Switch On
Masa Kitamiya: Go For Broke
Go Shiozaki: Enforcer
Naomichi Marufuji: Hysteric
Theme of Global League
RAN: SAKURETSU (Pro Wrestling NOAH's official song)
You can pre-order your copy here
Masaaki Mochizuki
Following his highly praised tag against Naomichi Marufuji at the Giant Baba memorial show, Masaaki Mochizuki will be making his first appearance in Pro-Wrestling NOAH on the 29th March at Korakuen Hall, he will team with Masa Kitamiya & Yoshiki Inamura against Naomichi Marufuji and 50 Funky Powers.
CURRENT CHAMPIONS
TOUR TIDBITS
~ Hitoshi Kumano says he wants to challenge for the singles belt
~ Daisuke Harada was cheered on by his nephew in Osaka
~ Kenoh has been noted to be smiling a lot more now he is teaming with Kiyomiya; but don't let this fool you. Kenoh is still after the GHC Heavyweight, Kiyomiya knows this and has said that they will never properly be friends. Despite the brotherly feeling between them, there is still a sense of rivalry underneath.
~ Katsuhiko Nakajima' reaction to Yoshiki Inamura teaming with Masa Kitamiya was, "what's his name? I don't remember, he didn't leave much of an impression"
~ Kaito Kiyomiya was again on the cover of "Weekly Pro", he's only twenty-two, but has already been on the cover about three or four times.
~ Takashi Sugiura imitated KAZMA SAKAMOTO'S scream
~ Katsuhiko Nakajima told a bald reporter that his head was "twinkling".
~ After the three day in a row tour (and a week away from home), Hitoshi Kumano returned to his "children" (his French Bulldogs), and Takashi Sugiura returned home to his own dog, who wanted to immediately go outside, despite the fact it was 1.30am. He took it for a walk the next day.
~ Despite saying that he didn't have to call Kenoh "Kenoh-san" anymore, this momentary lapse in manners is over, and Kiyomiya has gone back to calling him just that.
BROADCASTS
G+ will broadcast the 17th April show on April 20th
They will also show the 28th May Korakuen Hall show live
LINKS
Naomichi Marufuji reviews "Bomb Gum"
VENUE GUIDES
Osaka World Pavilion
Toyonaka City Rose Cultural Hall
Kanazawa Distribution Centre
Picture credits: Noah GHC, PKDX, Yoshiki Inamura
AJPW Dream Power Series 2019 Results & Review (3/19/2019)
Mathew shows us some power! AJPW puts together a card that could rival anything all year. Does it live up to the expectations?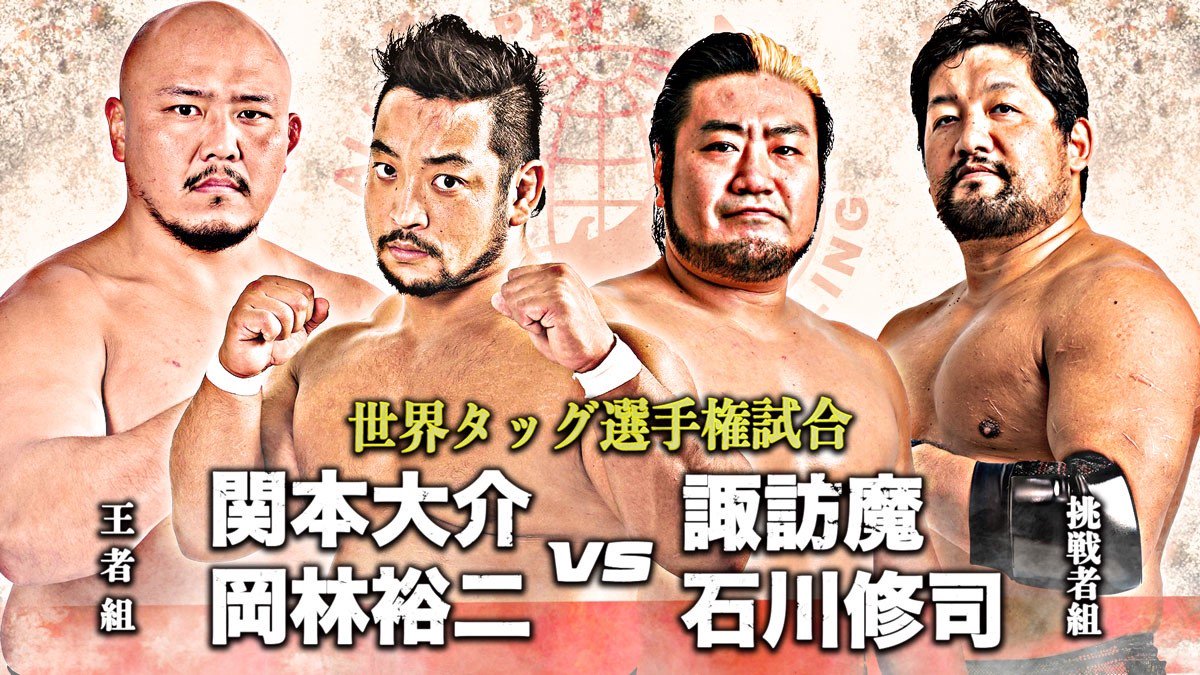 Mathew shows us some power! AJPW puts together a card that could rival anything all year. Does it live up to the expectations?
Welcome back to AJPW! We're gonna talk about the last big show before this year's Champions Carnival coming up in early April as we have a few title matches in this show that I couldn't resist wanting to cover it.
We got some dealing with revenge along with one trying to make history. How's this year's Champions Carnival gonna shape up?
Let's find out as we…dive right in.
Rating System:
0 Stars: Dave Meltzer
1 Star: Vince Russo
2 Stars: Tony Schiavone
3 Stars: Eric Bischoff
4 Stars: Bruce Prichard
5 Stars: Jim Cornette
Six Man Tag Team Match
Atsuki Aoyagi, Danji Tamura, & Hokuto Omori vs. Evolution (Atsushi Aoki, Hikaru Sato, & Yusuke Okada)
Review: Our opening contest is a six-man tag team match with our young lions, Atsuki Aoyagi, Danji Tamura, and Hokuto Omori taking on three members of Evolution, Atsushi Aoki, Hikaru Sato, and Yusuke Okada. Going up against three people from the junior division is a fair start to have them all fight each other in this tag bout and a better view of how the young guys are doing. Will Evolution school the young boys or will they somehow get one of the biggest wins in their starting careers?
As I've said, this match is mostly to showcase our future talent as they fight the vets of the game in the junior division. I do gotta admit that these three have definitely improved in the ring as they're shaping up to be some of All Japan's finest students. Evolution held off on their own and I'm glad they were their opponents for this match since they're very easy to work with. Another thing I loved about the match is that they had a good amount of time instead of just being less than five minutes like how most matches will do. Yusuke and Hokuto are in the ring now and Yusuke would hit him with a Brainbuster for a two count and would quickly apply a Boston Crab onto him and Hokuto struggles to get to the ropes and once he does, Yusuke pulled him back in and would lock it in more as he would tap out to give Evolution the victory in a solid match.
Rating: Tony Schiavone and a half
Six Man Tag Team Match
Jun Akiyama, TAJIRI, & Ultimo Dragon vs. Black Menso-Re, Masanobu Fuchi, & Takao Omori
Review: We got another six-man tag team match here as Jun Akiyama, TAJIRI, and Ultimo Dragon will be taking on Black Menso-Re, Masanobu Fuchi, and Takao Omori. It's been quite a while since we've seen Ultimo Dragon wrestling in All Japan, so I'll never complain to see him in the ring. This is another match with the vets and Manso-Re for being a punching bag as it'll most likely be a comedy style match. Which one of them will win?
Menso-Re starting with Ultimo Dragon as he wanted him first, but TAJIRI would slap Menso before the bell would ring and we would kick it off right now. They would do a little bit before Jun and Takao get tagged in, but we all care about TAJIRI and Fuchi getting tagged in now as Fuchi would try to get his hands on him. TAJIRI would be the sneaky heel with leaving the ring to sit with the crowd so he could avoid contact in the match. TAJIRI would get back in the ring only to tag in Ultimo as the crowd would just boo TAJIRI. Fuchi would do his antics with the punch to the forehead as the crowd eats it up but everything would backfire on Fuchi as he would miss a Dropkick to make the crowd boo Ultimo which is a shocker. Ultimo would kick Fuchi and attempt an Asai DDT but Fuchi would turn it around to a Backslide as Ultimo would kick out. Both TAJIRI and Jun would both make Fuchi miss a Dropkick and taunt him right after to make the crowd boo them. Ultimo would get Fuchi in the La Magistral and he gets the win for his team in a rather entertaining match.
Rating: Tony Schiavone and a quarter
Tag Team Match
NEXTREAM (Yoshitatsu & Yumi Aoyagi) vs. Sweeper (Jake Lee & Ryouji Sai)
Review: Our next match here is a tag team match as NEXTREAM members, Yoshitatsu and Yuma Aoyagi will be taking on members of Sweeper, Jake Lee and Ryouji Sai. Since Naoya is no longer Yumi's partner, he's gonna be paired off with Yoshitatsu this time around. Since all four of them are in the Champions Carnival, a win for either of them would give them some momentum leading to the tournament. Which one of these two teams will win and what will be the future payoff?
It seems like Yoshitatsu has a little gripe with Jake Lee in this match as he seems to be disgruntled when he was in the ring with him, especially when Jake would just best him during the first sequence with the chaining. Ryouji and Yuma are in the ring now and Ryouji with a series of kicks in the match and have him in a submission before Yoshi would break the hold and just stared at Jake again. Yuma is really growing out on his own as an individual and you can see that when he's not partner with Naoya. Yuma would have Jake in a Headlock but Jake would attempt a Backdrop Driver as Yuma flipped it into a Crossbody as Jake kicked out at two. Once Jake kicked out, Yuma would try to turn the pin into a European Clutch as Jake kicked out at 2 as even the referee was shocked by this. Yuma would run into him as Jake kneed him in the face and hits him with a Backdrop Driver as he pinned Yuma for the victory.
Rating: Eric Bischoff and a quarter
Six Man Tag Team Match
Atsushi Maruyama, KAI, & Zeus vs. Bomber (Dylan James & Joe Doering,) & Francisco Akira
Review: We have another six-man tag team match taking place as Atsushi Maruyama, KAI, and Zeus team up to take on Dylan James, Joe Doering, and Francisco Akira. KAI recently failed at Dragon Gate to win the Open the Twin Gate Championships, so he could at least try to win for his team but I think Zeus has a lot on his plate when it comes to their opponent since Dylan James and Joe Doering are a strong team to beat and wants to try and look powerful leading into the Carnival. Which one of these two teams will win the match?
Zeus and Dylan would charge at each other right away to test their strengths with also some chops and a test of strength as the two appear to be evenly matched, which is no surprised. KAI gets tagged in and he calls Joe to get tagged in since he wants to fight him as Dylan honors that request and lets Joe have a turn on the fun. Joe would start to make him regret that decision as he had the upper hand on him at first but KAI would hit a few Dropkicks on him but Joe still wouldn't go down as he tackled him and went for an Elbow Drop before KAI moved and quickly tagged in Atsushi. The juniors get a turn on the fun as Francisco showed more of his impressive ability. One problem I had with the match was that the last few minutes are incredibly sloppy with Atsushi missing most of his kicks to Joe in the corner, Francisco slipping on his Moonsault to the outside, which he thankfully caught himself and redid it again. The finish would be with Joe hitting Atsushi with the Powerbomb and it looked like he got knocked out as he took the pinfall despite his shoulder being kinda up, so it looked botched but the referee still has a job to do as Joe just left the ring and walked to the back possibly frustrated.
Rating: Eric Bischoff
World Junior Heavyweight Title Match
Koji Iwamoto (c) vs. Kotaro Suzuki
Review: Our first title match of the show is Koji Iwamoto defending his Junior Heavyweight Championship against Kotaro Suzuki. The two fought each other in the A Block of the Junior Battle of Glory Tournament where Kotaro defeated Koji in the match but would eventually fail to win as Koji would actually be the one to win it all. Koji decided to defend the title against Kotaro since it was only fair due to him winning the match and wants to avenge that loss. Will Koji be able to retain his title again or will Kotaro get the upper hand on him again?
Kotaro showed no mercy to the champion as fought him to the outside and Slingshots him into the turnbuckle post and DDT's him face first into the mat as you hear the loud thud and damage has been done to Koji. Kotaro has beaten Koji before so he knows what he has to do to try and defeat him again as he worked on Koji's neck a bit during the match and gets the heat from the crowd. I know Kotaro is a Freelancer and is mostly at NOAH right now due to being a champion there, I hope he does stick around a little bit longer since I feel like the division could really use him as he's a very talented individual. Koji would try to outrun him after he dodged him to the outside and it appeared as if Kotaro would botch but he quickly caught himself and dived to the outside to land on Koji, getting the better of him again.
Koji would finally be able to get a comeback as he hits an STO onto the ring apron to knock Koji down and most of the time, he would try to hit the Koko no Geijutsu but Kotaro would hold his ground to make sure he wouldn't hit it but Koji would be able to deliver a German Suplex and a Dragon Suplex. Kotaro would land a few punches before Koji tried to hit the move again, but Kotaro would hold his ground again and kick his leg out to work on his neck before landing Gory Bomb Special and tops it off with the La Magistral for the pin and Koji would kick out various times whenever Koji would try to roll out of it and was so close to having a new champion. Koji would just use this time to hit a couple of STO's in a row to weaken him down a bit. Koji would go for it again but he catches him for a Back Suplex to save himself a bit. Kotaro would now hit not one but two Excaliburs onto him to try and end it as Koji would somehow kick out of it again. It all came down to his as Koji would attempt the Koko no Geijutsu again as Kotaro would stop himself to pin him for a two count and they both would spin around as Koji would hit it this him but he picked him up to hit the Koko no Geijutsu properly this time and pins him to retain the title! After the match, various people from the junior division would come out and it looks like they all want a shot at the Junior Heavyweight Championship but Koji would have to pick one of them to be his opponent. It does look like, however, that Koji doesn't have a clear opponent right now as he left the ring but I guess we'll see soon.
Rating: Eric Bischoff and three quarters
World Tag Team Title Match
Strong BJ (Daisuke Sekimoto & Yuji Okabayashi) (c) vs. Violence Giant (Shuji Ishikawa & Suwama)
Review: Our next title match for this show is Strong BJ defending their titles against the team that they defeated them for, The Violence Giant. Strong BJ defeated them on January 13th to win the titles and after they retain their titles on the February 24 show, Violence Giant requested a rematch to bring the titles back home on their turf this time instead of the BJW show. If it's anything like their previous match, it's sure to be hard hitting and a not miss. Will Strong BJ remain on top or will Violence Giant bring the belts back home?
Shuji and Daisuke would be the ones to start off our match here with an incredible display of power as the two were unable to budge and they would tag in their respective partners. Suwama and Yuji were both also very hard-hitting as they would now fight outside of the ring as these two teams are making it personal. Strong BJ has been doing great work during this rivalry with the Violence Giant and they would even give Suwama a big beatdown but the former ace would even try his best to fight them off, even when he was on the corner and would kick Yuji to show his fighting spirit. Suwama would hit a Dropkick to save himself for a little bit and would tag in Shuji for the hot tag and Shuji does indeed come in hot with his Lariats, knees, anything he can throw along with the kitchen sink.
Yuji would brawl with Shuji to deliver some chops while Shuji would give him a couple of forearms and a headbutt to try and daze him but Yuji is pumped up and slams him down with a few Lariats. Once Yuji would hit another Lariat to Shuji, he would kick out at one that time around before getting hit with another one with a two count. What's it gonna take to take Shuji down for good? Yuji would get to the top rope to hit the Splash and it looks like this could be it but Suwama would break the pinfall to save his partner. Strong BJ would have them up for the Torture Racks but they would get down for Suwama to hit a Back Suplex while Shuji hits a Dragon Suplex. Shuji is alone with Yuji again and would hit another Dragon Suplex and a Running Knee to get him out for another two count, he was so close! Shuji would pick Yuji up real quick for the Fire Thunder and goes for the pin as Daisuke breaks the pinfall this time around as Suwama would get Daisuke out of the ring. Shuji knew what he had to do to try and end it as he hits the Giants Slam and pins Yuji to win back the titles! Hell of a match and definitely topped their previous encounter at BJW. I would love to see Violence Giant get a fair and dominating run with this reign, can't wait to see where this goes now.
Rating: Bruce Prichard and a half
2019 DREAM POWER SERIES
3.19後楽園ホール 18:30試合開始
三冠戦は新世代へ-平成最後の三冠戦-
王者 宮原健斗vs挑戦者 野村直矢
全日本プロレスの今が此処に在る。#ajpw #ajpwtv pic.twitter.com/XAlzJjWcPq

— 全日本プロレス/alljapan (@alljapan_pw) March 14, 2019
Triple Crown Championship
Kento Miyahara (c) vs. Naoya Nomura
Review: This is our third title match and the main event of the show as we have Kento Miyahara defending his Triple Crown Championship against former NEXTREAM member, Naoya Nomura. On the February 24th show, Naoya Nomura would defeat Dylan James in a singles match and Kento Miyahara would have his second successful title defense against Suwama. After Kento would defeat Suwama, Naoya would come in to make the challenge to his stablemate and announce his departure from the NEXTREAM group in the process, leading him to also vacate the All Asia Tag Team Championship with Yuma Aoyagi. Kento is now 30 years old and while it's his third title defense in this run, this will be his first time defending it while no longer in his twenties. If Kento can defeat Naoya, he'll be the champion leading into the Champions Carnival and won't defend the title until the tournament is over. Will Kento be able to retain it once again or does Naoya pull the surprise victory?
Kento came in here with a plan since he knew what he was gonna do to Naoya once he challenged him to this match, he didn't wanna go easy on him despite being former teammates but he wants to see how badly Naoya wants the spotlight on him. They were fairly matched during the lock-up part of the match and they would start to fight outside for a little bit as Naoya would get Kento down as he taunts him when he got back in the ring. Naoya would hit him with a big forearm before going onto the apron to jump and Kento catches him with a knee and has him right where he wants him now. This is where Kento would just attack him with a few Headbutts as Naoya would try to deliver one to him but Kento gives him multiple ones as a counterattack and this is why you don't mess with the champion.
Naoya would eventually make a comeback after being kicked around by Kento as he quickly got up to charge at him with a shoulder tackle and you can hear that too. He would hit a few more along with another forearm to the face as he goes for the Brainbuster but Kento would struggle to make sure he didn't hit it and has Naoya over the ropes but wait, Naoya grabbed his leg to pull him over as he attempted a Death Valley Driver onto the apron as Kento jumped off to hit a Blackout. The two would be on the turnbuckle and Naoya gets behind him to attempt a German Suplex as Kento struggles, but Naoya would slam Kento's head on the post and gets off the turnbuckle to hit the German Suplex as both men are down. Naoya would go to the top rope to hit the first Splash as Kento kicked out but Naoya would quickly get up again to hit one more as Kento still kicked out.
Kento would eventually hit him with a Blackout at full force and hits him with a German Suplex for another two count. Kento looks like he's going for the Shutdown German Suplex Hold as Naoya would kick his knee out and hit him with a Spear and the two are down again. Kento would hit another Blackout on the back of his head and tries the German Suplex Hold once again as Naoya would still kick out at two as Kento is starting to get concerned with what he has to do now. Kento tried the Shutdown German Suplex Hold again as Naoya broke out of it and picked him up Fisherman style and dropped him on his head and picked him up for the Death Valley Driver as Kento fought him off but Naoya would hit him with a flurry of forearms to daze him and hits the Spear with the roll-up as Kento kicked out at two again! Naoya picked him back up but Kento would go back to delivering the Blackouts and it looks like Naoya is all out of fight as Kento finally hits the Shutdown German Suplex Hold to get the pinfall victory and his third successful title defense. Great match and a very impressive showing to Naoya but Kento is just still better than him right now. Kento will now officially be the Triple Crown Champion leading into the Champions Carnival. Three defenses down, eight more to go.
Rating: Bruce Prichard and a quarter
Overall: I thought it was a very solid show from top to bottom but the last three title matches were what sold it to me. I would highly recommend that you look out for those matches if you can find them online or subscribe to the streaming service and if you're not already subscribed, what the hell is wrong with you? Get on that!
Favorite Match: Strong BJ (Daisuke Sekimoto & Yuji Okabayashi) vs. Violence Giant (Shuji Ishikawa & Suwama)
Least Favorite Match: Jun Akiyama, TAJIRI, & Ultimo Dragon vs. Black Menso-Re, Masanobu Fuchi, & Takao Omori
Score: 8/10