(NOAH) WEEKLY NEWSLETTER VOL.26 ~ 10TH MARCH 2019
The first new show of the new NOAH era is in the books! Hisame breaks down the aftermath and what it all means!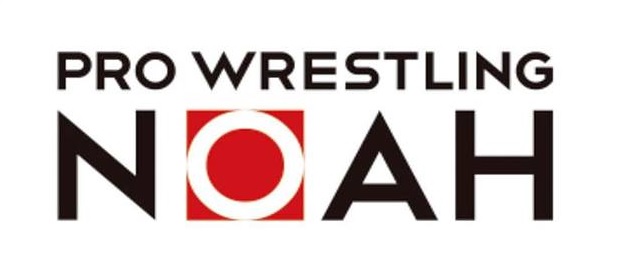 The first new show of the new NOAH era is in the books! Hisame breaks down the aftermath and what it all means!
CURRENT TOUR RECAP
NOAH returned to Yokohama and held their annual big event on March 10th 2019. I am unsure of the exact attendance, as since NOAH changed their site, they are no longer announcing it. 
The green may have been gone from the event, but lingering reminders of NOAH's past remained, and the new owners took pains to remind people that this regime might be "leaving Misawa", but it was not totally leaving Misawa behind.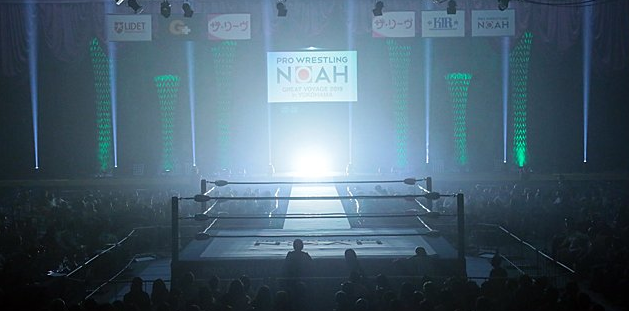 The new ring was black and white, just very simple in design with a white canvas, a black apron, and the NOAH logo in the middle of the ring. The event started with "Spartan X" (Mitsuharu Misawa's theme) playing, and a video tribute to him being shown.
NOAH might have changed, its old colors might have gone, but Misawa is the creator and although his role now might be lesser than it was, his presence will always be on whatever voyage NOAH takes. The roster (including Atsushi Kotoge) came to the ring and lined up on either side of the ramp, with the GHC Heavyweight champion, Kaito Kiyomiya, and Naomichi Marufuji, the challenger (plus the vice president of NOAH), going down to the ring. No one cut a promo, they just stood under a white light. Their actions were symbolic; white of course in Japanese culture being the color of blessings, joy and new beginnings. 

~ Kenoh did not stick around to celebrate with his team when they won, he went stalking to the back scowling, leaving everyone else in the ring.
~ Mitsuya Nagai had an interesting evening to say the least; taking a momentary break from being bald and angry he appeared with 50 Funky Powers wearing flashing disco glasses, however his mood soured when they wouldn't let him pose with them, and then when his team lost, he went back to yelling at them. Nagai later appeared in the ring in the evening saying he was looking for a tag partner for Global Tag League 2019 that would shake things up, and telling a woman she was a "noisy old bag". He got a tag partner, but not one that he thought that he would get, when Atsushi Kotoge appeared and offered to be his partner. Nagai (after looking at Kotoge warily, which is how most people look at Kotoge), accepted, and he left the ring wearing the paisley shawl that Kotoge had bought with him. 
~ NOSAWA Rongai accompanied KAZMA SAKAMOTO to the ring for his match against Takashi Sugiura, but didn't get involved in the match. 
~ Kenta Kobashi came out during the interval and asked for the fans to support NOAH and for the new fans to stay with the promotion and do the same, and ended with "together we can build a new NOAH". Kobashi was also special guest commentator for the second half of the event.
~ Yoshinari Ogawa and Kotaro Suzuki defended the GHC Junior Heavyweight tag titles against HAYATA & Tadasuke. The match lasted only about 11 minutes before Ogawa got HAYATA to tap out.
~ Minoru Tanaka won the GHC Junior Heavyweight title in his 25th year of wrestling, by defeating Daisuke Harada for it. Minoru Tanaka now has held all three Junior belts in what was once known as the "Big Three"; New Japan, All Japan and NOAH.
~ AXIZ (Go Shiozaki and Katsuhiko Nakajima) defended the GHC Heavyweight titles against Eddie Edwards and Masa Kitamiya.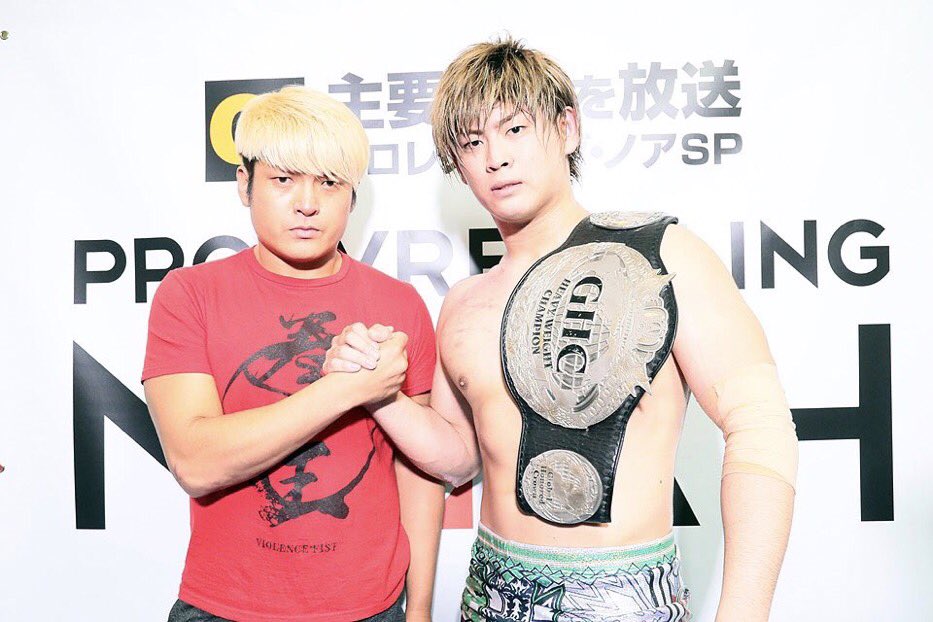 Kaito Kiyomiya defended the GHC Heavyweight Championship against Naomichi Marufuji. After the match he called Kenoh to come to the ring and told him that he wanted them to team together for Global League 2019, and together they would "create a new NOAH". Kenoh (after telling him that he didn't appreciate being called to the ring by this "asshole boy") told him that he saw what he meant and that he would tag with him, and together "we would take you assholes to The Budokan". 

After Kiyomiya had thanked everyone for coming today, green ribbons came down from the ceiling reading, "Mitsuharu Misawa-san, you will forever be in our hearts as we set out on a new voyage" on them. After the ribbons had fallen and the fans left, the arena faded to black with a green spotlight shining on the ring.

No titles were challenged for today, which is unusual for NOAH. 
You can read the detailed event recap here

The next tour is "Spring Navigation 2019" which starts on the 16th March
NEWS
NOAH's Big Announcement
NOAH announced on Friday 8th March that they had some "important news" to announce at the event in Yokohama on the 10th. Most peoples first reaction was that NOAH would announce that KENTA was returning to NOAH. I didn't think this was likely as most people tend to go to ground when they have a ninety day clause in their contact, and KENTA, never known for being particularly loud or vocal about much, has pretty much kept quiet about what he is going to do, except for popping up to say "THANK YOU" about the last green ring in NOAH- but that is no way and indication of any future plans. Other ideas ranged from someone retiring to a freelancer signing with the promotion, to NOAH finally announcing a streaming service.

What the news was in the end was the announcement of two very big (and it must be said, very ambitious), shows that NOAH are going to hold in the autumn and the winter of 2019:
16th September – Osaka Prefecture First Gymnasium (aka Osaka First Arena)
2nd November – Sumo Hall
Osaka Prefectural Hall (otherwise known as Osaka First Arena) is something that Daisuke Harada has been talking about. It's kind of like his own personal Budokan, and for the juniors, Osaka has become an important place as its kind of like their town where they main event and the heavyweights take a smaller role on the card. 

Sumo Hall (I use the Western translation which makes it easier for the majority of my readers, but yes, it is otherwise known in Japanese as Ryōgoku Kokugikan), is of course where NOAH held Naomichi Marufuji's "Flight" in September 2019. 

Probably due to the fact that they feel they have the momentum, and probably due to the schedule of both buildings themselves, and most likely due to the fact it gives them six and nine months to build up to it, and plus their own yearly schedule of events, would explain why NOAH are holding these events later in their year.
"Misawa's Three Forever – Interview with Yoshinari Ogawa & Kotaro Suzuki"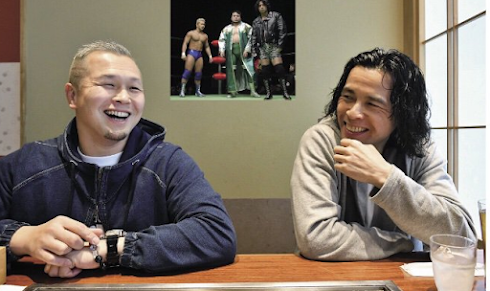 Yoshinari Ogawa and Kotaro Suzuki gave an interview to "Weekly Pro" during the past week. They discussed Misawa and how for the longest time since he died, they can't talk about him; Ogawa says he still can't, but Suzuki is starting to open up a bit, but he doesn't really like to share his memories. Interviews with Yoshinari Ogawa are rare, as he doesn't tend to give them very often, and so this one was a treasure. 

Kotaro Suzuki, while naturally deferential to his senior, isn't scared to tease him once in a while, such as when Ogawa said that he didn't remember teaming with Minoru Tanaka and winning the GHC Junior Heavyweight tag belt last year, or when he asked him the secret of his youth. 
Other subjects they discuss are the NOAH junior, Suzuki returning to NOAH, the missing years of his absence, RATELS and they hint of a coming generational struggle among the juniors. 

Its an interesting interview, and worth a read. 

Atsushi Kotoge's return
Atsushi Kotoge has announced he will return from arm and elbow injury in April, just in time for Global Tag League 2019. 

NOAH's Entrance Theme Music CD

NOAH announced further tracks to be included on the album, which will be released in April, would include:

Katsuhiko Nakajima: Genius of The Kick
Daisuke Harada: KTYM
Quiet Storm: MAD
Pro Wrestling NOAH theme: Brave
GHC Jnr Theme
GHC Tag theme
Kaito Kiyomiya: Explosion Soul
Atsushi Kotoge: Switch On
Masa Kitamiya: Go For Broke
Go Shiozaki: Enforcer
Naomichi Marufuji: Hysteric
Theme of Global League
RAN: SAKURETSU (Pro Wrestling NOAH's official song)

CURRENT CHAMPIONS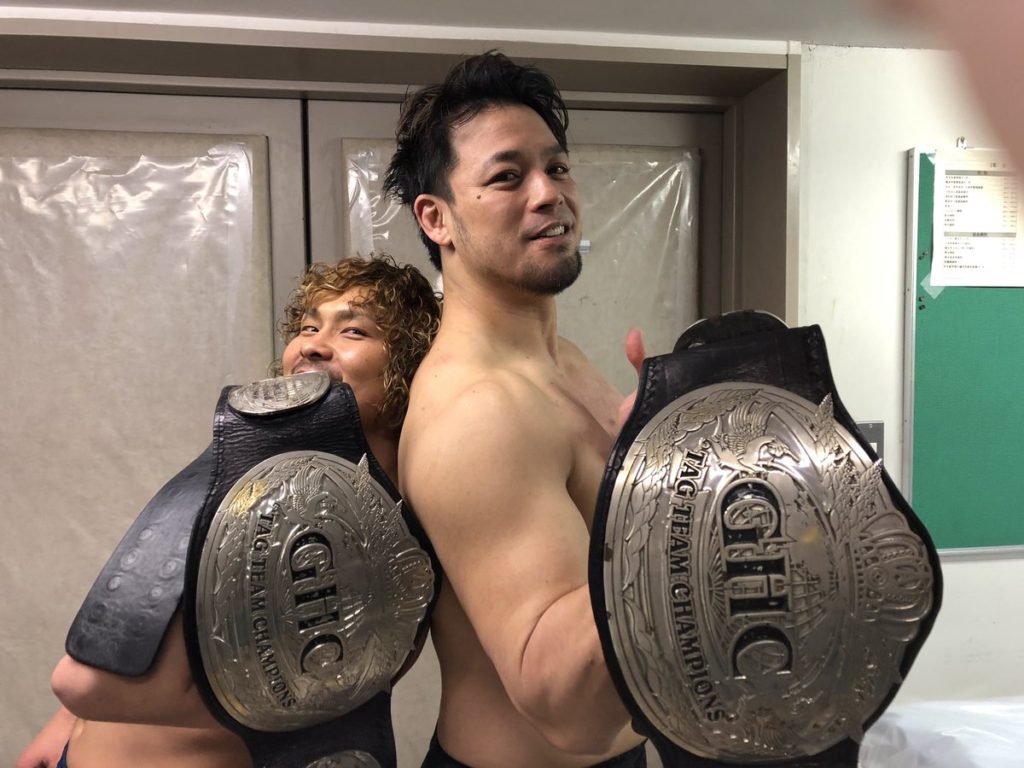 TOUR TIDBITS
~ Tadasuke said that HAYATA and himself became close during the Osaka Pro days when they played table tennis together at the dojo. Management noticed how well they worked with each other when playing it, and a tag was formed from that.
~ HAYATA has dyed his hair black to differentiate himself and Tadasuke from himself and YO-HEY, with YO-HEY they were known as "The Blonde Couple", Tadasuke is also a peroxide blonde.
~ Katsuhiko Nakajima imitated Yoshinari Ogawa, and claimed that he had no memory of either Masa Kitamiya or tagging with Masa Kitamiya or winning the belts with Masa Kitamiya.
~ Kaito Kiyomiya did some MMA training with Sakuraba prior to the match in Yokohama. Sakuraba said he would consider coming to NOAH (where he would face Takashi Sugiura due to the background in MMA) if there was an offer.
~ Katsuhiko Nakajima turned 31 on the 11th March, he will be holding a birthday event later in the month for a few fans. He said his best present was having the belt. 
~ Kenoh said that he might have been teaming with Kaito Kiyomiya, bus his ambition was still the singles belt. 
~ The news came that Wally Yamaguchi, (who worked for NOAH after WWE) has passed away.
~ Recent NOAH videos have begun to be removed from YouTube. This could indicate that a streaming service is finally coming, or, it could just be the network cracking down on something they have let happen for a long time. ~ LEONA confirmed on "Satoko's Lounge" that he will be returning to wrestling after rehabbing from a leg injury he suffered last year.

BROADCASTS
"Great Voyage in Yokohama 2019" will be broadcast on the 16th March at 8.30pm JST on G+
G+ will broadcast the 17th April show on April 20th, they will also show the 28th May Korakuen Hall show live

LINKS
Interview with Tadasuke & HAYATA 
GHC Junior Heavyweight match signing: Minoru Tanaka vs Daisuke Harada 
AXIZ mini interview
Daisuke Harada mini interview
HAYATA & Tadasuke mini interview
Kaito Kiyomiya practices with Sakuraba
Masa Kitamiya mini interview
Naomichi Marufuji vs Kaito Kiyomiya: GHC Heavyweight match signing (translated by purodino)
Takashi Sugiura mini interview
"It's a really good situation to let everyone know and show it to them, how much I have grown in Noah" ~ interview with Eddie Edwards
KAZMA SAKAMOTO mini interview
The Greatest Persons Vibration Side A: interview with Naomichi Marufuji (Part 1)
GHC Champion Kaito Kiyomiya, expresses the "aesthetic consciousness" of mentor Marufuji

YOUTUBE LINKS
Kaito Kiyomiya trains with Sakuraba
GHC Heavyweight Match signing: Kaito Kiyomiya vs Naomichi Marufuji

Picture credits: Noah GHC, PXDX, Katsuhiko Nakajima, Weekly Pro
Mathew's Top 10 Joshi Wrestlers (Excluding Stardom)
Did your favorite non-Stardom wrestler make the cut? Check out Mathew's Top 10 and find out!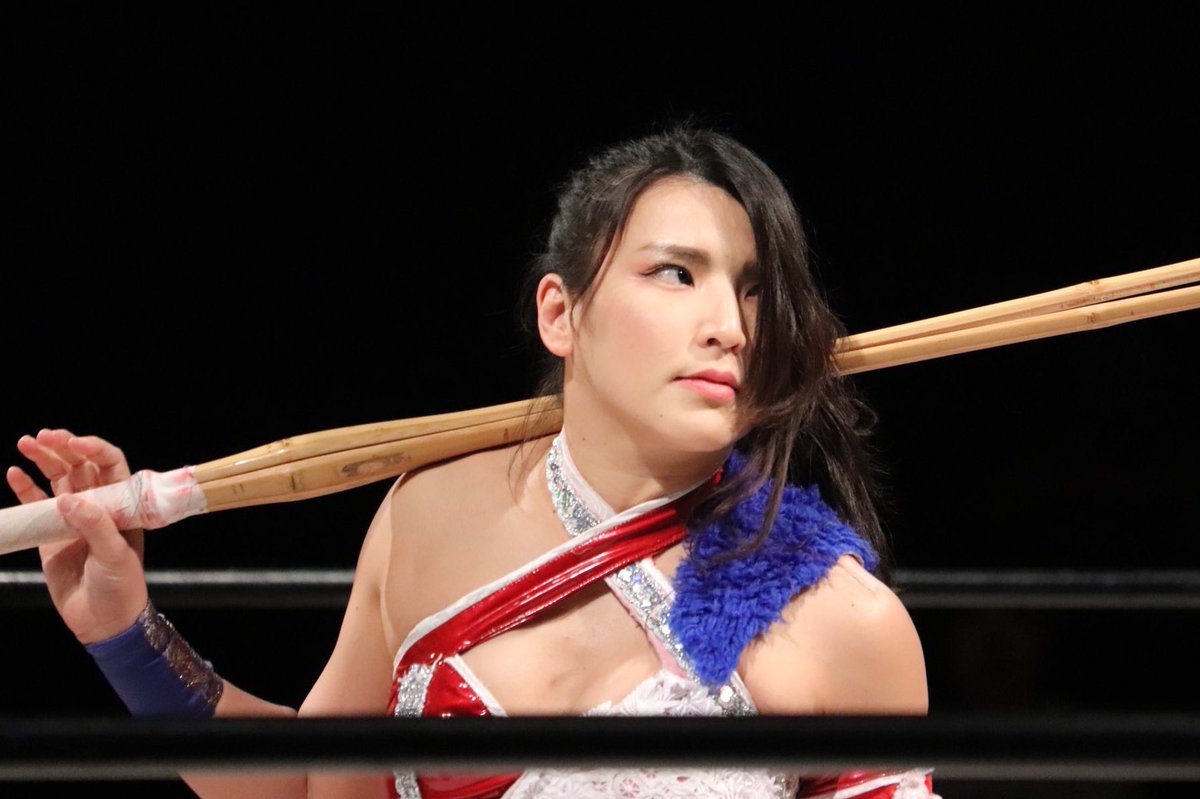 Did your favorite non-Stardom wrestler make the cut? Check out Mathew's Top 10 and find out!
I've wanted to do this one for a while and I'm gonna use this time to get to it.
You normally see me cover Stardom along with a few shows in the Joshi scene from time to time, but this countdown list is going to focus on the wrestlers that aren't apart of the Stardom roster. Let's be honest, if I did add Stardom on this list then that would be almost half and that's not fair since there are so many talented Japanese women from various promotions and they deserve recognition.
I'm also going by active members instead of all-time to keep up with the current scene, so let's get right to it as I talk about my Top 10 Joshi wrestlers.
10. ASUKA (Freelancer)
– No, not that Asuka, this is a different ASUKA. ASUKA was able to make history in the short amount of time she's been around professional wrestling in her three-year career and it's still going. Asuka was originally from Pro Wrestling WAVE until the end of 2018. She was the first transgender wrestler to main event their biggest show and also the first transgender wrestler to win their biggest title, the Regina Di WAVE Championship. She's only twenty-years-old and has so much to offer as she represents her community while having the agility of a young Jushin Liger. I only knew her around 2017 but that was when she was also coming out of her shell in the wrestling world and what a big impact she has left so far. She definitely is someone worth keeping an eye on.
9. Takumi Iroha (Marvelous)
– Twenty-six years old and only six years in the wrestling business, Takumi really is something else. She comes from the Marvelous promotion and is considered their top star in the promotion and for good reasons too since she's just dynamite. Amazing how she started in Stardom and years later, she would make a better name for herself wrestling in various promotions and winning different titles as well. She recently won SEAdLINNNG's top title, the Beyond the Sea Championship when she defeated the first champion and owner of the promotion, Nanae Takashi. A very talented woman with some fantastic strikes to top it off as she's someone you would wanna book for your promotion for a couple of shows.
8. Tsukasa Fujimoto (Ice Ribbon)
– The ace of Ice Ribbon and the only one to hold their top title, the ICExInfinity Championship for a total of six times and has had some incredible reigns as the champion. Thirty-five years old and wrestling for only ten years as she was trained by some of the best people like Nanae Takahashi, Manami Toyota, and Emi Sakura. Hardly sloppy in the ring, can work with most styles, these are great qualities to look for in a wrestler in general and Tsukasa is no exception to that.
7. Hikaru Shida (OZ Academy/AEW)
– While she is now considered AEW, she still left an impact in the Japanese scene and is also considered OZ Academy for the time being, so she counts to being on here. This ten-year veteran made sure the world knew who she was when she just performed globally, not bad from someone who started in Ice Ribbon back in 2008. She won major titles from Ice Ribbon, WAVE, OZ Academy, RCW, and Sendai Girls. She was also the one that got knocked out by Naomichi Marufuji on one of her produced shows in 2017 in under two minutes but she wanted a rematch a year later and while she lost, she took her punishment like a champion and still give the fans a great show on her 10th anniversary. Now that she has joined AEW, the fans overseas are sure to get something special with her around as she could be the top star of that division.
6. Hiroyo Matsumoto (Freelancer)
– Otherwise known as the Lady Destroyer and she might be the best Freelancer in the Joshi scene. She's wrestled in almost every promotion for Joshi wrestling, became more noticed when she recently joined WWE's Mae Young Classic in 2018 where she lasted until the second round. Hiroyo is strong, fast, technically sound in the ring, and has had many great matches in all of the promotions she's worked for and you knew you were going to get your money worth since she was that talented. She may not look like much but believe me when I say that she's an absolute monster and can just wreck you if she wanted to. Surprised nobody has snatched her up for an exclusive contract because she would be the top star in an instant, but I think she enjoys going to various promotions and performing on a high level that she definitely does make do with what she has, so nothing wrong with that.
5. Miyu Yamashita (Tokyo Joshi Pro-Wrestling)
– The star of TJP and for good reasons. She only has about five years of experience with only a background in karate, but she was able to hold the TOKYO Princess of Princess Championship two times for a grand total of 746 days and during those times that she was a champion, she's had great title defenses on top of it to make her a worthy champion of that company. She was also the SHINE Champion when she went to a title or title match during WrestleMania weekend. She's like the Shotaro Ashino of TJP. just great in the ring and while not many follow the promotion, people would mostly keep an eye on her from how talented she is. I really hope she gets future opportunities to fight other people from various promotions soon because she would have a lot of dream matches built up that you'd be crazy not to do any of them. Great talent and somebody please get her some special bookings on the double, she's worth your time!
4. Chihiro Hashimoto (Sendai Girls)
– Meiko Satomura's prized pupil in Sendai Girls and that woman is Chihiro Hashimoto. If you look at her at first glance, you would think she would be a powerhouse but she's also very technical in the ring. Chihiro has been wrestling for three years also and Meiko went full speed for Chihiro to make her the top star of her promotion and even be known as one of the best of the next generation of Joshi wrestlers. A four-time Sendai Girls World Champion with a combination of 777 days and each title defense would always leave you satisfied and wanting more of her at the end of things. With very little years under her belt, there's plenty of room for her to grow in the upcoming years of her career and she might be another one that'll be considered an all-time great when she does decide to hang it up. Powerful and wrestling-sound, Chihiro has the tools and can back it up at the same time and she's just getting started.
3. Sareee (World Woman Pro-Wrestling Diana)
– I'm gonna level with you on this one, I'm fairly new to her despite being in the wrestling business for eight years, meaning she wrestled since she was fifteen-years-old, but I was able to become a fan of her the moment I saw her. She's currently wrestling for World Woman Pro-Wrestling Diana and was known as an underdog of sorta. For about a year now, she was able to have big moments in her career when she defeated Aja Kong to become the promotion's World Champion for the second time, defeating Meiko Satomura clean during a Sendai Girls show in an amazing match, and was able to defeat Chihiro in a title for title match to win the Sendai Girls World Championship, making her a double crown champion with two of the biggest belts in the Joshi scene. A lot of the veterans like Meiko and Nanae are high on Sareee and have faith in her being another won to be the future of professional wrestling as a whole. She has a lot more to prove and plenty of time to do it as this is now her time to shine from here on out.
2. Arisa Nakajima (SEAdLINNNG)
– Aside from Nanae Takashi, I believe Arisa Nakajima is one of the best that SEAdLINNNG has to offer. Arisa is both intense and physical in the ring and while not many have seen a lot of her matches, she always left a big impression on people that have watched her matches and gave them something memorable. While most will be known for their stiff kicks in the ring, she's more known for her elbows and they're just as deadly as any stiff kick that you see in most matches these days. Made her career in JWP and is now looking to stand out in her new home and hopefully a future Beyond the Sea Champion when the time is right. Killer instinct and a veteran in the business with thirteen years of experience, she's someone that will amaze you in that ring.
Before I get to my final one, here's a small list of honorable mentions down below.
– Nanae Takahashi (SEAdLINNNG)
– Emi Sakura (Gatoh Move)
– Mika Iwata (Sendai Girls)
– DASH Chisako (Sendai Girls)
– Aja Kong (OZ Academy)
– Yuka Sakazaki (Tokyo Joshi Pro-Wrestling)
– Riho (Gatoh Move)
– Yuu (Freelancer)
– Mayumi Ozaki (OZ Academy)
– Saori Anou (Actwres girl'Z)
– Miyako Matsumoto (Ice Ribbon)
1. Meiko Satomura (Sendai Girls)
– I think it's obvious that she would be at the top of the list for everything she has done throughout her career and still performs at such a high level. The creator of Sendai Girls, Meiko Satomura would go down in the history books as one of the greatest females and wrestlers in general of all time with her incredible wrestling ability and her contributions to the business as a whole. She was also the first female to win DDT's top title, the KO-D Openweight Championship but that reign didn't last long, unfortunately. She's held big titles in her own promotion, Stardom, AAAW, and in Fight Club Pro. Meiko has been wrestling for almost twenty-five years and she still wrestles as if she's half her age while also being lethal at the same time. She made a big impact in Japan, the United States, and just globally as a whole that she's earned every accomplishment that she has received. My favorite Joshi wrestler and one of my all-time favorites. If you haven't seen her before, then something is wrong with you.
Thank you all for taking the time out of your day for reading my list. I'm sure there's quite a few that I'm missing on here but there are just so many talented women in the Japanese wrestling scene that it's so hard to put them all in as they all deserve praise. If you have time in your day for more, definitely look up all of these women since they're worth your time.
(NOAH) WEEKLY NEWSLETTER VOL.38 ~ 9TH JUNE 2019
The busy week that was in NOAH! The first Misawa memorial show and thoughts on the KENTA situation!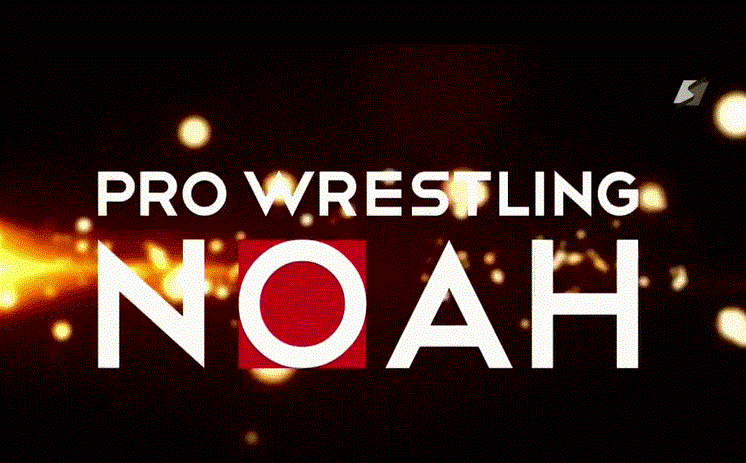 The busy week that was in NOAH! The first Misawa memorial show and thoughts on the KENTA situation!
CURRENT TOUR RECAP
Global Junior Tag League 2019 held its final two nights before the big finals in Osaka, on the 8th June in Yokohama, and the 9th June in Tokyo (the 9th June being the Mitsuharu Misawa memorial show).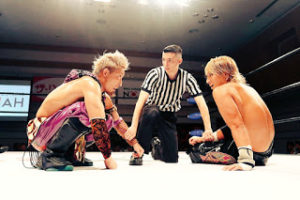 The RATELS seesaw bought Daisuke Harada and Tadasuke down with a bump, while at the other end of the scale rose, bringing YO-HEY & HAYATA up. On the 8th in Yokohama, Tadasuke fell to Hajime Ohara after ten minutes, and Daisuke Harada fell to Yoshinari Ogawa's sneak schoolboy pin on the 9th. This now means that they are out of the league.
YO-HEY & HAYATA however, on the rising end, won against Hitoshi Kumano & Chris Ridgeway (and eliminating them in the process) and the following night, won against Hi69 & Minoru Tanaka (who despite this loss, have said that they will be challenging for the GHC Junior Heavyweight tag belts). The finals of Global Junior Tag League 2019 in Osaka will be Stinger vs YO-HEY & HAYATA.
The main event of the Yokohama evening was called "The Mitsuharu Misawa Memorial Pre-match" which pitted the veteran team of Naomichi Marufuji, Takashi Sugiura & Shuhei Taniguchi against AXIZ (Go Shiozaki & Katsuhiko Nakajima) & Kaito Kiyomiya.
As Shuhei Taniguchi is going to be Marufuji's opponent on the 13th in Osaka, there were tensions between the two, although fans did report that there was tension between all the the vets.
During the match, Naomichi Marufuji worked on Go Shiozaki's shoulder (Shiozaki was to be his opponent for the 9th June), while Shuhei Taniguchi concentrated on everyone else, and Takashi Sugiura against Kaito Kiyomiya in particular. Sugiura managed to destroy him, and later commented that he would be very disappointed if the title match turned out the same way.
NOAH held the first night of the Mitsuharu Misawa memorial show on June 9th (Misawa actually died on the 13th June, when NOAH will be in Osaka) in Tokyo. The memorials are always a moving event with the flower altar arranged for him where fans leave gifts of flowers, his favorite food, drink and even cigarettes, and the traditional ceremony when he is welcomed to the green ring as the GHC Heavyweight Champion while "Spartan X" plays. The event was sold out with even the standing room tickets going quickly.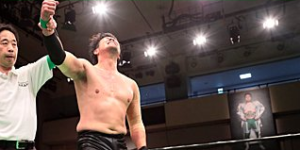 Naomichi Marufuji had a singles match against Go Shiozaki.
This match was symbolic as Shiozaki has never ever beaten (until now) Marufuji in a singles match, but in a hard fought fight, he managed to get the win over him by a Gowan Lariat\Emerald Fusion combination. Marufuji slunk away to lick his wounds, while Shiozaki spoke in the ring, thanking Marufuji for keeping NOAH alive, and Misawa for creating NOAH. Marufuji, in the post match promo, swore to become "the wall that Misawa was".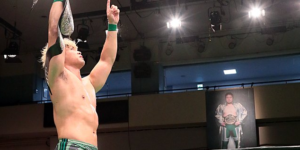 The GHC Heavyweight match started off civilly, with a handshake between the young champion and the veteran challenger, then all gloves were off, and Takashi Sugiura battered him for the best part of the match. Kiyomiya endured everything; the Olympic Slam, vicious elbows, the DDT avalanche, apron suplexed, speared, and that match finisher that has taken out other older, hardened and more experienced challengers, the front neck choke-hold.
The match finished after 33 minutes and 53 seconds, with Kaito Kiyomiya using the Tiger Suplex.
There was no immediate challenger after the match, (although both Kenoh and Naomichi Marufuji had hinted at a challenge), and Kiyomiya had no speech either, simply holding the belt up and pointing to the ceiling.
Elsewhere on the card that evening, Junta Miyawaki got his second win, and the biggest win of his career when he schoolboy pinned NOSAWA Rongai in the league, it was too late for either team to win, but the effects on Miyawaki's confidence was immense.
It was hoped that KENTA would make his return to NOAH on this night, but instead he appeared at a New Japan show in Osaka, and announced he would be competing in the G1 Climax. NOAH fans are naturally disappointed, as it was hoped that he would come home to NOAH first. Naomichi Marufuji posted on Twitter (without directly naming anyone, but it was obvious who he meant), saying to the effect that on this day of all days, he chose to do this. He wished him luck, and said "don't get buried".
EVENT RECAPS
Post match promos ~ Hamamatsu City
EVENT RECAP: Global Junior Tag League 2019 – 8th June, Yokohama Radiant Halls
POST MATCH PROMOS: Global Junior Tag League 2019 – 8th June, Yokohama Radiant Halls
EVENT RECAP: Global Junior Tag League 2019 – 9th June, Korakuen Hall (Mitsuharu Misawa Memorial night)
NEWS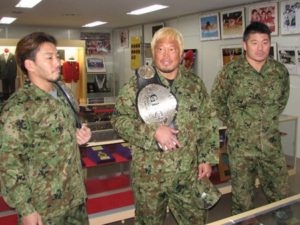 ATSUSHI AOKI PASSES AWAY
It was announced on June 3rd that All Japan (and NOAH born) wrestler, Atsushi Aoki, had been killed in a motorcycle accident in Tokyo. His bike had failed to take a swerve correctly, and he had crashed into a side wall.
Although he was an All Japan wrestler at the time of his death (plus their junior heavyweight champion, and a trainer in the dojo), Atsushi Aoki had actually started his career in Pro-Wrestling NOAH. A friend of Takashi Sugiura from their days in the JSDF (Japan Special Defense Forces), he had entered the NOAH dojo after an introduction to Naomichi Marufuji in Aomori, and graduated on the same date as Shuhei Taniguchi, December 24th 2005. He stayed with NOAH until 2013 when he walked out to All Japan with his trainer, Jun Akiyama (alongside Yoshinobu Kanemaru, Kenta Kobashi, Go Shiozaki and Kotaro Suzuki) in protest over NOAH's firing of Kobashi due to injuries. During his time in NOAH he had held the GHC Junior Heavyweight Tag Team championship twice, once with Kotaro Suzuki and once with Naomichi Marufuji. Jun Akiyama called him one of his most talented students who had a remarkable capacity for remembering advice about technique and carrying it out, what you told him after one match, he would remember in another.
After the walk out to All Japan, Aoki would return to NOAH one last time in September 2018 when he faced Takashi Sugiura and Daisuke Harada, while teaming with Jun Akiyama at Naomichi Marufuji's "Flight".
He was forty-four years old at the time of his death.
NOAH held a commemoration service for him at Yokohama, with old dojo friend and fellow trainee, an emotional Shuhei Taniguchi holding his picture.
NOAH'S PHOTO EXHIBITION
Pro Wrestling NOAH have announced that another photo exhibition will take place on Saturday September 14th until Monday September 16th at the ROJI Gallery in Osaka. The exhibition will be known as "NOAH the BEST 2019". There is no word as of yet whether another photo book will be released.
"COME AT ME YOU BASTARDS" ~ Kenoh's column
Kenoh's column this week dealt with one of his favorite subjects, not his hatred of Naomichi Marufuji, Takashi Sugiura or his hate\love\older brother relationship with Kaito Kiyomiya, or LIDET, but his beloved car.
"BEYOND MISAWA AND KOBASHI" ~ Interview with Go Shiozaki
Go Shiozaki gave an interview to "Weekly Pro" in which he speaks about AXIZ, Shuhei Taniguchi, Sugiura, the new NOAH and other subjects.
CURRENT CHAMPIONS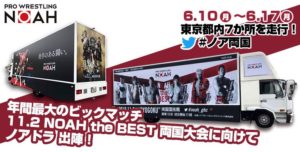 TOUR TIDBITS
~ To hype the Sumo Hall show on the 2nd November (which I will be attending), NOAH have commissioned a truck with artwork advertising the event, to drive around Tokyo on a schedule in June. Fans have been asked to photograph it, hash tag it and put it on Twitter.
~ Takashi Sugiura got home from the event at Korakuen Hall and saw his two dogs play fighting, he took a picture, put it on Twitter and said, "I also lost today, and so did you".
BROADCASTS
The 9th June show (the Misawa Memorial from Korakuen Hall, Tokyo and the second to last night of Global Junior Tag League) will be broadcast by G+ on Thursday 13th at 8pm JST.
The 13th June Mitsuharu Misawa memorial show from Osaka, will be shown on the 22nd at 10pm on Samurai TV. This will be the final night of Global Junior Tag League 2019.
Riki Choshu's Power Hall (featuring Go Shiozaki and Yoshiki Inamura) will be broadcast live on the 26th June on Samurai at 6.30pm
PICTURE CREDITS: YO-HEY, NOAH GHC, PKDK
Newsletter by Hisame