(NOAH) WEEKLY NEWSLETTER VOL.27 ~ 17TH MARCH 2019
Coming off their first live streaming event on YouTube – Hisame brings us all the things we need to know about NOAH!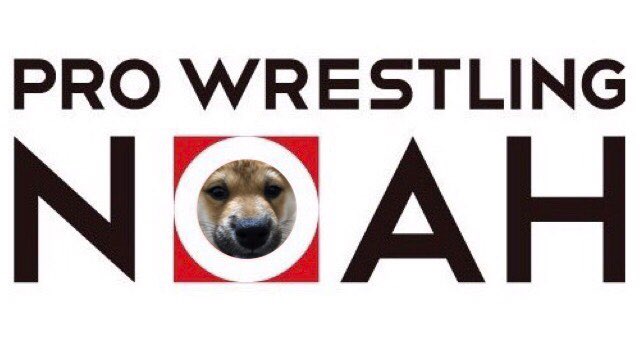 Coming off their first live streaming event on YouTube – Hisame brings us all the things we need to know about NOAH!
CURRENT TOUR RECAP
On March 16th, NOAH kicked off "Spring Navigation 2019" by visiting Matsuyama, Ehime, Shikoku.
The atmosphere was said to be one of excitement, which had been carried over from "Great Voyage in Yokohama 2019" which happened on the 10th March.
Following his appearance in Yokohama with KAZMA, NOSAWA teamed with Takashi Sugiura in Matsuyama. Sugiura later posted on Twitter that he "trusted" NOSAWA, but this was probably a typo as he later said that he didn't at all.
And so much for gratitude, Masao Inoue and Sugiura have returned to their minor (and comedic) feud, with Inoue bumbling around and using the usual tricks to try and win, until Sugiura obliterated him.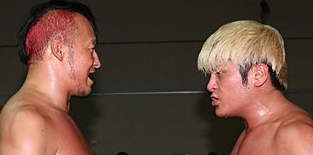 Naomichi Marufuji wound up Kenoh by saying that he was an "obedient Kenoh" these days (because he does what Kiyomiya says), adding on the suffix "kun" (which signifies in this case that a senior is addressing a junior) for good measure.
Kenoh said that it was their first match together since Marufuji had been injured, and he was looking forward to kicking him. Hard.
In the ring, the fight went to the outside (even to the merchandise table) and Kenoh no sold Marufuji's "Kawada Kicks".
Afterwards, Marufuji said that Kenoh must be very fond of him to want to fight him so much, and he wasn't even in Global Tag League.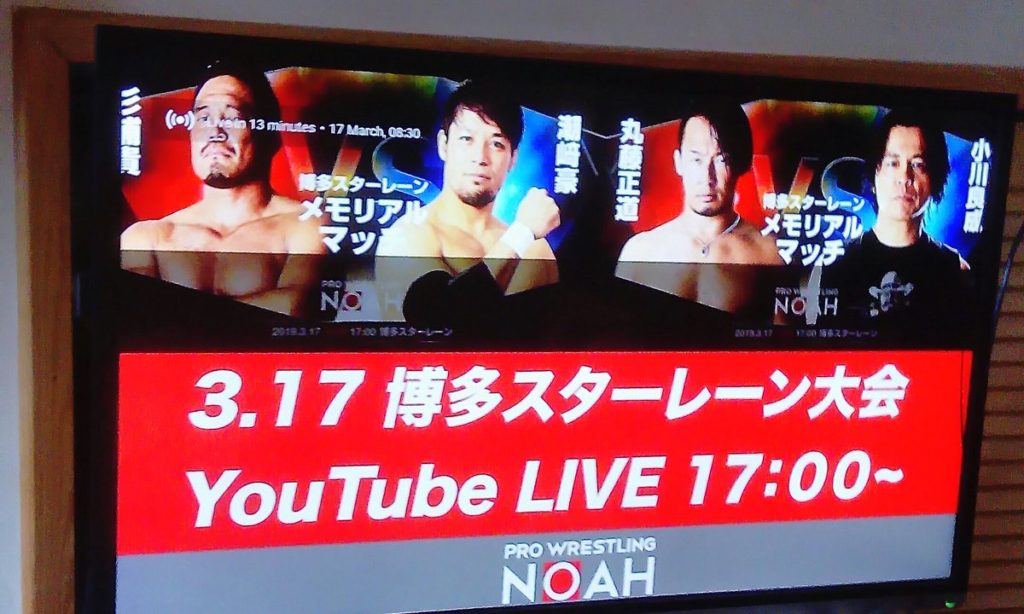 In a first for NOAH (since streaming services became all the rage so to speak), they announced that their final show at Hakata Stalene on the 17th March 2019, was going to be streamed live via their YouTube channel. It was worldwide, free of charge, and despite NOAH having to shut off the audio for any songs they didn't have the rights to, it was a success. The image was flawless, the sound was perfect, the transmission was good (although I had to shut down my machine twice as I was watching it through my PS4, and it kept losing connection, but that is nothing to do with the service).
Hakata Stalene is going to be demolished; the building is now crumbling due to age and damage caused by seismic activity over the years, and it is going to be too expensive to repair due to its 1970s construction methods. Many promotions in Japan have held one final show here.
I have been asked many times if this means that NOAH are going to make this a regular thing. The answer is, I don't know; but I get the feeling that this is them killing two birds with one stone, broadcasting a big event for them and seeing what response they get (about 2.1K people tuned in worldwide).
Hi69 has challenged Kotaro Suzuki to a title match for the GHC Junior  Heavyweight Tag Team titles. Suzuki initially agreed to the match, looked at Hi69 and said that he would "have to check the weight".
Expect Kotaro Suzuki to demand a public weighing. 
Katsuhiko Nakajima faced off against old tag team partner, Masa Kitamiya, and had a policy of eliminating him from his young teammates (Junta Miyawaki, Yoshiki Inamura and Kinya Okada), by throwing him into the crowd, hitting him with a chair and attacking him at the merchandise table.
Naomichi Marufuji and Yoshinari Ogawa had a rare singles match, which was very technical, and although Marufuji won, he said he was exhausted by it. Everything he tried, Ogawa was one step ahead and he said he couldn't pull out any moves from any drawers, not even a fraction. Marufuji, however, wasn't completely at Ogawa's mercy; Ogawa came away with a chopped red chest. 
Takashi Sugiura and Go Shiozaki put on a "Golden Era" match of just two guys beating up on each other. Their match was so stiff, at one point Shiozaki was briefly knocked out, and the ref had to perform a concussion test on him. Shiozaki could walk from the ring fortunately, but managed to slip a bit on the small steps. He later posted on Twitter about how Hakata Stalene was special to him, and made no mention of any concussion or injury, so I guess he is fine.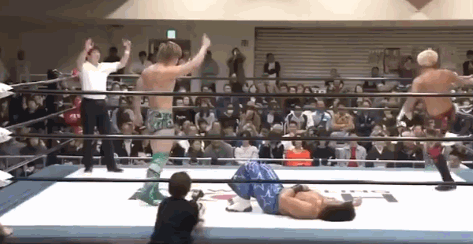 Kenoh and Kaito Kiyomiya debuted their new tag team, their new pose, and their new tandem move. When Kenoh came out, he stepped to the side and Kiyomiya came through the curtains, they then shook hands and went to the ring.
Their new move consists of Kiyomiya slamming the opponent with Kenoh doing the diving footstomp afterwards.
The dates of the small tour can be found here
Event recap: Matsuyama, Ehime
Event recap: Hakata Stalene, Fukuoka
Autograph schedule 
NEWS
"COME AT ME YOU BASTARDS"
Kenoh's new column compares the Japanese closure of the country for about 220 to NOAH's policy of isolation, and how it can be a good thing in allowing homegrown talent to grow without having to rely on or being dictated to by any outside source.
CODY HALL LEAVES NOAH
Although NOAH are yet to confirm anything officially, it looks very much like Cody Hall has left NOAH and is now advertising his availability for events in the US and Europe, and has not appeared on any upcoming cards. He says that he would like to return to the promotion someday.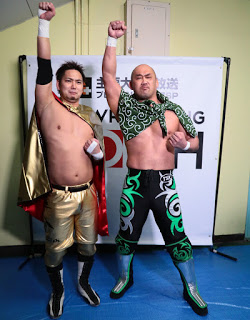 At "Great Voyage in Yokohama 2019", Mitsuya Nagai (having basically been told by 50 Funky Powers that he couldn't dance or pose with them, despite his funky green flashing glasses), said that he was looking for a tag partner that would shake things up for Global Tag League 2019.
Atsushi Kotoge came to the ring clutching a Paisley patterned cape. Nagai (taking a small break from yelling at a woman to shut up), looked as if to say, "please, not you…anyone but you". Kotoge, however, wouldn't be deterred from what he now sees as his mission to put justice into the heart of Nagai and wrapped the cape around him.
Backstage, Nagai said that he said that he never said that he would team with him, and that this cape looked like it was used by robbers (and threw in a few expletives). Kotoge told him that robbers were people the police came to arrest, not heroes such as themselves, whom First Graders looked up to and so could Nagai watch his language?
Nagai later posted on Twitter wondering about a team name, Kotoge of course bounced up and suggested "The Revolutionary Cloak Army".
Nagai is yet to comment.
CURRENT CHAMPIONS
TOUR TIDBITS
~ In Matsuyama when the roster come out to sign autographs. Some junior high kids, who couldn't afford merchandise, asked YO-HEY & Yoshinari Ogawa if they could sign autographs for them, all they had was some paper. Autograph rules are that the wrestlers are only meant to sign merchandise, but Ogawa overruled this (he is the most senior man in the company and no one is going to argue with him), and said, "lets do it".
~ Daisuke Harada made a beeline for Kaito Kiyomiya during their match in Matsuyama, Ehime. Kiyomiya brushed it off in the interview afterwards, basically saying that he had better things to think about than being attacked by the NOAH juniors.
~ Being injured and unable to travel too much meant that like everyone else outside of Fukuoka, Atsushi Kotoge watched the event at Hakata Stalene at home.
~ Maybach Taniguchi is still in "monster mode" and attacked the referee after a match.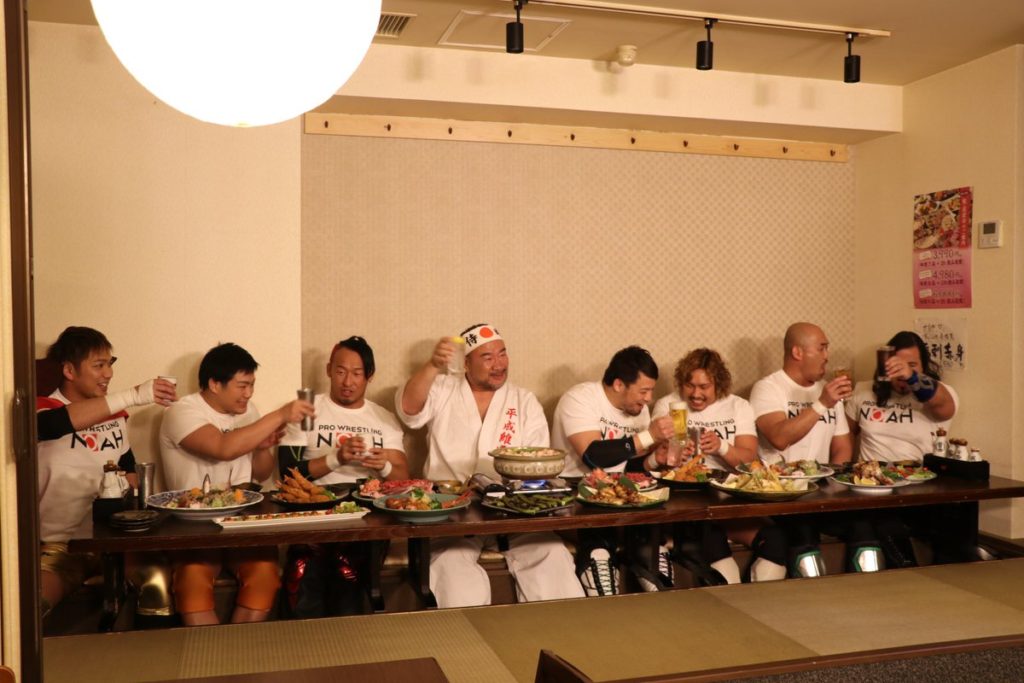 ~ NOAH have filmed their two yearly adverts for long time sponsor, "The Leave".
~ Although Kenoh and Kiyomiya are teaming, both have acknowledged they are not, and probably will not be friends. Kiyomiya says he will have to keep an eye on Kenoh, and Kenoh has said, he will be aiming for the belt (as will Takashi Sugiura who stated that no matter how NOAH may have changed, his wanting the belt hadn't, in a separate interview)
~ Was Kenoh crying when Kiyomiya called him to the ring at "Great Voyage in Yokohama?"
~ The merchandise truck broke down en route to Hakata Stalene, and had to be rescued by the wrestlers bus, hence the autograph signings before the event had to be rearranged.
~ Takashi Sugiura came home to find his dog had moved into his space on the couch when he is away. Lets not talk about the pictures he took of his dog doing its business when he walked him.
~ The GHC Heavyweight champions, AXIZ (Go Shiozaki and Katsuhiko Nakajima) and the GHC Junior GHC Champion, Minoru Tanaka, had a kind of group hug, in which Shiozaki lent so hard on Nakajima he almost knocked him over.
~ Kensuke Sasaki and Akira Hokuto came to Hakata Stalene for NOAH's farewell match there.
BROADCASTS
G+ will broadcast the 17th April show on April 20th
They will also show the 28th May Korakuen Hall show live
LINKS
Venue guide: Yokohama Cultural Gymnasium
Roster birthday list
"Kenoh and I will stand at the top and change the setting" ~ Interview with Kaito Kiyomiya
Kaito Kiyomiya resolves to "lead with strong feelings"
Kaito Kiyomiya defends against genius Marufuji, declares a united front with Kenoh
"Echoes across the industry": Minoru Tanaka's first GHC Junior Championship
Katsuhiko Nakajima & Go Shiozaki's first defense "Going Forward"
Kaito Kiyomiya breaks Marufuji in 3rd championship defense, decoration of the promotions new ship
Picture credits: Takashi Sugiura, Noah GHC, PKDX
Andrew's AJPW Champion Carnival Results & Match Ratings: 4.9.2021
All Japan's Champion Carnival kicks off today! The Triple Crown Champion Suwama is in action as well as the Ace of the company Kento Miyahara! Check it out!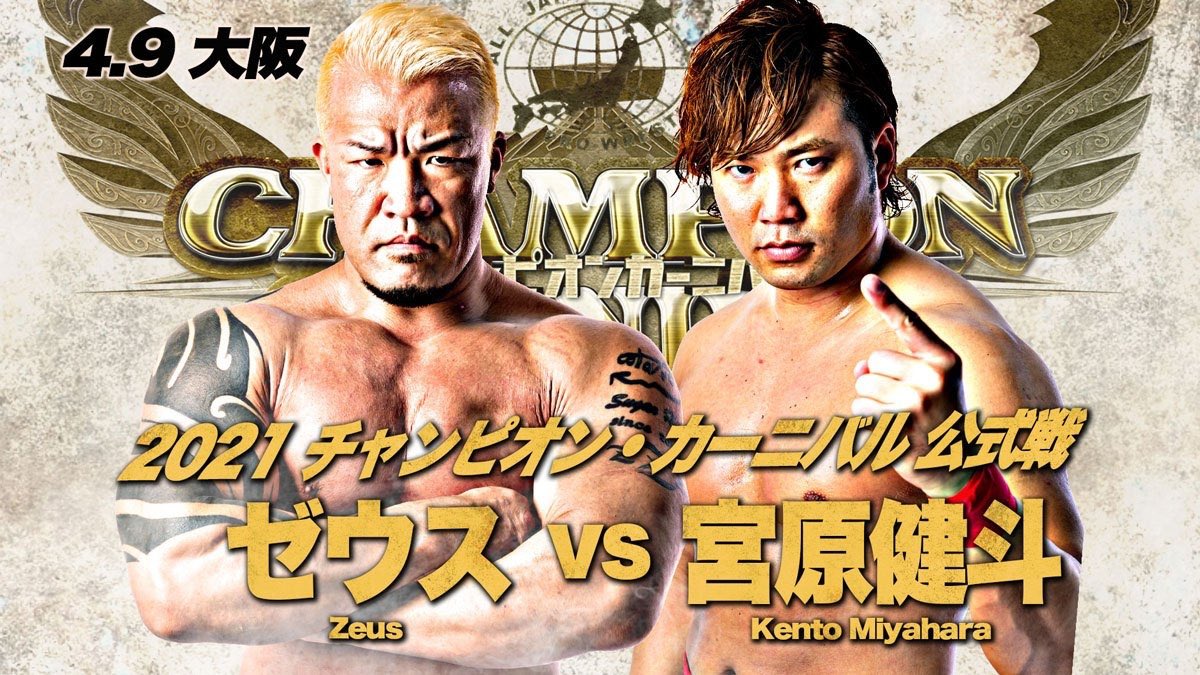 All Japan's Champion Carnival kicks off today! The Triple Crown Champion Suwama is in action as well as the Ace of the company Kento Miyahara! Check it out!
Now I haven't kept close eyes on the product last few months, because personally, they weren't grabbing my interest post Quarantine Comeback. But since my Puro Patronus Mathew Sarpraicone is having some computer issues, I guess I'm covering the first couple of these!
Let's see how the tournament starts!
Ratings:
Shuji Ishikawa vs Koji Doi: Ishikawa wins via Thesz Press @9:09 – ** ½
Suwama vs Kohei Sato: Sato wins via German Suplex Hold @10:49 – ***
Yuma Aoyagi vs Shinjiro Otani: Otani wins via Overhand Chop @9:51 – *** ¼
Jake Lee vs Shotaro Ashino: Jake wins via D4C @3:44 – **
Zeus vs Kento Miyahara: Zeus wins via Jackhammer @18:16 – **** ¼
Results:
Shuji Ishikawa vs Koji Doi
Doi is the least recognized name in the tournament this year, and last I was aware of his was during the closure of Wrestle-1. Most of his success has come in the tag team division, but he's no real slouch. Interestingly, Ishikawa is the newest Gaora TV Champion, but also was tied heavily to Suwama and their Violence Giant tag team.
We see Doi come out fast trying to throw Ishikawa into the corners and take him off his base. Ishikawa towers over Doi, so Doi was underneath, literally and figuratively the entire match. As Ishikawa hit most of his signature spots, including the Mushroom Stomp from the middle rope, Doi had a moment where he locked in the Rings of Saturn; but Ishikawa is just too big.
As Doi tried to keep the pressure up, rope runs, big strikes, Murder Lariat attempts from Doi but Ishikawa stifles the surge with a Fire/Thunder Driver. They both stumble up, run the ropes a bit trading lariats and charges, Ishikawa jumps, hits a Thesz Press and manages to keep Doi down for the 3 count!
Suwama vs Kohei Sato
An early card match gives us the Triple Crown champion against one of his more recent challengers! Falling short for the Triple Crown a few months ago, Sato has a little bit to prove.
The match opens as a slugfest, Suwama gets the best of things and rides the power advantage over Sato for a long time. Sato is taller than Suwama but Suwama is more powerful and controlled the pacing. Things went to the outside and the former Violence Giant kept up to the name.
When the match came back in to the ring Suwama looks to try and finish things, goes for the Rolling Lariat, but it gets blocked. Sato starts fighting back, hits a Falcon Arrow for a near fall, and then Suwama starts looking like he's in trouble. Suwama hits the Double Chop comeback, and tries a Powerbomb, but Sato blocks it, Sato goes for a Powerbomb, but Suwama blocks it. The power struggle is tangible, but Suwama seems to be losing some of the back and forth. Sato rocks Suwama, locks in the German Suplex, and hits the German Suplex Hold.
Kohei gets on the board and avenges his loss! Depending on how the tournament shakes out, Kohei might get another shot at the title in the future.
Yuma Aoyagi vs Shinjiro Otani
The veteran Otani is putting Yuma through the paces early. He's side stepping Dropkicks and just kicking Yuma to prove a point. Yuma tries to fire back, and then Otani continues to push off certain moves and be funny.
Yuma does manage to take advantage of his youth, but when he goes for the disrespect by attempting the Bootwash, Otani fires, lays out the younger wrestler and hits the Wash. Yuma goes to the outside, and when he turns back to the ring, Otani charges and hits a running Bootwash straight to Yuma's face.
As Otani takes the role of the cagey veteran punishing the Young Boy, Yuma tries to find ways to come back, but things Otani stays a little ahead of the younger wrestler. Yuma gets a close moment where he locks in End Game, but Otani fights to the ropes. Otani then backs the younger wrestler down, hits Dragon Suplex, then goes for another, but Yuma blocks. Otani counters the block with a lariat, then another Dragon Suplex but Yuma kicks out at 1! Refusing to stay down, Otani goes into his bag of tricks and hits Yuma twice with Hashimoto style Overhand Chops, to finally keep the younger man down.
Jake Lee vs Shotaro Ashino
So there is some fun history between these two when Ashino brought Enfantes Terrible over to AJPW and took JIN down a peg. But then recently, Jake stole the Enfantes members from Ashino and betrayed JIN. Ashino is looking to avenge the turnabout, but Jake is trying to craft his Carnival masterpiece.
Jake definitely has the swagger of an anime villain. He widens his arms like he's conducting a symphony and moves slowly yet deliberately. Ashino starts quick, hitting a Drop Toe Hold and going to the ground game, but Jake stabilizes. Ashino again brings Jake down after successive German Suplexes and goes for the Ankle Lock! Jake has trouble navigating it for a while, but eventually finds the ropes.
Retreating to the corner, Jake sees the referee, Ashino charges, Jake uses the referee shield and starts taking advantage. A few direct blows to the head, Giant Killing to the back of the head, followed by D4C. Jake drags the referee back, picks up the win and leaves cackling. He's limping heavily, selling the viciousness of the Ankle Lock even in a short match, but yeah, not what I expected.
The match was used to help build Jake's new persona and possibly give Ashino a steeper mountain to climb. But the length and abrupt end was definitely not expected. Interesting, but also a little off putting.
Zeus vs Kento Miyahara
Zeus and Kento have had great wars. There was a point a few years ago where Kento was Zeus' hurdle, but after beating him for the Tag titles, he then gathered momentum. Zeus has beaten Kento for the Triple Crown before, has beaten him in the Carnival, and this has been one of the best rivalries of the last few years in current AJPW. Kento is of course the current generation Ace, and everyone knows that; but given Zeus' track record and Kento's stagnation the last year since losing the Triple Crown to Suwama, we could get something interesting.
The match starts with their usual sarcastic respect to one another during breaks and outside the ring moments. Given that they've had 2 5 Snowflake classics in the last 3 years, this had a lot to live up to. But at no point did it feel like retreading, since they are both in different positions comparatively, this felt like a whole new book, not an additional chapter. Zeus landed a lot of power spots while Kento combated everything with his Knees.
Kento's usual attack of Blackouts from different angles rocked Zeus pretty hard. Zeus ate a few, grabbed a Chokeslam and they both landed for a rest spot. Zeus drives Kento into a corner, goes for an Outside-In Brainbuster and starts trying to end things. Kento goes for the Shutdown Suplex, Zeus fires out, a few big Lariats and a Jackhammer from Zeus…AND ZEUS WINS!
Overall Score: 7.25/10
Now this wasn't a bad start to things! Sure the Ashino/Jake Lee match did not go the way I expected, it definitely told enough of a story to prove it's going somewhere. Shinjiro Otani gets a solid start to things, Shuji Ishikawa won a match he was supposed to and Zeus/Kento ended up being a solid day 1 main event.
Kento has started on the back foot before. I guess we get to see if he wins out until the Final Day, or if he has a larger struggle. Let's check out the Day 1 Standings!
Standings:
Zeus: 1-0 – (2 Points)
Shuji Ishikawa: 1-0 – (2 Points)
Shinjiro Otani: 1-0 – (2 Points)
Kohei Sato: 1-0 – (2 Points)
Jake Lee: 1-0 – (2 Points)
Kento Miyahara: 0-1 – (0 Points)
Suwama: 0-1 – (0 Points)
Yuma Aoyagi: 0-1 – (0 Points)
Shotaro Ashino: 0-1 – (0 Points)
Koji Doi: 0-1 – (0 Points)
Champion Carnival 2021 Preview : Will Anyone Dethrone Suwama ?
Val breaks down the 2021 Champion Carnival and gives his take on how he thinks it will shake out! Check out the AJPW round robin tournament April 9-May 3!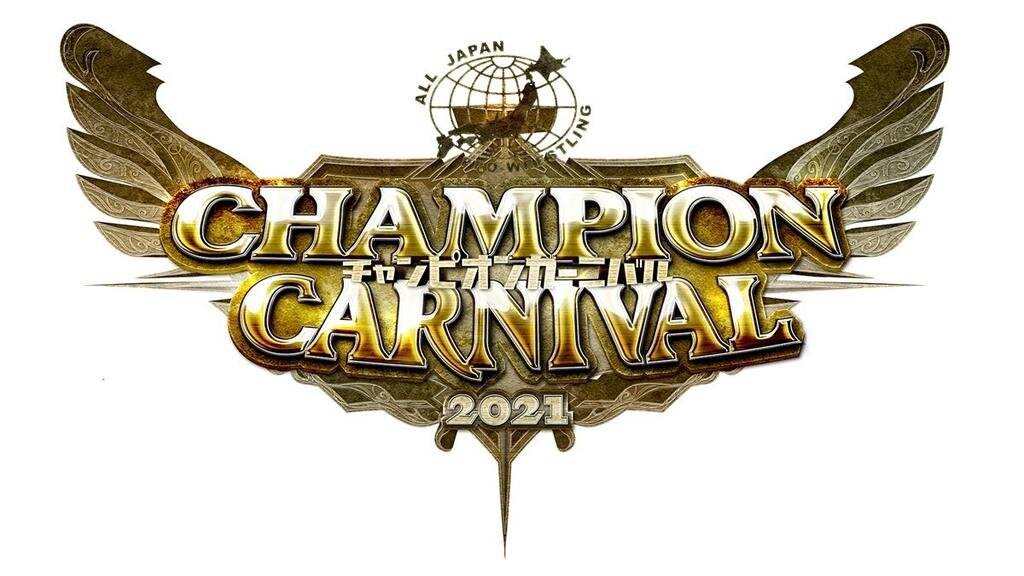 Knock knock ! It's tournament season at the door !
Here we are ladies and gentlemen, the first few tournaments of the year are starting to take place, and today we are focusing on the biggest upcoming one, All Japan's Champion Carnival !
With "new" faces entering the field, and a slightly different format yet again, what does this year's edition has in store for us ?
Let's discuss that, and more !
As mentioned in the intro, the format of this year's Carnival, once again, has changed a little bit. Thankfully we do get the tournament during the usual time period, this time from April 9th until May 3rd.
While the number of participants remains the same at ten, this time, there is no block to win, and all the competition to go through. One block, the two men with the most points make it to the finals. A rather simple formula, for a rather complex tournament to fully predict.
This year's field once again feels quite stacked, with at least 6 potential finalists !
With all of that said, let's look at all the participants !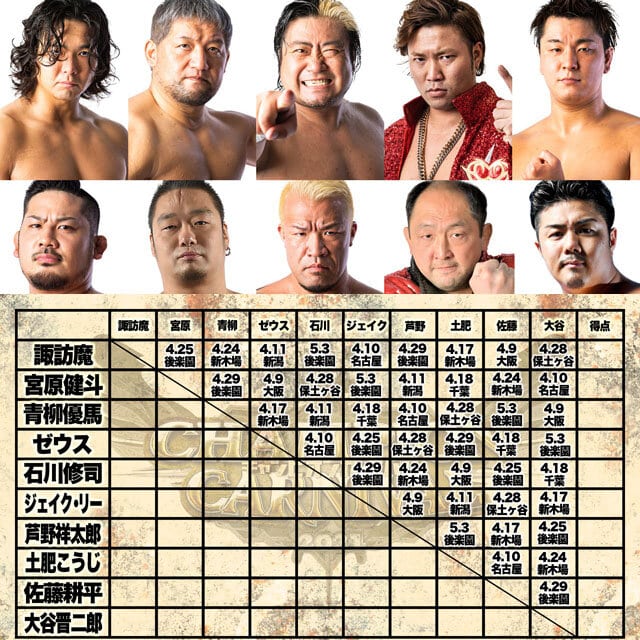 Jake Lee (Total Eclipse) ; 4th entry
Let's start with the man with all the momentum going his way as the Carnival approaches : Jake Lee. The leader of Total Eclipse, All Japan's newest faction, recently turned on Koji Iwamoto, leaving his long-time partner in Sweeper and JIN to formed this new group, with all of the now former Enfants Terribles members, at the exception of Shotaro Ashino, as well as Tajiri sliding in.
With this new shift, Lee enters the tournament with one purpose. Finally winning the tournament, and claim the Triple Crown championship for the first time. Is this the year for Jake Lee to eclipse all the competition once and for all ?
Key match-ups : Suwama, Kento Miyahara, Shotaro Ashino, Zeus.
Shuji Ishikawa ; 5th entry, GAORA TV champion
The second man we'll be talking about is Suwama's former tag team partner, and new GAORA TV champion Shuji Ishikawa. While he didn't take too much of step back in last year's CC, Ishikawa might have to this year given the stacked nature of the field. We ultimately can't take Ishikawa fully out of the equation, yet this year could be the first one where he doesn't end up within the higher half of the participants points wise.
Key match-ups : Suwama, Kohei Sato, Koji Doi.
Suwama (Evolution) ; 16th entry, Triple Crown champion
While we're onto the former Runaway Giants, let's talk about the man with a target on his back in Suwama. The Triple Crown champion has now been carrying the belt for more than a year. He'll look to cap that reign off with another big time Carnival performance, aiming for the ultimate victory. As it is often the case with champions, he most likely will fall short, but count on All Japan's veteran champion to find his way near the top of this one block.
Key match-ups : Shotaro Ashino, Jake Lee, Zeus, Shinjiro Otani.
Kento Miyahara (NEXTREAM) ; 8th entry, World Tag Team champion, 2020 finalist
As we spoke of the champion aiming for victory, here is the only man in the field to win the Carnival while being Triple Crown champion : Kento Miyahara. Now holding the World Tag Team titles alongside best mate Yuma Aoyagi, it is rather safe to say Kento won't win the Carnival this year. Reaching his fourth finals in a row isn't however, and ruling out the possibility of the current All Japan Ace making history that way wouldn't be the smartest thing to do.
Key match-ups : Jake Lee, Shotaro Ashino, Suwama, Zeus, Shinjiro Otani.
Yuma Aoyagi (NEXTREAM) ; 3rd entry, World Tag Team champion
Moving on to the other half of the World Tag Team champion and NEXTREAM lieutenant Yuma Aoyagi. Yuma has been on the rise ever since his first Triple Crown title match against Miyahara, and he now comes across as someone we can rather easily consider as a potential finalist this year. While it may still be early for Yuma to break through to such a degree, this Carnival looks like the perfect field for him to further the statement he made not only against Kento, but against Suwama as well : He definitely belongs as one of All Japan's top stars.
Key match-ups : Suwama, Shotaro Ashino, Shinjiro Otani, Koji Doi.
Shotaro Ashino ; 2nd entry
Let's now talk about the other man currently caught in the eye of the storm, the former leader of Enfants Terribles Shotaro Ashino. Not only motivated by the wish to do much better than last year, Ashino enters with the prospect of beating the man who took his faction away from him in Jake Lee, and finally get a win over Suwama.
Needless to say Ashino enters this tournament as one of the favourites to reach the finals, given his implication within All Japan's main arc going on.
Key match-ups : Suwama, Jake Lee, Kento Miyahara, Koji Doi.
Surprisingly or not, this is indeed Kohei Sato's first ever Carnival appearance ! The veteran, one half of Twin Towers alongside other participant Shuji Ishikawa, is no easy foe to take on for anyone taking part in this tournament. While it wouldn't be shocking to see Sato rack up double digit points, chances are we might actually see him take a step back, as the younger generation comes knocking hard in All Japan, and there may not be enough place around the top of this block for Sato.
One thing is assured, the tower once belonging to ZERO1 will leave broken skulls behind its path.
Key match-ups : Suwama, Shuji Ishikawa, Shinjiro Otani, Yuma Aoyagi, Jake Lee.
Zeus (Purple Haze) ; 8th entry, All Asia Tag Team champion, 2020 winner
Now let's finally look at the defending Carnival winner, and current holder of the All Asia Tag titles. Since losing to Suwama for the Triple Crown, Zeus has sort of fallen back among the hierarchy, if he ever truly climbed a few spots since his sole Triple Crown title run. If there is someone among the current All Japan stars who might fall back this year a little bit, it might very well be Zeus.
Key match-ups : Suwama, Kento Miyahara, Jake Lee, Shotaro Ashino, Yuma Aoyagi.
Shinjiro Otani ; 1st entry
And now, let's take a look at this year's wild card : The legendary Shinjiro Otani. In the field of veterans still able to work more than decently well as they get closer to 50, Otani ranks more in the upper echelon. Is there much to expect in terms of results ? Hard to say. How much will Otani impact this year's field should be one of the most interesting things to follow during this Carnival, coming across as the n°1 wild card here.
Key match-ups : Suwama, Kento Miyahara, Kohei Sato, Shotaro Ashino, Yuma Aoyagi.
Koji Doi (Total Eclipse) ; 1st entry
Finally, let's talk about the man who will, most likely, eat a lot of pinfall losses. In such a field, there will be someone taking much more losses than the others and, it's hard to not look at Doi here. Whether he does fit in such a role, like Kuma Arashi last year or does better than expected record wise, let's hope he can at least show how talented he is on what likely is All Japan's biggest stage.
Key match-ups : Shotaro Ashino, Zeus, Shuji Ishikawa, Yuma Aoyagi.
Matches to look out for :
In case this is your first Champion Carnival and / or simply don't really know which matches to look forward to, here is a list. Most of these matches should impact the standings and help shape up how the tournament will go, with a select few likely being decisive matches. And if they're not, you will almost be guaranteed a good watch !
Yuma Aoyagi vs Shinjiro Otani – April 9th
Jake Lee vs Shotaro Ashino – April 9th
Suwama vs Jake Lee – April 10th
Yuma Aoyagi vs Shotaro Ashino – April 10th
Kento Miyahara vs Shotaro Ashino – April 11th
Jake Lee vs Shinjiro Otani – April 17th
Jake Lee vs Yuma Aoyagi – April 18th
Suwama vs Yuma Aoyagi – April 24th
Kento Miyahara vs Kohei Sato – April 24th
Shotaro Ashino vs Shinjiro Otani – April 25th
Suwama vs Kento Miyahara – April 25th
Jake Lee vs Zeus – April 25th
Suwama vs Shinjiro Otani – April 28th
Zeus vs Shotaro Ashino – April 28th
Suwama vs Shotaro Ashino – April 29th
Kento Miyahara vs Yuma Aoyagi – April 29th
Kento Miyahara vs Jake Lee – May 3rd
Shotaro Ashino vs Koji Doi – May 3rd
Val's predictions and thoughts :
As I often brought up while going over each of the participants, this year's field is rather stacked and thus, more so difficult to predict in general. As you'd expect from the Champion Carnival, in a sense. However, there still is one big guideline allowing us to start somewhere.
Last month, all of Enfants Terribles turned on Shotaro Ashino, leaving him all alone while Jake Lee sided with the now leaderless Enfants, taking over leadership and ditching JIN and his longtime partner Koji Iwamoto in the process. The Lee-Ashino match-up already looked like the main story to build towards last year when the Carnival was finally held, but a different route was taken. Approximately 6 months later, this match-up got pushed towards second gear, and we enter this year's Carnival with a pretty clear "main arc" to develop.
The question being : Will the tournament revolve around this arc ?
I don't think I need to preface this : I think that yes, and I would dare say it is rather obvious, that this year's Carnival is set around Jake Lee and Shotaro Ashino. Thus, I lean towards the same finals match-up I predicted last year, which already was these two facing each other.
With that said, what about the winner of this final ?
Last year, I picked Jake Lee to win the Carnival over Ashino. That also isn't changing, for two main reasons. The first one being Jake Lee's ascent, which is obviously linked to Ashino's "downfall" here. Both men were at a bit of a critical place prior to the landscape shifting moment happening. Lee especially was struggling to find success after his losses to Miyahara, failing to beat Zeus in the Carnival last year, in the A block's deciding match. He also failed to win Real World Tag League alongside Iwamoto, as JIN came up short against NEXTREAM in the finals, failing at this stage for the second year in a row.
While Ashino comes off two losses against Suwama for the Triple Crown, the situation is different. One can afford to lose in order to keep chasing the one that cannot. The one that cannot drastically changed his ways, in what may be read as a desperate attempt at finally finding success again. Success Lee hasn't touched since September 2019 when winning the Royal Road tournament.
Therefore, according to my possibly nonsensical and illogical ramblings, Jake Lee will be the Champion Carnival winner this year. And mostly likely end up being the one to dethrone Suwama.
One other aspect I wanted to discuss rapidly in this section is : How is Yuma Aoyagi's Carnival going to look like ?
Ever since trying to prove his worth against Kento Miyahara last year, Aoyagi has only kept growing and legitimizing his status as one of the upcoming top players in All Japan. Winning RWTL alongside Kento, defeating Suwama and Shuji Ishikawa for the World Tag Team titles, and following a day later with a star-making performance against the same Suwama for the Triple Crown.
Following this match, there is little to no doubt, at least in my mind, that the Carnival should serve as a way for Aoyagi to cement what the Suwama match showcased. By putting very good to great matches of course, but that won't be enough. Yuma needs to win, and if possible against big names. He needs to end up ranking rather high in this 10 men block. Is making it into the top 5 with double digit points a fair bar to reach for the oldest of Aoyagi brothers ?
With that said, this 2021 Champion Carnival preview reaches its end. What are some of your thoughts, predictions and expectations ? Hopefully, you are looking forward to this year's edition as much as I do, as this Carnival definitely looks promising.