Coming off their first live streaming event on YouTube – Hisame brings us all the things we need to know about NOAH!
CURRENT TOUR RECAP
On March 16th, NOAH kicked off "Spring Navigation 2019" by visiting Matsuyama, Ehime, Shikoku.
The atmosphere was said to be one of excitement, which had been carried over from "Great Voyage in Yokohama 2019" which happened on the 10th March.
Following his appearance in Yokohama with KAZMA, NOSAWA teamed with Takashi Sugiura in Matsuyama. Sugiura later posted on Twitter that he "trusted" NOSAWA, but this was probably a typo as he later said that he didn't at all.
And so much for gratitude, Masao Inoue and Sugiura have returned to their minor (and comedic) feud, with Inoue bumbling around and using the usual tricks to try and win, until Sugiura obliterated him.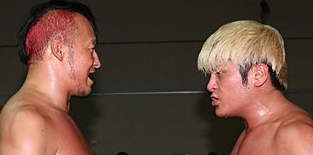 Naomichi Marufuji wound up Kenoh by saying that he was an "obedient Kenoh" these days (because he does what Kiyomiya says), adding on the suffix "kun" (which signifies in this case that a senior is addressing a junior) for good measure.
Kenoh said that it was their first match together since Marufuji had been injured, and he was looking forward to kicking him. Hard.
In the ring, the fight went to the outside (even to the merchandise table) and Kenoh no sold Marufuji's "Kawada Kicks".
Afterwards, Marufuji said that Kenoh must be very fond of him to want to fight him so much, and he wasn't even in Global Tag League.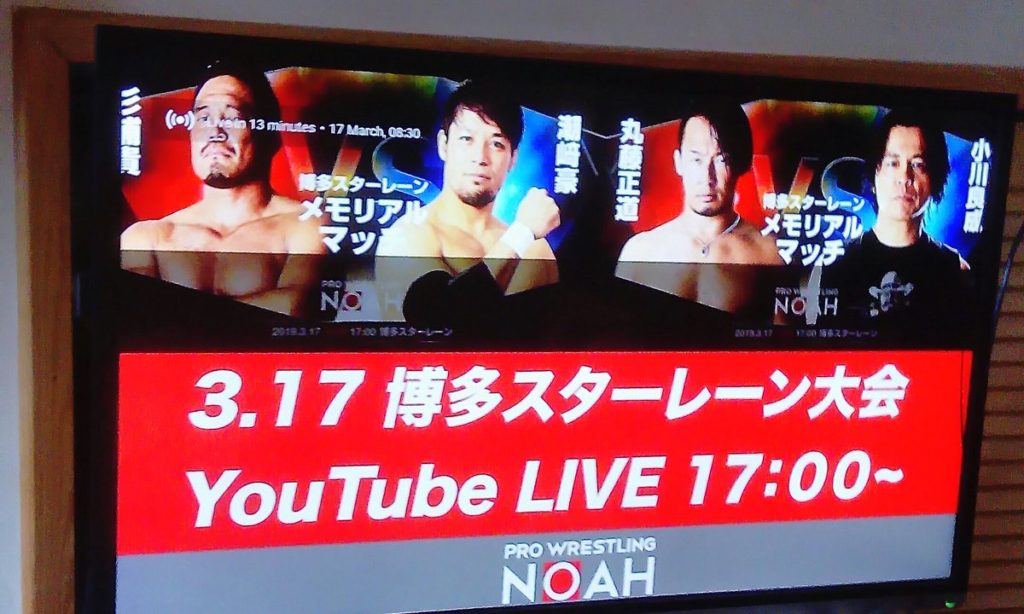 In a first for NOAH (since streaming services became all the rage so to speak), they announced that their final show at Hakata Stalene on the 17th March 2019, was going to be streamed live via their YouTube channel. It was worldwide, free of charge, and despite NOAH having to shut off the audio for any songs they didn't have the rights to, it was a success. The image was flawless, the sound was perfect, the transmission was good (although I had to shut down my machine twice as I was watching it through my PS4, and it kept losing connection, but that is nothing to do with the service).
Hakata Stalene is going to be demolished; the building is now crumbling due to age and damage caused by seismic activity over the years, and it is going to be too expensive to repair due to its 1970s construction methods. Many promotions in Japan have held one final show here.
I have been asked many times if this means that NOAH are going to make this a regular thing. The answer is, I don't know; but I get the feeling that this is them killing two birds with one stone, broadcasting a big event for them and seeing what response they get (about 2.1K people tuned in worldwide).
Hi69 has challenged Kotaro Suzuki to a title match for the GHC Junior  Heavyweight Tag Team titles. Suzuki initially agreed to the match, looked at Hi69 and said that he would "have to check the weight".
Expect Kotaro Suzuki to demand a public weighing. 
Katsuhiko Nakajima faced off against old tag team partner, Masa Kitamiya, and had a policy of eliminating him from his young teammates (Junta Miyawaki, Yoshiki Inamura and Kinya Okada), by throwing him into the crowd, hitting him with a chair and attacking him at the merchandise table.
Naomichi Marufuji and Yoshinari Ogawa had a rare singles match, which was very technical, and although Marufuji won, he said he was exhausted by it. Everything he tried, Ogawa was one step ahead and he said he couldn't pull out any moves from any drawers, not even a fraction. Marufuji, however, wasn't completely at Ogawa's mercy; Ogawa came away with a chopped red chest. 
Takashi Sugiura and Go Shiozaki put on a "Golden Era" match of just two guys beating up on each other. Their match was so stiff, at one point Shiozaki was briefly knocked out, and the ref had to perform a concussion test on him. Shiozaki could walk from the ring fortunately, but managed to slip a bit on the small steps. He later posted on Twitter about how Hakata Stalene was special to him, and made no mention of any concussion or injury, so I guess he is fine.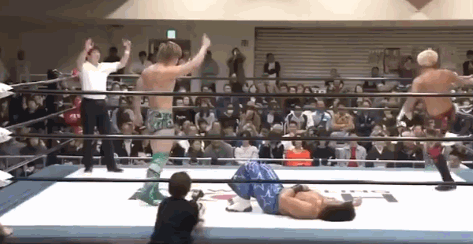 Kenoh and Kaito Kiyomiya debuted their new tag team, their new pose, and their new tandem move. When Kenoh came out, he stepped to the side and Kiyomiya came through the curtains, they then shook hands and went to the ring.
Their new move consists of Kiyomiya slamming the opponent with Kenoh doing the diving footstomp afterwards.
The dates of the small tour can be found here
Event recap: Matsuyama, Ehime
Event recap: Hakata Stalene, Fukuoka
Autograph schedule 
NEWS
"COME AT ME YOU BASTARDS"
Kenoh's new column compares the Japanese closure of the country for about 220 to NOAH's policy of isolation, and how it can be a good thing in allowing homegrown talent to grow without having to rely on or being dictated to by any outside source.
CODY HALL LEAVES NOAH
Although NOAH are yet to confirm anything officially, it looks very much like Cody Hall has left NOAH and is now advertising his availability for events in the US and Europe, and has not appeared on any upcoming cards. He says that he would like to return to the promotion someday.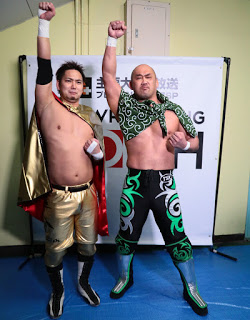 At "Great Voyage in Yokohama 2019", Mitsuya Nagai (having basically been told by 50 Funky Powers that he couldn't dance or pose with them, despite his funky green flashing glasses), said that he was looking for a tag partner that would shake things up for Global Tag League 2019.
Atsushi Kotoge came to the ring clutching a Paisley patterned cape. Nagai (taking a small break from yelling at a woman to shut up), looked as if to say, "please, not you…anyone but you". Kotoge, however, wouldn't be deterred from what he now sees as his mission to put justice into the heart of Nagai and wrapped the cape around him.
Backstage, Nagai said that he said that he never said that he would team with him, and that this cape looked like it was used by robbers (and threw in a few expletives). Kotoge told him that robbers were people the police came to arrest, not heroes such as themselves, whom First Graders looked up to and so could Nagai watch his language?
Nagai later posted on Twitter wondering about a team name, Kotoge of course bounced up and suggested "The Revolutionary Cloak Army".
Nagai is yet to comment.
CURRENT CHAMPIONS
TOUR TIDBITS
~ In Matsuyama when the roster come out to sign autographs. Some junior high kids, who couldn't afford merchandise, asked YO-HEY & Yoshinari Ogawa if they could sign autographs for them, all they had was some paper. Autograph rules are that the wrestlers are only meant to sign merchandise, but Ogawa overruled this (he is the most senior man in the company and no one is going to argue with him), and said, "lets do it".
~ Daisuke Harada made a beeline for Kaito Kiyomiya during their match in Matsuyama, Ehime. Kiyomiya brushed it off in the interview afterwards, basically saying that he had better things to think about than being attacked by the NOAH juniors.
~ Being injured and unable to travel too much meant that like everyone else outside of Fukuoka, Atsushi Kotoge watched the event at Hakata Stalene at home.
~ Maybach Taniguchi is still in "monster mode" and attacked the referee after a match.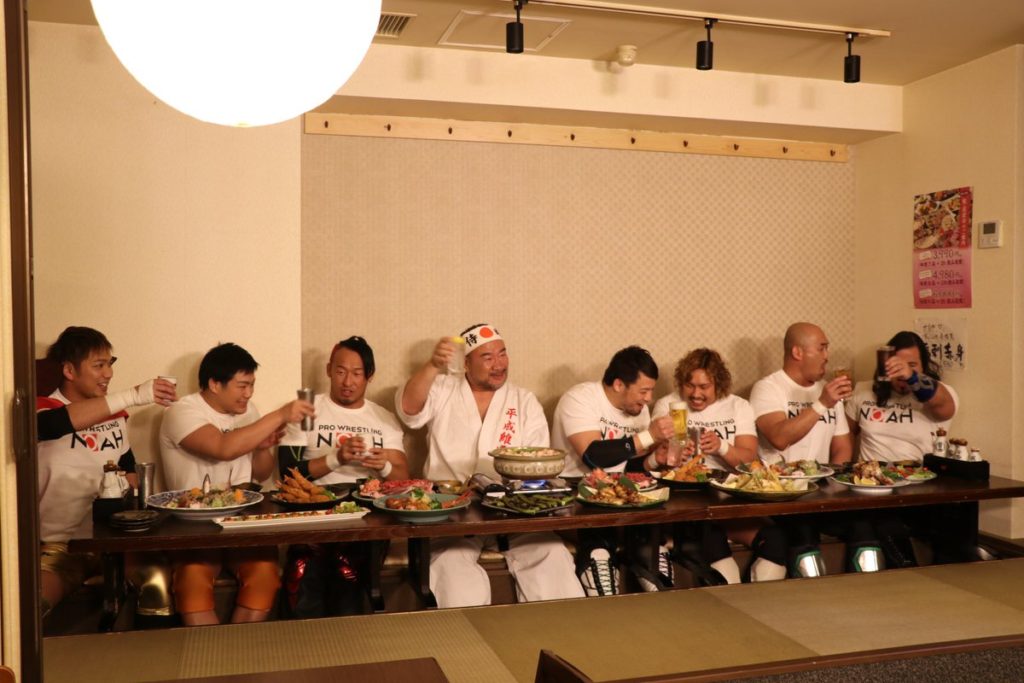 ~ NOAH have filmed their two yearly adverts for long time sponsor, "The Leave".
~ Although Kenoh and Kiyomiya are teaming, both have acknowledged they are not, and probably will not be friends. Kiyomiya says he will have to keep an eye on Kenoh, and Kenoh has said, he will be aiming for the belt (as will Takashi Sugiura who stated that no matter how NOAH may have changed, his wanting the belt hadn't, in a separate interview)
~ Was Kenoh crying when Kiyomiya called him to the ring at "Great Voyage in Yokohama?"
~ The merchandise truck broke down en route to Hakata Stalene, and had to be rescued by the wrestlers bus, hence the autograph signings before the event had to be rearranged.
~ Takashi Sugiura came home to find his dog had moved into his space on the couch when he is away. Lets not talk about the pictures he took of his dog doing its business when he walked him.
~ The GHC Heavyweight champions, AXIZ (Go Shiozaki and Katsuhiko Nakajima) and the GHC Junior GHC Champion, Minoru Tanaka, had a kind of group hug, in which Shiozaki lent so hard on Nakajima he almost knocked him over.
~ Kensuke Sasaki and Akira Hokuto came to Hakata Stalene for NOAH's farewell match there.
BROADCASTS
G+ will broadcast the 17th April show on April 20th
They will also show the 28th May Korakuen Hall show live
LINKS
Venue guide: Yokohama Cultural Gymnasium
Roster birthday list
"Kenoh and I will stand at the top and change the setting" ~ Interview with Kaito Kiyomiya
Kaito Kiyomiya resolves to "lead with strong feelings"
Kaito Kiyomiya defends against genius Marufuji, declares a united front with Kenoh
"Echoes across the industry": Minoru Tanaka's first GHC Junior Championship
Katsuhiko Nakajima & Go Shiozaki's first defense "Going Forward"
Kaito Kiyomiya breaks Marufuji in 3rd championship defense, decoration of the promotions new ship
Picture credits: Takashi Sugiura, Noah GHC, PKDX