NXT Minus 6: Let's Get Dusty! (3/6/19)
What stood out to Bradley this week?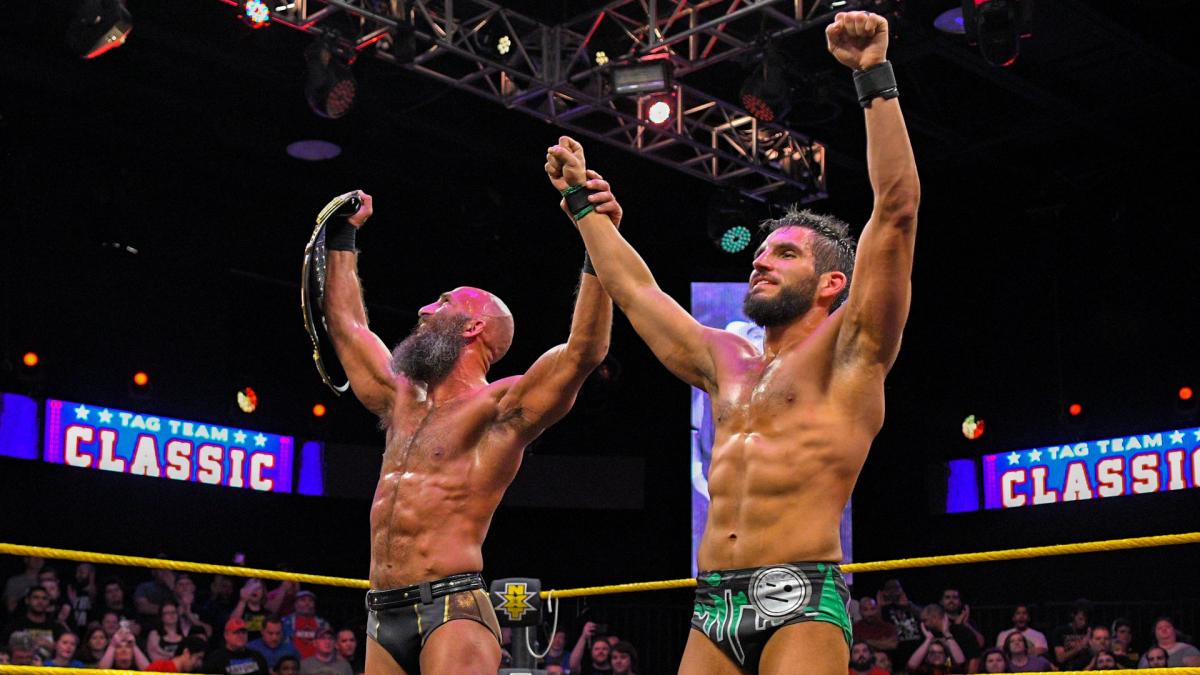 This week, we separate the cooks from the chefs. And the That's Why I Love Wrestling Award goes to a split second. It's WWE NXT!
6. The Forgotten Sons versus Team 1&2: Technically speaking, the Forgotten Sons do some nice stuff in the ring. I just don't care about their characters. Any cook can follow the recipe, but a chef gives gives a meal a personal flair that takes it to another level. Don't know Blake from Cutler. Don't know why the third guy just stands there without interfering in the match. The Forgotten Sons are developing into competent cooks. They are far from chefs. 3 ¾ stars
5. Mustache Mountain versus the Street Profits: The Street Profits have grown by Montez Ford-like leaps and bounds. I hate that they lost in the first round. Poor bracket planning. Mustache Mountain simply cannot have a bad match. They are world class chefs. As always, the Big Strong Boi delivers one of the best meals of the night. 4.2. Stars
4. Ricochet/Aleister Black versus Fabian Aichner/Marcel Barthel: In typical Takeover fashion, the first match of the night sets a very high bar. However, if Ricochet and Black want to be a real team, they need team moves. Right now, they are just 2 guys who happen to be in the ring together. Aichner & Barthel deserve a name. The Axis. Lotta Ringen. Anything. Aichner in particular is a special talent. Not many people can match his combination of power and athletic ability. 4.5 stars.
3. #DIY versus Undisputed Era: It is deeply satisfying when a match lives up to the hype. The expectation is match of the night, and that's what they delivered. If they had about 5 more minutes, it would have been 5 stars. It actually physically hurts that we might not get future matches from these two teams. They are Iron Chefs, sitting atop the culinary pantheon. This is going to be hard to beat for NXT television match of the year. 4.8 stars.
2. I'm moving to Canada so I can declare Kyle O'Reilly my national treasure.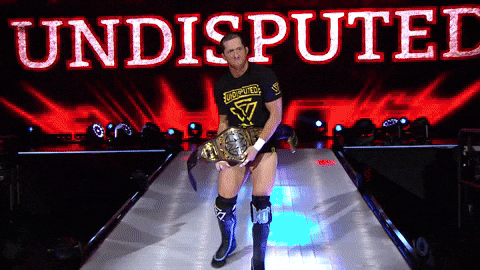 1. This week's That's Why I Love Wrestling Award goes to a moment so small, if you blinked you missed it. For months, Tommaso Ciampa has cut pre-recorded promos. They end when he gets up and slaps the camera. This week, Johnny Gargano did the slapping. The Devil is in Johnny's head. The puppet master is pulling the strings! Those little touches take a match or a moment from good to great. Ciampa and Gargano are two of the best storytellers in the wrestling world.
That's right. I said it!
McLeod: Another Wasted Opportunity
With all of the good things going on in NXT, is it possible there was a miss? What was the wasted opportunity?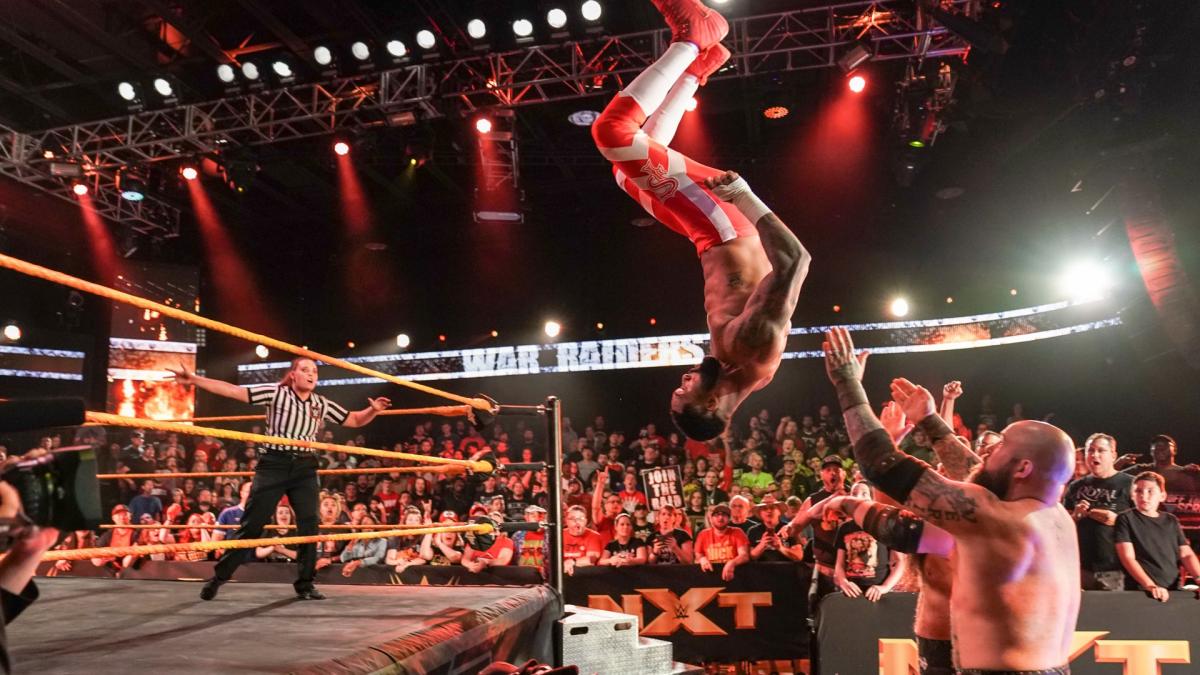 With all of the good things going on in NXT, is it possible there was a miss? What was the wasted opportunity? 
On this week's NXT the tag team division was a big focus as the Viking Raiders open the show to relinquish the tag team championships.
They're doing this as they feel there is no one in NXT who can take the titles from them and they're focus is on their new home on RAW. This brings out the Street Profits who say while they didn't win a few weeks ago they proved they could beat them.
They talk their way into a title shot later in the night. They even take a shot at the teams name changes asking if the Viking Raiders is even their real name.
The match was a hundred miles an hour from the get go. Raiders try to get the quick win while Street Profits get a few close calls. Unfortunately the Forgotten Sons cause the match to end in a DQ and after clearing house the Raiders leave the belts in the ring.
First off if you're not a fan of the Street Profits this episode will make you one. The fans were so behind them during their promo and during the match. 
I'm not a fan of the Raiders just giving up the titles. I know it's suppose to be a testament to their dominance but the difference between this and when Asuka relinquished the Women's title was she had the belt for over a year. Raiders had only had the titles since January.
I think them being called up early has something to do with it. I thought when they beat Black & Ricochet in New York it was saving the likes of the Forgotten Sons & Street Profits to challenge them down the line. Also them deciding to just give up the titles is a heelish thing to do and the Raiders while dominant have been presented as a face team.
Given how over the Street Profits were this would have been a perfect time to finally put the belts on them. It would have been a great story for the episode. Opening with champs trying to give up the belts because they don't believe anyone can beat them only to be proven wrong by the fan favourites.
It would have been surprising given that titles rarely change hands on TV in the era of Takeovers. They've had shots at the tag titles and while they were impressive they didn't seem ready. After this week they're definitely ready to be serious contenders.
It looks like the belts are officially vacant which will lead to a multi team match at Takeover 25 to crown new champions. Given the conclusion to the episode we know Street Profits, Forgotten Sons and Lorcan & Burch will be involved. Probably Fish & O'Reilly will be added later.
This is where NXT needs to strike while the iron's hot and have the Street Profits become the new champs. 
Forgotten Sons interfered in this weeks match so if Street Profits win the titles at Takeover they have a ready made first title feud that could lead into SummerSlam weekend in Toronto.
Tiffany's Takes: WWE NXT UK (5/1/2019)
NXT UK is still in Brooklyn, and still kicking ass!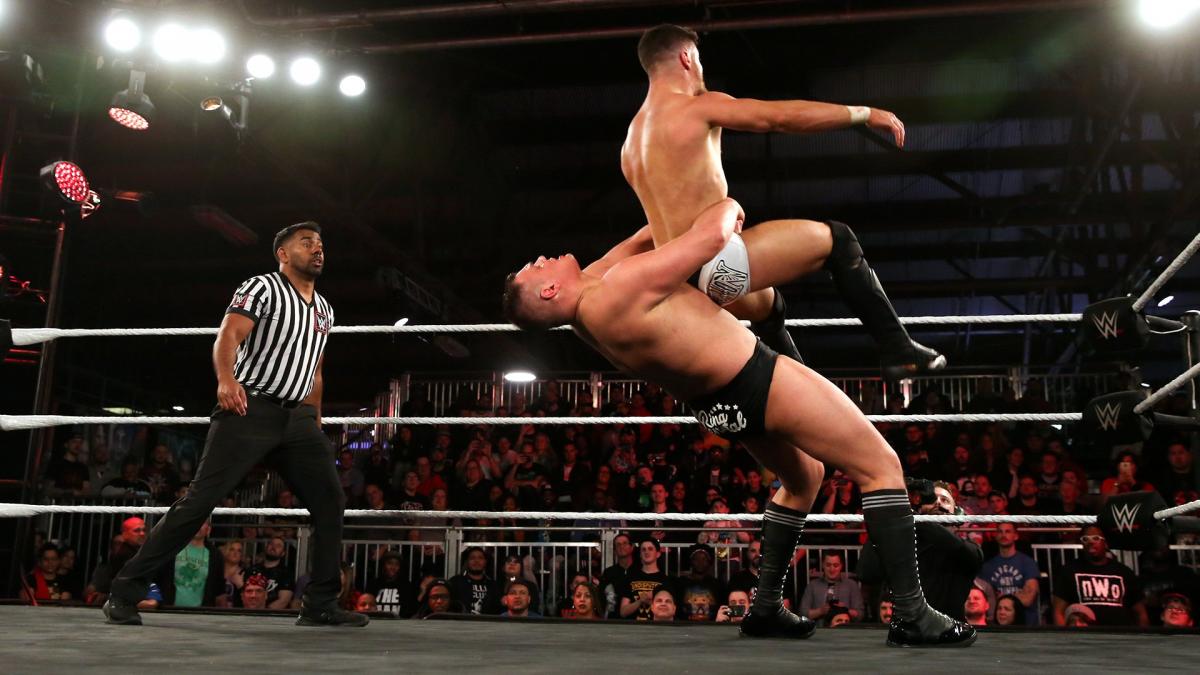 WWE NXT UK is still tearing up Brooklyn, so let's see how the crew from across the pond is doing!
Travis Banks vs Mansoor
Honestly, my first thought when I heard the name 'Mansoor' was 'What the hell is a Mansoor' because it sounded like the old Mantaur gimmick from the 90s. If you don't know or remember that, count your lucky stars. My second thought was that Mansoor looked like Mustafa Ali's look-alike, douchebag cousin.
All that said, this was a really great match. Travis Banks hasn't gotten a lot of exposure since his one-match feuds with Jordan Devlin and Kassius Ohno, so it was nice to see him getting to show his stuff in a match. Mansoor turned out to be more than just a local for Banks to squash and gave the Buzzsaw quite a fight. Can't wait to see where Banks is headed.
Promos
Xia Brookside's promo was…interesting. I like that she's showing off her personality, but that makes it easier to dismiss her talent, which is sad. Hopefully, her training is going to pay off and she'll be able to be an in-ring badass.
I'm not sure what to make of Nina Samuels' promo, she's so seldom on the show that it's hard to see where she's getting the idea that people are clamoring for her return. However, it's clear that she's got her eyes on Toni Storm and the NXT UK Women's Championship, which should be fun.
I'm not familiar with Dragunov, but he looks like a tough customer, and I'll hold off any other comments until I see him in the ring.
I'm very excited about what kind of hell-raising Gallus is going to do in Glasgow, though I'm surprised that Johnny Saint didn't include them in the Tag Team Championship match, but that could change between now and then.
Kenny Williams and Amir Jordan
I'm SO stoked to see these guys get a title shot! Williams and Jordan have come so far since their rather hapless start, so it's nice to finally see them getting some recognition. I loved them calling out GYV on their BS and the fact that the Lucky Bad Boys will get a title shot when NXT UK descends on Glasgow next week!
Piper Niven vs Reina Gonzalez
I really wasn't sure what to think of this match when it got started because Niven and Gonzalez are NOT small and having two larger people often doesn't work very well, but they proved me wrong. I LOVED this match. Niven and Gonzalez aren't pixies, but they can move around and it made this match so great to watch! I'm not surprised that Niven won, I am surprised that Rhea Ripley didn't come out and start trouble.
Jordan Devlin vs WALTER
I'm not going to lie, as much as I love Jordan Devlin, I wasn't psyched about this match because it really seemed pointless. The NXT UK Championship wasn't at stake because they wanted to leave the door open for another round of Dunne vs WALTER, so this seemed more about getting Devlin out of the picture rather than putting him in real contention for the title.
The match was a good one, but I just couldn't get into it, plus Devlin seemed really outmatched by WALTER, so he didn't even get as good a showing as I feel he should have. He did a great job, but the whole match made me feel blah. Of course we're going to get Dunne vs WALTER in Glasgow, that was never in question, so good for them, but it seems like a wasted opportunity for Devlin.
Overall Thoughts
Believe it or not, other than the main event, I really enjoyed NXT UK this week. All of the matches, even the main event, were good. The card for Glasgow sounds REALLY good and I'm excited to see what happens when NXT UK comes to Scotland.