Rob: Kurt Angle Does Deserve Better
Kurt does deserve better–but it's not what you think.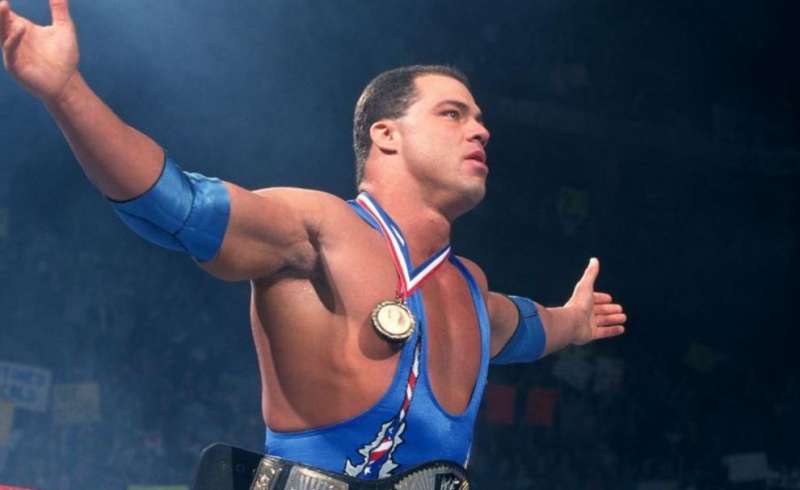 Rob Bonnette takes a dive into the final match for Kurt Angle at WrestleMania 35 and the choice of Baron Corbin as his opposition.
So we're less than two weeks away from WrestleMania 35 and as of right now Kurt Angle is still slated to face Baron Corbin in his farewell match on the show, which a lot of you are still upset about.  To a lot of you guys Kurt deserves a better opponent than Baron Corbin, because Baron Corbin sucks and all.  The name bandied around the most is John Cena, which makes sense given their history together and that Cena currently doesn't have a match on the show right now.  But I'm here to say that's not a good idea, and that you guys need to stop complaining about who gets to be Kurt's last opponent.  Now a few weeks ago I was right on board with having Kurt go out against one of his old rivals – Cena, Rey Mysterio Jr, or even Shawn Michaels if he felt like it. But after seeing Kurt's farewell tour the last few week and how he's struggled against Apollo Crews, Chad Gable, and this week Samoa Joe I am firmly entrenched on the other side of the fence of that argument.  The last thing we need is to see Kurt Angle out there trying to have one last big match in front of all those people.  And he doesn't need that, either.
But you're right, Kurt does deserve better – better than to be hung out to dry in a fifteen minute match against someone desperately trying to carry him across the finish line in 2019.  Have you seen him the last few weeks?  he was gassed in five minutes with Chad Gable and this week he could barely get up and over for a few simple suplexes against Samoa Joe.  Joe, who people were saying looked past his prime last year against AJ Styles and is usually protected in multiman matches, had to carry Kurt on Monday night.  To his credit he did a good job and we actually got a decent match, but that's exactly what's going to happen if Kurt gets a 'better opponent' than Baron Corbin at WrestleMania.  Do you really want John Cena full of ring rust to have to struggle to get Kurt through 15 minutes of not being to turn his head, or help with simple bumps, or even lift him up for some of his basic stuff?  By the time you read this Kurt will have struggled through six to eight minutes of AJ dumbing down his own offense to look pedestrian enough for Kurt to get a sympathy win over him on Smackdown, and next if I heard right it's gonna be Rey Jr.  Yeah, good luck.  I get the whole 'Kurt's greatest opponents tour' thing and that's fine, but that's for TV segments and not the biggest show of the year where looking bad will just be embarrassing on a whole other level.  He does not deserve to go out like Willie Mays at the end of his career or Dan Marino not even able to drop back to hand the ball off to a running back.  If you really love the guy you'll want him to go out looking as good as possible.
Which brings us to Baron Corbin.  Corbin is a real heel, someone who goes out to get booed and not to win snarky cool points from smart fans like Kevin Owens or who you refuse to boo because you relate to them too much, which is something that we could sure use more of today.  He's a full time wrestler so he's not rusty, and has enough energy and athleticism to help Kurt do things like…..pick him up for the Angle slam properly.  He also has a year long clip reel of back and forth with Kurt to play on the big screen for everyone who only comes to/watches WrestleMania every year.  As poetic as it would be for Cena to be Kurt's last opponent since Kurt was his first, if the goal is to give Kurt some kind of victory lap/greatest hits moment in either victory or defeat then Corbin is the way to go in my opinion.  Now may we get some kind of moment between he and Cena afterwards?  Sure.  But a match?  Come on, you guys can't be serious.  And look, I know that Ric Flair got Michaels to retire him and Shawn got the Undertaker….but go watch those matches, will you?  Ric at 58 years old was moving around better than Kurt is now.  I just watched that match and there were a few spots where Shawn clearly helped him but he mostly handled himself and could do his signature stuff without looking like he was dying in there.  Kurt is not there at all now.
In short, this sums up what I think is the right way to go for Angle at WrestleMania for his farewell match:
Folks just want a chance to shout "YOU SUCK" during Angle's music, see his pyro and than chant "THANK YOU KURT".

His opponent at #WrestleMania and the match itself is immaterial.

Give the old guy a break & just let him slap the Ankle Lock on Baron and go home.

— Will Mahoney (@HeelWillMahoney) March 19, 2019
That's it.  He can win or lose against Corbin and get all of that in.  Lose?  Yes.  Corbin can use the win to get more heat going forward and more material for his delusional heel promos.  Kurt can still put the ankle lock on him afterwards.  Very few people go out with a win.  Flair didn't, Shawn didn't, Austin didn't, etc.  So don't be surprised if Corbin gets the official victory and then Kurt gets his licks in after the bell.  Don't rule it out.  But anyhow, back to the matter at hand.  Kurt can't go out there like he could even a year ago.  If you want to see a final good performance from Kurt Angle at WrestleMania go watch the mixed tag match he and Ronda Rousey had against Triple H and Stephanie.  It was some great, fun sports entertainment and he did a good job there in his spots.  Don't go pushing it and hoping for some throwback to 2006 with Cena or someone else more 'on his level'.  Really, look at this will ya?
Y'all still out here thinking Kurt Angle can go at #WrestleMania?! #RAW pic.twitter.com/RgVv9yh4co

— Will Mahoney (@HeelWillMahoney) March 26, 2019
You want to see him fold up like that going over for an Attitude Adjustment from Cena, and then Cena have to roll off of him at the two count because Kurt probably wouldn't be to kick out on his own afterwards?  Really?  Look, Kurt is an all time great and arguably the best amateur to pro wrestler ever.  But he's real limited in what he can do, and should probably have done this two or three years ago if he was going to get a top level kind of match.  But now it's time to send him off in a way that does not make him look bad, and that's in a quick five minute deal with someone the crowd will have no problem booing against him.  That guy is Baron Corbin, as much as you think he sucks – which, if you do we got T-shirts here you can buy that say just that.