The Good, Bad and Ugly Fastlane 2019
On the way to WrestleMania, does Fastlane end up Good, Bad or Ugly?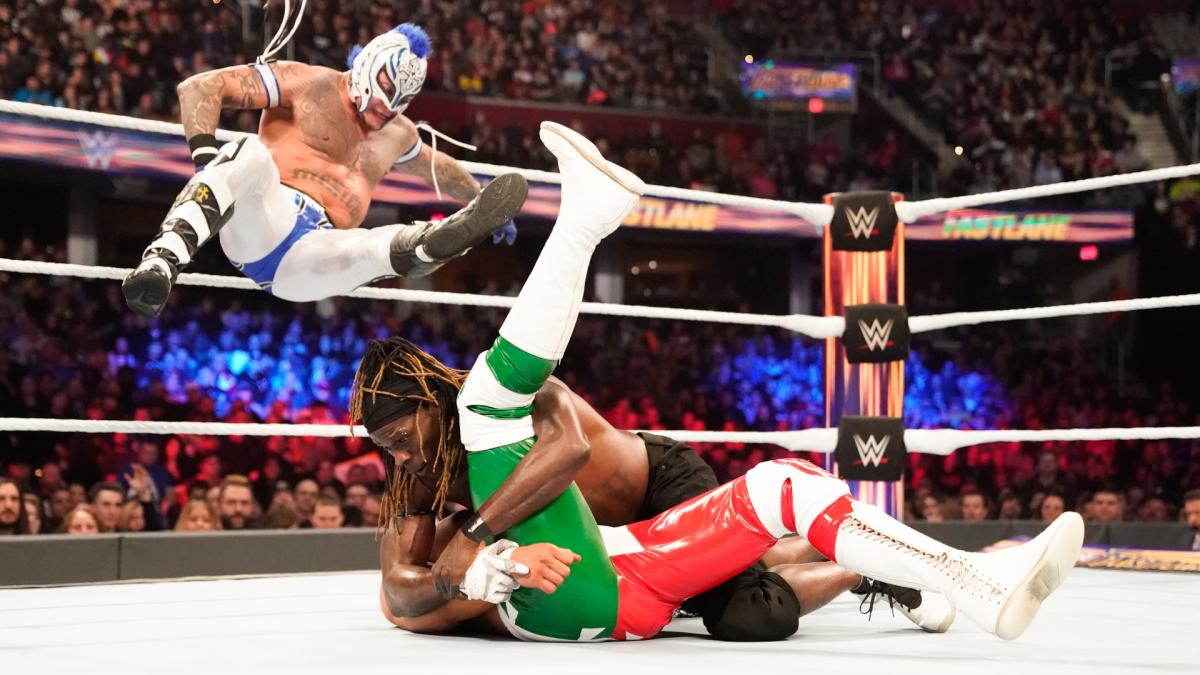 On the way to WrestleMania, does Fastlane end up Good, Bad or Ugly? 
We are almost onto the Final push.  Right now Fastlane is set up to be a Good night with a ton of action and possibly some major ramifications with a ton of Gold and Storylines at stake before WrestleMania is here. 
Without question tonight will mean a lot; but will it be Good, Bad or Ugly? 
GOOD
KickOff Show- Shinsuke Nakamura and Rusev w/ Lana vs. New Day (Big E and Xavier Woods)
After Kofi Kingston got called in about the Championship Match later on, New Day faced off with Nakamura and Rusev.  This is a decent Match with some really Good talent being put together.  Rusev and Nakamura are two potentially top guys in the WWE and paired up hopefully will do something big.  New Day Rocks, this is a fact and both Woods and Big E can do some Great things in the ring.  This went as expected.  Rusev and Nakamura beat down Woods and controlled the match early.  It really is incredible how athletic Rusev is, he moves around like a much smaller guy but also is a pure powerhouse.  Big E got that long awaited painstaking tag and didn't waste a second wrecking everything in his path and oozing charisma.  Big E went high impact and killed it but got cut off by Nakamura with a flurry of knees.  Things got a little fishy but recovered.  Again Nakamura and Rusev got control on Woods and almost had it won.  However it was a huge "up up down down" for an impressive exciting New Day Victory!    
Opening Match- WWE SmackDown Tag Team Championship- The Uso's (C) vs. McMiz
Miz is home and will turn it on.  If he is going to have a successful night, this is the time.  Opening Match and Hometown Pride filled the Cleveland Arena.  Nothing quite feels as great as someone getting hometown love.  Miz is not going to have to "heel" it up at home for a change also.  The crowd was loud and appreciative and it felt Good.  McMiz started off strong in full control everything looking clean and an extremely hot crowd.  Jimmy Uso finally tagged in and took out Shane.  The Heels spent a decent amount of time beating down the Shane O' Mac.  It was all to set up the big moment for the hero.  The Miz gets the long awaited hot tag.  Miz looked to take it away but with a miscue by the referee missed a huge opportunity.  Again Uso's looked to take control but The Miz would not quit.  The "Coast to Coast" interception of the massive "Samoan Splash" was insane and blew the roof off.  The Miz got his amazing "frog splash" blocked and rolled up.  The Uso's retain in a very Good, successful title defense.  Then, it happened.  Shane McMahon brutally attacked The Miz in a "shocking" heel turn.  To do it in a place like Miz's town that was a Good decision and genius way to get this popping off.  Shane was straight stiff on the "A Lister."  Even assaulting Miz's Father at Ringside.  This got a little too much after a while but the overall effect was felt.  Good job all around!
Elias/Elias Part II/Part III
Elias got to sing in the City that Rocks, and got to piss off the Cleveland crowd with insults making fun of Miz and his Dad.  Cheap heat even bringing up Lebron James.  That was that, nothing else even happened. 
More cheap heat, more entertainment.  It really works for him.  He has this fantastic way of getting unreal heat for doing textbook gimmicks.  Good again. 
Breaking it all down and heeling it up again, even pulling Becky Lynch into his act.  Again Elias has the heat and brings it at all times.  Elias then shot himself in the leg because he strangely was uninterrupted.  Elias went on a tirade about how bad OH is.  Even more strange, the South Carolina precious flower, Lacey Evans didher sexy, sophisticated cat walk.  No one complained.  "RKO" outta no-where!  Orton gets Elias, AJ Styles then flattens Orton.  Whatever is to come of this, will be Good!  Point taken.      
WWE Raw Tag Team Championships Match- The Revival (C) vs. Aleister Black and Ricochet vs. Roode and Gable
So much potential here, this looks to be a damn Good match.  As expected Black and Ricochet started off hot but Ricochet got isolated by the Champs.  Even getting beat up, Ricochet puts up a fight and makes it look Good.  Aleister Black shined and put in some amazing work with Roode and Gable.  Ricochet almost stole it with a "shooting star press" after Wilder hit a sick splash on Gable.  The action then went all over and ended with a disgusting "hurricanrana" by Ricochet to Dawson to the outside spilling everyone down on the outside.  Again it was anyone's game, until The Revival hit a "shatter machine" for the Victory, retaining the Tag Team Championships!  Then all hell broke loose everyone beating the hell out of each other.  Ricochet and Aleister Black are the last men standing, but it was Revival who wins this Good Match. 
Fatal 4-Way- United States Championship Match- Samoa Joe (C) vs. R-Truth vs Andrade w/ Zelina Vega vs. Rey Mysterio
Rey Mysterio is a dynamo and a major part of some of the very best of Professional Wrestling history.  Andrade has already made a huge name for himself and rightfully so, as he and his always fabulous Zelina Vega have become quite the treat for the audience.  It comes as no surprise that this was an airshow.  We saw precision and cut throat high flying insanity.  Samoa Joe the Champ fit right in with the high flyers quite nicely.  This was one crazy, action packed match.  It took a certain amount of cooperation to take out Joe but it was always short lived as this was an every man for himself, non-stop battle.  Samoa Joe took some hits but dominated a large part of the title defense.  Although any of these guys would be an awesome U.S. Champ, it was Samoa Joe who locked a "Coquina Clutch" on Mysterio for the Win!  Samoa Joe and the crew kicked major ass in this one dominating the show!  Samoa Joe retains!  Fantastic Match!    
WWE Championship Match- Daniel Bryan (C) w/ Rowan vs. Kevin Owens vs. Kofi Kingston Mustafa Ali
Yes!  Kofi gets his moment!  This is what we all wanted!  Only he isn't.  Mustafa Ali disappointingly made his way out to a stunned crowd.  This is a joke really.  However this match has some major talent and could be incredible.  K.O. and Ali had some great chemistry and of course this was action packed.  Unfortunately the shot in the gut regarding Kofi Kingston stung and took away from the match.  It really does suck that he isn't working this match too.  This was high risk, Ali especially took some serious bumps.  Like all of the matches this could have gone to any of the three competitors.  So much back and forth and jocking for position.  We saw a Spanish fly off the top and a sick number of other crazy spots.  Ali missed his "054" K.O. had the match won but got broken up.  K.O had a couple of close calls and could taste the Championship!  Ali later hit a "450" on the Champ on the apron, but Rowan saved Bryan.  Rowan then took advantage but was neutralized.  Surprisingly in this no-DQ Rowan took an incredibly long time to get involved.  It was between Bryan and Ali and Daniel Bryan out did him.  Daniel Bryan retains!  Good, solid match.  Not perfect but Good.      
Charlotte vs. Becky Lynch (Lynch Gets spot on WM 35 Match)
A hobbling Becky Lynch came out to an appreciative ravenous crowd.  She is a one legged "Man" in a "Lass Kicking" contest.  The constant loud trash talking was a bit much but very "Flair-like" of Charlotte.  Flair looked Great in there just twisting and punishing Lynch. They have worked each other so many times and know each other so well.  The trend continued with Flair pouncing and Lynch hitting little spurts of hope.  Lynch got Flair in the Disarmer but was turned into a "figure 8."  Rousey ran in and attacked Beck Lynch, causing Charlotte to be disqualified. Becky Lynch Wins and will be at WrestleMania!  Great writing! 
Main Event- The Shield vs. Baron Corbin, Bobby Lashley and Drew McIntyre
Michael Cole mentioned it, Ambrose is leaving and this may be one of his final Shield moments in history.  This should be a huge, physical, red hot match.  The Heel crew beat down the Shield Brothers and The Shield gave it right back to them.  It was back and forth lots of power moves and lots of action.  Main Event, slower, bigger pace.  Roman Reigns "The Big Dog" front and center.  McIntyre and Reigns were especially entertaining as a precursor to bigger things to come down the road.  Bobby Lashley also just demands attention as he is a beast with major authority.  Even Corbin held his own.  Ambrose desperately needed to make the tag.  In came "The Big Dog!"  Reigns cleaned house, the crowd was hot, and it all clicked.  The action was all over the place, and the wooden basketball court made for a great landscape.  The Shield would not be denied no matter how much punishment it takes.  "Shield Bomb" for McIntyre through the announce table.  The Shield savored the moment.  Corbin was next, dismantled by the Hounds.  Seth Rollins straight dropping F-Bombs that had to be blocked.  Another "Shield Powerbomb"  Shield Wins! 
BAD
WWE SmackDown Women's Championship- Asuka (C) vs. Mandy Rose
Most don't think that Mandy has a shot here and they are probably correct.  Asuka seemed to play around with Mandy early on like always with precise offense.  Sonya Deville did her part trying to help her friend and gave her an advantage at the least.  This was not a Good match however.  Mandy was not at her best, or maybe unfortunately she was?  This was not Good unless it was Asuka who is Great.  BotchaMania filled the air with this one too many times.  In the most anti-climatic of fashions, Mandy slipped on the apron due to Sonya Deville, Asuka capitalized and got the Win!  Asuka retains with a brutal kick to the head.  To add to the ugliness Mandy Rose and Sonya Deville now have obvious public heat.  Gross!    
WWE Women's Tag Team Championship- Bayley and Sasha Banks (C) vs. Tamina Snuka and Nia Jax
Nice to see Beth Phoenix getting some more time.  Sasha Banks and Bayley are awesome, it is just a shame that they aren't feuding with Kairi and Io instead of these two.  Tamina and Nia are pretty Bad sometimes and are certainly hurting the show more than helping.  Frequent tags, the Challengers kept everyone's favorite "hugger" down.  Jax and Snuka clicked and kept control.  Of course we had a botch as they started doing too much.  Nia Jax caught her and fell awkward but moving right on.  Bayley and Banks looked outstanding at times especially Bayley.  This wasn't all Good though, it was rough as is the calling card of Tamina and Jax.  Although nothing unforgivable this wasn't Good, Bayley gets a sick pin.  Boss N Hug Retain!  Then get jumped and beat down by the Challengers.  Sore losers and all the after action looked better than the match.  A shame.  This could and should have been better.  Hopefully we can get someone going for the titles.  Please Wrestling Gods!  Yes we saw Beth Phoenix get involved and it was okay, but hopefully it will be against Jax and not Tamina.  Natalya for the "save" but was also just smashed down by the large duo.  No Good still, only Bad.
UGLY
Handicap Match- The Bar vs. Kofi Kingston
This was a shocking moment and Kofi Kingston is living in a Pro Wrestling nightmare.  The Bar wrestling at the same time virtually ready to kill Kofi Kingston.  This was of course a McMahon heel twist but still so weird.  Kofi made it all come together and looked Good.  No one could Win this match against The Bar, it isn't possible, this was just a punishment.  This mugging was over the top and senseless.  Repetitive beating and Kofi was done.  The Bar Wins!  Woods and Big E just had enough and ran in but Rusev and Nakamura made short work of them also.
FINAL
Good- 8
Bad- 2
Ugly- 1
Overall
With little to no mud on their face, WWE had a GOOD show here.  We saw a very talented roster shine and do what they do best.  This wasn't a perfect show but it was damn Good.
WrestleMania is the next Big One, well after NXT Takeover of course.  Let us not forget that the best time of year to be a wrestling fan is right now!  Get those shirts out, the parties planned and troll away!  Tis the season!  Catch you after Raw for more Good, Bad and Ugly only on thechairshot.com