The Good, Bad and Ugly: NXT (03/27/2019)
After a horrendous Monday Night Raw and a sensational SmackDown Live, we are with the very best of the best NXT!  Always a Good time, it would seem especially after last week (Good as hell) that they are still on top of their game.  Can NXT continue at this pace?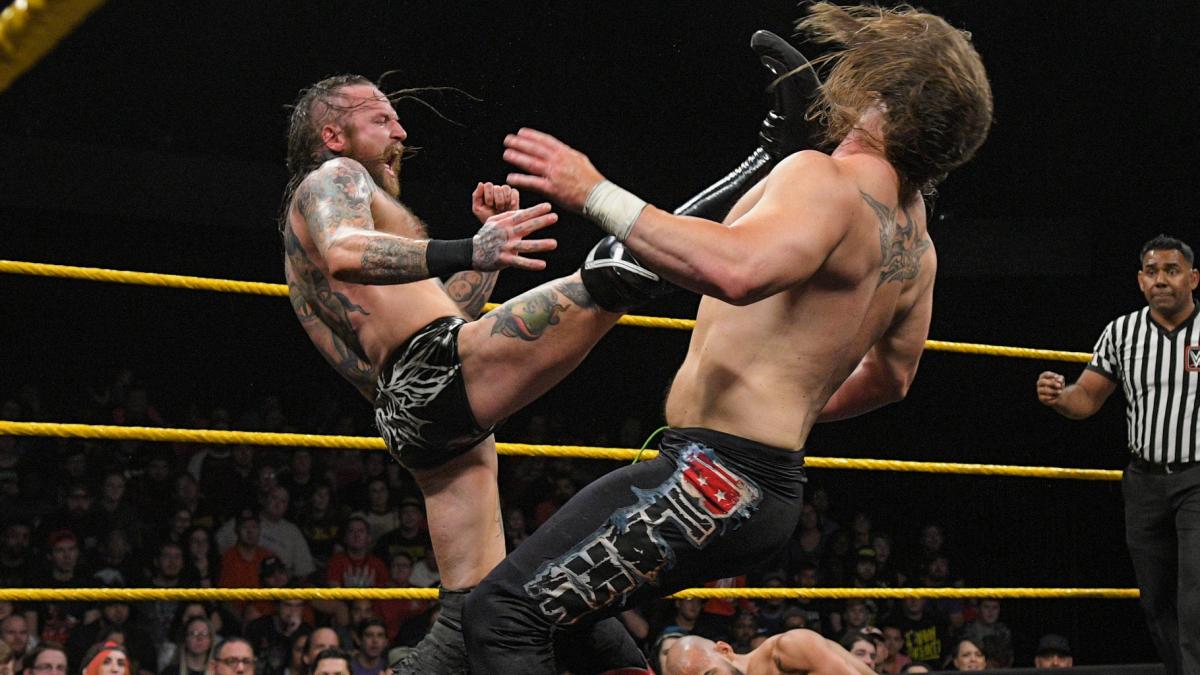 After a horrendous Monday Night Raw and a sensational SmackDown Live, we are with the very best of the best NXT!  Always a Good time, it would seem especially after last week (Good as hell) that they are still on top of their game.  Can NXT continue at this pace?  Let's get down to ringside!
GOOD
Adam Cole/Johnny Gargano
Now I am personally not a huge "fight forever" type of guy, unless you are talking gold.  This is Gold though.  Could you ask for a better Title Match?  No way!  Gargano is Red Hot and Adam Cole is a Top Shelf Superstar.  The match will be Good, it cannot fail, no matter what.  Cole and Gargano are amazing and the promo was solid from start to finish.  If we couldn't already be excited enough the back and forth and the struggle of the audience to choose a side is just amazing.  Adam Cole is a strong heel, Gargano is a freak baby face.  This is legendary!  Cole of course got the last word with his boys up the ramp behind him.  This will be amazing and we aren't even at the take home show!  Keep it going, no one will mind!  Great Opening!
Dusty Rhodes Tag Team Classic Finals- Aleister Black and Ricochet vs. Forgotten Sons (Winners Face NXT Tag Team Champs War Raiders at Takeover)
Forgotten Sons are a lost cause especially against Ricochet and Black.  Anyone who had their money on Forgotten Sons obviously are super new to the world.  This was a pretty pointless match considering how important the results are.  Black and Ricochet of course took almost full control of this match, going back and forth with devastating moves destroying their opponents.  Forgotten Sons were not just fish and a barrel here though.  Once they got some breathing room they took their attention on isolating Ricochet and taking advantage of their chemistry.  The frequent tags and isolation nearly paid off but finally Ricochet tagged in Aleister Black who just flattened his opponents.  Black dominated but was taken down with a sick "under-hook backbreaker."  Ricochet saved the day assisting Black and taking back control.  It looked as though the Forgotten Son's would not be denied but again the team of Black and Ricochet came back strong.  It surprisingly could have gone either way, so many close calls, especially Good for the Forgotten Son's.  Even causing Jaxson Ryker to be ejected from ringside.  This gave Black just enough time to get a grip, hit a "Black Mass" and followed by a "630" by Ricochet for the impressive victory.  Ricochet and Aleister Black Win the Dusty Rhodes Classic and will face the NXT Tag Team Champs War Raiders at Takeover.  The Champs came down to the ring to get a closer look at their next challenge.  This was awesome and will be a winner when it goes down at Takeover.    
BAD
Kacey Catanzaro and Lacey Lane vs. Aliyah and Vanessa Borne
Lacey Lane has a very unique Good look.  Catanzaro is a hell of an athlete as well. Of course Aliyah and Borne are textbook heels.  This wasn't anything special and apparently Shayna Baszler and company agreed.  Baszler came out and Aliyah and Borne hi-tailed it out.  Surprisingly Kacey Catanzaro put up a bit of resistance but was made short work of by the NXT Women's Champ.  Baszler is awesome but this was lame.  Not that the match was anything special but a pointless run in wasn't par for the NXT course.  Kind of Bad actually.    
Matt Riddle vs. Kona Reeves
Kona Reeves is no Velveteen Dream.  Riddle the "King of Bros" has a hell of an opportunity at Takeover and it is an uphill battle to say the least.  Speaking of Dream just as Riddle got going, Velveteen interrupted in a King like fashion and Kona Reeves nearly got the Win from it.  However it was "The King of Bros" who would not be denied regaining momentum and hitting a match ending "knee strike, series of elbows, and finally a Bromission" for the victory.  The North American Champion toasted Riddle on his victory leading to Riddle taking a short walk up the ramp to confront and disrespect his Takeover Opponent.  Riddle isn't great and this match wasn't either.  Another Bad Match this week.    
UGLY- Nope but it was Bad at times.
FINAL
Good- 2
Bad- 2
Ugly- 0
Overall
Bad?  Well, honestly when NXT is Bad enough to have a tie, it is Bad all over.  There were Good things that happened but it certainly wasn't par for the NXT course.  This was a rare blemish but at a critical time.  Takeover looks a lot better than WrestleMania on paper and history shows, it probably will be.  It was a rare tough night but it happens.  I don't expect it to a frequent occurrence.
Raw was unforgivably Ugly.  SmackDown Live was a clean Good show, and shockingly NXT did not deliver.  It was a crap week overall minus the "blue" brand and it happens the week before the take home episodes are to air.  Hopefully it was to get it out of their system before it really matters but whatever the case, there is always next time.  Thank you for reading, catch you next week with a jam packed WrestleManina/Takeover extravaganza, and more of your favorite Good, Bad and Ugly, only on thechairshot.com. 
Ranking Matches From TakeOver: Stand And Deliver Night Two
Bodeen lists out how the Stand and Deliver Night 2 matches resonated with him! Do you agree?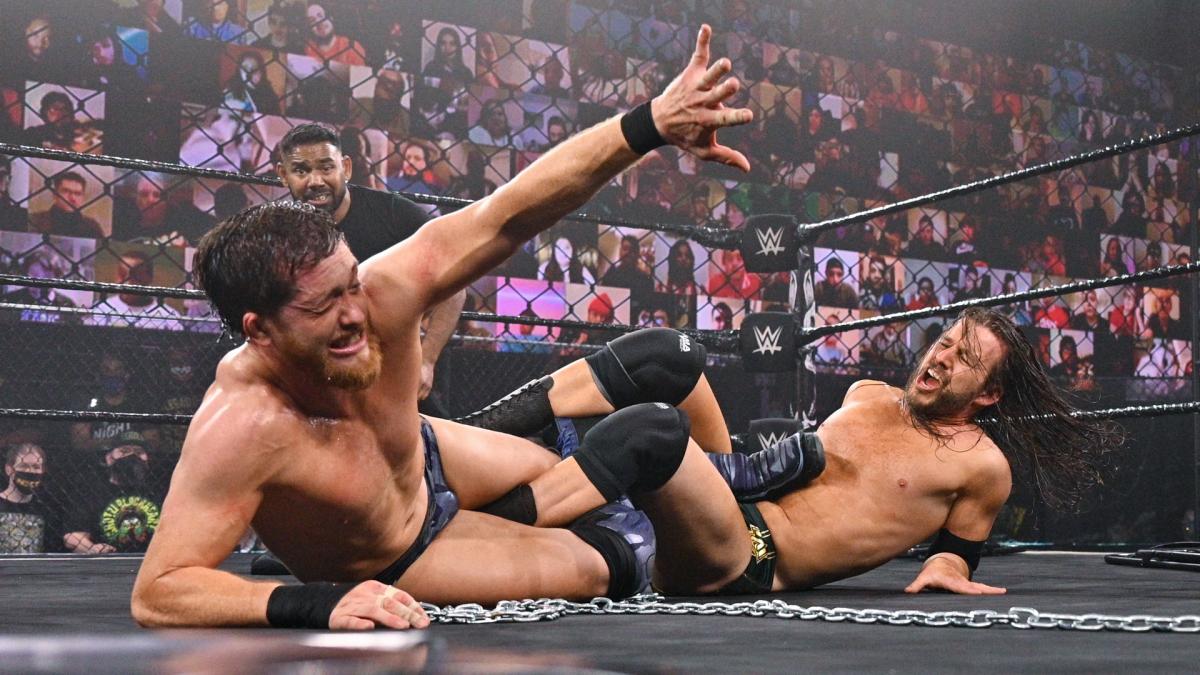 After an epic night one, night two of TakeOver had a big job in carrying the momentum after a great night of wrestling. While, personally I felt night one of Stand and Deliver was a better showing for the black and yellow brand, night two was still an outstanding night of wrestling.
So, as we get ready for WrestleMania let us rank the matches from night two of TakeOver: Stand and Deliver.
5. Indi Hartwell and Candice LeRae vs Shotzi Blackheart and Ember Moon
While this match was nothing special, it was still an extremely solid tag match on a card that has no weaknesses. This was a classic tag team match formula of heel vs faces as Indi Hartwell and Candice LeRae isolated Shotzi and Blackheart early in the match, keeping them away from Ember moon who was waiting for a hot tag throughout the match, with Shotzi eventually getting the hot tag to Ember, allowing Ember to attack Hartwell and LeRae, changing the momentum in the match.
The Tag Team Champions would push the challengers to their limit but it would not be enough as Candice LeRae kicked out of a double team move from Blackheart and Moon. The challengers would then turn the tides on the Tag Team Champions and hit The Way on Blackheart only for Ember Moon to break up the pin.
The Tag Team Champions would then finish things after Ember Moon hit both Hartwell and LeRae with a double Elcsipe. Allowing Shotzi Blackheart to hit Indi Hartwell with a diving senton to retain the Women's Tag Team Titles in a solid match that helped set up the prestige of the Women's Tag Team Titles.
4. Johnny Gargano vs Bronson Reed 
Johnny Gargano's Johnny Takeover nickname has been well earned over the years. Every TakeOver, Johnny Gargano has put on amazing matches every TakeOver whether he is a face or a heel and has helped make TakeOver a special event. Gargano's match against Bronson Reed during night two, would no different has the North American Champion once again stood out the show, using his in-ring experience to push the big man in a thrilling contest.
Despite being in a gauntlet match 24 hours earlier Bronson Reed would start off the match strong, dominating the North American Champion early in the match. Gargano would then use his in-ring experience and target the ribs of Bronson Reed, to gain an advantage. Gargano would then lock in the Gargano escape with Bronson Reed, just getting to the ropes for the break.
After pushing the North American Champion and taking out Austin Theory with a suicide dive outside the ring, Bronson Reed would attempt to hit a moonsault on Johnny Gargano. Gargano would then move out the way and hit two Final Beat DDTs onto Bronson Reed to retain his North American Championship, with both men looking strong as they put on a great match.
3. Santos Escobar vs Jordan Devlin  
After months of mystery and questions surrounding the Cruiserweight Championship, it was finally time for the debate to be settled as Santos Escobar took on the Irish Ace, Jordan Devlin in a ladder match to open the show. Both men would push each other to the limit in a thrilling contest that saw Jordan Devlin change colors as he became the face throughout the match, surviving the onslaught of offense that Santos Escobar threw at him
The Irish Ace would be the first man to introduce a ladder in the match as he drilled Escobar in the face early in the match. Devlin would then attempt to end the match early and climb the ladder only for Santos Escobar to throw Devlin face first in the match. This would allow Escobar to dominate Devlin throughout the match. However, Devlin would push on through the pain and even hit an amazing moonsault from the top of a ladder.
Devlin's moonsault would allow Devlin to climb the ladder only for Raul Mendoza and Joaquin Wilde to run interference and throw Devlin off the ladder. Allowing Escobar to get back in the match. The match would end after both men fought on top of a ladder, with Escobar pushing Devlin off with Devlin landing on a ladder in the corner on the way down, breaking in half. Escobar would then grab the titles to end the match.
2. Adam Cole vs Kyle O'Reilly   
After one of the most intense builds in NXT history, it was finally time for Adam Cole to take on Kyle O'Reilly. This match, without a doubt, had a big match feel around it as both men made their new entrances surrounded by security. Both men would waste no time in attacking each other, brawling with each other just moments after the bell rang. Kyle would then get the upper hand over Adam Cole in the early seconds of the match. Cole would then change the momentum soon after, hitting his former Undisputed Era member with multiple chair shots.
Cole would then savagely attack the injured neck of Kyle throughout the match. Despite the onslaught of offense from Cole, Kyle would turn the tide and even look to hit the brainbuster on Cole on the steel steps, only to pull out, however, Kyle would later hit a brainbuster on Cole on the announce table. Both men would then trade strikes, sitting down with Cole hitting a low blow on Kyle. Cole would then get frustrated at the ref, taking him out for getting in the way. However, this would cost Cole as Cole hit the Panama Sunrise with no referee to count.
Cole and O'Reilly would then continue their fight outside the ring, on the entrance ramp. With both men getting sent through a steel plate of the entrance ramp. Cole would then hit a wounded O'Reilly hit a brainbuster on the steel steps and throw Kyle in the ring only for Kyle to kick out. Cole would then attempt to finish Kyle by dragging him to the top rope, allowing Kyle to hit Adam with a low blow. This would send Cole on the ring near a steel chair this would allow O'Reilly to wrap in his knee with a steel chain and hit a near drop pushing Adam's throat against the steel chair, with Kyle then getting a pin in an amazing match, with the only downside being its long length.
1. Karrion Kross vs Finn Balor
Sometimes simplicity and basic storytelling is the best thing to watch in wrestling. Karrion Kross and Finn Balor showed this as they put on an amazing match with basic, simple storytelling. During the match, Balor targeted the arm and the mid-section of the challenger, using the raw emotion of Kross to bait him to make mistakes throughout the match.
The match would start off with the Champion, showing no fear, smiling despite Kross's strikes and throws. This would then bait Kross into making his first mistake of the match, as he smashed his shoulder on the ring post. Balor would then target the arm of Kross and eventually hit him with a gutshot, with Balor taking the fight to Kross.
Kross would then fight back as both men continued to trade offense. Late in the match, Balor would lock in the Rings of Saturn onto Kross, only for Kross to escape the hold and hit a series of elbows onto Balor's neck. Kross would then hit a series of offense onto Balor, with Kross finishing the fight with an elbow to the back of the neck.
These were my rankings from night two of TakeOver Stand and deliver. What were your favorite matches and what did you think of the two-night TakeOver format? Let us know in the comments below. 
Mitchell's Wednesday Night War Review! The End!
The Wednesday Night War… is DONE!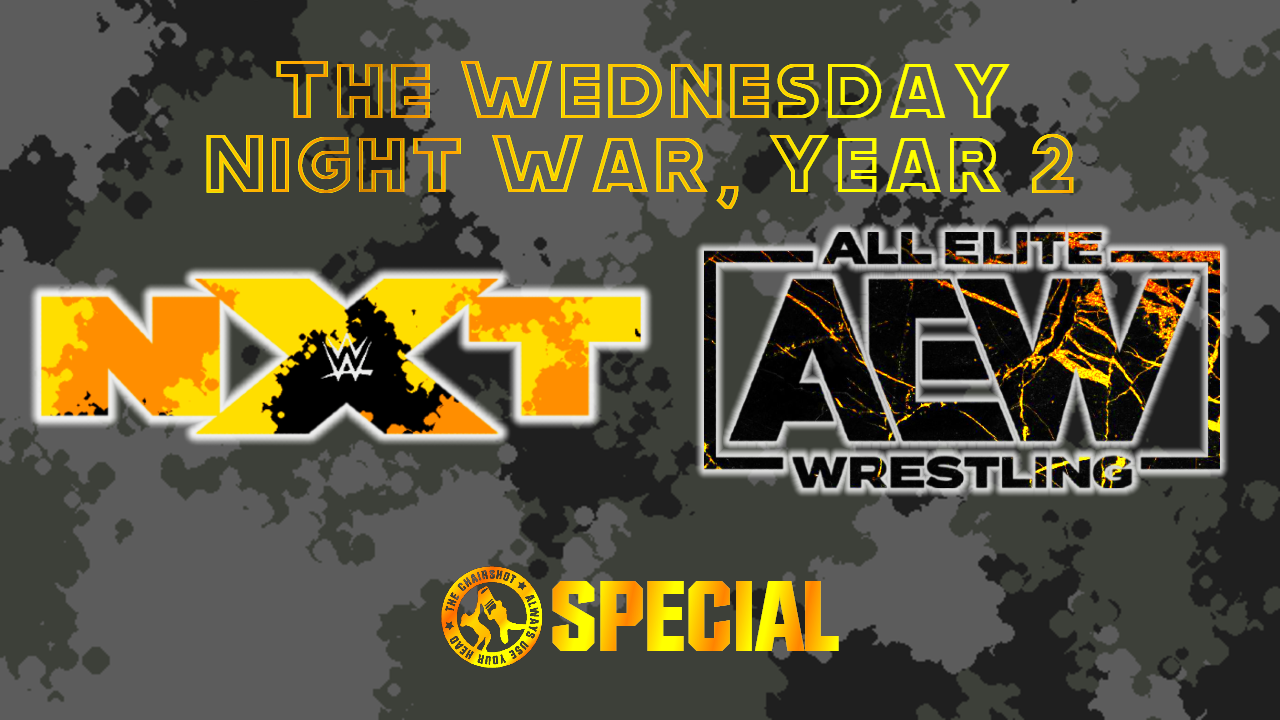 Thank you, Wednesday Night War! It was fun while it lasted!
With NXT moving to Tuesdays, the wrestling war on Wednesday nights is no more! But let's see where both sides stand now that the dust settles!
Let's recap Year Two's first phase.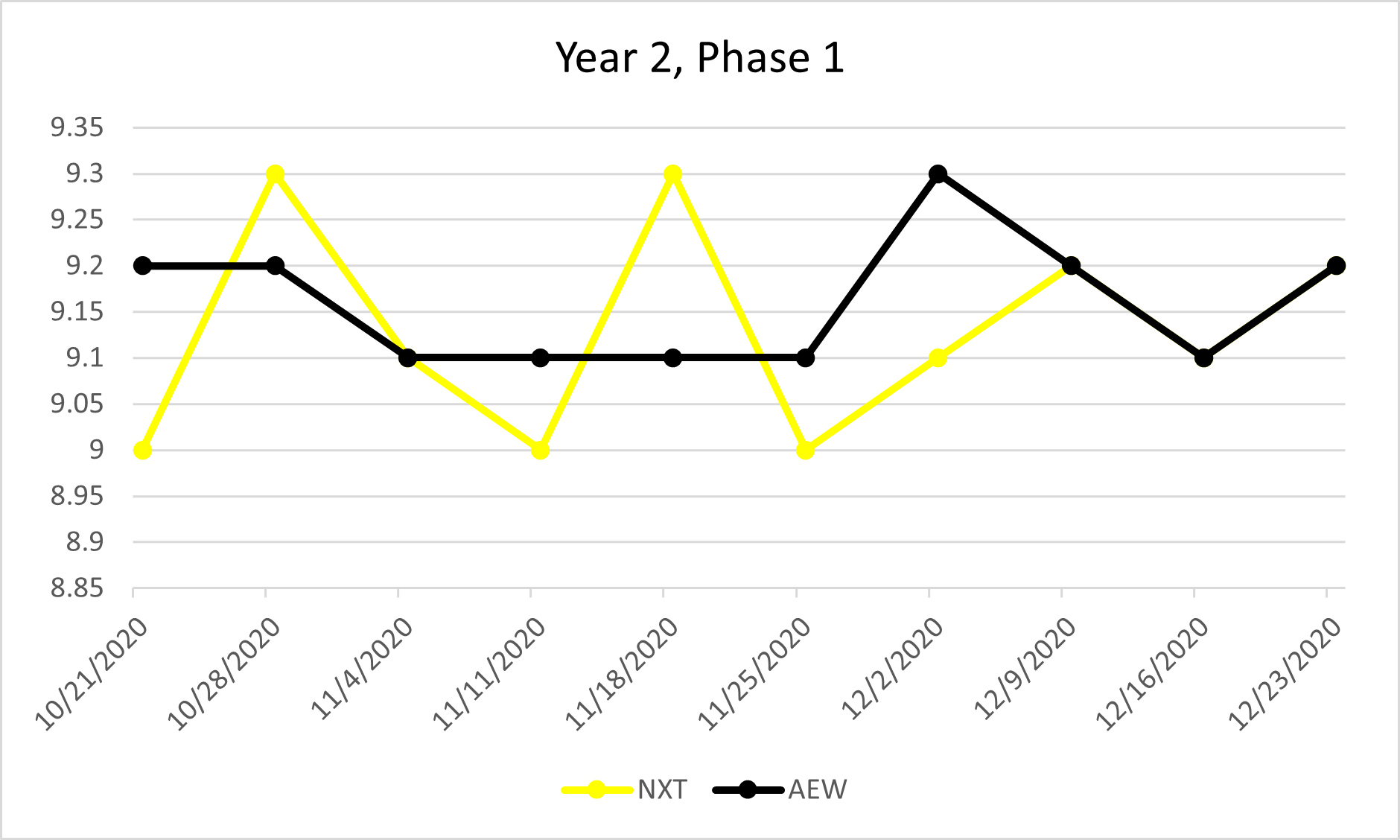 Year Two, Phase One Final Scores: NXT – 9.13; AEW – 9.16
The margin was close as ever, but AEW inched out the win to continue their dominance from Year One! Don't worry, NXT went past 12/9/20, it's just that they and AEW tied those last three weeks. And you'll notice that I left 12/30/20, the last Wednesday of the year, off because of the circumstances. Jon Huber, aka Brodie Lee aka Luke Harper, past away just days before that night, and AEW changed their plans to give us a "Celebration of Life" tribute episode. It did not feel right trying to give that show a score, because it wasn't supposed to be about AEW but about Jon Huber. And to be fair to AEW's score, I left off NXT's episode for that night, even though NXT did have great action on their Year-End Award episode.
Now, for Year Two's Phase Two, the WNW FINALE!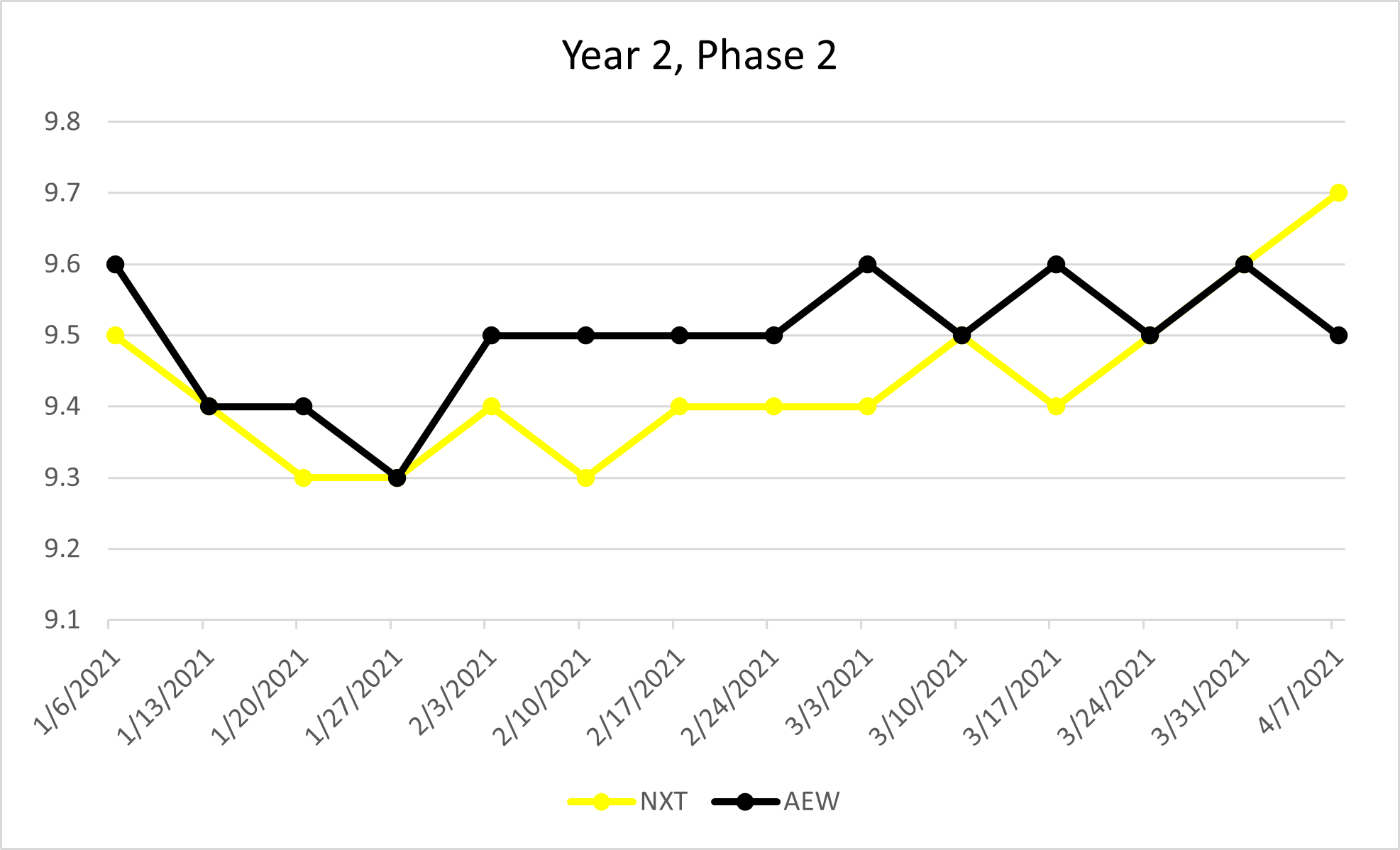 Year Two, Phase Two Final Scores: NXT – 9.44; AEW – 9.50
Year Two, Overall: NXT – 9.31; AEW – 9.36
Much stronger numbers from both sides this time, but these two companies started hard and kept going hard from New Year's Evil VS New Year's Smash all the way to TakeOver: Stand & Deliver and… Well, the AEW Dynamite put up against it. Just looking at it, that string in February for AEW made all the difference. They were just on fire right there, building towards AEW Revolution 2021, which itself was an awesome PPV (even with the pyro mishap at the end).
The margins were still close, but bigger than last phase's, and even with TakeOver: Stand & Deliver Night One bringing NXT up to a high level, it was not enough! AEW wins again! They win two phases to zero, and are therefore the overall winner of the Wednesday Night War!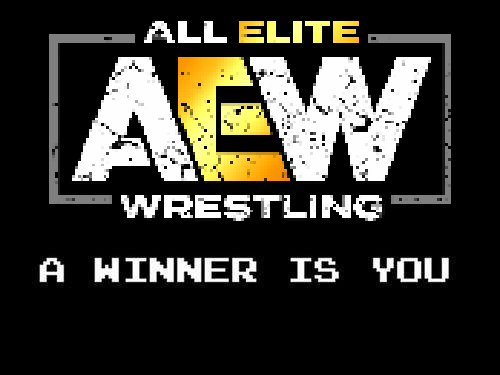 My Thoughts:
The Wednesday Night War may not have been as epic as the Monday Night War, or as long, but it was a lot of fun. NXT and AEW were giving us great wrestling every week, not just in-ring action but the promos and segments. The wrestlers on these shows are now stars because they got to be on cable network television, and literally kept me up late at night because I could not let either show wait until Thursday morning. But now, #NXTuesday is going to be how it is going forward, and we can all argue one way or another why the move happened but it doesn't really matter, I'm still going to be watching both anyway.