The Good, Bad and Ugly: SmackDown Live (03/26/2019)
After an incredibly disappointing, Ugly, Monday Night Raw, SD Live, the "better" brand is up to bat.  WrestleMania is on it's way, closer by the second and after one of the worst Monday Night Raw's in recent history, can SmackDown fix the void?  Or will be have some more Ugly, times ahead?  Let's do this!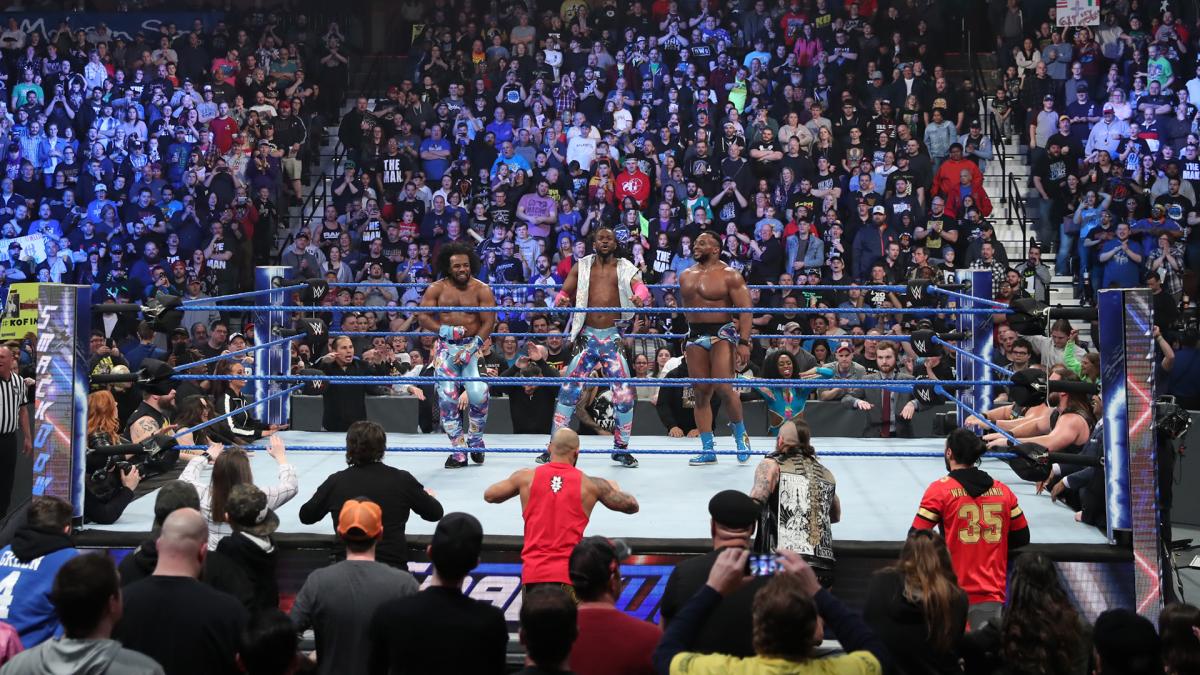 After an incredibly disappointing, Ugly, Monday Night Raw, SD Live, the "better" brand is up to bat.  WrestleMania is on it's way, closer by the second and after one of the worst Monday Night Raw's in recent history, can SmackDown fix the void?  Or will be have some more Ugly, times ahead?  Let's do this!
GOOD
New Day Rocks!
Upset by the recent injustices on Kofi Kingston by Vince McMahon, New Day wanted some answers.  Vinnie Mac never disappoints when he is called out.  This was no different.  As usual Daniel Bryan couldn't help but put his opinion out there and simply wants New Day to go away.  Vince doesn't feel their worth in such a huge event still but loves to make Superstars out of nothing.  Luckily for him New Day is out of control and always delivers fantastic content.  This promo was no different.  We now have the golden ticket for Kofi to get his WrestleMania moment but at the cost of his New Day Teammates having to endure an almost insurmountable feat of winning and unwinnable Tag Team Gauntlet Match later in the show.  Good, solid opening with fantastic talent! 
WWE SmackDown Women's Championship Match- Asuka (C) vs. Charlotte Flair
Where did this even come from? As it should be this match was pure fire.  The two prestigious vets beat the ever loving hell out of each other.  This was non-stop and completely insane!  Asuka is unbelievable in her element and Charlotte Flair can work, especially with a high caliber talent like Asuka.  We had a straight fight on our hands here, with accents of delicate submission work and high risk, high spots that the two competitors are known for.  The whole shock of it all still fresh, everyone was sucked into this the entire time, going crazy!  This could have gone either way, Charlotte had it, then Asuka had it, but only one could take it all the way.  Charlotte hit a disgusting "Spanish Fly" but Asuka managed to continue almost getting Charlotte into an "Asuka Lock."  Unfortunately nothing could stop Charlotte who managed to get out and fight her way into a "figure 8" Winning her 8th Title!  This was bananas and a hell of a way to get people pumped and add some shock and awe.  Great match!  What will this mean for Asuka?  I, for one can't wait to find out!
Kurt Angle vs. AJ Styles
Unlike his horrendous and unfortunate showing on Monday Night Raw, a much needed boost occurred in thi s one.  Angle looked hungry, pumped and sharp.  Maybe it was the talent of AJ, or the pure comfort of knowing he didn't have to do much, but this was just better.  The two sparred a bit and it looked Good. Out of nowhere as always Randy Orton slithered in and took out AJ Styles before Angle took him out with an "Angle Slam."  AJ Wins by D.Q. but it was short and quality.  Good, showing. 
The Miz/Shane O' Mac
Prior to this, the promos and the feud between these two has been a tough one to watch.  It doesn't add much value and no one seems to excited by the whole thing.  Not taking anything away from the talented Miz and Shane but it just hasn't clicked for most, with so much bigger and better stories around it.  This week Miz reiterated that he has a lot of heat with Shane due to the disrespect and assault on his Father.  Miz requested a "Falls Count Anywhere Match" which will add to the usual high spot shenanigans of Shane McMahon and almost guarantees some shock and awe.  Shane would not let up on poking at Miz about his Father and how much joy he felt embarrassing him.  After Shane brought Miz's Mom into it, Miz had enough and destroyed the Security Team as well as anyone else crazy enough to confront him.  After Sanity got the upper hand, Miz continued his advance and assault.  This was actually a Good promo and was one of the best in this whole, storyline. 
Tag Team Gauntlet Match (New Day for Kofi's WM Match)
Gauntlet Match 1- New Day vs. Gallows and Anderson
Talk about an uphill battle.  We have some talent here.  This looked intense, which it needed to be given how important the stipulation is.  Nothing is perfect and this was far from it but it was certainly Good.  Quick "UpUpDownDown" and New Day Advances!
Gauntlet Match 2- New Day vs. Shinsuke Nakamura and Rusev w/ Lana
If it couldn't get any harder out comes two of the best in my opinion.  The underutilized, mega team of Nakamura and Rusev whom are amazing top tier talents.  This was another strong showing by all involved as everyone can't help but be Good at all times.  Rusev particularly was sharp isolating the smaller Xavier Woods, making everyone a bit unsure of Kofi's fate.  The shot of Kofi watching with the SmackDown roster especially "The Man" by his side was a great shot and really was iconic given the times.  Woods looked like he couldn't continue taking a beating most of the match.  He finally got some room to breathe and got the hot tag to a pumped Big E, who cleaned house, destroying Nakamura with "belly to belly's" and a "Big Splash."  Big E would not be denied and after some opposition tagged Woods in and hit another huge "UpUpDownDown" Winning Again! 
Gauntlet Match 3- New Day vs. The Bar
Things just got real Bad for New Day, as the unforgiving The Bar was next.  This just looked like it was over for New Day from the start.  However after The Bar just destroyed Big E, Xavier Woods got the much needed tag and went off.  Woods hit a series of offense with authority and would not quit, dismantling The Bar, not letting them have a moment to catch up.  However The Bar regained control and again got Big E into trouble isolating him.  Again it was Woods who tried to save Kofi's chances but Cesaro got the upper hand.  The Bar kept everyone guessing until Woods got an unthinkable roll up on Sheamus for the Win!  The Bar beat the hell out of Woods and Big E for their trouble making it impossible for New Day to have a chance to Win the last match.  The Bar relentlessly took out New Day and brutally protested their shocking loss with violence.  New Day was done finishing Big E off through a table before the Uso's were announced. 
Gauntlet Match 4- New Day vs (SD Live Tag Team Champs) The Usos
This was just awesome!  I love it!  It looked like Uso's were about to pick the leftovers of the New Day and destroy their spirit once and for all.  Usos after an extensive history with New Day simply put, gave it up for Kofi out of the tremendous respect they have for the underrated Superstar.  This was a Good twist and another win on the Good Column. 
Gauntlet Match 5- New Day vs. Daniel Bryan and Rowan
This started to become the typical WWE overkill but luckily the talent was extraordinary.  Rowan and The Champ took full advantage of New Day's fatigue and kept everyone on the edge of their seat with anticipation.  Daniel Bryan got Big E in a deep "half crab" and it looked lost.  It was the fired up Xavier Woods who kept hope alive, single handedly taking out the instigators before Big E "Spiked" Daniel Bryan through the mat followed by a "Big Ending" but was broken up by Rowan.  Rowan nearly finished things but it was the tenacity of Woods and the raw power of Big E tipping the table on top of Rowan for the countout that got the much needed and much wanted victory!  Countout and all this was Good.  More importantly, it means Kofi is going to "KofiMania" and that my friends is Good for everyone!  Awesome ending to an awesome show!  Bravo!
BAD and UGLY-  Apparently Raw hogged the Bad and Ugly for the week so far, because SmackDown had None of it!  All Good!
FINAL
Good- 8
Bad- 0
Ugly- 0
Overall
This was a clean sweep!  All Good!  Great SmackDown and it could not have happened at a better time!  Raw stunk, but the "blue" brand killed it!  What a sick show!  This is what WWE should be looking like around WrestleMania and we can only hope that they continue their dominance.
Crap Raw but Fantastic SmackDown, we have the best of the best NXT left for the week.  This really looks Good right now for everyone involved but Raw needs to get their shit together in a big way next week!  Will we be seeing a lot of Good before the big day? Or is there a lot of Ugly truth left in the crunch time?  Catch you on the next Good, Bad and Ugly only on thechairshot.com! 
King's WrestleMania Rewind: Stone Cold VS. Scott Hall (WrestleMania X8)
Chris King is back with another WrestleMania Rewind, looking at the NWO's Scott Hall battling Stone Cold Steve Austin at WWE WrestleMania X8 from Toronto!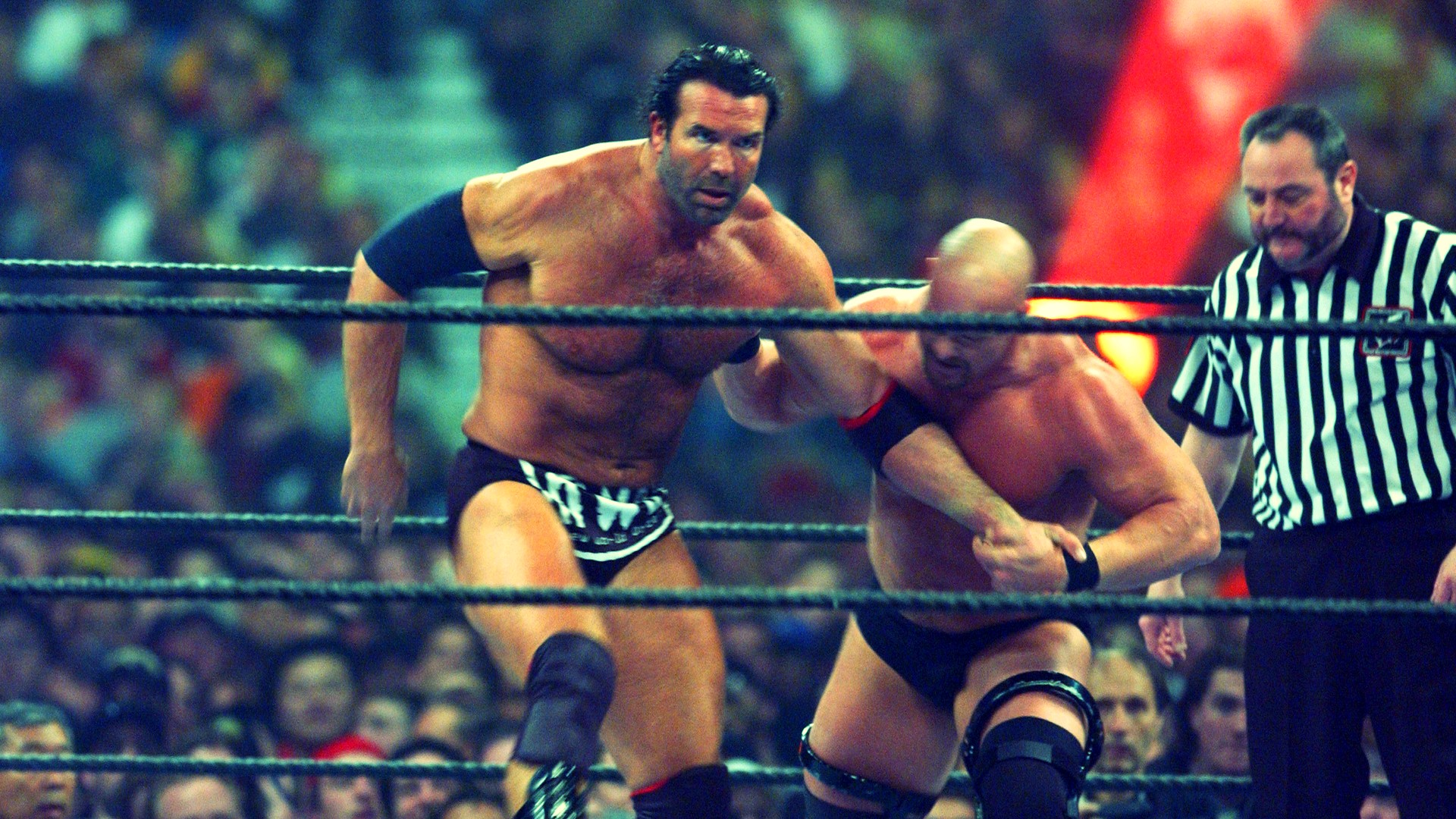 Chris King is back with another WrestleMania Rewind, looking at the NWO's Scott Hall battling Stone Cold Steve Austin at WWE WrestleMania X8 from Toronto!
Chris King is back this week with another edition of WrestleMania Rewind, where he is rewatching all the past Mania matches and feuds. This week you're in for a treat as we look back at 'Stone Cold' Steve Austin vs. Scott Hall at WrestleMania X8.
In late 2001, Vince McMahon bought out his competition WCW and acquired the rights to a plethora of talent including Booker T, Eddie Guerrero, Chris Benoit, and the iconic trio known as NWO. Hulk Hogan; Kevin Nash, and Scott Hall were hell raisers, and what better way to make a name for yourself than take out the two top superstars in the WWE The Rock, and Stone Cold?
The NWO cost Austin his chance at becoming the Undisputed Champion at No Way Out during his match with Chris Jericho. Adding insult to injury, the NWO spray-painted 'The Texas Rattlesnake' with their brand logo just like they did in WCW. As you can imagine, Austin was pissed and out for revenge against the group and primarily Scott Hall.
Hall would challenge Stone Cold to a match at WrestleMania 18. Both superstars beat the living hell out of each other leading up to this highly-anticipated match for who runs the WWE.
The glass broke and Stone Cold made his iconic entrance, and black and white NWO covered Halls' entrance alongside Kevin Nash. With the odds stacked against 'The Toughest S.O.B' could Austin or NWO prove their dominance? Sadly the NWO  broke up that very night when Hulk Hogan came to the aid of his adversary The Rock after their 'iconic' dream match. Stone Cold would ensure the victory with the Stunner. Hall would perform an Oscar-worthy sell over the finisher.
What a time to be a wrestling fan in the 2000s when nothing was impossible for WWE. Who would've thought WCW would go out of business and Hogan would make his long-awaited return to WWE?
King's WrestleMania Rewind: Seth Rollins vs. Kevin Owens (WWE WrestleMania 36)
Chris King takes a look at the most underrated WWE WrestleMania matches, and starts off with Seth Rollins battling Kevin Owens at WrestleMania 36!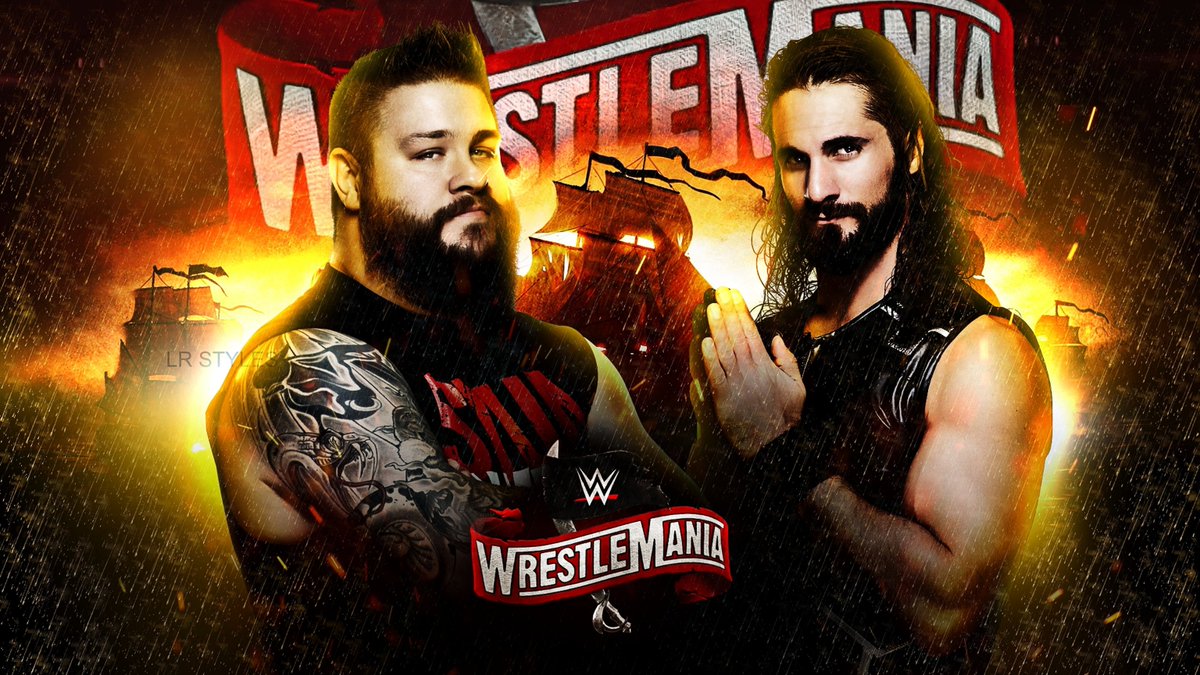 Chris King takes a look at the most underrated WWE WrestleMania matches, and starts off with Seth Rollins battling Kevin Owens in the WWE Performance Center at WrestleMania 36!
Chris King is starting a new series heading into WrestleMania season dubbed WrestleMania Rewind. Each week he'll be going back and sharing his insight over underrated matches at the Show of Shows. First up, is Kevin Owens vs. "The Monday Night Messiah" Seth Rollins at WrestleMania 36.
At the 2019 edition of Survivor Series, Rollins sacrificed himself during the men's traditional match allowing SmackDown to ultimately gain the victory. The following night the self-proclaimed Messiah, berated the whole roster but KO was not having any part of it. Owens quickly became a huge barrier in Rollins' cause for the greater good. The Authors of Pain attacked Owens with Rollins' character in question.
Owens finally had enough of his rival's mind games and torment and challenged Rollins to a match on the Grandest Stage Of Them All. Rollins mockingly accepted his challenge and the match was made official for night one of WrestleMania. Owens came out of the gate beating the holy hell out of the Monday Night Messiah trying to achieve his long-awaited moment at Mania but, Rollins tried to steal a disqualification victory by using the ring bell.
Owens hellbent on revenge provoked Rollins into turning their encounter into a no-disqualification contest where the fight could be taken all over the empty arena. The highlight of the match, was when KO used the WrestleMania sign to deliver a thunderous senton bomb through the announce table. Owens would secure the victory with a Stunner in an incredible match. Despite having no crowd during the pandemic era, both KO and Rollins put on an intense performance under the brightest lights.
In my personal opinion, this was a great feud that helped both superstars in their transformation as compelling characters for years to come.