The Good, Bad and Ugly: WWE SmackDown Live (03/05/19)
Smackdown made history for Samoa Joe, but was it Good, Bad, or Ugly?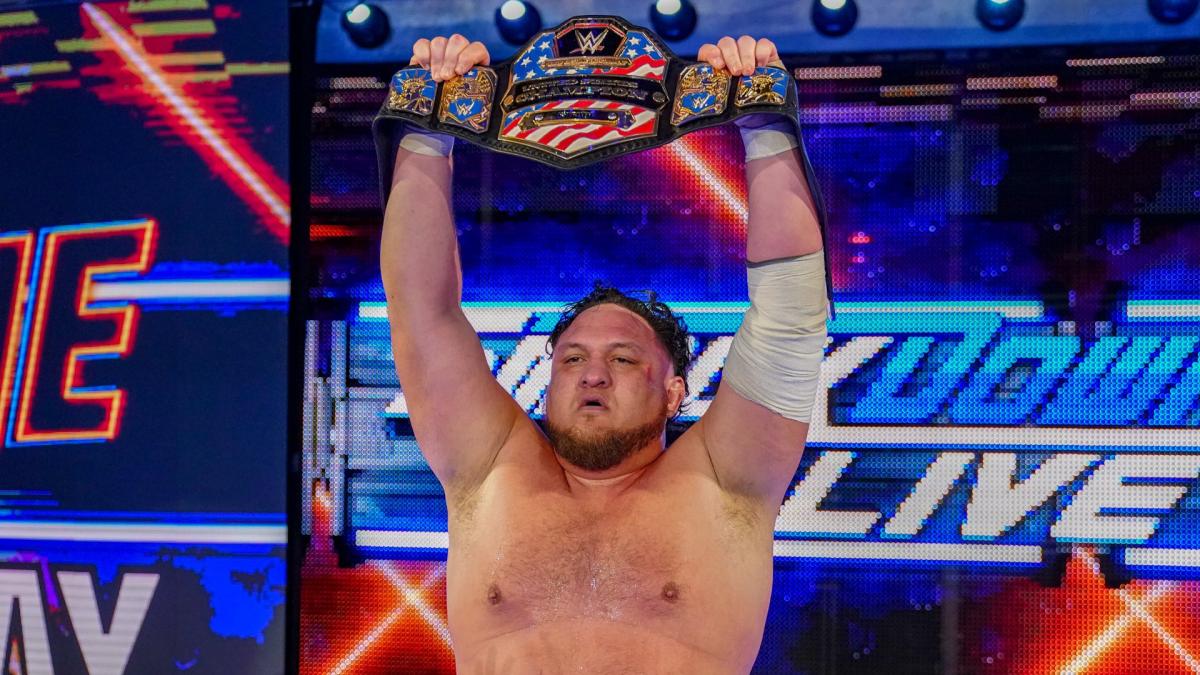 Smackdown made history for Samoa Joe, but  did Bobby see the blue brand's effort as Good, Bad, or Ugly?
Following a successful Raw onto SmackDown we go.  The SD Live crew always shows up With the big dance coming up very soon, will they continue to stay in overdrive or play it safe in cruise control?  On paper it looks like it will be full steam ahead!  Onto SmackDown Live!
GOOD
Open Challenge United States Championship Match- R-Truth (C) w/ Carmella vs. Samoa Joe vs. Rey Mysterio vs. Andrade w/ Zelina Vega (Fatal 4-Way)
Lacey Evans again cat walked for no reason to open the challenge.  Then things got serious, when Samoa Joe, Rey Mysterio and Andrade did answer the challenge.  R-Truth was priceless.  This was a very brutal, physical contest.  All guys putting it on the line and leaving it all out there.  Samoa Joe was poised and did a ton of damage in and out of the ring.  Andrade and Mysterio put on their usual air show and it made for some amazing sights!  Everything those two have done together has been wonderful and we just cannot see enough of it!  Just as no one seemed like they could finish this off, Samoa Joe took out Mysterio and hit his a disgusting Urinage dropping Andrade and winning the United States Championship!  This was jaw dropping all around.  Samoa Joe with the belt could lead to some red hot matches as well.  This was fantastic and Joe looked as shocked as the audience that he just won.
Ricochet and Aleister Black vs. The Bar
Suffering their first loss on Raw this week, (via DQ).  NXT's finest wanted to bounce back quickly.  What better way than defeating the well decorated team "The Bar."  Cesaro and Shamus beat down Ricochet and kept him isolated.  The action looked Good.  In comes a fresh Aleister Black.  Black blew up taking full control until a Cesaro finally broke him down.  Again The Bar took control.  Black countered with a huge "Black Mass" on Cesaro, made the tag to Ricochet, dove onto Shamus on the outside taking him out.  Ricochet hits his "630" for the impressive victory!  Always on, always Good.  Rusev and Nakamura along with The Bar dismantled the NXT upstarts until The Hardy's made the much needed save.  This was awesome!  Great content, and great story!  Mixing Ricochet with the Hardy's will be bananas. 
Kevin Owens vs. Rowen w/ WWE Champion Daniel Bryan
As the sole purpose of the match is to hype the Fastlane Main Event, it was no surprise that after jawing from the announce table at K.O. The rivals went at it but with the numbers on the Champs side, Rowan and Daniel Bryan beat Kevin Owens down.  Out of the blue, Mustafa Ali made the save and even though he took a few hits made a huge impact.  Kevin Owen wins by D.Q. and hits a devastating Stunner for redemption.  The match did its job, was quick and looked Good.  The whole thing was a big success and should carry over to Fastlane with a decent amount of heat. 
Charlotte Flair
The Queen is pure evil right now and she cannot and will not let Becky Lynch rest at any moment.  Flair wants her belt and will not stop until that is the result.  She is a pure heel and does her job very well.  This whole triple threat at WrestleMania is a shame though as we all know what match it should be.  Now a triple threat is looking like the reality.  Fastlane will solidify everything.  Charlotte only took the time to torment her rival and the audience further but after some buildup, "The Man" came calling.  Lynch came out at the request of Charlotte for a "discussion."  Lynch hobbled to the ring much like Monday on Raw.  She can barely stand and always has her trusty crutch.  The one legged girl in the "lass kicking" contest will not be denied.  It was Charlotte who had the edge though, taking advantage of her injured rival.  Charlotte brutally attacked Lynch.  She worked the knee and with the "figure 8" in her back pocket and fresh bruises from getting smashed with a crutch, Lynch is in trouble.  Lynch however tried to rip Charlotte's arm off screaming until being broken up by the officials.  This will be a Good one at Fastlane and was a Good one on SD Live. 
BAD
Opening Segment
The WWE Heavyweight Champion "The New" Daniel Bryan
Personally I am a fan of "Heel" Daniel Bryan.  He is on top of his game and the crowd is not doing the "Yes" movement as much if at all.  All Good things.  The Champ has transformed well into his role and is quick to turn on the heat with his once beloved audience.  The beginning of the segment of really long recapping everything like this on live tv is a Bad look, and for some reason this seemed pretty long having talent in the ring.  Rowan is just too much.  He could never be taken seriously.  He is just too funny.  He is doing his job though and fulfilling his role well.  This starting getting old and longwinded.  Kevin Owens made his entrance mic in hand.  KO is a promo machine and doesn't disappoint.  Of course this got physical and number won.  Rowan and Daniel Bryan beat down the upcoming Challenger.
The Miz w/ Shane McMahon vs. Jey Uso w/ Jimmy Uso
Starting things off with the Uso's talking trash was unnecessary.  What was even more unnecessary was having McMiz also chime in before the match.  Just get to the action please, we already get it!  It was said it was a very physical match but that must have been during the commercial time because it was very slow and awkward most of the time from what was seen.  Jimmy did a really unique move interfering trying to help his brother pin the Miz but Shane got him with a flying clothesline.  After getting even, Miz hits a "skull crushing finale" to finish Jey Uso off and pick up the victory.  Really wasn't very Good.  With talent as Good as they are, this wasn't up to par.  Disappointing match.
UGLY
Mandy Rose w/ Sonya Deville vs. Naomi
It is a shame that Mandy Rose and not Sonya Deville is getting the shot at Asuka, but maybe the latter will be the result of this little match at Fastlane.  Deville vs. Asuka at WrestleMania anyone?  The heat from the previous matches and the whole marriage drama angle still was fresh as the Glow was felt in a horrible way.  Like the previous times this wasn't the best we have seen.  Unfortunately the match was another Ugly shame.  Sonya Deville comes in heavy with the distraction, allowing Mandy Rose to take out Naomi and pick up the quick win.  Asuka decided that she was bored backstage and made short work of her Fastlane opponent and her bestie!  Mandy Rose is looking to get crushed at Fastlane but it is interesting to see what will come next for WrestleMania. 
FINAL
Overall
Good but really struggled.  This one squeaked by on the Good meter and almost joined Raw in the penalty box.  There were some really subpar moments and some really slow Bad content at times but SD Live pulled the nose up and made it all Good.  Barely.
So it's been kind of a rough week so far but the best is yet to come.  NXT is next and if history repeats itself, we are in for a Good night!  See you on the next Good, Bad and Ugly!