Top 5 Matches: Week Ending 3/17/2019
We have continuing tournaments and an ROH PPV this week. How much was Andrew able to see? What made the Top 5 Matches? Do you agree?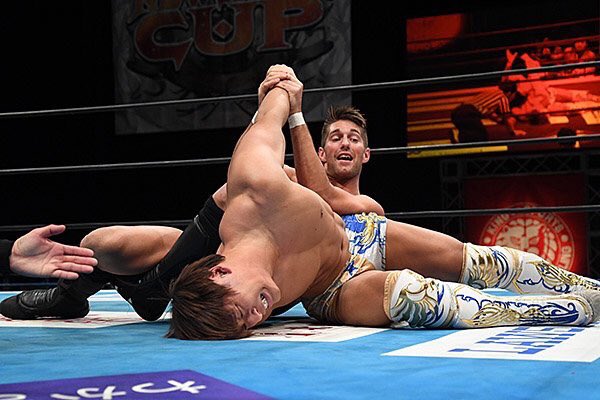 We have continuing tournaments and an ROH PPV this week. How much was Andrew able to see? What made the Top 5 Matches?
Alright, it's a holiday and it's late, so this is gonna be a short and sweet intro. Last week, Fastlane 4-Way: Samoa Joe vs R-Truth vs Andrade vs Rey Mysterio, beat out all of the New Japan matches.
Out of the kindness of my heart, I decided to keep a tie for 5th since this week is heavily dominated by Japanese wrestling, especially with the addition of Pro Wrestling NOAH doing a free stream on their YouTube Channel.
So don't say I never did nothing for you. Now onto the list!
5 (t). ROH 17: Rush vs Bandido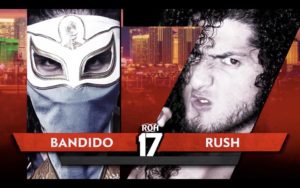 In a good move by ROH this followed a musical interlude after the World Championship match went a full 60 minute Broadway. This allowed for new commentary members (there was a rotating door with Colt in the New Japan Cup) and Dalton Castle added the flavor for this match.
What we got here was a damn good lucha libre match. Rush continues to exude Tranquilo and the Los Ingobernables way of life, and Bandido is a little more high energy. Bandido hit a Double Springboard 450 Splash on a hanging Rush for a near fall. Rush attempted the Bull Horns a few times, and when he finally landed them, it was over for Bandido. Dalton Castle challenged Rush to a match at MSG afterwards.
It was a solid match, but it's been a long weekend so my recap is lacking.
Winner: Rush via Bull Horns
Rating: ****
5 (t). NJPW:  Kota Ibushi vs Zack Sabre Jr

From My 2nd Round Analysis:
Going into this match Kota has a 2-1 record against Sabre, even though Sabre's lone win came in last year's New Japan Cup. This match was a nice back and forth that showed off Sabre's technical prowess and Ibushi's short temper. The ending sequence was a lot of counters and transitional moves, so it was quite intense.
Winner: Sabre Jr via Orienteering with Napalm Death
Rating: ****
4. NXT: Ricochet & Aleister Black vs DIY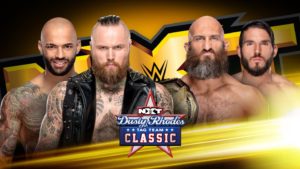 From DeMarco's Analysis:
DIY wearing matching tights, and having a new Titan Tron video is such a great touch. Ciampa clutching Goldie while looking at Gargano, who "knows what he's doing" is a level if deep subtlety that you just don't see anymore. That's Ole Anderson level shit.
I do need to point out that this is typical for WWE tag teams, meeting the requirements of Patrick O'Dowd's Vicious Cycle Of WWE Tag Team Booking.
It wasn't that long ago in WWE where this would have been the obvious TV main event two weeks before Takeover Phoenix. Ricochet looking at Aleister Black as to make sure it's okay that he's sitting next to him in the ring? Another great touch. Tommaso Ciampa applies the best chinlock in WWE today. Yes, this is a real thing. Randy Orton would be proud. Actually, Ciampa has stolen a good bit of his act from Randy Orton. Don't @ me.
Gargano gets hurt, and Ciampa has to go it alone. This, of course, is a throwback to Takeover: Chicago, when Ciampa got hurt…and we all know what happened there! (Ciampa turned on Gargano.) It's coming. It took two finishers after a 2-on-1 advantage to pin the NXT Champion. That's how it should be. Black Flash wins, and they'll face The Forgotten Sons in the finals. If you know anything about WWE booking, you know this ends up. #SaveTagTeamWrestling
The post-match developments with Gargano and Ciampa were nothing short of brilliant. I am not mad that Ciampa ended up hurt, at least in terms of the storyline. I'd give the show ending segment five stars, easy. A small detail is Ciampa tossing the NXT Championship–something he's obsessed with–aside for it, showing that he has one obsession bigger than Goldie. Gargano's smile when he stopped Ciampa's turn–brilliant.  The whole thing–brilliant.
Winner: Ricochet via 630 Senton
Rating: ****
3. NJPW:  Hirooki Goto vs SANADA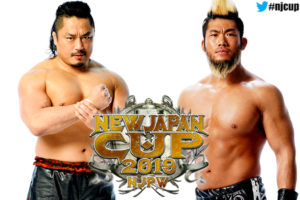 From My 1st Round Analysis:
They did a great job at showcasing how even SANADA and Goto really were. Both had amazing flurries of offense and counters for one another's signature moves. I really enjoyed the fan survey in the middle of the ring to start with, to see who was more favored.  Fans seemed to sway a little towards SANADA, but both got really good reactions.
Winner: SANADA via Moonsault
Rating: **** 1/4
Honorable Mentions:
NJPW: Tomohiro Ishii vs Taichi
Winner: Ishii via Vertical Drop Brainbuster
Rating: ****
ROH17: Las Vegas Street Fight ROH Tag Team Titles: PCO & Brody King vs The Briscoes (c)
Winner: PCO via PCO-sault
Rating: *** 3/4
NJPW: Satoshi Kojima vs Minoru Suzuki
Winner: Suzuki via Gotch Style Piledriver
Rating: *** 3/4
NJPW: Kazuchika Okada vs Mikey Nicolls
Winner: Okada via Rainmaker
Rating: *** 3/4
205 Live: Tony Nese vs Drew Gulak
Winner: Nese via Submission Counter Pin
Rating: *** 3/4
205 Live: Cedric Alexander vs Oney Lorcan
Winner: Alexander via Lumbar Check
Rating: *** 3/4
NOAH Hakata Star Lane Memorial: Naomichi Marufuji vs Yoshinari Ogawa
Winner: Marufuji via Rolling Cradle
Rating: *** 3/4
ROH 17: ROH World Championship: Jay Lethal (c) vs Matt Taven
Winner: TIME LIMIT DRAW
Rating: *** 1/2
NJPW: Will Ospreay vs Lance Archer
Winner: Ospreay via Stormbreaker
Rating: *** 1/2
IMPACT: Number 1 Contender Match: Tessa Blanchard vs Jordynne Grace
Winner: Grace via Grace Driver
Rating: *** 1/4
NOAH Hakata Star Lame Memorial: Kotaro Suzuki & YO-HEY vs Hi69 & Minoru Tanaka
Winner: Hi69 via Stuka Splash
Rating: *** 1/4
WWE Raw: Seth Rollins vs Shelton Benjamin
Winner: Rollins via Stomp
Rating: *** 1/4
NJPW: Hiroshi Tanahashi vs Ryusuke Taguchi
Winner: Tanahashi via Dragon Suplex
Rating: *** 1/4
WWE Raw: Falls Count Anywhere: Dean Ambrose vs Drew McIntyre
Winner: McIntyre via Claymore
Rating: *** 1/4
WWE SmackDown Live: Aleister Black & Ricochet & The Hardy Boyz vs The Bar & Shinsuke Nakamura & Rusev
Winner: No Contest
Rating: ***
NXT: Forgotten Sons vs Moustache Mountain
Winner: Forgotten Sons via Reverse DDT/Stomp Combo
Rating: ***
2. NJPW: SANADA vs Minoru Suzuki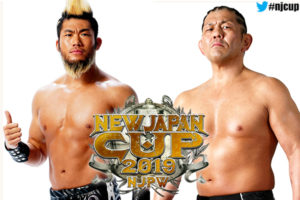 From My 2nd Round Analysis:
This match has a good bit of history from All Japan and crossover issues between Suzuki and SANADA's mentor Keiji Mutoh (Great Muta). Going into this match SANADA only had 1 win over Suzuki out of 6 singles meetings. Suzuki dominated a good portion of this match, and just brutalized SANADA. However, SANADA showed great resiliency and the unrelenting drive to beat Suzuki. There was a good exchange of submissions in the middle of the ring with Suzuki finding Knee Twists and an Indian Deathlock to try and break Skull End, but SANADA wouldn't give up. Suzuki basically gassed himself out, and one more Moonsault attempt was the end of Suzuki.
Winner: SANADA via Moonsault
Rating: **** 1/4
1. NOAH Hakata Star Lane Memorial: Go Shiozaki vs Takashi Sugiura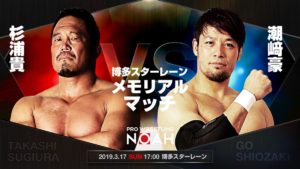 Given that the Hakata Star Lane show was special since it was the last show in Star Lanes because the building will be closed down permanently after renovations were decided to be too costly. So this show was free on YouTube but more of a house show. A few not normal match ups like Ogawa vs Marufuji, and the champion was in a tag match with his grumpy senpai. This match was special since it's more of a throwback match with two well known stalwart names of NOAH.
Go and Sugiura always put on classic hard hitting matches. Shiozaki's chops can be heard around the world and Sugiura's generally irritated countenance makes for a scary collision. This match definitely delivered for the fact there was nothing on the line beyond bragging rights. Since it's free, it's best to just follow the link at the top and watch it yourself. It's just brutal, hell I think Go was momentarily knocked out during the match, but finished the match.
Winner: Sugiura via Avalanche Olympic Slam
Rating: **** 1/2
Thoughts:
It's too late to think, I think sleep wins. Yup – Yup – Yup, that's ducky.
Okay, I'm a little sleep deprived. So I'm gonna go with my order this week. NOAH has been putting on really solid shows last few years, new management, new logo and layout, but you put in two veterans and you get classic NOAH. The colors may change, but the ass kicking stays the same.
Use Your Head! Cause I will and place it on a pillow now. Good Night.
Ratings Talk is Back!
Rob always brings logical insight to any topic, regardless of how often it's brought up in the IWC. Sit back and give this a read, they don't call Rob a genius for the t-shirts.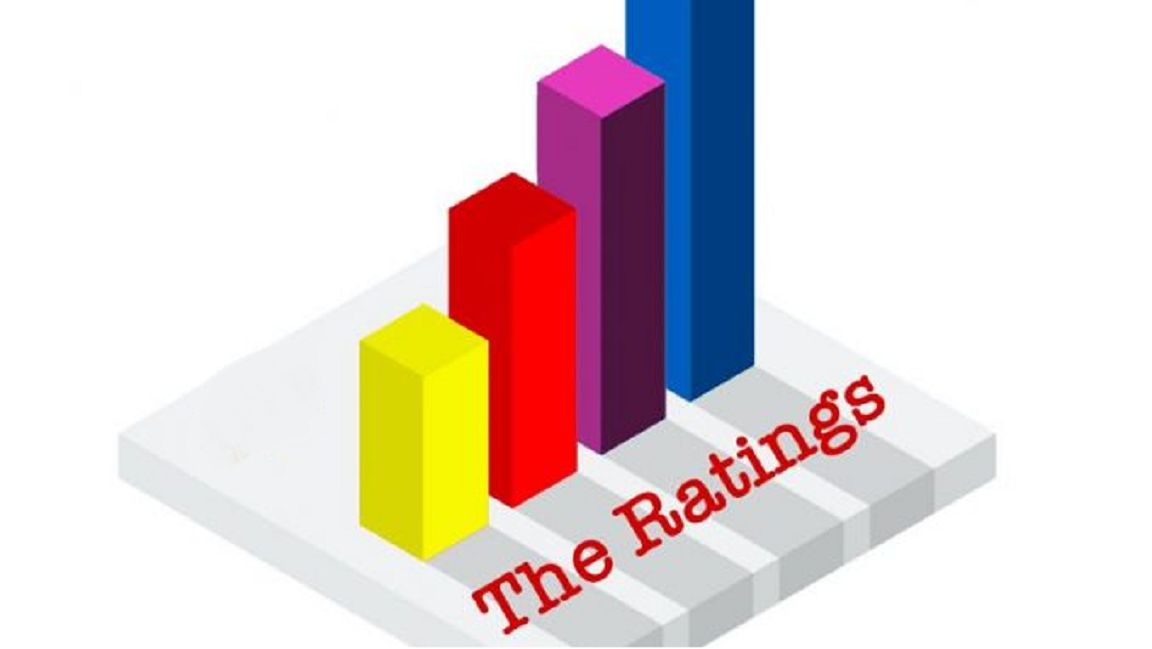 OK, I know, I know, I've been saying it over and over for a very long time, ratings talk is dumb.  So why on Earth am I bringing it back?  Because now that some, ahem, developments have transpired I think I have a better case to make.  I don't expect any of you who are obsessed with the subject to let it go, but you should at least hear me out here.  Now that the worm has turned a little, maybe the things that I and others have been saying all along will sink in a bit.
What am I talking about?  In short, AEW's live audience numbers have taken a bit of a dip over the past couple of months, and this week even Dave Meltzer couldn't say anything other than it was disappointing.  They haven't gone over a million viewers for Dynamite in almost two months and Rampage slipped under five hundred thousand last week.  If this kind of thing was happening on the other side of the street then there would be some hot takes flying for sure.  So, are we going to get some of those now?  You know what I mean, things like:
AEW in the mud!
Worst ratings since (pick whatever date works for you)!
At what point does TNT start making demands on how the show is booked?
The ratings are obviously going down because the shows are unwatchable now!!
(Insert name here) is not a draw!
That title match in two weeks is hotshot booking to pop a rating!
Sound familiar?  We're gonna see these soon, right?  No?  Why is that?  Are you trying to tell me that wrestling media doesn't call this stuff the same on both sides of the street?  Seriously though, here are some other familiar things for you to chew on:
Dynamite is the highest rated non-NBA show on TNT, and it's not close
Even on a disappointing night, it finished third in the ratings on cable
Rampage is the next highest rated and watched show on TNT after Dynamite
Fewer people watch TV now than before
Those are the kind of things a lot of us would say every week after people on the internet waxed doom and gloom about Monday Night Raw, of course.  And we were summarily dismissed as E drones or whatever.  But now that the falling numbers have struck AEW, the same rationalizations have begun.  But here's the truth in both cases:
Everyone is doing fine.  RAW, Smackdown, NXT, Dynamite, and Rampage are all leading their respective channels for the day they air.  They all are among the top shows for their respective channels, even the much maligned (for their live audience numbers) NXT and Rampage.  There is literally nothing to see here folks as none of these shows are in any danger of getting cancelled.  No one is actually in the mud, guys.  The networks all know that Nielsen is suspect at best when it comes to measuring audience numbers, and they act accordingly.  There is no reason to rush to Shobuzz Daily every day at 4:30 unless you are just a numbers nerd like me but even then save the pontificating, ok? The numbers exist and that's about it.  They serve no purpose for us as fans beyond goofy talking points.
But doesn't it mean SOMETHING?
Well no, it doesn't.  There are things you can derive from looking at the patterns over time but trust me when I tell you that your entire  narrative can be blown up in a matter of two weeks.  So don't bother.  As I and many others have said before, a good rating does not mean a good show and vice versa.  There was a lot of trying to figure it out in the replies to Meltzer's 'disappointment' tweet, and while there were reasonable takes there was also a lot of nonsense.  Which has been par for the course with RAW since like…….2002 at least.
So why do we keep doing this thing?
Well, it was a talking point that Eric Bischoff used to show how he was kicking the WWF's butt over those 83 weeks.  But once that ended it became less and less relevant over time.  And then once TV viewership made the shift to streaming and DVRs it's relevance was all but dead.  And it should have ended entirely once WWE signed two $1 billion TV deals in the face of nonstop 'what about teh ratingz?' talk on the internet.  That should have totally killed the conversation, but your friends Meltzer and company kept it going even though they (should) know better.  And they did it for traffic.
'Fed bad', 'Fed down', and 'Fed in the mud' has been selling Observer subscriptions for almost 40 years now while it has spawned a whole cottage industry of podcasts, YouTube channels, and websites over the last decade.  There is little to no truth to what any of these people are telling you when it comes to ratings, because if there was then they would be firing off the same takes about AEW that they've been using about WWE right now.  But they aren't and that should be a tell.  If you ever needed proof that it was nonsense the last two months should be it.
Here's a dose of reality for you:  Nielsen numbers are not accurate.  Several networks have already announced that they aren't relying on them, Nielsen itself has lost it's accreditation as an information gathering service, and the company itself has begun a shift to overall impressions from traditional audience measuring via Nielsen boxes.  What you read every day at 4:30 or on some wrestling website is by all accounts an inaccurate at best and dishonest at worst representation of how many people are watching these shows.  And the recent reporting of Fast Nationals, aka Overnights has only made it worse because those are a hastily gathered version of an already inaccurate report.
Here's some more reality for you.  Regardless of what Nielsen says the live numbers are both WWE and AEW are going to get a nice bump in TV rights fees when they negotiate their new TV deals.  Other sports with smaller audiences just got more, and the NFL and NBA continue to get price hikes even as their numbers aren't what they once were.  And your favorite internet loudmouths will continue to spout the same factually challenged gibberish that they've been saying for decades now.  None of it will matter unless you guys keep giving them money and traffic every month.
I'm going to make a bold statement here:  there is not a single thing that ratings talk has done to help the fan experience and in fact it's only made things worse.  But it has made money for a lot of bad faith actors out there, many of whom want us to treat them as if they are reporting on Watergate or the Civil Rights Movement while they spout off takes based a change up or down of 100,000 people watching a wrestling show on TV.  At this point anyone writing serious essays or going on rants about ratings is not someone you should take seriously.  Just go do what you should have always been doing.  Watch the shows, enjoy the shows, go to the shows, talk reasonably about them with your friends, etc.  Anything else is just dumb.
News From Cook's Corner 12.6.21: The Kids Are All Right
Cook's news has a grab bag of interesting topics! New faces in weird places, an NXT major event and more!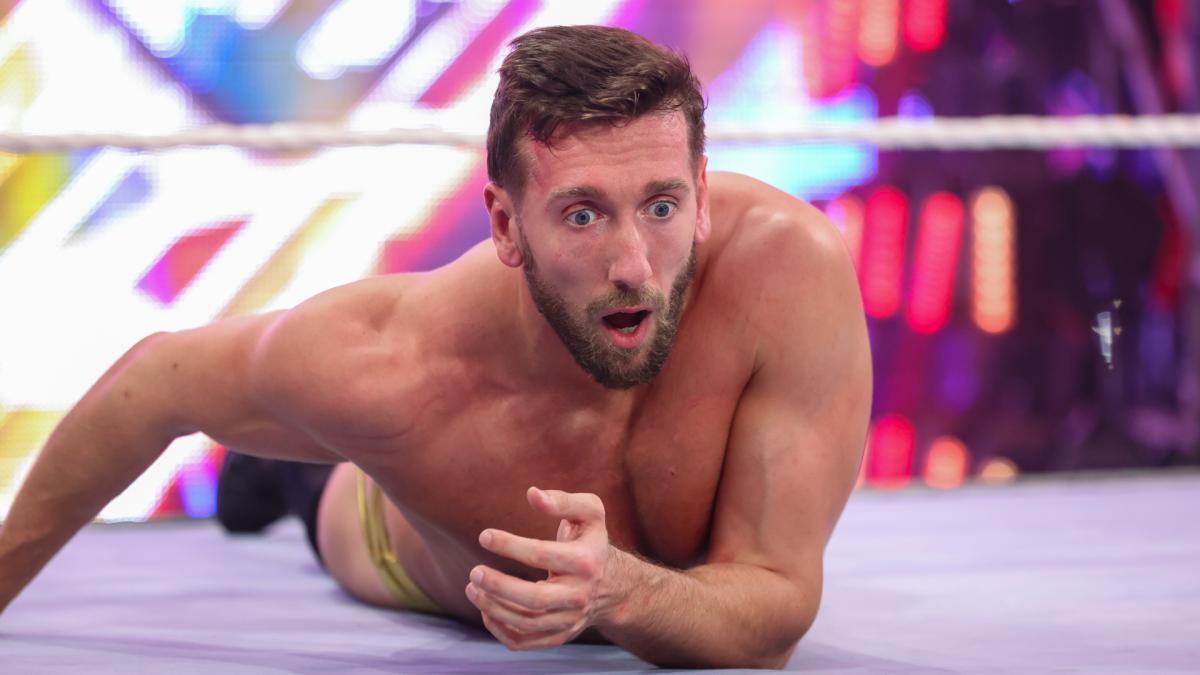 Hi, hello & welcome to News From Cook's Corner! I'm Steve Cook, and I can't believe we're approaching the end of 2021. It just seems like yesterday we were talking about how 2020 was the worst year ever and were excited to see it coming to an end. I haven't seen that sentiment as much about 2021, but I think that's because time moves so quickly that we don't have the opportunity to take these things into account.
Has 2021 been good or bad? I have no idea! It's been a year, as far as I can tell.
As for this past week in the world of wrestling…it was a week! Just glancing over the week's news gives me the feeling that nothing happens when people aren't getting released. Uncle Dave spent most of his time talking about who should make his hall of fame. Heck, the main thing to rock Wrestling Twitter last week was a casting decision for the NXT WarGames pre-show panel. I had no idea people still watched those things, especially on an NFL Sunday where there were a number of exciting finishes. I did catch the last bit of it though, and from what I saw I don't think we have to worry about the future of wrestling journalism being corrupted.
I'm trying to work up some kind of take on the whole thing, because I know people love it when I go off on other Internet wrestling journalists/personalities for perceived grievances or for being hypocritical sycophants. Unfortunately, I don't really know any of these people, and as far as I know they haven't said any shit about me or my friends. So I've got nothing, other than my opinion that Denise Salcedo is more visually appealing than David Bixenspan. I know! It's a hot take, but I went there!
Let's look at what happened at NXT WarGames, a show I was interested in more than Broncos vs. Chiefs. Looks like I was right on that one.
Raquel Gonzalez, Io Shirai, Cora Jade & Kay Lee Ray beat Toxic Attraction & Dakota Kai in the Women's War Games Match
First of all, credit to all the women involved, because they put it all out there and did the best they could. The only issue was a little bit of booking getting in the way. There's a reason why War Games is almost always worked with the heels having the advantage. Unless Toxic Attraction & Dakota Kai aren't heels, which I thought they were, but the match layout had the effect of having them get sympathy for most of it. Also some awkward moments where the heels got the advantage even whilst outnumbered. However, there was more than enough to make up for the weird psychology. Lots of weapons, Cora Jade losing her mind and doing a swanton off the top of a cage through a table, good times.
And I'll probably get some crap for it, but I still don't like the whole "pinfalls in WarGames" thing. I know it's been a thing here in NXT, but give me "Submit or Surrender" any day of the week. In any event, it was nice to see the young girls do a good job here and shove it in the face of those that didn't think they could pull off a WarGames match. Give the kids a chance, I say.
Imperium defended the NXT Tag Team Championship against Kyle O'Reilly & Von Wagner
Fabian Aichner likes to jump around, doesn't he? I thought this was a pretty solid match, which did one thing much better than most of the NXT Tag Team Championship matches I've seen over the years. Imperium eventually hit their finisher after everybody did a bunch of stuff. One finisher ended it. Didn't need to do five Imperial Bombs to get it done on one of these shows. I can dig that.
Then in a shocking surprise, KOR actually got the better of Von in the attempted post-match beatdown. We expected Wagner to drum the poor boy out, but that'll have to wait for another day. O'Reilly also threw up some Undisputed Era sign language, just the thing to get people talking.
Cameron Grimes beat Duke Hudson in a hair vs. hair match
NXT's crowds certainly have their rough moments, but I do appreciate their knowledge of mid-90s WWF Superstars leading to a "Duke the Dumpster" chant. The more I noticed the tell-tale signs of male pattern baldness on Hudson, I had a feeling where this was going. He got the ol' weedwhacker haircut too, which is much worse than the clean shave. Match was ok, just killing time until the haircut.
Roderick Strong retained the Cruiserweight Championship against Joe Gacy
Roderick did the best he could with this one. Frankly, I would have been ok with Gacy becoming an All Inclusive champion, but that would have been a division-killing move more than anything else. 205 Live does seem to still be a thing for some reason, so that doesn't seem imminent. I'm sure Gacy will find something to do, as we liberal scum always have some hopeless cause to fight for.
Kyle challenged Von to a cage match on Tuesday, because cage matches are the thing in WWE these days. Big E vs. Kevin Owens on Monday, this on Tuesday, all kinds of house show ones apparently. Not sure what the deal is there.
Team 2.0 defeated Team Black & Gold in the Men's War Games Match
The young boys pretty much had to win this one in order to be taken seriously, and that's exactly what they did. Proper WarGames psychology with the heels continually getting the advantage. You got Gargano & Ciampa doing their old tag team spots one last time. LA Knight showed more fire than usual. The youngsters were fine, but Bron Breakker easily stood out amongst the pack. We thought that Bron might get the win over Gargano, but Bron getting the win over Ciampa was the smarter move, to further set up the eventual title change. Lots of crazy spots, weapons randomly brought into the ring. I'd say it stood up well against previous iterations of the WarGames match.
I know that my general opinions on NXT fly in the face of most folks' on the Internet. They're upset that the super indy is no more. At some point, however, one must move on. Or at least try to give the new thing a chance. I will say that the wrestlers on this particular show put on a good effort, and I was especially impressed with the folks that people told me weren't ready for a WarGames match.
The one downside of NXT 2.0 that I can't deny? You'll get some dumb shit like this:
Ikemen Jiro likes to eat food, or something.
Thanks Vince. #NXTWarGames pic.twitter.com/hRyvnjib5F

— X (@KnowTheX) December 6, 2021
Fortunately I was in the bathroom when this happened live. So my best advice to you would be to drink a lot of water so you'll be in the restroom during commercials.
Who Was Where?
With all these companies releasing people lately, it's only natural to expect names to show up different places than you might expect. When possible, I'll try to update you on these matters so you know who to expect in what places.
AEW: Matt Taven & Jonathan Gresham were backstage at the AEW tapings in Duluth, GA this week. Both men are under ROH contract until the end of the year and currently have other things going on, but it wouldn't be shocking if Tony Khan was interested in bringing either in based off of their working ability. Gresham is from the Atlanta area, while Taven was in town for the NWA's Hard Times 2 event, which featured some other interesting names in a different place than usual.
NWA: The aforementioned Hard Times 2 saw a couple of interesting debuts for the company. Dirty Dango, formerly known as Fandango, appeared after the tag team championship match, forming a team with none other than JTG. Seems like an awfully random teaming, but I'm sure they worked together at some point during their tenure with WWE. It seemed like they were both there forever.
Matt Cardona also made his debut with the company, he'll be targeting the NWA World Championship. I said the other night that Impact Wrestling should put their title on Cardona to try & make themselves more relevant, and the same definitely holds true for the NWA. Cardona easily has more buzz than anybody else working NWA shows right now. Heck, his positive buzz might cancel out some of the negative buzz surrounding other people on that roster.
AAA: A couple of familiar names returned to AAA at their TripleMania Regia event, neither coming as much of a surprise. Taya Valkyrie sent in a video declaring her intention to challenge Deonna Purrazzo, current holder of the Reina de Reinas Championship. Makes sense, as Deonna was the last woman to wrestle Taya before her ill-fated stint with WWE NXT. Taya has spent most of her career working for AAA and didn't leave on bad terms, so her return was always just a matter of time.
A name less familiar to most of you but one I remember from back in the day also returned, as Cibernetico made his first appearance with AAA since 2015. He was one of the company's top stars during the 1990s & 2000s, and has had several stints with the company. He usually seems to leave due to some sort of an issue with Konnan, and has returned to re-establish his issue with Konnan. Lots of people have issues with Konnan, what can I say? If you're old like me, you might remember Cibernetico's brief stint with the WWF as part of an AAA invasion deal that helped fill out the card for the 1997 Royal Rumble in San Antonio.
Jeff Hardy Sent Home
PWInsider reported that Jeff Hardy was sent home by WWE after Saturday's live event in Edinburg, TX. He was working a six-man tag team match with Drew McIntyre & Xavier Woods against The Bloodline. Apparently Hardy spent most of the match selling in a more sluggish way than usual, and after tagging out he went into the crowd, not returning for the post-match celebration.
Naturally, given Jeff's history people are going to be alarmed whenever reports like this come out. Hopefully things will end up all right.
AEW Had A Release
I almost forgot, we had another AEW release made public this week. Big Swole's contract expired at the end of November, and she asked not to renew it. Swole hadn't wrestled for AEW since a Dark taping on September 11, and hadn't been on TNT since October 14, 2020. Her highest-profile feud was with Dr. Britt Baker D.M.D, and Swole even defeated Dr. Baker in the infamous Tooth & Nail match.
Swole is married to Cedric Alexander, who's still under WWE contract. That used to be a pretty good way to get hired over there, but not so much these days.
Welp, that's all we have time for this week! Thanks for reading, and until next time, keep your stick on the ice.