WWE Week in Review: February 25-March 3, 2019
Tiffany breaks down the week that was for WWE. Do you agree with her assessment?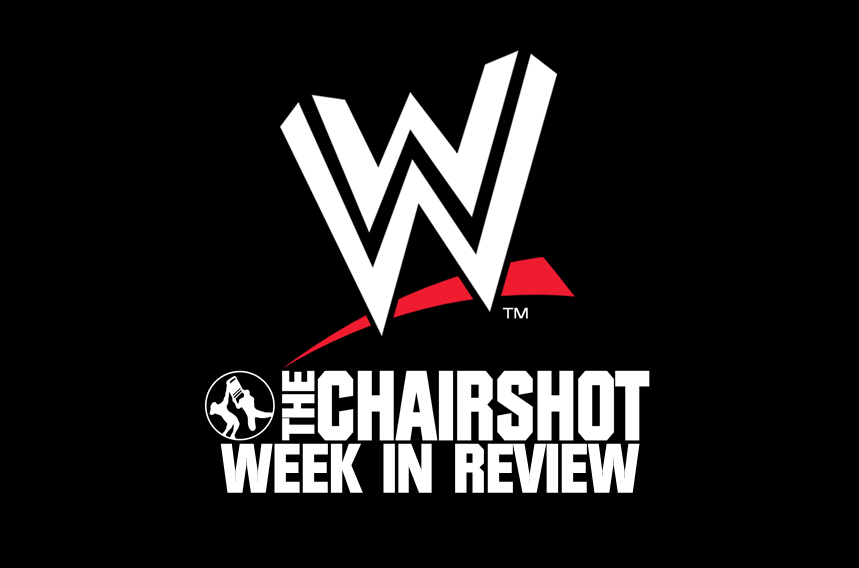 Tiffany breaks down the week that was for WWE. Do you agree with her assessment?
RAW
Roman Reigns: It's been a LONG time since I've heard a pop THAT loud for any one superstar. The Big Dog was back after being gone for months due to a battle with leukemia and he brought the best news possible: The leukemia is in remission! Great start to RAW. Loved Seth coming out, a complete 180 from October 22. Welcome back, Big Dog!
Aleister Black and Ricochet vs Revival: This was a study in contrasts on several levels. It was a great match, but it doesn't feel like the whole point is to showcase the individual NXT talents as members of the main roster so much as it is an ad for NXT.
Baron Corbin: I'm honestly not sure what someone felt the need to have Corbin do that interview and I don't care. I muted it as soon as I heard his name.
Elias: I LOVED this segment and I love that Dean's back and is funny again. Him planting Elias with Dirty Deeds just made me happy. The challenge to McIntyre is interesting after last week, but we'll see how it goes.
Riott Squad vs Ronda Rousey and Nattie: This was a really good match, but it was also one we've seen too many times. Sarah Logan has really improved a lot and Riott was impressive, as always. The real story of this match was Becky Lynch beating the holy hell out of anyone within reach with her crutch. I'm a little curious as to why Lynch was in the same outfit she was arrested in at Elimination Chamber.
Ronda and Stephanie: This was a really cool segment. There had been speculation that Lynch would make an appearance at Ric Flair's birthday party, but Rousey demanding that Lynch be added to WrestleMania and threatening to vacate the title if Stephanie refused was very interesting, but I hope they aren't doing this to protect Rousey at the expense of the match.
Jinder Mahal vs Kurt Angle: I really enjoyed this match. A lot of people were getting frustrated with Kurt Angle's booking lately and this match seemed like a way to right the ship somewhat, but it's clear that the Wrestling Machine has gotten a little rusty over the years, but it was fun segment and sometimes that's all that matters.
A Moment of Bliss: After a few weeks' absence, the cringe-fest that is A Moment of Bliss is back. I loved Bliss' little dig at Rousey's segment. The interview with Balor was…interesting, though I'm not sure I WANT to know what Bliss was going to show him.
Rush's inclusion was the most interesting part of the segment due to Rush's performance. He didn't have his usual fire and swagger and was playing it like he was being forced to go out there. Balor came across as a bit of a jerk, but that's understandable, all things considered.
Balor vs Rush: This was SUCH a good match and it was fun to watch Rush perform without Lashley. Rush vs Balor for the IC title could be a show-stealer for WrestleMania.
Ascension and Heavy Machinery: This was a very random segment. The Ascension hasn't exactly set the main roster on fire since their debut a few years ago, so I'm not sure what the point is. The whole segment was just very strange and not funny.
Rush and Lashley: I loved how this segment played out, you really felt bad for Rush getting berated by Lashley. I couldn't have been the only one going 'Go get your own title shot, dude!' The look on Rush's face implies that Lashley's going to be sorry for treating Rush the way that he is.
Strowman vs Lashley: Apparently, someone in WWE has finally realized that Strowman can't do long matches with people not named Roman Reigns, so they're building him up by having super short matches that accomplish nothing and the match with Lashley was no exception. The most that can be said is that it added more to the Lashley vs Rush story when Rush dove out of the way of Strowman and let Lashley take the hit.
Seth Rollins: This was a good segment. It established how happy Seth is about Roman being back and that they're celebrating. I did find it interesting that Ambrose wasn't mentioned at all in the interview, nor was his absence explained.
Dean Ambrose vs Drew McIntyre: This was a much better match than the mess last week. Dean had a chance to get out of the box and the two belt thing was hilarious. I've said before that I don't believe Ambrose is really leaving and the way he lost, which actually protected him by having McIntyre need help, solidified that feeling further.
The Reigns/Rollins run in was very intriguing because they ran in and saved Dean, but left him alone in the ring. Clearly, Seth brought Roman up to date on Dean's shenanigans, but Roman didn't want to leave Dean to suffer a 4-1 beatdown, despite what he'd done and said. This is an interesting and intriguing story and I'm fully invested.
Bayley vs Nia Jax:  Before I talk about this match, I have a question: Why did Sasha look like a mid-2000s teenager last night? Anyone know? Anyone? Bueller? Seriously, I liked the look, but it was just so out of character for her that I had trouble getting my mind around it.
The match was really good. WWE seems to be very invested in building Sasha and Bayley as tag champions, which is always good thing. I'm not sure about Nia and Tamina as challengers, but we'll see come Fastlane.
Ric Flair's Birthday: Well, we all knew SOMETHING was going to happen at Ric Flair's birthday party, especially with so many legends in the ring, but I don't think any of us expected what happened. I think the going theory even as the segment started was that Becky and Charlotte were going to be involved, no one expected that Batista was going to turn heel by beating up Ric just to get Trips' attention. Ric Flair might still call himself 'The Man', but his health scare a couple of years ago really aged him and seeing Batista beat up a 70 year old man was really disturbing, which was the point. Guess we're getting Batista vs Triple H after all.
Thoughts: What a difference a bit of good news makes! RAW has been struggling to keep the fans involved and hearing that Reigns was returning seems to have woken everyone up.
Reigns' triumphant return aside, WWE does seem to be building the Fastlane card with an eye toward WrestleMania on all fronts, which is nice.
I'm intrigued by the probability of another Shield reunion, and hope it means that Dean Ambrose will continue to hang his hat in WWE for the foreseeable future since it seems silly to tease a reunion storyline for the Shield if one-third of them is leaving. Again, I firmly believe that Ambrose isn't leaving, but a little confirmation of that would be nice.
SmackDown
Daniel Bryan/Kofi Kingston Contract Signing: Okay, I think I can see where this storyline is going, but it still angers me that Kofi got screwed out of the title shot he earned fair and square for Kevin Owens just because Vince decided that three amazing performances in a week isn't good enough. Logically, I know that this SHOULD mean that Kofi will get his shot at WrestleMania, but you never know with Vince.
Kevin Owens/Stephanie and Shane: This segment solidified another way this whole storyline could go, which is Shane, Stephanie, and Triple H doing a hostile takeover because they're tired of Vince's antics and him overruling them and making them look bad to the locker room.
The idea to put Kofi and Owens in a match as a team is really adding insult to injury on Kingston's end because he's being asked to be a good sport and team with the man who stole the opportunity he'd busted his ass to earn, which puts Owens firmly in the heel column.
The Bar vs The Hardy Boys: This match was supposed to be Johnny Gargano vs Cesaro, but that was changed for North Carolina's own Hardy Boyz vs the Bar. It was great to see Matt Hardy back and healthy. Rumor is that WWE has decided to not pick Matt's contract up for a third year, but we'll have to see. If that was the last time we saw the Hardy Boyz, they went out with a victory.
Ricochet, Aleister Black, and Lana: I like that they're starting to put the NXT guys with some of the more established talent on SmackDown, but they still haven't gotten away from putting them with recent-ish NXT guys.
That said, this was a really good segment. Black and Ricochet's reactions to Lana were funny. Good way to set up the tag match and let Black show off his promo skills.
United States Championship Match: This match was so much fun. R-Truth is such a fun character to watch, it's hard to jibe that with his NWA-TNA persona. Him tagging Cena in his decision to do an Open Challenge and an Open Challenge Triple Threat is exactly something Cena would've done. I loved the interaction with Carmella and Vega and hope that leads to a feud down the road. I was a little surprised by Truth's win, but very happy for him. Guess the Mysterio/Almas feud is continuing though.
Charlotte Flair: I'm going to get heat for this, but I don't care: Charlotte Flair needs to be taken out of the RAW Women's Triple Threat. She's adding nothing to it. Her promo was the same tone deaf, entitled princess crap she's been doing for months and I'm sick of it. Let her stay and suffocate the SmackDown Women's Division like she's suffocated every women's division she's been in and let Rousey and Becky steal the show at WrestleMania because Charlotte is an albatross in this and she's not needed or welcomed.
Aleister Black and Ricochet vs Shinsuke Nakamura and Rusev: I really enjoyed this match. It gave both teams a chance to get their games in order and gel. Plus, there seemed to be some dream matches in the offing a little. Nakamura vs Black was incredibly good and I hope we see some more of that down the road.
AJ Styles: This was a good, if slightly formulaic, promo for Styles. It hit all his usual talking points, except for the part about Reigns' cancer being in remission. Randy Orton's inclusion in the interview was interesting and sets up their feud, but it didn't do more than that.
Kevin Owens and Kofi Kingston vs Daniel Bryan and Erick Rowan: There's a lot that can be said for the racial politics of making an African-American play the good sport and work with the white person that got the opportunity, just for showing up, that the African-American had to bust his ass for, but this isn't the place for it. This was a really good match for everyone involved. The crowd was firmly in Kofi's corner, though there were some cheers for Owens. Even though Owens 'earned' the match by pinning Bryan, I really wanted Kingston to snap and lay Owens out, but that will probably wait until Fastlane.
Thoughts: The questionable decision about Kofi Kingston aside, this was a very random feeling SmackDown. I think having the fans see Kingston get screwed over on the whims of Vince McMahon sucked a lot of life out of the crowd. Owens' return was interesting, but it got overshadowed by the fan rage over Kofi.
205 Live
Tony Nese vs Kalisto: This was such a good match, I wish it could've gone longer. Nese and Kalisto are great athletes but that often gets overlooked by their gimmicks. I'm not surprised that Nese won, Kalisto's been involved in several of these #1 Contender tournaments, so it was nice to see someone new in the pack. I am interested to see what will become of the Murphy/Nese friendship if Nese becomes #1 Contender.
Jack Gallagher and Humberto Carrillo: I've stated my opinion on this storyline before and I'm still uncomfortable with it, but they're making it clear that Carrillo doesn't want to give up what's worked for him. Hopefully, we'll get an actual match soon.
Drake Maverick's Office: It seems that Mike Bennett might be turning tweener or face if the conversation in Drake Maverick's office was anything to go by. Bennett had a legit complaint and it was basically dismissed, PLUS Maverick pulled a dingy trick by promising a match but not promising that it's a tournament match. If they do it right, Bennett COULD fill the Mustafa Ali, super over underdog role that 205's been desperately needing since Ali moved to SmackDown.
Drew Gulak vs Brian Kendrick: Well, I can't say this pairing was a surprise, but I'm surprised by how much I didn't like it. Given how nasty the rivalry between Gulak and Kendrick had been back in the fall, I expected more 'oomph' in this match and it didn't happen. I'm also surprised that Gulak won, but they seem to be trying to include guys who HAVEN'T been Cruiserweight Champion, with the exception of Cedric Alexander.
NXT UK
Tyler Bate vs Jack Gallagher: This was a great match! Jack Gallagher hasn't been featured on 205 all that much lately, so it was nice to see him get some time to shine away from Gulak and he did a great job doing that with Bate. I was a little disappointed that Gallagher lost, but that doesn't take away from a great match. I also hope it means that Gallagher will be moving to NXT UK and establish himself separately from Gulak.
Nina Samuels: This was another 'Huh?' promo, at least in my opinion. Samuels is a great competitor but I can't say she's been a barn burner. I guess we'll have to wait and see. The dance thing was nice though.
Eddie Dennis: It's been awhile since we've heard from the Headmaster from Hell and there's a reason for that: He tore his pectoral muscle (Ouch) and was unable to wrestle and feed his family. Part of me felt really bad for Dennis because torn pecs suck, but I had trouble buying that he couldn't feed his family since WWE still pays their performers if the performer is injured. However, his threat to the NXT UK locker room sound real enough and he's still creepy.
WALTER vs Kassius Ohno: I think I've said before that I don't get the hype for Walter, who I still think looks like a character from an old WWII movie, and that sentiment still stands. I also don't like Kassius Ohno, so this match, even though it was pretty good, was a big 'Meh' for me. WALTER won, of course, building him for a match with Pete Dunne, but Ohno gave him more of a fight than most of his opponents do, so there's that.
El Ligero: I really liked Ligero's promo, but it's still disconcerting to hear a British accent coming out of a guy in a Luchador mask, but I'm getting past it. I really like this feud between Ligero and Joseph Conners, so I'm happy to see that getting continued.
Grizzled Young Veterans vs Lorcan and Burch: When it was announced that GYV would be taking on Lorcan and Burch, I think we all knew that this was going to be a fight between two very brawly teams and it was certainly that. Lorcan and Burch, or Burch at least, have been in the business for a long time, but they kept up with GYV and put on a hell of match. GYV may have won, but just barely and Burch and Lorcan looked really good.
NXT
DIY Reunion: Since this took up a couple of segments I'm just going to put them together. This was an interesting storyline because we didn't get to hear who or what Gargano blamed for his lack of success in terms of titles in NXT. Since Ciampa interrupted him, I'm going to guess he was going to blame Ciampa. Ciampa was his manipulative best, but it was clear that Gargano knows he's being manipulated, or I hope he does and he's not truly that stupid and/or naïve.
My one genuine beef with this angle is Candice LeRae. I like Candice and she's a good competitor, but it seems that Creative can't think of anything to do with her besides being Gargano's worried wife, which is a waste of her talents.
Taynara Conti and Xia Li vs Aliyah and Vanessa Borne: These were two seemingly random match ups that produced a surprisingly good match. Conti and Li have the technical backgrounds but Aliyah and Borne are nasty fighters and held their own. I'm glad to see Aliyah finally get some success in NXT have being cannon fodder for so long. If this was a proof of concept for an NXT Women's Tag Division, they did a great job.
Velveteen Dream and Undisputed Era: This was an odd promo. I'm not sure why Cole thinks he still has a claim to the North American Championship or why he thinks he should get a match. Dream's gimmick I don't really get anyway, but they seemed to have laid the groundwork for an…interesting feud.
William Regal: Honestly, this segment was just for the Shirai/Belair argument. I've said before that I don't like Belair, so her whining that she should get another shot before Shirai, who PINNED the NXT Women's Championship falls on deaf ears with me. Belair got her chance and she lost, end of discussion. If Belair should get another shot because of what happened during her match, Kairi Sane should be getting another chance before anyone else.
Keith Lee vs Dominik Dijakovic: This was a really good, really physical match between these two behemoths. I'm not a fan of either guy, but it was a really great match for both of them and the Double Countout protects both of them until they can meet in NY (I assume).
Dusty Rhodes Tag Team Classic Brackets: As someone who comes from a state where basketball is king, I LOVE tournaments and I love brackets. The brackets for this look pretty good, but I was a little sorry to not see as many teams as I thought I would see. However, all the teams are good, so this should be a great tournament.
Boss-Hug Connection: I'll admit that I wasn't sure how this segment was going to go since Sasha and Bayley haven't been in an NXT ring in nearly four years, as hard to believe as that is, but I LOVED the reaction they got. The NXT Universe hadn't forgotten who the REAL Four Horsewomen of WWE were, rather than the MMA wannabes.
The promo was really good, Sasha and Bayley seemed genuinely touched that they'd gotten such a great reception, but I was a little disappointed that no one from the Women's Division came out to challenge them, but Sasha and Bayley seem to be making good on their promise to defend their titles on all of WWE's brands, except for 205, which doesn't have a women's division.
Shayna Baszler vs Mia Yim: After last week's encounter, the fact that that this match got made so quickly was a surprise, but I'm glad it happened. I've become a big fan of Mia Yim and I was glad to see the HBIC get a title shot. It was a good match and Yim proved that she had what it took to hang in the title picture. I was disappointed at how she lost, but she gave Baszler quite a fight, so hopefully that'll mean something down the road.
Overall thoughts: This was a really good week for WWE programming. The return of Roman Reigns seems to have been a shot in the arm for RAW. SmackDown struggled, but still managed to build storylines for Fastlane. The NXTs and 205 were really good. There were a few snags on each show but that's to be expected. Since we're still more than a month away from WrestleMania, WWE's still playing it safe, but that'll change once we get past Fastlane in a week or so.
King's WrestleMania Rewind: Stone Cold VS. Scott Hall (WrestleMania X8)
Chris King is back with another WrestleMania Rewind, looking at the NWO's Scott Hall battling Stone Cold Steve Austin at WWE WrestleMania X8 from Toronto!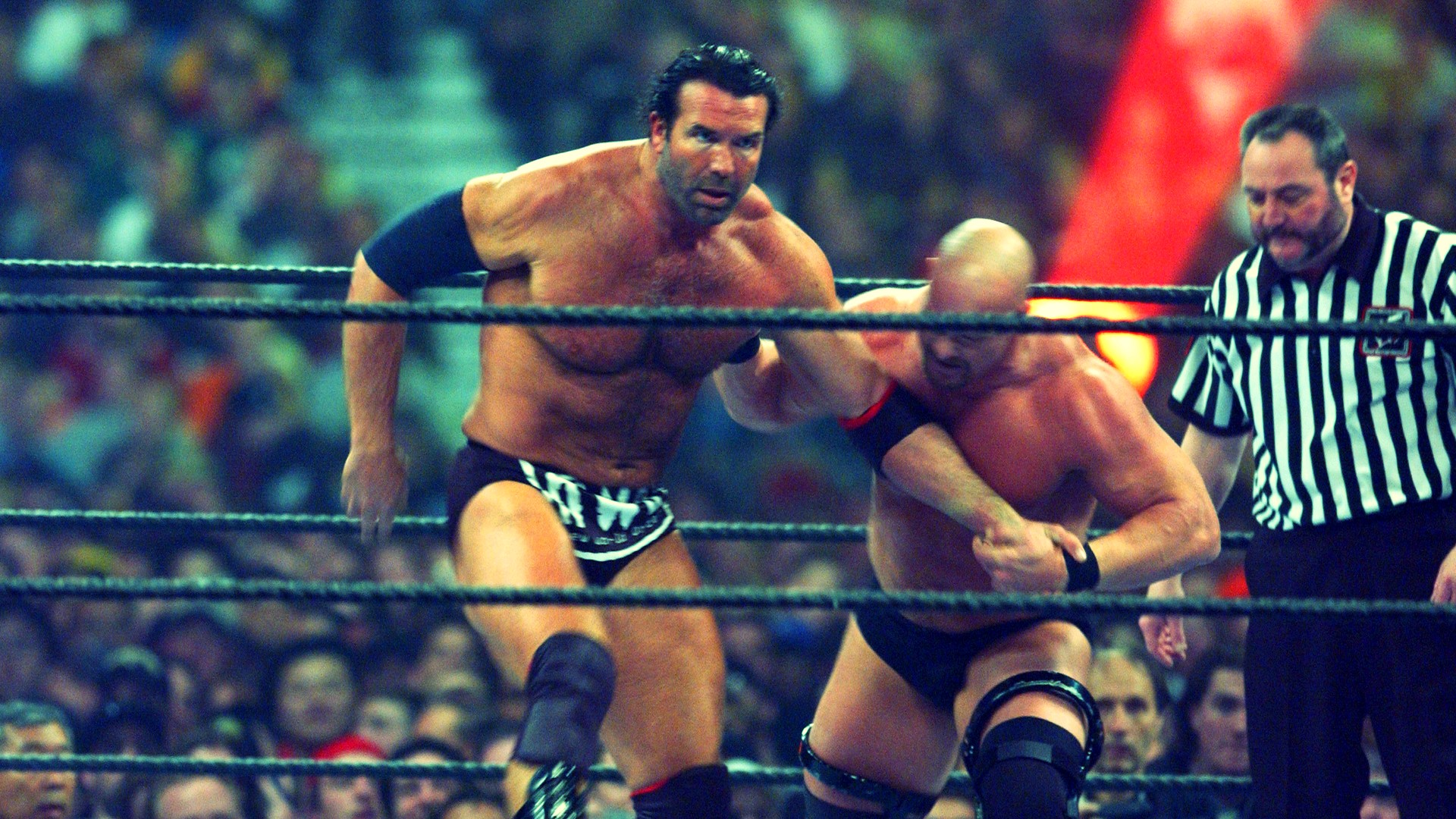 Chris King is back with another WrestleMania Rewind, looking at the NWO's Scott Hall battling Stone Cold Steve Austin at WWE WrestleMania X8 from Toronto!
Chris King is back this week with another edition of WrestleMania Rewind, where he is rewatching all the past Mania matches and feuds. This week you're in for a treat as we look back at 'Stone Cold' Steve Austin vs. Scott Hall at WrestleMania X8.
In late 2001, Vince McMahon bought out his competition WCW and acquired the rights to a plethora of talent including Booker T, Eddie Guerrero, Chris Benoit, and the iconic trio known as NWO. Hulk Hogan; Kevin Nash, and Scott Hall were hell raisers, and what better way to make a name for yourself than take out the two top superstars in the WWE The Rock, and Stone Cold?
The NWO cost Austin his chance at becoming the Undisputed Champion at No Way Out during his match with Chris Jericho. Adding insult to injury, the NWO spray-painted 'The Texas Rattlesnake' with their brand logo just like they did in WCW. As you can imagine, Austin was pissed and out for revenge against the group and primarily Scott Hall.
Hall would challenge Stone Cold to a match at WrestleMania 18. Both superstars beat the living hell out of each other leading up to this highly-anticipated match for who runs the WWE.
The glass broke and Stone Cold made his iconic entrance, and black and white NWO covered Halls' entrance alongside Kevin Nash. With the odds stacked against 'The Toughest S.O.B' could Austin or NWO prove their dominance? Sadly the NWO  broke up that very night when Hulk Hogan came to the aid of his adversary The Rock after their 'iconic' dream match. Stone Cold would ensure the victory with the Stunner. Hall would perform an Oscar-worthy sell over the finisher.
What a time to be a wrestling fan in the 2000s when nothing was impossible for WWE. Who would've thought WCW would go out of business and Hogan would make his long-awaited return to WWE?
King's WrestleMania Rewind: Seth Rollins vs. Kevin Owens (WWE WrestleMania 36)
Chris King takes a look at the most underrated WWE WrestleMania matches, and starts off with Seth Rollins battling Kevin Owens at WrestleMania 36!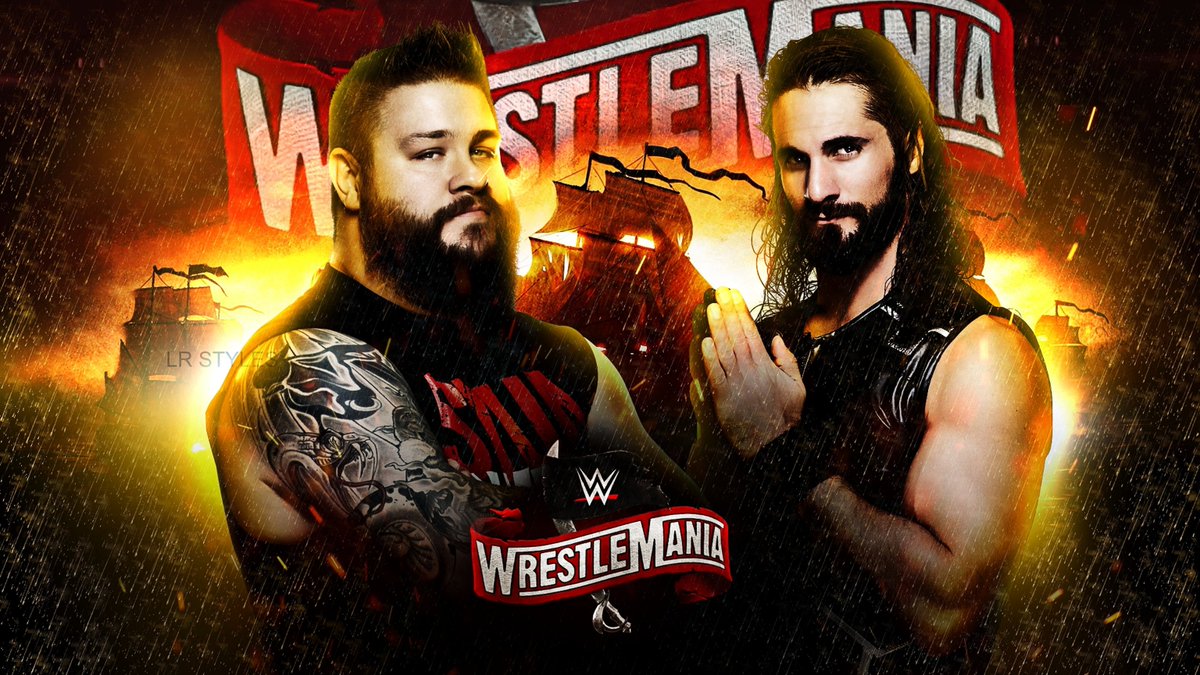 Chris King takes a look at the most underrated WWE WrestleMania matches, and starts off with Seth Rollins battling Kevin Owens in the WWE Performance Center at WrestleMania 36!
Chris King is starting a new series heading into WrestleMania season dubbed WrestleMania Rewind. Each week he'll be going back and sharing his insight over underrated matches at the Show of Shows. First up, is Kevin Owens vs. "The Monday Night Messiah" Seth Rollins at WrestleMania 36.
At the 2019 edition of Survivor Series, Rollins sacrificed himself during the men's traditional match allowing SmackDown to ultimately gain the victory. The following night the self-proclaimed Messiah, berated the whole roster but KO was not having any part of it. Owens quickly became a huge barrier in Rollins' cause for the greater good. The Authors of Pain attacked Owens with Rollins' character in question.
Owens finally had enough of his rival's mind games and torment and challenged Rollins to a match on the Grandest Stage Of Them All. Rollins mockingly accepted his challenge and the match was made official for night one of WrestleMania. Owens came out of the gate beating the holy hell out of the Monday Night Messiah trying to achieve his long-awaited moment at Mania but, Rollins tried to steal a disqualification victory by using the ring bell.
Owens hellbent on revenge provoked Rollins into turning their encounter into a no-disqualification contest where the fight could be taken all over the empty arena. The highlight of the match, was when KO used the WrestleMania sign to deliver a thunderous senton bomb through the announce table. Owens would secure the victory with a Stunner in an incredible match. Despite having no crowd during the pandemic era, both KO and Rollins put on an intense performance under the brightest lights.
In my personal opinion, this was a great feud that helped both superstars in their transformation as compelling characters for years to come.