AAA's Review & Results (4/7/2019)
Joe brings those AAA updates! For all you fans of Mexican wrestling, Joe brings his expert opinion to help catch you up!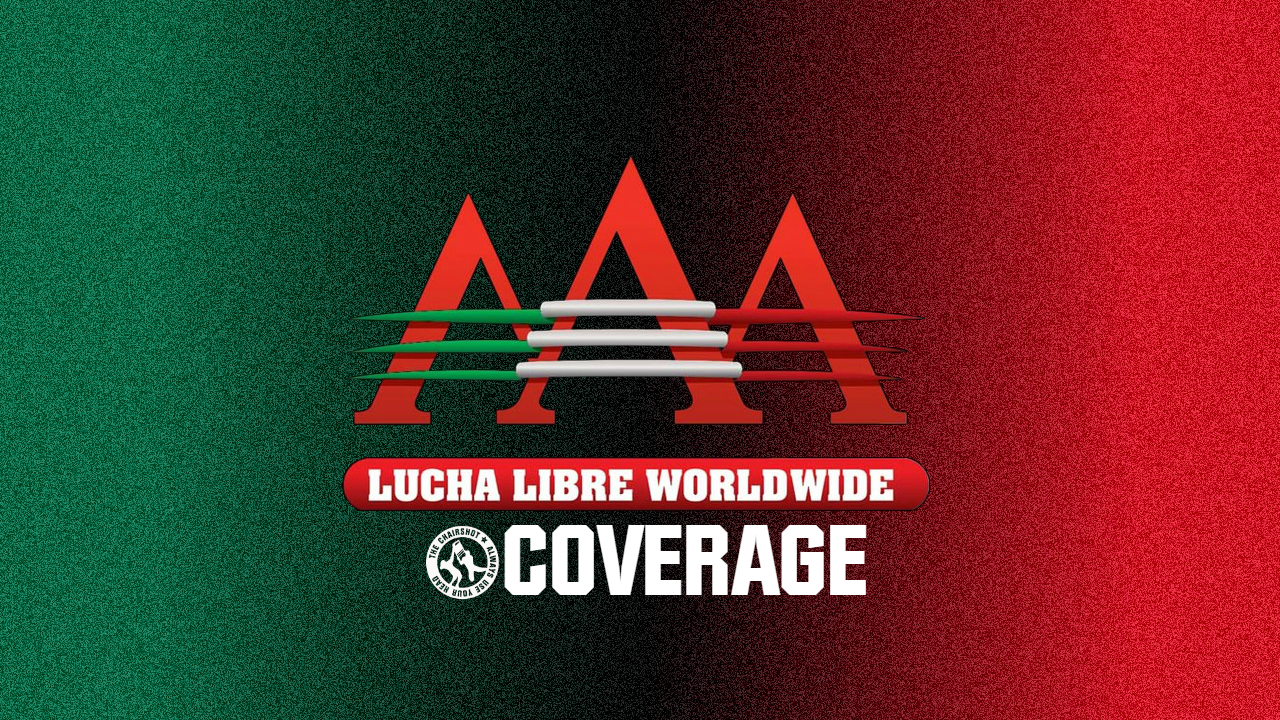 Joe brings those AAA updates! For all you fans of Mexican wrestling, Joe brings his expert opinion to help catch you up!
(Latin American Championship) Drago (Champ) vs Hijo del Vikingo vs Myzteziz Jr vs Aerostar vs Argenis
This match starts out super fast with an exchange of a bunch of spots. One guy at a time. Myzteziz and Vikingo try to team on Argenis but they eventually start fighting each other. Vikingo and Myzteziz go to the outside and Drago and Aerostar flip Argenis to the outside for a dive, then they do dives through the middle rope. Back in the ring, they trade spots once more and Aerostar hits Myzteziz with a back stabber for a two count. Vikingo works on Aerostar with a swinging slam. Argenis tries to pull off Myzteziz's mask. Argenis hits a superplex on Myzteziz. Aerostar interferes but Vikingo hits a 450 on him. Then Drago catches him with a canadian destroyer. Aerostar hits a cannon ball dive to the outside. Total chaos. In the ring Drago rolls up Argenis for the victory to retain. Drago wins with a pinning combo.
Winner: Drago
Lady Shani, La Hiedra, and Nino Hamburguesa vs Lady Maravilla, Keyra, and Villano III Jr
Maravilla continues to try and manipulate Nino's feelings at the beginning of the match. Maravilla and Shani come in and trade pins. Keyra comes in next with Hiedra. Nino comes in with Villano but Keyra tries to double team but she fails. Eventually Shani enters and starts to get teamed on. Shani and Hiedra make a come back and throw Villano into Nino's shoulder block. Maravilla, Keyra, and Villano are all down in the corner and Nino hits a running senton. Maravilla pleads with Nino and Shani kicks her out of the ring trying to reason with Nino. Nino hits a guillotine leg drop on Villano but Maravilla stops the pin fall. Nino goes for a senton flip on Villano but Maravilla tries to stop it. Shani back stabbers her, and then Nino gets pushed off by Hiedra. A back stabbing. Keyra then pins Shani with a fisherman's suplex. Keyra pins Shani with a fisherman's suplex. 
Hiedra wants to be Reina de Reinas. Nino carries an injured Maravilla to the back.
Winners: Lady Maravilla, Keyra, and Villano III Jr
Maximo, Mamba, and Pimpinela Escarlata vs Averno, Super Fly, and Chessman
Chessman and Escarlata start out but she gets him out with an arm drag. Mamba comes in with Super Fly and they go back and forth. Maximo comes in with Averno and tries to kiss him but he ends up getting him to the outside and hits a missile dive through the middle rope. Super Fly introduces a chair to the equation and now the Exoticos are getting worked over. Finally a come back gets made and Maximo launches Super Fly for him to get struck by Pimpinela. Mamba hits a middle rope flip dive on Chessman and then Maximo hits one on Averno. Pimpinela then hits one off of the apron on Super Fly. Back in the ring they each get them in pinning combos but for two counts. A 6 person suplex is hit and the exoticos win that one. After some more back and forth and Pimpinela gets Averno on her shoulders and falls after Mamba kisses him on the top rope. Doomsday device kiss. Pimpinela pins Averno with a doomsday device kiss.
Winners: Maximo, Mamba, and Pimpinela Escarlata
Pagano and Joe Lider vs Texano Jr and La Mascara
If you guessed this was going to be a hardcore match then well you're correct. Lider gets taken out early and then Pagano gets thrown into the crowd. Mascara has Hiedra with him so she's replacing Fantasma. She's helping them in their quest of victory. They're all fighting in the audience. Lider avoids an attack and finally inside the ring they fight back. Lider and Pagano drop kick them to the outside but the chick stops them from diving momentarily. But Pagano does a big flip dive through the middle rope. Joe Lider then does an asai moonsault. Pagano throws Mascara into the crowd and jumps off a chair and drop kicks him and Pagano lands on a ton of chairs. Back in the ring Pagano and Texano exchange strikes. Mascara hits a back stabber on Pagano but Lider breaks up the pin. Lider hits a hanging, swingning neckbreaker on Mascara but Texano breaks up the pin with a rope. Pagano is able to get the rope away and hit Texano but then he postures to hit Hiedra and gets attacked from behind with a chair by Mascara. He knocks Mascara off of the apron and he sits on chairs. Pagano runs for a dive but before he could hit it Hiedra takes Mascara away and Pagano crashes into chairs. Hiedra interferes again and Lider has had it and DDTs her. This leads to his downfall as Lider gets pinned. I couldn't quite catch the finish since the cameras didn't catch it all. I think it was a code breaker by Mascara and Texano with the pin.
Winners: Texano Jr and La Mascara
Psycho Clown and Dr. Wagner Jr vs Blue Demon Jr and Rey Escorpion
Well this is a cage match. AAA loves their cages. During Wagner's entrance Demon just throws a chair at him. Psycho comes out to join and now they're brawling on the outside despite the fact there's a cage. Wagner and Demon are deep in the crowd. Wagner is bleeding and Demon puts him in the cage. Wagner is clean shaven, he looks like a completely different person. Escorpion rips Psycho's mask in half. Rey looks to escape but Psycho meets him on the cage. Demon gets a belt and wraps it around his fists and punches Wagner. Clown dodges an attack and hits a hurricanrana on Rey. He then hits back breakers on both Rey and Blue Demon. Escorpion goes to escape but Clown stops him and super power bombs him through the table. Psycho Clown then escapes leaving Wagner all alone. Clown just leaves altogether leaving Wagner to get double teamed. Rey pulls down Wagner as he tries to escape and climbs the cage. Demon pulls Wagner back with a broom to stop him and Escorpion escapes leaving Wagner and Demon. They both go to try to escape but then they decide they'd rather fight some more. Why not? Wagner yanks Demon's mask in half exposing the balding head. He sets up the broken table in the corner. Demon then back drops Wagner onto the already broken table. He places a chair on his chest but it falls off. Demon goes to escape but Wagner gets up and smacks him with a chair. Wagner removes Demon's mask and throws it in the crowd and then escapes as Demon has to cover his face. Some fans boo that finish. It was a heel move. Wagner wins by removing Demon's mask and escaping.
Demon has his cape around his face and Wagner wants a mic. But will they give him one? Demon gets a new mask then draws the imaginary line in the sand to Wagner. Wagner gets no mic. Shows done.
Winners: Psycho Clown and Dr. Wagner Jr