Mathew's AJPW Champion Carnival B Block Results & Review: Part 1
Champion Carnival kicks off in full force! Mathew lends his expertise to help catch you up on the first portion of the B Block matches!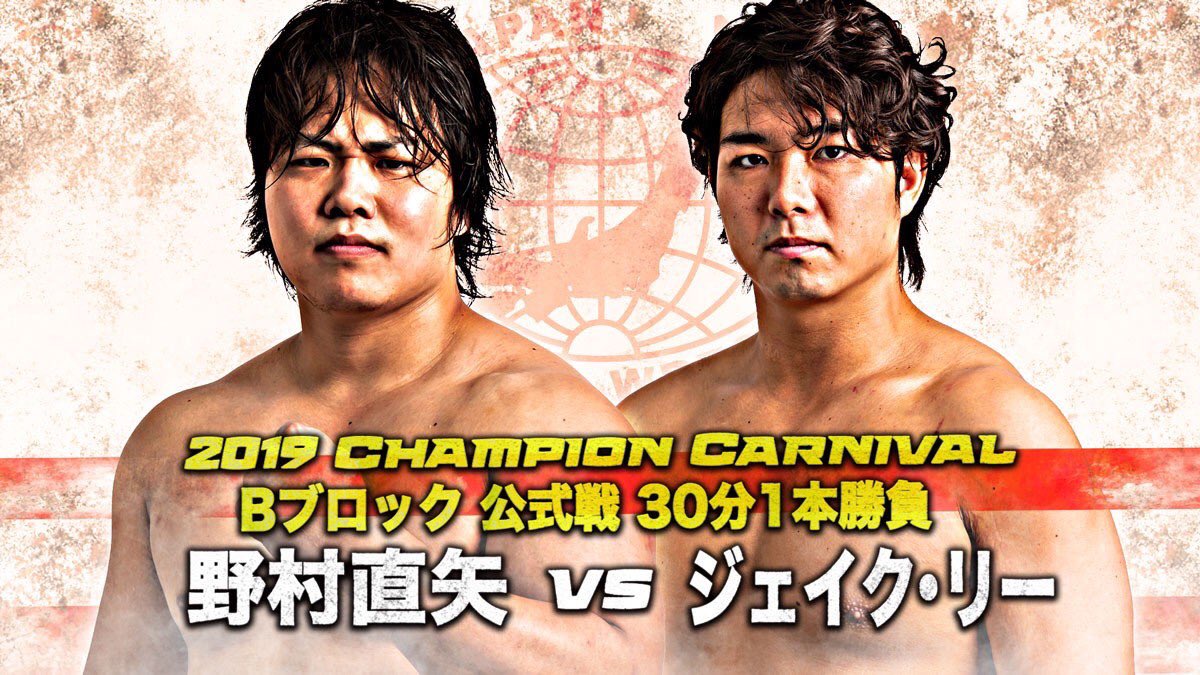 Champion Carnival kicks off in full force! Mathew lends his expertise to help catch you up on the first portion of the B Block matches!
Welcome back to All Japan as both me and Andrew are once again covering their tournament, the Champion Carnival!
This time though, we'll be switching it up with me doing B Block this time around while Andrew will focus on the A Block.
We, unfortunately, found out that Kengo Mashimo is dealing with injuries that he'll be unable to compete for the tournament and will be replaced by Atsushi Aoki for the A Block and we wish Kengo a speedy recovery. For this part, I'll be covering the first two days with five matches.
If you saw my predictions about a week or so ago, you'd see that my pick for the winner is Jake Lee and let's see how it pans out. Who will get some points on the board?
Let's find out as we…dive right in.
Rating System:
0 Stars: Dave Meltzer
1 Star: Vince Russo
2 Stars: Tony Schiavone
3 Stars: Eric Bischoff
4 Stars: Bruce Prichard
5 Stars: Jim Cornette
4/4/2019
Champion Carnival B Block Match
Daichi Hashimoto vs. Takashi Yoshida
Review: Our first match of my clock is BJW's Daichi Hashimoto taking on Dragon Gate's very own, Takashi Yoshida. I know I complained about Takashi being in this tournament due to being my least favorite in Dragon Gate and wish they had a better heavyweight, but it looks like this is who we got and nothing we can do about it now. I don't know too much about Daichi except that he's young and can gain a lot of experience in this tournament. Which one of these outsiders will get the first victory?
Okay, so I'm kinda convinced that Dragon Gate is a bit of a curse here since when Shingo came here last year, he did fantastic in his performance and now I see Takashi on his own without outside interference from R.E.D or anyone, and he didn't do badly at all. It wasn't great sure, but if you take the goofy stuff out of the way sometimes and the potential is somehow there. Daichi though, this is my first time seeing him in action and I gotta say that I was a bit impressed with him in the match. Nothing spectacular happened in the match but it was very solid enough to get by without any complaints and had the right amount of time it needed to do what needed to be done. Takashi had him up for a Jackhammer and lands it as Daichi would kick out at two to his surprise. Takashi didn't know what he had to do, so he spits green mist into his eyes and does a Small Package but Diachi still kicked out! Takashi quickly got him up and hits the Kong Lariat to knock him down and gets the first victory.
Rating: Eric Bischoff
Champion Carnival B Block Match
Naoya Nomura vs. Jake Lee
Review: Our next match is set as Naoya Nomura takes on Jake Lee. I expected this to be the main event for B Block and for this to happen later on in the tournament but it looks like we're getting it now for our first day, isn't this just exciting? Both Nomura and Lee are two incredible talents with a bright future in All Japan, especially with the performances both of them have been having over the past few months. One of these two is gonna have to get the win, but who will it be?
This match was more of a taste of what's to come in future bouts between the two and for what we got in just this one, be very excited for what comes next because this was a great match. Both of these men stiffing each other in this match with their elbows, knees, kicks, forearms, you just name it and they did it while showing off their fighting spirit. Nomura is the one who has been showing the most progress so far when he fought Kento a few weeks ago and it's great to see him still having that drive to get another rematch by winning this tournament. Jake Lee continues to impress in the ring as well as he doesn't give Nomura much room to recover as he just wants to beat him down. Nomura looks like he's ready to finish of Jake with a Death Valley Driver but Jake fights it off and gives him a knee to the chest as he went down. Jake has him right where he wants him now as he would pick him up for the Backdrop Driver but Nomura rolled out of it to first apply the Butterfly Lock and once Jake slips out of it, Nomura would transition it into a new submission which he calls the Nomura Lock and Jake tapped out. Great match, worth the twelve minutes of your time, and gave us enough to want more from these two.
Rating: Eric Bischoff and three quarters
Champion Carnival B Block Match
Suwama vs. Joe Doering
Review: It's now time for our final match for my block on this show as we have two former Triple Crown Champions fighting each other, we got Suwama taking on Joe Doering. Some people know the history behind them when they were in Evolution before Joe left and even defeated him to win that Triple Crown Championship when he was the champion at the time. Now, they'll fight once again to get some points on the board. Which one of them will take the two points?
"I got until ten, motherfucker." That is now my favorite line from Joe. If you were expecting something hard-hitting and powerful, then you came to the right place since this match will give you that and then some. Joe and Suwama usually do work well together, so it's no surprise here that we would get another solid bout between these two giants. This is the type of Joe that I like seeing in the ring because when he actually does try and doesn't half-ass his strikes, he's a joy to watch and he is here in this match too. Suwama, of course, does his fair share of the match with match his power as well and would even land a Powerbomb on him, even though it was slightly botched but it still carried over quite well. Joe would start pounding him with Lariats and would pick him up for a Fireman's Carry Slam and quickly picked him up for another Lariat as Suwama still kicked out of it. Suwama starting to fight back and does a Lariat of his own before picking him up for the Backdrop Driver, but he's not done as he applied the Sleeper Hold onto him. Joe starts to fight off the Sleeper for a little bit but Suwama would deepen the hold as he would pass out and the referee calls for the bell, smart way to make Joe look strong while still giving Suwama the victory.
Rating: Eric Bischoff and a half
4/6/2019
Champion Carnival B Block Match
Joel Redman vs. Daichi Hashimoto
Review: Our first match on this show for my block is Daichi Hashimoto taking on Joel Redman. Daichi already suffered a loss on the first day against Takashi Yoshida and he looks to try and bounce back in the game if he can win here. I don't know much about Joel Redman but this is a good time to see what he can do. Will Joel get a win in his Carnival debut or will Daichi make up for his loss?
Before the bell would ring, Joel would offer a handshake to Daichi before the match would start as a sign of respect as the two shake hands. So how did Joel fair in this match? Well, this was my first time seeing him wrestle at all and I did enjoy what I saw of him so far. He's got a great physique, pretty technical in the ring, agile, and looks to be a solid worker from what I've seen so far and this tournament is a great way to get introduced by him. Daichi was able to put on another solid performance in the ring and was able to see a little bit more of him compared to his previous match against Takashi. Around the eight-minute mark, Daichi would kick out one of Joel's legs to get him down and hits a Shining Wizard to the back of his head before running to the other side to hit one more directly at his face and gets the pinfall victory along with his first set of points. Not bad guys, I like what I saw.
Rating: Eric Bischoff
Champion Carnival B Block Match
Naoya Nomura vs. Takashi Yoshida
Review: Our final match on this show and this article are Naoya Nomura taking on Takashi Yoshida. On the first show, Nomura would defeat Jake Lee and Takashi would defeat Daichi Hashimoto to both get points on the board. So both Nomura and Yoshida are considered undefeated and only one of them is gonna keep that streak alive while the other one takes the loss. Who will be undefeated in this match?
Takashi probably has one of the better throat thrusts I've seen since Kane, he just does them so well and makes them look like they hurt. Speaking of Takashi, again he delivers a very solid performance during the Carnival and why can't I get more of this version of him? Anyway, Nomura did a great underdog story in this match when he would have a fairly even fight with him in the beginning and Takashi would get the heat to make the crowd get more behind Nomura in the match as the sympathetic babyface. We get another f-bomb when Takashi tells the crowd to shut the fuck up in plain English mind you, so that was quite the surprise. Nomura gets another big opponent to work with and the fact that he fought someone entirely new to him, he was able to match him fairly well and gets more experience this way.
Takashi would give him a couple more throat thrusts in this match and would deliver a beautiful Jackhammer (not Zeus beautiful though) as Nomura would kick out at two as he tries to rally up from the cries of the fans in the arena. Nomura would do a Gutbuster and climbs to the top rope to hit a Splash but Takashi would kick out at two. Nomura would try to lift him up again but Takashi got off to hit a German Suplex onto him and Takashi has him right where he wants him. Takashi would hit a Sitout Powerbomb as Nomura would kick out of it but would climb to the top rope to hit a Diving Elbow Drop right away as Nomura still kicked out of it. Nomura would duck a Lariat as he hits him with a Spear and rolled him up for a two count. Nomura would pick up Takashi one more time as he hits the Death Valley Driver this time and gets the pinfall to get the top spot in the standings!
Rating: Eric Bischoff and a half
Overall: While nothing as a MOTY contender or anything, all of the matches were very solid and this was a great way for B Block to kick off in the carnival. Solid debuts, nice surprises, one match is great, a fun night and I can't wait to cover the next three shows for part 2.
Favorite Match: Jake Lee vs. Naoya Nomura
Least Favorite Match: Daichi Hashimoto vs. Takashi Yoshida
Score: 7/10
Current Standings:
Naoya Nomura: (2-0) (4 Points)
Suwama: (1-0) (2 Points)
Takashi Yoshida: (1-1) (2 Points)
Daichi Hashimoto: (1-1) (2 Points)
Jake Lee: (0-1) (0 Points)
Joe Doering: (0-1) (0 Points)
Joel Redman: (0-1) (0 Points)
Yoshitatsu: (0-0) (0 Points)
Sam Adonis: (0-0) (0 Points)