Andrew's AJPW Champion Carnival 2019 A Block Ratings & Analysis: Part 4
A Block and Andrew bring out Part 4! Top 3 competitors are only separated by 2 points. How does the Champion Carnival start to take shape?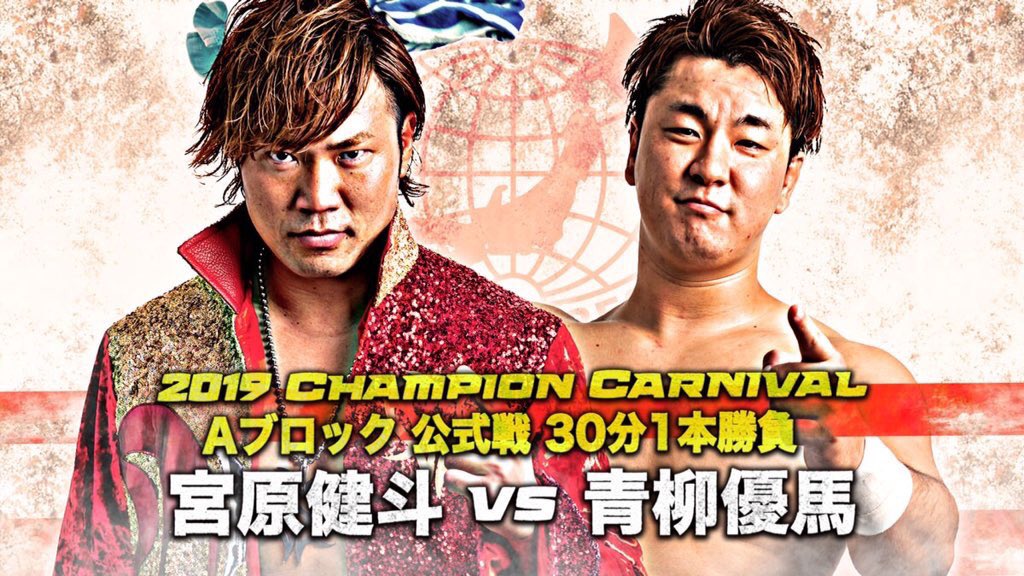 A Block and Andrew bring out Part 4! Top 3 competitors are only separated by 2 points. How does the Champion Carnival start to take shape?
Welcome to Part 4 of the Champion Carnival A Block! Shuji, Zeus and Ryoji are currently in the drivers seat, but with Okabayashi with only 2 matches completed…he could be a big spoiler.
This will cover matches on 4/15 – 4/16 – 4/17.
Ratings:
Dylan James vs Yuma Aoyagi: Dylan wins via Chokeslam @5:00 – **
Zeus vs Atsushi Aoki: Zeus wins via Jackhammer @10:45 – *** 1/4
Yuji Okabayashi vs Gianni Valletta: Valletta wins via Chainwrapped Double Axehandle @9:05 – ***
Yuma Aoyagi vs Atsushi Aoki:Aoki wins via Rolling Cradle @10:00 – *** 1/2
Atsushi Aoki vs Ryoji Sai: Aoki wins via Rolling Cradle @8:35 – *** 1/4
Shuji Ishikawa vs Gianni Valletta: Valletta wins via Chainwrapped Double Axehandle @5:05 – *1/2
Kento Miyahara vs Yuma Aoyagi: Miyahara wins via Shutdown Suplex Hold @17:55 – ****
Analysis:
So…yeah…I got nothing. Yuma and Dylan was fine, but even with Yuma trying to get a jump at the bell, this was never overly competitive. Yuma got one shot with a Japanese Leg Clutch pin attempt, but it was never really close. So nothing bad, just nothing much.
Aoki is once again outmatched in size. Not so much height this time, but Zeus is a former bodybuilder and Aoki is a Junior Heavyweight, so the math isn't hard here. Zeus easily overpowers Aoki for most of the match until Aoki gets annoyed. Three or four of Aoki's chops get returned by one of Zeus' and Aoki drops. So he fires up, stomps on Zeus' foot and DDTs him. Aoki has decent flurries of offense, usually branching off of stepping on Zeus' foot. Only messy moment was a Crucifix Pin attempt that Aoki looked like he double clutched on so that made it odd, but it wasn't totally messed up. Solid match and Zeus had to pull out the Jackhammer, which he seemed like he was avoiding all match until he started getting annoyed with Aoki's resiliency. We end 4/15 with a big WASSHOI!
So the 4/16 matches of A Block start with the living crap basket himself, Gianni Valletta. Now I give him some points, the crowd started chanting for Okabayashi so he went to the outside and whipped his chain against the guardrail as a scare tactic. As for the match it was a brawl. Some time outside went back and forth, but the turning point was when the referee tried to stop Valletta from biting Okabayashi in the corner, and Okabayashi kicked him away, bumping the referee. So a low blow, followed the the chain that we should all know Valletta carries, and that equals the first win for that moron. It's a good upset, done in a way that keeps Okabayashi looking strong. But any points for Valletta will leave a bad taste in my mouth.
Finally, Aoki gets someone that's closer to his size and style.Yuma got a few wins so far, but Aoki finally has a believable match up. This doesn't disappoint. More Junior Heavyweight style, but Aoki kept focusing on Yuma's arm since he has a multitude of Arm submissions in his arsenal. Yuma nearly pulls off End Game, but Aoki gets to the rope. After some back and forth, Yuma has Aoki reeling, goes to meet him in the corner, and Aoki does that Forward Roll Cradle for a surprise pinfall. Not a surprise that Aoki finally won, surprise since Yuma had most of the momentum at that point.
The first of 3 matches for 4/17, sees Aoki with another winnable match up. Sai has a height advantage, but is not a particularly impressive physique, so the pace is actually fairly quick. Lots back and forth moments, even though Aoki was mostly fighting from beneath. The crowd always gets behind Aoki, so it's great to hear them pop hard for him. In a very similar way to his first victory, as soon as the match looks to be in Sai's favor, Aoki manages a rolling cradle for a surprise victory.
Well I think we're noticing a theme with Valletta's matches. They are usually started before the bell, involve outside shenanigans, and sloppy wrestling. Since he won this one, it followed suit with the Okabayashi match, with ref bump, low blow, chain. However, the general wrestling was just significantly worse. Shuji being a top contender for the Block, this really hurts. Could come back to bite him since Valletta would've been one of those matches you check off as a win ahead of time.
Aoyagi is the last remaining member of Nextream, but Miyahara being the champion…everyone's going to want to step it up. Aoyagi took his sweet time stepping it up though. Kento manhandled him and Yuma looked outclassed for a while. Yuma caught Miyahara in End Game, and that was the closest he was to really winning the match. Yuma managed to pull off his triple German Suplexes, but nothing really looked to point in Yuma's favor. He showed some fighting spirit, but Kento just outclassed him. Good match, but only one real hold your breath moment to suspend disbelief.
Overall Score: 7/10
Good couple of days! Honestly the only reason these upsets don't rank higher is because they seem like hollow upsets. By that I mean Valletta getting a few wins is just a tool to keep the standing closer, but he's got no chance in hell at winning this block.
As for A Block in general, we didn't really get a monumental shift. Zeus moved into first, Shuji is 1 point behind, Dylan James and Kento are 2 points behind. At this point, Aoyagi is eliminated because he only has 1 match left and Valletta is eliminated because Zeus beat Valletta, so even if Valletta were to win out…Zeus holds a tie breaker.
Everyone else is technically still alive, but Aoki is most likely dead in the water. Anyway! The next part should start making the finish a little clearer as we slowly get through the tournament.
Current Standings:
Zeus (4-2) – 8 Points
Shuji Ishikawa (3-2-1) – 7 Points
Dylan James (3-2) – 6 Points
Kento Miyahara (3-2) – 6 Points
Ryoji Sai (2-2-1) – 5 Point
Yuji Okabayashi (2-1) – 4 Points
Yuma Aoyagi (2-5) – 4 Points
Gianni Valletta (2-4) – 4 Points
Atsushi Aoki (2-3) – 4 Points