Andrew's Impact Wrestling Ratings & Analysis 4/19/2019
Impact Wrestling's penultimate show leading toward Rebellion! Andrew goes through the show and lends his analysis! How was the show?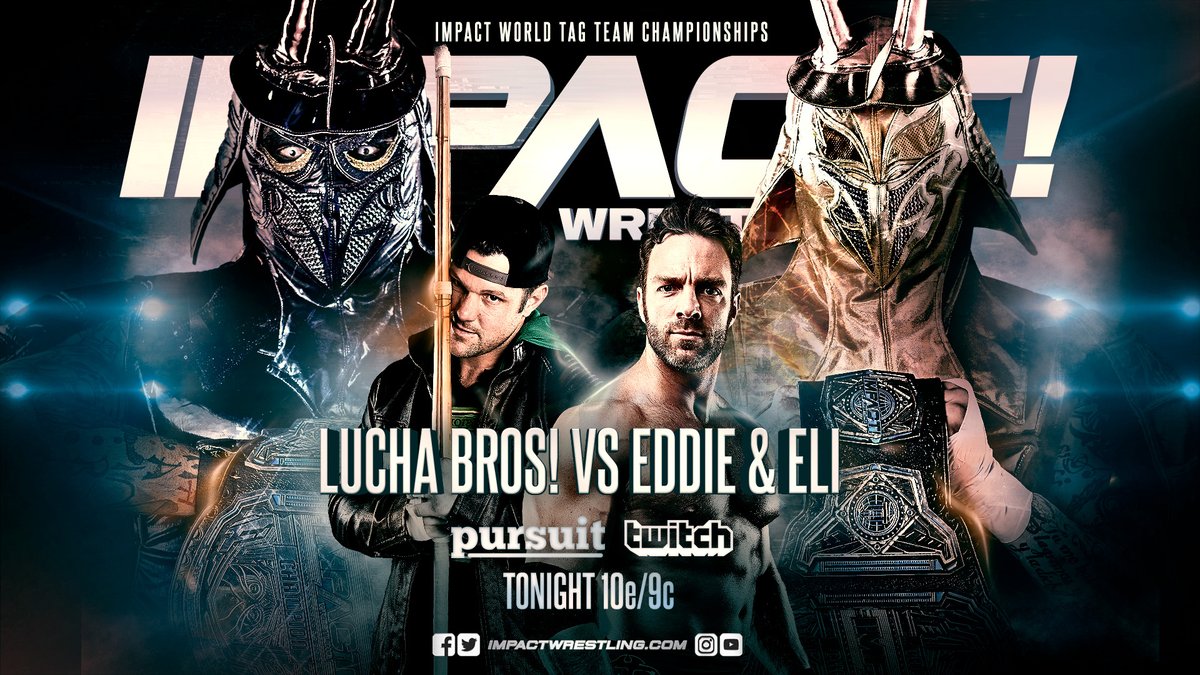 Impact Wrestling's penultimate show leading toward Rebellion! Andrew goes through the show and lends his analysis!
Scarlett and Fallah debut as a tag team today! Tessa and Gail's story continues to bubble up and Eddie Edwards & Eli Drake get their shots at the Tag Team titles!
The whole oVe story and Rich Swann continues as Tommy Dreamer apparently is getting sacrificed to Madman Fulton. Are we about to watch a murder?
.@THETOMMYDREAMER has fought bigger, fought more dangerous and he will get violent on @FultonWorld TONIGHT! #IMPACT

WATCH NOW – https://t.co/jyZYT6QL46 pic.twitter.com/ce3ctkWfU1

— IMPACT (@IMPACTWRESTLING) April 20, 2019
Ratings:
Scarlett Bordeaux & Fallah Bahh vs Desi Hit Squad: Scarlett wins via Tandem Banzai Drop – * 1/2
Moose vs Dez: Dez wins via Body Scissors Cradle – ** 1/4
Madman Fulton vs Tommy Dreamer: Fulton wins via Lifting Reverse STO – ** 1/2
Madison Rayne vs Taya Valkyrie: Rayne wins via Roll-Up – N/A
IMPACT Tag Team Titles: Eddie Edwards & Eli Drake vs Lucha Bros (c): Lucha Bros retain via Spike Fear Factor – ***
Analysis:
Okay let's be serious for a minute. This wasn't a great match, but it was entertaining. The crowd enjoyed singing along to Scarlett's music, Fallah did most of the work since the Hit Squad didn't want to interact with Scarlett at first. Amusing spot was after Raj got hit with a Stink Face from Scarlett, Rohit pulled him out and sat in the corner asking for the Scarlett Stink Face. They pulled the bait and switch since she told him to close his eyes. Scarlett jumps on Fallah's back and Tandem Banzai drop with Scarlett pinning Raj was the finish. It was amusing, not a great match, but told a story and was entertaining.
Step aside Rocky, this is the greatest training montage of all time. #IMPACT @CodyDeaner @JakeSomething_ pic.twitter.com/ShPGqXV6ga

— IMPACT (@IMPACTWRESTLING) April 20, 2019
A couple backstage segments with Lucha Bros and Eli & Eddie hyping the tag match. Eddie is still imbalanced singing "We are the three best friends" song, of course referencing Kenny the kendo stick as the third.
The final leg of Moose's revenge against the Rascalz. Moose took the match lightly, and controlled the majority of the match. Lawn Darting Dez into the corner was cool. Hell Dez tried to do a Dragonrana on the outside, Moose caught him smooth as butter and then smashed his head into the steps, before throwing him into the other Rascalz. After rolling him back in, the other Rascalz get involved for the first time and allow Dez to roll through with a Body Scissors into a Cradle.
After the match we see Rosemary and Kiera Hogan arguing. Kiera says as long as there's two of them, two of them will fight Su Yung. So Rosemary proceeds to beat the crap out of Kiera and choke her with the chain leash that held the Bunny before she was killed in the Undead Realm. Yes, I know what I just wrote.
GWN Flashback Match: Tag Team Title 5150 Street Fight: LAX vs OGz, Slammiversary 7/22/2018
After the flashback we get a decent length segment of Tessa going to one of Robert Irvine's restaurants where she runs down Gail, says she's most famous for screwing a famous chef. Then she proceeds to terrorize different people all while looking for Robert Irvine. She doesn't find him, has some interesting lines, and she sells things well. Not everyone acts well in the segment, but it wasn't completely awful. A few amusing moments.
Not really sure why Madman and Dreamer are in a non-Hardcore match. It's an alright match. Dreamer gets most of his offense in when Fulton takes too long to go to his next move. After hitting the DDT, Dreamer goes out to get a kendo stick…in a normal match, misses and Fulton hits a Reverse Lifting STO (think Corbin's End of Days). Not sure what Fulton is calling it, but that was the end. Then a brawl between oVe and the rest of Dreamer's little rag tag team of Willie Mack and Rich Swann.
Taya ran down Canada, said she wasn't gonna do the match, but Madison jumped her before she could leave. Then after surviving the initial flurry, Taya tries to powder out, but Jordynne Grace throws her back in. Taya is mad and distracted, School Girl Roll-Up. So nothing to rate, but I guess this is comeuppance for one half of the douchey championship couple.
.@LanceStorm will be the special referee for @TheRealMorrison vs. @MrGMSI_BCage Rebellion main event! #IMPACT pic.twitter.com/LUss9Sl3J9

— IMPACT (@IMPACTWRESTLING) April 20, 2019
Interesting match even though it felt to be less than 10 minutes long. Lucha Bros start fast and spotty, but eventually Eddie and Eli slow it down. LAX tries to cost Lucha Bros the match, but they fail. Eddie tries to throw Kenny to Eli, but Eli misses. Eddie gets wiped out and they pin Eli with the Spike Fear Factor. Afterwards Eli turns on Eddie and beats him with Kenny.
Overall Score: 6/10
Above average. Not a bad show, but it definitely felt like an episode to try and put more focus on the smaller stories. Lance Storm getting involved in the main event story does add a little more star power. Given that D'Amore insulted Cage before the confrontation, it makes me wonder where management's feelings lie.
So again, the show wasn't exactly a blow away, but there were plenty of entertaining moments. Ideally next week should finish the hype for Rebellion, and I'm really hoping Rebellion returns to the good wrestling form that Redemption and Slammiversary had last year.
Andrew's IMPACT Results & Match Ratings: 1.19.2023
Mickie is the new champ and Josh Alexander retained! Do new challengers appear?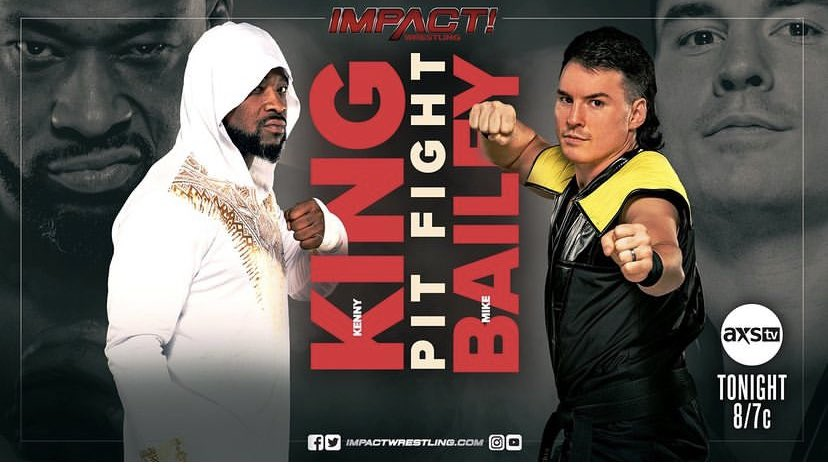 Coming off Hard to Kill, we've got fallout and set up for the next few weeks to establish. Mickie James is the new champion and not cutting a retirement promo! Josh Alexander defended against Bully Ray, so we have to figure out who's next for the Walking Weapon.
Aside from that, the show could go in a ton of different directions. So lets see if any of the title scenes get some love tonight.
.@TheSamiCallihan continues the & 7-step initiation process to joining The Design! NEXT WEEK Callihan joins the Golden 6 Shooter match BUT if he doesn't win there will be consequences! @CodyDeaner @Big_Kon1 @Alan_V_Angels #IMPACTonAXSTV pic.twitter.com/Yq5THbpp3z

— IMPACT (@IMPACTWRESTLING) January 20, 2023
Ratings:
Bully Ray, Tasha Steelz & Savannah Evans vs Jordynne Grace, Mickie James & Frankie Kazarian: Mickie wins via Avalanche Thesz Press – ***
Deonna Purrazzo vs Ashley D'amboise: Deonna wins via Queen's Gambit – N/A
Taylor Wilde vs Killer Kelly: Kelly wins via Killer Clutch – ** 1/2
Steve Maclin vs Dirty Dango: Maclin wins via K.I.A. – **
Pit Fight: Kenny King vs Speedball Mike Bailey: Speedball wins via KO – *** 1/2
Results:
The show opens with Hannifan saying some somber words over the in memorium photo of Jay Briscoe, Hard to Kill highlights…and then Mickie officially opens the show. She's starting up the thankful babyface legend promo, and then Bully Ray's music hits. He tries to tell Mickie to get out, she stands firm and flips the get out on him where the crowd is receptive to chanting along.
Bully tries to claim he was the main event/draw of Hard to Kill and it had nothing to do with Mickie or Josh. Bully tries to intimidate her, Mickie doesn't back down, and refers to Bully's past of knowing what he does to women, but she doesn't care. Before Bully does something, Tasha's music hits and she's picking a fight with Mickie while indirectly letting Bully know she's cool with his way of doing business. 
Tasha says if he's gonna hit her, Savannah attacks Mickie, don't leave them out. Kazarian and Jordynne Grace make the save. Santino's 70s Hanna-Barbera music hits, and he's insinuating a 6 person match…but Ernest "The Cat" Miller's music hits. Santino doesn't know how to make the match, Ernest reminds everyone he was the commissioner in WCW, so he helps teach Santino how to make a match. It's solid comedy, Santino even calls Bully…Bobby Ray. 
Bully Ray, Tasha Steelz & Savannah Evans vs Jordynne Grace, Mickie James & Frankie Kazarian
Grace and Tasha start off, where Tasha does actually pop Grace early on with some paint brush slaps. Grace eventually gets the best of her, tags in Savannah, Savannah gets dropped and Jordynne wants Bully. But Bully ignores her as the "Bobby Ray" chants kick up. Grace gets too distracted with trying to provoke Bully, so Savannah sneak attacks her.
Savannah tries to lock in her Full Neslon Bomb, but Jordynne gets out of it, and tags in Mickie. And Mickie starts lighting up Savannah. It's a solid back and forth, Mickie starts getting the momentum back and Bully pulls her hair while she heads to the ropes to drop her and give the heels the advantage before the commercial. Bully tags in, scoops up Mickie and drops her with a Power Slam as he then talks shit. Mickie slaps him, Scoop Slam keeps Mickie down, Savannah tags in and the beatdown continues. Tasha then tags in and keeps Mickie on the receiving end.
Mickie finally rallies with the crowd, Elbows, Forearms, Slaps and  Swinging Headscissors gives Mickie a chance…but Tasha cuts her off with a Pump Kick. Savannah gets the tag and Mickie still can't make an opening. Savannah tagged in, they try a tandem move, Mickie finally catches them, tags out to Jordynne and she starts cleaning house. Double Knees to the back, Sliding D into a Vader Bomb from Grace, for 2 but Bully breaks up the pinfall. Jordynne and Bully have a small moment but Kaz breaks things up and knocks Bully over the top rope. Bully leaves, Kaz double coconuts the girls, Mickie gets the tag for the Avalanche Thesz Press to win the match.
Masha's music hits, Death Warrant issued and Mickie doesn't back down. 
.@milanmiracle's hands are FULL as the NEW Director of Authority! Somebody call his Momma! @ernTHECATmiller #IMPACTonAXSTV pic.twitter.com/YVp9AmvceK

— IMPACT (@IMPACTWRESTLING) January 20, 2023
Deonna Purrazzo vs Ashley D'amboise
Deonna needs an enhancement talent match? Really?
Deonna bullies Ashley early, a little Pie Facing, Headlock Takeover, and Deonna is just leaning on her and not taking her seriously. Top Wristlock, but Ashley tries a few quick strikes and then a Sunset Flip, leads to nowhere. Liger Style Surfboard from Deonna into a Vertical Suplex for 2. Again, Deonna is not really trying, she's playing with her food. It gives Ashley a few moments to sneak in some offense, much like playing with a younger sibling, Deonna picks Ashley up during a pinfall to keep the punishment going. Slingshot Rolling Neckbreaker is Ashley's flashy moment, but Deonna puts the breaks on, Big Boot, Powerbomb into a Queen's Gambit for the easy win.
Taylor Wilde vs Killer Kelly
A match made in Hot Topic heaven. Our little Wilde Wiccan Witch and the Psychotic Portuguese Pain Provocateur.
Kelly feigns shakings hands, pulls in Taylor for a quick Backdrop Suplex, Kelly attempts a Senton but misses and they pause to smile at each other; getting across their darker unhinged personas. They trade similar moves, a Knee Lift, into a takeover and then Taylor floats over into a Guillotine. I'm curious if the opening is getting across their similarities because we might see Kelly and Taylor team in the future.
We continue the even fighting, Kelly catches both of Taylor's attempted strikes and they smile and get "Now Kiss" close, before Taylor turns it into an opportunistic suplex, and then a Codebreaker to give the witch the advantage. Taylor hits the Double Stomp in the ropes, into a Sunset Flip Cradle for 2. They continue to grin at each other while hitting and getting hit, so it really looks like they're becoming friends. Smart spot, where Kelly catches the two strikes again, but this time it's Kelly's turn to get the best of it, a few headbutts and a toss into the corner, sets up a Hesitation Dropkick. Kelly tries for the Killer Clutch, Taylor counters with a Wilde Ride…into locomotion Cradles…but Kelly slips the cradle and locks in the Killer Clutch for the win.
Steve Maclin vs Dirty Dango
Maclin is going to murder Dango…but it's amusing to have him around. 
Maclin smacks him around, tries the Sunset Flip, but Dango stays upright, drops a leg and gets some things going. A Hammerlock Suplex starts a bit of offense from Dango before Maclin lays him out and starts getting annoyed. Dango tries to fight out, but eats a High Angle Backbreaker for his troubles.
One more fire up spots for Dango, a few consecutive Euro Uppers in the corners, the Dirt Bag Shuffle leads into a Falcon Arrow. He heads to the top rope possibly for a Guillotine Leg Drop, Maclin powders, Dango tries to catch him and Tornado DDT into the ramp but Maclin stops it. Caught in the Crosshairs, K.I.A. – and Maclin wins as we all expected.
.@MeanGiaMiller caught up @TheMattCardona and @Myers_Wrestling to let them know they'll challenge @The_Ace_Austin and @DashingChrisBey NEXT WEEK on #IMPACTonAXSTV! pic.twitter.com/XM62slmRSv

— IMPACT (@IMPACTWRESTLING) January 20, 2023
Pit Fight: Kenny King vs Speedball Mike Bailey
Essentially, it's a Josh Barnett Bloodsport match. Not ropes, and only KO or Submission gets you the win. Bailey should win this, but he's been on a bit of a mixed run lately in IMPACT. 
A few wild early swings don't land for either man, King tries to shoot the double, Bailey goes into guard, fights a little so King lets him up. Bailey keeps throwing feet trying to get his distance, King is avoiding until he manages to lock in a partial Guillotine, but Bailey fights back, takes Kenny's back but Kenny fights up and pushes Bailey to the edge of the ring before stopping from just dumping him out. Arm Drag causes Kenny to powder and reevaluate.
Kenny grabs a foot, sweeps the leg and pushes Bailey out of the ring. Then Kenny doesn't let Bailey back in, a Big Boot keeps him on the outside, so Kenny starts using the outside of the ring to his advantage since it's no disqualification. They trade a few strikes, Bailey throws a kick, Kenny catches it, and throws Bailey over his shoulder face first into the ramp lights. Kenny then lowers a knee pad, Running Knee and Bailey is busted over. King is in control when we get back from the commercial, Bailey tries for some combo kicks but Kenny just grabs him and tosses him in a T-Bone suplex. Knee lifts and then a Dragon Screw is proving Kenny to be more than enough of a challenge. Eddy Gordo kick attempt, Bailey blocks and a straight kick to the chest sends Kenny flying to the outside.
King crawls back in and the Taekwondo exhibition is on full display. Kenny tries to defend, Bailey cartwheels past the guard and locks in a Cross Armbar. Kenny manages to get to his feet and turn it into a Power Bomb for a break. He tries to continue but Bailey grabs the arm again and bends it over the apron, eventually letting go because he's just in a weird spot. Back in, Dragon Screw from Kenny sends Speedball reeling, and then catches him with a Blockbuster once he's up.
Since it's NoDQ, Kenny goes fishing for a weapons and finds a chair. King wants a Tiger Driver on the chair, Bailey fights out, tries to throw a kick but connects with the exposed post. Kenny sees the opening and throws on a Figure Four before the roll and counter all the way out of the ring. Straight Side Kick from Bailey drops King, Bailey goes full Muta and runs up the ramp, charges down for a flying kick which connects. Bailey then ascends the ropeless post and hits a Corkscrew Senton. Ultima Weapon attempt, King counters with a Field Goal kick, Spinebuster onto the apron, Spinning Wheel Kick and Kenny wants the referee to check for a KO. Bailey is still with it enough to not get called knocked out, Figure Four from Kenny. Bailey grabs the chair to break the hold, and fires up. Double Knees to Kenny's chest, goes into full mount and starts raining down Elbows, the referee gets in the way to check but Kenny isn't quite out. Bailey puts the chair on Kenny's head and two swift short stomps is enough for the ref to call it. Speedball snapped a little.
Overall Score: 8/10
This did everything necessary to set up the next angles moving forward. The Major Players being wise to Moose's angle, but not disagreeing is a nice wrinkle to the usual comically stupid "bad guys conspire" way most wrestling companies do it. Maclin continuing to get screwed is a nice gimmick to keep moving forward, Dreamer vs Bully could finally give us the return to Lockdown (it was supposed to happen in 2020 I know…but between covid and Tessa going crazy, it has been too long since Lockdown has been a show).
Also I did personally really enjoy the Kelly & Taylor match. Not only because they are both aesthetically pleasing, but because their similarities makes it so they could be a great team. Honestly vignettes with them and DeathDollz could be like the old Hardyz & Decay stuff. I do also love Speedball's "nice polite guy" façade starting to crack. If he got more aggressive but didn't necessarily go full heel, that could be really cool.
Honestly, really hard to find anything objectively bad. Even Santino and Ernest Miller was charming. Will Santino get grating? Yes, most likely. But currently its still nice since he hasn't really done this gimmick in a hot minute. Good stuff from IMPACT.
Andrew's IMPACT Hard to Kill Results & Match Ratings: 1.13.2023
Bully Ray versus Josh Alexander for the World Title! Mickie James Career vs Title match! MCMG defend the tag belts! A little bit of the past meeting the present in all of the matches tonight! Check out Hard to Kill!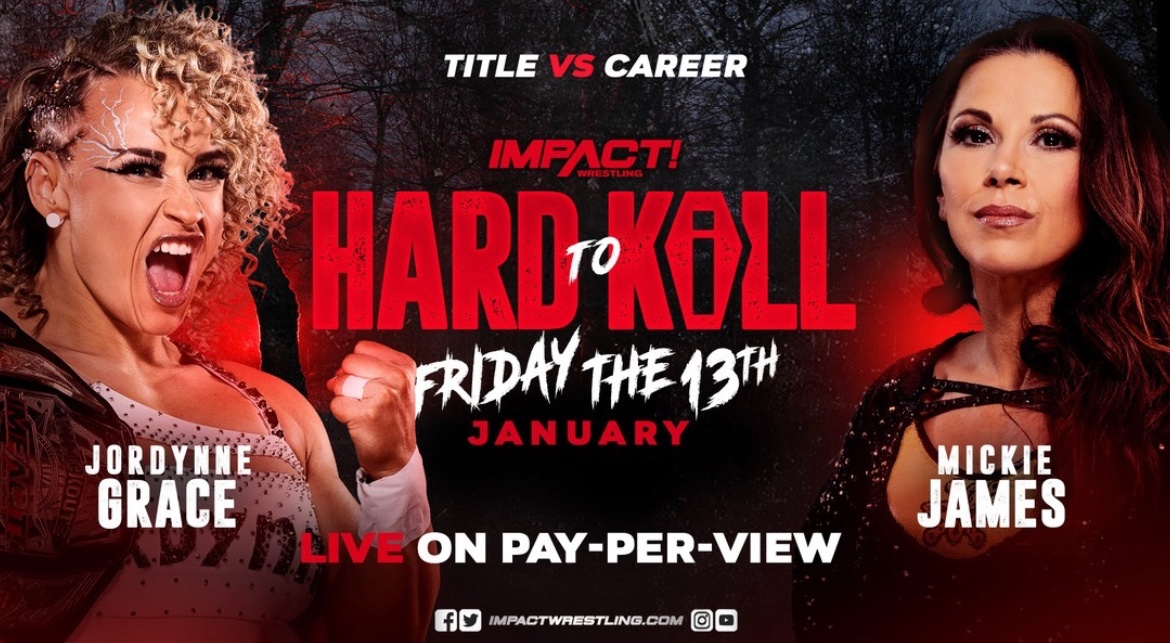 World Championship blood feud with how far Bully Ray has taken things, Mickie James puts her career against Grace's title… and plenty of other action!
Joe Hendry gets his first real challenge since returning, we're supposed to get a new executive and a Tag Team Elimination match come to mind quickly. So let's just do some predictions and then get to the show!
Predictions:
Full Metal Mayhem: IMPACT World Championship: Josh Alexander vs Bully Ray – part of me is expecting a swerve with Dreamer returning to help Bully or something, but I can't see Josh Alexander losing.
Digital Media Championship: Joe Hendry (c) vs Moose – Hendry needs the win to give him a legit victory while Moose is in a weird transitional spot. I believe in Joe Hendry!
Rich Swann vs Steve Maclin – Maclin should win here. He has so many quality wins, and hasn't gotten his title shot yet. With Josh most likely retaining, Maclin is a great next opponent if he wins here.
Number One Contender Knockouts Four Way: Killer Kelly vs Taylor Wilde vs Deonna Purrazzo vs Masha Slamovich – Deonna makes the most sense here because if anyone else wins I feel like that will telegraph the winner of the main of event.
World Tag Team Title Four Way Elimination: MCMG (c) vs Heath & Rhino vs Major Players vs Ace & Bey – My fan bias is showing here, I'm pulling for MCMG to retain.
Jonathan Gresham vs Eddie Edwards – Can't really have Eddie win with Gresham recently signing, right?
Career vs Title: Knockouts World Title: Jordynne Grace (c) vs Mickie James – Jordynne doesn't feel like the right person to retire Mickie, but this could go either way. I'm gonna pick Mickie, but wouldn't be shocked if Jordynne wins, unless Deonna makes sure that Mickie doesn't lose to someone else.
.@REALLiSAMARiE gave @MickieJames some words of encouragement ahead of her MAIN EVENT match later tonight with @JordynneGrace for the Knockouts World Championship!#HardToKill pic.twitter.com/yUJ9qs4pWf

— IMPACT (@IMPACTWRESTLING) January 14, 2023
Ratings:
Full Metal Mayhem: IMPACT World Championship: Josh Alexander vs Bully Ray: Josh retains via Ankle Lock – ****
World Tag Team Title Four Way Elimination: MCMG (c) vs Heath & Rhino vs Major Players vs Ace & Bey: MCMG retain via Dirt Bomb – *** 1/4
Digital Media Championship: Joe Hendry (c) vs Moose: Hendry retains via Standing Ovation & Santino Marella restart – *** 1/2
Number One Contender Knockouts Four Way: Killer Kelly vs Taylor Wilde vs Deonna Purrazzo vs Masha Slamovich: Masha wins via Russian Death Device – *** 3/4
Falls Count Anywhere: Steve Maclin vs Rich Swann: Maclin wins via KIA – ****
Jonathan Gresham vs Eddie Edwards: Eddie wins via Boston Knee Party – **** 1/4
Career vs Title: Knockouts World Title: Jordynne Grace (c) vs Mickie James: Mickie wins via Tornado DDT – **** 1/4 – TITLE CHANGE!!
Results:
Full Metal Mayhem: IMPACT World Championship: Josh Alexander vs Bully Ray
Its smart booking to open with a giant mess of a match, get things started hot and really makes the Career vs Title implications of Mickie & Jordynne mean more.
Bully mugs Josh on his way down tot he ramp with the steel chain. He continues with the title belt, beats on Josh mercilessly and throws Josh into the ring grabbing some tables as Josh is opened already. The referee asks Josh if he wants to continue, Josh of course says yes, and then Bully Powerbombs him through a table as soon as the bell rings for 2.
More title use, chairs and the cheese grater have been found. Bully tries to measure Josh for the grater, but a Straight Right finally gives Josh a chance. Josh grabs the grater and clocks Bully and fires. Bully now has color as Josh is hunting for trash cans and more weapons. Josh starts beating the hell out of Bully, trash can lids, cans themselves, a bag of tacks, and Josh even sets up a ladder on the ramp. Josh lays Bully prone across a table and Josh goes up.
Bully gets up, tilts the ladder and Josh falls back into the ring right on the tacks. After getting worked over for a while, Bully finally has a chance again. Goes for a Bully Bomb into the tacks but Josh blocks and Bully goes on a German Suplex ride and fires again. Rolling Senton from Josh, grabs Bully's chain, King Kong Knee with the chain around it for 2! Ankle Lock is next up as Bully is face first in the tacks and then he wraps the chain around Bully's neck and tries to pull on the neck while torquing on the ankle. Hotch and Skyler come down, 3D into the tacks, but Josh kicks out.
Hotch and Skyler get another table and zip ties. As Bully is setting up something, Dreamer slow walks down the ring, takes out Hotch and Skyler and starts yelling at Dreamer. Bully acts like he's gonna take out Dreamer, then smiles, hands Dreamer the trash can…but Dreamer swerves Bully! Can shot, Bully Spears Dreamer through the table and Josh keeps trying to get out of the zip ties. Bully tries to get Josh to give up, he's defiant and Bully hits him repeatedly with the trash can. There's a woman screaming from the audience and it turns out to be Josh's wife Jade. Jade talks shit, Bully threatens to hit her and then demands she begs him to stop and give him her wedding ring. Jade refuses, Bully tries to swing at her and she hits the Low Blow on Bully. Jade hits a Dudley Dog for emphasis and cuts out Josh.
Jade throws a chair at Bully to catch and Josh smacks Chair into Chair into Bully's face. A little ConCHAIRto/Van Damninator hybrid. Josh goes back to the ladder, big Splash, Ankle Lock…and Josh retains!
World Tag Team Title Four Way Elimination: MCMG (c) vs Heath & Rhino vs Major Players vs Ace & Bey
This is questionable booking to put the Motor City Machine Guns in a kind of awkward card spot. Coming off a hot opening match, this feels weird. 
Powder keg opening, its definitely a little sloppy in spots, but again its just everyone throwing hands and bodies at each other. Eventually Rhino and Myers are in the ring to hear a bell and then Rhino tags in Heath. Myers clocks Heath with a Pele Kick, tags out to Cardona and we get an early cover, but nothing of substance yet. Heath is getting smacked around by the Major Players but Heath pulls off that Avalanche Powerslam he recently started using. Rhino comes in, Ace and Shelley try to slow him down but they get rocked.
We're going back to the cluster aspects…Cardona rolls up Rhino and they're eliminated! Bey slides in and starts turning the speed up. Bey is getting doubled up by the Players and they're really being aggressive. Both tag out, Ace and Myers are working fast but Shelley manages to tag Cardona and MCMG finally gets some real offense. Double Dragon Screws in the corner, another Dragon Screw from Shelley while Sabin holds him, and Sabin sits into a weird modified Indian Death Lock, and they're just trying to take out Ace's legs…Shelley drives that home with a tag and Figure Four. MCMG are trying to break the Base of Ace…I…hate Rehwoldt sometimes.
Bey gets a hot tag, the Major Players try to take advantage but Bey fights them both off, easy as A-B-C, 1-2-Sweet…and Major Players are eliminated! MCMG and Bullet Club are the last two, as it should be. Little Misawa from Shelley, double Forearms and a Magic Killer from MCMG for effect…but only 2. Bey is about to eat more tandem offense, but he counters, takes out Shelley, Ace hits a Triangle Kick on Sabin, they go for another 1-2-Sweet…but the Major Players get involved! MCMG don't take the easy road, they take out the Players and go for the tandem combo rush, Dirt Bomb on Bey…and MCMG retain! As it should be!
The Heavy Metal Rebel's music hits after and he embraces MCMG before walking to the ring. Is Kaz the fill in executive? Oh, Kaz announces he's "back home". So I'm a giddy little bitch with Alex Shelley and Frankie Kazarian active on the roster. 
Digital Media Championship: Joe Hendry (c) vs Moose
MOOSE SLAPS THE MIC OUT OF HENDRY'S HAND! And then Hendry slaps the taste out of Moose's mouth. World of sport athletic dodge, into a Hip Toss, then a Scoop Slam. Moose tries to give him the slap receipt, but Hendry dodges and then stalling Suplex…that Moose no sells and throws Joe out of the ring. Moose tosses Hendry into the post, Hendry fights back and another Stalling…and walking Suplex on the outside before dropping him down.
Rehwoldt is echoing my sentiment of being torn between the two and its hilarious. Moose reverses the Irish Whip, Dropkick and then a Hesitation Dropkick finally keeps Hendry on the receiving end for a little bit. Moose motions to the crowd and finally gets his slap receipt, that fires Hendry up. Hendry blocks the second slap, lifts Moose onto his shoulders and Gorilla Press toss out of the ring to the outside. Forever Lariats, into an off the ropes Cutter from Hendry and just a 2 count. Hendry looks to set up something, fights Moose, then as he's at the top…GO TO HELL for 2!
Moose goes from hitting to Go to Hell into attempting a Superplex, but Hendry fights back. Moose gets fought off, but pops back up, runs the turn buckle and muscles Hendry over for a big Superplex. Standing 10 count, Moose kip ups at 8, Hendry does the same a little after, and now we get the Fighting Spirit spot. Moose counters an Uppercut with a Back Slide, kick out, Hendry counters Lights Out with a Head and Leg cradle. Pop-Up Powerbomb from Hendry for another near fall!
Standing Ovation attempt, nope, Uranage for 2, another Uranage, another 2. Moose is in charge and rolls out to grab the title belt. Moose acts like he's gonna use the belt, the referee stops him of course, which was all part of the plan. As Hendry stands up, Moose hits the Kick to the Balls while the referee is turned, Lights Out…Moose wins!
Santino Marella's music hits and it says "Director of Authority" – oh Christ…he's the fill in executive and I guess WWE doesn't have that trademark anymore. He restarts the match, in full ridiculous Santino way.
Moose is annoyed, tries another Lights Out, Hendry dodges, roll-up, 2 count. Standing Ovation attempt nope, Moose hits the ropes, Hendry catches him…Standing Ovation! Santino believes in Joe Hendry!
Number One Contender Knockouts Four Way: Killer Kelly vs Taylor Wilde vs Deonna Purrazzo vs Masha Slamovich
They pair off early, Taylor and Masha are outside while Kelly and Deonna brawl a little. Deonna tries to powder but Taylor tosses her back in to a Fisherman's Suplex Hold from Kelly for 2. Then Masha pulls out Kelly and we get a few dive moves from everyone. Masha gets the last move, and chooses Kelly as the one she throws into the ring.
Kelly fights back with some close range knees, Taylor breaks things apart with a Double Dropkick and starts lighting up Masha while getting over her occult Dark Feminine Witch gimmick. Her Leg CHoke is great, but she poses on the apron and Deonna knocks her off into the barricade. Standing Moonsault from Deonna, but Kelly breaks it up. Kelly tries to kick Deonna, Deonna catches her, locks in a Half Crab, Taylor comes in to grab the other leg as Deonna and Taylor work together for a second. Then they start taking cheap shots at each other and Masha hits some nice Sambo Style Spin Kicks to wipe out Taylor and Deonna.
Taylor manages to bait Kelly into the ropes, Stomps her down, uses her body to try and Frankensteiner Deonna, but Deonna blocks and Powerbombs Taylor. Masha tries for the Russian Death Device, but Kelly says no, Death Valley Driver on Taylor, Killer Clutch for a second but Deonna distracts Kelly…Kelly tries the Killer Clutch on Deonna but Deonna turns it into a Fujiwara Armbar. Taylor breaks the Fujiwara  submission, Killer Clutch locked in, Wilde decides to stop Masha with a Drop Toe Hold into a Crossface. Masha fights through the Crossface, Russian Death Device drives Taylor into Deonna and Kelly's bodies…so Masha wins!
With Masha winning, I feel like Mickie will win the main event, just because Masha is 0-2 against Jordynne. So there's no rubber match, and it feels like Masha could benefit from retiring Mickie, and it also brings things full circle from Empower.
Falls Count Anywhere: Steve Maclin vs Rich Swann
Raven decides to come out during the package, and he'll be joining commentary which is fantastic. Raven has the wonderful charm of a slightly senile grandpa. 
They go backstage for a Rich Swann interview but Maclin just attacks him. The referee appears and starts the match, Maclin goes dumpster diving for weapons and starts whooping on Swann. Maclin throws a Sandbag at Swann, Raven makes a sandbag joke…as Swann manages a Cartwheel Cutter into the sidewalk. They are like 3 feet away from wrestling in traffic.
But Rich actually brings things back into the building and there's a car coming. So Rich bounces Maclin's head off the Honda, and then Maclin just Spears Rich through spare guardrails. Forklifts, shovels, coolers…all flavors of different toys.
They fight through the back, knock each other off of different boxes and then finally back into the actual ring area. Maclin had a good bit of control until he tries to throw Rich in the ring, Rich blocks, gets a nice John Woo Dropkick. But when he tries to continue, Maclin puts him in the Tree of Woe, Caught in the Crosshairs, and then Rich powders. Maclin lays in a few extra strikes, postures to the crowd and then turns…and eats a Cutter off the steps for 2. Swann goes for a Modified Rear Naked Choke with a cable, and Maclin breaks free and heads back INTO the ring for some safety. But Rich keeps working over Maclin until he charges at him and Maclin just dumbs him onto the ramp back first.
KIA attempt, Rich combination strikes as Maclin tumbles off the ramp to the floor and Rich hits a Frog Splash for 2. Maclin runs Rich's back into the ramp, tries a Powerbomb, Rich says no, kicks him in the face, Running Senton from the Apron onto Maclin and Swann is well in charge. Swann goes for a Frankensteiner, but Maclin blocks and hits a Liger Bomb on the outside for 2. Maclin goes for a Knee Drop, Swann moves and hits an Overhead Kick, sending Maclin into the barricade. Maclin pulls Swann into the metal face first and then a flash KIA on the crowd steps, and Maclin wins!
Jonathan Gresham vs Eddie Edwards
Gresham is playing around with Eddie, since Eddie hasn't delved too far into his great wrestling style…he's been a brawler last few years. So Gresham makes Eddie look silly, and we'll see if Eddie starts moving back to his old King's Road style. Manhattan Drop into a Release Overhead Belly to Belly finally gives Eddie a reprieve.
Eddie decides to push Gresham to the corner and light him up with big chops. Gresham counters the next few attempts with an arm drag and some joint manipulation on the left wrist and elbow. Gresham keeps Eddie grounded, Cradles and Takeovers into more joint manipulation until Eddie finally catches him with a Powerslam. Uppercut and rope assisted Stunner, really takes the steam out of Gresham.
Eddie starts applying the power game now that Gresham is slowed down a little, Eddie uses the middle rope to choke him and every bit of the 5 count. A few slaps between the two, Eddie catches him on the ear and Gresham is about to return but falls. So now we go into an odd paced Fighting Spirit-esque spot…as Gresham tries to fight through the strikes. Double wrist control as Eddie keeps chopping Gresham's chest and Gresham keeps striking the left arm.
Eddie Edwards goes full Samoa Joe and walks away from Gresham's Asai Moonsault, hits a Misawa Elbow into the Akiyama Blue Thunder Bomb for 2. Eddie tries a Backpack Stunner, slides out, this time the Moonsault hits, stomp to the arm, Tope Suicida and now Gresham goes to the top. Eddie catches him with a Gamengiri though, and both are struggling to find offense. Superplex…nope, Gresham floats over, Rear Naked Choke on the top turnbuckle and Eddie slips forward driving Gresham's face into the turnbuckle to break the hold.
Boston Knee Party, misses, German Suplex, Running Forearm, 2, another Forearm, 2, Reverse Side Slam from Eddie, Liger Bomb…near fall! Knee Party again, no, Hurricanrana, locomotion Cradles…Forearm from Gresham, Burning Lariat, Tiger Driver for 2…Boston Knee Party, and Eddie wins!
Lights out, PCO is in the ring and he's spitting out dirt/sand as he attacks Eddie. The crowd loves PCO.
Career vs Title: Knockouts World Title: Jordynne Grace (c) vs Mickie James
Mickie's entrance starts out with a Native American drum and dance group. Because of the entrance it really pushes a retirement vibe. 
Jordynne's entrance gear did say "Final Stop" but her and Mickie shake hands to start the match. Mickie slips Jordynne's slam, and tries to School Boy, but Jordynne doesn't budge and walks Mickie to the ropes, imposing her power. Mickie is getting annoyed and just paint brushes the shit out of Jordynne a few times before Jordynne clocks her.
A few strikes, a Thesz press, and then going to the corner Jordynne just stomps on Mickie and stand there for a few seconds. Jordynne is doing a good job being the immovable object without being overtly heelish yet. Jordynne tries to bully Mickie from the corner, Mickie fights off and grabs her head and Bulldogs Jordynne off the top rope.
Jordynne is stunned but not nearly as worn out as Mickie is selling. Jordynne looks more annoyed. Strike exchange, Mickie finally starts getting the advantage, tries to run her over with a Lariat, but Jordynne doesn't move. A few Lariats and nothing, but a Superkick drops Jordynne. Mickie goes to the top…Jordynne powers to the apron, gets out and now Mickie is doing the Old School Rope Walk…into a Thesz Press on the ramp.
Mick-DT, Grace blocks, Guillotine attempt but Jordynne powers her into the corner. Stalling Superplex rolling into a Jackhammer – for 2! Grace Driver attempt, elbows get in the way. Shoved into the corner, Mickie tries to fight out, kicks, Headscissors, Flapjack and a Kip Up! Top Rope, for the Thesz Press, only 2. A little counter play from both women and then Spine Buster from Jordynne for 2. Sitout Power Bomb, 2, Spinning Backfist, 2. Mickie hits a Mick Kick into a Mick-DT…but Jordynne kicks out!
German Suplex, Mickie runs Jordynne into the ropes, Victory Roll, Rear Naked Choke… it looks like Mickie taps, but she floats over for the pinfall attempt, Jordynne breaks the hold. Mickie is trapped in the Rear Naked Choke again, she can't find a way out, they do the arm check, Mickie rallies and the crowd pops. Grace drives Mickie's neck into the turnbuckles, Mickie slips the move, retreats to the corner, Jordynne charges and Posts herself! Tornado DDT, 1-2-3! Mickie Wins!
Overall Score: 8/10
Now I tend to always give IMPACT credit when they have multiple similar matches, and this is another one of those shows! The World Heavyweight Championship match and the Maclin match both felt significantly different. We had 3 really good matches, the tag elimination wasn't bad, just a few janky and botched spots take away a bit and the main event was damn good. It was presented and set up like a potential retirement, the moments were big, the crowd was alive and knew what they could be watching…and boy did Jordynne and Mickie show up. Now Penzer did announce this as the end to the Last Rodeo, which I guess makes sense, it was win the title or retire if she lost along the way.
I kinda wonder if Mickie will enter the Women's Rumble as Knockouts Champion again. But this also supports how I felt Masha winning would signal. Masha being 0-2 against Jordynne is a thread to build off of for later. Masha could beat Mickie for the title, have a decent run and then when Jordynne challenges the "you've never beaten me" gimmick pops up. So I don't know if Mickie will lose in her first defense, but I like the concept and from the fan reaction, no one wanted her to retire.
Santino being the Director of Authority could lead to some funny moments, especially with Moose. Kaz being officially back is awesome. Major Players technically costing Ace & Bey the titles is a nice fill in feud to get us to a legit challenge of Ace & Bey versus MCMG straight up for the belts. Oh yeah, GIVE MACLIN A GOD DAMN TITLE SHOT! He's done great work, came in with very little hype, but he's been a stone cold killer. He's one of the definite highlights of the last few years. Maclin needs to take the title off of Josh. Book it, print it, make it happen.
Anyway, damn good show, great way to finish with the crowd and everyone happy and up for Mickie.