Andrew's Impact Wrestling Rebellion 2019 Ratings & Analysis
Impact has a few big marquee matches on this card. Does Rebellion help Impact's momentum or languish in, whatever Homecoming was?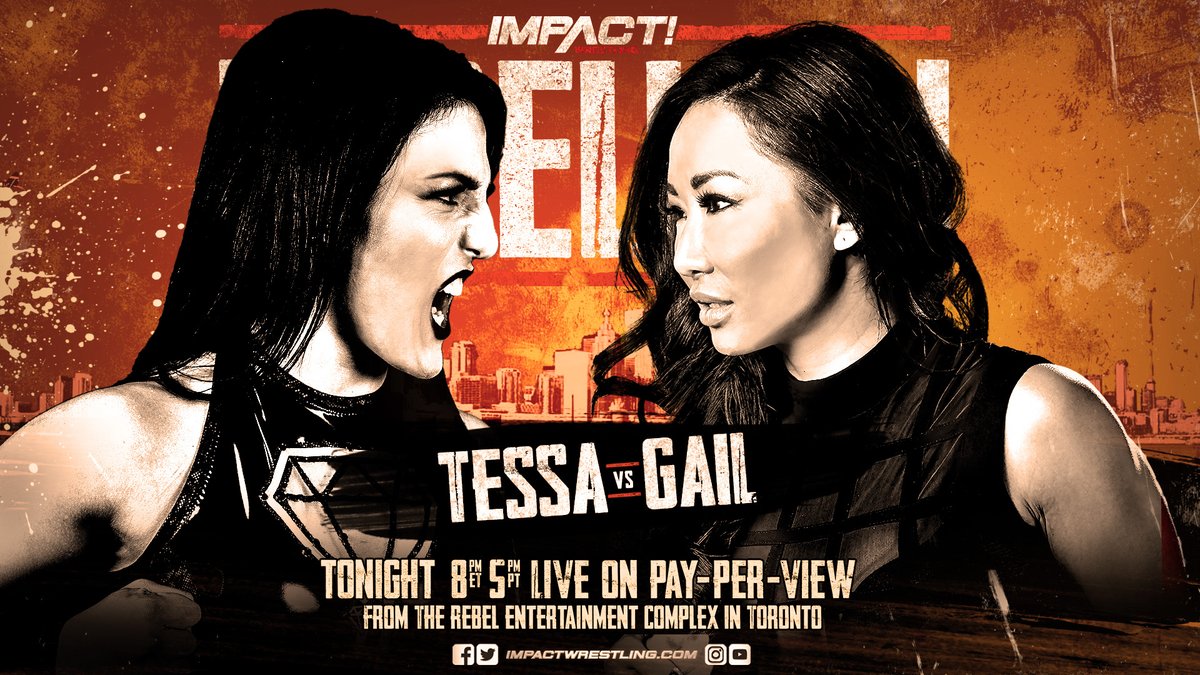 Impact has a few big marquee matches on this card. Does Rebellion help Impact's momentum or languish in, whatever Homecoming was?
Here comes the boom! Tessa Blanchard and Gail Kim, Brian Cage and Johnny Impact, LAX and Lucha Bros – this card has some high profile potential.
I'm really hoping we get a solid and hard hitting show, instead of a TNA special with twists and bad finishes. Homecoming left a bad taste in my mouth, so let's hope Rebellion fixes that.
Ratings:
6 Pack Scramble: Petey Williams vs Jake Crist vs Ace Austin vs Aiden Prince vs Cousin Jake vs Eddie Edwards: Austin wins via Roll-Up @5:35 – ***
Rohit Raju w/Desi Hit Squad vs Scarlett Bordeaux w/Fallah Bahh: Scarlett wins via Pendulum Piledriver @5:00 – **
Moose & The North vs The Rascalz: Moose wins via Spear @9:30 – *** 1/2
Impact Knockouts Championship: Taya Valkyrie (c) vs Jordynne Grace: Taya retains via Road to Valhalla @9:10 – *** 1/4
X Division Championship oVe Rules: Sami Callihan vs Rich Swann (c): Swann retains via Barbwire Bat Crossface @16:10 – *** 3/4
Gail Kim vs Tessa Blanchard: Tessa wins via Cobra Clutch Crossface @13:10 – ****
Impact Heavyweight Championship: Brian Cage vs Johnny Impact (c): Cage wins via Drill Claw @13:20 – ** 3/4
Full Metal Mayhem Impact Tag Team Championships: LAX vs Lucha Bros (c): LAX wins via Super Powerbomb through Tack covered Tables @21:05 – **** 1/4
Analysis:
Impact likes to start off the PPVs with multiman X Division matches and this one does the trick. A lot of fun spots to get the crowd excited. Not a clinic, nothing overly mind boggling, but it was fun. Plus with Ace Austin pinning Petey it ties in to the little bit of tension they had after the previous 6 man scramble that was on IMPACT a few weeks ago. So I can appreciate the lead.
Don and Josh do their best Toru Yano impression and talk about pre-ordering and buying the Rebellion DVD.
Bumper plugging Impact Plus. Which sounds like GWN Network, so I'm curious if GWN is re-branding because of the whole Jeff Jarrett lawsuit, or if it's going to be a completely different thing. Update: Impact responded on their Twitter that they will be communicating on how to switch the services over. So Impact Plus is replacing GWN, but it seems like it's gonna take a few steps to carry over service.
Rohit and Scarlett's match was spurred out of a Twitter beef and the already existing opinions the Desi Hit Squad has of women. The match was amusing, a few interesting spots, nothing painful or bad, just a whole lot of gimmick. So for what it was, it was fine and the crowd loves Scarlett.
This was a fun 6 man tag. The North dominated a good bit with Moose but The Rascalz speed and high risk moves helped make the match much closer. Dez launched himself off of Josh Alexander's back from the ramp into the pile of people at ringside. It was very spot heavy, but it was entertaining. Plus we got to see the tandem Assisted Spinebuster from The North, feed into the Spear by Moose. So even if the Spear looked a little messy, it was a fun and cool match.
Taya played up her scared heel aspects, but also worked on Jordynne's arms. Multiple strikes and submission attempts on the arm played a part through the match. Grace wasn't able to execute a Michinoku Driver correctly and when she was trying to lay in the Vader Hammers, her right arm was her downfall. It gave Taya the perfect opportunity to execute her finish, and retain the title.
So Sami made this a hardcore match, Impact management banned oVe from ringside and we got a blood feud blow off. This match was insane. Chairshots, guardrails, wet floor signs, cookie sheets of doom, powder and even Legos. Rich was taken to a different level because of Sami and it was great. This whole thing was fantastic because even though I'm not a huge fan of hardcore wrestling, when it's done well, with story line purpose, it's great. This was damn good.
Tully Blanchard tells @Tess_Blanchard to show Gail Kim what being a Blanchard is all about. #IMPACTRebellion https://t.co/300sbiAYyo pic.twitter.com/LJGWIiLucI

— IMPACT (@IMPACTWRESTLING) April 29, 2019
Well now, Gail and Tessa prove why they are regarded so highly. This match was a war. Tessa tossing Gail off the ramp was reminiscent of Misawa Tiger Suplexing Kobashi from the ramp to the floor.
THIS IS INSANE! @Tess_Blanchard VIOLENTLY drops @gailkimITSME off the ramp. #IMPACTRebellion https://t.co/300sbiAYyo pic.twitter.com/85ColgtwPE

— IMPACT (@IMPACTWRESTLING) April 29, 2019
Tessa tried to finish the match with the Slingshot Suplex, but Gail counters into Eat Defeat, but Tessa kicks out. Tessa hits Magnum, then when Gail kicks out, she transitions into a Cobra Clutch Crossface for the victory. Great match, great passing of the torch moment afterwards, just a really nice moment.
Well this match was a little overbooked, sloppy at times and Johnny still needs a new finisher. He's been doing Starship Pain for like 12 years and only hit it clean about 12 times. Storm got bumped, Bravo showed he had ref stripes under his suit, but Cage kicked out. Storm comes back, Superkicks Bravo, Cage stops him from calling the DQ and hits an exhausted looking Drill Claw for the pinfall victory. Finally, Brian Cage wins the belt! And wait…Michael Elgin shows up? From New Japan to Impact, he back fists Cage and hits the Elgin Bomb, making a statement.
Aye dios mio. This was an insane spotfest, but with the tension, the fact they kept introducing more weapons and this being the blow off…I can't be mad. Spike Fear Factor through chairs, the good ole sit down strike fest, Springboard Spanish Fly through tables. Jesus, there was just so damn much in this match. I do love the fact that Konnan had forks in his pocket that he handed to LAX at some point. There's a Spanish joke about burritos and forks in there, but I'm not gonna look for it. While the finish was a little awkward, it was still good. Santana driving the fork into Pentagon's head while on a ladder, with Ortiz in Powerbomb position. Maybe it was supposed to be a Street Sweeper through both tables with the tacks on it, but a Super Powerbomb is no joke either. Not sure if this is Lucha Bros swan song or if they just wanted to take the belts off of them before Double or Nothing. Guess we'll see.
Overall Score: 7.75/10
Really good show! Now the Heavyweight Championship match being a mess along with a lot of spotfest moments did hurt this show to me, but that's not saying it wasn't still really solid all in all.
Also it was refreshing to see a lot of the logical finishes. Tessa going over made sense, Cage finally get crowned is overdue, but a great moment and LAX versus Lucha Bros in a crazy match was great. Hell even having Moose win made logical sense, because, The Rascalz made fun of him which started the feud and cheated to beat him in the last match. So even though it was three big guys against three little guys, the little guys stirred the shit and had to deal with the repercussions.
I'm also happy to see Impact Wrestling return to more of their 2018 style with superior in-ring action, and not whatever Homecoming was. So with Elgin's debut, new champions and even Taylor Wilde being spotted in the closing moments when the locker room came out…we could have some fun stuff to build towards Slammiversary July 7th. To be clear, I have no clue if Taylor is back or just visiting, but that was a hell of a blast from the past.