Andrew's Impact Wrestling Rebellion 2019 Ratings & Analysis
Impact has a few big marquee matches on this card. Does Rebellion help Impact's momentum or languish in, whatever Homecoming was?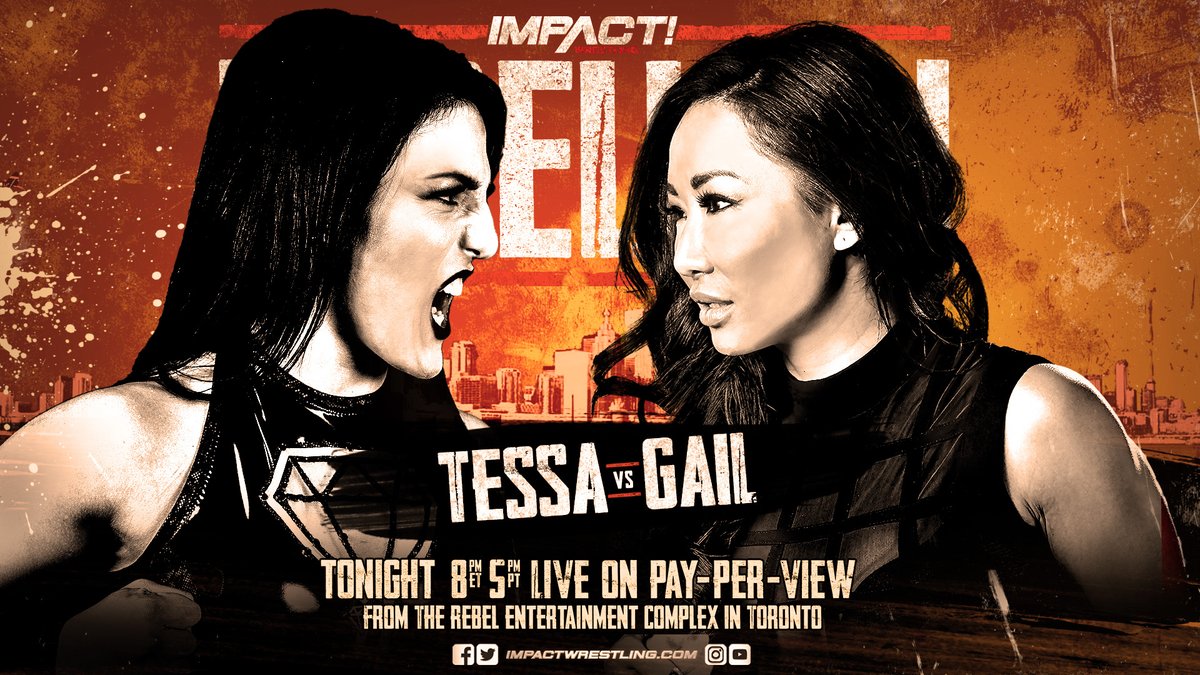 Impact has a few big marquee matches on this card. Does Rebellion help Impact's momentum or languish in, whatever Homecoming was?
Here comes the boom! Tessa Blanchard and Gail Kim, Brian Cage and Johnny Impact, LAX and Lucha Bros – this card has some high profile potential.
I'm really hoping we get a solid and hard hitting show, instead of a TNA special with twists and bad finishes. Homecoming left a bad taste in my mouth, so let's hope Rebellion fixes that.
Ratings:
6 Pack Scramble: Petey Williams vs Jake Crist vs Ace Austin vs Aiden Prince vs Cousin Jake vs Eddie Edwards: Austin wins via Roll-Up @5:35 – ***
Rohit Raju w/Desi Hit Squad vs Scarlett Bordeaux w/Fallah Bahh: Scarlett wins via Pendulum Piledriver @5:00 – **
Moose & The North vs The Rascalz: Moose wins via Spear @9:30 – *** 1/2
Impact Knockouts Championship: Taya Valkyrie (c) vs Jordynne Grace: Taya retains via Road to Valhalla @9:10 – *** 1/4
X Division Championship oVe Rules: Sami Callihan vs Rich Swann (c): Swann retains via Barbwire Bat Crossface @16:10 – *** 3/4
Gail Kim vs Tessa Blanchard: Tessa wins via Cobra Clutch Crossface @13:10 – ****
Impact Heavyweight Championship: Brian Cage vs Johnny Impact (c): Cage wins via Drill Claw @13:20 – ** 3/4
Full Metal Mayhem Impact Tag Team Championships: LAX vs Lucha Bros (c): LAX wins via Super Powerbomb through Tack covered Tables @21:05 – **** 1/4
Analysis:
Impact likes to start off the PPVs with multiman X Division matches and this one does the trick. A lot of fun spots to get the crowd excited. Not a clinic, nothing overly mind boggling, but it was fun. Plus with Ace Austin pinning Petey it ties in to the little bit of tension they had after the previous 6 man scramble that was on IMPACT a few weeks ago. So I can appreciate the lead.
Don and Josh do their best Toru Yano impression and talk about pre-ordering and buying the Rebellion DVD.
Bumper plugging Impact Plus. Which sounds like GWN Network, so I'm curious if GWN is re-branding because of the whole Jeff Jarrett lawsuit, or if it's going to be a completely different thing. Update: Impact responded on their Twitter that they will be communicating on how to switch the services over. So Impact Plus is replacing GWN, but it seems like it's gonna take a few steps to carry over service.
Rohit and Scarlett's match was spurred out of a Twitter beef and the already existing opinions the Desi Hit Squad has of women. The match was amusing, a few interesting spots, nothing painful or bad, just a whole lot of gimmick. So for what it was, it was fine and the crowd loves Scarlett.
This was a fun 6 man tag. The North dominated a good bit with Moose but The Rascalz speed and high risk moves helped make the match much closer. Dez launched himself off of Josh Alexander's back from the ramp into the pile of people at ringside. It was very spot heavy, but it was entertaining. Plus we got to see the tandem Assisted Spinebuster from The North, feed into the Spear by Moose. So even if the Spear looked a little messy, it was a fun and cool match.
Taya played up her scared heel aspects, but also worked on Jordynne's arms. Multiple strikes and submission attempts on the arm played a part through the match. Grace wasn't able to execute a Michinoku Driver correctly and when she was trying to lay in the Vader Hammers, her right arm was her downfall. It gave Taya the perfect opportunity to execute her finish, and retain the title.
So Sami made this a hardcore match, Impact management banned oVe from ringside and we got a blood feud blow off. This match was insane. Chairshots, guardrails, wet floor signs, cookie sheets of doom, powder and even Legos. Rich was taken to a different level because of Sami and it was great. This whole thing was fantastic because even though I'm not a huge fan of hardcore wrestling, when it's done well, with story line purpose, it's great. This was damn good.
Tully Blanchard tells @Tess_Blanchard to show Gail Kim what being a Blanchard is all about. #IMPACTRebellion https://t.co/300sbiAYyo pic.twitter.com/LJGWIiLucI

— IMPACT (@IMPACTWRESTLING) April 29, 2019
Well now, Gail and Tessa prove why they are regarded so highly. This match was a war. Tessa tossing Gail off the ramp was reminiscent of Misawa Tiger Suplexing Kobashi from the ramp to the floor.
THIS IS INSANE! @Tess_Blanchard VIOLENTLY drops @gailkimITSME off the ramp. #IMPACTRebellion https://t.co/300sbiAYyo pic.twitter.com/85ColgtwPE

— IMPACT (@IMPACTWRESTLING) April 29, 2019
Tessa tried to finish the match with the Slingshot Suplex, but Gail counters into Eat Defeat, but Tessa kicks out. Tessa hits Magnum, then when Gail kicks out, she transitions into a Cobra Clutch Crossface for the victory. Great match, great passing of the torch moment afterwards, just a really nice moment.
Well this match was a little overbooked, sloppy at times and Johnny still needs a new finisher. He's been doing Starship Pain for like 12 years and only hit it clean about 12 times. Storm got bumped, Bravo showed he had ref stripes under his suit, but Cage kicked out. Storm comes back, Superkicks Bravo, Cage stops him from calling the DQ and hits an exhausted looking Drill Claw for the pinfall victory. Finally, Brian Cage wins the belt! And wait…Michael Elgin shows up? From New Japan to Impact, he back fists Cage and hits the Elgin Bomb, making a statement.
Aye dios mio. This was an insane spotfest, but with the tension, the fact they kept introducing more weapons and this being the blow off…I can't be mad. Spike Fear Factor through chairs, the good ole sit down strike fest, Springboard Spanish Fly through tables. Jesus, there was just so damn much in this match. I do love the fact that Konnan had forks in his pocket that he handed to LAX at some point. There's a Spanish joke about burritos and forks in there, but I'm not gonna look for it. While the finish was a little awkward, it was still good. Santana driving the fork into Pentagon's head while on a ladder, with Ortiz in Powerbomb position. Maybe it was supposed to be a Street Sweeper through both tables with the tacks on it, but a Super Powerbomb is no joke either. Not sure if this is Lucha Bros swan song or if they just wanted to take the belts off of them before Double or Nothing. Guess we'll see.
Overall Score: 7.75/10
Really good show! Now the Heavyweight Championship match being a mess along with a lot of spotfest moments did hurt this show to me, but that's not saying it wasn't still really solid all in all.
Also it was refreshing to see a lot of the logical finishes. Tessa going over made sense, Cage finally get crowned is overdue, but a great moment and LAX versus Lucha Bros in a crazy match was great. Hell even having Moose win made logical sense, because, The Rascalz made fun of him which started the feud and cheated to beat him in the last match. So even though it was three big guys against three little guys, the little guys stirred the shit and had to deal with the repercussions.
I'm also happy to see Impact Wrestling return to more of their 2018 style with superior in-ring action, and not whatever Homecoming was. So with Elgin's debut, new champions and even Taylor Wilde being spotted in the closing moments when the locker room came out…we could have some fun stuff to build towards Slammiversary July 7th. To be clear, I have no clue if Taylor is back or just visiting, but that was a hell of a blast from the past.
Andrew's IMPACT Results & Match Ratings: 12.8.2022
Josh Alexander finally addresses what happened at Over Drive! MCMG gets a title match! Eric Young was written out, how does Deaner change Violent by Design?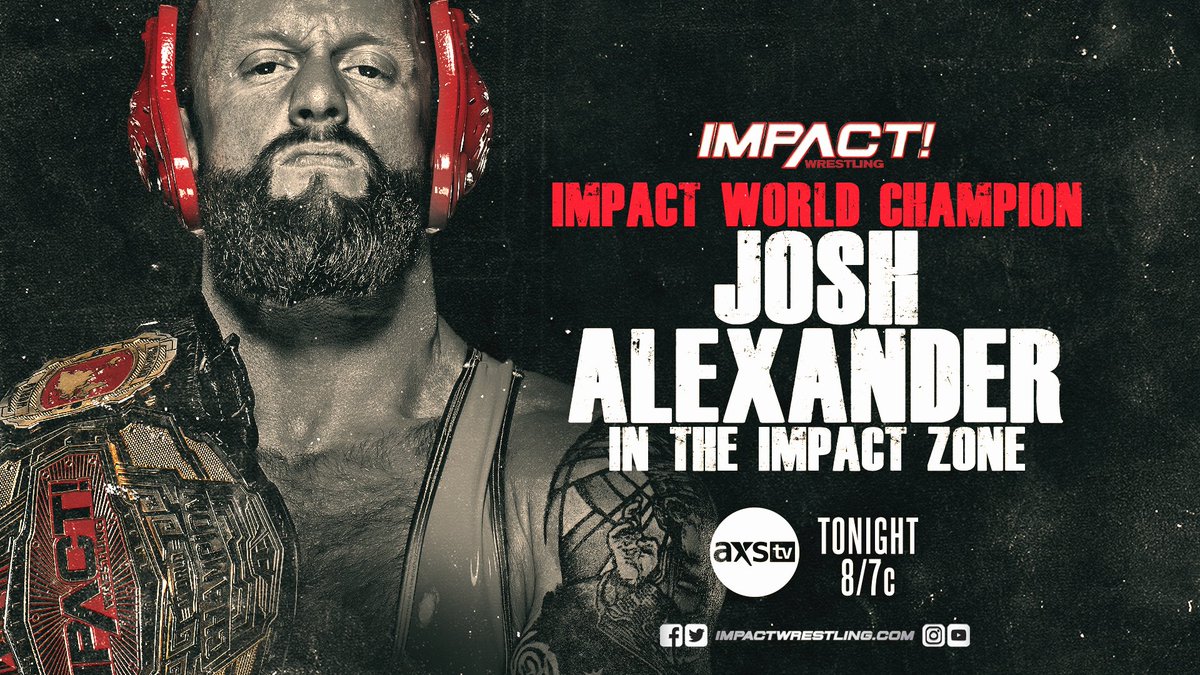 We get a new era of VBD, Motor City Machine Guns with a tag title shot and Josh Alexander will finally address what happened at Over Drive. I doubt we're going to get a clean resolution to the tag match since Brian Myers and Matt Cardona are just assholes, but hopefully we get something fun.
Apparently since Deaner is the Violence, the group is just called The Design.
"The Design" has arrived in the IMPACT Zone!@Big_Kon1 @CodyDeaner @Alan_V_Angels #IMPACTonAXSTV pic.twitter.com/2LqrtRkmn4

— IMPACT (@IMPACTWRESTLING) December 9, 2022
Ratings:
Tag Team Titles: Motor City Machine Guns vs Heath & Rhino (c): No Contest – ** 1/4
Savannah Evans w/Tasha Steelz vs Taya Valkyrie w/Death Dollz: Savannah wins via Full Nelson Bomb – **
Kon w/The Design vs Sami Callihan: Kon wins via Death Valley Driver – **
IMPACT World Championship Open Challenge: Mike Bailey vs Josh Alexander (c): Josh retains via C4 Spike – *****
Results:
Tag Team Titles: Motor City Machine Guns vs Heath & Rhino (c)
Rhino and Sabin start off and they work to Shelley and Heath with a little bit of MCMG tandem work. Guns are tying up Heath, some corner work where the ref is allowing a little more contact than usual; main point is that Heath is getting twisted and torqued.
Heath tries to paint brush his way out of a Figure Four, but Shelley dips into his heel tendencies. Heath gets to the ropes and Shelley lays back and tells the ref he's willing to break. He doesn't and forces the referee to untie their legs, so he gets some extra damage in. Dragon Screw attempt gets turned around, Heath drops Shelley and finally gets Rhino back in.
Guns try to utilize some tandem attacks, but as we see Sabin and Heath swinging back and forth; the Major Players hit the ring and hit simultaneous Wake Up Calls on Heath and Sabin, causing the no contest.
.@Walking_Weapon doesn't want to wait till #HardToKill he wants @bullyray5150 TONIGHT!@ScottDAmore @ZickyDice @swinger_johnny #IMPACTonAXSTV pic.twitter.com/V5sk62ECX8

— IMPACT (@IMPACTWRESTLING) December 9, 2022
Savannah Evans w/Tasha Steelz vs Taya Valkyrie w/Death Dollz
Savannah starts off honestly just overpowering Taya. A few quick shoves, Bear Hugs, rag dolls…and Taya is on the back foot. A little bit of ducking and dodging gives Taya the chances to hit the Spear and send Savannah out.
Savannah puts the brakes on anything Taya can start, we go to commercial and Savannah throws Taya with a Butterfly Suplex…so there's just a lot of Taya working from underneath. Flying Headscissors finally gives Taya a breather, Blue Thunder Bomb for 2 into an Indian Deathlock transitioning into an STF before Savannah fights out.
Road to Valhalla attempt, Savannah blocks it, a little back and forth before Savannah connects with the Full Nelson Bomb for the win.
Kon w/The Design vs Sami Callihan
Early on Sami is struggling with Kon's power and size. This is hard to really swallow, even as an early "debut" of a new stable. Sami keeps fighting the good fight, grasps for a Jaw Breaker and turns a Kon charge into a Scoop Slam…but Kon tries to keep being the immovable object.
Sami buckles Kon's knee and hits the Tanaka style forearm and tries to stay on the bigger guy. The numbers eventually start to distract Sami, Angels distracts the referee, Deaner stops Sami and Kon hits a Death Valley Driver for the win.
I'm not really impressed with this, but I guess you really can't have the new stable get punked out. Even though they are all punks.
.@ROHDelirious is on "another level" and has the chance to prove it against @TheEddieEdwards TONIGHT in our MAIN EVENT! #IMPACTonAXSTV pic.twitter.com/MIgaGIo5EF

— IMPACT (@IMPACTWRESTLING) December 9, 2022
Josh Alexander comes out to address the Over Drive fallout and states an open challenge with the intent to drag out Bully Ray – but Bully has a whole video set up goading Josh and saying he's not there. 
So Speedball Mike Bailey comes down to see if the open challenge is still on the table. 
IMPACT World Championship Open Challenge: Mike Bailey vs Josh Alexander (c)
Bailey tries to come at Josh hard, and Josh shows that his left arm is still bothering him some; but he generally shrugs off Bailey for the early goings. A big Forearm and Kitchen Sink have Josh slowly stalking his opponent. His attention isn't on Bailey, so his style reflects as much.
Josh sends Bailey to the ropes, back handspring, machine gun kicks send Josh reeling and a Tope con Hilo finally gives Bailey some momentum. Commercial break comes back with Bailey hitting a big Double Knees, but a Running Boot from Josh puts things back in his favor. Josh lands kick after kick, big forearms, and just hits Bailey with disdain because he's not Bully Ray.
A Shotgun Dropkick opens things up for Speedball, Sole Butt doubles over Josh, Axe Kick, Roundhouse into a Corkscrew Shooting Star Press for 2. Buzzsaw Kick missed, German Suplex train begins! Two in a row, Bailey tries to block, so Josh pins the arms and hits a Shutdown Suplex for 2. C4 Spike, spun out, Ankle Lock attempt, blocked and turned into a Kimura from Bailey, but now they're just jockeying for submission positions. Josh counters the Octopus into running him into the corner twice, but Speedball doesn't let go. One more attempted jam, but a Poison Rana gives Bailey a 2 count.
Another commercial comes back to Josh driving his knee into Speedball's shoulder blades. Flipping Stomp miss from Bailey, Tornado Kicks land, Ultima Weapon misses and Josh goes for a C4 Spike but the arm gives out! They spill to the outside and Bailey strings together some offense. A big Missile Dropkick leads into Round Kicks, and then open hand chop exchange. Both men after just firing back and forth, neither is relenting. Forearms and kicks, finally into a proper Fighting Spirit spot that Bailey counters a Rolling Forearm with a Straight Side Kick. Bailey charges into the ropes, Josh catches him in Capture Suplex position but drags him over the ropes and slams him onto the apron.
This is a third commercial break and we're perched with Bailey going for a Super Frankensteiner, Josh blocks, feigns the Avalanche Styles Clash, but Bailey counters! Flamingo Driver attempt, Josh gets pissed, counters and then throws Bailey with a Torture Rack Bomb. 2 count immediately into the Ankle Lock, but Bailey blocks, manages to get away, counters Josh in the corner, Ultima Weapon connects! But Bailey can't get the pinfall as he sells his legs. Speedball gets up, PK as he keeps selling the legs but still uses his offense. PK again! Backflip Double Knees, a few missed kicks before finally connecting and then charging through with the snap kick. Open Hand Chops from Josh, Kicks from Bailey, Josh just grabs him and starts the locomotion German Suplexes.
Six suplexes and another commercial! Back perched, Kimura Lock from Bailey, Josh fights, Bailey tries a kick, but Josh grabs him and dumps him back into the ring with an Olympic Slam for a near fall. Josh climbs to the top, Moonsault misses! Bailey slowly climbs to the top rope, Josh pops up, Avalanche Olympic Slam for 2! Josh struggles to try and pick up Bailey, so they have a slow rise as both men are banged up. Bailey pops up with the Straight Kick to the face for a near fall, and we actually hear the 10 minutes remaining call from Penzer.
Ankle Lock again from Josh, but Bailey keeps squirming. Josh Death Rolls with the Ankle and doesn't want to let go, he's trying to end this. Bailey tries to stretch up to get out of it, but gets scooped into a Tombstone Piledriver but only another 2 and back into the Ankle Lock! Up Kicks break the submission, Bailey tries to stop Josh from charging back into the corner with a kick, but Josh drivers his knee into Bailey's leg, drags him back to the center and Grapevine's the Ankle. Speedball barely manages to claw to the ropes.
Josh tries to climb the corner with Bailey, but Bailey slips down and now he's trying to get up to Josh but can't quite muster the energy to get past Josh. Josh keeps clocking and dropping Bailey. Bailey finally powers through the offense, stares down Josh and Avalanche Frankensteiner! Ultima Weapon… connects again but foot on the bottom rope! Flamingo…nope, Styles Clash from Josh into the Ankle Lock again! Bailey grabs the bottom rope and tries to kick Josh away, but Josh finds adrenaline rips Bailey into his arms for an Inverted Piledriver. Josh and Bailey keep struggling as Josh is going for a C4 Spike, 2 C4 Spikes with about 15 seconds left!
Overall Score: 9/10
A Western company actually mentioning time remaining, having to bump a "scheduled main event" and dedicate the last hour of the show to literally one match is a little surprising. The show also did try to add credibility to The Design, Savannah Evans got to look impressive and the fact the tag match was interrupted…to no one's surprise, helped sell the epic main event even harder.
I don't really have a lot to say aside from that was a hell of a match, and the fact that it was about 15 seconds short of a Broadway is both crazy and almost feels dirty that it didn't quite get there. But it was great, built off their previous match and was a great endcap to the year both men had as being fighting champions and two bastions of hope of the company in 2022. IMPACT loves to just to clip shows for the last two weeks of the year, so we only have 1 maybe 2 more real episodes before Hard to Kill is around the corner. But hot damn was this match amazing!
Andrew's IMPACT Results & Match Ratings: 12.1.2022
After the holiday, we get on track for Hard to Kill. Deonna vs Mickie James is the main event…do we see Mickie's career end tonight?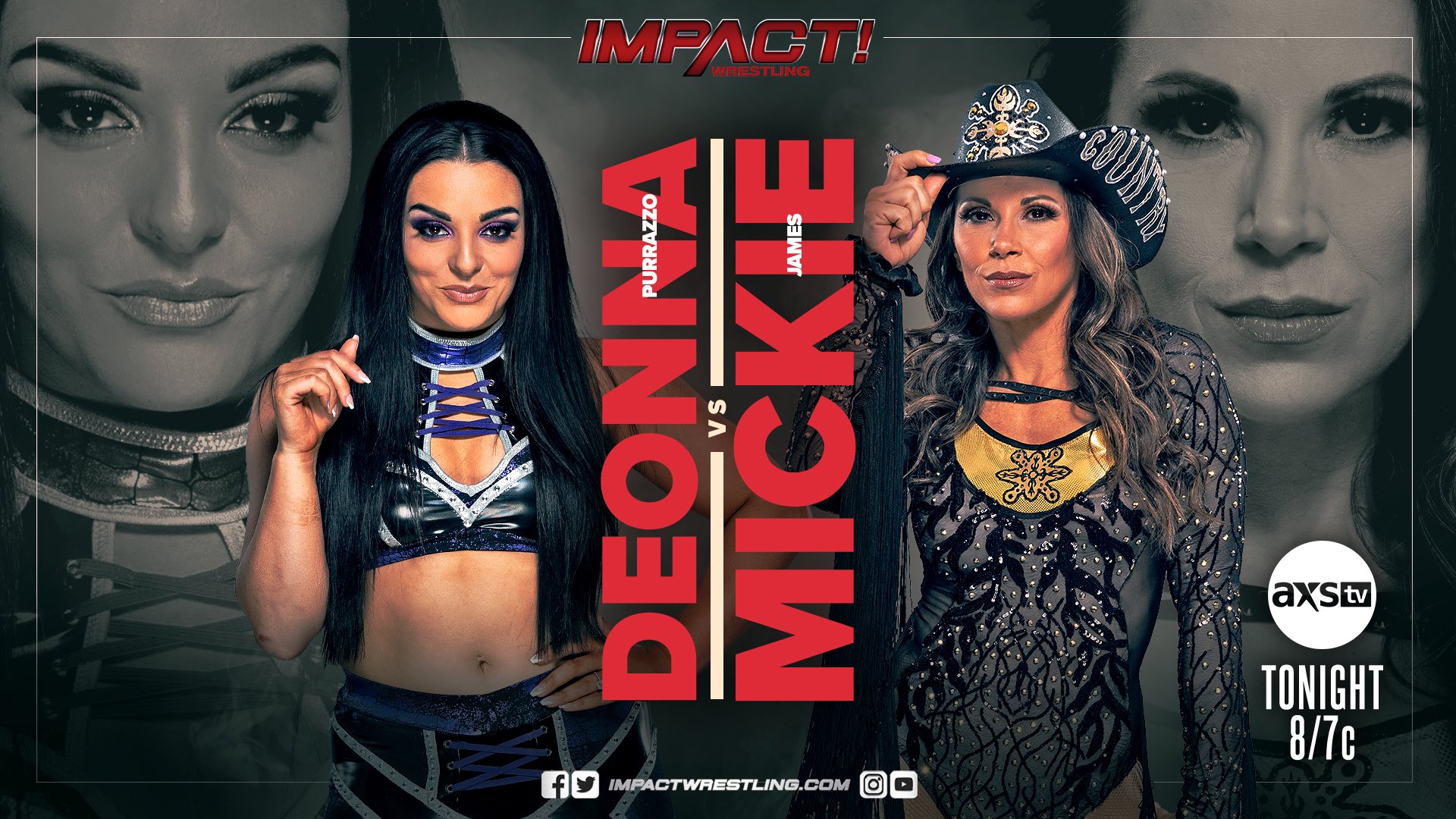 With the holiday last week, I wasn't home to cover IMPACT so it's going to be a fun night of how much I remember and how well they frame the stories.
We're on the road to Hard to Kill, so we need to remind people about Over Drive and then move forward. I'm also curious if we get any resolution on the VBD stare down after EY lost. I really don't want EY to get kicked since that will be a sad group of mid card sacks of shit. But I guess we'll see.
The Motor City Machine Guns are going to get their IMPACT World Tag Team Title Shot NEXT WEEK!@fakekinkade @SuperChrisSabin @HEATHXXII #Rhino#IMPACTonAXSTV pic.twitter.com/LPx1fK0fSe

— IMPACT (@IMPACTWRESTLING) December 2, 2022
Ratings:
Rich Swann vs Bully Ray: Swann wins via DQ – * 1/2
Moose vs Bhupinder Gujjar: Moose wins via Lights Out – * 3/4
Steve Maclin vs Frankie Kazarian: Kaz wins via DQ – **
Last Rodeo: Deonna Purrazzo vs Mickie James: Mickie wins via Victory Roll – *** 1/2
Results:
We get the Over Drive highlights, so I'm guessing they did their usual Thanksgiving fun episode. Bully Ray walks out to start the show. Bully recaps things, explains how he kept his word while running down the crowd, intimidating children and doing solid heel work. 
It goes a little long, but thankfully Rich Swann eventually gets sick of the diatribe and rushes the ring. Swann gets in a few pot shots, but Bully bails out, tries to walk away and gets a plancha. The referee comes out and the match will kick off the show!
Rich Swann vs Bully Ray
Bully jaws a little, lays in some punches and power moves but Rich eventually turns the tide. The quick step over back kick and a Frog Splash for 1. But then Bully catches Rich on the top rope, Tree of Woe and starts wailing on him.
Bully keeps control of Swann until Swann drops down with the Jawbreaker and then we see him start using the speed and athleticism with kicks and top rope moves. Bully stifles Rich, goes for the Avalanche Senton as he flirts with the referee and misses. Rich hits a 450 Splash for 2, and then we see a little back and forth, before Bully grabs his chain and hits Rich in front of the referee. So the DQ happens but Bully doesn't care. Bully gets a chair and other weapons from under the ring and starts beating on Rich.
Bully really likes these zip ties, Tommy Dreamer comes out to stop Bully though. They argue, Bully shoves Dreamer and then D'Amore hits the ring to try and quell this. Bully is defiant, even D'Amore is getting fired up and looks like he wants to fight Bully. Dreamer trying to keep D'Amore away from Bully is funny and pretty great. 
Moose vs Bhupinder Gujjar
Definitely not a match I expected. 
Moose gets in the early shots, but Gujjar starts to fire back and he gets some solid shots sending Moose to the outside. Gujjar takes to long to pander after the Dropkick and Moose has him eat a Big Boot into an Apron Powerbomb.
Gujjar shows more fire but Moose cuts him down. Moose goes for the Lights Out, but Gujjar dodges sending Moose into the corner. A few shots, Ripcord Knee, Slingblade and now…tuning up the Gargoyle Spear but Moose side steps it like Samoa Joe. Gujjar leapfrogs the Lights Out again, but Moose puts the brakes on and fires back connecting with the Lights Out and the win.
Moose starts to rant and says that he doesn't want any of the idiots to to talk about Bully Ray or "Say his name", and then JOE HENDRY's music hits! There is already a "This is Awesome" chant just with Joe Hendry and Moose standing in the ring. Hendry fights Moose off mostly and Gujjar hits the awful Spear out of nowhere to get Moose to powder out. 
.@MeanGiaMiller caught up with @SpeedballBailey to talk about @KennyKingPb2's "Mission"!#IMPACTonAXSTV pic.twitter.com/nc9XdzFf5h

— IMPACT (@IMPACTWRESTLING) December 2, 2022
Steve Maclin vs Frankie Kazarian
Maclin starts off with some big strikes but Kaz ducks the line and hits the Springboard Reverse Elbow, and begins his offensive. Kaz beats on him in one corner then Maclin tosses him out and we see some back and forth. Neither are really landing big strikes, Maclin keeps some control with smaller strikes and knees against the ropes, but nothing really definitive.
A few of Maclin's shots piss off Kaz and they Hockey Fight a little but Maclin keeps all of the control. Kaz does finally start a comeback and we get some of the classic Kaz Flying Forearm, Guillotine Legdrop and Slingshot Cutter. Maclin powder…and grabs a chair. So…another DQ finish?
Last Rodeo: Deonna Purrazzo vs Mickie James
They do a good job pacing things back and forth early on. Deonna fights back and starts to rock Mickie, the Slingshot into the bottom rope gives Deonna full control. Headlock Takeover and tries to wear Mickie down, Mickie fires back but Deonna refuses to give her the advantage. Mickie finally manages to slow her down with a Headscissors and now we get Mickie dropping Deonna down, Mickie goes to the top for the Thesz Press, but Deonna pushes her off.
Commercial break kicks in, and Deonna hits a Brainbuster for a few sequential pinfall attempts, but Mickie refuses to stay down. Camel Clutch from Deonna is wearing down Mickie but she manages to fight out. A few back elbows, then Mickie goes to the ropes to try offense but Deonna stifles. They struggle and Mickie finally gets Deonna on the outside, Dropkick and Thesz Press to the outside.
Mickie throws Deonna in, Missile Dropkick, Neckbreaker and looking for the Mick D-T, but Deonna stops it. Tornado DDT attempt from Mickie, but a Pump Kick from Deonna drops Mickie for a 2 count. Queen's Gambit attempt, Superkick counter from Mickie for another 2. Mick D-T again, but Deonna blocks and swings around driving Mickie down into the Fujiwara. Venus Di Milo gets locked in too close to the ropes.
Locomotion Victory Rolls, Deonna tries to grab the tights, but Mickie counters through and picks up the win with a little tights pull of her own.
Jordynne's music hits. She basically says they both put things behind them, and challenges Mickie at Hard to Kill. Career versus Title. 
"ELIMINATE THE SICKNESS!!!"@TheEricYoung @CodyDeaner #IMPACTonAXSTV pic.twitter.com/prKamHFMbN

— IMPACT (@IMPACTWRESTLING) December 2, 2022
Overall Score: 6/10
Honestly, Bully went on a little long, Moose's promo was a little too similar to Bully just being a piece of shit. Plus the match quality aside from the main event was lame, two DQs is redundant…so yeah, not sure what to make of this.
Career versus Title for Knockouts is nice but then after that we had the vignette killing off Eric Young so VBD is a mid card faction. Which I guess is a little sad since this is the best Deaner we've ever seen, but he's still not a credible on the card.
So it was a weird show, but Joe Hendry always makes things a little better.