Carol: Should WWE Unify The Championships?
Pros and Cons – What would you do?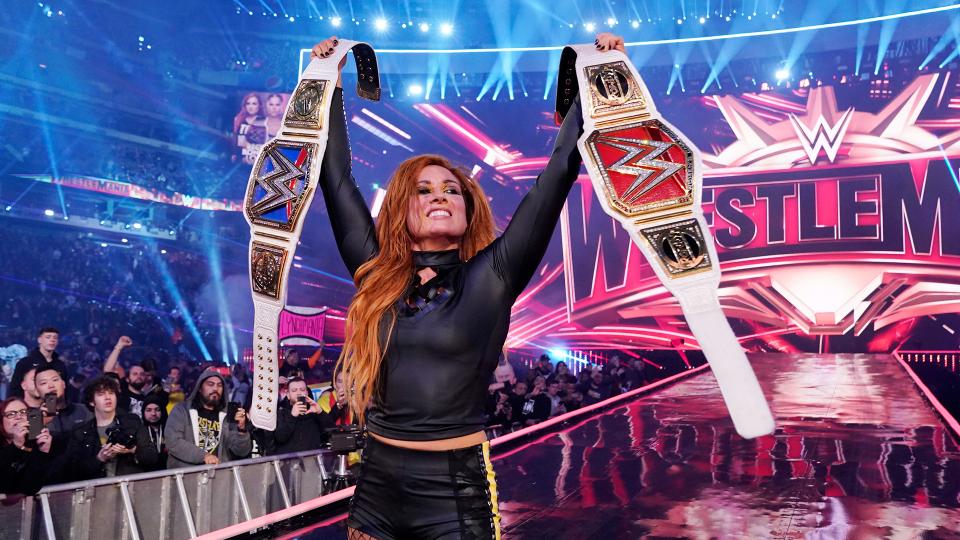 With WWE putting on multiple "Winner Takes All" matches, Carol explores the possibility of WWE unifying championships.
In recent weeks, WWE has made a lot of questionable moves. First, they had Charlotte Flair win the Smackdown Women's Championship before her match with Becky Lynch and Ronda Rousey for the RAW Women's Championship. To make matters worse, it was announced the triple threat at WrestleMania would be a Winner Takes All match. Becky Lynch won the match and even though it was a big moment for her, you can't help but feel sorry for the Smackdown women's division who never got a chance to compete for the championship.
But the women's championships weren't the only ones that would be a winner takes all. The next night on RAW, newly crowned WWE champion Kofi Kingston challenge Universal champion Seth Rollins in a match for both championships. The winner takes all matches has caused speculation that WWE is planning to unify all their titles. For today's article, I decided to write about whether the titles should be unified. With any situation, there's pros and cons. The unification of the championships has its advantages and disadvantages.
---
Elisa looks great in her Chairshot t-shirts. You can too!
Get yours at https://www.prowrestlingtees.com/related/thechairshot.html
---
Pros of WWE Championship Unification
The biggest pro to the unification would mean more competition between RAW and Smackdown. The two brands have always been in a rivalry about which is the better show. Every year at Survivor Series the two brands face off to claim their right as the superior show.
Having one title for each division would cause more excitement. A RAW star and a Smackdown wrestler would fight for the championship and bring it home to their respective brand. Having the championship on a certain brand, would cause the other show to amp up their game and create a new challenger for the next match. RAW and Smackdown have come under fire for being boring at times, but a unification for the titles would give WWE the chance to create better storylines.
Another pro for the title unification would be shorter PPVs. One criticism that WWE has faced recently is their long PPVs. There's currently eight championships between RAW and Smackdown. Every PPV, WWE tries to get all the titles featured on the show. Aside from the championship matches, there are other feuds WWE wants on the PPVs too. Having only one title would cut down on the number of PPV matches.
---
Also see:
WWE NXT Spoilers from the 4/10 Full Sail taping
---
Cons of WWE Championship Unification
While there are pros to the title unification, there is cons. Of course the unification would create more excitement, however it could also be considered unfair. Some fans love the brand split and how each show has their own championship. The different championships have given new wrestlers a chance to shine as they get a chance at the title. But a title unification could make it difficult for upcoming stars to get a chance at the main event spotlight. WWE likes to have repeat contenders for the titles and that's one of the things to worry about with an unification.
What's The Verdict?
Now that the pros and cons have been weighed, should there be a title unification? In my opinion, I don't think WWE should do a title unification. I feel it's best to leave the titles the way they are with each brand having their own.
Tiffany's Takes: Stomping Grounds (6-23-19)
Stomping Grounds is here! Was WWE able to drum up enough interest for the opening PPV of the summer season?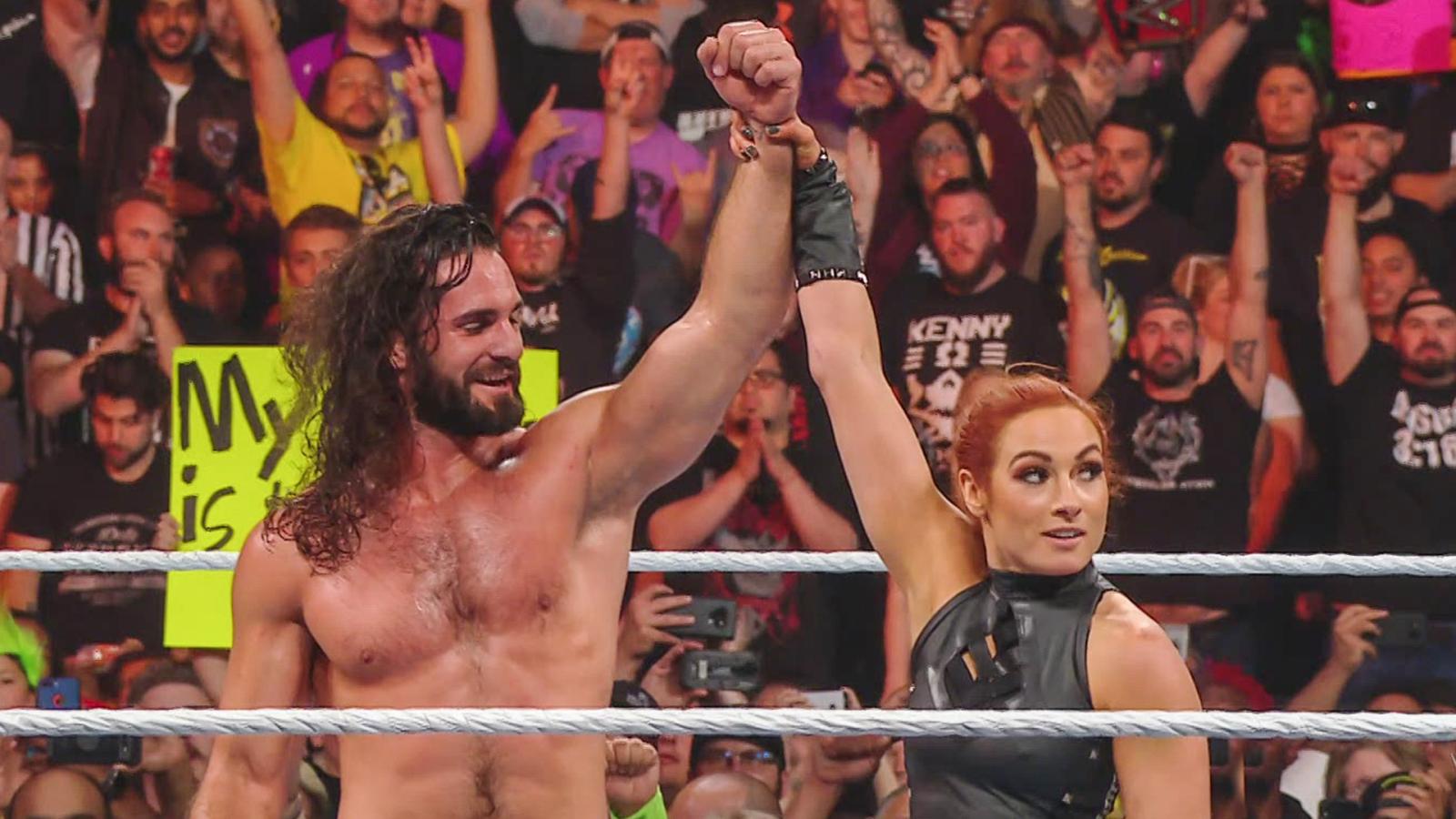 Stomping Grounds is here! Was WWE able to drum up enough interest for the opening PPV of the summer season?
Universal Championship Match – Seth Rollins vs Baron Corbin. Special Guest Referee: I'm not sure who came up with the idea of Lacey Evans being the special guest ref for this match, but it was a 'Better on Paper' idea. I mean, it's brilliant on paper. As a babyface, Rollins would never attack a woman with a chair or intentionally knock her out, but the forcing of his RL relationship with Becky into this storyline is awkward and cringey, especially with Becky basically saving her boyfriend's title for him. I get that they're making Becky look like a badass, but that was just…blah and it makes Seth look like an idiot. That's not the way to book your top champion, WWE.
Steel Cage Match for the WWE Championship: Kofi Kingston vs Dolph Ziggler: Well, it's still not Ziggler, despite his best efforts. That said, of all the matches these two have had over the years, this wasn't their best effort. It was still a really good match, but I've seen these two have barn burner matches and this match didn't even get the barn hot. Hopefully, this is the end of things and Kofi can move on.
New Day vs Kevin Owens and Sami Zayn: Right now, that math is my candidate for MOTN. I'm not really a fan of New Day or Owens/Zayn, but that was a hell of a match! It almost feels like either Big E still isn't 100% and Woods was covering for him, or Woods is getting groomed for a singles run because he was definitely the star of the match. I'm not even mad that Owens/Zayn won since it adds to the New Day/Whiner's Club (Ziggler, Owens, and Zayn) feud and Owens and Zayn needed a win after eating a lot of pins lately.
United States Championship Match – Samoa Joe vs Ricochet: HOLY SHIT, he did it! Ricochet is the NEW United States Heavyweight Champion!!! He and Joe had a hell of a match, the contrast in styles really worked for them, and I thought Joe had it in the bag, but Ricochet stuck it out and now has his first main event championship, four months after his debut, which isn't bad. Congrats man, hope you don't get killed tomorrow because Joe's gonna be pissed!
RAW Women's Championship – Becky Lynch vs Lacey Evans: Scarlett (Lynch) won it again! I'm not a big fan of Lacey Evans as an in-ring talent, I just don't think she's got the skills her spot suggests she should have, but she's been a good foil for Becky over this feud and it was a good match, but I'm more than ready for this feud to be over and for Becky to move on to someone else now that we're heading into SummerSlam season.
SmackDown Women's Championship – Bayley vs Alexa Bliss: Well, what a difference a few years makes! Two years after one of the worst Women's matches in WWE history, Bayley and Alexa Bliss not only had a really good match, but Bayley vanquished the self-proclaimed Goddess and RETAINED her SmackDown Women's Championship! I honestly didn't think Bliss would win, WWE seems determined that the wild card isn't going to involve actual title reigns, which is nice. However, both ladies looked great in this match. Bayley finally looks like a credible champion and Bliss got a chance to shake her ring rust before, presumably, getting a push on RAW. I also loved the build of Bliss vs Cross that definitely seems to be on the way. Drinks all around!
WWE Cruiserweight Championship – Tony Nese vs Drew Gulak vs Akira Tozawa: Wow. I can't believe WWE actually put the title on Gulak. Nese wasn't a great champion, but he had definitely grown on me.
The match was pretty good, I'll give them that, but I'm not thrilled about Gulak as champion, his gimmick mimics too many negative RL things for me to really get behind him. Hopefully, this will be a transitional reign to something like giving Tozawa a better reign than the joke one he had back in 2017.
SmackDown Tag Team Championship – Planet's Defenders vs Heavy Machinery: That…wasn't as bad as I feared. Greenjerks (Planet Defenders) are still the SmackDown Tag Team Champions, but Heavy Machinery really showed what they can do. I didn't think they were going to beat Bryan/Rowan, at least at the moment, but the match definitely delivered because Tucker and Otis got to show that they're more than a comedy act and that makes it a win for everyone.
Roman Reigns vs Drew McIntyre: Thank you, God, he beat him! Roman Reigns fought through the machinations of Shane and McIntyre to win and managed to make McIntyre look good in the process, which is a feat in itself, TBH. I'm not confident that this feud is over, though it needs to be, but if this is going to end up as Roman vs Shane, having McIntyre lose is the best way to do it.
Overall Comments: Well, it wasn't as bad as I feared it would be. I had very little interest in this PPV, but it was actually pretty good. There was very little downtime between matches, which made it move more quickly, which was very nice.
I was a little surprised that the 24/7 title wasn't featured, but Truth might be in hiding after crashing Maverick's wedding.
The two main events did NOT live up to expectations. They were okay, but I was expecting more from everyone and the addition of Seth and Becky's RL relationship was just dumb.
I'm not sold on Gulak as Cruiserweight champion, I'm hoping it's a short reign and we can get someone else.
Ricochet vs Samoa Joe was the match of the night, hands down.
Bayley vs Bliss was excellent and everyone won.
Lynch vs Evans was okay, and I'm not thrilled about the continuation of this feud for the summer. Let's move on, please?!
That's it for Tiffany's Stomping Ground Takes! Tune in tomorrow as I take on RAW!
Andrew's WWE Stomping Grounds Ratings & Analysis
Hiking boots and mediocre shows built up to this. Do we get a surprisingly good show? Does the WWE main roster continue to languish?

Hiking boots and mediocre shows built up to this. Do we get a surprisingly good show? Does the WWE main roster continue to languish?
Well we kick off with a Cruiserweight Triple Threat! Nese has been fairly underwhelming, so here's to hoping we see a title change!
Dolph and Baron need to finally have their angles ended here. Dolph is boring, people have lost faith in him the last few years. Baron does a decent job at being a true heel, so after enough loses he may be able to excuse them away, but he needs to drop down a little.
Well let's see what kind of show we get!
Ratings:
Cruiserweight Championship Match: Tony Nese (c) vs Drew Gulak vs Akira Tozawa: Gulak wins via TKO @11:15 – ****  – TITLE CHANGE!!!
Raw Women's Championship: Becky Lynch (c) vs Lacey Evans: Lynch retains via Disarm-Her @11:20 – *** 1/4
Sami Zayn & Kevin Owens vs Xavier Woods & Big E: Owens wins via Stunner @10:55 – *** 1/2
United States Championship: Ricochet vs Samoa Joe (c): Ricochet wins via 630 Senton @12:30 – **** – TITLE CHANGE!!
SmackDown Live Tag Team Titles: Heavy Machinery vs Rowan & Daniel Bryan (c): Bryan retains via Small Package @14:20 – *** 
SmackDown Live Women's Championship: Alexa Bliss vs Bayley (c): Bayley retains via Bayley to Belly @10:35 – *** 
Roman Reigns vs Drew McIntyre: Reigns wins via Spear @17:25 – ** 3/4
Steel Cage WWE Championship Match: Dolph Ziggler vs Kofi Kingston (c): Kofi retains via Escaping the Cage @20:00 – *** 1/2
Universal Championship: Seth Rollins (c) vs Baron Corbin: Rollins retains via Stomp @18:45 – **
Analysis:
Constant action defined this match. Gulak kicked things off with a Dropkick at the bell, and it was pedal to the metal from there. Tozawa breaks up the Gu-Lock with his Top Rope Senton, which the camera didn't focus on, so it was cool to see Tozawa just crash down from the sky. Each man had a legitimate shot at different points in the match. Gulak however took advantage of the situation, tried to TKO Nese, but Nese wiggled out to the apron, Drew dodged Tozawa's Dropkick, grabbed Tozawa and hit the TKO for the win. Gulak finally gets the belt, which is a bit overdue, and he didn't win via submission. Things should be interesting on 205 Live. Great start.
This match got a bit more time than I was expecting. Aside from the Springing Back Kick in the corner missed spot, the match was alright. Some spots were a little clunky, but it wasn't a bad match at all. Hard fought match, a few close calls for Lacey, but Becky continues to be the benchmark for the women's division.
Owens and Zayn come out the gates with Superkicks, Frog Splashes, Blue Thunder Bombs and just beat the hell out of Xavier. Xavier was isolated for a while, but he kept kicking out. When Big E got in, New Day started to take control back in the match. They broke up Owen's Pop-Up Powerbomb, Big E wipes out Zayn for Xavier to take to the skies. But Owens crotches him and catches him with the Stunner before Big E can recover. So after being on the receiving end of most outcomes in the lead up, Sami and Kevin finally get a win.
Well I'm surprised with this outcome. Samoa Joe dominated the early goings, Ricochet had a few flurries, but Joe just enforced his will on the challenger. The Coquina Clutch attempt is what did in Joe oddly enough. Ricochet was able to position himself to outside and drop Joe over the top rope. This gave Ricochet enough momentum to string together a few impressive evasive maneuvers, hit the Codebreaker and follow up with the 630 for the title change!
This was one of those matches where you can tell all participants tried, but it just didn't click. Numerous awkwardly timed spots, poorly executed spots and what seemed like second guessing in transition. Was the match awful? No. But a match that was trying to prove a focused Heavy Machinery is serious business, missed the mark with too many goofy spots and just some things that didn't make sense.
Alexa has definitely done work on her ring positioning and skill set during her time out of the ring. Her moves look more crisp and even though she's not the most fluid wrestler, she's figured out how to incorporate her character as well as her ring awareness. Nikki Cross eating the Dive on the outside seemed to play well to continue this alliance between Alexa and Nikki. Bayley winning seems correct and the fact they didn't do some kind of turn between the Crazy Goddesses makes me happy. The match was fairly enjoyable as well.
Well Roman versus Drew was what we expected it to be. Two bigger guys slugging it out. Pace was a bit on the slow side though. Shane getting involved made sense for the story, it effectively being a handicap match all made sense, it was just too long and too slow. Still not bad at all, plus it allows for the angle to continue. I just wish the match was more engaging.
Cage match had a lot of weird posturing throughout. Both started off by trying to sneak their finisher immediately, and then we got a fairly mediocre match with a couple interesting spots. The match picked up towards the end, but not because of in-ring action, but because of ring positioning. Dolph hit a Superkick and nearly kicked Kofi out of the cage. From then on it was a cat and mouse game of trying to escape the cage. Dolph looks like he's about to win, but Kofi literally dives out of the door and hits the floor before Dolph to retain.
So, umm…where to start. I did like the fact that Corbin picked Lacey as the referee. I saw a fan theory that said he should pick Charlotte for similar reasons, and it was clever. Also, Lacey constantly changing the rules to the match was reminiscent of Baron being GM (good or bad is for you to decide). But aside from that, this was just overbooked to the point of being a chore. With Becky coming in to take out Lacey and John Cone being the substitute referee, this whole match were nice call backs. It was still rough to sit through even though I could see the moving pieces. But yeah Becky and Seth walking out hand in hand was the cute babyface victory moment.
Overall Score: 6.75/10
The show started off really well with a great Cruiserweight match and was really good up until Roman versus Drew. It's a little sad to say the show lost points because of the main and semi-main event matches, but it really did end awkwardly.
I would say the show was better than most people expected, and better than it had any business being since the lead in was so lame. So all in all, I was fairly entertained by the show. Above Average, just a sad away from Good because of the final stretch. Also let's not understate Drew Gulak winning is totally the right call! I may pay closer attention to 205 Live now.