Carroll: Don't Sleep on Shane vs Miz at WWE WrestleMania
Are you excited for this match? You should be!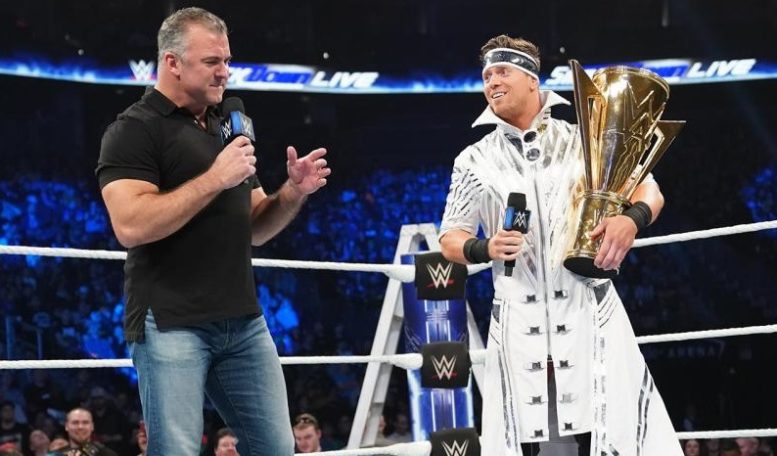 Kevin Carroll checks in on the match you shouldn't sleep on at WrestleMania: Shane McMahon vs. The Miz!
The beautiful thing about this stupendously large WrestleMania card is that it offers up a little something for everyone. You have your big stories like the women's triple threat match featuring Ronda Rousey, Becky Lynch, and Charlotte Flair. Or the Kofi Kingston vs. Daniel Bryan story. You have your nostalgia pop for Batista vs. Triple H, a match that I'm looking quite forward to myself. And you have your technical bouts like the cruiserweight title match between Buddy Murphy and Tony Nese.
With 15 matches on the card, everyone's got something to look forward to, is the point I'm trying to make. Maybe you're all in on the story being told between Randy Orton and AJ Styles, or you just can't wait to see Kurt Angle wrestle one more time against that dastardly Baron Corbin.
Might I make a suggestion, though? Because, while I'm always looking forward to Mania from top to bottom, there's one match on this year's card that I may be looking forward to more than the rest, one that you may not expect.
Shane McMahon and The Miz. At WrestleMania.
I know, I know, this match isn't nearly as big or important as, well, any of the matches I've listed above. But I'm giving this clash my official stamp as a potential show-stealer this weekend. You heard it here first ladies and gentlemen, Miz-Shane will be a big player in this stacked WrestleMania lineup.
Just look at how good this story has been, dating all the way back to the Crown Jewel pay-per-view in November. From the moment Miz went down and was unable to compete in the Best In The World tournament, the WWE has slowly been planting the seeds for this feud. We've seen them as besties, we've seen them as tag champs, and now we're seeing them as bitter rivals, the whole story has come full circle.
I know a lot people have taken exception to the Miz's work as a face in this feud, but what's not to like? The man is driven, determined, and a man who works his ass off to be the A-Lister that we all know and love. And we do love him, the man gets cheers everywhere he goes, so what's the matter with portraying a more likable version of himself? I don't see the problem.
And besides, Shane McMahon was born to play a heel. It's literally in his blood, just take a gander at that last name. At their core, the McMahon family are all best utilized in villainous roles, and getting Shane          on that side of the spectrum was the right move long-term. It was kind of strange seeing Shane as the good guy in a family of crooks, especially since we've seen his heelish behavior for plenty of years past, and it always resonated more than when any of the McMahon's are playing babyfaces. It just doesn't suit them.
So we've got the story. We've also got two guys that don't get enough respect for what they're able to do in the ring. The Miz is one of the most improved workers in the whole company, and now that's he working on the face side of the aisle, he'll have more opportunities to shine in the ring.
And Shane? This may be an unpopular opinion, and if so then feel free to direct any vitriol my way on Twitter, but I enjoy watching Shane wrestle. He's capable of some crazy things inside and outside of that ring, and his awkward little jabs are high comedy for this writer.
Plus, I am a sucker for a good Falls Count Anywhere match, probably my favorite stipulation that WWE has to offer. It'll allow these guys to shy away from any weaknesses in their in-ring game, and will also allow tem to take this match all over MetLife Stadium, which is something that I'd personally like to see. We all know Shane's going to do something wild, and we'll see just how crazy the Miz is willing to get in order to put his foe down for the 1-2-3.
Story, talent and stipulation: those three elements stirred together to make the perfect situation. We're getting it in spades with Shane-Miz this weekend in New Jersey.
Keep your eyes glued to this one.