Elisa's WWE WrestleMania 35 Recap and Review
Elisa's live perspective from WWE WrestleMania 35!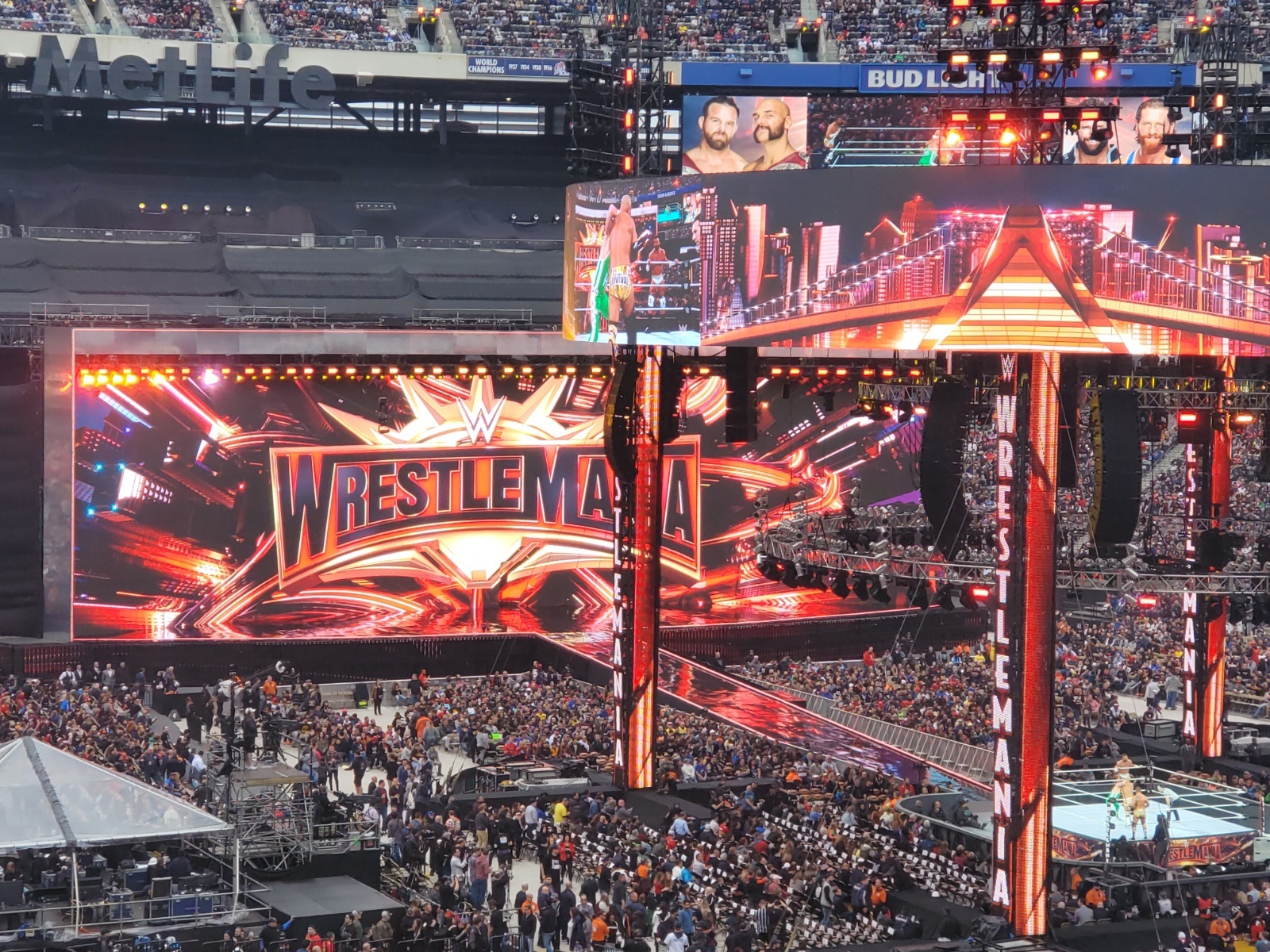 Elisa Maria was live in the building for WWE WrestleMania 35, and now she shares her live perspective with you!
Well, just like that, WrestleMania season is over and what an event it was.  Being at my very first WrestleMania, now I can understand why those who have went told me that there is a big difference from seeing it live than on pay per view. However, my doubts were still there on attending since we have experienced some disappointing WrestleManias in the past few years, but this one did not disappoint overall.  Let's dive deep into my overall review of WrestleMania 35.
One thing is for sure, the tone was set quite early.  The preshow gave us a brand new Cruiserweight champion as Tony Nese, a Long Island Native defeated Buddy Murphy. Quite a shocker since my prediction was Murphy would retain the Cruiserweight Championship.  The third match of the night, fellow Long Islanders, Zack Ryder and Curt Hawkins combined to finally squash Hawkins 269 losing streak and defeat the Revival to be become Raw Tag Team Champions.  I must say the MetLife crowd went crazy for this win, and rightfully so, Hawkins needed a win but to get it on a WrestleMania made it 10 times more special.  Literally the end of the night going into the following morning, as the Kickoff and the feature card event lasted about 7 ½ hours combined, saw almost every genuine baby face and fan favorite wrestler winning their respective matches.  The dominate theme of good overcoming evil as they would describe it in my childhood days of watching wrestling opened a new path toward the future of wrestling.
As the feature event began, we were treated to a not-so-predictable first match of the night, as the WWE Universal title between Brock Lesnar and Seth Rollins kicked off WrestleMania 35, and just when you thought Brock Lesnar would actually win the match, Seth came rising with the help of a nice low blow and stomped Brock, not once, not twice but THREE TIMES, to finally win the Universal title and dethrone a reign that the WWE Universe has been long waiting to see end.  The energy at MetLife was insane and crazy as fans even myself could not believe WWE actually gave us what we wanted in this match.  Fear had loomed in the days before WrestleMania that Brock will retain the title as he just recently signed a brand new WWE deal and with that it seemed inevitable that Lesnar will win it.  But, oh BOY, he did not.  It was a moment that I felt WWE needed to give their fans after the disappointment with bookings and storylines in the past year.  This is what we needed, and most importantly what the WWE needed. But that did not stop there.
---
Elisa looks great in her Chairshot t-shirts. You can too!
Get yours at https://www.prowrestlingtees.com/related/thechairshot.html
---
Some matches that I was almost certain I knew who would win, did not win.  The Miz versus Shane McMahon was one of those matches.  It seemed after all the hype and drama to turn The Miz babyface coming into WrestleMania, then to have Shane McMahon win the match in a surprising fashion, was WOW to say the least.  It was almost confusing as to where this storyline will go next for both characters.  Another shocker was the Women'S Tag Team title match. I predicted Sasha and Bayley retain but never expected to have The IIconics to win their first tag team titles.  This was another confusion as we have not seem much of The IIconics leading up to WM 35. I have not seen them much to make much of a judgment on whether they are "bankable" in being champions but  I am interested to see what they have to offer here and what WWE has planned for them.
Another delightful shocker that I never thought WWE would give us is Kofi Kingston prevailing over WWE champion Daniel Bryan. Kofi winning the title reminded me of Randy Savage's WrestleMania 4 celebration but it was even more special to see his children in the ring celebrating along with the New Day members.  I cannot describe the energy at Metlife. It was a deafening roar that explode throughout the stadium.  I even saw people crying because of what his win meant overall.  It was truly a WrestleMania moment that I have not seen since Daniel Bryan's underdog win at WrestleMania 30.  It was an amazing experience to witness something so special like that for a wrestler, who truly and I mean truly deserved it.  The storyline and the hype was well built by the WWE creative team.  And I am happy they decided to do the right thing and give someone like him a chance.  His win opens up opportunities for superstars who are not necessary a Brock Lesnar or Roman Reigns type A wrestler, that if you can work hard on your wrestling skills and technique, you can win the crowd over. And boy did he impress.
Finn Balor's win over Bobby Lashley for the intercontinental championship even though it was predicted, it was still nice to finally see Finn as The Demon. It has been a longtime coming and what an amazing entrance he gave. I actually also enjoyed the match even though it was fairly short.  I felt the Finn and Bobby's match impressed me more than other matches of the night (Triple H vs. Batista).  Finn actually wrestled differently and showed some strength to prevail and win the Intercontinental championship for the second time. I hope to see the Demon more often after that performance.  Let's face it, Finn deserved his WrestleMania moment.
And now there's Becky Lynch, the lass-kicking "Man" from Dublin, Ireland, who sent millions off to bed believing dreams can come true when you wish upon a star and fight your way back from a devastating cranial-nerve injury and a several-year journey through the soul. The first women's WrestleMania event began at roughly the stroke of midnight and concluded 23 minutes later with what has most accurately been described as a "shitty" ending. But as we say, the right kid lived, right?.
Lynch's triumph—and by extension, Kingston's and Rollins's and all the rest—is an enormously instructive turning point for WWE, which necessarily outgrew its roots as a send-'em-home-happy promotion two decades ago, but forgot how to find its way home when it mattered most. And when it comes to WrestleMania, even the most opinionated wrestling fan wants a happy ending. But at least, these are baby steps for now. We have to see what this means for the superstar shake up to happen next week.  Overall, as a wrestling fan, we have not had moments like this in a longtime and to be there to witness such surprisingly good moments, is a refreshing reminder that maybe the WWE is listening to its fan base. I literally enjoy what this WrestleMania brought to the table and I am truly optimistic to see what happens next.  Overall A- score.
Until next time, farewell fans.
---