Joe's Lucha Libre Weekly: News & Analysis (4/22/19)
The world of Lucha Libre can be insane and overwhelming–but you have Joe Dinan here to help you make sense of it all!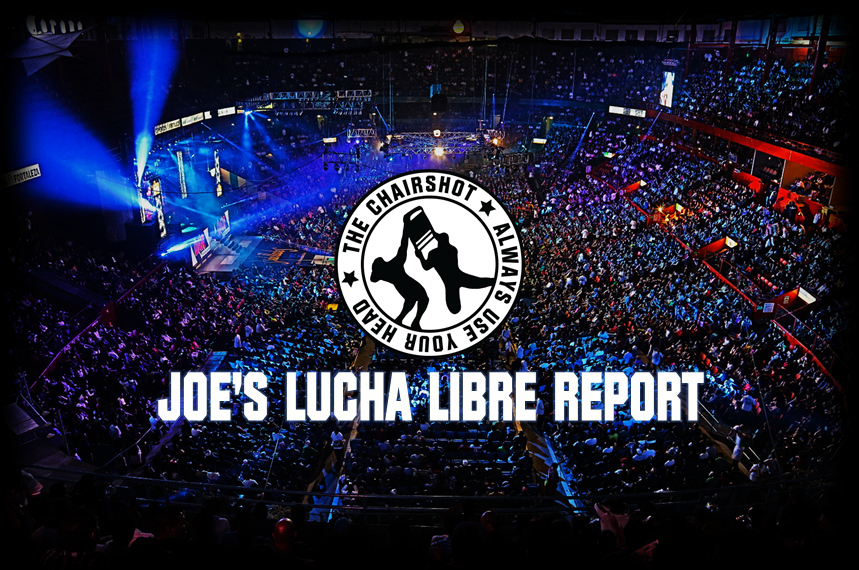 The world of Lucha Libre can be insane and overwhelming–but you have Joe Dinan here to help you make sense of it all!
CMLL
Arena Puebla and Arena Mexico Tuesday
I did not watch either of these shows, truth be told on weeks that I'm too busy I'll probably skip Tuesday at least. Not that I plan on always skipping them but sometimes duty calls in life and Friday is really the only televised show CMLL cares about. CMLL current has what I call WWE syndrome, in the sense that they have a comfortable business right now. They were struggling a little last year until LA Park and the Lucha Brothers came in for a summer tour basically. Cibernetico, El Zorro, and Charley Manson coming in helped to an extent too but not the same. So ever since then CMLL has enjoyed very nice attendance so they don't feel the need to put in a desperate effort. Which is what happens sometimes. Wrestling companies all go through that period once in a while so I'm sure they'll eventually be back to high quality things. But right now it's AAA giving high quality. So on the Monday Puebla show they set up a Police Man vs King Jaguar hair vs hair match which will be this Monday. I can't imagine most are interested but these guys probably wanna do something. And nothing of significance happened on Tuesday. Nothing usually ever does.
Arena Mexico Friday
Volador and Ultimo Guerrero successfully won Block B and will face Titan and Cavernario next week. Or this week. Depends when this drops. It will be a good match. Block B was definitely a step down from Block A as far as quality wrestling goes. There was a lot of brawling and similar finishes here in Block B. That's really all that's going on.
AAA
So some of this AAA news involves MLW and Impact so I'm going to put it all here because there's no point of typing it twice.
AAA has two shows this week, one on 4/26 and 4/28. I won't be watching the one on 4/26 live because Avengers Endgame is calling. But the line ups look like this for 4/26, Psycho Clown, La Parka, and Puma King vs Rey Escorpion, Texano jr, and Chessman. Laredo Kid and Brian Cage vs Taurus and Daga. Poder de Norte vs Sammy Guevara, Jack Evans, and Australian Suicide. 4 way match with Golden Magic vs Hijo Del Vikingo vs Villano III Jr vs Flamita. Taya and Faby Apache vs Chik Tormenta and Luchadora surprise. Lady Maravilla and Black Danger vs Big Mami and Nino Hamburguesa.
For the 4/28 show it looks like, Psycho Clown, Laredo Kid, and Puma King v Rey Escorpion, Texano Jr, and Taurus. La Parka, Golden Magic, and Nino Hamburguesa vs Chessman, Averno, and Dave the Clown. Hijo Del Vikingo, Flamita, and Villano III Jr vs Poder de Norte. Sammy Guevara vs Jack Evans vs Australian Suicide. Faby Apache and La Hiedra vs Lady Maravilla and Chik Tormenta.
So AAA also has shows coming up on May 3rd and May 5th, Cinco de Mayo. But they also have some joint show which I'm not sure if it's going to be on just TV Azteca or on Twitch too. There's no way of knowing until the day approaches cause it's AAA but it's some tournament gimmick between 5 "companies". I use quotes because Konnan is quite literally on creative for all the companies. One company isn't technically even a company anymore. Lucha Libre Elite is a defunct company propped up by AAA to do invasion angles. The other is Aro Lucha which isn't even like, it's own company. The Harris brothers run it with Konnan and they basically use AAA talent and Mexican independent talent. So it's again, basically AAA. Then we have AAA proper, whatever that entails. Then we have Impact and MLW. So at least in theory those two will use their own talent. It's some tournament format supposed to happen on May 2nd. I'll see if I have more information next week before it all happens. Maybe Konnan will reveal more on Keeping it 100 this week.