Joe's Lucha Libre Weekly: News & Analysis
Get caught up on the crazy world of Lucha Libre!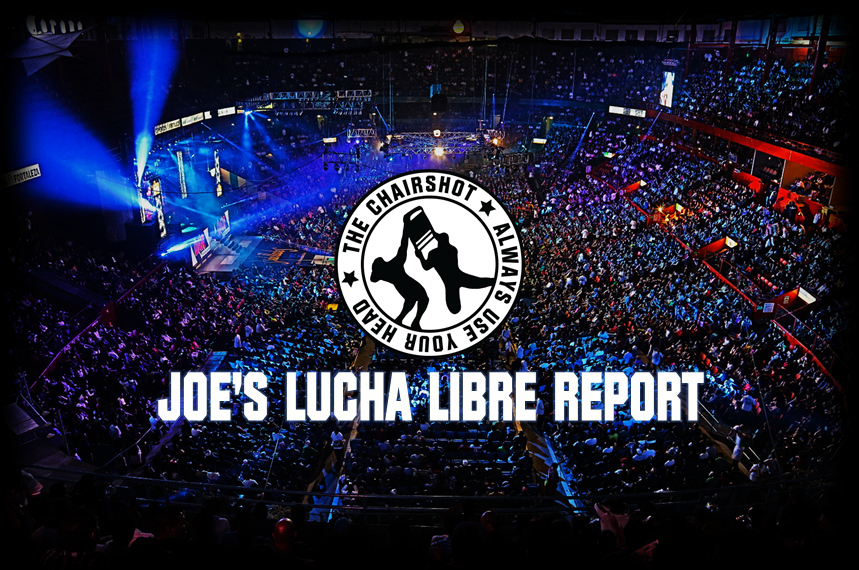 Tons going on in the world of Lucha Libre! Be thankful for Joe Dinan, who brings it to you in one neat little package.
We have a lot of news this week, so much so that I had to delay this. I will talk about the developments in CMLL and AAA. And I'll talk about the indy shows I went to.
CMLL
So some small news is CMLL's TV deal with Televisa means they're gonna be on Univision Deportes in America on Thursday I believe on Thursday night/Friday morning at midnight and a repeat at 5am. So there's that. Now you all can watch CMLL or something of it on Tv. Well you could watch it on Youtube anyway but hey the Tv industry is dying like some people believe since streaming numbers for CMLL on youtube or AAA on twitch aren't truly that large. At all.
Arena Puebla Monday
Volador faced Gran Guerrero for the main event in a pretty good match where Volador hit a canadian destroyer for the win. The co-main event was a weird match with a mix of rudos and technicos, Caristico, Ultimo Guerrero, and Bestia del Ring facing Mephisto, Valiente, and Euforia. The former won in an okay match. It's a weird dynamic that they seem to like to do on the Puebla Shows.
Arena Mexico Tuesday
Sanson, Cuatrero, and Forastero faced Angel de Oro, Niebla Roja, and Soberano in the main event and this was a Friday caliber main event. This match was super good and the crowd threw money in the ring afterwards which is a rare thing on Tuesday. It appears they're setting up for another match. Los Guerrero's defeated Titan, Triton, and Guerrero Maya in the co-main event in a good match that Los Guerrero's won. Templario defeated Rey Cometa in a lightning match.
Arena Mexico Last Friday/This Friday
The big thing about last weeks show was Naito was there and Los Ingobernables rejoined and they won their match and there's that. This week we had El Terrible, Gilbert El Boricua, and Bestia beating Caristico, Volador, and Valiente in what was a bad match I'd say. Certainly not as good as the Tuesday main event. In the c0-main event Atlantis, Atlantis Jr, and Titan faced Mr. Niebla, Negro Casas, and Cavernario. Now this was a fun match and should have been the main event. The latter won this match but it was very good. Atlantis Jr is impressive to me. Hechicero lost to Felino in a lightning match.
AAA
The big news out of AAA is that they are running Madison Square Garden on September 15th. The tickets will go on sale on Cinco de Mayo, May 5th for us uncultured people on Ticketmaster. They're expecting a fly in crowd for Mexican Independence day and are relying on being an entertainment portion for that crowd. I will obviously be attending that so I might be one of the few non Mexicans there. By then I will have a Psycho Clown shirt, trust me. Also there will be little AEW talent on the show. Could be one guy, and if i had to choose I'd choose Jericho. Cain Velasquez might be on the show as well. They seemed to set up Taya vs Tessa Blanchard for this show.
AAA on Twitch 4/5
So there was a random cage match in the main event which makes sense when you realize Konnan wasn't there to control the booking. Psycho Clown and Dr. Wagner beat Blue Demon Jr and Rey Escorpion. They furthered the angle with Demon and Wagner. It seems like they're positioning Rey for a main event spot. Pagano and Joe Lider took on La Mascara and Texano in the co main event. La Hiedra is now replacing Hijo del Fantasma in the Mercenaries. Texano Jr and La Mascara won the match. They continued the angle with Nino Hamburguesa and Lady Maravilla in an earlier match. This build up has been longer than any WWE feud. The Latin American title was defended in a 5 way and Drago retained. I believe their next tv taping is on the 26th.
Here & There
(Note: Some spots contain MLW tv tapings spoilers. So skip the first two paragraph for MLW spoilers.)
So I went to MLW, Stardom, and MLW again but I also purchased the Fite Fest and GCW collective. I watched both Joey Janela's Spring Breaks. I watched two wrestlecon shows so far and then some other things. Some highlights from MLW on Thursday, Jacob Fatu is great, however, the amount of time they played their theme song for those in the building was absolutely dreadful. Teddy Hart did an insane doomsday canadian destroyer off the top rope off of somebody's back. Minoru Tanaka and Daga had a really good match. Gringo Loco and Puma King had a great match. Gosh I love Puma King. Air Wolf defeated Fenix in a surprise win. LA Park beat Pentagon in the main event in an incredible match. I do not understand how LA Park can do this at his age but he is legitimately one of the best in the world. Tom Lawlor defended his title against jimmy Havoc. I think this match was shown on the Friday tv showing.
The Battle Riot show saw LA Park winning the battle riot. Gotta push that young talent. Lol. So it seemed like on the tv tapings the first 30 minutes was live but the next 30 minutes was the Lawlor Havoc match. Then live again for the Battle Riot. They did some middleweight championship qualifying matches. Teddy Hart faced Ace Austin for the belt on the show. After the Battle Riot show ended they did Jacob Fatu and the other contra guy vs Ace Romero and Barrington Hughes in a quick tag match. Jacob Fatu and contra ran a shoot like angle during the battle riot where they were gonna set 3 wrestlers on fire previously and a bunch of backstage officials ran out to make them leave. Low Ki and Daga faced each other next and I think they thought the tag match would be a come down for the Battle Riot but it wasn't long enough so the Low Ki Daga match which was technically good was affected. Crowd was super tired. In the main event of the tv taping LA Park faced Sami Callihan in a death match which had a lot of interference probably because Jimmy Havoc was supposed to face him but I guess he couldn't due to the match with Tom yesterday.
Stardom was super fun. The girls there tried speaking English as much as they could to communicate with the crowd. It really was super cute and they were so thankful. Hana Kimura was easily the most over on the show as a single person, Oedo Tai the act was over because of their cool entrance. I judged all this by the cheers and the amount of streamers thrown. I was standing near the guard rail the whole time so I'm sure I was caught on camera some. Hard to miss me, I was standing next to a guy in a wheelchair. I think I'm interested in continuing to watch Stardom.
Obviously I was at the G1 supercard. The most of this show was pretty good. Well, the New Japan portion was. Rather than impress with wrestling which is ROH's forte they decided to go very angle heavy. The women's match probably shouldn't have been on the show and to top it off they ran an angle after. They ran an angle and a long segment with the Bully Ray street fight. The crowd was there to see New Japan. Ring of Honor guys barely got reactions. Bully Ray got a good ECW chant and Colt Cabana got a great reaction. I thought the ROH Title match was good but just way too long. Kazuchika Okada vs Jay White was great to me.
Some spot stuff from indie shows I watched. I enjoyed the Bryan Alvarez Orange Cassidy match. Rock N Roll Express vs LAX was super cool. Ricky Morton hit a Canadian Destroyer. God bless those guys. LA Park vs Masato Tanaka in that tiny ring at Spring break was fun. The clusterfuck battle royal was cool. A guy called No Legs who has… No legs worked on day 1 and did some super impressive shit. He did awesome stuff in the battle royal too. He is legitimately impressive. If Joey Ryan can make it with his penis stuff then No Legs can make it. Get on it AEW. The Bloodsport show was cool as well. I haven't watched every show yet but I'm gonna try to, since I purchased it.