Joe's Lucha Libre Weekly News & Analysis
Keep up-to-date on the world of Lucha Libre!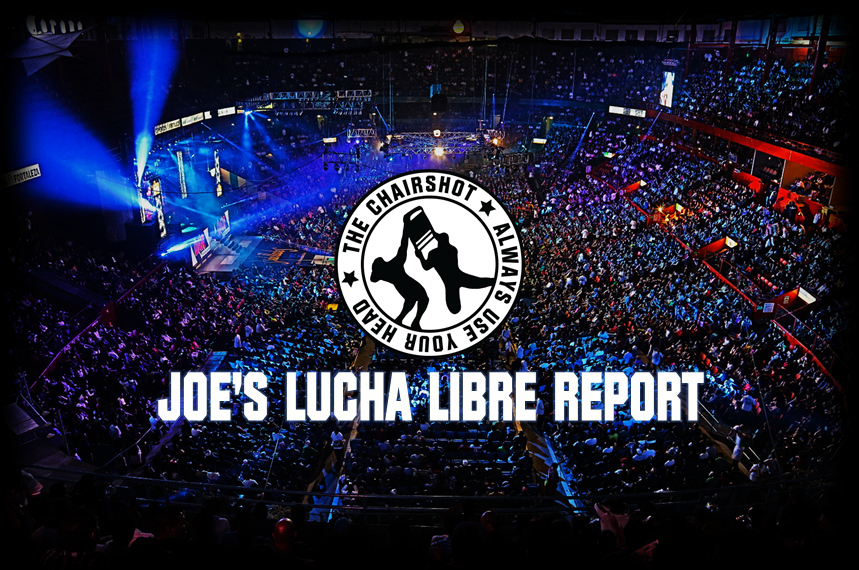 Joe keeps you updated on all things Lucha Libre!
CMLL
Arena Puebla Monday
Caristico, Cuatrero, and Sanson faced Volador, Mephisto, and Ephesto in a fun little match which saw the latter winning. King Jaguar faced Police Man in a hair vs hair match which had barely any heat on it. King Jaguar won though. Titan, Guerrero Maya, and Stigma faced Shocker, Bucanero, and Templario. The latter won the match.
Arena Mexico Tuesday
This was a super fun Tuesday show which is unusual. The main event was Rush, Caristico, and Titan against Los Guerrero's. Los Guerrero's won the match with shady means. Caristico was upset with Ultimo Guerrero so they'll face each other eventually. Blue Panther, Kraneo, and Audaz faced Sanson, Shocker, and Bucanero faced each other which saw the latter winning. There was a super fun Lightning match that Rey Cometa beat Templario in a very fun match.
Arena Mexico Friday
The winners of the Parejas tournament are……. Titan and Cavernario! So CMLL finally put some young guys over but are they overshadowed by Volador and Ultimo? Ultimately they won because Volador and Ultimo clashed and attacked each other for a moment in the match which eventually helped them lose. Maybe they're building that up for the Anniversary show. It's good that Cavernario and Titan won though. The co-main event was a super fun tag match with Angel de Oro, Niebla Roja, and Soberano, a fun trio facing Mascara Ano 2000, Cuatrero, and Forastero. Los Dinamitas, the latter, won the match and it was really good. Valiente beat Hechicero in a lightning round. Atlantis and his son teamed up with Triton to defeated Los Hijos del Infiernos. It was a fun show.
AAA
So the ratings, or viewership numbers rather for AAA television have been fantastic ever since they've gotten on Azteca TV. They are usually in the 4 million range but this past week the Young Bucks vs Lucha Bros match aired and got over 5 million viewers. There are a lot of factors too, because Psycho Clown's match was on the broadcast too, but the main event was the Bucks vs Lucha Bros which means it was either the draw or intriguing enough to retain the viewers. A combination of the Lucha Bros, who have evidence of being draws due to the help they and LA Park gave to CMLL's business last year, and Psycho Clown who is AAA's biggest star and the Young Bucks who are EVP's with the company AAA is working with, AEW. It's a good sign for all involved and by far the biggest audience the Bucks have wrestled in front of on Tv. Hell more so than most guys in WWE for that matter.
Live on Twitch 4/26
Psycho Clown, La Parka, and Puma King defeated Rey Escorpion, Texano, and Chessman in the main event. There was a ton of interferes and Killer Kross attacked Puma King which led to Puma King challenging Kross post match to a match at the next taping. It feels like Taurus is being aligned with Los Mercenarios along with Hiedra which is more confirmed next show. Poder del Norte faced Daga, Jack Evans, and Australian Suicide in the co-main event. It was an interesting match since it was two clearly defined heel teams. Poder del Norte was out interfering in the previous match up to set up things with Laredo Kid and Hijo Del Vikingo. Laredo Kid and Brian Cage lost to Taurus and Killer Kross in that match. Vikingo won a fun 4 way match for the number one contendership for Laredo Kid's Cruiserweight championship over Golden Magic, Flamita, and Villano III Jr. They continued the feud with Big Mami, Nino Hamburguesa, and Lady Maravilla. Nino is enamored with her.
Live on Twitch 4/28
On this show Psycho Clown and Laredo Kid faced Rey Escorpion, Texano, and Taurus in the main event. Their original partner was Puma King but Killer Kross killed him in a previous match earlier in the show. So mid way through the match Hijo Del Vikingo came running out. La Hiedra was constantly interfering during this match. Psycho Clown's team won but were attacked afterwards and they went for the masks but La Parka came out and helped. In the previous match which went very long La Parka, Nino Hamburguesa, and Murder Clown defeated Averno, Chessman, and Dave the Clown. The match went way too long in my opinion but the crowd was super into it. Before that match the aforementioned Killer Kross basically destroyed Puma King in a match. Kross had a face paint gimmick on and new theme music. Konnan is trying super hard to get him over. Poder del Norte defeated Vikingo, Golden Magic, and Flamita in a fun match. Poder del Norte tend to bend the rules some and it helps them. Jack Evans won a fatal four way match featuring Taurus, Australian Suicide, and Villano III Jr. I'm unsure if this was for an opportunity at Laredo Kid's belt. But the female match to start the show was for a chance at Shani's title. She came out and announced as much. Chik Tormenta won the match against, Lady Maravilla, Faby Apache, and La Hiedra.
Future Shows
Azteca TV is taping a show on May second which won't be on Twitch apparently. Maybe I'll use a VPN to watch whenever that show airs because it looks good. But they have tapings on May 3rd and May 5th on Cinco De Mayo. Here's a reminder that on Ticketmaster (I think, will correct if wrong) AAA tickets for their MSG show on September 16th go on sale. I'll be sure to get some. Anyway the top matches this week are for the May 3rd show, Dr. Wagner Jr and Pagano vs Blue Demon and Texano Jr. Psycho Clown vs Rey Escorpion in a rare singles match. On May 5th the top matches are, Psycho Clown, Dr. Wagner Jr, and Pagano vs Rey Escorpion, Texano Jr, and Chessman. Brian Cage, Drago, and Golden Magic vs La Mascara, Taurus, and Monster Clown. I can say Brian Cage won't likely be on that show since he hurt his back at Impact. I'm sure they'll want their new champ to rest.