Mathew's AJPW Champion Carnival B Block Results & Review: Part 3
Another few days, Mathew brings us another part of the Champion Carnival! All Japan's biggest tournament of the year keeps churning in quality! How is B block going?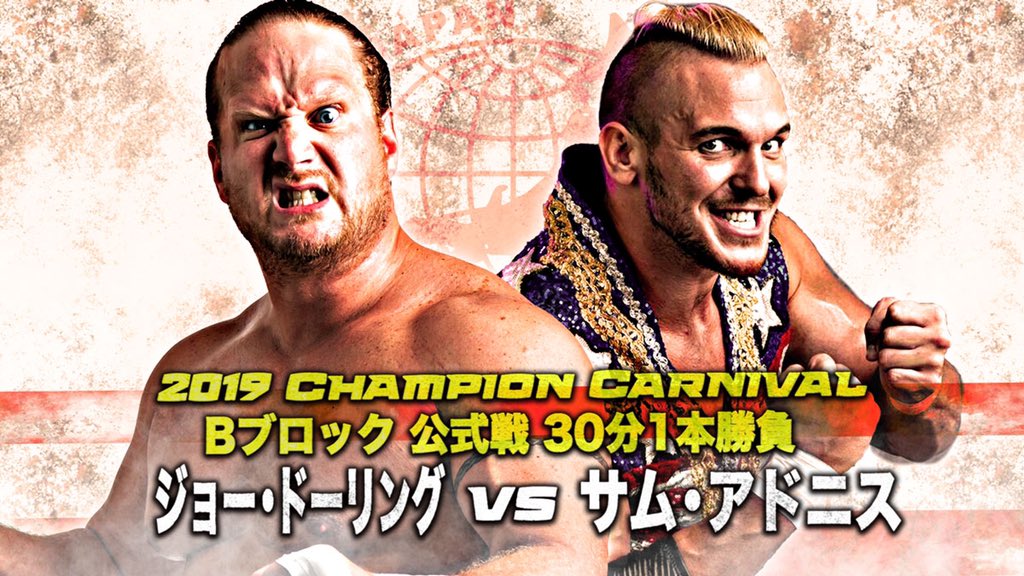 Another few days, Mathew brings us another part of the Champion Carnival! All Japan's biggest tournament of the year keeps churning in quality!
Welcome back to the Carnival, as we look at the next three shows for the part of the ongoing tournament.
The last part had a lot of solid matches and some nice victories that changed the game a little bit. As we get a little bit closer to the finals, the standings for this set of matches should be interesting.
Will Yoshitatsu remain the only one undefeated now or someone breaks that? Let's see who will move up or down in the standings as we…dive right in.
Rating System:
0 Stars: Dave Meltzer
1 Star: Vince Russo
2 Stars: Tony Schiavone
3 Stars: Eric Bischoff
4 Stars: Bruce Prichard
5 Stars: Jim Cornette
4/11/2019
Champion Carnival B Block Match
Jake Lee vs. Yoshitatsu
Review: Our first match for this show is Jake Lee taking on Yoshitatsu. Jake Lee was recently able to get his first win when he defeated Joel Redman. Yoshitatsu is currently the only one undefeated when he won against Suwama at the last show. Jake would need to have another win here to move up while Yoshi winning would move him to the top spot. Can Jake get another win or will Yoshi remain undefeated?
Yoshi, I know you spent money on Hunter Club gear and I'm sure you're very proud of yourself but I think you should let that go. You're not in New Japan anymore, no real need for it and just move forward. Anyway, I thought this was an enjoyable match but if I had to nitpick one thing, it would be that I wish there was a lot more intensity in the match since you kinda felt that when they had a tag match in the last big show I did for them and it didn't feel like a grudge match or anything for the first half of it. Yoshi having good matches back to back is a very pleasant surprise and I hope that momentum keeps on going as we go forward with the tournament. The chemistry between them was a really nice touch with a great showing by both these men. Jake psyched Yoshi out with a punch to the gut and ran towards him only to get caught in a Koji Clutch which Jake rolled him up for a two count. Yoshi would eventually hook the Koji Clutch all the way after countering his Backdrop and it looked like he had him tapped but Jake answered the referee, making him break it up and pin him for a two. Jake would deliver two knees to his chest before hitting the Backdrop Driver to get the three count, ending the only winning streak we had for B Block.
Rating: Eric Bischoff and a half
Champion Carnival B Block Match
Suwama vs. Sam Adonis
Review: Our next match is Sam Adonis taking on Suwama. Suwama recently lost to Yoshitatsu but he's still in a good position with only one win and one loss as he still has time to bounce back. Sam currently has zero wins and two losses, so he would need to get a win here if he would wanna stay in the game a little longer. Can Suwama bounce back or does Sam sweep his chances under the rug?
Suwama is a great opponent for Sam as they have similar styles, making it easier for Sam to work with and show more of what he could do in the ring as he gave a much better performance here than his previous match against Joel. They were able to showcase enough power and strikes to make it rather engaging for the audience who are fans of this type of style, to begin with. It also shows how helpful Suwama can be with his opponents to help make them look good while bringing out your potential as the match progresses. Sam would get Suwama down with a few hits such as the Blockbuster and even lifted him for a Running Powerslam as Suwama was still able to kick out and gets frustrated as he goes to grab a chair for later. Suwama would attempt another Last Ride after failing the first time as Sam would use a dirty tactic of biting his fingers to make him let go as he grabbed the chair to try and strikes him, but Suwama grabbed it and threw it to the side. When the referee wasn't looking, Sam would hit him with a low blow and roll him up for a two count. Sam isn't done as he hits a Lariat and a modified Brainbuster it looked like as he shocked the fans by picking up his first win in the tournament. More of this Sam and he'll be in good shape.
Rating: Eric Bischoff and a quarter
4/13/2019
Champion Carnival B Block Match
Naoya Nomura vs. Joel Redman
Review: Onto the next show as the one opening this up is Naoya Nomura taking on Joel Redman. Nomura recently suffered his first loss when he fought Joe Doering but he's still in a good spot as he's still in first place with the three wins he already has under his belt. Joel recently got his first win when he defeated Sam Adonis and he now has a chance to climb up the ladder a little bit more if he can take Nomura down here. Will Nomura get another win and secure his spot or will Joel pull him down a bit?
I see Joel went back to his better gear than his previous one, thank goodness because he looks a lot better without the singlet. Speaking of Joel, he delivers another great performance in his match against Nomura who also performed just as great as Joel did. Joel was able to do arm manipulation once he threw Nomura into the turnbuckle to know where he needed to take the advantage over him. Nomura did great selling the injury and getting the crowd behind him when he hits Joel with the Spear to try and get momentum back on his side. Nomura would be able to hit a Northern Lights Suplex and another Spear with a roll-up as Joel would still kick out of it. Joel was able to catch him into the Fujiwara Armbar and it looked like he had him ready to tap but Nomura would grab the ropes. Joel saw him going towards the apron and hits a Suplex from the other side and catches him for a Spinning Tombstone and Nomura would still kick out of it, but he quickly turned it back into the Fujiwara Armbar and Nomura tapped out! I know it's been 7 years since this match happened, but I would love to see Joel Redman fight Zack Sabre Jr again, like immediately.
Rating: Eric Bischoff and three quarters
Champion Carnival B Block Match
Suwama vs. Takashi Yoshida
Review: Our match to close our block for this show is Takashi Yoshida coming back as he takes on Suwama. Suwama has one win and two losses while Takashi is one win and one loss as of right now, so they're pretty much about even right now. Suwama would need to win the match here though if he can stay in the game. Which one of these two giants comes out the victor in this brawl?
I wasn't too fond of the first half of the match due to it being a little bit clunky and the fighting around the outside of the arena dragged on a little bit longer than it needed to, plus the camera angles for most of it didn't help out at all. Outside of that though, the middle of the match was a lot better than I highly anticipated since you got two giants duking it out as best they could with the throat thrusts, Lariats, and a Powerbomb from Takashi along with other power moves. While I'm still not a big fan of Takashi, he has been performing in this tournament much better than anticipated since he used this time to actually showcase his move set properly. Suwama was also able to help Takashi out in the match to make him perform better like how he did with Sam the previous night.
Takashi would have Suwama in his clutches as he hits him with a Diving Elbow Drop for a two count and would do his throat thrusts with a Lariat as Suwama would counter the Lariat with a Lariat of his own on his arm. Suwama would be able to hit the Backdrop and Takashi would be able to kick out of it and Suwama wants to call for the finish when he sets him up for the Last Ride. Once he had Takashi up for the Last Ride, he would just drop him down without doing the full move and I'm not exactly sure what happened there. Suwama would pick him up instead of pinning him as he hits one more Backdrop to get the pinfall victory in a solid match but sloppy beginning and end.
Rating: Eric Bischoff and a quarter
4/14/2019
Champion Carnival B Block Match
Joe Doering vs. Sam Adonis
Review: Our final show for this article as our opening match is Joe Doering taking on Sam Adonia. Both of these men are currently with one win and two losses under their belt, meaning one of them is going to have to suffer a third loss and be in a rather bad position with the standings. Which one of them will be in last place?
The first minute or so was basically Sam hiding behind the rope so he wouldn't be touched as you have Joe waiting by the ropes, not having any of his crap today as he just wants to beat him up. Which is exactly what he does do when they're outside of the ring for a couple of minutes as the two were back and forth, but it was mostly Joe that was getting the upper hand. Joe got him back in the ring as he would look to put him away as Sam would distract the referee long enough to kick Joe in the dick and down goes the giant. Joe is unable to move as Sam would pin him down to get the pinfall victory, leaving Joe in last place with three losses.
Rating: Tony Schiavone and a quarter
Champion Carnival B Block Match
Joel Redman vs. Takashi Yoshida
Review: Our final match for this set of matches is Joel Redman taking on Takashi Yoshida. Joel is even right now with two wins and losses while Takashi only has one win still but with two losses, meaning things aren't looking so hot for Takashi right now. Is Joel does win here, then he'll be in first place next to Naoya Nomura and if Takashi wins, the majority of them will all be tied up except for Joe and Nomura. Which one of them will get the victory?
It's so weird seeing Takashi trying to chain wrestle Joel at the beginning of the match and the shocking part of it is him doing it well on top of that, scary sight if you ask me. Joel is, of course, more technically sound compared to Takashi, so of course, he would win this part of the bout. Takashi performed a lot better here than he did in his previous match with Suwama from beginning to end while Joel keeps on proving his worth with all the matches he's been in. Joel would give Takashi a couple of kicks to take him down before he does his Diving Knee Drop off the top rope for a two count. It looked like Joel was gonna go for the Spinning Tombstone but Takashi would fight out of it to pick him up as Joel gets off him to go for a Backslide with Takashi kicking out. Takashi would hit the Kong Lariat to knock him down and Joel would still kick out, leaving Takashi frustrated and would pick him up to hit the Cyber Bomb as he gets the victory over Joel.
Rating: Eric Bischoff
Overall: Aside from one match, the rest of the show was solid again as usual as I'm very happy with my results so far as it comes to the quality of the matches with an exception for a couple that happened. Our next set of shows should give us a better assessment to see where people stand and who will have no chance of making it.
Favorite Match: Joel Redman vs. Naoya Nomura
Least Favorite Match: Joe Doering vs. Sam Adonis
Score: 7/10
Current Standings:
Naoya Nomura: (3-2) (6 Points)
Yoshitatsu: (2-1) (4 Points)
Daichi Hashimoto: (2-1) (4 Points)
Suwama: (2-2) (4 Points)
Jake Lee: (2-2) (4 Points)
Joel Redman: (2-2) (4 Points)
Takashi Yoshida: (2-2) (4 Points)
Sam Adonis: (2-2) (4 Points)
Joe Doering: (1-3) (2 Points)