(NOAH) WEEKLY NEWSLETTER VOL.32~ 28TH APRIL 2019
NOAH Global Tag League is coming into the home stretch! Hisame updates us on the finer points that may have gotten overlooked this past week.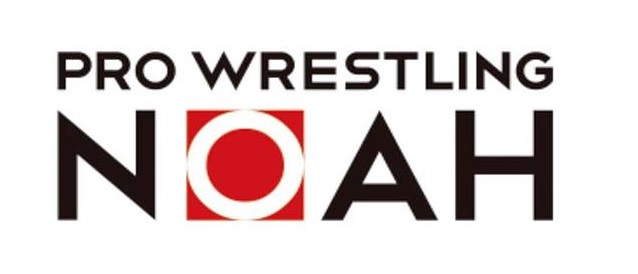 NOAH Global Tag League is coming into the home stretch! Hisame updates us on the finer points that may have gotten overlooked this past week. 
CURRENT TOUR RECAP
NOAH held the first of the final four nights in Sendai PIT on the 27th April.
Quiet Storm returned after suffering a concussion, with the crowd excited to see him return to the ring, and his tag partner Mohammed Yone, with a big grin on his face. Although it is too late now for 50 Funky Powers (or their opponents) The Revolutionary Cloak Heroes (Mitsuya Nagai and the increasingly crazy Atsushi Kotoge), but they still had a fun match.
There was the usual Disco Fever vs Revolutionary Fist Post between Yone and Kotoge.
Katsuhiko Nakajima finally got his revenge against poor old Masao Inoue for pinning him during a Global Tag League match. Nakajima wrote that revenge was "refreshing" and followed it up with a crazy face icon.
The Tough (Masa Kitamiya and Yoshiki Inamura) faced some very tough teams such as The Inferno (Maybach Taniguchi & Yuji Hino) and The Sugiura Army (Takashi Sugiura and KAZMA SAKAMOTO). While they have not been successful in the league, Inamura has been given high praise for how he is progressing. He wrote on his Twitter account that he will never ever stop trying hard and working hard.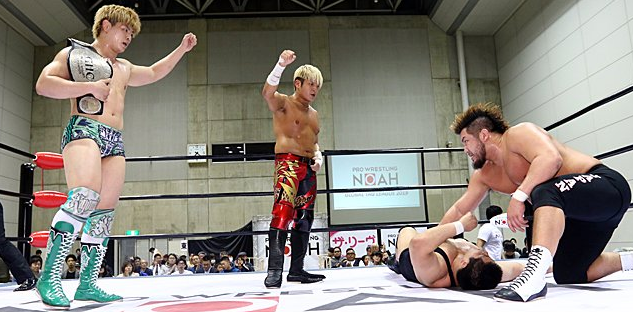 Kenoh took a short break from Global Tag League to concentrate on his primary obsession, Naomichi Marufuji ("Marufuji-kun" according to Kenoh), who he faced in a tag match on the 27th April. Kenoh said that he (Marufuji) had being doing various "themes" as he hadn't entered the league, which Kenoh believed was due to his regret at not being in it, but none of that was going to matter, as Kenoh was going to annihilate him.
Marufuji, (addressing Kenoh as "Kenoh-kun"), said that yes Kenoh was right, he did regret not entering the league, especially as Kenoh had been so exciting.
During the match Kenoh got Marufuji in a heel submission hold, which Marufuji did not appreciate, saying that there was going to be a payback for Kenoh's targeting what he knows to be a vulnerable point of him, especially given his past history with knee and leg problems (mainly caused by his being stubborn).
Kenoh and Marufuji get a chance for revenge when they face each other in an eight man tag at Yokohama Radiant Halls on the 29th April.
As for KAIOH, well they continue their dominance in the tag league, but Kaito Kiyomiya is still getting all the wins. Kenoh will be remembering this, and storing it all up for a later date, when his resentment will explode.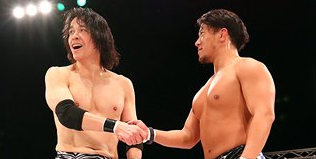 The RATELS vs Stinger situation took another turn when Yoshinari Ogawa shook hands with Daisuke Harada again on the 27th.
Harada smiled, shook it.
Ogawa looked triumphant.
Then Harada yanked his hand towards him and kicked him. Tadasuke then maniacally joined in to kick down Kotaro Suzuki.
Harada posted on Twitter, "I am RATELS".
Kotaro Suzuki was enraged. Not really because Harada had played them all by making them think he was taken in by his enemies and would be persuaded to ditch RATELS, but because he had dared do this to Ogawa, and demanded that the match for Yamagata on the next day be changed to a six man tag, RATELS vs Stinger. Suzuki got his wish and the match was changed, but it went to a double count out of Harada & YO-HEY.
Harada threw a tantrum, and threw a ring barrier at Kotaro Suzuki, who was standing in the ring.
HAYATA naturally made no comment, but Tadasuke said he is feeling more relaxed about the match at Korakuen Hall now.
Personally, I think that Tadasuke is letting down his guard a little too soon, as this story is not over yet.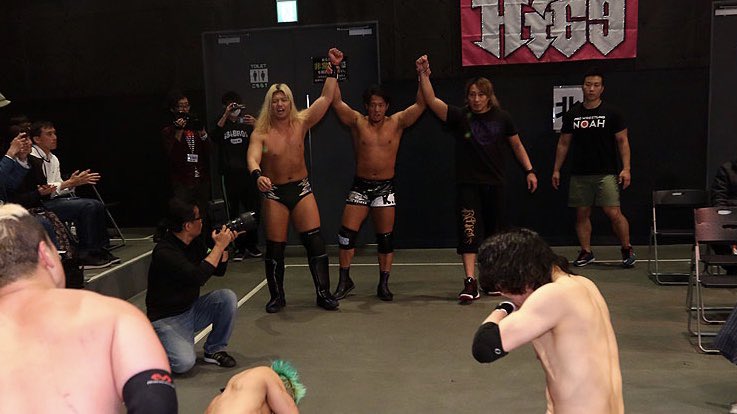 Junta Miyawaki came so close to getting his first win ever when he and Atsushi Kotoge faced The Sugiura Army on the 28th April in Yamagata, but fell to Takashi Sugiura's Boston Crab.
EVENT RECAPS
Full event recap: April 27th ,Sendai PIT
Full event recap: April 28th, Yamagata
NEWS
"COME AT ME YOU BASTARDS" (Kenoh's column)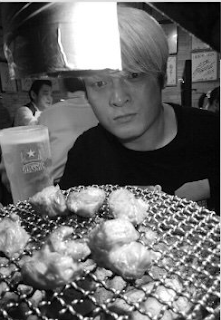 "Kiyomiya chose me as a partner, who has made an idiot of him so often, but he has humiliated me as well, and I'm partnering with a junior. You can see we are not ready to like each other."
The subject of Kenoh's column this time was beer, and we learned some interesting details about his student years from it. Kenoh used to have a part time job when he was a student (he doesn't say where, although at one point he did used to work in an Izakaya (which is often called "a Japanese pub", but in reality is more a small bar which serves snacks), he doesn't say what as though, although probably as either a waiter or as bar-staff), which finished at 11.30pm. When work was over he would rush to a Karaoke bar who did a deal on beer.
DAISUKE HARADA TALKS ABOUT HIS NEXT CHALLENGER (IPW JUNIOR HEAVYWEIGHT)
After defeating Hitoshi Kumano for the IPW Junior Heavyweight title in a successful first defense, Daisuke Harada said that he wanted his next challenger to be British. He would be happy to go over to England, but he would also be equally as happy to see a team from IPW enter Global Junior Tag League (which starts on the 28th May).
IPW's Ben Basden commented on the match and said "Against me it's going to be a whole different story. Trust me on that."
CURRENT CHAMPIONS
TOUR TIDBITS
~ Naomichi Marufuji has spent the past two days stalking Masao Inoue with his camera and photographing him eating an apple, eating curry, reading a newspaper (and fortunately not at the urinal). Takashi Sugiura said something like (in a rough translation) "That's my thing!" Marufuji (who must have been bored on the five hour bus journey as he even started filming his new Michael Jacksonesque jacket) said, "Sugi-chan, it's Masao…"
~ Tsuyochi Kikuchi turned up in Sendai for reasons best left unknown in a bright pink afro wig
~ RATELS did some sightseeing while in Sendai, taking a walk and going to visit the site of a ruined castle which only the mound remains now. HAYATA wanted to see it (and RATELS know to usually give him his own way) and while he and Tadasuke went to read the board next to the mound, Harada stayed behind saying that HAYATA was the one who wanted to go there, but he wasn't going any further as there was nothing there.
~ Kenoh stuck his fist in Naomichi Marufuji's face when doing his pose. He got up from it, and walked across the ring.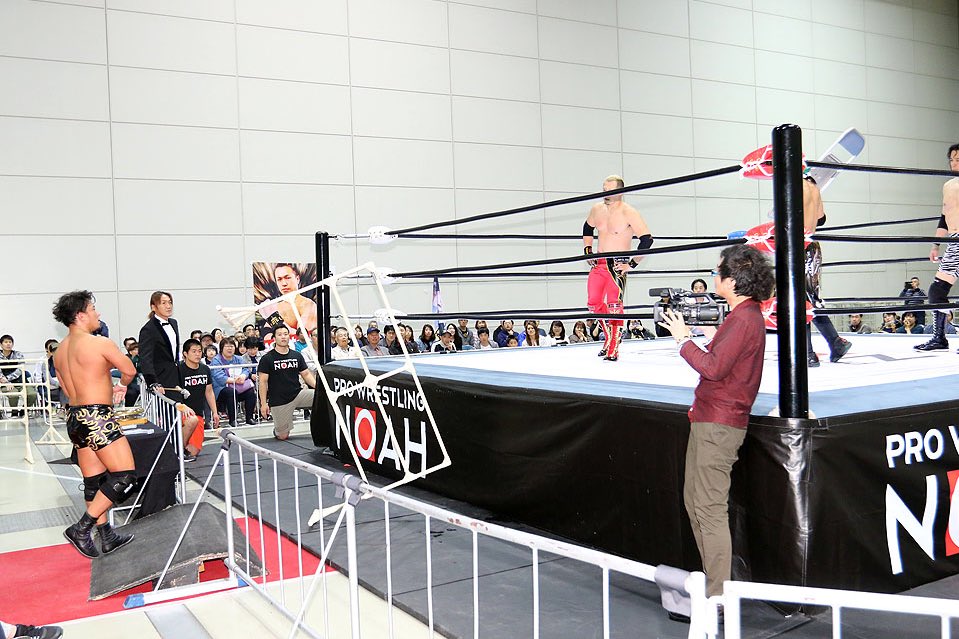 ~ A picture taken of Daisuke Harada throwing a temper tantrum and hurling a iron ring barrier at Kotaro Suzuki who was in the ring, looks at first glance that the giant poster of Suzuki behind the crowd is holding the barrier.
~ YO-HEY was given a handmade doll of himself by a little girl in Yamagawa.
~ Hitoshi Kumano has souped up his giant rice paddle by putting a TMDK ("The Mighty Don't Kneel") sticker on it. "The Mighty Don't Kneel" (Shane Haste and Mikey Nicholls), called him "Little Brother" during their stint in NOAH.
~ HAYATA smokes Parliament cigarettes. Naomichi Marufuji (who has now quit smoking but vapes) said that he wished he could have one. 
BROADCASTS
The 4th May Global Tag League finals will be broadcast at 10pm JST on Samurai TV
The 28th May show will be broadcast live at 6.30pm JST on G+ (its the first night of Global Junior Tag League) – teams are yet to be announced.
NOAH have announced that the Yokohama show on Tuesday April 30th will be live on YouTube at 3pm JST.
LINKS
Go Shiozaki's "Liquidation of Negative Energy"
Daisuke Harada vs Hitoshi Kumano for the IPW Junior Heavyweight Title
PICTURE CREDITS: Noah GHC, PKDX, Daisuke Harada, Tadasuke