NXT Takeover's Message to WWE WrestleMania 35: "Follow That"
Can WrestleMania follow what NXT did on Friday night?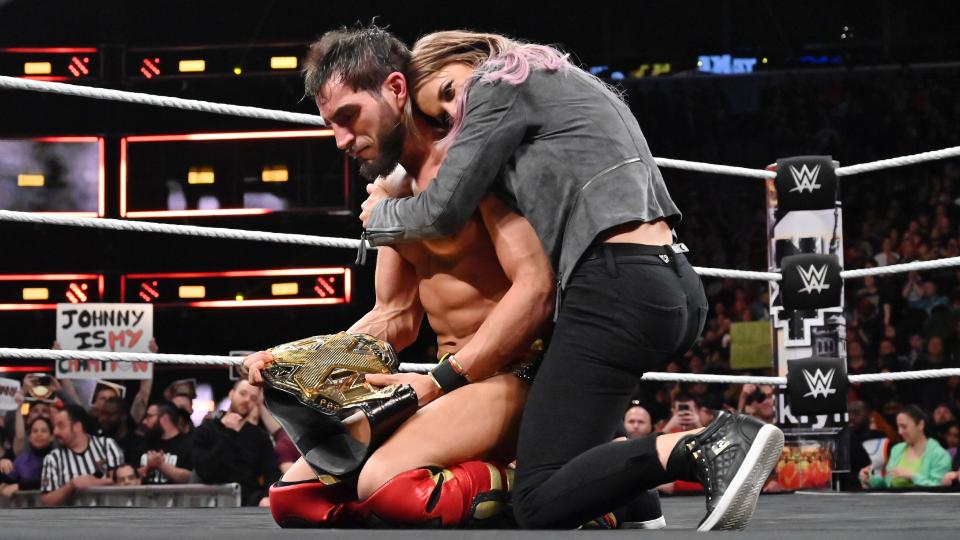 NXT Takeover: New York is in the books and once again, pro wrestling fans are left breathless. The black and gold brand delivered as only it can as each match was top notch from start to finish.
This should come as no surprise, as the Takeover events are typically always on point. The show is like a warmup for WrestleMania, but it's become something much more than that. Indeed, Takeover is a must-see event for anyone that loves pure professional wrestling. It's become so important that for many, WrestleMania pales by comparison.
It's easy to share that opinion of course. After all, NXT is a much more emotional product than its main roster counterpart. To share the view that NXT is superior is a common practice and sometimes it's hard to know if that view is an honest one.
Just as it's easy to love NXT, it's just as easy to hate on WWE. Both Monday Night Raw and SmackDown Live are seen as two programs filled with nothing but missed opportunities. Why didn't this Superstar get a chance? When will this silly story come to an end?
indeed, the red and blue brands seem wrought with problems from top to bottom. There's just so much drama and oftentimes, ridiculousness, to ignore. The fact that there's so much time to fill doesn't seem to make a difference. The fact that there are so many variables to consider when it comes to the main roster audience, doesn't seem to make a difference either. 
The only thing fans can see is that Raw is bloated with three hours of overproduced content and SmackDown Live seems to be heading in that direction as well. The NXT product is much easier on the eyes, as well as the psyche.
Simpler storytelling means a much more loyal and passionate fan following. NXT is all about the in-ring action and less about the fluff that tends to surround it. So yes, it's extremely easy to buy the NXT hype and turn on WWE's primary programs as a result. 
But this isn't just hype. NXT is the real deal and its legitimately become a third brand for WWE. Fans know that tomorrow's stars are working today in NXT. But the more time that passes, the more obvious it becomes that the current crop of NXT talent is making an impact right now.
Tomorrow is not a concern like it used to be. There doesn't even seem to be a point in discussing the future anymore. NXT is the most exciting brand in WWE and arguably, all of professional wrestling. The reason for that has everything to do with the Superstars involved, as well as the storytelling behind them.
It's as if WWE has rediscovered how to produce pro wrestling with the NXT brand. It could even be said that WWE is actually discovering that method for the first time. There's no denying that NXT has the feel of a competitive athletic presentation. It's the same vibe that fans want for both Raw and SmackDown. But that's likely not happening any time soon.
So while the red and blue brands continue to swim upstream in terms of overall fan satisfaction, NXT continues to rise above and outperform everything else nearly every time. This is especially true of Takeover, which is on par with WrestleMania, if only for sheer intensity and entertainment value.
That's also true of the New York Takeover as well. While fans are preparing for 16 matches and several hours of WrestleMania 35, they will not forget that NXT gave them a great night of action with only five matches in three hours. Now that the main roster has been put on notice, does this mean that WrestleMania 35 will outshine the black and gold brand?
The fact is that answer is very subjective. One fan's personal tastes in pro wrestling may not be shared by anyone else. Even if less than half of Mania's matches are deemed successful, that may be enough for some fans. But for others, that may be enough reason to call WrestleMania an abject failure. 
But that's no reason to dismiss the vibe around Takeover as nothing more than manufactured euphoria. There's a reason why NXT Superstars are becoming less likely to grow in popularity when they move to Raw or SmackDown. It's not because they haven't earned their shot. But for the most part, fans are apprehensive because of the sheer dread of it all.
WWE tends to drop the ball when it comes to moving top stars from NXT to the main roster. It's common knowledge among fans and its undeniable that the sense of doubt surrounding such moves is worse than it's ever been.
The fact is that the NXT product is entertaining, intriguing and valuable in its own right. WWE has provided the perfect stage to make an impact and that's exactly what happens in NXT. Everyone knows that NXT is just the first stop for many Superstars on their way to the next level. But everyone also knows that NXT has enough creditability to be the next level.
WrestleMania 35 has a little something for everyone. But Takeover gave a lot to everyone that watched. WWE's way of doing business as it pertains to handling NXT will likely not change. But the way fans feel about the brand surely won't change either.