Sasha Banks And The Supposed WWE Sabbatical That Is Driving Fans Wild
Coming off of what was a successful WWE WrestleMania, the news of Sasha Banks has certainly been a curve ball for fans.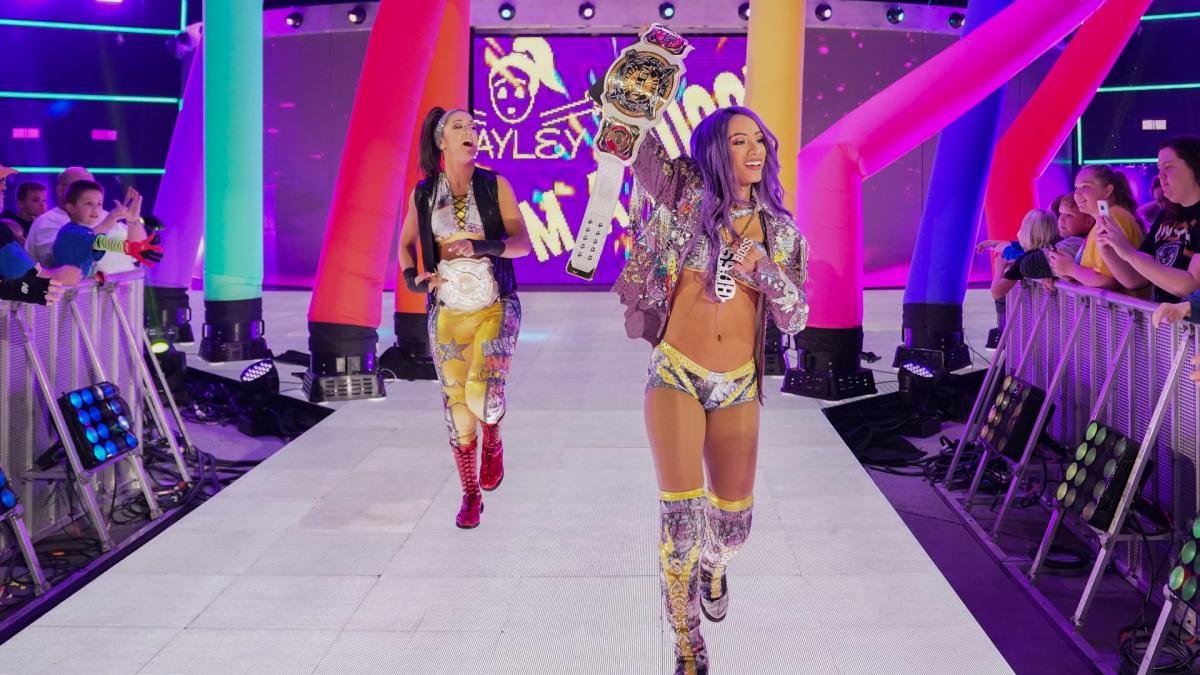 Coming off of what was a successful WWE WrestleMania, the news of Sasha Banks has certainly been a curve ball for fans.
Since the news of Banks' unhappiness broke late this week, many rumors have been surfacing about what led to the tipping point.  From the fallout of dropping the WWE Women's Tag Team Championships to reports of her not returning to the company, it is hard to say what has really been going on.  Mixed reports say the company has given the former Women's Champion some time to think about things while she has reportedly told the company she would not be back for Raw this coming Monday.
So how is it that the smiling face during the WrestleMania 35 Main Event could very well be on her way out of the company that has propelled her as one of the faces of the Women's Evolution?
👋🏼 We liked your match.. pic.twitter.com/sQvSx8ThhN

— Bayley (@itsBayleyWWE) April 13, 2019
Until anything is confirmed by WWE, Banks, or both, all the reports are rumors.   In fact, from the infamous WrestleMania picture to recent posts of Banks wearing WWE shorts on her vacation, the phrase 'pictures say 1000 words' applies.  Then, there is the notion of unfollowing WWE on social media.  Looking at both sides, there's weight either way to support the reports.
If Banks is in fact, unhappy one has to take a step back and think of what could have drove her to that point.  In the four years on the main roster, Banks' feelings on where her WWE career is going didn't happen overnight.  Think about it – from the four reigns as Raw Women's Champion, Banks held that for a total of 72 days.  Alexa Bliss had the same Championship for a total of almost 400 days while Ronda Rousey holds the record for the longest reign at 232 days.
That is not to discredit either Superstar, but considering Banks' accomplishments stemming from NXT and beyond, the frustration would be understandable.  Especially with the strong build of the Women's Tag Team Championships, only for her and Bayley to lose at WrestleMania.  They were not involved in the pinfall as well.
Fans know Banks is of significant importance of the Women's Evolution, but if her main roster Championship accomplishments fail to back that importance up then she has every right to be unhappy.
Banks has had her share of history making moments.  From the first Women's Iron Man match, to one of the first women to main event a WWE PPV Banks has certainly set the standard high for the Women's Evolution.  Her passion exemplifies that in the blood, sweat and the tears that say it all.  The passion of making the Women's Division what it is makes it the driving force of promoting Women's Wrestling.
It is not an ego issue – it's a booking issue – one that has been driving those such as Dean Ambrose and Tye Dillinger out of the company.  Asuka is going through the same mistreatment, don't forget about her now.  Fans know too well the loopholes and inconsistent storylines are the majority of the problem of succeeding in WWE.  What makes Banks different other than the fact she's a woman?  Her cryptic hashtag of #ifyouonlyknew speaks volumes.
When one thinks of Sasha Banks, they should think of the classic and emotional NXT Women's Championship match that she and Bayley took part in at the first Takeover: Brooklyn.  They should think of how she and Charlotte Flair tore the house down at WWE Hell in a Cell 2016, where they not only took part in the Cell, but the first women to main event a WWE PPV for the first time.  Furthermore, they should remember how in the first Women's Royal Rumble, she lasted over 50 minutes going toe to toe with current talent and legends such as Trish Stratus.  Not misunderstood, "entitled" behavior that has encompassed the Internet dirtsheets.
So tell me how her accomplishments, the fact she's a top seller in WWE merchandise, the ability to put on incredible matches, and a cheap payoff (considering all of Banks' 2018 was spent with her and Bayley going back and forth) of the Women's Tag Team Championships makes her entitled?
Banks doesn't seem like the bad guy, after all.  Boss moves shouldn't be a surprise, if reports are true.
Tiffany's Takes: WWE 205 Live (7/16/19)
Tiffany's Takes asks the important question after WWE Extreme Rules: Who will step up to challenge Drew Gulak?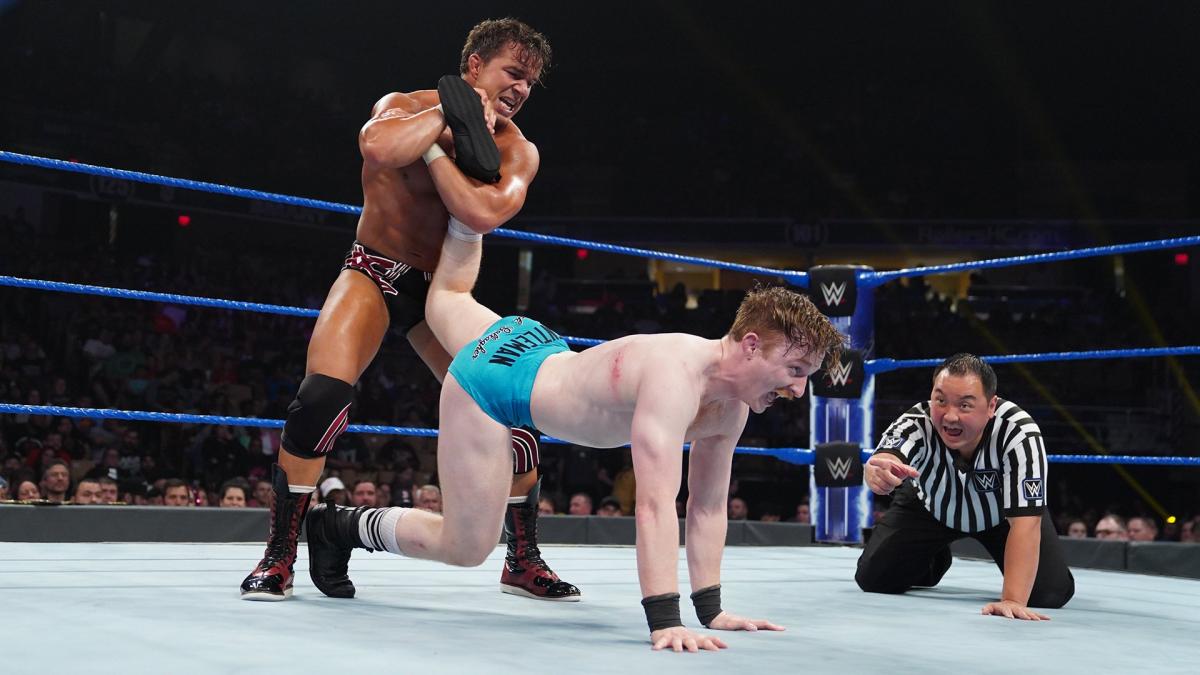 Tiffany's Takes asks the important question after WWE Extreme Rules: Who will step up to challenge Drew Gulak?
I still don't like Drew Gulak as champ. He's a great athlete, but his gimmick is too much like watching politics and he's very generic.
I like Akira Tozawa and Brian Kendrick as a team, they just make an odd amount of sense. My love for the Singh Brothers is pretty much established, even though they do look like cut rate strippers and I never remember which is which. Pants Singh was in the hot seat against Tozawa this week. I love that WWE is getting back to making guys look like legit stars even in defeat, but I would like to see the Singhs win clean, BUT I do like them being sore losers and beating up Kendrik and Tozawa. I'm not here for this feud to be about a trophy that the Singhs won.
I know WWE would really like for us to all get behind Humberto Carrillo as a top babyface, but he just doesn't work for me. I want him to, I want to like him SO much, but I just…can't.
FINALLY, Mike Kanellis vs Drake Maverick is getting somewhere! I loved every second of that in ring segment! Problem is that the writing of Mike Kanellis has been so inconsistent. He only has his balls and his spine on 205 Live. On RAW, he's Maria's henpecked husband who can't win for losing and Maria is written as every man's nightmare pregnant wife. Still, that was FUN. 205's Austin vs McMahon is taking shape and it's going to be a wild ride. I can imagine that there's going to be six kinds of hell to pay next week, but it's going to be a lot of fun to watch.
I'm so glad Chad Gable vs Gentleman Jack Gallagher is getting a Part 2 after the unsatisfying end to their match a few months ago. Also, I hope Gable can write the time he's spent in a tanning bed off on his taxes because it's clear he's been in one a LOT. This match was SO good, it should've been for a title, because those guys literally went until they couldn't anymore, giving the match a very old school feel that WWE's been missing. Gable and Gallagher got a well-deserved standing ovation from the audience, the commentators, and yours truly. I will say that Gallagher looking out at the crowd almost seemed like a goodbye, which I hope isn't true.
I'm going to assume a discussion of what was next for the Cruiserweight Championship was scrapped in favor of Gable vs Gallagher because we're four weeks from SummerSlam and nothing was really said or put in motion to decide who would take on Gulak in Toronto. I don't remember who on the roster is from Canada that they could plug in that spot, hopefully we'll get something next week and the build for SummerSlam won't be the same hurried one they had for WrestleMania. I'm betting Kanellis vs Maverick will happen on 205 and NOT at SummerSlam, but I wouldn't put it past WWE either.
That's it for Tiffany's 205 Live Takes! Tune in tomorrow for NXT!
Tiffany's Takes: WWE Smackdown Live (7/16/19)
Is Randy Orton #1 Contender OUTTA NOWHERE???
How will the fallout of Extreme Rules affect WWE SmackDown as we head into SummerSlam? And is Randy Orton #1 Contender OUTTA NOWHERE???
This Kevin Owens/Shane McMahon feud is going just like Austin/McMahon used to and I think it'll end just as badly…for the McMahon.
WWE seems to be really leaning in at taking a stab at current events, because this 'townhall' sounds like a political one where the person in charge is going to do what they want and listening to the constiuents, or superstars, is merely a formality. Still, love Owens pulling an Austin and getting the Stunner on Shane.
So we got Aleister Black vs Cesaro II from Extreme Rules. The match was just as amazing as the one on Sunday, but I keep feeling like Cesaro wasn't the original endgame for this, especially since Black picked up another win. It was a good match, but I'm not feeling this feud.
What is it with McMahons and lackluster lackeys? Ziggler hasn't exactly been putting up victories since his return, yet, he's still in Shane's circle. At least he took the time to re-bleach his hair.
So, how many of us knew Liv Morgan was going to get squashed by Charlotte Flair? All of us? Yeah, me too. Still, Liv went toe to toe with the Queen and got her attention, hopefully, she'll get another chance down the road. The Squad believes in you, Liv!
Okay, re-writing this because I'm pretty sure referring to two women as Trash and Trailer will get me in trouble. ANYWAY, the big deal is that Bayley came to help Ember Moon deal with Mandy Rose and Sonya Deville. Preferably, it would've been Sasha making her shocking return, but I'll take Bayley, even if she didn't do that much in the match, except level the playing field, AND give Moon a shot at SummerSlam! A new and fresh match? What world is this? I'm not fooled though, this is WWE, they'll shoehorn Charlotte or Alexa Bliss in somehow.
Ali vs Shinsuke Nakamura for the Intercontinental Championship? Yeah, I'll take that, sign me up.
So, what was Daniel Bryan's career-altering announcement? We have no idea since the little tree-hugging gremlin wouldn't tell us, except to bring out Samoa Joe, who thinks he has a right to a rematch at SummerSlam, despite a CLEAN win by Kofi Kingston at Extreme Rules.  Also, Elias thinks he deserves a shot for some reason, and so does Randy Orton, never mind that Elias and Orton have done nothing to deserve a shot. I'm not thrilled about Orton vs Kingstons, it feels like WWE doesn't know how to do a storyline without it having racist undertones, especially with Orton involved, but that's what we got, so hopefully Kofi survives.
Carmella and Truth are the best team going in WWE right now. How Truth got into the washing machine is beyond me, hope he wasn't there long. Why was there a washing machine there to start with?
I'm going to be honest, after Paige's conduct last week in slapping Billie Kay knowing Billie couldn't hit her back, I was rooting for the IIconics harder than ever. I'm not shocked that the IIconics took the countout win, Champion's Advantage, but I'm hoping that they'll do better at SummerSlam, since that's probably where this is going.
I'm not sure what's going on with Andrade vs Crews. The feud doesn't have anything at stake, and Andrade keeps winning, so what's the point? Just the look on Andrade's face when Crews pinned him with a crucifix pin. Good one, dude.
Well, Ziggler actually got out of the box this time, which is a step up from Sunday's encounter with Ice Cold Kevin Owens. The reprise of Austin vs McMahon was in full force and it was a lot of fun, though I doubt Owens vs McMahon will get as out of control as Austin vs McMahon did. Also, Kevin Owens can RUN! Run, Kevin, Run!
That's it for Tiffany's SmackDown Takes! Stay tuned for 205 Live!