Steve Cook To The WWE Universe: Let Them Go!
If they wanna go, let 'em go!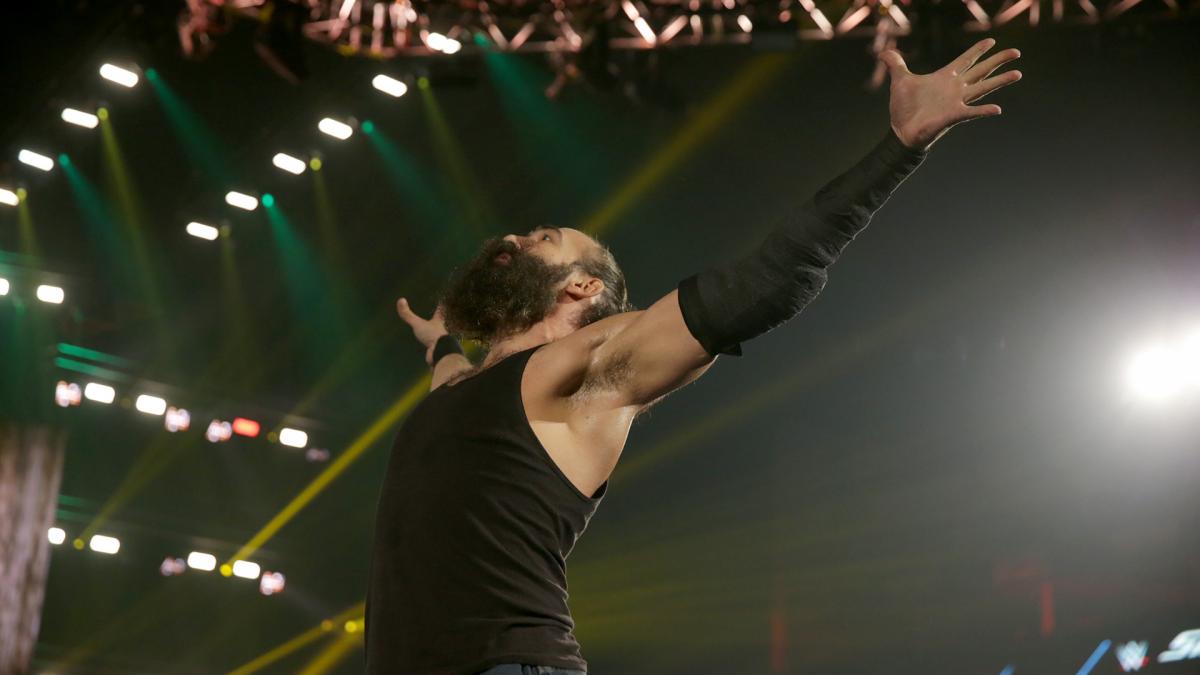 Steve Cook has some advice for the WWE Universe when it comes to unhappy Superstars…let them leave!
Now that WrestleMania 35 has come & gone, we've entered the time of year where WWE shakes everything up. The Superstar Shakeup took place on Monday & Tuesday this week, and we saw some major names change shows. AJ Styles has been identified with SmackDown Live since the most recent brand split, and now he's on Monday Night Raw. Roman Reigns made the move from Raw to SmackDown. The Miz continued his trend of going back & forth from show to show while the Usos & Naomi went over to Raw. Finn Balor took the Intercontinental Championship to SmackDown, and we still await the fate of the under the weather US Champion Samoa Joe.
Some NXT talents finally found official main roster homes. Ricochet, Aleister Black, EC3 & Lacey Evans were taken by the red brand while Lars Sullivan, Otis & Tucker went blue. (Well, Lars went red then he went blue.) We also saw the split of the Riott Squad, Roode & Gable & Sanity. Kairi Sane & the Viking Experience were the most recent NXT call-ups, while Buddy Murphy & Cedric Alexander emerged from 205 Live purgatory.
It was all big time stuff. However, there may be more moves on the way, moves which weren't really discussed on Raw or SmackDown Live. Luke Harper, a man who has only been seen twice on WWE-related programming in the past several months, has asked for his release.
— Luke Harper of WWE (@LukeHarperWWE) April 16, 2019
Alexander Wolfe, one of the members of Sanity that hasn't been featured much on-screen since their main roster call-up, bid WWE farewell in a social media posting.
Thank you! @KillianDain @NikkiCrossWWE @TheEricYoung #RIPSAnitY#WWE #SmackDownMontreal #SDLive #SuperstarShakeup pic.twitter.com/jaBHFDnwlC

— Alexander Wolf[e] (@TheWWEWolfe) April 17, 2019
Then we have Sasha Banks' current saga. Is she staying? Is she going? Depends who you ask!
— $asha Banks (@SashaBanksWWE) April 9, 2019
There's been all sorts of speculation concerning Sasha's situation, involving reports of temper tantrums & Wendy Williams & Alexa Bliss that I'm happy to let other people delve into. I don't know what's going on there, and I'm not going to act like I do. All I know for sure is that if/when Sasha does come back, the Boss will be on Raw & Hug will be over on SmackDown. It might be a blessing in disguise for Sasha. But then again…
Harper, Wolfe & Banks are hardly the first to express their discomfort with their place in the WWE machine. Dean Ambrose is on his way out of the company. Tye Dillinger already left. The Revivial are waiting to find out if WWE cares about tag team wrestling or not. I guess your feeling on that depends on your feelings on the name "The Viking Experience" & your level of goodwill towards Curt Hawkins & Zack Ryder.
If nothing else, Dash Wilder certainly proved he deserves more with his actions at the WWE Hall of Fame ceremony.
Here's the thing.
The state of WWE is strong. The company is wading in more money than it knows what to do with. The stock price is good. The TV deals are strong. If you're a WWE investor or a member of the WWE Universe, you have every reason to be pleased with the direction of the company.
That doesn't mean that your favorite WWE Superstar is obligated to feel the same way.
The roster is bloated. WWE has attempted to sign nearly every professional wrestler in captivity in order to stock Raw, SmackDown, NXT, NXT UK, two Performance Centers & any other projects they may have in the works. They've signed a pretty good percentage of them. People are bound to get lost in the shuffle. It happens. No matter who's getting good spots & being pushed to the forefront, there's always somebody else being cast aside.
Some people work through it, collecting the money and not asking any questions. Others bust their butts to improve their game, eventually gaining the attention of the higher-ups. Look at Buddy Murphy. Dude wasn't figured into anything WWE was doing until he dropped a ton of weight, went cruiserweight & impressed the right people. His old tag team partner, Wesley Blake? He's lucky to get a match on an NXT taping.
Then of course, there's Kofi Kingston, who was able to work his way up the card from an already prominent location. Even with success stories like Murphy or Kingston's, there's never going to be enough spots to keep everybody happy. Harper can't get on television even if the boys & girls in the back respect what he brings to the table. Sanity was dead on arrival, called up for no reason seemingly other than to clear up some space on NXT.
As for Sasha? She's been passed up by a couple of her fellow Horsewomen. Some might argue she deserves a higher spot than Charlotte Flair or Becky Lynch, but they would be the minority. Banks seems like the type that's not going to be happy unless she's the top woman on Raw, SmackDown & anything else related to WWE. That's not a bad quality to have if you want to be successful. Shoot for the moon and you'll at least land in the stars.
If she wants to move on and seek her fortunes elsewhere, who are we to stop her?
Sure, it would be sad for Sasha's fans to see her go, just like it'll be sad for Dean Ambrose's fans when he exits, or any other WWE Superstar hitting the road. At some point, you have to find what makes you happy. If you're not happy with your lot in WWE, why not move on?
Take a look at the former 3MB members. Jinder Mahal & Drew McIntyre left the company while Heath Slater stayed. Jinder is now a former WWE Champion, while Drew seems on the path to a major title of his own. They used their time outside WWE to up their games & get better.
Last time I saw Heath, he was trying to be a referee.
Fans, you need to let your favorites go. If Luke Harper wants to go back to being the Big Rig Brodie Lee and kicking ass on the indy circuit, let him. If Alexander Wolfe wants to go back to Germany and resume dominating there, let him. Or if Sasha Banks wants to go somewhere where she's the unquestioned top star, let her.
They'll be happy. And you'll move on to something else anyway. You always do.
King's WrestleMania Rewind: Charlotte Flair vs. Asuka from WrestleMania 34
Chris king is back with one of the most underrated matches in WrestleMania history–Charlotte Flair vs. Asuka!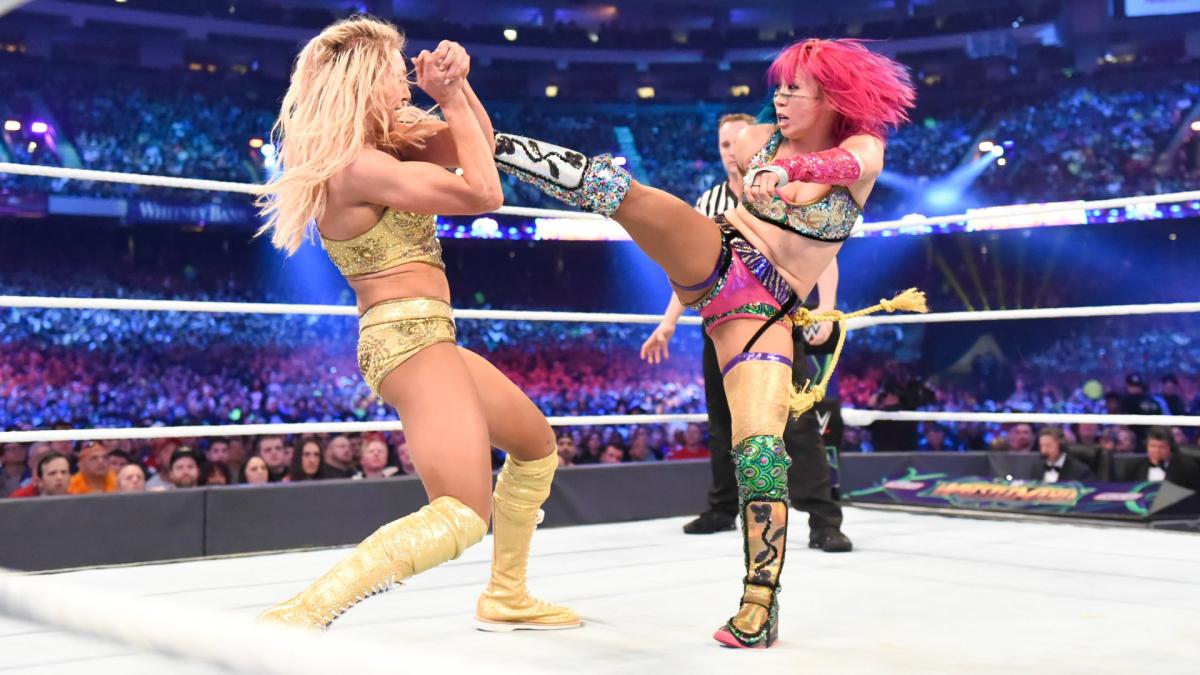 Chris king is back with one of the most underrated matches in WrestleMania history–Charlotte Flair vs. Asuka!
We look back at Charlotte Flair vs. Asuka at WWE WrestleMania 34. 'The Empress of Tomorrow' put her unprecedented and historic undefeated streak of 914 days on the line against 'The Queen's' SmackDown Women's Championship.
For years, this was considered a dream match while Asuka dominated the roster in NXT, while Flair won numerous championships on the main roster on both Raw and SmackDown. The Empress made her long-awaited debut on the September 11th episode of Raw and began to tear through the competition.
Asuka outlasted all twenty-nine other women in the historic first-ever Women's Royal Rumble match to challenge for the title of her choosing. At Fastlane, she made her choice.
The WWE Universe was so excited for this match myself included. Both superstars delivered a fantastic performance on the Grandest Stage of Them All executing counter after counter. Asuka showed off some nasty-looking kicks to her opponent, and Flair hit a thunderous Spanish Fly off the top rope. Flair was seconds away from defeat at the hands of The Empress but she locked in Figure Eight and Asuka was forced to tap out.
I can't even begin to explain how shocked I was at this outcome, as nearly everyone expected The Empress to continue her undefeated streak and walk away with the women's title. This controversial decision was the downfall of Asuka's momentum. She would ultimately win the SmackDown Women's Championship at the 2018 TLC pay-per-view in the triple-threat ladder match.
Fast forward to this year when Asuka has recently returned with her Japanese-inspired persona Kana. Kana is dangerous and ruthless and is heading into a championship with Bianca Belair at WrestleMania 39. The Empress has regained all her momentum and is highly favored to walk away with the Raw Women's Championship. Let's hope that Asuka and Belair can tear the house down and deliver an A+ grade match both women are fully capable of.
King: Dominik Mysterio Needs To Do This At WrestleMania
Chris King is here with what WWE should do with Dominik Mysterio at WrestleMania in his long-awaited match against his father Rey Mysterio Jr.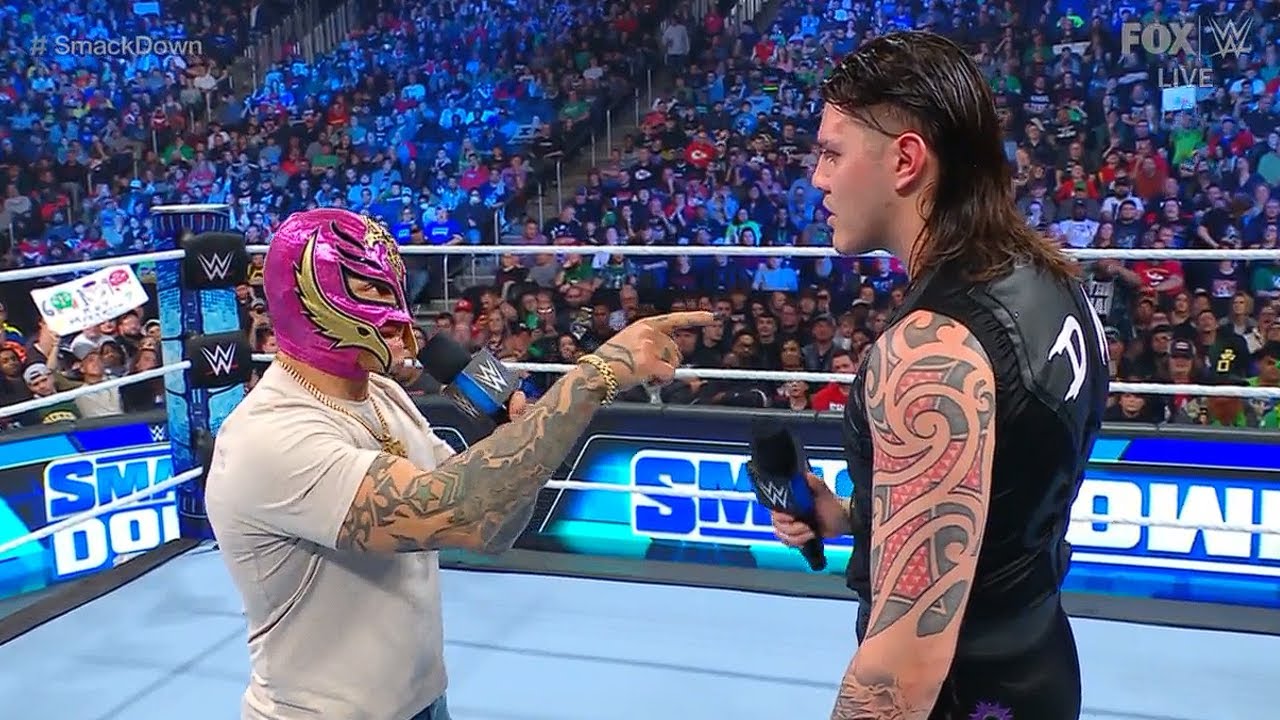 Chris King is here with what WWE should do with Dominik Mysterio at WrestleMania in his long-awaited match against his father Rey Mysterio Jr. 
On this week's episode of Friday Night SmackDown, Rey Mysterio finally snapped and beat some sense into his disrespectful punk-ass kid Dominik. The member of the Judgement Day came out to push his father again for a match on the Grandest Stage of Them All, this time with his mother and sister at ringside. The ungrateful punk told his mom to "Shut Up," as a father even I wanted to jump through the screen and whoop his ass.
Back in October of last year, Mysterio made the emotional decision to possibly quit the company but, instead, Triple H persuaded the Lucha libre superstar to move over to SmackDown to avoid his son. This came after Dominik shockingly turned on his father at Clash at the Castle. Mysterio did everything he could to refuse his despicable son's challenge for Mania but, a man can only be pushed so far. Mysterio will be inducted into the 2023 WWE Hall of Fame and I expect Dominik to embarrass his father during his speech to further this personal feud.
Yes, the WWE Universe hates Dominik and wants to see him get the ever-loving crap kicked out of him but, this feud is missing a special ingredient to capitalize on the biggest heat possible. Throughout this feud, Dominik has made mention of the legendary Eddie Guerrero on several occasions going back to the "iconic" 2005 feud.
I know WWE might not want to go this route but, Dominik MUST come out to Eddie Guerrero's theme at Mania. The disrespectful punk needs to come out in a lowrider to garner nuclear heat. It doesn't matter if The Judgement Day comes out and causes interference for Dominik to get the win, all that matters is that both superstars get the biggest payoff of this nearly year-long feud. Just imagine the Roman Reigns heat after he defeated The Undertaker and multiply that by ten. Dominik portrays the perfect heel and he truly is the missing ingredient that The Judgement Day needed to grow and evolve into a top faction.