The Good, Bad and Ugly: WWE NXT Takeover New York 2019
This has to be all good, right? RIGHT???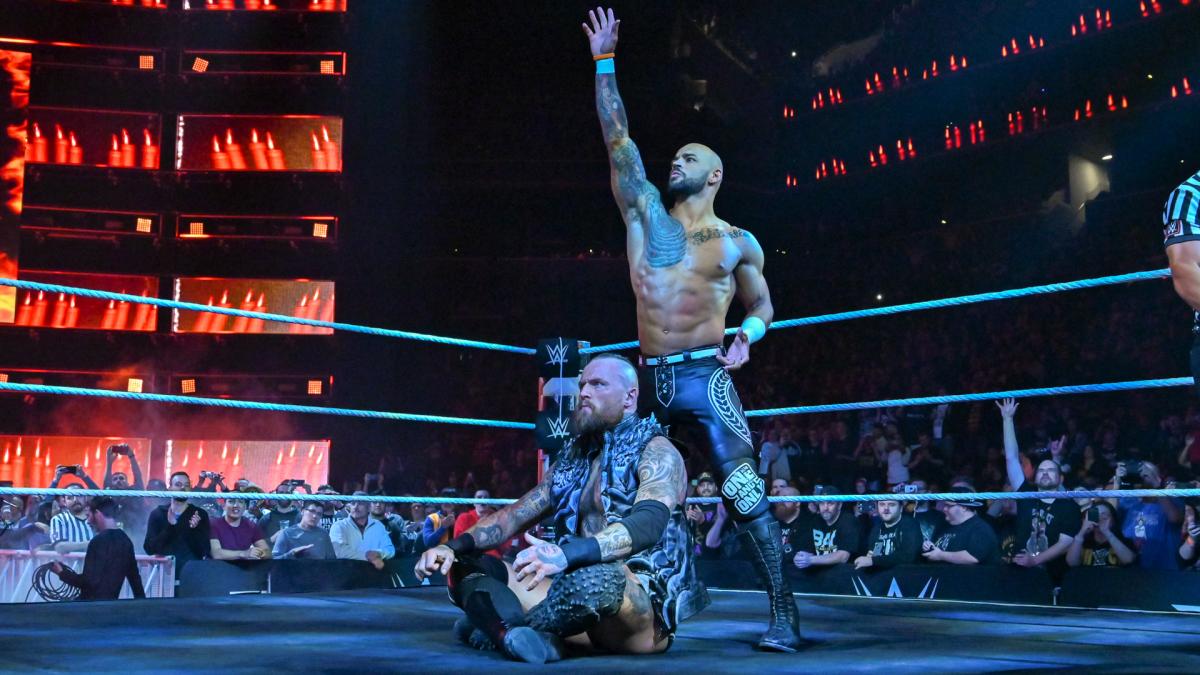 The amount of excitement is overwhelming for this card tonight!  NXT will be blowing everyone away!  WrestleMania weekend, NXT Takeover, New York, NOW!
Can anything on this WWE NXT Takeover New York card be anything but good?
GOOD
NXT Tag Team Championships- The War Raiders (C) vs. Aleister Black and Ricochet
Rowe and Hanson, the War Raiders are going to be brutal.  They only want victory and know who and what they have up against them.  Ricochet and Aleister Black are red hot!  This is going to be nuts and what an opening match!  A start full of respect, action and a lot of high flying, including the War Raiders.  War Raiders slowed things down a bit using their massive power and size to take control.  Each team using their strengths to take over the other.  Ricochet's immense flexibility and unorthodox style gave him a chance to change momentum.  Aleister Black's ruthless strikes and speed.  Both teams seemed to go back and forth.  Hanson and Ricochet absolutely killed it.  Hanson just going ballistic around the ring, battering Ricochet and Black.  It only got better and harder as it went.  All competitors completely showing their best and destroying each other.  The War Raiders had it won, it was over but Aleister Black broke up the pin with a double stomp.  This was over the top bananas!  Hanson defied all odds and just shined out there.  Aleister Black hit a freakishly sharp Black Mass followed by a Ricochet Shooting Star Press but Hanson broke it up.  Ricochet went for a 630 and missed hard.  Hanson dropped Black on the outside and came in hot but was pressed by Ricochet but regained momentum and hit a series of high impact moves followed by a "Fallout" for the Victory!  This is NXT Takeover and we have just begun!
NXT North American Championship- Velveteen Dream (C) vs. Matt Riddle
Truth be told as there was not a GBU Preshow for this NXT Takeover due to the fact that it is a red hot, amazing show on paper, this was the only match I had even the slightest concern about.  However it went away the minute I saw how ready Riddle and Dream are when they came out.  This will do just fine.  Surprisingly Riddle toyed with Dream in the beginning, chopping away at him with kicks and holds.  Riddle looked a lot better, sharper than usual.  This was a big night for both guys but Riddle's biggest yet.  The Challenger just continuously went at Dream who spent a large part of the match writhing in pain.  Riddle nearly won with a Fisherman's Brainbuster, but Dream just would not give up.  Riddle hit every move, every lock, every hold with precision, but no matter what Dream would get back up.  Dream had to call upon strength he didn't have.  Velveteen Dream "Hulked up" and finally got some space.  Dream hit Riddle with everything he had but ended up in a tight Ankle Lock.  Dream recovered hit a Dream DDT, Dream Valley Driver but went for an Elbow Drop and ended up in a Bromission.  It didn't stop Riddle hit a freakish German off the 2nd rope, a Floating Bro, and still couldn't get the 3 count.  Riddle again at a game ending Bromission but was rolled back into a 3 count!   Velveteen Dream retains in a disgusting match!  NXT Takeover continues to stun! 
NXT UK Championship- Pete Dunne (C) vs. WALTER
As a bit of an outsider with NXT UK I am really intrigued to see what we have here.  Walter looks massive and brutal and Pete Dunne is a legit Champ and Warrior in the ring.  This really has high hopes and unlimited potential.  The crowd shared the enthusiasm and were on fire this whole match.  These are two tough guys but Walter overpowered Dunne.  Walter would counter and pound Dunne beating the life out of him.  Walter would rain chops on Dunne and literally crush and pounce on him.  The Bruiserweight wouldn't quit and finally came back striking and flying into Walter knocking him out of the ring.  Dunne continued his assault and hit a freakish Sitdown Powerbomb.  Dunne crushed Walter's insides with a Double Stomp off the top to the outside.  The noise was bothersome.  Somehow, Walter not only got up but hit a huge dropkick and suplex into a powerbomb, but couldn't get the 3 count.  Walter had the Champ dead in his hands, but Pete Dunne would keep fighting.  It was shear grit that Dunne was even able to stand.  Walter and Dunne were destroyed.  Dunne pumped up, gained momentum, steamrolling the bigger Walter.  The Champion would not let up, the Challenger would counter.  This could have gone to either of them, both men were fighting with everything they had.  Finally it was a a big boot flowed by a sick Powerbomb off the second turnbuckle by Walter that did the trick.  Walter then hit a Big Splash for the 3 count and Victory!  Walter is your New NXT UK Champion!  Absolute Brutality!  Another classic! 
NXT Women's Championship- Shayna Baszler (C) vs. Bianca Belair vs. Io Shirai vs. Kairi Sane
Historically, the Women's Championship Match at Takeover is always a treat.  This match will be also.  Everyone here is extremely talented, hungry and ready to go!  So much to love!  All 4 competitors showed up and put it all out there.  Even friends Io Shirai and Kairi Sane went at it and looked great doing it.  Once Bianca Belair got going she beat the hell out of Baszler.  However it was Kairi Sane that leveled Belair and neutralized the powerful foe.  Io Shirai took over and kept the beating going.  It was the raw power of Belair that saved her but Baszler got her wind and went off.  So many high spots all four feeding off of each other's energy.  The Sky Pirates kept working together and did incredible high spots and displays of agility.  Baszler had the win, then Belair had the win, Io had the Win, and Kairi even came in and almost won.  This was anyone's match.  Io and Kairi having to hurt one another for the gold, the story and the action was just amazing!  Belair hit a double finisher on the Sky Pirates but it was Shayna Baszler that locked Belair in a Kirifuda Clutch and squeezed her until she tapped.  Shayna Baszler retains!  This was just incredible!  Bravo! 
(2 out of 3 Falls) NXT Heavyweight Championship- Johnny Gargano vs. Adam Cole
Easily one of the best matches we will see any era anytime.  Gargano and Cole are top tier talents on the biggest stage, with everyone watching for the NXT Championship.  Johnny Gargano is criminally talented and Adam Cole needs no description.  The Crowd, the Audience around the World, pure goosebumps.  This will be talked about for a long time.
With the crowd screaming back and forth we saw some great wrestling action!  A lot of back and forth and counters, feeling each other out.  They worked at an appropriate pace for a Championship, Main Event Match.  Adam Cole kept control for a bit but Johnny Wrestling kept it interesting with little pops of offense and would not quit.  Like clockwork, a second wind filled these guys and again they just went back and forth, one move to the next! Finally, Adam Cole devastated Gargano and got the first fall!
The action didn't let up though, after Cole came back at Gargano.  Johnny Wrestling turned up the heat and started kicking around Adam Cole.  Cole wouldn't let up however and kept coming back, taking control at every turn.  Gargano surprisingly would come out of no-where and destroy Adam Cole with huge moves.  Gargano had Cole counted out but broke up the count and paid for it, as Cole punished him on the outside after a freakish DDT on the apron.  Gargano finally trapped Adam Cole making him tap for Gargano's first fall.
After what was already done and seen here we all knew the third fall would be lunacy.  This was a straight fight!  Back and forth and outdoing each other!  This is the top caliber stuff that we dream of.  Either man could have won, Adam Cole had Gargano, Gargano had Cole.  Bloody, hurt, tired and barely able to continue, these guys would not stop.  Gargano should have had the match one after a brutal series of offense but Cole still kept going.  It was the series of moves, mirroring each other and finally capping it off with superkicks.  This whole thing became unhinged.  We saw it all, no end in sight, and no one was complaining.  Adam Cole tried to win by countout and Gargano got back in.  Cole SuperKicked his head off and still couldn't finish Gargano.  Gargano had it locked but Undisputed Era attacked and pounced Gargano as the ref was knocked out.  Adam Cole still couldn't pin Gargano. Gargano then launched Cole onto his brothers taking them all out in style.  Johnny Wrestling then running to the ring got devastated by Adam Cole with kicks and strikes but still only a two count.  Gargano with no energy left locked in a Gargano Escape for the Win!  Johnny Takeover is your NEW NXT CHAMPION!  This was spectacular and now the best out there has his strap.  Congrats to everyone on a spectacular night!  Johnny Wrestling you are insane!        
BAD and UGLY have been disqualified!
FINAL
Good- 5, Everything, the whole time, the whole Takeover!
Bad and Ugly- Lost Big Time!
OVERALL
FANTASTIC!  GOOD!  Whatever you want to call it, it was pure fire.  NXT Takeover exceeded expectations that were astronomical as it was, Enough Said. 
As always WWE Main Roster has their work cut out for them but hopefully they are inspired by what they saw.  They put it out there, they succeeded.  NXT continues to set the bar where it needs to be.  NXT is Great for Wrestling!  Catch you soon for the biggest night in Professional Wrestling, although we already saw the best, WrestleMania for some more Good, Bad and Ugly only on thechairshot.com