Tiffany's Takes: WWE RAW (4/29/19)
Tiffany checks in with her takes on the April 29 WWE Raw. How did the show compare to last week's?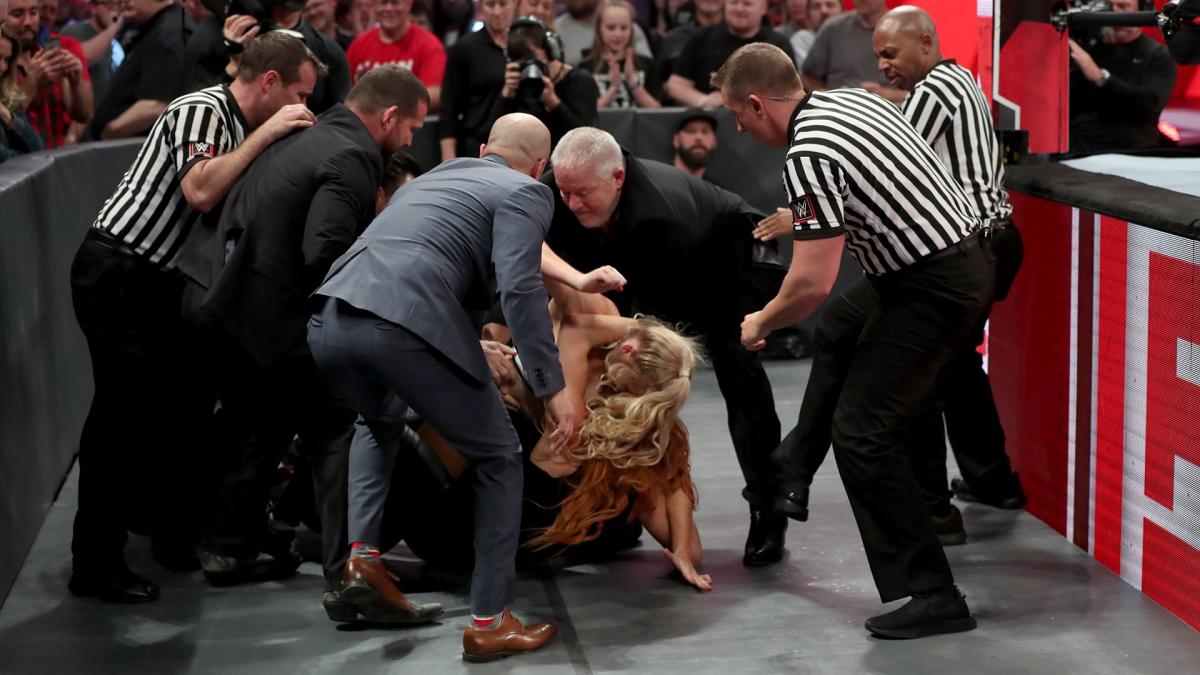 So, the first week of the post Superstar Shake-Up WWE RAW was a blowout, how did this week do?
Universal Championship
Well, in the grand tradition of big title matches, we had a contract signing and shit got real in a hurry, though the verbal exchange was much more civilized than most contract signings are, mainly because Styles and Rollins have no history together in WWE. Honestly, this match is a big enough deal that this segment wasn't really necessary, but it did give us a VERY nice teaser of Money in the Bank and left me SUPER excited about Money in the Bank. This will tear the house down.
Money in the Bank Matches
I have to admit, I was underwhelmed by the RAW men's Money in the Bank Contestants. You have two former winners who both failed their cash-ins, Drew McIntyre, and Ricochet. Color me unimpressed, except for Ricochet, who should steals the show. The inevitable tag match was really good, but I have no idea what they're doing with Baron Corbin and Drew McIntyre. Both of them are heels, so having them feud wouldn't work, they're both boring as hell, so what's the point?
I was more impressed with the RAW Women's entries: Naomi, Nattie, Dana Brooke, and Alexa Bliss. I'm not thrilled with the fact that three former Women's Champions are in this match when there are plenty of non-champions to go around, but since none of the former champs have been champs recently, I'll put up with it. I loved the match between Naomi and Alexa. I was a little perplexed by Alexa squashing Bayley and the quick…match Naomi had with Billie Kay last week, but both of those things were rectified with a great match AND Alexa got beat. Beers all around!
Usos vs Good Brothers
Well, Luke Gallows and Karl Anderson, who are supposedly on the way out later this year, are going to be hanging their hats on RAW, alongside good friend, AJ Styles…interesting. What wasn't interesting was making the Usos act like obnoxious teenagers spying on people in the locker room. I didn't need to know that Revival Bald has Revival Buzz shave his back for him, thank you very much.
That said, the match between the Uso and the Good Brothers was really good. If Gallows and Anderson are on the way out, WWE isn't squashing them just yet, which is nice. I am kind of curious to see if they'll have any bearing on the Styles/Rollins match at Money in the Bank, but I doubt it since Rollins doesn't have his brothers to fall back on for support.
MizTV with Bobby Lashley
Before we start, I have a question: Why are all the heels on RAW so freaking boring?! Lashley's supposed to be a monster heel and he has less personality than a can of beige paint. I wish I could say that the oncoming Lashley/Miz feud sounded interesting, but it doesn't. Miz is good at getting people over, but I think Lashley is a lost cause, even after joining forces with Shane McMahon, of all people.
Considering the wars Lashley had with the McMahon men back in 2007, Shane recruiting Lashley is mind-boggling. I'm not a fan of Shane coming to RAW for any reason, but at least we'll probably be getting a proper end for the Shane/Miz feud at Money in the Bank in a Steel Cage match, the ultimate blowoff.
Viking Raiders vs Lucha House Party
Well, I guess Viking Raiders name is here to stay, might've been fun to change it every week, but we still don't know the Viking word for 'squash' or 'squish'. Granted, the match against Lucha House Party wasn't QUITE the squash it was last week, LHP got a few licks in and the bell sounded, but that was about it. Hopefully, the crowds start getting into the VRs or they'll go the way of Ascension and SAniTy.
Firefly Funhouse
Sweet Jesus, they did it again AND desecrated Bob Ross and Sesame Street! Oh, this gives me a raging headache. Thank you, next.
Becky Lynch vs Lacey Evans
I love Becky and she's great on the mic, but the most interesting thing about this segment was the brawl between her and Evans. Becky needed to look strong after getting cheap-shotted last week and this did that.
Curt Hawkins & Zack Ryder vs The Revival
What the fuck is WWE doing with the Revival. This is like the most annoying 'Come here, go away' storyline in history. Revival are WAY too good to be losing to the likes of Zack Ryder and Curt Hawkins, and especially to be losing stupid like they have. Be better, WWE.
Sami Zayn
I was hoping that Kevin Owens turning heel would mean that Zayn would be less obnoxious, but I was wrong. That segment was awful. I was waiting for SOMEONE to come out and sock Zayn just so he'd shut up.
Samoa Joe vs Rey Mysterio
Well, whatever was going on at WrestleMania has been gotten over, Mysterio and Joe not only had an actual MATCH, but it was good AND Mysterio got the win, meaning he should be in line for title shot. Joe's near meltdown over this was actually hilarious to watch, can't wait for this conclusion.
Overall Thoughts
What the hell was this mess? I actually thought WWE was getting ready to go on the European Tour, but they'll be in Cincinnati next week, so they don't even have that excuse. This show was just blah. There were some good matches and segments but there was a lot of just mediocre nonsense that really hurt this show.
I'm also not thrilled about the size of the Money in the Bank matches this year. Eight people a pop is WAY too many in my opinion and the choices weren't spectacular on RAW's end, except for Ricochet. Hopefully, SmackDown will rise to the occasion tomorrow and knock this out of the park. Tune in tomorrow for SmackDown and 205 Live. Always Use your head and not as a battering ram.