Week In Review: April 8-17, 2019
WrestleMania fallout! How did this WWE week set up the Superstar Shakeup and the beginnings of how we get to WrestleMania 36?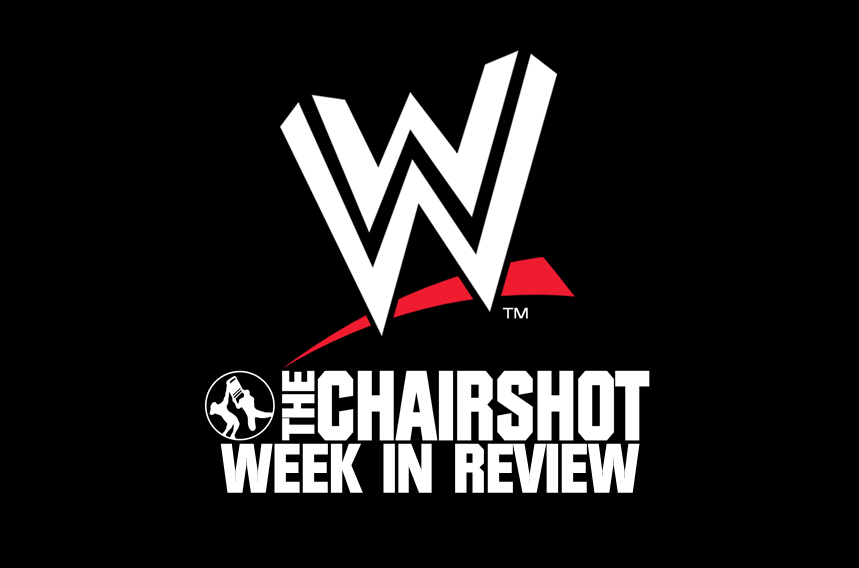 WrestleMania fallout! How did this WWE week set up the Superstar Shakeup and the beginnings of how we get to WrestleMania 36?
RAW
Seth Rollins: The new Age of Rollins opened with a bang. It's so great to have a full-time top champion to give RAW direction. I was actually intrigued by the idea of a Title for Title match, but I think most of us knew that the match was going to have to have a non-finish because the men's division is too large to only one top champion.
The initial match was really good, but the transition to a tag match didn't surprise me, but it was still good, but it wasn't what I wanted the last minutes of RAW to be, which I'll expand on later.
Zack Ryder and Curt Hawkins vs Revival: I really hope the Revival are going to SmackDown in the Shakeup because I can't think of a good reason for them losing to Ryder and Hawkins. Hawkins got his moment, time to let the real tag teams have a go.
Baron Corbin: I think the biggest disappointment of WrestleMania, or at least one of them, was the Corbin vs Angle match, mainly because it actually happened instead of us being saved by John Cena. At least Angle got the last laugh on Corbin, at least until Lars Sullivan finally debuted. I've watched Sullivan in NXT and I can't say he's been that impressive. We'll have to see as time goes on.
Alexa Bliss vs Bayley: I have no idea what happened in this match. Bayley certainly deserved better than to be squashed that way because of Alexa, especially when they've had longer matches than that.
Becky Lynch: I was actually surprised that neither Ronda Rousey or Charlotte appeared on RAW to confront Becky, but the Man definitely got a conquering hero's welcome. I'm not impressed with Lacey Evans seeming to get to be Becky's first feud, but it's another wait ad see moment, at least the fight was good.
Ricochet and Aleister Black vs Glorious: I really enjoyed this match and Glorious seems to have finally turned heel, but this potentially fabulous feud needs for both teams to be on the same brand to work, hopefully, we'll get that during the Shakeup.
Dean Ambrose: I HATED this 'match'! After everything Ambrose has given to RAW and WWE, he should've gotten more than that load of nonsense, but the way that went down leaves the door open for Ambrose to come back and take care of Lashley and Rush.
I really wish Ambrose's farewell address had been aired live so the WWE Universe could say goodbye, but I loved that it was Seth and Roman who said 'He deserves a proper send-off'. I do think Ambrose will be back in WWE, but he needs a break to recharge his batteries and see if things can be improved in a few months. See you soon, Dean.
The Box: What in the actual hell was that?!
Sami Zayn vs Finn Balor: I'm thrilled that Zayn is back from having both his shoulders worked on, but his promo sounds like what Ambrose would've cut if he'd stayed a heel. However, it was a good promo and I like the return of heel!Sami.
I loved the match between Zayn and Balor. If this is Balor's first feud as Intercontinental Champion, it'll be a great feud.
Dana Brooke: I'm glad Dana is finally getting some attention and hope she gets a title shot out of this, but I don't think she'll be champion.
Elias: I know the return of the Undertaker after missing WrestleMania was supposed to be a surprise, but Elias called his shot when talked about there being hell to pay if he got interrupted again. That said, it was nice to see Undertaker again, even if he couldn't keep the Streak up, he can still at least help run the yard.
Thoughts: The RAW after WrestleMania is usually the biggest RAW of the year and tends to set the tone for the spring and early summer, and this one was lackluster. The matches were mostly good, except for the Ambrose/Lashley non-match, but there weren't any really BIG moments to make it memorable, it was just another RAW, but I'm going to guess that after WrestleMania, they decided to give the talent a break.
The fact that there was no talk about Lesnar getting a rematch and Heyman didn't show up, makes me wonder if the rumors about Lesnar being done with WWE while he prepares for UFC are true.
SmackDown
Kofi Kingston and New Day: I'm so happy for Kofi! After eleven years, he's finally WWE Champion and I loved how genuinely happy for him New Day was, possibly putting pay to the rumors of a split.
I'm not surprised that the Bar is being inserted here as the strongarms of Vince against Kofi and New Day. I am a little surprised that McIntyre might be going to SmackDown, but if it keeps him out of the title picture, fine.
The six man tag was REALLY good, again putting pay to rumors of a split. I did love that Zayn came out, as if to join the match and decided not to. New Day winning sent the, presumably exhausted, crowd home happy, but you have to wonder what the Shakeup will bring.
Aleister Black, Ricochet, and Mustafa Ali vs Nakamura, Rusev, and Almas: First of all, I LOVED the synchronized sit that Black, Ricochet, and Ali did, that was cool!
The match was really good and everybody look great, I hated Orton ruining things just because he could, but Owens hitting the stunner was even more surprising. I'm still not sure what to make of Owens being a face, but it's not been awful.
Usos vs The Hardy Boyz: One of the biggest problems with dream matches is that they so very rarely live up to the hype, but the Usos vs the Hardys was a dream match that lived up to the hype. I was a little disappointed that the Usos lost, but that might be paving the way for them to go to RAW.
Lars Sullivan's appearance was dumb. They're trying to recreate Lesnar's initial introduction from 2002, but Sullivan isn't anywhere near as impressive as Lesnar was.
Samoa Joe and R-Truth: I was actually intrigued by this match up, but less impressed with Strowman showing up, but maybe Joe can get more out of Strowman in a title situation, but I'm not going to hold my breath.
IIconics vs Brooklyn Bellas: So, the IIconics had their first title defense against some local team, and I can't say it was stellar. The Brooklyn Bellas were apparently undefeated in the local wrestling scene, so they definitely weren't something to sneeze at, but I feel a little sad that their first loss was to a team that really didn't need it.
Paige's comments on the match were definitely interesting. It sounds like she's bringing in a brand new tag team to face the IIconics and I'm interested to see who it is because Sky Pirates are the only thing close to an actual tag team in NXT, and if it is them, I'll be super happy for them.
Shane McMahon: This segment was weird. It was almost like Shane and Miz switched personalities with Shane becoming the douchebag. I felt back for Greg Hamilton and I keep waiting for the interviewers to finally snap and turn on the wrestlers that give them so much grief.
Becky Lynch: Well, it seems that Becky's official first feud will be Lacey Evans. I can't say I've been impressed with Evans after I watched several of her matches in NXT, but this is Lynch's first big feud away from Charlotte and I hope she really gets the chance to shine in this.
205 Live
Humberto Carrillo vs Jack Gallagher: Well, that got ugly in a hurry. I knew where this storyline was going, but I wasn't expecting it to break down that quickly. Gallagher and Carrillo had a fantastic match, and it had the expected outcome that Carrillo sticking to the style he's comfortable with and that works for him won out over Gallagher. Gulak's reaction wasn't a shock, but Gallagher's reaction was. It looks like the Party of Gulak is about to become a party of one, but we'll see next week.
Tony Nese and Buddy Murphy: Those promos were better than I'd expected. Murphy didn't try to discredit Nese's win, or make excuses, so that was nice to hear. Nese didn't try to demur from giving Murphy his rematch, which is definitely different from most champions.
I was actually surprised that Maverick allowed the rematch to happen that week, since the usual MO is to wait a few weeks, but since Nese and Murphy are both heels, I guess there was no need to wait. The match was every bit as fantastic as the one at WrestleMania, and Nese retained, which was a serious surprise to me. I have no idea what will happen with this feud but I have a feeling Murphy's not going to give up that quickly.
Drake Maverick and Oney Lorcan: This segment killed two birds with one stone: We got a great promo segment between Alexander and Lorcan, and we found out that Alexander will get his rematch next week. We also got a hint about Alexander possibly being called up, which should be interesting, depending on where he goes.
NXT UK
Travis Banks vs Kassius Ohno: The Kiwi Buzzsaw and the Knockout Artist finally met up and it was a really great match. Even though Ohno's hanging his hat in NXT UK, but that doesn't mean the neighbors are going to make things easy. Guess the Wrestling Genius needs to go back to the drawing board.
Jordan Devlin: I'm a big Jordan Devlin fan and I'm really hopeful that he'll get the match against WALTER, but I think he's going to have to wait until after Dunne gets his rematch.
Piper Niven vs Killer Kelly: Piper Niven certainly made an impact in her debut, scaring Rhea Ripley out of the ring, though Ripley denied it. Niven had a chance to back up her debut against the scrappy Killer Kelly and she took it. It was a great match and Niven really showed why she has been such a dominate force in the British indie scene. Kelly showed a lot of fight, but ultimately, Niven was too powerful and picked up her first win.
Ripley, still embarrassed that she let herself be scared out of the ring, tried to re-establish herself as the alpha female, but Niven wasn't backing down. I can't wait to see this match when it happens.
Mustache Mountain: In an interview from last week, Mustache Mountain announced that they'll be facing off against Mark Andrews and Flash Morgan Webster in a friendly match, but I have a feeling that the 'friendly match' isn't going to be all that friendly in the end.
Grizzled Young Veterans: I'm glad GYV is finally going to be getting some screen time as champs, even if their proposed match isn't for the titles and they don't want Yanks involved, which will be quite a challenge at Axxess in New York City.
Jack Starz vs Joseph Conners: Jack Starz is one of those people that never gives up, even when he should, and this week was a prime example of it. Starz got his clock cleaned, but Starz didn't give up, but the real story is Conners acting goofy as a pet coon, as JR would say. This story should be…interesting.
Dave Mastiff: I'm not sure what to make of this promo other than Mastiff has some Daddy issues, but I can't wait to see what's next for him.
Toni Storm vs Jinny: For weeks, Jinny has been running her mouth about how she deserved to be Women's Champion, not Toni Storm, and Toni Storm shut her this week. The match was pretty good, but the spoiled brat learned that it's not easy to take the crown and her temper is what cost her the title. Storm stands tall, next contestant.
NXT
Post TakeOver Footage: These were pretty standard promos, but there were several interesting things going on. One is the return of Buddy Murphy to NXT in a potential feud with Velveteen Dream for the North American title, which looks really fun.
Shayna Baszler looked supremely confident after she managed to keep her NXT Women's Championship, but who will be the woman to beat her once and for all.
Pete Dunne was not happy about the end of his historic UK Championship reign, but he's already promising a rematch. Guess Devlin will just have to wait his turn.
There is definitely trouble in the Undisputed Era camp after Cole lost to Johnny Gargano at TakeOver and it seems that Cole is wanting to blame Strong for 'going off script', whatever that means. Guess the thought that Gargano was just…better isn't a thought right now.
Candice LeRae vs Aliyah: I was really excited for this match, I love Aliyah and think she really should be featured more often, and this match shows why. Both ladies really shined in this match I wasn't surprised that Candice won, but I was disappointed Aliyah lost since it looked like they were building her up for something, maybe she and Borne will be the new tag team Paige is bringing in.
Danny Burch vs Jaxson Ryker: The Forgotten Sons have been on quite a tear lately, lead by Ryker, but he faced quite a battle with Burch, who is quite a tough customer. It was a really good match, but, to my surprise, Ryker managed to pull out the win, but Lorcan beating the snot out of them, even temporarily, was fun, but with Lorcan in 205 Live, it's not clear how much longer Burch and Lorcan will be around.
Street Profits vs European Alliance: This was a really great match that let both teams show off their skills. Aichner and Barthel have really improved since their initial team up, but the Street Profits had the advantage of experience and it showed in their win.