We've reached the final part! The finish line! A Block Finals and Grande Finals for the Champion Carnival!
We outlined in the last part how the wrestlers still in contention could win, so who pulls it off?
Also as you'll learn in Mathew's B Block article, we learned how to decide a Block tie, and it makes complete sense.
Does Zeus pull off the victory he needs, or does he choke for the second year in a row?
Ratings:
Yuma Aoyagi vs Ryoji Sai: Aoyagi wins via End Game @11:45 – *** ¼
Dylan James vs Atsushi Aoki: Aoki wins via Arm Drag into Head & Leg Cradle @9:05 – ***
Zeus vs Shuji Ishikawa: Ishikawa wins via Giant Slam @17:20 – **** 3/4
Yuji Okabayashi vs Kento Miyahara: Miyahara wins via Shutdown Suplex Hold @18:20 – **** 1/4
Grand Finals: Kento Miyahara vs Jake Lee: Kento wins via Shutdown Suplex Hold @27:25 – *****
Analysis:
Yuma started before Sai even took off his jacket. The match started on the outside and in the crowd before eventually coming back into the ring. Sai held most of the advantage in the ring, but a burst towards the end of the match helped Yuma pull off the upset. Though both men were already mathematically eliminated, this made Yuma's carnival look a little less embarrassing.
Well this was the first match of the Block Finals that mattered towards final rankings. If Dylan won, he really controlled his destiny, but Aoki and the crowd were hungry for the upset. Aoki has had a horrible track record against the bigger men in this tournament and this match went very similarly. Aoki however got creative and rolled out of the ring and then hid under the ring to try and sneak up on Dylan for a surprise Roll Up. Dylan fought through the surprises and Aoki was on the back foot again. Things looked grim for Aoki when Dylan picks him up for the Chokeslam, but Aoki managed to turn it into yet another cradle variation. Dylan is now eliminated after having quite a strong run.
Well last time these two met in singles action was Zeus' first and only Triple Crown defense. That match was alright, but not at the level people expected for a championship match. This however, made up for any misgivings of the first. Zeus had a lot of spots that called back to his desperation during his defense against Kento. Removing the padding from the bar that connects the turnbuckle to the post, to choke Shuji, a diving Biceps Explosion over the barricade, a deadlift Vertical Suplex from the apron back into the ring and chops to the back of his neck as the match was winding down. Both men looked fantastic and this was on par if not slightly better than the Zeus vs Okabayashi match. Zeus may have been eliminated after the loss, but this was a very impressive match and hurt no one.
Because of the outcome of every other match, the winner of this match, wins A Block. Okabayashi just needs a Draw technically, but he's not the type of wrestler to aim for the easy way.
So this match wasn't bad at all. The beginning was a little back and forth while showcasing Kento's personality. However, once Okabayashi cold cocked him, by the time Kento got back in the ring, it was dominated by Okabayashi. Kento was on the receiving end of a lot of offense, and did his best Kenny Omega impression by hitting numerous Blackouts (V-Trigger Knees) and really only hitting signature/finisher moves. So it was a damn good match, but felt very simple and built a lot more desire for Okabayashi than having the Ace win his block for the second year in a row.
Kento still has yet to win the Champion Carnival, and being that he's the ace…we may finally see him pick up this last accolade.
Grand Finals, Jake Lee managed to claw back from a slow start and beat his former Nextream stablemate Naoya Nomura, to face another former stablemate in Kento Miyahara. Since returning to All Japan last year, Jake has been trying to prove himself in the eyes of the fans and against Kento. I believe this is their third singles encounter since Jake returned, and there's a lot on the line.
The match started off with some posturing, as is Kento's calling card…but Jake started quickly. Throwing a kick instead of a clean break and then staying on Kento when they went to the outside, Jake was determined. With the historical weight these two have, you could feel the tension. Jake trying to prove himself against a rival/big brother and Kento still remaining ahead of him. Jake had a lot of solid offense, Doctor Bomb, High Angle Back Body Drops and his signatures knees. But every time Kento would kick out and land some offense, a grin crept across his face. He was trying to prove to Jake, that he still wasn't on his level. It was close a few times, but the second attempted Shutdown Suplex gave Kento the jewel he was missing, in regard to AJPW accolades.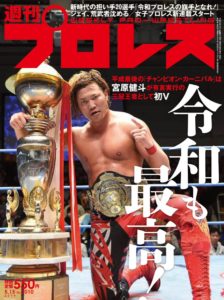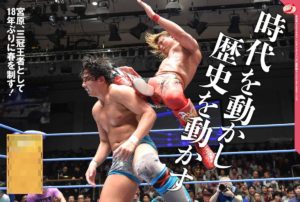 Overall Score: 9/10
So Kento finally won the Champion Carnival! It only seems fair since the past few years have been used more to cement him as the Ace of the current generation. Even though the names weren't as big or flashy as last year, the quality seemed to be more consistent. Okabayashi is the A Block MVP in my opinion, but Zeus, Shuji, Kento and even Dylan pulled their weight and then some. Maybe now since Kento doesn't have any more tangible accolades once he drops the belt again, we could perhaps see a more solidified main card. All Japan is currently Kento…and everyone else. So let's hope things build strongly under his reign and the new Reiwa era.
Kento isn't Zeus, so my pick was wrong…but my block won! So that means we're starting back up strong! 1-0 over Mathew like a professional ninja.