Andrew's IMPACT Ratings & Analysis 5/10/2019
A few non-title matches, RVD's in-ring return and an update on Brian Cage! Impact has a lot of things to address! How does the show play out?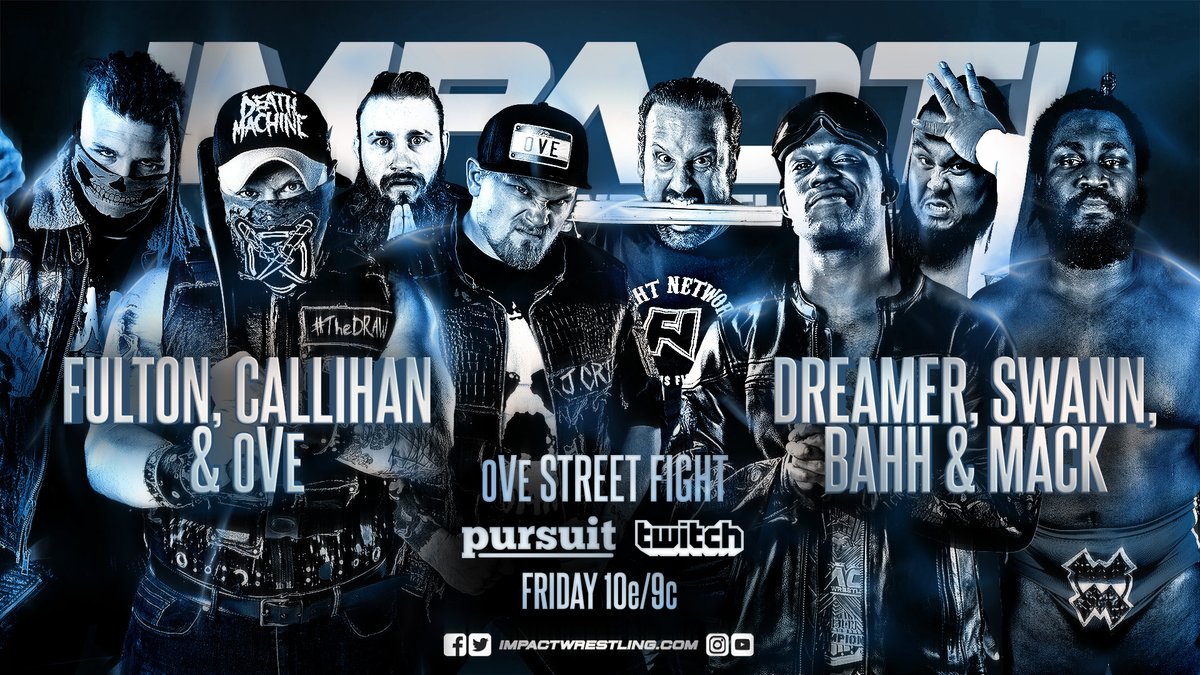 A few non-title matches, RVD's in-ring return and an update on Brian Cage! Impact has a lot of things to address! How does the show play out?
So Michael Elgin is sending people to the hospital, oVe wants to send people home in a body bag and LAX just wants to make a bag. So this episode is definitely a building block show, but with so many prospective decent matches, we've still got good stuff on paper.
Speaking of on paper, Lion King is looking different than I remember. Dude…this isn't where I parked my car…
Lion King (2019) @SantanaLAX @Ortiz5150 #IMPACT pic.twitter.com/BksCp5IwUO

— IMPACT (@IMPACTWRESTLING) May 11, 2019
Ratings:
Josh Alexander & Moose vs LAX:  LAX wins via Tandem Reverse Slam – *** 
Madison Rayne vs Taya Valkyrie: Madison wins via Single Leg Boston Crab – **
Jordynne Grace vs Alexia Nicole: Jordynne wins via Grace Driver – N/A
Ethan Page vs RVD: RVD wins via 5 Star Frog Splash – ** 1/2
Desi Hit Squad vs The Deaners vs Brent Banks & Aiden Prince vs Dez & Wentz: Rohit wins via School Boy – ***
Rich Swann, Willie Mack, Fallah Bahh w/Scarlett Bordeaux & Tommy Dreamer vs oVe: Callihan wins via Piledriver – ****
Analysis:
We get a decently paced tag match to open the show. Last week Ethan Page challenged RVD, so that left Josh Alexander in need of a partner if he wanted to take a shot at the champions, Moose stepped up. Solid showing from all, if it weren't for a miscommunication Pump Kick from Moose to Alexander, LAX was looking at a potential upset.
Tommy Dreamer gives a damn good heartfelt promo. Just watch:
.@THETOMMYDREAMER, @FALLAH1, @GottaGetSwann and @Willie_Mack are ready for war tonight. #IMPACT

▶️ – https://t.co/jyZYT6QL46 pic.twitter.com/OEJR14FQGg

— IMPACT (@IMPACTWRESTLING) May 11, 2019
Tessa Blanchard joins commentary for the Taya and Madison match. I guess we'll get to see if Tessa's moment with Gail was a face turn, or just a fleeting moment of respect.
Well this match was more what I expected when Madison came back. Awkward at times, long weird windups for strikes and a odd finish. As a match, it was more to get over Taya's personality and to cement Tessa as a face on commentary. So the match was secondary to some Taya trash talk and getting respectful Tessa over. The finish makes sense with Taya's manipulate and live to fight another day persona, but it was abrupt and fairly lame.
Impact Plus Flashback Match: Su Yung vs Tessa Blanchard vs Allie: Redefined 8/30/2018 for Knockouts Championship
Rosemary challenges Su Yung to a Demon Collar match. Okay…that's a little different.
Jordynne gets a jobber match. Alexia attempts to get in offense but Grace counters and shrugs off everything. All while looking bored and scoffing at the jobbers attempts at offense.
Kiera Hogan talks about trying to be friends but no one reciprocating. Jordynne shows up to say they are friends, but Kiera gets a little nasty and ends the promo with "Rosemary can go die like Allie".
Josh Alexander comes out with Ethan, and makes it very obvious that he's going to try to get involved at different points. RVD had a few moments that looked a little off, but his Bodyscissors Pin was still flawless, Rolling Thunder looked good (unlike United We Stand) and he didn't oversell the 5 Star like he used to, but not bad, especially since Page was about 2/3rds of the way across the ring.
Fun 4 Way tag match. Each team got to flourish a little and the Desi Hit Squad picks up the win in cheap heelish ways. So all good stuff.
A menacing @realKILLERkross wants to face @TheEddieEdwards. #IMPACT

▶️ – https://t.co/jyZYT6QL46 pic.twitter.com/rPnilnUtMy

— IMPACT (@IMPACTWRESTLING) May 11, 2019
This was a hell of a spectacle. A great hardcore style match with personality. All of the weapons made sense, hell even the usage of Legos was funny since Fallah wrestles in bare feet so he basically toughed it out fire walker style to run across the ring for a splash. Fallah also had a great counter. Madman Fulton jumps off the ladder and Fallah catches him for a big Samoan Drop. This was a spot fest of course, but it was fun. It was ECW style and not deathmatch style, so I enjoyed it a quite a bit. Just wow, lots of fun and oVe picking up the win is actually a good thing.
Overall Score: 7.5/10
This was a great episode. Solid promo/storyline work, good in-ring work as well, this was just generally an easy watch that made a lot of sense. They really got across Tessa's new babyface persona, RVD had a solid return, oVe picked up a much needed win and Kiera Hogan seems to be on her path to a heel turn.
Of all those things, I'm only a little unhappy with the Kiera stuff. She's such a good bubbly babyface, I'm not sure how convincingly she can pull off mean or menacing. But time will tell.
Twitch Views:
5/3/2019 – LOW: 4,000/HIGH 6,550
5/10/2019 – LOW: 3,800/HIGH: 7,130
Average views stay around the 6,000 mark. The show spiked once around the RVD match and then jumped about 500 views for the main event. So I'm not sure if the end of the Warriors game played into the spike at the end, or just general interest in the story. But either way, nice to see consistency…but growth is something that should be happening. In a hardcore fanbase that craves in-ring action, the fact that it's been over a year a solid rebranding, to very little acceptance is interesting.
Lots of jaded fans perhaps, being cynical definitely has it's merits for TNA/Impact, but even the bad shows have been arguably average. Which is better than I can say for certain other programs.