Andrew's IMPACT Ratings & Analysis 5/10/2019
A few non-title matches, RVD's in-ring return and an update on Brian Cage! Impact has a lot of things to address! How does the show play out?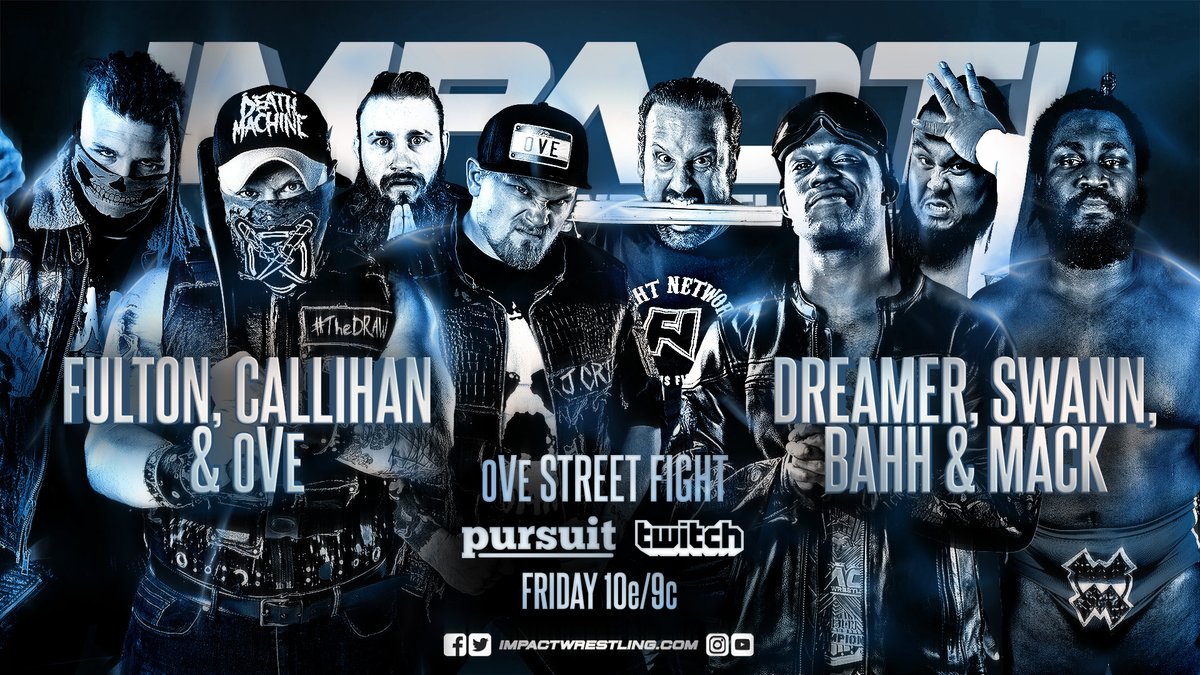 A few non-title matches, RVD's in-ring return and an update on Brian Cage! Impact has a lot of things to address! How does the show play out?
So Michael Elgin is sending people to the hospital, oVe wants to send people home in a body bag and LAX just wants to make a bag. So this episode is definitely a building block show, but with so many prospective decent matches, we've still got good stuff on paper.
Speaking of on paper, Lion King is looking different than I remember. Dude…this isn't where I parked my car…
Lion King (2019) @SantanaLAX @Ortiz5150 #IMPACT pic.twitter.com/BksCp5IwUO

— IMPACT (@IMPACTWRESTLING) May 11, 2019
Ratings:
Josh Alexander & Moose vs LAX:  LAX wins via Tandem Reverse Slam – *** 
Madison Rayne vs Taya Valkyrie: Madison wins via Single Leg Boston Crab – **
Jordynne Grace vs Alexia Nicole: Jordynne wins via Grace Driver – N/A
Ethan Page vs RVD: RVD wins via 5 Star Frog Splash – ** 1/2
Desi Hit Squad vs The Deaners vs Brent Banks & Aiden Prince vs Dez & Wentz: Rohit wins via School Boy – ***
Rich Swann, Willie Mack, Fallah Bahh w/Scarlett Bordeaux & Tommy Dreamer vs oVe: Callihan wins via Piledriver – ****
Analysis:
We get a decently paced tag match to open the show. Last week Ethan Page challenged RVD, so that left Josh Alexander in need of a partner if he wanted to take a shot at the champions, Moose stepped up. Solid showing from all, if it weren't for a miscommunication Pump Kick from Moose to Alexander, LAX was looking at a potential upset.
Tommy Dreamer gives a damn good heartfelt promo. Just watch:
.@THETOMMYDREAMER, @FALLAH1, @GottaGetSwann and @Willie_Mack are ready for war tonight. #IMPACT

▶️ – https://t.co/jyZYT6QL46 pic.twitter.com/OEJR14FQGg

— IMPACT (@IMPACTWRESTLING) May 11, 2019
Tessa Blanchard joins commentary for the Taya and Madison match. I guess we'll get to see if Tessa's moment with Gail was a face turn, or just a fleeting moment of respect.
Well this match was more what I expected when Madison came back. Awkward at times, long weird windups for strikes and a odd finish. As a match, it was more to get over Taya's personality and to cement Tessa as a face on commentary. So the match was secondary to some Taya trash talk and getting respectful Tessa over. The finish makes sense with Taya's manipulate and live to fight another day persona, but it was abrupt and fairly lame.
Impact Plus Flashback Match: Su Yung vs Tessa Blanchard vs Allie: Redefined 8/30/2018 for Knockouts Championship
Rosemary challenges Su Yung to a Demon Collar match. Okay…that's a little different.
Jordynne gets a jobber match. Alexia attempts to get in offense but Grace counters and shrugs off everything. All while looking bored and scoffing at the jobbers attempts at offense.
Kiera Hogan talks about trying to be friends but no one reciprocating. Jordynne shows up to say they are friends, but Kiera gets a little nasty and ends the promo with "Rosemary can go die like Allie".
Josh Alexander comes out with Ethan, and makes it very obvious that he's going to try to get involved at different points. RVD had a few moments that looked a little off, but his Bodyscissors Pin was still flawless, Rolling Thunder looked good (unlike United We Stand) and he didn't oversell the 5 Star like he used to, but not bad, especially since Page was about 2/3rds of the way across the ring.
Fun 4 Way tag match. Each team got to flourish a little and the Desi Hit Squad picks up the win in cheap heelish ways. So all good stuff.
A menacing @realKILLERkross wants to face @TheEddieEdwards. #IMPACT

▶️ – https://t.co/jyZYT6QL46 pic.twitter.com/rPnilnUtMy

— IMPACT (@IMPACTWRESTLING) May 11, 2019
This was a hell of a spectacle. A great hardcore style match with personality. All of the weapons made sense, hell even the usage of Legos was funny since Fallah wrestles in bare feet so he basically toughed it out fire walker style to run across the ring for a splash. Fallah also had a great counter. Madman Fulton jumps off the ladder and Fallah catches him for a big Samoan Drop. This was a spot fest of course, but it was fun. It was ECW style and not deathmatch style, so I enjoyed it a quite a bit. Just wow, lots of fun and oVe picking up the win is actually a good thing.
Overall Score: 7.5/10
This was a great episode. Solid promo/storyline work, good in-ring work as well, this was just generally an easy watch that made a lot of sense. They really got across Tessa's new babyface persona, RVD had a solid return, oVe picked up a much needed win and Kiera Hogan seems to be on her path to a heel turn.
Of all those things, I'm only a little unhappy with the Kiera stuff. She's such a good bubbly babyface, I'm not sure how convincingly she can pull off mean or menacing. But time will tell.
Twitch Views:
5/3/2019 – LOW: 4,000/HIGH 6,550
5/10/2019 – LOW: 3,800/HIGH: 7,130
Average views stay around the 6,000 mark. The show spiked once around the RVD match and then jumped about 500 views for the main event. So I'm not sure if the end of the Warriors game played into the spike at the end, or just general interest in the story. But either way, nice to see consistency…but growth is something that should be happening. In a hardcore fanbase that craves in-ring action, the fact that it's been over a year a solid rebranding, to very little acceptance is interesting.
Lots of jaded fans perhaps, being cynical definitely has it's merits for TNA/Impact, but even the bad shows have been arguably average. Which is better than I can say for certain other programs.
Andrew's IMPACT Ratings & Analysis 5/17/2019
Coming off a great episode with a quality main event, IMPACT has a lot of momentum. Do we see a spike in viewers? Do we get more quality TV?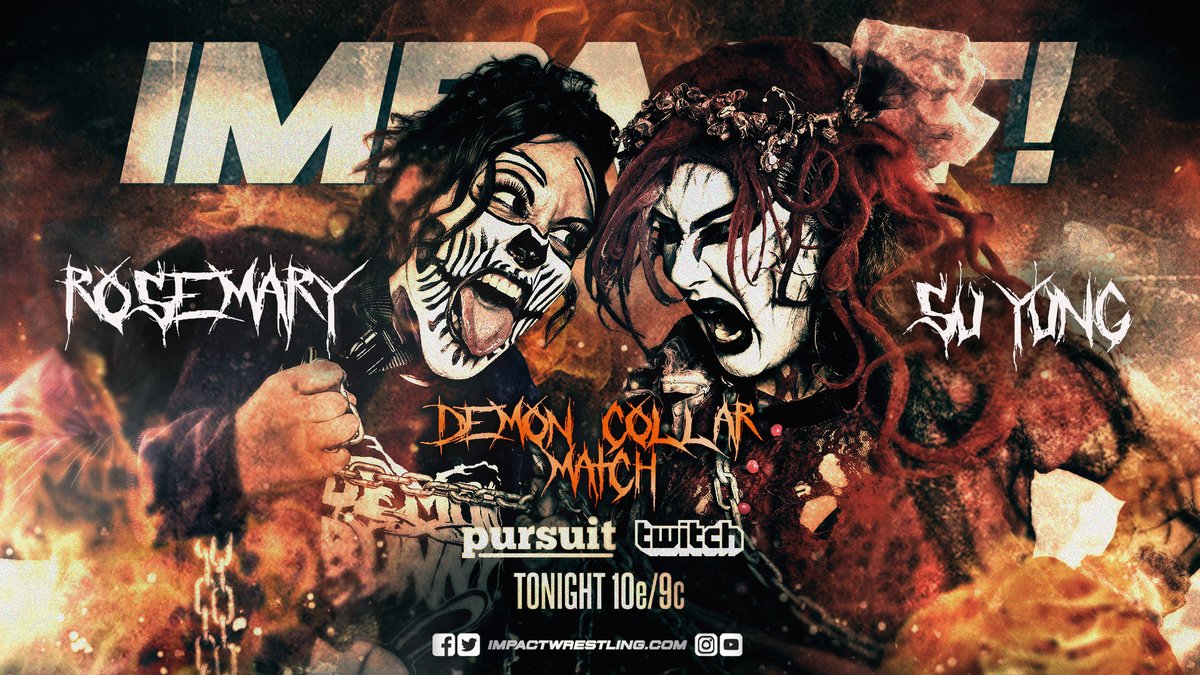 Coming off a great episode with a quality main event, IMPACT has a lot of momentum. Do we see a spike in viewers? Do we get more quality TV?
Impact Wrestling has done a solid job dancing around any official announcements with Brian Cage, which is really smart. He's got a lot of IWC support, and allowing the show to move forward while he heals is great.
Too often and too quickly do we see vacancies and title strips, I don't mind a few weeks without The Machine!
I will admit though, it would be fun if they make his injury out to be worse than it is, just to further the fact that he's not a normal person.
Either way, eat some chicken and prepare for this show!
Ahead of their title shot against @SantanaLAX and @Ortiz5150, the Rascalz decided to get serious about training.@TheTreyMiguel @DezmondXavier @zachary_wentz #IMPACT

▶️ – https://t.co/sWu6SEiYN7 pic.twitter.com/eeapf0O5uc

— IMPACT (@IMPACTWRESTLING) May 18, 2019
Ratings:
Knockouts Battle Royal: Glenn Gilbertti wins – **
Demon Collar Match: Rosemary vs Su Yung: Rosemary wins via Red Wedding – *
Madman Fulton vs Randy Shawn: Fulton wins via Modified Lifting Reverse STO – N/A
Killer Kross vs Eddie Edwards: Kross wins via Doomsday Saito – ** 1/2
Michael Elgin vs Rich Swann: Swann wins via DQ – **** 1/4
Analysis:
So good ole Disco returns to run down the Knockouts. He gets in the ring, says it would be better if it was a Bra and Panties Battle Royal, then stops himself and says "on second thought, maybe it's best you all keep your clothes on". The Knockouts gang up on Disco and kick him out of the ring, so he joins commentary. Apparently he's a legal competitor in the match, but the commentary between Glenn, Josh and Don is actually tremendous.
The final three are Kiera Hogan, Scarlett Bordeaux and Tess Blanchard. Kiera is being a little more aggressive and mouthy, so she's getting into her new character. Kiera eliminates Scarlett, Tessa then eliminates Kiera and Glenn slides in from commentary to hit a Lariat on Tessa and throw her over the top rope. Don't be disrespectful to Disco. Sheesh. Battle Royal was fine, a few hiccups and odd spots, but generally enjoyable.
Elgin gets back to back segments showing him attack Willie Mack in the parking lot, which sent him to the hospital. So Elgin is continuing to build his list of Emergency Room beds. Rich Swann steps up to fight for his buddy Willie.
Wow this collar match was…bad. It was slow, overly telegraphed at times, strikes looked weak and Su's collar broke at some point so that made the finish weirder. Rosemary took Su Yung to the pack like a trophy hunter, so who knows what's going on with this still. But sheesh, that was rough boys and girls.
Well Fulton eats this kid. Randy Shawn couldn't decide on a first name, but he should make a new career choice.
RVD announces that he will face Tommy Dreamer next week at the 2300 Arena. So old school ECW throwback match. Yes, we get them a bit in Impact.
Wow…this is an awful "update with a fake doctor" video, I half expected the doctor to say " I understand he isn't normal, that he is a machine…":
#IMPACT physician Dr. Ariel provided a medical update on @MrGMSI_BCage, but unfortunately, the World Champion's return date is still unknown.

▶️ – https://t.co/sWu6SEiYN7 pic.twitter.com/G57SInMHe3

— IMPACT (@IMPACTWRESTLING) May 18, 2019
Kross and Eddie have a pretty solid match. Both men show they're a little deranged by asking for punishment, but Kross catches Eddie trying to use Kenny, with the Doomsday Saito. Kross zip ties Eddie to the rope and makes it look like he's going to beat Eddie with Kenny, but instead he stops and snaps it in half in front of Eddie. Eddie is heartbroken. Also extra note, Kross had F.T.W. on his wrist tape.

IMPACT plus Flashback Moment: Kongo Kong vs Brian Cage, IMPACT July 5, 2018
The North and Moose are apparently plotting something for RVD.
So damn this main event went 2 commercial breaks, but it was really solid. Swann wouldn't stay down and even had great hope spots. A Super Frankensteiner countering the Avalanche Powerbomb, Lethal Injection, 450, but Elgin kicked out. Swann tried a top rope Phoenix Splash, and missed. Elgin hits Splash Mountain, and Rich kicks out. Elgin rolls to the outside, catches Rich and repeatedly Powerbombs him into the post. Kid Ref tries to get the match back in the ring, Elgin pushes Kid Ref and Powerbombs Swann again for posterity. Kid Ref calls for the DQ and then runs for his life. This was a great match, the "non-finish" is rather annoying coming out of a roughly 25 minute match. But love him or hate him, Elgin can wrestle.
Overall Score: 6.5/10
The second half of the show was great. Eddie's story with being helpless to watch his friend Kenny get killed in front of him, a really good Flashback match and the main event was damn good. Hell, Disco's anti-women's wrestling character is something he does fantastically. Yes the collar match awful, the doctor's update was laughable, but it was still solid generally speaking.
Twitch Views:
5/3/2019 – LOW: 4,000/HIGH 6,550
5/10/2019 – LOW: 3,800/HIGH: 7,130
5/17/2019 – LOW: 6,900/HIGH: 12,220
Well I don't know what went on tonight. I guess the Bucks and Raptors aren't compelling TV because something spiked viewership. The show opened with the Knockouts and that's when the numbers were really spiking. So even if the Battle Royal was gimmicked and the Demon Collar match was a mess, the Knockouts seem to be the main draw at moment.
The Twitch stream usually averages 6,000 and tonight was 9,000. Also to be noted, tonight marked the highest viewership numbers since the 3/1/2019 simulcast is still the record at 14,400 viewers.
Andrew's Impact Wrestling Ratings & Analysis 5/3/2019
Rebellion was great! Impact Wrestling came with some fun wrestling and a solid PPV. How will IMPACT set up new stories?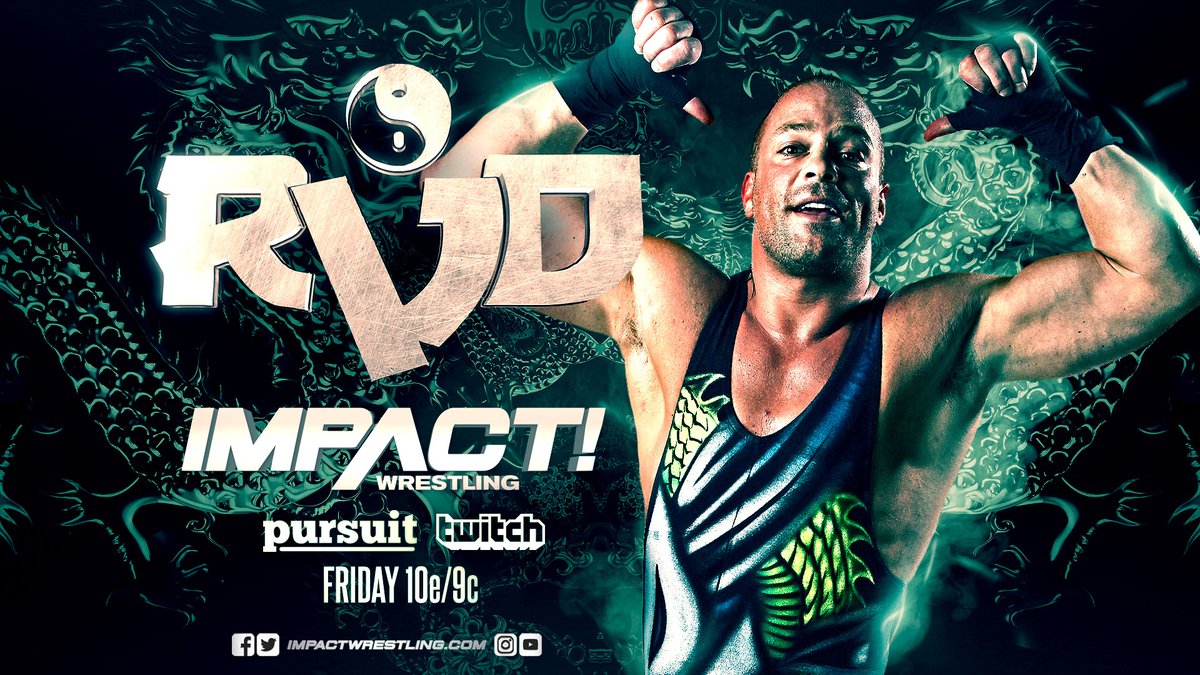 Rebellion was great! Impact Wrestling came with some fun wrestling and a solid PPV. How will IMPACT set up new stories?
Rebellion was about on par with Bound for Glory last year in terms of quality. Brian Cage is the new World Champ, LAX won the Tag titles and Tessa Blanchard took the torch from Gail Kim.
Up coming announcements should be fun!
Great Muta makes a surprise appearance at G1 Supercard, and apparently will be working with Impact Wrestling again!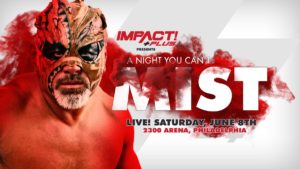 Ratings:
Ace Austin vs Petey Williams: Austin wins via The Fold – ** 1/2
Rosemary vs Kiera Hogan: Rosemary wins via DQ – *
Eddie Edwards w/Kenny vs Fenix: Fenix wins via Fenix Driver – ***
#1 Contender Match: Johnny Impact vs Michael Elgin vs Pentagon Jr: Elgin wins via Elgin Bomb – *** 1/2
Analysis:
Impact opens like an episode of Raw. Elgin comes out and claims he broke the machine, Johnny comes out saying he did it and around here there's a rematch clause. Then the surprise addition is Konnan comes out and says Pentagon is back in the World title picture. Elgin attempts to take out Konnan to send a message to Pentagon, but Penta comes out and a bit of a brawl happens. Elgin ends up tossing 6 or 7 security guys, so we're most likely on the way to a 3 Way Dance. It was an okay segment, not fantastic since Johnny and Elgin aren't great on the mic, but Konnan is still a master of the verbal gem.
#1 Contender Match confirmed as the main event tonight.
Solid match between these two, that got a decent amount of time. Classic Petey Williams spots, a Sharpshooter in Canada seemed correct. Austin fights out of the Sharpshooter and puts together some solid offense. Top Rope FameAsser, his outside in twisting head scissors to set up The Fold, and then The Fold was executed decently.
.@TheSamiCallihan wants it to be family vs. family in a 4 on 4 oVe Street Fight against @GottaGetSwann NEXT WEEK! #IMPACT

▶️ – https://t.co/jyZYT6QL46 pic.twitter.com/nvD1cTkRsI

— IMPACT (@IMPACTWRESTLING) May 4, 2019
Well after attacking Kiera to get a point across that she doesn't want her involved, Kiera wants a measure of revenge. The match was awkward and plodding at best. A couple okay spots, but not a good match. Bridesmaids and Su Yung attacking Rosemary ends the match. Kiera thinks about helping Rosemary but walks away instead.
Small backstage interview with Taya and Madison Rayne.
Impact Plus Flashback Match: Rhino vs RVD First Blood Match, Final Resolution December 5,2010.
After the Flashback match we get a little more of Taya bargaining with Management. Since she has 30 days to defend her title, their match next week is non-title.
.@SantanaLAX and @Ortiz5150 plan to handle business against The North. #IMPACT

▶️ – https://t.co/jyZYT6QL46 pic.twitter.com/g7kVP44r7Q

— IMPACT (@IMPACTWRESTLING) May 4, 2019
Interesting match. We see Eddie's goofy hardcore persona continue to unravel, but the match was solid even with Eddie's comedic-esque mannerisms. Killer Kross shows up and grabs Kenny. Eddie sees this, and Kross motions to hand him Kenny. However, when Eddie does grab Kenny, Kross doesn't let go. He just grins and shakes his head, while Fenix hits a Superkick, followed by the springboard Roundhouse Kick then the Fenix Driver. Kross takes Kenny and the story continues to build.
.@THETOMMYDREAMER and @GottaGetSwann were in search of a partner – @Lady_Scarlett13 (and @FALLAH1) is here to help! #IMPACT

▶️ – https://t.co/jyZYT6QL46 pic.twitter.com/mI853dYVL0

— IMPACT (@IMPACTWRESTLING) May 4, 2019
RVD comes out to a big pop, pokes fun at what old guys usually say about returning…and Ethan Page interrupts. It's actually a good back and forth between the two. After poking the bear enough, Page catches a Van Daminator for his troubles and RVD shrugs and walks to the back.
Melissa is doing the Twitch coverage from the tapings at the ECW Arena and Disco Inferno, Taya and Matt Striker show up on the stream. I didn't know Striker was working with Impact.
We get a video package summarizing Gail vs Tessa and even Tully's thoughts after the match.
The triple threat was actually really solid, up to a point. It was trending towards being a 4 star match, until we get to the apron. Johnny fights off Pentagon, and then double clutches before going for what I'm assuming was supposed to be a Diving Frankensteiner from the top rope to the outside…but it was so bad they cut to the camera furthest away from the spot. Aside from the one Big Yikes level of Botch, Elgin dodged Starship Pain, hit a big Lariat, into Buckle Bomb into Elgin Bomb.
Overall Score: 7/10
Aside from the rough open since 2 of the 3 participants aren't strong talkers, we had a solid show to follow up a great PPV. Eddie Edwards has something building with Killer Kross, the main event scene is kind of cool even with Brian Cage being injured for now and Taya playing up the heel aspects of not giving out title matches is great.
Also I love how Josh Alexander called out Ethan Page in the segment after the RVD confrontation. Alexander yelled at Page for going into business for himself when they have a match with LAX next week and they wanted to be the best tag team. Moose shows up and eases Josh's mind by saying something to the effect of 'Let Page do his thing, I'll tag with you'. I love the logical aspect of how there was a blatant contradiction in story and they fixed it immediately.
The oVe and Rosemary stuff will probably draw people's attention as well. So it's just a solid show. Good in-ring work and great story development.
Twitch Views:
5/4/2019 – LOW 4,000/HIGH 6,550
Well sadly the views didn't jump after a really good PPV. These are around what they were averaging before Rebellion, if not a little on the low end. Interestingly the second hour spiked in views. First hour the average was around 5,200 and the second hour the show never dropped past 6,000. So maybe the combination of NBA Playoffs and NHL Playoffs had an effect.