Andrew's IMPACT Ratings & Analysis 5/24/2019
Last week marked the second highest viewer amount on Twitch, and a damn good main event! How does IMPACT follow it up?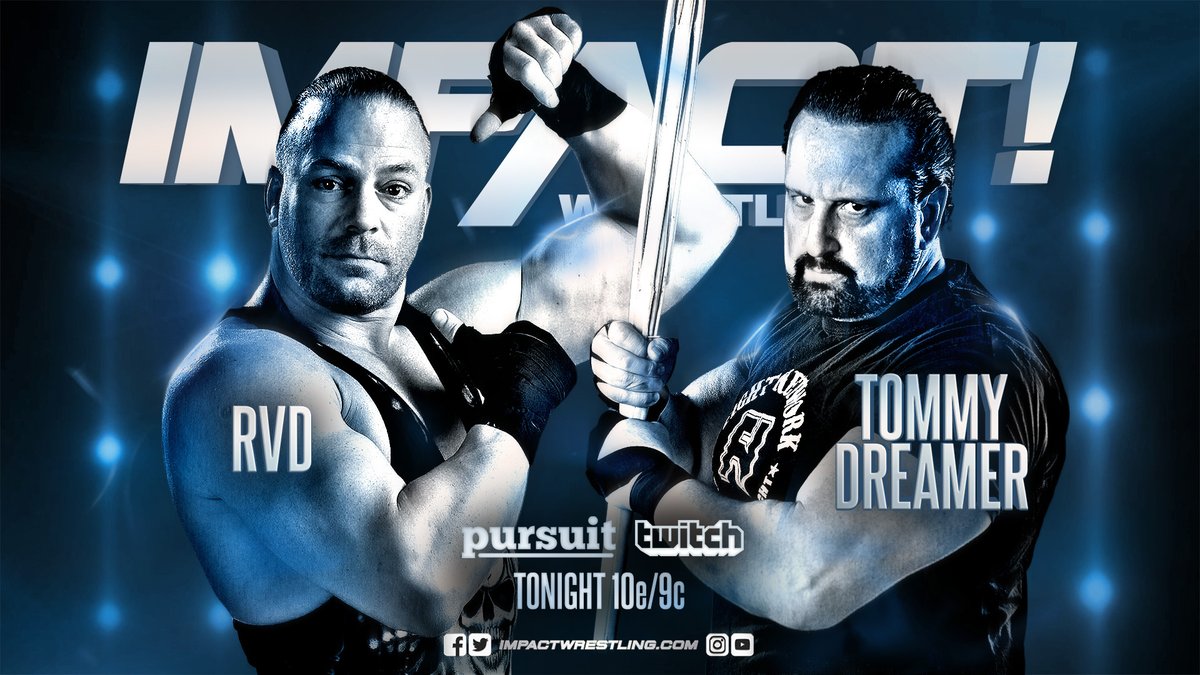 Last week marked the second highest viewer amount on Twitch, and a damn good main event! How does IMPACT follow it up?
Johnny Impact looked to be taking an opportunity to kill two birds with one stone when he came out to help Elgin last week. What's he up to?
Aside from that we've got two championship matches and the ECW throwback in the ECW Arena, RVD and Tommy Dreamer.
But wait – first we had Steiner Math, now we have Redneck Physics. School getting scary boys and girls.
The Deaners weren't going to visit Philly without having a few cheesesteaks! #IMPACT @CodyDeaner @JakeSomething_

▶️ – https://t.co/sWu6SEiYN7 pic.twitter.com/5zAFQNPZT3

— IMPACT (@IMPACTWRESTLING) May 25, 2019
Ratings:
Sami Callihan vs Fallah Bahh: Callihan wins via Draping Spike Piledriver – *** 1/4
Knockouts Championship: Taya Valkyrie (c) vs Madison Rayne: Taya retains via Road to Valhalla – **
Tag Team Championships: The North vs LAX (c): LAX retains via Tandem Inverted Slam – *** 3/4 
Exhibition Match: Glenn Gilbertti vs Ashley Vox: No Cntest – **
Rohit Raju vs Dez vs Petey Williams vs Ace Austin: Dez wins via Jocay-Le – ** 1/2
Tommy Dreamer vs RVD: RVD wins via 5 Star Frog Splash – ***
Analysis:
Well this was interesting. Set up from the 8 man tag match a few weeks ago, it seems to have brought out an angry side of Fallah Bahh. A bit more of a snap in Fallah's step, more aggression on strikes, it was really just a solid match. The Crists and Scarlett getting involved towards the end definitely adds to the story, assuming everyone sticks around and it plays out how presented.
.@TheRealMorrison has some explaining to do!

Why did he help @MichaelElgin25 last week? #IMPACT

▶️ – https://t.co/sWu6SEiYN7 pic.twitter.com/myABXHOPvj

— IMPACT (@IMPACTWRESTLING) May 25, 2019
So the Knockouts title match starts with some really weak looking elbows from Madison, and that bothers me. I've been pretty proud of her wrestling since her return, but the first part of this match felt like old crappy Madison. Taya tries to take out one of Madison's legs and also does a few heel tactics using the ref as a shield. Thanks to the short cuts, Taya retains and then Rosemary comes out to challenge for the title.
IMPACT PLUS Flashback Moment: Raven vs Sandman, NWA-TNA PPV #32, February 12, 2003
Ahh the Rascalz figured out what was holding them back last week:
The Rascalz aren't messing around with their training! #IMPACT@DezmondXavier @TheTreyMiguel @zachary_wentz

▶️ – https://t.co/sWu6SEiYN7 pic.twitter.com/vZHdHwXfrt

— IMPACT (@IMPACTWRESTLING) May 25, 2019
Damn good tag team match! The North and LAX both looked great, hit a bunch of interesting tandem moves. Granted, towards the end there was a sloppy pin break up where it looked like Santana didn't get there in time, but it was still only a 2 count. So that awkward spot aside, it was a very good match.
Glenn's character is marvelous. Since he hates women's wrestling, he called out a fairly green wrestler for the Exhibition, and was doing most of it with one arm since he was doing commentary at the same time. It wasn't a great match, but it was an entertaining segment. Glenn hits the Chart Buster on Ashley, then pretends she kicks out, so he can hit his finish again, but Tessa Blanchard comes out to stop the whole thing. This whole angle is great, with an awesome pay off for Tessa championing Women's Wrestling.
Decent X Division 4 way. Not really enough time to build to anything special, but constant action, nothing messy. Just good fluid action, and Dez picking up a win is always fun.
This was mostly what we expected, both guys had a lot of fun and respected one another. The first few minutes was some pandering, hand shakes, high fives, just general good fun. We saw some vintage Dreamer with taking items from the crowd and RVD had his fun with a chair.  Another long distance 5 Star Frog Splash wins the match for RVD. After the match The North and Moose attack the ECW Originals, but the lights go out and Sabu with Super Genie make the save! Sabu throws a few chairs, Moose catches his, but RVD hits the Van Daminator and we see the ECW crew stand tall.
Overall Score: 7/10
Solid in-ring work, great character work, just generally a fun show. A Trios match was announced for next week, with how the main event played out. We also will be getting Tessa versus Glenn next week. Really hard to complain about anything aside from the Knockout's Championship match being a little disappointing.
Twitch Views:
5/3/2019 – LOW: 4,000/HIGH 6,550
5/10/2019 – LOW: 3,800/HIGH: 7,130
5/17/2019 – LOW: 6,900/HIGH: 12,220
5/24/2019 – LOW: 5,200/HIGH: 10,070
This is the first time since moving to the Twitch TV simulcast that IMPACT broke 10,000 viewers two weeks in a row. This was a solid show where the show hung around the 8,000 viewers threshold for most of the show. So the average was a little higher and the previously mentioned two week record, this could be interesting. Not a bad show to try and keep people around, and announcing 2 matches with people that many fans want to see, could be something good.