Andrew's WWE Raw and SmackDown Live Ratings & Analysis (5/13 + 5/14/2019)
These last two weeks were rough. Did WWE get better? Can it get worse? Did I just jinx it?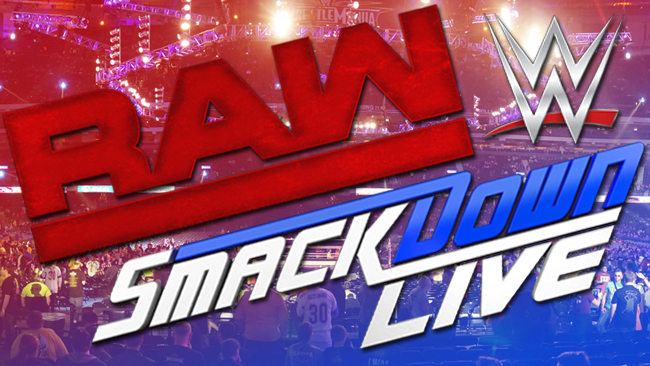 These last two weeks were rough. Did WWE get better? Can it get worse? Did I just jinx it?
I don't know what to think honestly. The last two weeks were rough and now we have two Go Home episodes that are taped. Seems like odd scheduling…but I guess we'll see?
Firefly Fun House is always a high point. Roman and Miz being on the babyface side of an angle together, and being effective is interesting.
There are elements that can make this work. Let's see.
Raw Ratings:
The Miz & Roman Reigns vs Bobby Lashley & Elias: Reigns & Miz win via DQ – ** ½
Mojo Rawley vs Apollo Crews: Rawley wins via Alabama Slam – N/A
Ricochet vs Baron Corbin: Corbin wins via End of Days – ** ¼
Dana Brooke vs Natalya vs Nikki Cross vs Naomi: Cross wins via Hangman Spinning Neckbreaker – **
Rey Mysterio vs Cesaro: Mysterio wins via Frog Splash – **
Fall Count Anywhere: Braun Strowman vs Sami Zayn: Zayn wins via Claymore – ***
Analysis:
We start off with Miz TV, and honestly this was done very well. Miz tried to go back to cocky and fun, but Roman stuck a plug in that. Said he came out for the Miz last week, showed the clip and Miz's personality became more serious. Roman was so relaxed and natural in this it was fantastic.
Then we get Shane interrupting them, saying it's over cueing Lashley and Elias to attack them from behind. This version of Shane is great. He feels he's above the law, and the fact that Vince said as much last week just adds a nice wrinkle to this Shane heel character.
As for the match, it wasn't bad at all. Little bit on the loose and fun side, but who's going to complain about fun?
Speaking of bad promos, Braun is on TV. Apparently Shane wants to talk to him. Sami convinces Shane that Braun should put up his MiTB availability in a Fall Count Anywhere match. Braun accepts, and I pray that something happens so Braun loses.
Mojo and Apollo are next. Do you want people to change the channel? Sheesh, I get the last two segments had "main event names" but none of them are interesting enough to capture attention, and then a match no one cares about isn't helping. I like the fact they're doing something with Mojo, but no one knows why he's got the face paint or a reason to care about this.
Okay finally a golden segment. Alexa is complaining her gear was lost on her flight and who happens to be around to lend the Goddess a helpful hand? Nikki Cross! Alexa grins at some point thinking she's manipulating Nikki into doing her dirty work, but once Alexa walks off, Nikki smiles and goes into crazy mode.
God this contract signing was hard to sit through. Becky saying nothing new, Lacey doing great character work and Charlotte struggling on the mic and trying to jam in extra words when Lacey is giving moments a second to breathe. The matches will most likely be alright, but Charlotte is a travesty on the microphone. Lacey is the best thing in a pretty little bonnet, and Becky is…just Becky. Sad to think that The Man was the hottest gimmick for a few months and now since she's at the top…that character plateaued hard.
Ricochet and Corbin was fine. Nothing special, because no matter how good of a job Corbin may be doing with his character – he's still boring as hell in the ring. It's always neat to see how he finds new ways to hit the End of Days, but nothing really noteworthy in this match.
Cesaro approaches Mysterio because well, Samoa Joe isn't there, so I guess Cesaro is the fill in. Ok.
This 4 way ladder match was alright. Not bad, not really good, but Nikki again did great character work. Bliss was on commentary being surprised, but acting like she won after Cross picks up the win. So Nikki helps Alexa put the ladder up in the ring and when she goes to climb, Alexa stops her and proceeds, but Nikki lets it happen. This could be a wonderfully nuanced story with Alexa thinking she has a new minion, but Nikki is basically just borrowing Alexa's spotlight so 'Nikki can play'. I hope this is more than a one week throw away. This could be gold.
Now I'll preface this with, I really do enjoy Cesaro's work. I know what he's capable of, from Claudio Castagnoli to NXT to the main roster. This match, just really didn't stand out to me. The ring work was fine, save for the super botched Swiss-1-9, but this really just blended into the background. No offense to either, but a match with no real weight and just two good wrestlers, really gets old when WWE likes to pride itself on stories.
YAY! Firefly Fun House! We start by playing some hide and go seek, we see Rambling Rabbit has a big bandage on his face, but he's no longer torn asunder. Then Bray wants to show us his secret! Is it balloons filled with candy? A new painting? The blueprints to a bank that he recently robbed and then turned into a strip club? Oh none of that? …there's still darkness in his mind? Ok. COREY TAYLOR! BRAY IS ACTUALLY THE LEAD SINGER OF SLIPKNOT!!! OMG!!
In seriousness, Fun House was great, it's a great reveal and ideally can only ascend to even greater things.
We get a video package that shows old NWA Wildside footage and just generally well done. The video package did a better job hyping the match than anything Seth and AJ have said and will say. WWE should've just stopped the package there, because those two talking doesn't get anyone to bite in. More good video packages, less bad promos please.
Now y'all shut up! This was a damn good match, and I'll explain why. It used…wrestling…LOGIC! *GASP*
The heels, which have issues with Braun and wouldn't want him in the match for selfish perseverance, go out of their way to insure that Braun loses. This is fantastic. MADE PERFECT, because Corbin throws Zayn out after Braun comes to, as to feed him to the now rampaging monster.  Wonderful.  Plus, Braun sucks, so taking him out of MiTB just makes me happy.
Overall Score: 7/10
Anyone that listens to Raw Reaction knows that I have some biases that add or subtract to the total. No Lucha House Party and a tremendous Fun House, added a full point to what is more objectively a 6 out of 10 show. So I give it a 7, because my extra credit scoring methods give me a way to always get some enjoyment out of this. Good show!
SmackDown Live Ratings:
Randy Orton vs Finn Balor vs Andrade vs Ali: Andrade wins via Hammerlock DDT – ***
The Usos & Roman Reigns vs Elias, Shane McMahon, Rowan & Daniel Bryan: Shane wins via Coast to Coast – ** ¾
Asuka & Kairi Sane vs Mandy Rose & Sonya Deville: Asuka wins via Crucifix Pin – ** 1/4
Analysis:
Big Dog and A Lister back at it again! The best sequel in WWE this week!  After some banter Shane, Elias and Rowan  & Daniel Bryan show up to beat them down. The Usos slide in for the save, so we've got the Bloodline back together. A match gets made that sees Shane ban Miz from ringside and schedules a 3v4 Handicap Match, calling himself a hands on owner. So yeah…super power trip Shane is interesting.
This was a damn solid 4 way. You've got 4 great participants that can work, a few built in dislikes and the amusing point that everyone is starting to fake out Randy at least once, when they assume he'll go for an RKO, is just great stuff. A lot of action ending in a great sequence with Ali eating an RKO, Orton eating a Springboard Dropkick and then Andrade hit's the Feint Back Elbow on Finn to lead into the Hammerlock DDT and the win! Before Andrade can climb the ladder and pose, Ricochet's music hits, he springboards on the ladder, knocks Andrade off and runs away with the briefcase.
Generic hype for the SmackDown Women's title match. Meh
Lacey shows up too! And gives…I guess a promo. It wasn't bad, just felt super unnecessary and didn't really do much but hit the same points from Monday.
Handicap match was really solid. Jey Uso took a beating, but the Bloodline fought back nicely. Had a bunch of solid hope spots including the Young Bucks Superkick Party. But the numbers were too much and Shane hits a Coast to Coast on Jey for the pinfall. Good stuff.
SmackDown lies too all of us calling the Firefly Fun House a new episode, but it was the same from Monday. BOO! BOO!
I am not calling Asuka and Kairi the Kabuki Warriors. What the hell is that? Sure yes, Asuka comes out in Kabuki masks, but Kairi is a pirate. It's a crap name. The match was fine, but the name is crap. IIconics were on commentary and I agree with them, the name sucks. Kabuki Warriors, why does it need to be Japanese influenced? Why couldn't they just be The Pirates of Tomorrow?
KO Show closes things and honestly is really paint by numbers; until Sami Zayn comes out at the end to help KO beat down Kofi. So yeah, this did nothing for me, aside from make me happy that Sami is being used fairly well.
Overall Score: 6/10
Average show, nothing great, just a generally skippable episode. AND HOW DARE YOU LIE ABOUT FIREFLY FUN HOUSE!  The first week I understood running it back to back to make sure to get maximum exposure, but the big Demon reveal and then lying it was new during this episode like SmackDown's audience is really THAT much different than Raw's.
Also this show lost points for Kabuki Warriors…almost as bad as Viking Experience. What happens next? Io Shirai gets called up and we call them the Patriot Experience?
Andrew's G1 Climax 29 Ratings & Analysis: Night 6 B Block
Juice Robinson, Tomohiro Ishii and Jon Moxley come in at the top of the standings. How do we see B Block take shape?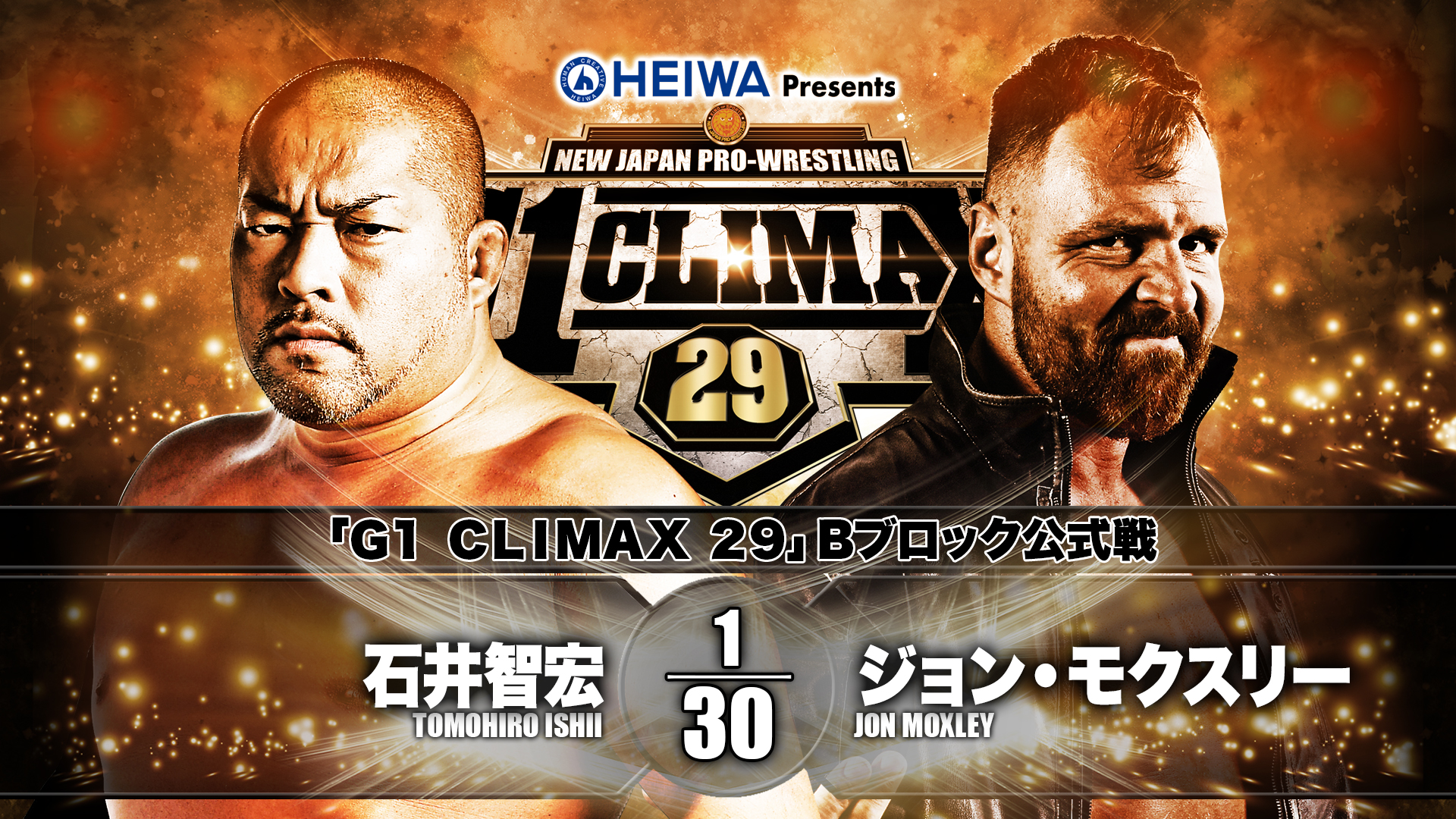 Juice Robinson, Tomohiro Ishii and Jon Moxley come in at the top of the standings. How do we see B Block take shape?
This whole day is based around two major things:
Will Jay White or Tetsuya Naito get a win?
Will Moxley or Ishii kill one another?
Let's find out!
Ratings:
Bad Luck Fale & Chase Owens vs Zack Sabre Jr & Yoshinobu Kanemaru: Fale wins via Grenade @4:50 – **
Tomoaki Honma & Hiroshi Tanahashi vs Minoru Suzuki & Lance Archer: Archer wins via EBD Claw Hold @9:50 – **
SANADA, EVIL & BUSHI vs KENTA, Kota Ibushi & Clark Connors: BUSHI wins via MX @9:02 – ** 1/2
YOSHI-HASHI & Kazuchika Okada vs Will Ospreay & Toa Henare: YOSHI wins via Fisherman Buster @8:45 – ** 1/4
B Block: Shingo Takagi vs Taichi: Takagi wins via Last of the Dragon @14:40 – ****
B Block: Jeff Cobb vs Juice Robinson: Cobb wins via Tour of the Islands @13:20 – *** 1/2
B Block: Toru Yano vs Jay White: Yano wins via Brass Knuckle Low Blow/Roll-Up @3:05 – ** 1/2
B Block: Tetsuya Naito vs Hirooki Goto: Naito wins via Destino @16:00 – *** 3/4
B Block: Jon Moxley vs Tomohiro Ishii: Moxley wins via Deathrider @20:35 – **** 1/2
Analysis:
Well Fale tried to outsmart the Rainmaker in his last G1 match, and that didn't go too well. So Sabre is being a whiny child, tried to step to Fale and for the most part, got brushed off. Fale isn't really in a position to eat another loss, but it's unusual for Sabre to be doing so poorly. I'm curious if Sabre continues this slide until maybe TAKA Michinoku returns to be his hype man, or Sabre gets off the schneid.
People, everybody dies. You know that, Lance knows that, Honma knows that…Kairi Sane knows that. This didn't really add much to things except the undercurrent of a quiet Minoru Suzuki is scary for the whole world. Also – Everybody Dies!
Now that SANADA and EVIL have had their match, there is some symbiosis back on the LIJ undercards. KENTA and Kota teaming together was a cute call back, but nothing of heavy merit came from this match. BUSHI continues to rack up positive momentum during these tags, Clark Connors is impressive for an LA Dojo Young Lion. So decent match, but aside from EVIL and KENTA brawling after the match and SANADA and Ibushi having a rather civil fan support battle, nothing too important for the impending matches.
Okada and Ospreay did have the crowd hot, but aside from a small flourish, this was mostly YOSHI and Henare. Surprisingly, YOSHI-HASHI has put together a few pinfalls in the tag matches, so that tends to actually play a role in the second half story telling. Ospreay may be on his way to a big upset since even if Okada seems to be positioned to win A Block, he won't make it through unscathed.
Now this was a fun match. It was a continuation of the Suzuki-Gun/LIJ drama, but Taichi has his own issues. Shingo is fighting as a Junior Heavyweight and Taichi moved up to Heavyweight last year, but was overlooked for the G1. So the fact that Shingo asks and gets in, yet Taichi moves up and was ignored has to bother him. With all of these little things eating through, Taichi brought out the Dangerous T that many of us have grown to love. Sure there was a brief moment of shenanigans with lovely Miho and the microphone stand, but 90% of the match was on the up and up. Pumping Bomber versus Axe Bomber was great, the callbacks to both of their mentors was wonderful and just generally speaking, when the Holy Emperor tries, those are great matches. Shingo getting the win won't sit well with Taichi, but we've got plenty more time to see how this all falls.
Juice starts off the match in a 3 way tie for first, but Cobb really needs a win to legitimize his tournament. Being undefeated in ROH for about a year, as well as all his other accolades, he needs to stop losing. Cobb showed a little more fire than usual in this match and took it to Juice. Juice has been in hard hitting affairs all tournament and it looks like Juice might've finally hit the wall. Should be interesting to see if Juice flounders from here or if he recovers.
Well the Chaos revenge tour has another stop with Toru Yano and Jay White. Jay has not gotten off to a good start and it's all his past decisions coming to bite him. This match…would be no different. Yano takes advantage of Gedo getting involved. Between Barbara Jean the turnbuckle pad and the brass knuckles from Gedo, Jay White's nuts didn't stand a chance. So Yano runs away with 2 more points and Jay's pride…and other things…are a bit sore.
Goto started off the tournament looking like a new man, Naito has also looked different, but for different reasons. Naito sitting in the basement with zero points and Goto with the renewed sense of purpose makes for an odd dynamic. This match is one of their usual ones, where it's quick bursts, hard hitting and a few solid false finishes. However, at multiple points Naito's usual tranquilo is shaken and you can see him show levels of concern. Goto being the one with the power in the match, makes for some unique interactions. Naito does pull off the win, but it's not for Goto's lack of trying and kicking out of one running Destino. Naito finally gets some points, but it's nothing near dominant enough to breathe a sigh of relief.
Moxley versus Ishii was the insane hard hitting match we expected. Ishii even flew. He hit a splash on Moxley through a table. The Stone Pitbull flew. Yes I realize there is a callback to Masato Tanaka in that move, but you don't understand, Ishii flew. Anyway, the beauty of Red Shoes as a referee is he understands each wrestlers personality, so he gives them a little more leash to do what they like to do. Moxley used weapons, Ishii egged it on, there were huge strikes, Ishii's torpedo style rising headbutts and just good violence. This was a bar fight and no one was upset. Moxley getting the win was a little surprising since most of us assume he won't be available for many if any later dates once AEW TV starts up. This was just a nice change of pace for the usual New Japan and/or Strong Style match.
Overall Score: 7.75/10
With a great Taichi match and Moxley changing the pace, this show was definitely something to behold. Jay White's continued spiral is more amusing than Sabre's since this seems like retribution where Sabre is just a punk bitch when he loses. Even with an uneventful undercard, the main Block matches kept everything moving upward and onward.
With Moxley as the sole 3-0, who unseats the Death Rider?
B Block Standings:
Jon Moxley – 3-0 (6 Points)
Toru Yano – 2-1 (4 Points)
Tomohiro Ishii – 2-1 (4 Points)
Juice Robinson – 2-1 (4 Points)
Shingo Takagi – 2-1 (4 Points)
Jeff Cobb – 1-2 (2 Points)
Tetsuya Naito – 1-2 (2 Points)
Hirooki Goto – 1-2 (2 Points)
Taichi – 1-2 (2 Points)
Jay White – 0-3 (0 Points)
NXT Minus 6: Too Early To Fantasy Book War Games?
Everyone loves fantasy booking. Right?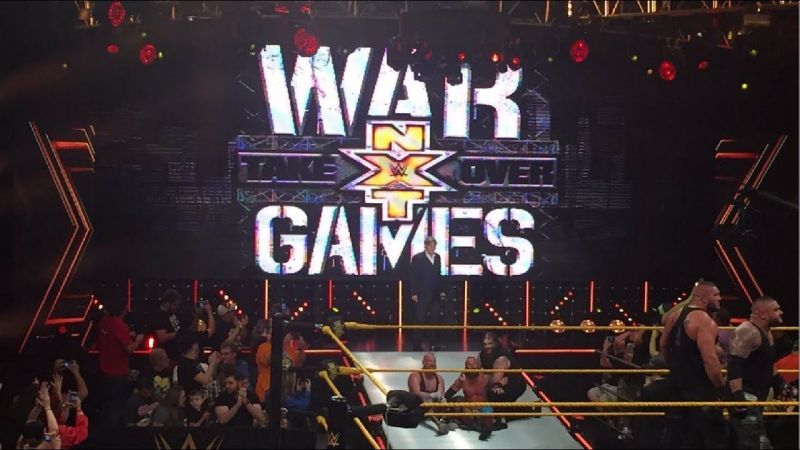 The answer is No. It's not too early.
6. NXT teases us with a Matt Riddle-Arturo Ruas match that went 3 minutes? I know it's not happening, but those guys deserve a Takeover spot. Kudos to NXT for playing up the mma aspect. Everything from Mauro's commentary to the ref stoppage made this feel like it should have been in an octagon. If you haven't already seen it, check out Ruas' match from the Evolve 10th Anniversary show. Dude is a killer.
5. We got the final opening round match of the Dusty Rhodes Everyman Classic. Bronson Reed is good. He delivered what might be the biggest frog splash I've ever seen. There is always a place for athletic big men, but he's not the story.
4. Dexter Lumas is creepy. The key to wrestling is to crank your personality up to 11. If this creepy thing is any part of Dexter Lumas, I don't want to be in a room with him. I don't trust him around my kids. I wonder how many crimes against humanity he's already committed. Creepy in a way that Bray Wyatt can only hope to be.
3. Tyler Breeze enters the running for Savage Burn of the Year. He looked at Jaxson Ryker and asked "Weren't you Buddy Murphy?" Brutal. That line alone is worth the return of Prince Pretty.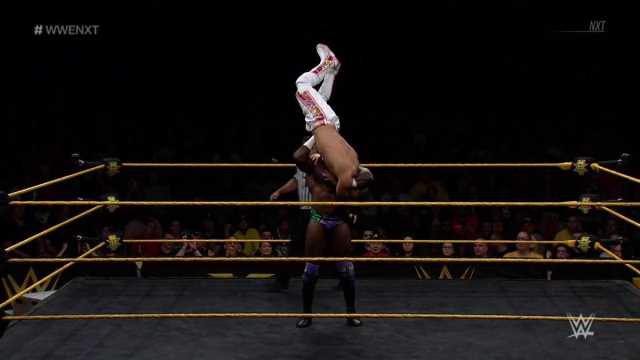 2. I finally got the moment I was waiting for: an interesting KUSHIDA match. I was ready to send him to 205 in exchange for Akira Tozawa. And if this is Apollo Crews, I will gladly take him back full time in NXT. Stellar matchup and worth watching. 4.4 stars. 
1. Oh no, this cannot be happening. They're turning Keith Lee into Kassius Ohno 2.0? He's talking about getting passed over for the new guys? And he's jobbing to Damian Priest next week? Been here a year and zero Takeover matches? The Ridiculous Keith Lee deserves better. THIS…CAN…NOT…BE…HAPPENING!!!
Bonus time: Old school versus new generation. Tyler Breeze heads up a cast of NXT OGs to take on Undisputed Era in (cue William Regal voice) War Games to determine NXT supremacy. Keep Apollo around. Throw in Cesaro and Harper, maybe even Samoa Joe, and you've got yourself one hell of a brawl. Either that or Undisputed Era versus the Club. I'm cool with both.