Andrew's WWE Raw & SmackDown Live Ratings & Analysis (4/29 + 4/30/2019)
WWE Raw and SmackDown were surprisingly entertaining last week. Does this week follow in the footsteps?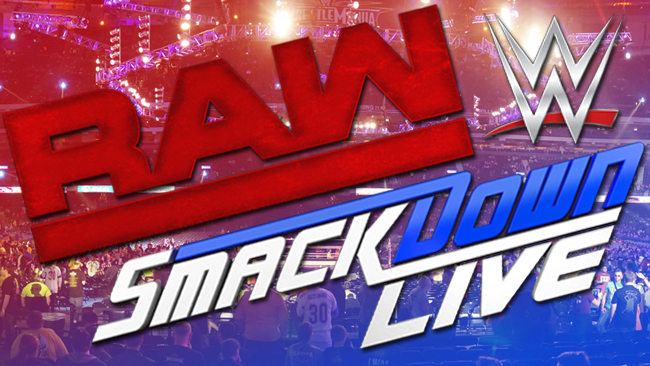 WWE Raw and SmackDown were surprisingly entertaining last week. Does this week follow in the footsteps?
We got War Raiders adjust name last week, we got a few more shakeup reveals and we know that Money in the Bank needs some participants.
Also on SmackDown we had Kevin Owens turn on the New Day to no one's surprise.
So, some of these things could fall flat, but maybe we'll get 3 good WWE weeks in a row!
Raw Ratings:
Braun Strowman & Ricochet vs Drew McIntyre & Baron Corbin: Ricochet wins  via Shooting Star Press – **
The Usos vs Gallows & Anderson: Usos wins via Uso Splash – **
Lashley vs The Miz: Lashley wins via Spear – N/A
Viking Raiders vs Lucha House Party: Raiders win via Thor's Hammer – *
Naomi vs Alexa Bliss: Naomi wins via Thicc Legged Moonsault – * ¼
Zack Ryder & Curt Hawkins vs The Revival: Ryder wins via Back Slide – *
Samoa Joe vs Rey Mysterio: Mysterio wins via Stack Pinfall – * 1/2
Analysis:
In the most boring way to decide people for Money in the Bank, Alexa Bliss kicks things off by just announcing the 4 Raw participants. And to make matters worse, it's just all four talking over one another, and people try to run down Ricochet…which isn't hard since he has the promo skills of a toddler learning the alphabet.  This was bad and the obvious tag match ending made no real sense aside from it being a wrestling trope.
The match itself was painfully uninspired and, save for Drew's interception Claymore on a rampaging Strowman, who really cares? Yes Drew remembers Corbin sucks after 1 week of getting screwed, not really clever writing.
Now we get a throw away tag match with the Usos and a team that hasn't mattered in what feels like 6 months or more. Who thought this was a good idea? The match was fine, but again, who cares?
THEN we get some moronic back shaving candid camera moment? I lost IQ points watching this garbage this week.
Lashley comes out and thinks he's Bo Jackson with the third person stuff. Okay…sure, but then even The Miz wasn't great. The crowd reacted which allowed Miz to just drop out, instead of trying to carry the bad segment. But come on now…nothing has been good so far. Oh but Lashley insults Miz's dad, so "impromptu" match time.
The match was just a plot device to get Shane to come out, continue the feud and then instigate Miz into demanding a Steel Cage match.
Lucha House Party is on my TV….that's always negative for me. They felt embarrassed by Viking Raiders, tried to get the jump…but failed. The House Party sucks. Even if they're decent wrestlers, they have no real personality and their existence is beyond pointless. This show is pretty damn bad so far.
Alexa is back to announce the Women's MITB Raw participants. Natty and Dana Brooke aren't interesting, but at least Dana Brooke needs to be built up, so she's a good addition. Naomi is third, and we have the same issue as the Men's MITB. A bunch of worthless bickering that feels forced and poorly scripted, then Alexa announces herself as number 4. Naomi takes a shot at Alexa's ego which prompts a match.
YOWIE WOWIE! Firefly Fun House! Rambling Rabbit looks like he enjoys Donnie Darko, Abby getting annoyed after the painting was revealed, Sociopath being the Word of the Day and Bray's mannerisms being a little creepier were all fantastic. Not as good as the first episode, but now this is the best thing on the show so far!
This match wasn't good, but Alexa tying her shoes and complaining the entire time is amusing. So when her shoes come off and she asks for time to get her shoes back on, Naomi takes advantage of it and wins. Alexa has the built in excuse of not being dressed to wrestle and wearing borrowed shoes, so story wise this was fine…and continuing the momentum of the Fun House.
Becky insinuating that 'currying favor' is basically being a whore, is amusingly catty. But the way Lacey responds with "I told you not to let your emotions get the best of you, but you didn't listen…I'm done talking". Was a nice mic drop into a solid back and forth brawl. Hey look Sonjay Dutt!
Oh great, another useless tag match. So we tease The Revival for something that's not even funny and then have them lose in a fluke way to a nostalgia act that are the definition of transitional champions. Ugh…
I'm not completely over Sami's new gimmick, but if they don't introduce a foil, I got nothing. I don't watch Raw for an IWC parody Ted Talk.
50/50 booking pal. Since Mysterio wasn't announced for the MITB match, it made sense that he would get a win to drag this Samoa Joe feud out further.
Oh our main event is a contract signing with two guys who aren't good promos. Again, just fantastic, in a laughably sad way. God this was bad.
Overall Score: 3.75/10
This show was crap. It makes complete sense why it fell out of the Top 5 in TV ratings because this sucked hard. Coming off of two shows which I enjoyed and were generally well received, we get this worthless pile of disappointment.
SmackDown Live Ratings:
Becky Lynch vs Bayley: Becky wins via Disarm Her – **
Kair Sane & Asuka vs Jobbers: Sane wins via Insane Elbow – *
Handicap Match: B-Team & Elias special Enforcer vs Roman Reigns : Reigns wins via Spear – **
Finn Balor & Ali vs Andrade & Randy Orton: Ali wins via 450 Splash – ** 1/4
Analysis:
The show opens with Michael Cole? Why the hell is he on Tuesday? Then Kofi comes out, says a lot of nothing, tries to validate why they gave Owens a chance and Owens interrupts. Owens plays up being an ass, Woods tries to jump him, but Owens lays his out and then bails. Really? Okay I'm already getting that sinking feeling that this show is gonna suck.
Becky faces Bayley! This is actually kinda interesting since Bayley gets a better reaction than the last few places, but she has a different energy about her. The match was fine, but my favorite part was the finish when Bayley got her Elbow Drop disrupted, Becky goes for the Disarm Her and Bayley looks annoyed at herself for being in the situation. The Charlotte attack isn't surprising and I don't care.
Aleister Black says a whole lot of nothing, in a deliberate and uninteresting way. Huzzah.
Hardys vacate the tag titles because Jeff is hurt, Lars Sullivan comes out to finish what he started. Ugh..
SmackDown MITB reveals, in such a lame matter of fact way. Go Andrade, McIntyre or Orton.
Kairi and Asuka kill some jobbers. They didn't even mention their gimmick names because the IIconics and Graves were busy saying nothing and trying to be clever, but failing. This was a heard segment to sit through.
Sonya gives Mandy the MITB slot without an argument. So we're either going to see them split soon, or Sonya is really just a good friend.
Roman gets put in a handicap match against a joke tag team and Elias. Yeah…was anyone supposed to care about the B-Team? I mean I'm looking around, but I can't find anyone.
The match was plodding and corny, but I guess some story beats were hit since they're just trying to stack the deck. I wasn't impressed but I suppose it was okay.
Heels versus Faces, because that's what is expected. Imagine a normal tag match, involving these four, no real tension and no excitement for them to clash. Yup, that's this match.
Women's MITB SmackDown participants are finalized, and I've hit the point of not caring. Love Ember, but I still don't care.
KO Show – so wait, Raw and SmackDown are both main evented by a crappy talking segment? KO wanted Woods, Woods didn't come out, but he starts talking to action figures. I had flashbacks of Clint Eastwood talking to an empty chair. KO is great, but this segment sucked. Kofi coming out for the attack doesn't even save this.
Overall Score: 5/10
Lame show. I feel like this wasn't much better than Raw, but the 2 hour made it easier to swallow and didn't overexpose the problems. Still just a generally sad and underwhelming episode.
Such a huge let down since the last few weeks were trending upwards. Again, this show ending up outside of the Top 5 didn't surprise me either, since bad shows with no sense of intrigue, feel like a wasted 2 hours.
Tiffany's Takes: NXT UK (6-19-19)
Lots of questions and lots of movement on the NXT UK brand! Why did Alexander Wolfe join Imperium?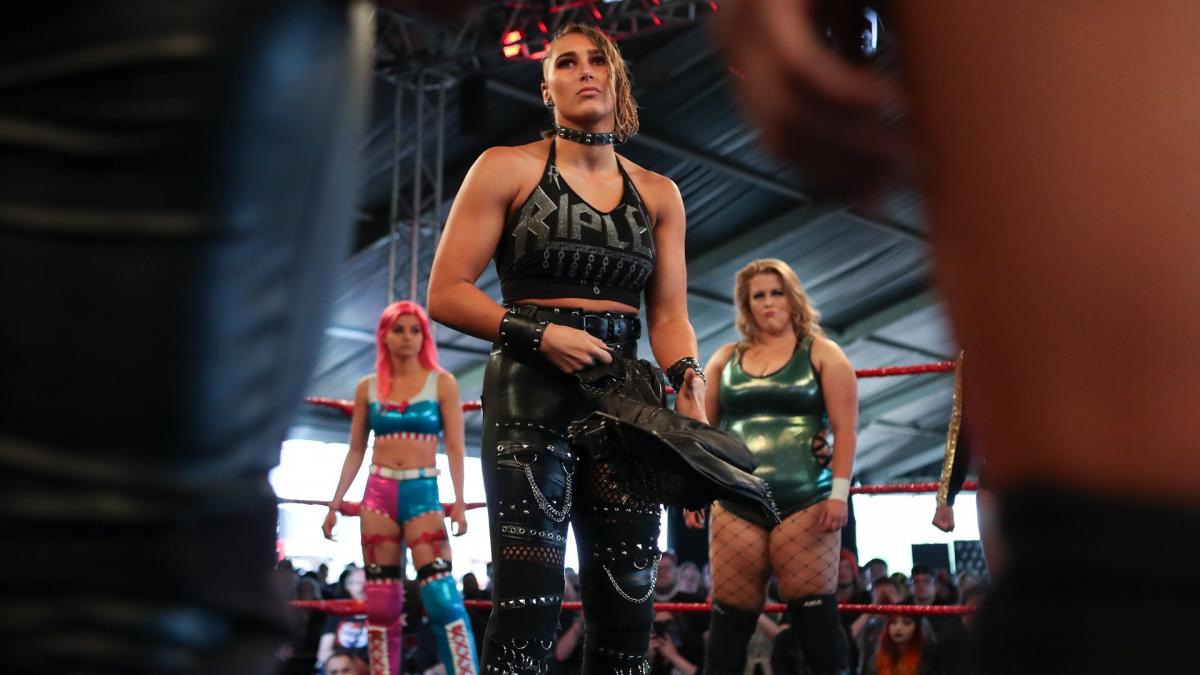 Lots of questions and lots of movement on the NXT UK brand! Why did Alexander Wolfe join Imperium?
After a shocking finish last week, who is ruling the Kingdom?
NXT UK Championship: Well, unless Travis Banks is going to be an Australian Winston Churchill, this storyline has officially left the 'Ripped out the history books' tracks, though the subtle hints at fascism were a little uncomfortable. I loved that Wolfe's reasons for joining were about respect, something he didn't really get during SAniTy's main roster run, and making professional wrestling great again, which seems to be a thing with a lot of people in the business.
I loved Banks coming out and basically saying he'll take them all on. I realize that Banks doesn't really fit with British Strong Style, but if they need a fourth member, he'd be a great addition.
NXT UK Women's Division: We're getting KLR vs Toni! This is NOT  a drill! That battle royal was really good, i loved the rookies coming in. Everyone looked really good in this match. I LOVED that Xia Brookside got some revenge on Jinny and Jazzy by eliminating Jazzy.
I will admit, I got REALLY excited when it looked like Xia won because she's one of my faves in NXT UK, but the way she was eliminated protected her and she showed that she's a STAR in the making. I will not, however, complain about Kay Lee Ray getting a shot at Toni Storm! I'm super excited by that! That match is going to be a barn burner.
NXT UK Tag Team Division: It's officially official! Mustache Mountain WILL be getting a Tag Team Championship rematch! I love that MM acknowledged that it's taken them almost five months to get around to asking for that match, but they're still getting it. Look out, GYV!
Kenny Williams vs Kassius Ohno: I don't like Kassius Ohno, but I'll admit that that was a really good match from him and Kenny Williams. It definitely went a lot longer than I'd expected since this was a cold match with no real build, but it wasn't bad. I was surprised by Ohno getting a win over Williams, who is a fan favorite, but they might be trying to groom, and I use that term loosely, Ohno for a bigger mid-card role.
I am curious about what the story is with Williams and Amir Jordan. I assumed that Jordan's 'injury' at the hands of GYV was a work, but he hasn't been seen in weeks and Williams is now feuding with Noam Dar. I hope they haven't split Lucky Bad Boys up, they were such a good team and fun to cheer on.
Speaking of Dar, what is his deal right now? I don't remember him being such a pretentious little douchebag during his initial heel run. I do like Williams and Dar feuding right now, but I'm not a fan of Dar's new attitude.
Gallus vs The Hunt: To quote JR, that was bowling shoe ugly. I wasn't expecting scientific or technical prowess in this match, but yikes, it was a brawl. I was impressed by how long it went since neither team usually has matches longer than maybe five minutes. Gallus pinning wasn't a shock since I think I can see where they'll be heading going into TakeOver: Cardiff, but we'll see. Gallus needed the win more than the Hunt, but Hunt will get their moment.
Overall Comments: Well, that was really good! The best part of these hour-long Network shows is that it feels like more gets accomplished in the 45-60 minutes they get to tell all these stories and it works.
Super excited about Toni Storm vs KLR. I'm not exactly saying KLR is going to win, but it'll be a hell of a match.
Xia Brookside showed her star power in that battle royal. She's going to be the It Girl in NXT UK before she's done.
I love that WWE is nodding to the trend of making professional wrestling respectable again. That seems to be a growing trend in the wrestling world lately and I like it.
Mustache Mountain vs GYV should be good, whenever it happens!
That's it for Tiffany's NXT UK Takes! Stay tuned for NXT US!
Tiffany's Takes: WWE 205 Live (6/18/19)
As WWE rolls into their Tacoma Stomping Grounds, the purple brand needs to establish a challenger for WWE 205 Live leader Tony Nese.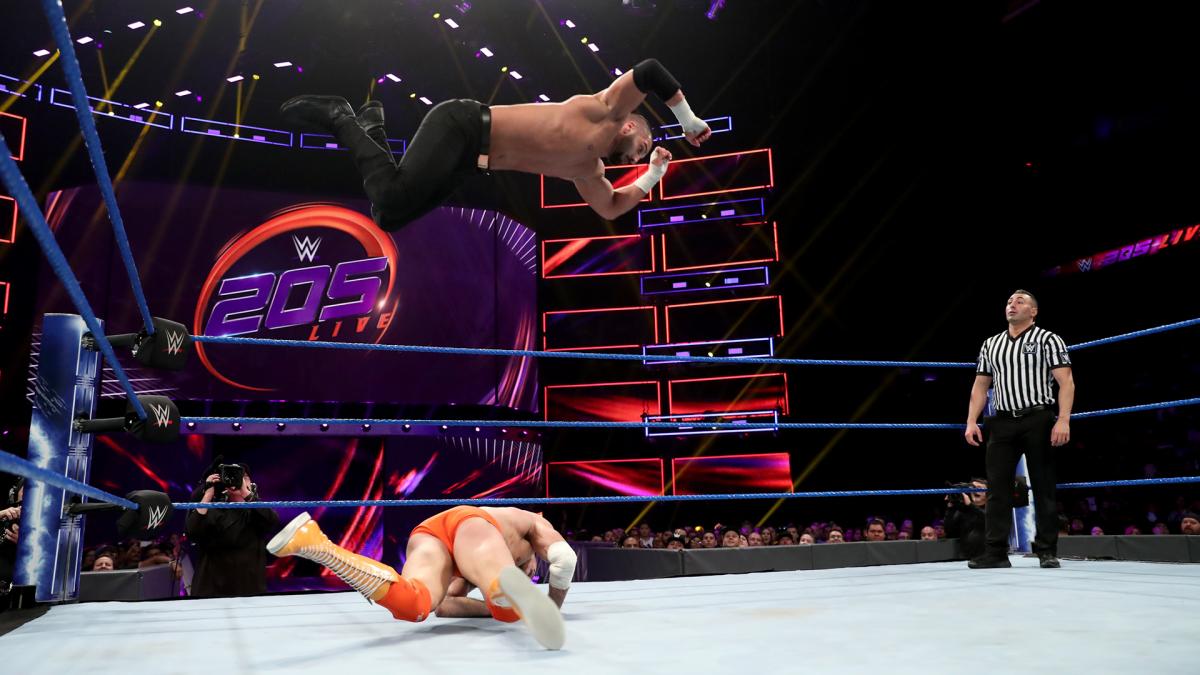 As WWE rolls into their Tacoma Stomping Grounds, the purple brand needs to establish a challenger for WWE 205 Live leader Tony Nese.
After last week's shocking Fatal Four Way, who will be this week's #1 Contender for the WWE 205 Live brand's Cruiserweight Championship?
WWE Cruiserweight Championship: What? What happened to the deciding match being tonight? That is a total cop out by Maverick and WWE to not have Gulak vs Tozawa to decide who faces Nese at Stomping Grounds. Tozawa earned his spot and Nese wants to face him, why does Gulak have to be shoehorned in for no good reason?
Brian Kendrick vs Russ Taylor: Okay, the start of that segment was fun with Kendrick exposing Dar as being at 205.  The match against Russ Taylor, who had more guts than brains was fun, but I'm more intrigued by Kendrick vs Dar.
Drake Maverick vs the Kanellises: So 205 Live GM Drake Maverick was apparently AWOL after stealing the 24/7 Title from R-Truth, but it was clear from the promo between the Kanellils'  and Gallagher that Maverick has got bigger problems than winning the 24/7 Championship.
Jack Gallagher vs Chad Gable: I'm glad Gallagher doesn't seem the worse for wear after that nasty spot last week. I do want the rematch. I'm also intrigued by Kanellis picking a fight with Gallagher over the match, especially now that they've re-signed with WWE. Next week looks like fun.
I'm also very intrigued by Kanellis wanting to bring more respect to 205 and himself since WWE doesn't seem to have any interest in it. I agree but I'm more curious where this is going to go, especially given the feud brewing with Kanellis and Maverick.
Ariya Daivari vs Oney Lorcan: This was a really great main event. Daivari and Lorcan do no have pretty wrestling styles, but it worked for them and really showed the different styles in the 205 locker room. It's not all flips and kicks, these guys can brawl too. I was disappointed in the DQ finish, but it protects both guys and keeps this feud going, so that's fine.
Singh Brothers vs Lucha House Party: They did it!!! By hook or crook, the Singh Brothers FINALLY got a win!!! I was literally jumping up and down over this! I'm really sorry about poor Penelope, but the Singhs getting a win was such a great moment.
Overall Comments: How was 205's go home show? It was okay. I was REALLY disappointed that WWE copped out on having Gulak and Tozawa have a deciding match. Tozawa really earned the spot, Gulak won a single match but he's in the main event scene after being gone for months? Really?
The whole thing with the Kanellis' is really peaking my interest. Now that they've re-signed with WWE, I'm hoping that they'll get more screen time because they have the potential to really take 205 in a new direction, especially by feuding with Maverick.
I'm so excited that the Singhs finally won! They have been so undervalued due to being Mahal's lackeys that I was afraid they were about to be future endeavored. Since the win was tainted, it will probably continue the feud with LHP, but that's okay, the Singhs proved they can win, they just need to do it more often.
I loved the main event! Daivari vs Lorcan was really good and it shows the real depth of the 205 roster.
That's it for Tiffany's 205 Takes! Tune in tomorrow for the NXTs!
---
Time to pick up a new Chairshot shirt!

Get yours at:
https://www.prowrestlingtees.com/related/thechairshot.html