Rob: What Did I Enjoy?
Instead of focusing on the negative, Rob decides to focus on the less than popular positive things about WWE lately.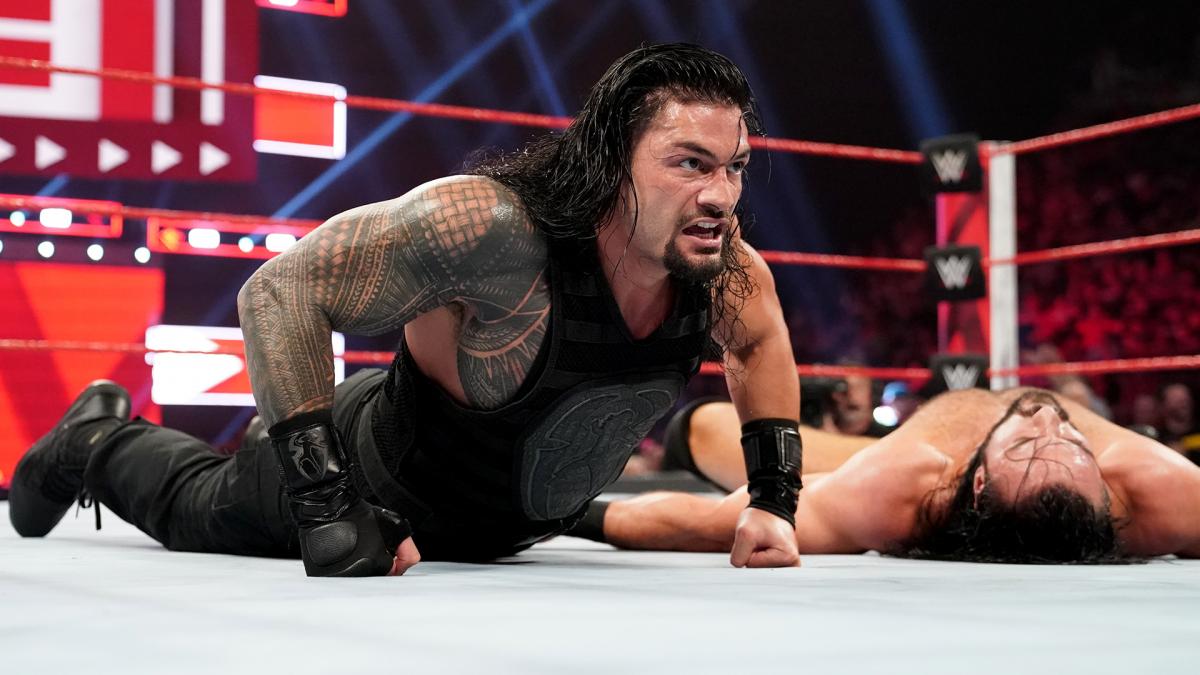 Instead of focusing on the negative, Rob decides to focus on the less than popular positive things about WWE lately.
It's been a rough past few weeks online for the old WWE Universe with a ton of ratings talk and 'what's wrong with you people?' getting flung around a lot.  So I figured it was time to spread some positivity around for a change. So for the next few weeks that's what I'm going to do, point out some things that I really enjoyed on WWE TV (and if I watch anything else, there too) and tell you why. So let's go!
Roman Reigns back in action
Just having the man back in the ring is great enough, but he looked more like he was getting back to full speed so that's even better.  And that's just Monday; on Tuesday we got a great retrospective video package on the Big Dog to go along with it.
The AJ Styles/Seth Rollins Rivalry
Glad to see that there's actually some animosity building between the two men, and that we're not going to get 'you're great, I'm great, let's have a great match, ok?'  Big matches are always better with some heat attached to them, and AJ has even shown some flashes of maybe heeling it up soon.
Kofi vs Daniel Bryan
Great work from both guys for a Monday night.  Bryan is so good at everything and Kofi has really raised his level in ring to match up with him.  I was legit worried that Bryan was going to win the title back, that's how well they performed.  They'll probably never match the pure energy of their WrestleMania match but I'm all for them going again on a future pay per view.
Samoa Joe the hallway menace
The big surprise among YouTube viewing numbers for the week was this segment, that got over 1 million views.  Why was it so popular?  Well, it was pretty damn effective.  Joe following Rey Mysterio's son Dominic down the hall like a stalker was legit scary, and it really felt like Joe was gonna choke the kid out right there in the hallway.  I'm guessing that Joe is going get his hands on Dominic at some point in the future and this was a great and creepy foreshadowing of the that.
Lacey Evans
The best thing about Lacey Evans is that she is playing the hell out of her character.  This is a needed breath of fresh air in the Women's division, which needed something other than 'great wrestlers' to go with, and she's the perfect foil for  Becky Lynch in that they are about as polar opposite as you an get.  If you find her annoying, which I've seen a lot of people say, then she's doing her job.  I'm really looking forward to seeing her work with everyone on the RAW side no matter how things for her go at Money in the Bank.
Ucey Hot
Yes it was dumb and sophomoric.  You know what?  Good.  Sometimes we need a reminder that we're not watching Masterpiece Theater here.  I was laughing out loud.  The Revival committed and sold it hard, and good for them because this whole angle is probably going to do more to get people to pay attention to them then being a great tag team.  Sorry guys, that's the business.  If you can't get attention by way of doing your normal routine you go with shenanigans.  And look, if this particular bit just was not for you I understand. But I enjoyed it.
Braun and the Dumpster
Braun tossing people and objects around is always fun, no different here.
Now on to SmackDown…
Kofi vs AJ Styles vs Sami Zayn
Great main event, especially for TV.  Two WWE Title matches in one week on TV is nothing to get mad about for real, and Kofi's promos both nights have been good at striking a slightly more serious tone without losing what made New Day popular in the first place.  This particular matchup was great use of the Wild Card Rule and I'm glad we got to see it.
The Tag Team Title Resolution
The other half of the Wild Card entry was great as well, with the Usos coming over to have a really good match with Daniel Bryan and Rowan to fill the vacant SmackDown Tag Team Titles.  I'm really looking forward to Bryan and Rowan as tag team champions, and it looks like Heavy Machinery may be their first challengers so we have the potential for some great comedy bits involving steaks and vegans.
The Roman Reigns Montage
I'm a Reigns mark so yeah.  Got a problem with it, I'm not hard to find on the internets.
Note:  I would have really liked to have had something from the women's division to list here.  The tag match was way too short.  There are more women worthy of longer matches than Charlotte, Becky, and Bayley, ok?
Well, that's the list for this week.  And look, I have no issue with people genuinely not liking a match, segment, wrestler, etc.  My issue is with people giving disingenuous takes either to get themselves attention or because they've internalized someone else's disingenuous takes.  Unfortunately that's at least half of the negativity you see out there, probably a lot more than half.  Understand that a lot of these people spewing this stuff are trying to be provocative to get their follower counts up, their views/subscriptions up, or even get noticed so they can get a job in the business.  A few of them got spooked last week because it finally looks like their ranting has borne some fruit in the form of people actually believing what they've been saying, which of course works it's way to their numbers as well.  Understand that those guys are not giving you honest commentary, and quite frankly never have been, so beware what you choose to read or listen to out there.
OK rant over.  Until next week everyone!
Andrew's G1 Climax 29 Ratings & Analysis: Night 4 B Block
Second night for the B Block! Jay White and Tetsuya Naito need to get on the scoreboard. Did it happen?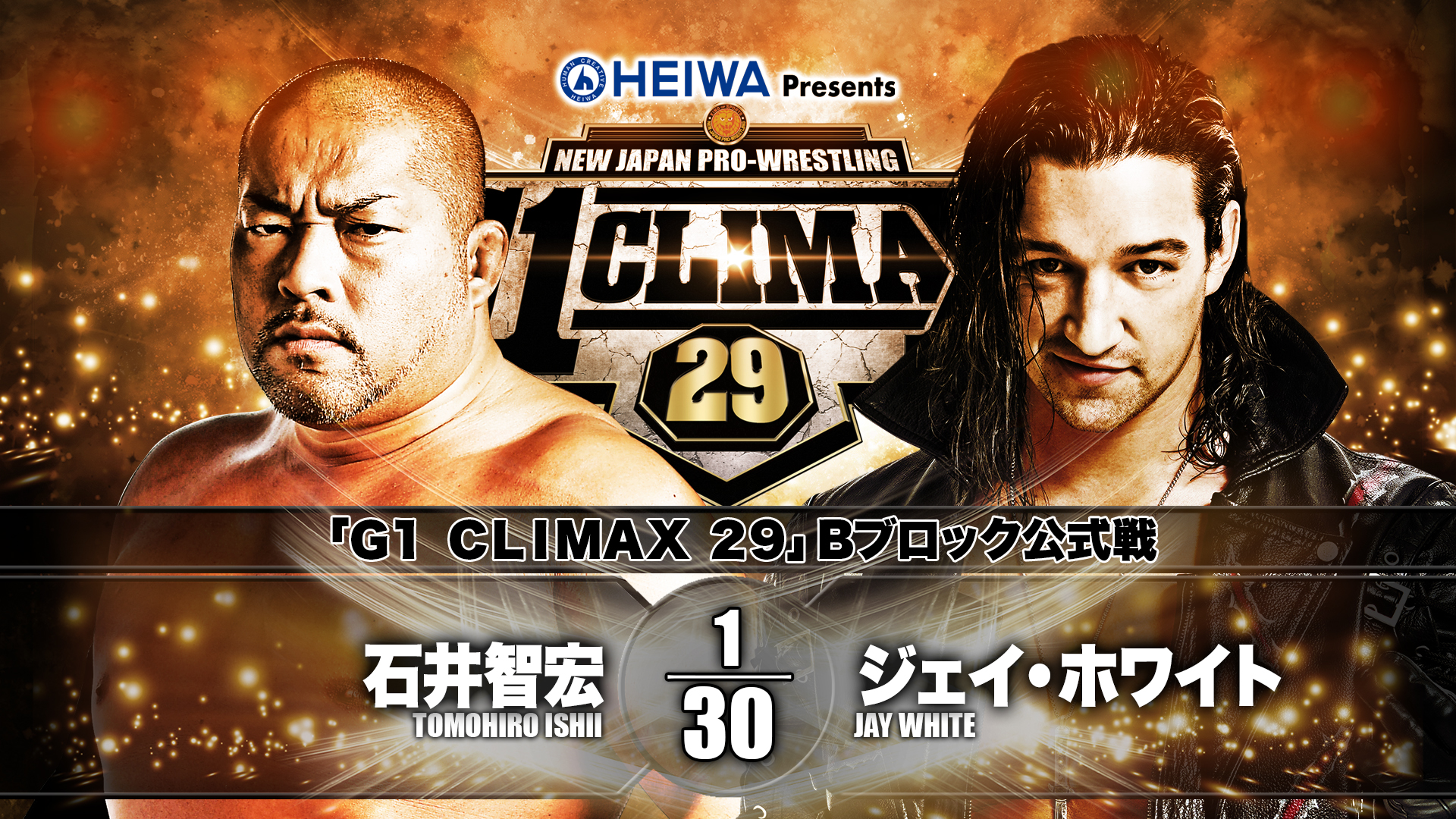 Second night for the B Block! Jay White and Tetsuya Naito need to get on the scoreboard. Did it happen?
Sapporo is a fun city for the main event, with a lot of general history.
Will Ospreay having a neck injury means he's not working the undercard tonight.
Those are probably the two points that matter the most. So I guess let's get to the show!
Ratings:
Jyushin Thunder Liger & Kota Ibushi vs Yota Tsuji & Shota Umino: Ibushi wins via Half Boston Crab @8:20 – **
Toa Henare, Ren Narita & Tomoaki Honma vs EVIL, BUSHI & SANADA: BUSHI wins via MX @7:20 – ** 1/2
Minoru Suzuki, Yoshinobu Kanemaru, Zack Sabre Jr & Lance Archer vs KENTA, Clark Connors, Karl Fredricks & Hiroshi Tanahashi: Kanemaru wins via Deep Impact @11:30 – ***
Chase Owens & Bad Luck Fale vs Kazuchika Okada & YOSHI-HASHI: Okada wins via Rainmaker @8:45 – ** 1/4
Block B: Shingo Takagi vs Toru Yano: Shingo wins via Pumping Bomber @6:15 – ** 3/4
Block B: Juice Robinson vs Hirooki Goto: Juice wins via Pulp Friction @12:20 – *** 1/2
Block B: Jon Moxley vs Jeff Cobb: Moxley wins via Draping Deathrider @8:55 – *** 1/4
Block B: Tomohiro Ishii vs Jay White: Ishii wins via Vertical Drop Brainbuster @19:15 – **** 1/2
Block B: Taichi vs Tetsuya Naito: Taichi wins via Last Ride @21:00 – *** 3/4
Analysis:
Liger and Ibushi take on Young Lions because Will Ospreay is nursing an injury. So this was unexpected, but who's gonna argue with some Liger? Bare bones basic Young Lion match, but Liger and Ibushi kept the interest high.
EVIL and SANADA are facing one another on Thursday, but they were on the same team tonight. Part of this story was BUSHI remaining to look strong since the end of the BOSJ, while EVIL and SANADA had the tension building up. Instead of the LIJ fist bump after the win, EVIL tries to cheap shot SANADA, SANADA counters and then they have a stand off.
This Suzuki-Gun match was beautiful. It was just a gang fight, with each member of Suzuki-Gun taking someone off and Lance Archer even joined commentary at some point. House show quality match was a good way to describe this, but it was still fun and got across the point for future matches and just great character work.
It might be a little mean to say, but YOSHI-HASHI is in this match, so who cares? Chase Owens does prove why he's the glue that holds Bullet Club together. He's a great tag team player and this year he's looked a lot better than he has in the past. So we've got an alright match, Okada wasn't gonna eat a pin, but I guess they wanted to protect YOSHI a little, so Chase ate the Rainmaker.
Shingo proved he watched the Naito match by trying to get Yano to take off his shirt. Anyone who saw Shingo in Dragon Gate knows he's got some comedy chops being a former…wait…the current, Open the Owarai Gate champion (Owarai means comedy). Shirt, wrist tape and turnbuckle shenanigans ensue, but the right person won. Shingo gets on the board and doesn't suffer the shame of getting bamboozled.
This tends to be an issue with Goto and Juice a lot of the time. By this, I mean boredom. Goto and Juice have bumped heads a few times and they both try very hard, but they aren't exciting together. Juice being a quirky but not overly animated just means you get a snarky line and one move that may be entertaining (usually Left Hand of God) and then the action stalls. So both did good work, it was a tough match, but it wasn't really anything crazy. Solid enough match though.
Moxley focused on Cobb's left shoulder, so the story was to take out Cobb's power and try to figure out how to end the match. We saw another solid match, and Moxley gets across more of his character. He does borderline heel tactics and then apologizes to the referee. So this brawling, unstable babyface is an old school gimmick in Japan, but not often seen in New Japan. It's nice to watch, and Moxley taking advantage of Cobb's positioning to hit the Draping Dirty Deathriding Paradigm DDT.
Jay White starts off against two of the heavier hitters from Chaos, his former stable. After taking Goto lightly, Ishii comes into this match after a big win over Jeff Cobb. White came into the match less relaxed, but still playing up his smarmy character. Ishii laid into Jay the whole match, where Jay tried to outsmart the Stone Pitbull, but Jay isn't as clever as he thinks he is. A great match with well placed false finishes and a lot of tension. Fantastic back and forth, plus Ishii picking up the win is something special.
There were so many story threads going on here. Sapporo is the place of their Intercontinental Championship match earlier in the year where Taichi had Takashi Iizuka interfere. Iizuka left the Iron Fingers for Taichi, but he hasn't used them in the 6 months he's had them. This was a great struggle of wrestlers who were once rivals, but Naito has since eclipsed Taichi. Hell, Taichi even hit a Ganso Bomb, shades of his mentor Toshiaki Kawada. References, call backs and a solid match from a story telling perspective.  Work rate might not have been fantastic, but that's the beauty of professional wrestling being more than the moves in the ring. Plus part of the fun of Taichi matches is watch Miho Abe react, since she's such a lovely devoted valet.
Overall Score: 6.75/10
A lot of this show was driven by the stories and the historical threads between participants, opposed to the in-ring action. I appreciate the mixture of angles that New Japan shows attack with. Many newer fans just know NJPW for great hard hitting work rate, but the beauty of puroresu in general is how deep the stories go.
Sometimes the wrestlers reference things from their mentors/trainers, sometimes it's just a story line from the isolationist politics that each puro company has dabbled with or sometimes it goes all the way back to when someone was a Young Boy in a dojo. The layers are there for those who wish to know, so part of the fun in nights like this, are what personally floats your boat.
The show was the weakest so far, but there were plenty of satisfying moments outside of ring work.
B Block Standings:
Tomohiro Ishii – 2-0 (4 Points)
Jon Moxley – 2-0 (4 Points)
Juice Robinson – 2-0 (4 Points)
Toru Yano – 1-1 (2 Points)
Hirooki Goto – 1-1 (2 Points)
Shingo Takagi – 1-1 (2 Points)
Taichi – 1-1 (2 Points)
Jay White – 0-2 (0 Points)
Jeff Cobb – 0-2 (0 Points)
Tetsuya Naito – 0-2 (0 Points)
Andrew's Top 5 Matches: Week Ending 7/14/2019
HOLY WRESTLING WEEKEND BATMAN! With everything that went on, what did I see and what made the Top 5?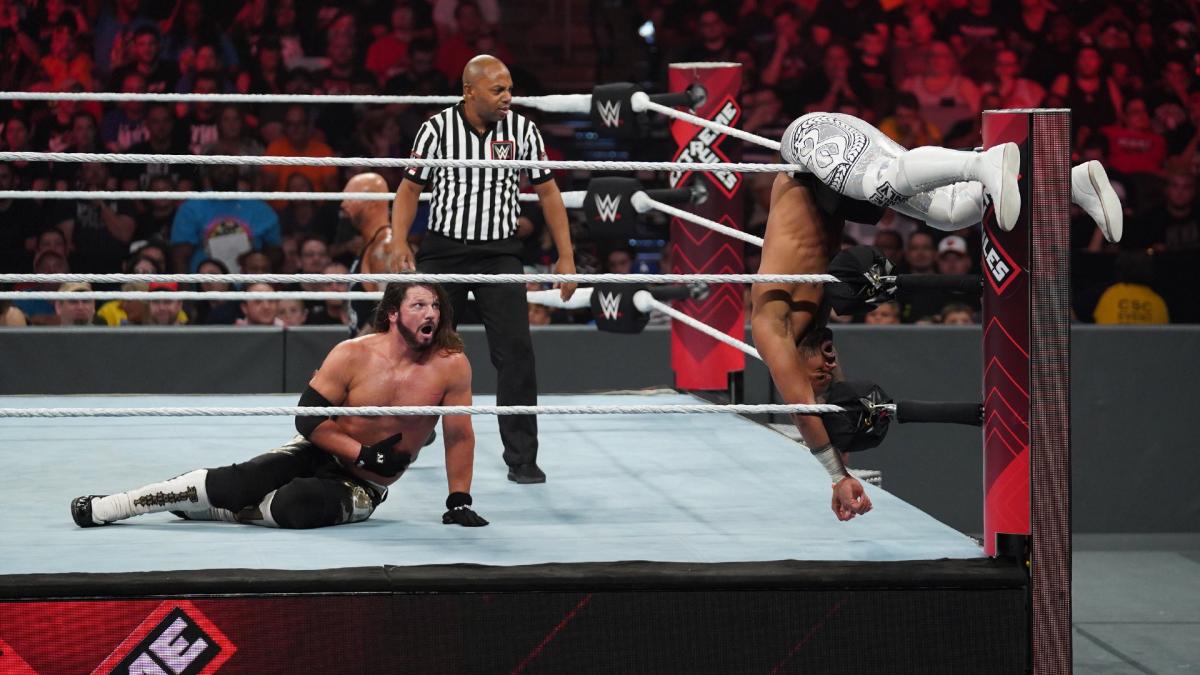 HOLY WRESTLING WEEKEND BATMAN! With everything that went on, what did I see and what made the Top 5?
Well let's not mess around too much since we've got a lot to break down. Our June match of the month was a two horse race, but one did end up winning without any controversy.
Updated Match of the Year Pool:
January – NJPW Wrestle Kingdom 13 IWGP Heavyweight Championship: Kenny Omega (c) vs Hiroshi Tanahashi
February – NXT Halftime Heat: Ricochet, Aleister Black & Velveteen Dream vs Adam Cole, Johnny Gargano & Tommaso Ciampa
March – Stardom: Wonder of Stardom Title Match: Jungle Kyona vs Momo Watanabe (c)
April – WrestleMania 35: WWE Championship: Kofi Kingston vs Daniel Bryan (c)
May – AEW Double or Nothing: Cody Rhodes vs Dustin Rhodes
June – NJPW BOSJ 26 Finals Day: BOSJ 26 Finals: Shingo Takagi vs Will Ospreay
So there we go. The BOSJ Finals that blew away many that saw it, still resonated well with voters. So we have our first iteration of the same company getting a second match, but still none of the wrestlers yet.
Now what won last week, as the first match of July? Impact Wrestling Slammiversary: Impact World Championship: Brian Cage (c) vs Michael Elgin, took the first match slot of July.
Since we had so many shows this weekend, there was a draw, so we've got 6 matches this week in the interest of fairness.
5t. NJPW G1 Climax 29 Night 3: Block A: SANADA vs Will Ospreay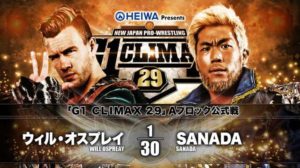 From My Analysis:
Well now, this went back and forth quite a bit. SANADA proved his athleticism, Ospreay proved that he can hang with heavyweights and it was close the whole time. The only really awful spot was Ospreay slipping out of the Paradise Lock. There's a gimmick there, and we don't need the allure of it to be cheapened for a dumb flip spot. Aside from that worthless moment, the match was really wrestled well and SANADA had a few attempts at victory. SANADA's constant desire to use the Moonsault still proves to be his downfall. He really needs a new move.
Winner: Ospreay via Stormbreaker
Rating: ****
5t. AEW Fight for the Fallen: The Brotherhood (Cody & Dustin Rhodes) vs The Young Bucks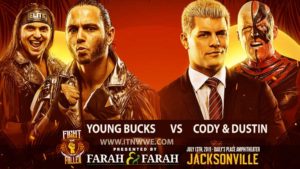 Snippet from Mitchell's Coverage:
The Bucks have Dustin alone and they know it. Fans rally up behind Dustin as he throws hands on both Bucks! He gives jab after jab, and pumps it up like daddy did! Dirty birds for Matt, bionic backhands for Nick! But then a SUPERKICK in return! Shining Wizard to Macho Elbow! Cover, TWO!! Fans duel again as Matt grits his teeth. Matt runs at Dustin in the corner but gets a kick. Dustin hops on for a DESTROYER! Cover, TWO!! Fans rally and Dustin still feels it. Dustin tags Cody in and he sends Nick's kick into Matt. Then Cody SUPERKICKS Nick, grabs Matt, but Nick SUPERKICKS Cody back! The Bucks think, and as Cody stands again, they give him DOUBLE SUPERKICKS to the back! Cover, but Dustin breaks it!
The Rhodes regroup, as do the Bucks. Fans hope they "Fight Forever!" as the Rhodes both stand together. The Bucks rush them, to steal the uppercuts! But then they get SUPERKICKS from the Rhodes! To give them back! Stolen Cross Rhodes! Cover, TWO!! Cody survives his own move, but the Bucks are not done. Nick FLIES onto Dustin, then coordinates with Matt. Matt gut wrenches, Nick springboards, MELTZER DRIVER! Cover, the Young Bucks win!
Winner: Bucks via Meltzer Driver
Rating: ****
4. NJPW G1 Climax 29 Night 2: Block B: Tomohiro Ishii vs Jeff Cobb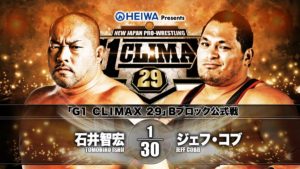 From My Analysis:
HOSS FIGHT! Big boys do big boy things and it was great. Chop exchanges, suplexes and both men putting the other through hell. Each favored their backs at different points, which made sense with all the punishment and suplexes both we dolling out. This definitely felt like it could go either way and that's always a great vibe. Cobb never hit Tour of the Islands, so it was well protected.
Winner: Ishii via Vertical Spike Brainbuster
Rating: ****
3. WWE Extreme Rules: United States Championship: AJ Styles vs Ricochet (c)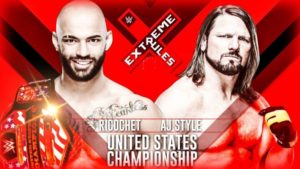 Snippet From Mitchell's Coverage:
Styles goes to suplex but Ricochet counters with a swinging neckbreaker! But Styles still lifts Ricochet for a brain buster! Cover, TWO!! Both men are down again but fans know "This is Awesome!" Styles slowly gets up and drags Ricochet over to a corner. Styles hauls Ricochet up top but Ricochet fights back. They brawl and Styles rocks Ricochet. Styles climbs up to join Ricochet but Ricochet fights back again. Ricochet slaps Styles off the top and adjusts position. But Styles is right back up, only to get a hotshot from Ricochet! Ricochet climbs back up, springboard shooting star! Cover, but Styles has a foot under the rope! Anderson points it out and the count is off!
Ricochet can't believe how close he was, but he vows to wrap it up. He drags Styles to a drop zone, climbs up top, but Anderson runs over. Ricochet leaps over him and BOOTS Anderson down! But this distraction allows Gallows to trip Ricochet! Ricochet is stuck on the corner and Styles takes advantage, with an IMPLODING STYLES CLASH! Cover, Styles wins!
Winner: Styles via Avalanche Styles Clash
Rating: **** 1/4
Honorable Mentions:
NJPW G1 Climax 29 Night 3: Block A: KENTA vs Hiroshi Tanahashi
Winner: KENTA via Go 2 Sleep
Rating: *** 3/4
WWE Extreme Rules: SmackDown Tag Team Titles: The New Day vs Heavy Machinery vs Rowan & Daniel Bryan (c)
Winner: New Day via Midnight Hour
Rating: *** 3/4
NJPW G1 Climax 29 Night 2: Block B: Juice Robinson vs Shingo Takagi
Winner: Juice via Pulp Friction
Rating: *** 3/4
AEW Fight for the Fallen: CIMA vs Kenny Omega
Winner: Omega via One Winged Angel
Rating: *** 3/4
WWE Extreme Rules: Raw Tag Team Titles: The Revival (c) vs The Usos
Winner: Revival via Shatter Machine
Rating: *** 1/2
AEW Fight for the Fallen: SCU vs Lucha Brothers
Winner: Lucha Bros via Spike Fear Factor
Rating: *** 1/2
NJPW G1 Climax 29 Night 3: Block A: EVIL vs Kota Ibushi
Winner: EVIL via Everything is Evil
Rating: *** 1/2
WWE Extreme Rules: Undertaker & Roman Reigns vs Shane McMahon & Drew McIntyre
Winner: Undertaker via Tombstone
Rating: *** 1/2
WWE Extreme Rules: Intercontinental Championship Match: Shinsuke Nakamura vs Finn Balor:
Winner: Nakamura via Kinshasa
Rating: *** 1/4
WWE Extreme Rules: Aleister Black vs Cesaro
Winner: Black via Black Mass
Rating: *** 1/4
AEW Fight for the Fallen: Jimmy Havoc, Darby Allin & Joey Janela vs MJF, Shawn Spears & Sammy Guevara
Winner: Spears via Death Valley Driver
Rating: *** 1/4
WWE Extreme Rules: WWE Championship: Kofi Kingston (c) vs Samoa Joe
Winner: Kofi via Trouble in Paradise
Rating: *** 1/4
NJPW G1 Climax 29 Night 3: Block A: Bad Luck Fale vs Lance Archer
Winner: Archer via EBD Claw Hold
Rating: ***
WWE Raw: 2 out of 3 Falls: The Miz & The Usos vs The Revival & Elias
Winner: Miz & Usos 2-1
Rating: ***
AEW Fight for the Fallen: Kip Sabian vs Hangman Page
Winner: Page via Deadeye
Rating: ***
NJPW G1 Climax 29 Night 2: Block B: Jon Moxley vs Taichi
Winner: Moxley via Deathrider
Rating: ***
IMPACT!: Kiera Hogan vs Jordynne Grace vs Madison Rayne
Winner: Grace via Grace Driver
Rating: ***
NJPW G1 Climax 29 Night 3: Yoshinobu Kanemaru, Minoru Suzuki & Taichi vs Tetsuya Naito, Shingo Takagi & BUSHI
Winner: Suzuki via Gotch Style Piledriver
Rating: ***
WWE SmackDown: Shinsuke Nakamura vs Finn Balor
Winner: Shinsuke via Kinshasa
Rating: ***
NJPW G1 Climax 29 Night 2: Minoru Suzuki & Zack Sabre Jr vs Kazuchika Okada & YOSHI-HASHI
Winner: Sabre via Cross Arm Breaker
Rating: ***
WWE Extreme Rules: Extreme Rules Winners Take All Raw Women's & Universal Championships Match: Becky Lynch (c) & Seth Rollins (c) vs Baron Corbin & Lacey Evans
Winner: Rollins via Stomp
Rating: ***
2. NJPW G1 Climax 29 Night 3: Block A: Kazuchika Okada vs Zack Sabre Jr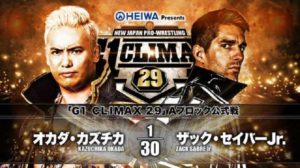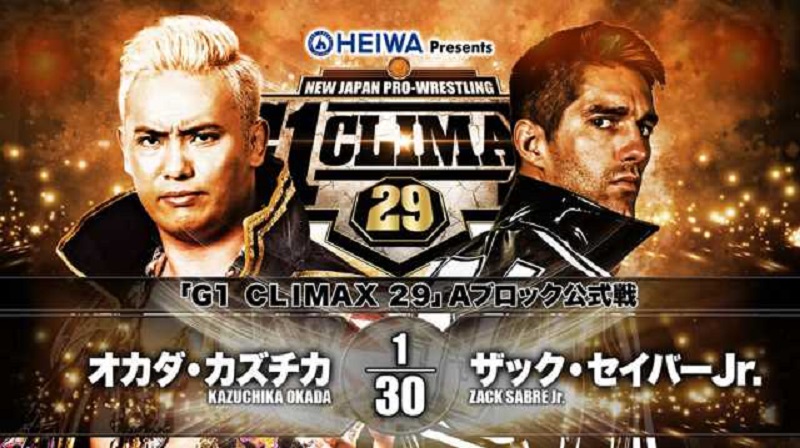 From My Analysis:
Okada has the amazing ability to wrestler his opponent's style of match. Sabre stretched him and tried to break him, but Okada fended off every attempt. We saw numerous counters, submissions and great wrestling. Okada's Rolling Rainmaker to set up the traditional Rainmaker is always a fun transition. Awesome match.
Winner: Okada via Rainmaker
Rating: **** 1/4
1. NJPW G1 Climax 29 Night 2: Block B: Jay White vs Hirooki Goto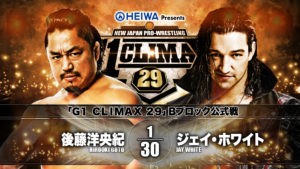 From My Analysis:
Jay White hasn't taken Goto seriously, like the better portion of New Japan fans. White put on some great heel work, from his interactions with Gedo, to being a step ahead with a beaming shit eating grin the whole time. Goto showed the heart and resolve that he used to be well known for. Most people who became fans over the last 4 years or so, know Goto as a good hand but to never accomplish anything really. This could finally be a return to the form he had a while ago when he was considered on equal footing with Nakamura and Tanahashi. Damn great effort from both wrestlers.
Winner: Goto via GTR
Rating: **** 1/4
Thoughts:
Well even though I missed the Evolve show because of having plans on Saturday, I think I caught enough of the quality shows. The Rhodes' story is something I've been finding entertaining, but watching Jay White's character evolve is great too. So my vote will go to Jay White vs Hirooki Goto.
Goto showing a possible resurgence and White continuing to grow are all great things so early in this G1 Climax tournament.