Chairshot Wrestling News Shuffle: Goldberg vs Undertaker, WWE 2K20, AEW, Morale In WWE and More! (5/14/2019)
News involving Goldberg vs Undertaker, WWE 2K20, AEW, Morale In WWE and More!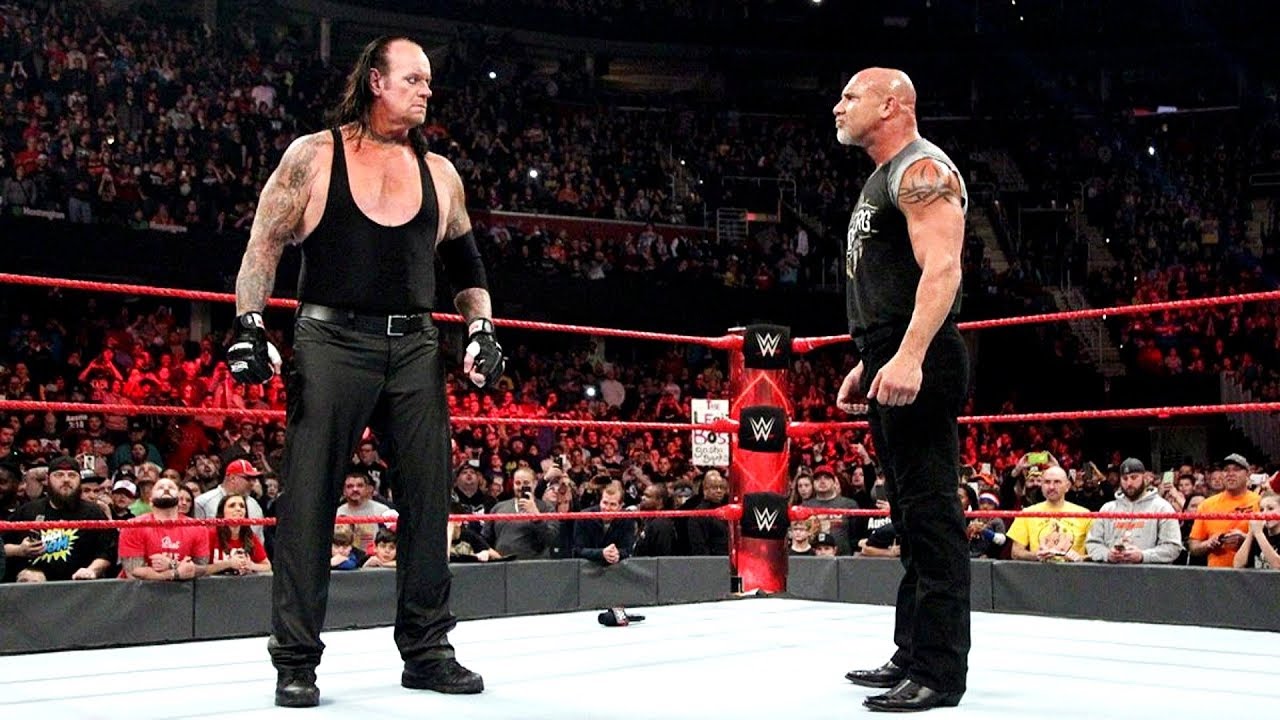 News here! News involving Goldberg vs Undertaker, WWE 2K20, AEW, Morale In WWE and More!
Morale Backstage In WWE
As you know, ratings in WWE have been at an all time low for weekly television, and many wrestlers have either chosen to leave, or decide to ask for their release from the company. In yesterday's shuffle, I discussed Jack Swagger's comments on the unhappiness in WWE. On Sunday's Wrestling Observer Live, Bryan Alvarez talked about the backstage morale in the company. He had this to say:
"All I can tell you is morale today in WWE is so bad. I've heard it from multiple people. I've heard people and they'll say it 'morale is bad.' I'll say 'I've heard' and [they'll say] 'no really bad.' So like I don't know. It's probably been maybe the worst it's ever been. I'm not sure. I know it was bad in the wake of the Invasion [in 2001 after WCW was sold]. I know a lot of people were unhappy then for different reasons. The Kliq made some people's lives miserable, but not everybody's. In 96, 97 and 98 things turned around and everybody was making a lot of money. Maybe the early 90s but it's bad [today]."
Jason's Take
The talent in WWE is probably the deepest and most talented it has been in company history. However, you can come up with many reasons as to why morale is low. Too much content/over exposure, poor storyline writing and creative decisions, and moves that don't make sense. (super star shakeup on m0nth #2, the wild card rule after the fact, etc) Regardless, USA and FOX have a large amount of money on the line, and the pressure is coming down from not only backstage, but network executives. If there were ever a time for a rival organization to step up, it would be now.
Undertaker vs Goldberg
Since WWE announced that Goldberg would be returning at the next Saudi Arabia event, fans have speculated as to whom Goldberg would be facing. Many felt that Bobby Lashley would be the most likely candidate, however, it will be the Undertaker taking on Goldberg for the first time in history.
The #Undertaker and @Goldberg are set to clash for the first time ever on June 7 at #WWESSD! https://t.co/cwL3Iq82ct

— WWE (@WWE) May 13, 2019
Jason's Take
Since this was announced early on Monday morning, I've read a lot of criticism regarding this match. Yes, it would have been great 20 years ago, however, that wasn't going to be very likely with both men in rival companies. The match still has its place today, and is one of the few matches WWE has left that they can call "first time ever."
AEW Double Or Nothing News
We are getting closer to the second AEW event, Double Or Nothing. Recently, the event has been listed for purchase through Xfinity, with a price tag of $59.99. Last week, the show was listed as a PPV event on AT&T Uverse with a 7 PM ET start time.
Also, 2 more matches have been announced for the show during this week's episode of Being The Eliete. Best Friends vs. Angelico and Jack Evans and Kip Sabian vs. Sammy Guevara.
Jason's Take
$59.99 is the standard price for a WWE pay-per-view event. I would expect an official announcement on pricing and purchasing options will be coming shortly.
WWE 2K20 News
Most of you that have been long time readers of the Chairshot know that in addition to being a huge wrestling fan, I am also a gamer. In fact, I did a review of WWE2k19 here at the Chairshot that you can check out here. News is starting to come out about 2K20. FOX Sports Asia has potentially gotten a hold of leaked documentation that states that Becky Lynch will be the cover athlete for the game, and DX will have a heavy presence in the game.
Jason's Take
I don't know if I find this article from FOX Sports Asia to be correct, however, I wouldn't be surprised if Lynch becomes the first female cover athlete for the long running series. Typically, the game releases late October/Early November, so an August release date seems unlikely.
New Wrestling Game Under Development?
Speaking of the 2K wrestling series……many fans have long been disappointed with the series, and have hope their would be competition for 2K. Many have felt the game hasn't matched up to 2k's other successful NBA 2k series of games. If you have wanted competition, then you are in luck. Yukes has established a new development team, and hopes to create an internal competition with 2k games according to VGC.
"I think having no competitor isn't healthy at all," Furuta told VGC. "When we had competitors in the wrestling space, we were determined not to lose and that was a great motivator for creating something great.
"But right now, looking at the market demands, players are expecting something new every time we release a game and we feel like we haven't achieved what we've really wanted to do. For example, in many cases we're still using old assets and we're not able to do some things in the way that we want to."
Jason's Take
I am old enough to remember when PS2, Gamecube, and Xbox wouldn't have completely different wrestling games released for each console. I thought last years 2K game was the best entry of the series, but I do understand some of the complaints fans have had about the game, and agree that the game hasn't matched up to the realism of the NBA 2K series. Here is hoping Yukes can change things up.
Greg DeMarco's WWE Smackdown Rating Analysis (5/21/19): #2 For Cable
Did Smackdown retain it's footing in the ratings this week? (Spoiler: it did.)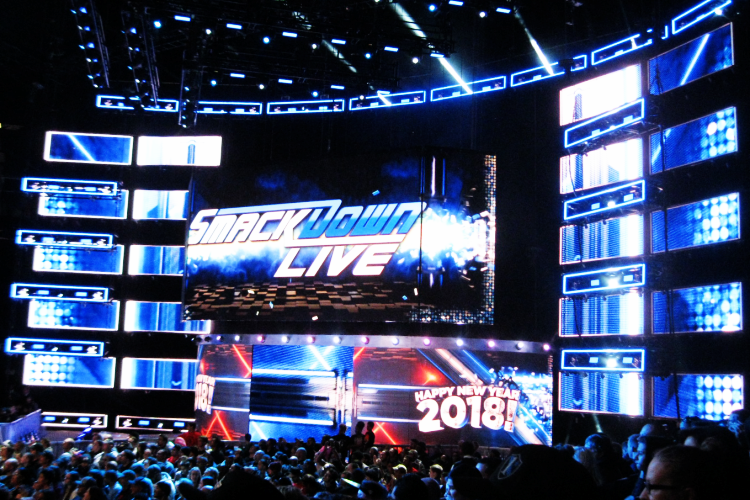 Greg DeMarco chimes in with your May 21WWE Smackdown rating. What does it really tell us? Greg tells you!
We now have your May 21 edition of WWE Smackdown rating, and it's good news for the show! Let's start with the breakdown:
1.983 million viewers
.61 rating in the all important 18-49 demographic
ranked #2 among all cable shows for the night
Here are last week's results:
1.87 million viewers
.56 rating in the all important 18-49 demographic
ranked #6 among all cable shows for the night
(Available via ShowbuzzDaily)
But what does the WWE Smackdown Rating really mean, Greg?
After sitting outside the Top 5 for two weeks, Smackdown made a triumphant return coming at #2 for the night, narrowly losing out to the NHL Conference Finals (won by the St. Louis Blues and apparently Patrick O'Dowd). Interesting of note is that Smackdown outdrew the NHL in terms of overall viewership (hockey drew 1.807 million viewers), but fell just short in the share (Smackdown's .61 versus hockey's .62). Once again, the only thing that tends to knock WWE out of the top spots is live sports (and Love & Hip Hop Atlanta 8).
This is good news for Smackdown and WWE in general, as Money In The Bank and the return of Brock Lesnar did in fact garner more eyeballs. Add in the WWE 24/7 Championship, which I am inclined to believe had at least a short term impact based on the fact that R-Truth and Robert Roode came in #1 in the 36 hour YouTube views for Raw, and things being thrown at walls are sticking right now. Let's hope it continues! Also of note, Miz & Mrs came in at #5 with 1.037 million viewers and a .37 rating, strong for the show. Real Housewives Of Beverly Hills and The Last OG came in #3 adn #4, respectively.
---
Elisa looks great in her Chairshot gear.
You can, too!
Be like Elisa and get yours at:
https://www.prowrestlingtees.com/related/thechairshot.html
DeMarco's WWE Raw YouTube Viewer Report (5/20/19)
Did R-Truth and Robert Roode really have the most viewed Raw YouTube video???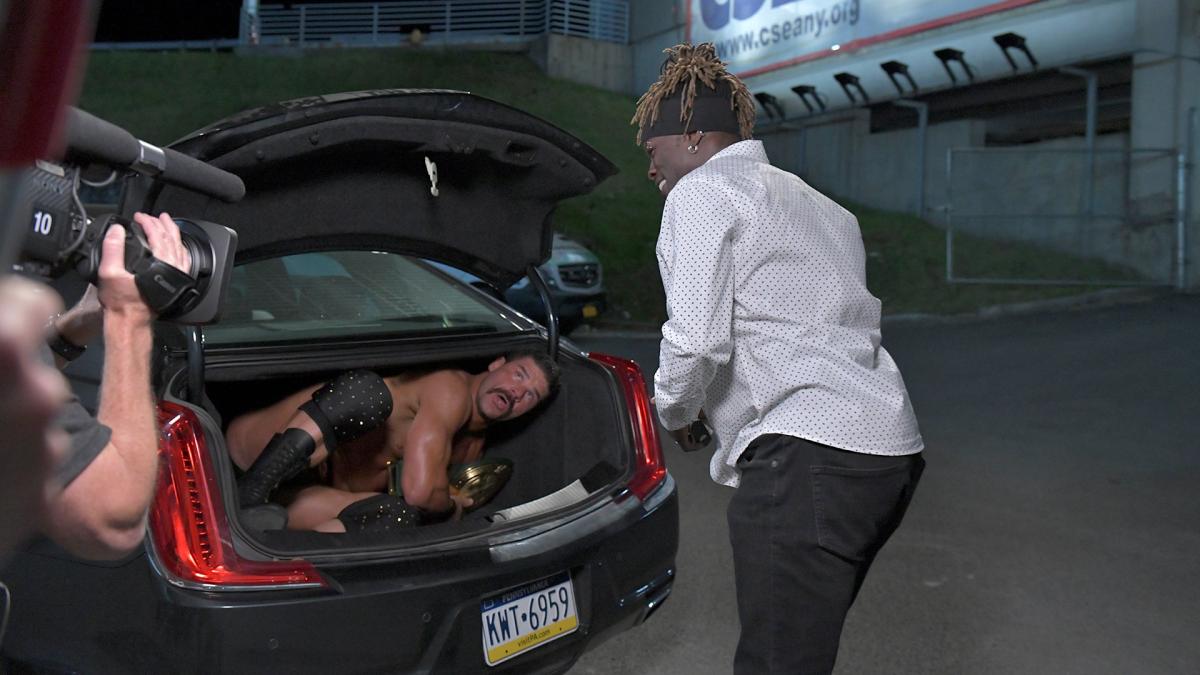 Greg DeMarco's look at the WWE Raw YouTube viewership for the May 20th broadcast!
As we all know, social media and other outlets have become a huge means of drawing in interaction and viewers for WWE. Most people will point to television ratings like they did during the Monday Night Wars in the late 1990's, however that can be skewed with so many various means of watching today that do not include cable television. As such, YouTube has joined social media as a metric as important to WWE as television ratings (if not more). The weekly WWE Raw YouTube Performance Report is a look into that success metric.
As you've become accustomed to, here is this week's WWE RAW YouTube Performance Report, compiled mid-day Wednesday (approximately 36 hours after Raw went off the air), for the 5/20/19 edition of WWE Raw:
R-Truth wins the WWE 24/7 Championship from Robert Roode – 1.764 million views
Brock Lesnar Money In The Bank briefcase celebration – 1.674 million views
Mick Foley introduces the WWE 24/7 Championship – 1.568 million views
Seth Rollins & Kofi Kingston vs. Baron Corbin & Bobby Lashley – 763k views
Lucha House Party attack Lars Sullivan – 700k views
Becky Lynch, Nikki Cross, & Alexa Bliss vs. The IIconics & Lacey Evans – 678k views
The Miz vs. Drew McIntyre – 467k views
Firefly Fun House promo video – 454k views
Braun Strowman vs. Sami Zayn – 398k views
The IIconics & Lacey Evans interrupt A Moment Of Bliss – 383k views
Shane McMahon promo on Roman Reigns – 365k views
WWE 24/7 Champion Robert Roode hides backstage – 364k views
AJ Styles slaps Baron Corbin backstage – 231k views
The Usos vs. The Revival – 202k views
Triple H informs Seth Rollins & Kofi Kingston that they're teaming up – 184k views
Ricochet vs. Cesaro – 161k views
Nikki Cross gets herself a cohosting gig with Alexa Bliss – 142k views
Samoa Joe backstage promo – 102k views
Ratings analysis appears after the ad – buy a shirt!
---
Elisa looks great in her Chairshot gear.
You can, too!
Be like Elisa and get yours at:
https://www.prowrestlingtees.com/related/thechairshot.html
---
Greg DeMarco's WWE Raw YouTube Ratings Analysis
Let's take a look at the numerical analysis!
5/20 edition of Raw: 10.600 million total views across 18 videos
5/13 edition of Raw: 8.648 million total views across 17 videos

+1.952 million views, 22% increase for this week over last week

5/20 Top 5: 6.469 million views
5/13 Top 5: 6.197 million views

+272k views, 4% increase over last week

5/20 average: 588k views
5/13 average: 508k views

+80k views per video, 15% decrease over last week
Let's start at the top: three videos above a million views, with the top spot going to R-TRUTH AND ROBERT ROODE! Man, that's a win for R-Truth and the new WWE 24/7 Championship. The Top 5 videos for Raw approached 6.5 million views total, a 4% increase over last week. The make up of the Top 5 was very different this week, with the aforementioned Truth and Roode, plus Brock Lesnar, Mick Foley, Seth Rollins, Kofi Kingston, and The Lucha House Party?!?!
Last week we saw a tremendous drop after the Top 5, and this week the lower tiered videos more than doubled those from last week. Nothing dipped below 100k views, where 3 did last week (we also had one more video this week, for 18 total). This weeks #6 video (just outside the Top 5) was over 100k higher than last week's. That's telling, as last week's interest was more at the top of the card.
Raw's TV rating went up this week. But it still dipped down in the Top 5. That didn't seem to impact the distribution of the YouTube views this time around.
Two big shockers to me:
The obvious…R-Truth and Robert Roode come in at #1!
Cesaro follows up his Top 5 performance from last week with a 161k video this week, against Ricochet.
My favorite video…The Usos and The Revival crushing it!
What did the YouTube results for this week tell you?