Cook: Remember Money in the Bank? It's Still a Thing.
Are we sleeping on this Money In The Bank PPV?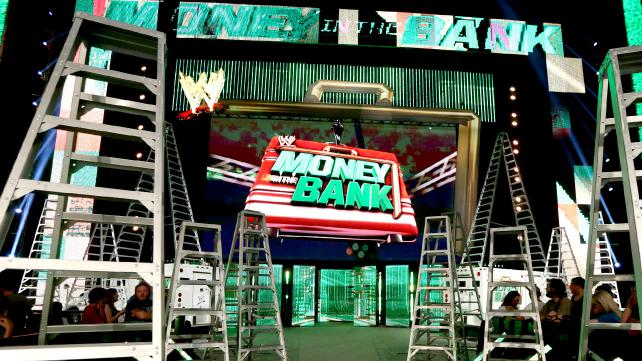 To say it's been a busy week in the world of pro wrestling would be an understatement. Did it cause us to overlook WWE Money In The Bank?
We started off with the untimely death of Silver King inside a London ring. Wednesday saw the official announcement of an a deal between All Elite Wrestling & WarnerMedia to include programming on TNT & B/R Live. Thursday saw the hospitalization of Ric Flair, along with the death of WWE Diva Search 2 winner Ashley Massaro. Such sad news, nothing but the best of wishes to Ashley's family & friends.
Then Friday brought the news of the death of a former Raw guest host. Grumpy Cat was much beloved by members of the Cook Family. As silly as it might seem, Grumpy memes brought my mom, sister & I a connection over the last few years that we might not have had otherwise. They're not wrestling fans, but they did like pictures of Grumpy with WWE Superstars. Grumpy Cat saw & did more in seven years than a lot of us ever will, and now she's moved on to being miserable in Heaven.
All Cats go to Heaven, right?
What's going on in WWE, you ask? Well, everybody's talking about one of a couple of things. There's the business with Lars Sullivan getting fined six figures for saying things several years ago that get people elected to public office in some regions of the country. Of course the ratings are at the center of conversation as well. I have always hated talking about ratings & views & clicks. I know it's never going away. Especially now that we'll have AEW ratings on TNT & maybe some B/R Live subscriber numbers to pore over.
Oh, and we're also talking about how Triple H is feeling frustrated & Vince McMahon is driving all the writers insane. But that last one isn't really new. Vince will continue to drive everybody insane and make himself a bunch of money while doing so until his last day on Earth.
It seems to me that everybody has been talking about everything except the huge event this weekend in Hartford, Connecticut.
Would you believe me if I told you that everything I have done from the first to the last has made me who I am today? How willing I am to risk it all? I'm either walking out of tonight with the #MITB briefcase, or I'm not walking out at all. pic.twitter.com/30xLCkbPrv

— Nikki Cross (@NikkiCrossWWE) May 19, 2019
Money In The Bank
Remember that? I mean, people were trying to tell me it was one of WWE's biggest shows of the year not that long ago! There was a period of time where you could make that argument. In years past, everybody was curious over who would win the briefcase and eventually become champion.
In 2019…I'm not seeing a lot of people all too worried about that. I don't know what it is exactly. I'm guessing there's a confluence of factors going on here leading to Money In The Bank being an afterthought, when it really shouldn't be. I mean, we're getting two multi-person ladder matches, and when aren't those fun? AJ Styles vs. Seth Rollins sounds like a dream match. Becky Lynch will be wrestling two championship matches. The Miz & Shane McMahon are going into a steel cage by gawd!
And Roman Reigns is wrestling…Elias? Well, ok then.
This show has completely faded into the background for most wrestling fans. We're thinking about everything else in the world. AEW has us abuzz with their potential. The most woke among us are more concerned with Lars Sullivan & Saudi Arabia. Which we should be, at least on the latter part because the Saudi regime are quite evil in the grand scheme of things. We should not excuse them because they give Vince McMahon millions of dollars of blood money. Some will. I will not.
Here's the thing.
We're all sleeping on a potential Event of the Year contender. I am too, I've been putting off picks for this event for awhile now because I just don't care. But we are talking about a show with two ladder matches. Styles vs. Rollins. Shane & Miz in a cage. Kofi vs. Owens. Two Becky matches. I guarantee you that once Sunday night rolls around, people will be raving about this show.
It's just impossible to get people hyped up for Money In The Bank right now. Too much is going on. Our brains are overloaded by wrestling, pop culture & the politicians that are trying to take our souls. It's a rough time in America right now, and it doesn't look like it'll be easier anytime soon.
Realistically, all WWE can hope for is to capture our attention on Sunday night. Make us tweet about Money In The Bank all night long & marvel in their splendor. If we get some show-stealing matches on Sunday, you'll see all kinds of columns here and elsewhere about the marvels of WWE, the greatest wrestling company to ever exist.
Until then, we're going to be distracted by other things. Wrestlers dying. Grumpy Cat. Evil politicians. There's a lot going on at our fingertips. I suspect this could be cited by people defending WWE's ratings numbers & Network subscriptions, and they can do that if they like. This is 2019. A lot is going on.
TAKE OUR ATTENTION, WWE!
King's WrestleMania Rewind: Charlotte Flair vs. Asuka from WrestleMania 34
Chris king is back with one of the most underrated matches in WrestleMania history–Charlotte Flair vs. Asuka!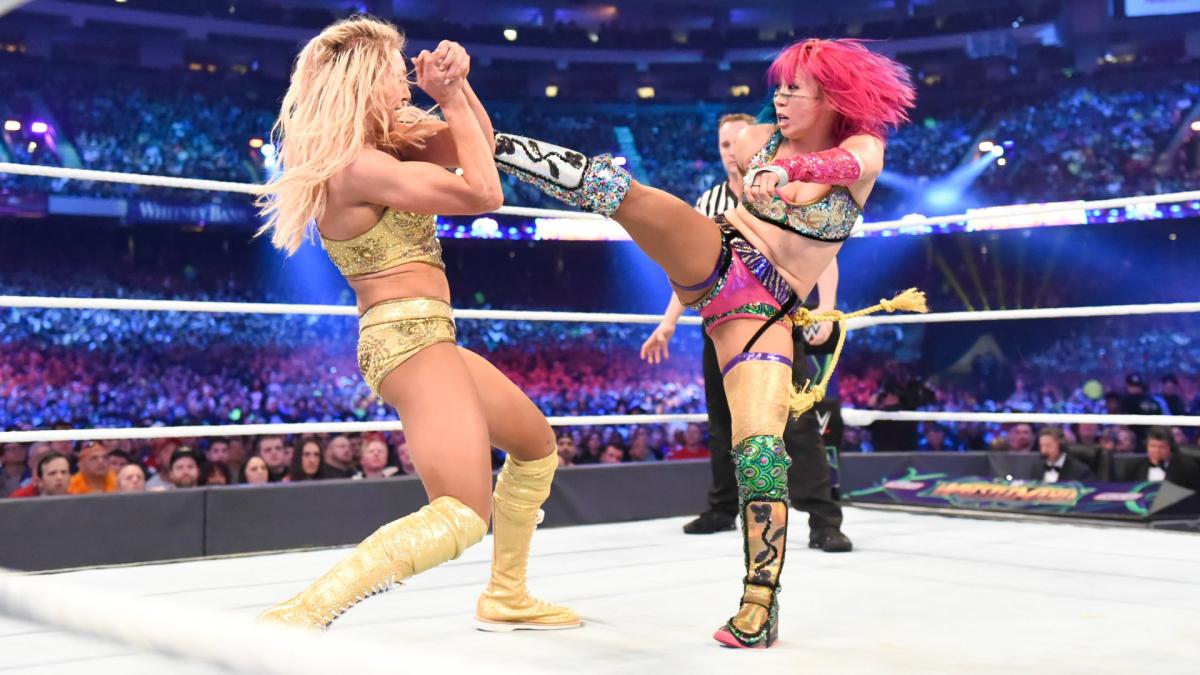 Chris king is back with one of the most underrated matches in WrestleMania history–Charlotte Flair vs. Asuka!
We look back at Charlotte Flair vs. Asuka at WWE WrestleMania 34. 'The Empress of Tomorrow' put her unprecedented and historic undefeated streak of 914 days on the line against 'The Queen's' SmackDown Women's Championship.
For years, this was considered a dream match while Asuka dominated the roster in NXT, while Flair won numerous championships on the main roster on both Raw and SmackDown. The Empress made her long-awaited debut on the September 11th episode of Raw and began to tear through the competition.
Asuka outlasted all twenty-nine other women in the historic first-ever Women's Royal Rumble match to challenge for the title of her choosing. At Fastlane, she made her choice.
The WWE Universe was so excited for this match myself included. Both superstars delivered a fantastic performance on the Grandest Stage of Them All executing counter after counter. Asuka showed off some nasty-looking kicks to her opponent, and Flair hit a thunderous Spanish Fly off the top rope. Flair was seconds away from defeat at the hands of The Empress but she locked in Figure Eight and Asuka was forced to tap out.
I can't even begin to explain how shocked I was at this outcome, as nearly everyone expected The Empress to continue her undefeated streak and walk away with the women's title. This controversial decision was the downfall of Asuka's momentum. She would ultimately win the SmackDown Women's Championship at the 2018 TLC pay-per-view in the triple-threat ladder match.
Fast forward to this year when Asuka has recently returned with her Japanese-inspired persona Kana. Kana is dangerous and ruthless and is heading into a championship with Bianca Belair at WrestleMania 39. The Empress has regained all her momentum and is highly favored to walk away with the Raw Women's Championship. Let's hope that Asuka and Belair can tear the house down and deliver an A+ grade match both women are fully capable of.
King: Dominik Mysterio Needs To Do This At WrestleMania
Chris King is here with what WWE should do with Dominik Mysterio at WrestleMania in his long-awaited match against his father Rey Mysterio Jr.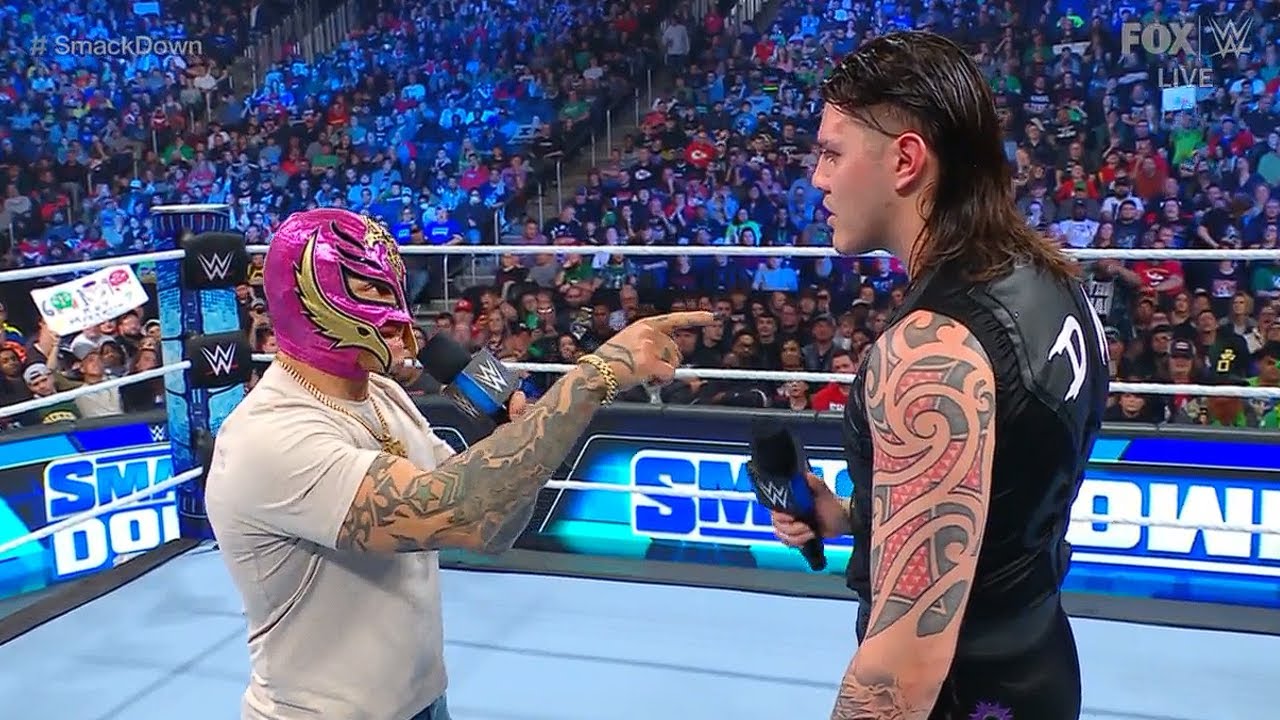 Chris King is here with what WWE should do with Dominik Mysterio at WrestleMania in his long-awaited match against his father Rey Mysterio Jr. 
On this week's episode of Friday Night SmackDown, Rey Mysterio finally snapped and beat some sense into his disrespectful punk-ass kid Dominik. The member of the Judgement Day came out to push his father again for a match on the Grandest Stage of Them All, this time with his mother and sister at ringside. The ungrateful punk told his mom to "Shut Up," as a father even I wanted to jump through the screen and whoop his ass.
Back in October of last year, Mysterio made the emotional decision to possibly quit the company but, instead, Triple H persuaded the Lucha libre superstar to move over to SmackDown to avoid his son. This came after Dominik shockingly turned on his father at Clash at the Castle. Mysterio did everything he could to refuse his despicable son's challenge for Mania but, a man can only be pushed so far. Mysterio will be inducted into the 2023 WWE Hall of Fame and I expect Dominik to embarrass his father during his speech to further this personal feud.
Yes, the WWE Universe hates Dominik and wants to see him get the ever-loving crap kicked out of him but, this feud is missing a special ingredient to capitalize on the biggest heat possible. Throughout this feud, Dominik has made mention of the legendary Eddie Guerrero on several occasions going back to the "iconic" 2005 feud.
I know WWE might not want to go this route but, Dominik MUST come out to Eddie Guerrero's theme at Mania. The disrespectful punk needs to come out in a lowrider to garner nuclear heat. It doesn't matter if The Judgement Day comes out and causes interference for Dominik to get the win, all that matters is that both superstars get the biggest payoff of this nearly year-long feud. Just imagine the Roman Reigns heat after he defeated The Undertaker and multiply that by ten. Dominik portrays the perfect heel and he truly is the missing ingredient that The Judgement Day needed to grow and evolve into a top faction.