Good, Bad and Ugly Money In the Bank (2019)
Money In the Bank is here.  The main purpose of MITB is about steering the ship in important directions and starting some bigger and hopefully better things.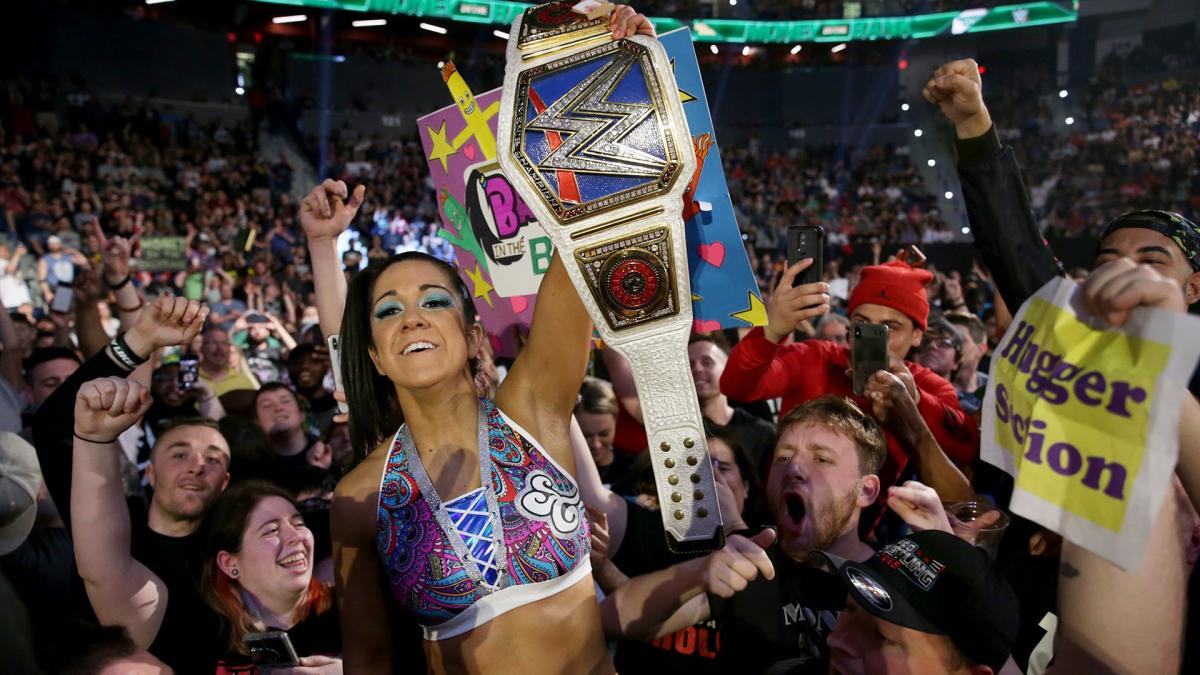 Money In the Bank is here.  The main purpose of MITB is about steering the ship in important directions and starting some bigger and hopefully better things. 
We expect a lot and are in the end disappointed, however we continue to ride along happily. 
It's showtime, let's get to the action. 
GOOD
Women's MITB: Nikki Cross, Naomi, Natalya, Dana Brooke, Bayley, Ember Moon, Mandy Rose, Carmella
Hell of an opening match!  This got my attention.  Nikki Cross was just fantastic, chaotically destroying everyone early on.  Ladders hurt, and these ladies are going to feel this for a few days.  Mella exited with a hurt knee from a ladder at the hands of Mandy Rose and seemed out of the match.  Bodies everywhere, crashing ladders and completely crazy, Mandy Rose emerged from the pack.  Carmella returned and got some licks in to Mandy Rose for the earlier assault.  Sonya Deville finally came into it and did everything but grab the briefcase and hand it to Mandy Rose.  A hero emerged as the mighty Bayley scrambled up the ladder, took down Rose and Deville and got the prestigious Money In the Bank Briefcase!  This hugger is happy!  Great ending!     
United States Championship- Samoa Joe (c) v Rey Mysterio
Samoa Joe is a vicious animal.  He just tried to dismantle the smaller foe.  Rey Mysterio always puts up a fight and this match was no different.  A bloody Samoa Joe turned up the heat but Mysterio hit a hurricanranna and got a very controversial 3 count for his first US Title Victory!  Obviously by the view and Joe's shoulder up I expect a controversy storyline added to this from the result, but awesome to see Mysterio win US Title.  Great athlete and legend to represent that title.  Samoa Joe just destroyed Mysterio after the match in a fit of rage.  This hot feud is going nowhere anytime soon and just took an extremely violent turn. 
Cruiserweight Championship- Tony Nese (c) v Ariya Daivari
This match has a lot of potential, and with the placement of the match not on the preshow and after the Miz/Shane cage match, it may finally get some attention.  Tony Nese is criminally Good and it showed tonight.  He just knows what he is doing and seemingly can work anyone.  As expected Nese just shined in this match.  It was a very typical match you would see at any 205 Live show but doesn't take away from the fact it was Good.  Nese Retains!
WWE Raw Women's Championship- Becky Lynch(c) v Lacey Evans
They did everything right.  We have an interesting feud with Good heat and buildup with characters who can work.  Man vs Woman and a lot of feel this match had it all.  A little Lynch and a lot of Lacey we saw a ton of action in this one.  Lacey Evans scratched and clawed doing everything she could to take the strap from Lynch.  After it looked like Lacey had Becky Lynch in a deep roll up, the ref didn't count and Becky Lynch reversed into a disarmer for the hard fought victory.  Even with the bizarre, rushed finish, good match.  Unexpectedly, out comes the Queen for Match Number 2. 
WWE SmackDown Live Women's Championship Becky Lynch(c) v Charlotte Flair
Apparently no rest of the wicked.  Becky Lynch loves a Good challenge and went right back in to fight.  And fight they did, back and forth these two rivals beat the hell out of each other.  Becky Lynch looked to have the count out, but Lacey Evans decked her behind the Ref's back, giving Charlotte just enough time to recover and become the SmackDown Women's Champion.  Lynch beside herself attacked Evans for retribution but Charlotte aided Lacey overpowering Lynch.  Lynch was done, completely beaten down and had nothing left.  Bayley's music hits briefcase in hand and cleans out the ring, but it was Charlotte again taking full control. 
Bayley sidestepped another attack and sent Charlotte into the turnbuckle.  Bayley did the best thing she could do here, she cashed in the briefcase.  Bayley off the top hit a huge Elbow drop Winning the SmackDown Live Women's Championship!  This is a Great ending with a Great superstar getting the belt!  Congrats Bayley!  This run will be amazing! 
Roman Reigns v Elias
Right before the match Elias got in a guitar attack on his opponent backstage before heading to the ring.  Elias set up and performed on another guitar for the masses.  Roman recovered and made his way out with fury as Elias was leaving hitting a Superman punch.  Reigns made quick work of the stunned heel leaving Elias flat in the ring for a 3 count.  The Big Dog Wins decisively!     
WWE Universal Championship- Seth Rollins(c) v AJ Styles
Surprised a bit that this was before the MITB match as it is a Championship Match.  This had the makings of a classic with little chance to fail.  This was a great wrestling match with two high caliber talents feeding off each other.  This match had it all, it was stiff, physical and exciting.  It delivered on all levels.  We saw some outrageous reversals and combos.  Deft defying stunts and high risk. This was special and a true Championship Match.  Styles had it won multiple times, tasting Gold, however it was finally a well times stomp by Seth Rollins for the final 3 count.  Rollins Retains in a huge match!  Great showing from two of the best.  As it was both appropriate and needed, a handshake and mutual respect ended the standoff.
Lucha House Party vs.???
Lars Sullivan must hate LHP based on his public sentiments.  I won't say I'm disappointed as I had a "what the hell is Lucha House Party doing out here" on my face.  Lars Sullivan crushed LHP and showed his dominance.  Lars literally busted his own head open and just mangled all three luchas.  This was weird but brutal.  I like it.    
WWE Championship- Kofi Kingston(c) v Kevin Owens
As expected this match had a great feel to it, and great momentum going in.  It has been entertaining so the match had a lot of potential.  This was very physical and personal.  These guys put it all out there.  Owens made sure that we all knew this wouldn't be quick or easy for the Champ.  Just as Owens had it won, Kofi woke up and took it to the vicious Canadian.  K.O. again came out ahead.  K.O. again took Kofi to the limit nearly defeating him with a series of offense.  It was a well-placed trouble in paradise by Kingston, right on the money for the victory retaining the WWE Championship!  This was a solid fight, and a great title defense.    
Men's MITB: Ricochet, Drew McIntyre, Baron Corbin, Finn Balor, Ali, Andrade, Sami Zane and Randy Orton
This match is chalked full of talent and pontential.  My pick was Drew McIntyre but Andrade was my second.  What a sick match we have.  Sami Zane is out due to getting destroyed and hung up backstage earlier in the night.  Randy Orton emerged early taking out all opponents and going for the quick win.  However the floodgates opened and craziness ensued.  As expected once again this was intense, physical and violent.  Everyone just put it all on the line.  The bar kept getting raised higher as the match went on, each man leaving a trail of bodies  It could have been won by anyone, which is the way it should be.  Ali atop the ladder about to end the match, out comes Brock Lesnar.  What in the hell is going on?  Lesnar sets up the ladder and grabs the Money In the Bank.  Who can do anything about it?  No one.  Brock Lesnar is your Money In the Bank Winner.  This is just out of control.  This was a phenomenal match and a shocking finish.   How is this going to play out?  I can't wait to watch! 
BAD
Non-Title Match- Daniel Bryan & Rowan(c) v The Usos
Considering the light crowd before the main show, the volume was turned up and the crowd was hot.  Great placement of this match on the Kickoff Show.  The pace of the match was surprisingly slow and safe.  It had a "house show" feel and that is not a Good thing.  Nothing looked sloppy or Bad but just safe.  Daniel Bryan was the standout if any as always looking sharp in the ring.  Jimmy Uso also rallied coming in on the hot tag taking keeping Rowan at bay.  However Rowan hit a devastating double suplex.  Uso's hit a double Uso splash on Daniel Bryan for the non-title victory.  Again the placement was Good, but it was very textbook, predictable and a little flat.  Non-title match on a PPV is crap too.  All of this puts this firmly in the Bad column.    
Shane McMahon v The Miz (Steel Cage Match)
Heel Shane is Money but if you read the pre-show GBU, I have Ugly hopes for this match.  For the most part it was not Good.  The strikes were weak, Shane just basically kept trying to get out.  Shane really worked hard out there and it showed, the result just wasn't great.  Miz beat down McMahon with a chair, over and over beating him down.  Miz had Shane beat with a skull crushing finale but after Shane put his foot on the rope, the Ref broke up the count.  Shane persisted and after being thrown from the top of the cage and lifelessly falling to the canvas, Miz hit a splash.  McMahon would kick out and keep fighting.  In a classic move, Shane slipped out of his shirt while being stopped at the top of the cage and landed on the floor in victory.  It's really crazy what Shane McMahon does out there considering who he is.  This match had some Good moments but the Bad outweighed the Good.  Hopefully this feud is over. 
UGLY- Sorry, your services weren't needed.
FINAL
Good- 10
Bad- 2
Ugly- 0
OVERALL- Good show!  We had a lot of action, some great things to take on in the storylines, and of course Bayley got her Gold.  This was a successful Pay Per View and Money in the Bank with big players and events that will shape the story as we move forward.  Major success!
With a huge Super-Showdown coming up, and Money In the Bank in the books expect the story and weekly shows to be jam packed with special guest, huge surprises and a lot action.  Professional wrestling is ripe, and don't forget the major events coming up with AEW!  What a time to be in this business.  Have a great night, hope you enjoyed the Money In the Bank!  Catch you on the next Good, Bad and Ugly featured on thechairshot.com.   
King's WrestleMania Rewind: Charlotte Flair vs. Asuka from WrestleMania 34
Chris king is back with one of the most underrated matches in WrestleMania history–Charlotte Flair vs. Asuka!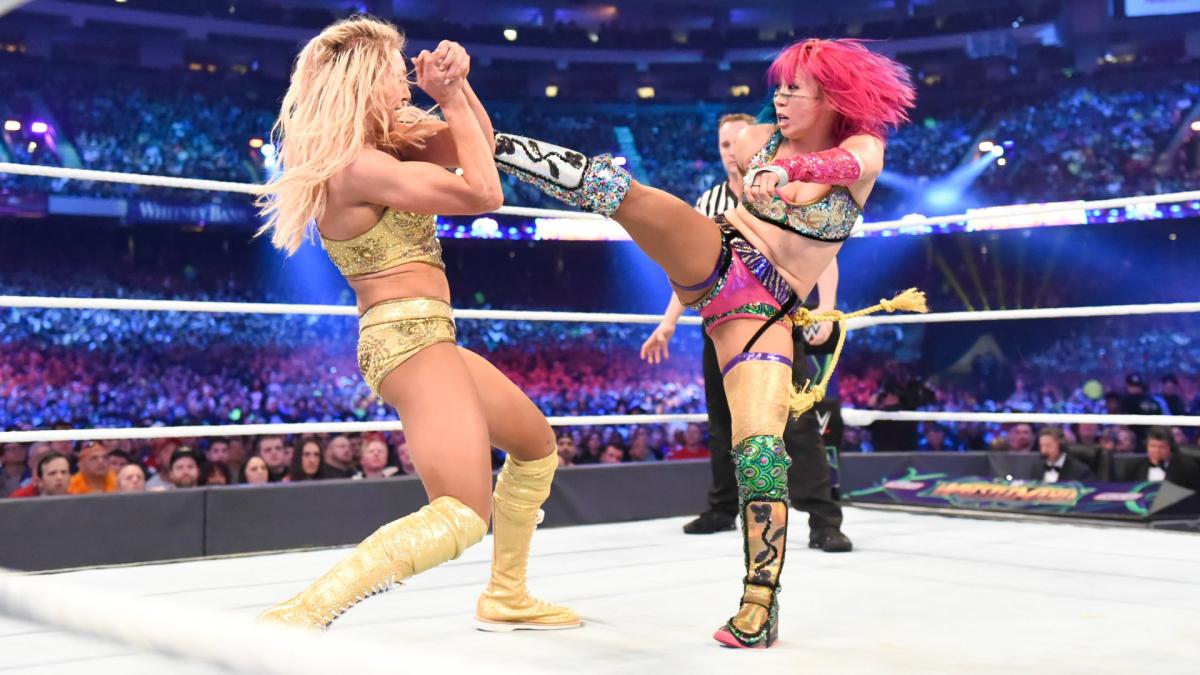 Chris king is back with one of the most underrated matches in WrestleMania history–Charlotte Flair vs. Asuka!
We look back at Charlotte Flair vs. Asuka at WWE WrestleMania 34. 'The Empress of Tomorrow' put her unprecedented and historic undefeated streak of 914 days on the line against 'The Queen's' SmackDown Women's Championship.
For years, this was considered a dream match while Asuka dominated the roster in NXT, while Flair won numerous championships on the main roster on both Raw and SmackDown. The Empress made her long-awaited debut on the September 11th episode of Raw and began to tear through the competition.
Asuka outlasted all twenty-nine other women in the historic first-ever Women's Royal Rumble match to challenge for the title of her choosing. At Fastlane, she made her choice.
The WWE Universe was so excited for this match myself included. Both superstars delivered a fantastic performance on the Grandest Stage of Them All executing counter after counter. Asuka showed off some nasty-looking kicks to her opponent, and Flair hit a thunderous Spanish Fly off the top rope. Flair was seconds away from defeat at the hands of The Empress but she locked in Figure Eight and Asuka was forced to tap out.
I can't even begin to explain how shocked I was at this outcome, as nearly everyone expected The Empress to continue her undefeated streak and walk away with the women's title. This controversial decision was the downfall of Asuka's momentum. She would ultimately win the SmackDown Women's Championship at the 2018 TLC pay-per-view in the triple-threat ladder match.
Fast forward to this year when Asuka has recently returned with her Japanese-inspired persona Kana. Kana is dangerous and ruthless and is heading into a championship with Bianca Belair at WrestleMania 39. The Empress has regained all her momentum and is highly favored to walk away with the Raw Women's Championship. Let's hope that Asuka and Belair can tear the house down and deliver an A+ grade match both women are fully capable of.
King: Dominik Mysterio Needs To Do This At WrestleMania
Chris King is here with what WWE should do with Dominik Mysterio at WrestleMania in his long-awaited match against his father Rey Mysterio Jr.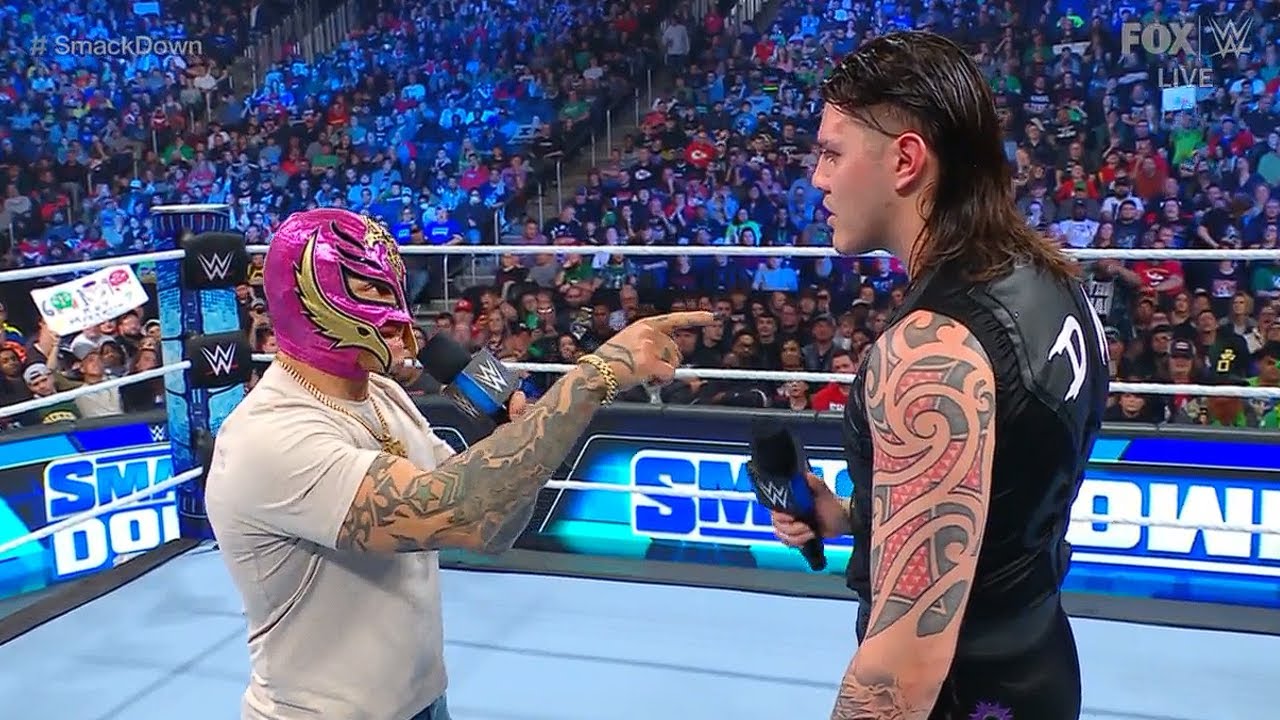 Chris King is here with what WWE should do with Dominik Mysterio at WrestleMania in his long-awaited match against his father Rey Mysterio Jr. 
On this week's episode of Friday Night SmackDown, Rey Mysterio finally snapped and beat some sense into his disrespectful punk-ass kid Dominik. The member of the Judgement Day came out to push his father again for a match on the Grandest Stage of Them All, this time with his mother and sister at ringside. The ungrateful punk told his mom to "Shut Up," as a father even I wanted to jump through the screen and whoop his ass.
Back in October of last year, Mysterio made the emotional decision to possibly quit the company but, instead, Triple H persuaded the Lucha libre superstar to move over to SmackDown to avoid his son. This came after Dominik shockingly turned on his father at Clash at the Castle. Mysterio did everything he could to refuse his despicable son's challenge for Mania but, a man can only be pushed so far. Mysterio will be inducted into the 2023 WWE Hall of Fame and I expect Dominik to embarrass his father during his speech to further this personal feud.
Yes, the WWE Universe hates Dominik and wants to see him get the ever-loving crap kicked out of him but, this feud is missing a special ingredient to capitalize on the biggest heat possible. Throughout this feud, Dominik has made mention of the legendary Eddie Guerrero on several occasions going back to the "iconic" 2005 feud.
I know WWE might not want to go this route but, Dominik MUST come out to Eddie Guerrero's theme at Mania. The disrespectful punk needs to come out in a lowrider to garner nuclear heat. It doesn't matter if The Judgement Day comes out and causes interference for Dominik to get the win, all that matters is that both superstars get the biggest payoff of this nearly year-long feud. Just imagine the Roman Reigns heat after he defeated The Undertaker and multiply that by ten. Dominik portrays the perfect heel and he truly is the missing ingredient that The Judgement Day needed to grow and evolve into a top faction.