Greg DeMarco's AEW Double Or Nothing Reaction & Review
Thoroughly enjoyed it, excited to see what's coming next.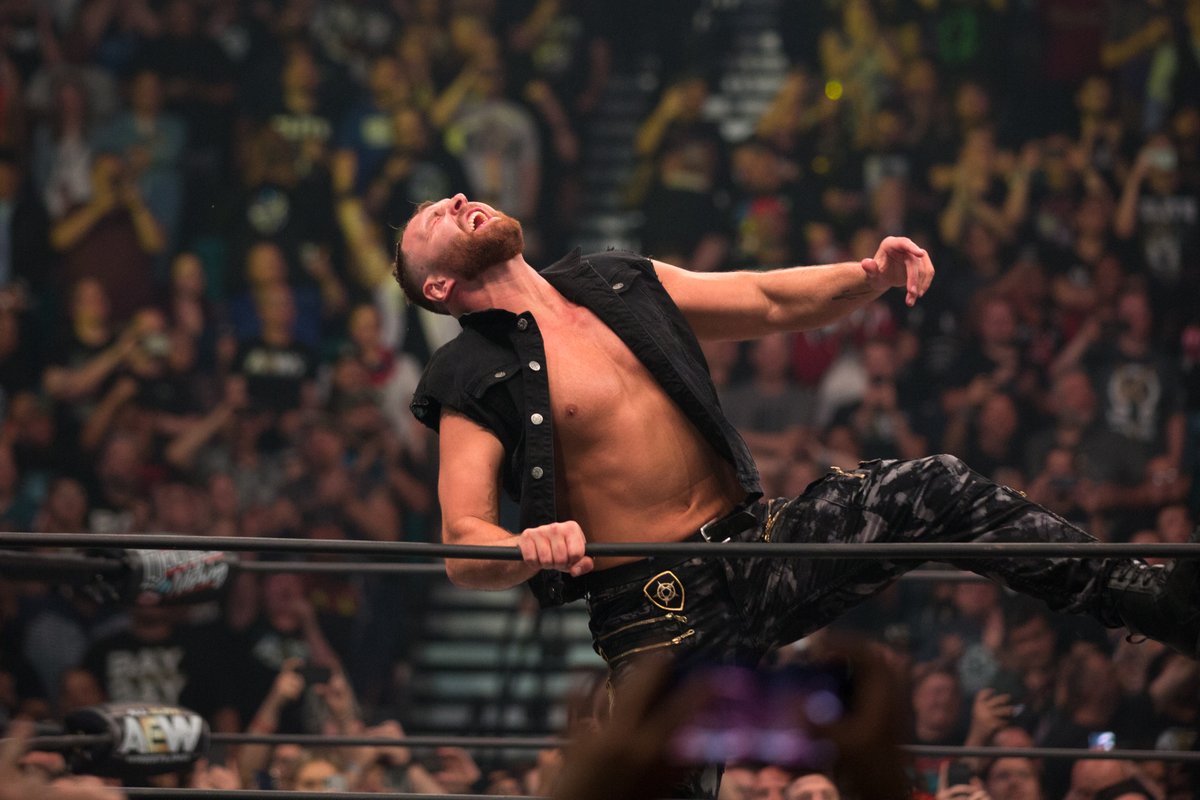 AEW Double Or Nothing is now a part of wrestling history, and Greg DeMarco chimes in with his reaction to the inaugural All Elite Wrestling event.
As a wrestling fan, we get to witness a lot of firsts, but many don't pan out. On Saturday we got to witness the first event promoted by the Tony Khan led All Elite Wrestling, AEW Double Or Nothing. The company is already forever etched in history, now it's up to them to decide how they are remembered. If I had to make a bet today, I would say that in 10 years we are reliving how WWE won the war after becoming the fans' favorite once again, but we will also remember the amazing times we had watching both companies compete.
That's not a typo, and not a "hot take." Wrestling is cyclical, but the only constant is WWE. WCW changed the world, as it gave us the Attitude Era and forced WWE to change. WWE will change if it means survival, and Vince McMahon is, and has always been, and will always be, a survivor. But now we are on the precipice of a war, even if so many are simply afraid to call it that. Shots have been fired, and we are about to embark on one hall of a ride. May it be long and prosper!
But for now, I want to discuss AEW Double Or Nothing, the event that truly started it all. If you don't know, or you haven't accepted, let me establish a baseline. ALL IN was a Ring Of Honor event. They own the footage (you saw none of it during Double Or Nothing), they probably own the name (ALL OUT, anyone?), and they put the event on with Cody Rhodes and The Young Bucks serving as the front men. It may not have been their idea, but it was their event.
With that out of the way, let's talk about All Elite Wrestling's history making night, AEW Double Or Nothing! I am going to be brutally honest, because AEW deserves that–and so do you. You won't care if I am brutally honest about WWE, so you shouldn't mind here. But I loved this show…please don't lose sight of that.
Don't forget to check out some other reactions to the show, as well:
AEW Double Or Nothing Kickoff – The Buy In
Hangman Page Wins The Casino Battle Royale
21 men entered at set intervals (groups of 5 every three minutes, 1 man at #21)
The winner will go on to face the winner of Kenny Omega vs. Chris Jericho to be named the first ever AEW World Champion
Adam Page last eliminated MJF to win the match
The concept probably looked great on paper, but it wasn't so great in the execution. The first entrances were sloppy, but they got better at them. Probably just best to give each person their own entrance, as that's their moment. That was why the Women's Battle Royal at WWE Evolution worked so well. But once we got everyone in there, it was a battle royal. Adam Page was the obvious winner due to the controversy involved in his match with PAC. But this also set the stage for MJF's show stealing performance later in the night.
As for the stipulation, it should now be obvious that we originally would have had the winner of Page/PAC facing the winner of Omega/Jericho for the championship. The company had to call an audible. It feels rushed, but I am sure they have their reasons. This probably wasn't the best way to kick off your company, but it accomplished it purpose.
Kip Sabian beats Sammy Guevara
Sabian defeated Guevara in the first ever singles match in AEW history
Both men delivered a youthful, athletic style that fits in with the dynamic set by AEW
Sabian comes off as "the bigger star," but both showed they belong on this stage
I was familiar with Sammy Guevara going back about three years, when I was researching talent for PHX Wrestling. We was going to work the first event, but travel difficulties (he had a booking Mexico) got in the way. He's obviously done just fine for himself since! I've never seen Sabian before, and that's a shame on me comment. He's fantastic.
I felt like the right guy won, and as I said above both guys belonged. The promo that followed with The Young Bucks, Cody Rhodes, Brandi Rhodes, and Kenny Omega was terrible. It was the type of self-fellatio that has plagued them. Take all the shots you want, but don't jerk each other off on television. We know it's your company. Also get your timing down, because the last image we got here was Cody posing like The Rock with a microphone.
AEW Double Or Nothing PPV
SCU (Christopher Daniels, Frankie Kazarian, & Scorpio Sky) beat Strong Hearts (CIMA, T-Hawk, and El Lindeman)
The first of two six-person tag team matches on this card, and both delivered
Christopher Daniels scored the final fall
Daniels, Kazarian, and CIMA all proved to be ageless
The perfect choice to open the show, as SCU is well known and their opponents come in with a great reputation (CIMA is well known to many, as well). I first saw CIMA in 2006, but he's a 22 year veteran–and not the most tenured person in the match! Christopher Daniels is a national treasure, and seeing him will never get old. Frankie Kazarian is one of the most underappreciated workers of all time. Scorpio Sky remains, to this day, the most underrated talent in the entire world. It's about time he gets the attention he deserves.
I wasn't as familiar with T-Hawk and El Lindeman, but after the match I can say I'm a fan of both, but really want to see more of–as I call him–Al Linda Man. Give me Sky vs. Linda Man on the first AEW TV broadcast and I will be a happy man.
Dr. Britt Baker, DMD beat Kylie Rae, Nyla Rose, and Awesome Kong in a Four Way Match
Much like ALL IN, the 4-way women's match proved to be a poor choice
All four women tried hard, but this would have been better served as a singles match (Baker vs. Rae) or total destruction by Kong
I know it's unpopular to hate on women's wrestling, but this is the second time they've gotten this wrong. It was better than ALL IN, but that match sucked. However, I enjoyed the performers. Brandi Rhodes is a necessity, so I just have to deal with her being there. Kong was a fantastic surprise, but I almost wish she came out at the end and destroyed people. Granted, that would have made the post match surprise element a bit repetitive.
This is my first time seeing Nyla Rose, and she did nothing for me. What she did offer (size and strength) was immediately negated by Awesome Kong. It was also my first time really seeing Kylie Rae, and she is phenomenal. As the match wore on I actually felt like the gimmick hindered her natural charisma, which she has a seemingly unlimited amount of. As good as she is now, I feel like she's only scratched the surface.
I know we're staying away from traditional faces and heels, but Brandi as a heel leading the division makes sense (I assume she won't actually wrestle Allie in their match, but will have Kong do it instead), and Britt Baker is a natural heel. She's a legit doctor (of medical dentistry), and should always be referred to as Dr. Britt Baker, DMD. I expected her to win, as loyalty is big to this crew and she was the first women who wanted to be a full time part of AEW (despite an obvious WWE in-road thanks to her relationship with Adam Cole, BAY BAY).
Best Friends beat Angelico & Jack Evans
This will be the first official tag team match in AEW history
All four men delivered a great tag team match, and "the right team won"
The Super Smash Brothers (not by name) debuted after the match, to much confusion
If there's one thing AEW already does better than WWE, it's tag team wrestling. And as one of the people behind #SaveTagTeamWrestling, I am so glad they're doing it! I enjoyed the match, although Trent Barreta passes the eye test as a singles star. He may not want that, we'll see. But I am all for these pairings going forward.
Riho, Hikaru Shida &  Ryo Mizunami beat Aja Kong, Yuka Sakazaki & Emi Sakura
Many weren't familiar with all six women, although Aja Kong has some notoriety in the States
Hikaru Shida got the win for her team, and also established herself as my new favorite
This match set the standard for women's wrestling in AEW
My live Twitter thread during the event featured my emotions throughout this match. Early on I fell in love with Riho, but she was soon replaced with Hikaru Shida, who still has my heart. But in all seriousness, the match delivered (sensing a trend, yet) and was highly entertaining. I don't know the frequency these performers will have in AEW, but I hope they are prevalent.
Apparently there were rumors that this match was off the card? I am glad those were unfounded, because this added an element we otherwise didn't see. This wasn't a great women's match, it was a great match.
Cody Rhodes beat Dustin Rhodes
The Brothers Rhodes put on a storytelling clinic, complete with a ton of blood from Dustin and the big win for Cody, plus a reconciliation at the end
Cody destroyed a throne complete with a Triple H cross and did so using a sledgehammer
Dustin and Cody will team against The Young Bucks next
It was already apparent after ALL IN, but now it's official: Cody Rhodes is one of wrestling's greatest showmen, ever. He gave us an amazing performance, and has mastered the middle-of-the-card main event style classic. He might scoff at this notion right now, but he's basically AEW's Triple Hin so many ways. That's a compliment. I am a huge Cody fan after these two matches.
Dustin Rhodes claims that this was the best night of his career, and that just drives home how important this was to both. It'll be interesting to see if ALL OUT features "the Cody Rhodes match," but I was in charge, I'd make sure it did.
Bret Hart presents the AEW World Championship
Bret Hart presented the first ever AEW World Championship
Adam Page was part of the presentation, having won the Casino Battle Royal
MJF intervened, and cut the promo of a lifetime, cementing himself as a bonafide star
This was a bit of a cluster, but everything can't be perfect. They never got a great shot of the Championship, which is really a beautiful belt. The real story is the performance put on by MJF, who in a few years could be a heel world champion for this company. It may sound strange to say today, but MJF vs. Hangman Page might be a WrestleMania main event in 8-10 years (both guys are in their 20s).
AAA Tag Team Championships – The Young Bucks (c) beat Pentagon Jr & Fenix
This match was the lone title match on the card, and The Bucks retained
For those keeping score, The Office (Daniels, Cody, The Bucks, likely Page) are undefeated so far on the card
This match has received universal praise, with our own Andrew Balaz giving it five stars. I don't see it that way, I can't go above 3.5 stars for the simple fact that it was a spot fest that was, at times, too hard to believe. There was so much wrestling match in this wrestling match, much in the way that Avengers: Infinity War was so much movie in one movie.
On Twitter I likened it to a Money In The Bank Ladder Match without the ladders, which would be 8 guys moving from spot to spot without reason. Add in the fact that this didn't have 8 guys, it had 4, and that fuels my fire. It wasn't a bad match, but it was overdone in a way where I couldn't suspend my disbelief. That's not the standard for tag team wrestling. Take Matt Jackson for example: he took a Canadian Destroyer on the ring apron, and was back on his feet less than 30 seconds later. Pentagon popped his arm after that, and he still held position for the Tombstone portion of the [Redacted] Driver. 🙂
Again, this wasn't bad, but it was too far into the spotfest category to make me throw all my weight behind it. It was also enough to make it so Pentagon and Fenix couldn't travel, leading to the cancellation of an event on Sunday.
Chris Jericho beat Kenny Omega in the AEW Double Or Nothing Main Event
Jericho picked up the win with his Judas Effect, a spinning back elbow
Kenny Omega is an unsung hero of the match, nearly killing himself to deliver a main event deserving of this event
Jon Moxley (the former Dean Ambrose) made his surprise debut after the match, attacking everyone, and throwing Omega from the poker chip setup by the stage down to the staging itself (which Omega did not go through)
One hell of a fight in the main event, which I appreciated. Kenny Omega has always been a warrior in that ring, but tonight he delivered on another level. He wasn't in there with one of the best in the world, he was in there with one of the best of all time who happens to have passed his prime.
Now a past-his-prime Jericho is still better than most, but Omega carried this match. You can tell how important it was to him to deliver. Shows are remembered for their main event, and he made sure this would be remembered.
The appearance of Jon Moxley was perfect, as it solidifies that AEW truly intends to compete, and they are in position to do so. This is like Razor Ramon signing with WCW, which opened the door for others. This opens the door, and makes them a real alternative to the talent. Sasha Banks can be Mercedes, The Revival own the trademark to FTR, and Luke Harper can be Brodie Lee. You don't need everyone from WWE, but there are talent who would fit well and who would carry fans over with them.
Commentary
Commentary was hit or miss for most of the night, with Alex Marvez being totally miscast in his role, Jim Ross not having the current knowledge to call play-by-play for this generation of stars, and Excalibur proving to be one of the best commentators in the game. If I was calling the shots (I'm not), I would simply move Marvez onto something else, make Excalibur the lead, and have Jim Ross provide color. When they held something close to this set-up, commentary was fine.
Overall Impression of AEW Double Or Nothing
I don't think you can ask for a better debut if you are AEW. It wasn't perfect, but it was fantastic. They promised something big, and they delivered. I guess I am a real fan afterall, Brandi. The challenge facing AEW is keeping the momentum going, as they don't have another event until June 29. Contrary to what Wrestling Twitter wanted it to be, this wasn't designed to draw in new fans. It was done to satisfy the current fanbase, which makes sense since new fans drawn in don't have anything to watch after this show. ALL OUT should be used to draw in new fans, and AEW might need to pull off another surprise as it gears up for the TNT debut episode.
I mean…they ARE in Chicago again!
Andrew's AEW Fight for the Fallen 2019 Ratings & Analysis
AEW has another show! Does this feel more like Double or Nothing, or Fyter Fest?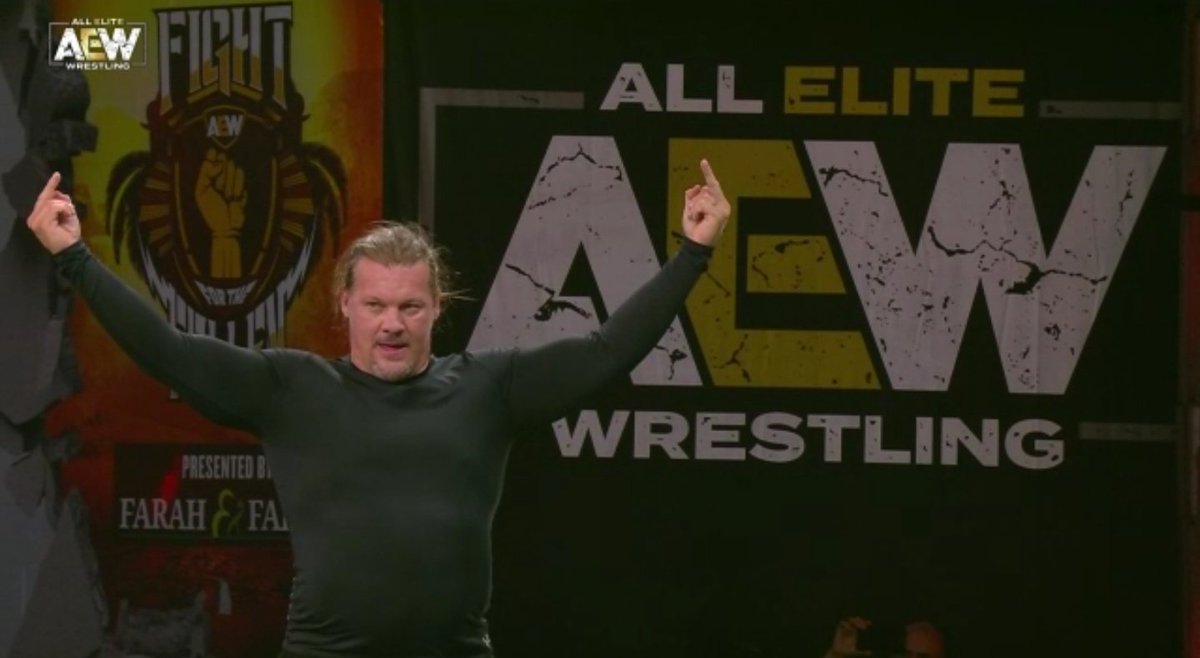 AEW has another show! Does this feel more like Double or Nothing, or Fyter Fest?
So I'm late to the party here since I get to have a life on occasion too, ya know?!
The Brotherhood facing the Young Bucks is all I'm really invested in, but maybe something will surprise.
Time to get to the show!
Ratings:
Peter Avalon w/ Leva Bates vs Sonny Kiss: Kiss wins via Kiss is It @5:10 – * 1/2
Britt Baker & Riho vs Shoko Nakajima & Bea Priestley: Shoko wins via Hurricanrana @15:40 – **
Jimmy Havoc, Darby Allin & Joey Janela vs MJF, Shawn Spears & Sammy Guevara: Spears wins via Death Valley Driver @13:10 – *** 1/4
Allie vs Brandi: Brandi wins via Bionic Spear @11:00 – * 1/2
Dark Order vs Boy and his Dinosaur vs Angelico & Jack Evans: Dark Order win via Fatality @15:15 – ** 1/2
Kip Sabian vs Hangman Page: Page wins via Deadeye @19:00 – ***
SCU vs Lucha Brothers: Lucha Bros win via Spike Fear Factor @15:00 – *** 1/2
CIMA vs Kenny Omega: Omega wins via One Winged Angel @23:00 – *** 3/4
The Brotherhood (Cody & Dustin Rhodes) vs The Young Bucks: Bucks win via Meltzer Driver @31:00 – ****
Analysis:
This Librarians gimmick is terrible and they know it. I say they know it since on BTE even made mention of Leva being a little delusional by saying everyone loves it and the Jackson's weren't expecting that take. Avalon may be an alright hand in the ring, but he's 5 foot nothing, with a porn stache, a bad gimmick and he was Norv Fernum. Sonny is athletic and quite entertaining, but I'm not sure how far that can take him. Some moves like a Twerk-sault and the Ass Ramming corner spot are just not something mainstream fans will embrace. So I'm more curious to see how the character will evolve. As for the match…it was pretty lame.
Britt might've gotten a concussion early on, cause she was talking to the referee often and never seemed quite right, but Bea was a mess. Bea is a hell of a paradox. The better portion of last year in Stardom, she wasn't good in the least bit, but she seemed to figure it out and was quite good in WOS. Plus she's current World of Stardom Champion, so that definitely shows growth. But holy man, she was sloppy as hell in this match. Every time Shoko and Riho got some momentum, Britt and Bea would mess it all up. This could've been a great match, if it wasn't embarrassing to watch at moments.
We've got a mish-mosh 6 man of faces versus heels, but MJF is mad at Spears for the attack on Cody. Then we've got Allin mad at Spears for taking the steam out of his match. Then we've got Joey Janela trying to get himself over, and it was a spot that made me groan. Why would you deliver a Death Valley Driver on the apron, then sell like an idiot, call out Jim Cornette, when the finish is a Death Valley Driver? The match was fast paced and fairly fun, but it made no sense aside from the Allin and Spears interactions.
Brandi does the great heel move with bringing out Awesome Kong as insurance, but neither Brandi nor Allie are strong workers…and it showed. A lot of space between moves, bad connections and the way Allie played off of interference or heel tactics just didn't feel genuine. I do like Brandi winning marred in cheating, it's very on the nose for how she's portraying herself. Plus we get Aja Kong to come out and make the save for Allie and insinuate Aja and Awesome may have a match. Aja may be older, but she's still that old school wrestler type who will rough you up just for fun. That should be good.
Angelico and Evans are nothing but flips. I can't tolerate that team at all. They have generic heel moments with cliche moves. Luchasaurus and Jungle Boy looked like a million bucks. Dark Order is kinda terrible honestly. A few tandem moves looked alright, but generally speaking Dark Order was just boring. Luchasaurus and Jungle Boy weren't hurt by the loss, but they are the ones to care about.
Superbad Sabian and the Hangman was a much better match than I think most initially thought. The pace got slowed down at different points, but the moves made sense and both men really got the story through. Sabian went after the injured knee since he's a flier but also has technical proficiency. Hangman proved himself to still be a resilient babyface for people to rally behind against the egotistical dickhead Jericho.
So when Jericho sneaks up and attacks Page after the match, it just furthered the story and the fan feeling. Simple yes, but it works well.
SCU and the Luchas were just a solid tag team match. I liked Daniels getting involved after being provoked, Scorpio and Pentagon going back and forth with taunts for a while and Aubrey dropping the glove, were all entertaining moments. A little more gimmick than wrestling at times, but we still got a solid match. No complaints at all.
This CIMA/Omega match started off pretty well like it was building towards a big match. It was a lot of Omega trying to prove who he is and CIMA trying to teach people who HE is. However, it turned into a stupid move spamming match. CIMA finishes people with a Meteora, and he did like 12 of them, it was inane. If anyone got annoyed at Omega hitting 20 V-Triggers, this was the same thing. If it weren't for the move spam, this would've been a damn good match. I was definitely disappointed in CIMA for playing into that spam style, when I've seen a good bit of his work and he's usually better than that. Finishers and false finishes for the sake of having them don't build suspense.
We get to the main event that BTE and a lot of the IWC were interested in after Cody's heartfelt promo. The Bucks turned up the visceral aspect by kicking away handshake attempts and spitting at them, so that raised the heat of the match. A bunch of moments in the ring where each team shone with double teams or just stereo spots. Seeing that Dustin and Cody still had some chemistry that it had the Bucks on the ropes was nice. Working on Matt's left arm was great since Matt has definitely gotten better at selling and being the one to get beat up the most. The Meltzer Driver gets hit on Cody, and the Bucks go over.
It looks like the Bucks wanted to have a moment to put the Rhodes' over, but then they admit they must be running short on time as other music hits and the check presentation procession comes out.
Overall Score: 6.5/10
This was better than Fyter Fest, but still had it's own issues. Some matches didn't have the suspense, some spots were shot awkwardly and then we had some sloppy and stupid stuff. Sure no one lubed up and got thrown in a kiddy pool, but there's multitudes of stupid things to do.
So yeah, with the Bucks openly admitting to why things seemed off, that's just comes off as amateurish. Most of the production they can easily get better on by October. But, it's one thing to have a diverse roster and another to have matches/characters that are just so far out there that casual fans won't get it or think are just stupid. There's a reason that "Indy stuff" isn't seen on national TV.
Rob: In Defense Of Silly Sh@#!
Rob steps out of his comfort zone to defend AEW–something you don't want to miss!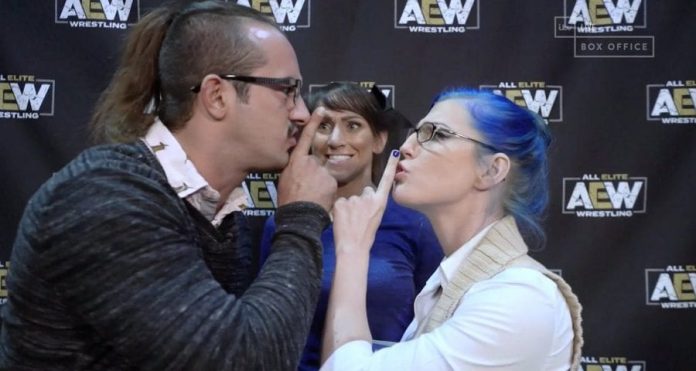 Rob steps out of his comfort zone to defend AEW–something you don't want to miss!
OK I'm about to do something out of character here – I'm going to defend AEW.  Anybody who follows me on Twitter or has read any of my previous stuff here knows that I'm not a big fan of the upstart company.  The short version is that I'm not a fan or just not as enamored with some of their top guys, particularly the Young Bucks and Kenny Omega, and I'm not big on how Cody has gone about taking shots at WWE while trying to say 'no, we're not starting any beefs here'.  I also am not big on how the wrestling media covers them because I think they're ignoring a lot of the things they're doing that would get all caps rants if WWE was doing it.  So for me to defend something they did is totally off brand for me.
So just what am I sticking up for here?  Namely, the goofy skits they did on their Fyter Fest preshow and the goofy elements of some of the preshow matches.  Now I did not see any of it but I saw that they were panned by just about everyone who cared to comment, with some even going so far as to say that if they were on a WWE show that Vince would get killed for it.  So while I won't comment one way or the other on how good or bad the set pieces were I will wholeheartedly defend doing them on the show.  Why?  Because that's wrestling.  Goofy characters, goofy skits, and goofy matches are as much a part of professional wrestling as blood feuds, workrate matches, and so on.  The execution matters but the existence of them has been voted on by the fans a long time ago.
Don't believe me?  Look at the viewing numbers for all the 24/7 Championship stuff.  Look at the views for the arm wrestling match between Braun Strowman and Bobby Lashley (11 million and counting).  Look what the highest rated segment in the history of Monday Night Raw is…..not any match or even an Austin vs McMahon segment, but the 'This is Your Life' segment with the Rock and Mick Foley.  Or even look at the things that aren't silly but aren't matches, either – backstage brawls, ringside fights, etc. – those routinely get more views and draw more interest than the actual televised matches.  You might think that's a shame but it's reality.  No matter what anyone else tells you it's a TV show that includes wrestling and not a wrestling show that's on TV.
You want the hard truth?  When it comes to pro wrestling on TV in the US, there really aren't that many people who are going to watch two or three hours of nothing but matches no matter how good those matches are.  The other stuff has always been the difference maker.  And yes, a lot of that stuff is silly.  You know what?  It's fine!!  Don't let these guys that go on and on about how they'd be ashamed to show some segment to someone who doesn't watch wrestling get the better of you.  Pro wrestling in the United States is silly, simple, lowbrow, least common denominator kind of entertainment.  Even the parts that are serious border on self parody if you examine them too closely.  (After all, who in their right mind would settle a beef with a co-worker by fighting them inside a cage?)  And there's nothing wrong with that.  You watch it because you like it; ALL OF IT, not just the parts that could pass for a legit sports competition.
At the end of the day if AEW is going to have any kind of long term shelf life they are going to have to master doing all the other stuff that goes on before and in between matches, and that's going to be trial and error.  You write five bad comedy segments and then you get two that hit.  They're going to need to find those two that hit, and that means ignoring all the people on the internet that are screaming 'don't be like the WWE!' because quite frankly those people either don't know what they're talking about or are those people who I think are honestly embarrassed that they are wrestling fans and want it to change to something that they don't feel ashamed to love.  Hey AEW, do yourself a favor and don't listen to those guys.  Embrace your wacky side and find your way to some stuff that works.