Greg DeMarco: Box Office Brock Lesnar And The New WWE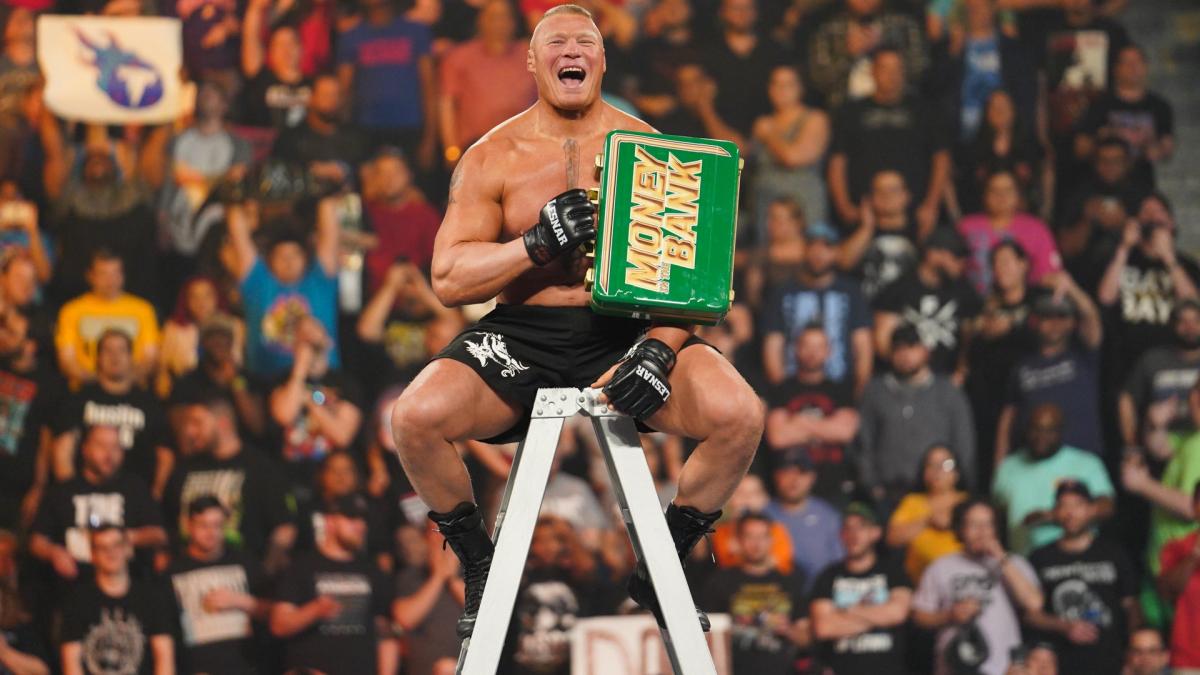 After a hard-hitting WWE Money In The Bank, Greg DeMarco offers perspective on Brock Lesnar winning the Money In The Bank briefcase and the obvious shift in the WWE product & presentation.
I know you read that headline and wondered what in the hell I was smoking. Brock Lesnar leaves Hartford with the Money In The Bank briefcase, and I'm calling it a new WWE? I have to be insane, right? Well, that perspective is 100% wrong. (I mean…I may be insane–but not for that reason!) WWE Money In The Bank was shock and awe from start to finish, and you have every reason to be excited. The reactions I am seeing prove that the online community doesn't want to enjoy WWE. Hopefully, for me, some mainstream fans will read this article too!
Box Office Brock Lesnar
I know what you're thinking…same ol' sh*t, right? I can't say I agree. On the technicality side, Brock Lesnar has never held the Money In The Bank briefcase, so it's wrong there. But I get it, you're tired of seeing Brock on top. The truth of it is, he's Box Office. And WWE needs box office.
What is "Box Office," exactly? It's the ability to get fans to spend money, which is how WWE makes money. Brock Lesnar sells the WWE product–to fans, to viewers, to advertisers, and to networks. Wrestling Twitter is a vocal minority, and appeasing them got WWE nowhere with WrestleMania 35, or as I was calling it for the months leading up to it, "HappyMania." Brock is back, and I think it's fantastic.
Disagree with me? Great, but the sold out crowd in Hartford blew the roof off the joint when his music hit, so they obviously agree. Brock will likely cash-in in advance, proclaiming his championship opportunity for WWE Super ShowDown in Saudi Arabia on June 7. Then we get to give the briefcases a rest, as we continue to shuffle the rosters up and use fun words like Wild Card (bitches…yeehaw!).
One prevailing thought I have seen is that the other seven guys in the match busted their asses for no payoff. I can't agree with that either–their payoff is a paycheck. They're businessmen. Those who complain about how they are booked don't get the business. And as All Elite Wrestling is proving, they don't take too kindly to people complaining about booking, either.
A New WWE?
I know a lot of people don't see it, because they're too worried about booking. But the WWE product shifted tonight. And as dangerous as it is, I hope it sticks.
The product got way more physical at WWE Money In The Bank–way more physical. It started with the Women's Money In The Bank Ladder Match, which in reality doesn't need a gender specific distinction. Money In The Bank describes both ladder matches tonight, as both delivered in both brutality and story. Everyone put their bodies through hell during those matches, and they deserve to be praised.
But it didn't end there:
Rey Mysterio vs. Samoa Joe…brutality.
Shane McMahon vs. The Miz…brutality.
Tony Nese vs. Ariya Daivari…brutality.
The entire segment with the Women's Championships…brutality.
Roman Reigns vs. Elias…brutality.
Seth Rollins vs. AJ Styles…brutality.
Lars Sullivan and The Lucha House Party…brutality.
Kofi Kingston vs. Kevin Owens…say it with me…brutality.
Sense a theme, here? WWE provided a more physical product, and did things that make sense. Yes, there were botches that everyone wants to blame on the refs. In each instance, it appeared to me that the talent messed up, and the commentators covered by blaming the officiating. And that makes sense to me. You didn't think they were going to blame the wrestlers, did you?
It's really funny that this comes after AEW reveals that they'll present a more realistic, athletic oriented product after the onset of their TV deal. It's probably the single bad move they've made (okay, maybe second to the whole PAC/Page ordeal), announcing their plans to the world and giving WWE a heads up on what's coming so they can beat AEW to it.
Seriously, it's like they went "Here's our formula!" without even realizing WWE had a high profile PPV to air 6-days before Double Or Nothing. C'mon guys… #UseYourHead.
At the end, it looks WWE is going back to what works for them: giving the fans what they need, and not what they want. Imagine going to the doctor and misdiagnosing yourself. Would you rather the doctor provides you with what you want and now what you need? You'd sue that doctor for malpractice! It's getting to be that same way with WWE. Prescribe to us what we need, Vince. Even if we don't like the taste when it goes down, it's for the best in the end.