Greg DeMarco's Three Stars Of The Night: WWE Raw (5/6/19)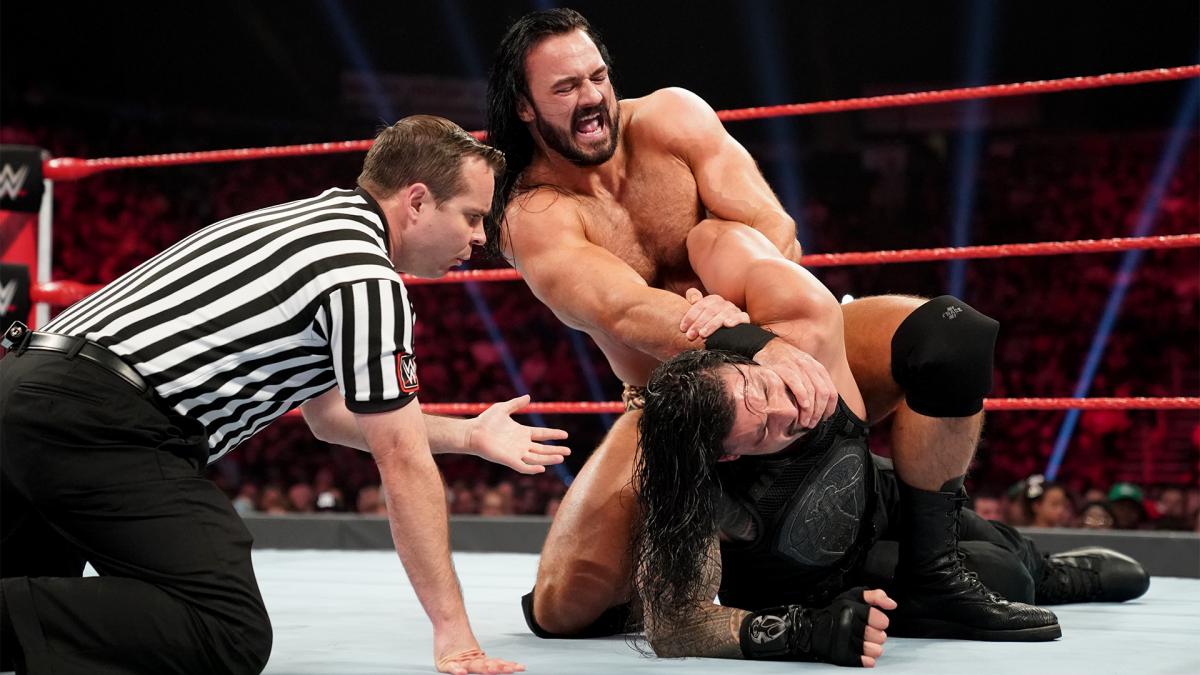 WWE Raw added a Wild Card Rule to the mix, and Greg DeMarco is on the prowl for the night's top performers!
People wanted a change, but the band-aid that is the Wild Card Rule doesn't seem to be it for this edition of WWE Raw. If you judge by Andrew's star ratings, the in-ring product was better than average this week, and that's likely where my stars will come from.
The Third Star for WWE Raw: Lacey Evans
I've said it repeatedly on Twitter, no one knows their character better than Lacey Evans. She pulls the strings better than Bray Wyatt, and that's saying a lot. She won her squash match while proving a point to the four Raw women in the Money In The Bank Ladder Match, and drew our Becky Lynch in a moment that was the perfect spotlight for an overexposed mega-star like Becky. Lacey is quickly becoming one of the best overall performers in the company, proving they know what they're doing sometimes.
---
Elisa looks great in her Chairshot gear.
You can, too!
Be like Elisa and get yours at:
https://www.prowrestlingtees.com/related/thechairshot.html
---
The Second Star for WWE Raw: Bray Wyatt
Really this goes out to everyone behind this shit. Because it's layered, and it's awesome. And damn was it SNEAKY DARK this week. Mercy showed none, and ate the Rambling Rabbit because it was annoying. And Bray rewards Mercy with a PICNIC? And then the kids appear out of nowhere, and are subdued to the point of being drugged? Where did the stuffed dog come from? Was Bray going to feed the dog to Mercy in front of the kids? What does it all represent? Is it a dream? Bray's recounting of being in a mental asylum? I have a feeling that when this all leads to something, it's gonna be a shocker–in a good way.
Honorable Mention: Scott Dawson & Dash Wilder
The segment was stupid, but damn did The Revival sell it like the true professionals they are. #SaveTagTeamWrestling
---
Must Listen:
Driving With DeMarco: The Wildcard Rule Is A Band-aid And We Didn't Need A Band-aid

---
The First Star for WWE Raw: Drew McIntyre
Look, the Wild Card Rule is stupid. WrestleMania rematches have been happening for years. We used to have a PPV dedicated to them (Backlash), and another that was just WrestleMania rematches with added stipulations (Extreme Rules at the time). I am not bothered by it. But what sticks out here is Drew McIntyre's performance on Raw. He is like a breath of fresh air in the middle of madness. He wants wrestling to be what I want it to be–a fight card. He wants to fight, and he wants to kick Roman Reigns' ass. I honestly wish the result on Raw was a win for McIntyre. It wouldn't have been hard to do it and protect Roman (ref bump maybe, Miz running in and causing an added distraction that leads to the Claymore, etc), and still give Drew the win. He represents what WWE could be, if they choose to go in that direction.
---
Who are your Three Stars of WWE Raw?
Comment on social media @ChairshotGreg, @theCHAIRSHOTcom,
and use the hashtag #UseYourHead!
---
In hockey, a game's "Three Stars Of The Night" represent the top three performers of the night. For more clarification, I defer to this Pittsburgh Gazette explanation:
"The tradition dates to the 1936-37 season, when Imperial Oil became the principal sponsor of Hockey Night in Canada radio broadcasts and was seeking a way to promote one of its products, Three Star gasoline. The idea of doing so by selecting the top three performers in a particular game purportedly came from a Canadian advertising agency.
Many clubs do recognize the player with the most three-star selections with an award or trophy, usually in conjunction with a corporate sponsorship, at the end of the season (or sometimes, each month). All six Canadian franchises, for example, have an affiliation with a well-known brewery.
The NHL keeps track of its own Three Stars Of The Night selections, but that is done on a league-wide basis. The league employs a system that awards 30 points to a first star, 20 to a second star and 10 to a third – a running total can be found on the league's website – but it does not present an award based on them."
In hockey tradition, the first star represents the best of the three, but all three are considered to be receiving a high honor.