Greg DeMarco's Three Stars Of The Night: AEW Double Or Nothing (5/25/19)
"Cody Rhodes can now take his place among the greatest in-ring storytellers of all time, a seat right next to Triple H himself."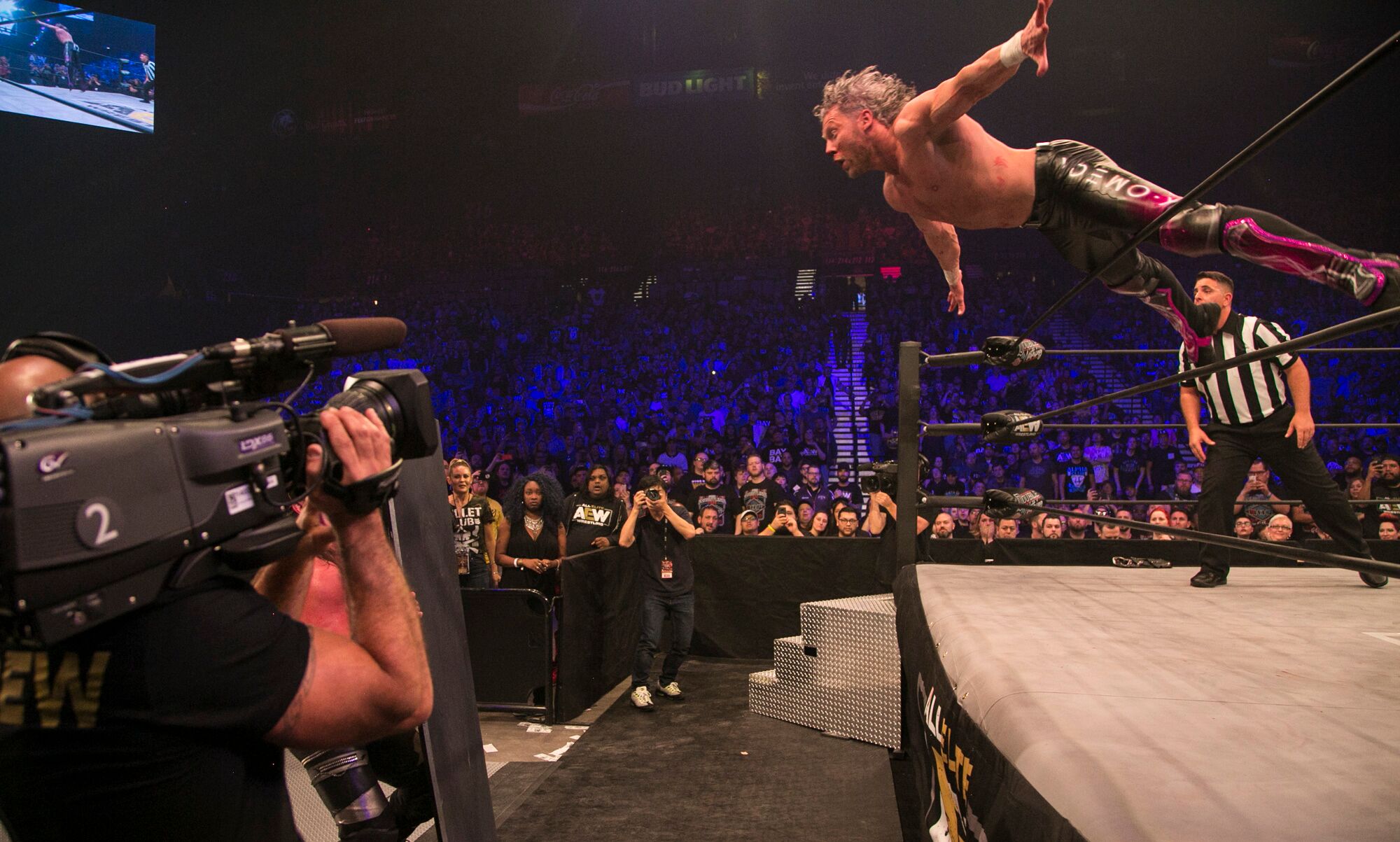 ALL Elite Wrestling made its debut with AEW Double Or Nothing. Who stood out from the talented crowd?
AEW Double Or Nothing is history, and it was quite the history making event. From the stellar matches, to the surprise debut of Jon Moxley (the former Dean Ambrose), the show delivered in a million different ways. It's nearly impossible to pick three standout performances from a night like this, but I am the man for the task!
Featured image credit James Musselwhite, courtesy of All Elite Wrestling.
The Third Star for AEW Double Or Nothing: SCU
There will only ever be one first PPV match for All Elite Wrestling, and it will always belong to SCU. Yes, Strong Hearts were also involved, and yes, Al Linda Man is an unsung hero of this match, but Christopher Daniels (one of the true greatest of all time), Frankie Kazarian (one of the greatest in-ring workhorses of all time), and Scorpio Sky (one of the most underrated wrestlers in the entire world, of all time), delivered a performance that is worth remembering as the first PPV match ever for AEW. This match in general hit on all cylinders, and the talent deserves a nod for their performance.
---
Elisa looks great in her Chairshot gear.
You can, too!
Be like Elisa and get yours at:
https://www.prowrestlingtees.com/related/thechairshot.html
---
The Second Star: Kenny Omega
Kenny Omega wanted to give the fans a main event they deserved, and he did just that with Chris Jericho. It wasn't as spot-tastic as the tag team match that preceded it (and that's a good thing), but the story involved and Jericho working a new style that suits his age (and conditioning) meant that Omega needed to nearly kill himself to deliver the match he wanted everyone to see. In the end he put Jericho over, but is obviously on a collision course with Jon Moxley–potentially at ALL OUT. But on this night, Kenny Omega put the AEW brand on his shoulders and carried it into the stratosphere.
Honorable Mention: Jon Moxley
He needed to give everyone a memorable moment to end the show, and he did just that.
---
Must Listen:
The Doc Says… AEW Double Or Nothing Reaction

---
The First Star for AEW Double Or Nothing: Cody Rhodes and Dustin Rhodes
This match is what pro wrestling is all about. The amazing story told in the ring was sold by two true brothers, and in the end it was Cody who stood tall. That's not enough to give one man the nod over the other, as this was obviously a team–no–a family effort. Dustin took the lead for most of the match, and you can tell both wanted to put on a performance that would make Dusty Rhodes proud. There was an old school moment when DDP carried Brandi Rhodes backstage kicking and screaming, but that doesn't take away from what this was. It wasn't old school, it was pro wrestling. Cody Rhodes can now take his place among the greatest in-ring storytellers of all time, a seat right next to Triple H himself.
---
Who are your Three Stars of WWE Raw?
Comment on social media @ChairshotGreg, @theCHAIRSHOTcom,
and use the hashtag #UseYourHead!
---
In hockey, a game's "Three Stars Of The Night" represent the top three performers of the night. For more clarification, I defer to this Pittsburgh Gazette explanation:
"The tradition dates to the 1936-37 season, when Imperial Oil became the principal sponsor of Hockey Night in Canada radio broadcasts and was seeking a way to promote one of its products, Three Star gasoline. The idea of doing so by selecting the top three performers in a particular game purportedly came from a Canadian advertising agency.
Many clubs do recognize the player with the most three-star selections with an award or trophy, usually in conjunction with a corporate sponsorship, at the end of the season (or sometimes, each month). All six Canadian franchises, for example, have an affiliation with a well-known brewery.
The NHL keeps track of its own Three Stars Of The Night selections, but that is done on a league-wide basis. The league employs a system that awards 30 points to a first star, 20 to a second star and 10 to a third – a running total can be found on the league's website – but it does not present an award based on them."
In hockey tradition, the first star represents the best of the three, but all three are considered to be receiving a high honor.
Andrew's AEW Fight for the Fallen 2019 Ratings & Analysis
AEW has another show! Does this feel more like Double or Nothing, or Fyter Fest?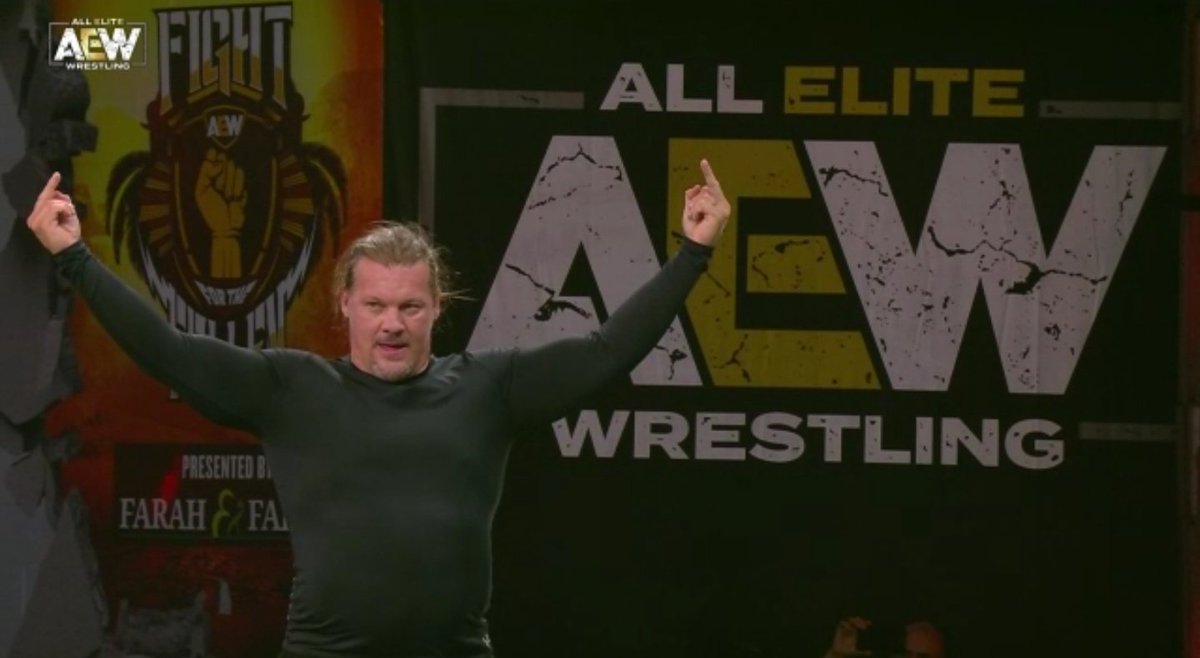 AEW has another show! Does this feel more like Double or Nothing, or Fyter Fest?
So I'm late to the party here since I get to have a life on occasion too, ya know?!
The Brotherhood facing the Young Bucks is all I'm really invested in, but maybe something will surprise.
Time to get to the show!
Ratings:
Peter Avalon w/ Leva Bates vs Sonny Kiss: Kiss wins via Kiss is It @5:10 – * 1/2
Britt Baker & Riho vs Shoko Nakajima & Bea Priestley: Shoko wins via Hurricanrana @15:40 – **
Jimmy Havoc, Darby Allin & Joey Janela vs MJF, Shawn Spears & Sammy Guevara: Spears wins via Death Valley Driver @13:10 – *** 1/4
Allie vs Brandi: Brandi wins via Bionic Spear @11:00 – * 1/2
Dark Order vs Boy and his Dinosaur vs Angelico & Jack Evans: Dark Order win via Fatality @15:15 – ** 1/2
Kip Sabian vs Hangman Page: Page wins via Deadeye @19:00 – ***
SCU vs Lucha Brothers: Lucha Bros win via Spike Fear Factor @15:00 – *** 1/2
CIMA vs Kenny Omega: Omega wins via One Winged Angel @23:00 – *** 3/4
The Brotherhood (Cody & Dustin Rhodes) vs The Young Bucks: Bucks win via Meltzer Driver @31:00 – ****
Analysis:
This Librarians gimmick is terrible and they know it. I say they know it since on BTE even made mention of Leva being a little delusional by saying everyone loves it and the Jackson's weren't expecting that take. Avalon may be an alright hand in the ring, but he's 5 foot nothing, with a porn stache, a bad gimmick and he was Norv Fernum. Sonny is athletic and quite entertaining, but I'm not sure how far that can take him. Some moves like a Twerk-sault and the Ass Ramming corner spot are just not something mainstream fans will embrace. So I'm more curious to see how the character will evolve. As for the match…it was pretty lame.
Britt might've gotten a concussion early on, cause she was talking to the referee often and never seemed quite right, but Bea was a mess. Bea is a hell of a paradox. The better portion of last year in Stardom, she wasn't good in the least bit, but she seemed to figure it out and was quite good in WOS. Plus she's current World of Stardom Champion, so that definitely shows growth. But holy man, she was sloppy as hell in this match. Every time Shoko and Riho got some momentum, Britt and Bea would mess it all up. This could've been a great match, if it wasn't embarrassing to watch at moments.
We've got a mish-mosh 6 man of faces versus heels, but MJF is mad at Spears for the attack on Cody. Then we've got Allin mad at Spears for taking the steam out of his match. Then we've got Joey Janela trying to get himself over, and it was a spot that made me groan. Why would you deliver a Death Valley Driver on the apron, then sell like an idiot, call out Jim Cornette, when the finish is a Death Valley Driver? The match was fast paced and fairly fun, but it made no sense aside from the Allin and Spears interactions.
Brandi does the great heel move with bringing out Awesome Kong as insurance, but neither Brandi nor Allie are strong workers…and it showed. A lot of space between moves, bad connections and the way Allie played off of interference or heel tactics just didn't feel genuine. I do like Brandi winning marred in cheating, it's very on the nose for how she's portraying herself. Plus we get Aja Kong to come out and make the save for Allie and insinuate Aja and Awesome may have a match. Aja may be older, but she's still that old school wrestler type who will rough you up just for fun. That should be good.
Angelico and Evans are nothing but flips. I can't tolerate that team at all. They have generic heel moments with cliche moves. Luchasaurus and Jungle Boy looked like a million bucks. Dark Order is kinda terrible honestly. A few tandem moves looked alright, but generally speaking Dark Order was just boring. Luchasaurus and Jungle Boy weren't hurt by the loss, but they are the ones to care about.
Superbad Sabian and the Hangman was a much better match than I think most initially thought. The pace got slowed down at different points, but the moves made sense and both men really got the story through. Sabian went after the injured knee since he's a flier but also has technical proficiency. Hangman proved himself to still be a resilient babyface for people to rally behind against the egotistical dickhead Jericho.
So when Jericho sneaks up and attacks Page after the match, it just furthered the story and the fan feeling. Simple yes, but it works well.
SCU and the Luchas were just a solid tag team match. I liked Daniels getting involved after being provoked, Scorpio and Pentagon going back and forth with taunts for a while and Aubrey dropping the glove, were all entertaining moments. A little more gimmick than wrestling at times, but we still got a solid match. No complaints at all.
This CIMA/Omega match started off pretty well like it was building towards a big match. It was a lot of Omega trying to prove who he is and CIMA trying to teach people who HE is. However, it turned into a stupid move spamming match. CIMA finishes people with a Meteora, and he did like 12 of them, it was inane. If anyone got annoyed at Omega hitting 20 V-Triggers, this was the same thing. If it weren't for the move spam, this would've been a damn good match. I was definitely disappointed in CIMA for playing into that spam style, when I've seen a good bit of his work and he's usually better than that. Finishers and false finishes for the sake of having them don't build suspense.
We get to the main event that BTE and a lot of the IWC were interested in after Cody's heartfelt promo. The Bucks turned up the visceral aspect by kicking away handshake attempts and spitting at them, so that raised the heat of the match. A bunch of moments in the ring where each team shone with double teams or just stereo spots. Seeing that Dustin and Cody still had some chemistry that it had the Bucks on the ropes was nice. Working on Matt's left arm was great since Matt has definitely gotten better at selling and being the one to get beat up the most. The Meltzer Driver gets hit on Cody, and the Bucks go over.
It looks like the Bucks wanted to have a moment to put the Rhodes' over, but then they admit they must be running short on time as other music hits and the check presentation procession comes out.
Overall Score: 6.5/10
This was better than Fyter Fest, but still had it's own issues. Some matches didn't have the suspense, some spots were shot awkwardly and then we had some sloppy and stupid stuff. Sure no one lubed up and got thrown in a kiddy pool, but there's multitudes of stupid things to do.
So yeah, with the Bucks openly admitting to why things seemed off, that's just comes off as amateurish. Most of the production they can easily get better on by October. But, it's one thing to have a diverse roster and another to have matches/characters that are just so far out there that casual fans won't get it or think are just stupid. There's a reason that "Indy stuff" isn't seen on national TV.
Rob: In Defense Of Silly Sh@#!
Rob steps out of his comfort zone to defend AEW–something you don't want to miss!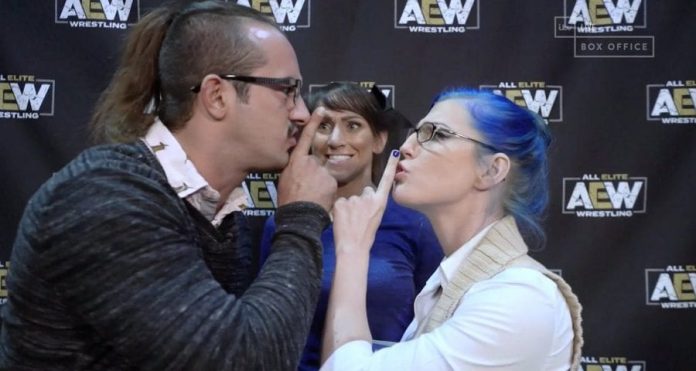 Rob steps out of his comfort zone to defend AEW–something you don't want to miss!
OK I'm about to do something out of character here – I'm going to defend AEW.  Anybody who follows me on Twitter or has read any of my previous stuff here knows that I'm not a big fan of the upstart company.  The short version is that I'm not a fan or just not as enamored with some of their top guys, particularly the Young Bucks and Kenny Omega, and I'm not big on how Cody has gone about taking shots at WWE while trying to say 'no, we're not starting any beefs here'.  I also am not big on how the wrestling media covers them because I think they're ignoring a lot of the things they're doing that would get all caps rants if WWE was doing it.  So for me to defend something they did is totally off brand for me.
So just what am I sticking up for here?  Namely, the goofy skits they did on their Fyter Fest preshow and the goofy elements of some of the preshow matches.  Now I did not see any of it but I saw that they were panned by just about everyone who cared to comment, with some even going so far as to say that if they were on a WWE show that Vince would get killed for it.  So while I won't comment one way or the other on how good or bad the set pieces were I will wholeheartedly defend doing them on the show.  Why?  Because that's wrestling.  Goofy characters, goofy skits, and goofy matches are as much a part of professional wrestling as blood feuds, workrate matches, and so on.  The execution matters but the existence of them has been voted on by the fans a long time ago.
Don't believe me?  Look at the viewing numbers for all the 24/7 Championship stuff.  Look at the views for the arm wrestling match between Braun Strowman and Bobby Lashley (11 million and counting).  Look what the highest rated segment in the history of Monday Night Raw is…..not any match or even an Austin vs McMahon segment, but the 'This is Your Life' segment with the Rock and Mick Foley.  Or even look at the things that aren't silly but aren't matches, either – backstage brawls, ringside fights, etc. – those routinely get more views and draw more interest than the actual televised matches.  You might think that's a shame but it's reality.  No matter what anyone else tells you it's a TV show that includes wrestling and not a wrestling show that's on TV.
You want the hard truth?  When it comes to pro wrestling on TV in the US, there really aren't that many people who are going to watch two or three hours of nothing but matches no matter how good those matches are.  The other stuff has always been the difference maker.  And yes, a lot of that stuff is silly.  You know what?  It's fine!!  Don't let these guys that go on and on about how they'd be ashamed to show some segment to someone who doesn't watch wrestling get the better of you.  Pro wrestling in the United States is silly, simple, lowbrow, least common denominator kind of entertainment.  Even the parts that are serious border on self parody if you examine them too closely.  (After all, who in their right mind would settle a beef with a co-worker by fighting them inside a cage?)  And there's nothing wrong with that.  You watch it because you like it; ALL OF IT, not just the parts that could pass for a legit sports competition.
At the end of the day if AEW is going to have any kind of long term shelf life they are going to have to master doing all the other stuff that goes on before and in between matches, and that's going to be trial and error.  You write five bad comedy segments and then you get two that hit.  They're going to need to find those two that hit, and that means ignoring all the people on the internet that are screaming 'don't be like the WWE!' because quite frankly those people either don't know what they're talking about or are those people who I think are honestly embarrassed that they are wrestling fans and want it to change to something that they don't feel ashamed to love.  Hey AEW, do yourself a favor and don't listen to those guys.  Embrace your wacky side and find your way to some stuff that works.