Gunz: Jon Moxley Could Change The Way WWE Handles Its Talent
Has Jon Moxley opened up new doors for talent?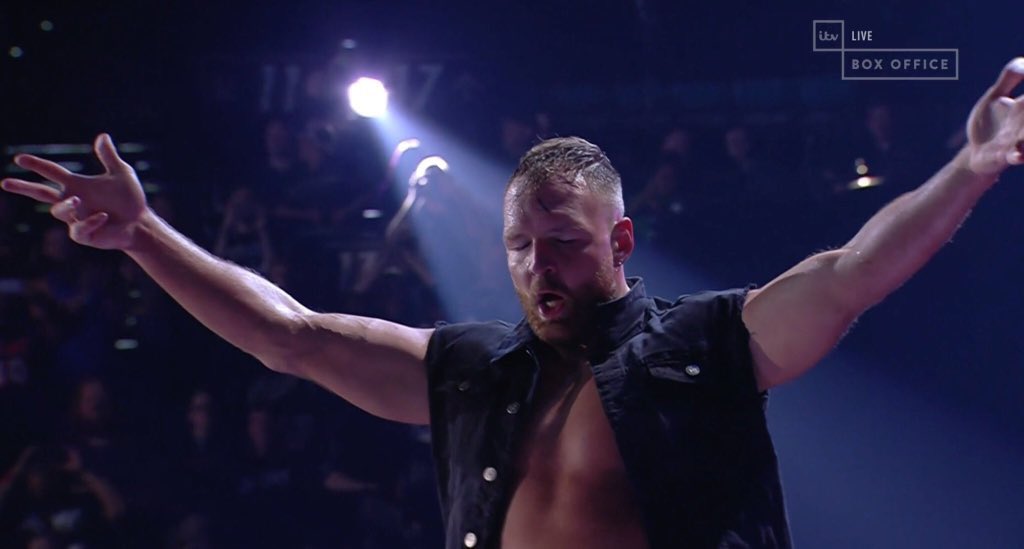 Has Jon Moxley opened up new doors for talent?
In the span of fewer than two months, Jon Moxley, the former Dean Ambrose, has gone from WWE afterthought- a character that was frequently labeled as unappreciated and mishandled by most fans- to the hottest name in the business. Wrestling's biggest free agent is a free agent no more. Moxley debuted for AEW this past weekend and revealed a deal for dates with New Japan as well. The decision he made in his mind a year ago to leave the WWE on his own recognizance has rejuvenated his career.
In the days of the "Monday Night War" between WWF/E and WCW, if a talent was leaving one company, it would be highly assumed that they would be sought after by the other. And in most cases, that talent's final months in their current company might be spent either consistently putting other wrestlers over on TV week after week, or simply sitting at home and not being used on TV at all, in an effort to dilute their value and stature in fans' eyes.
This was strangely not the case with Dean Ambrose. Soon after rumors swirled online that Ambrose had not yet re-signed his contract with WWE and could very well be on his way out of the company, it was concretely confirmed on television that was just the case. Ambrose would soon depart the WWE. The real-life situation was then woven into the storyline reunion of the Shield. It hastily erased Ambrose's shocking heel turn a few months earlier, but in addition to a WWE Network special and a slew of new t-shirt sales, it gave Ambrose a swan song rarely seen given to anyone else outside of "legend" status. Yes, he put over Drew McIntyre and Bobby Lashley in the final weeks, but he was figuratively given a bro hug as opposed to a kick in the rear on the way out. So why, with many believing WWE might soon face their first real competition in almost twenty years, for the change in the usual protocol?
With the intent of writing this article, I spoke with Tom Colohue from Pro Wrestling Torch about this topic. Colohue told me that, according to his sources, "Ambrose offered WWE certain assurances that encouraged WWE to give him a proper send off. They (WWE) believed that he was going out the 'right way.'" However, Colohue told me, "from personal opinion, I believe that the assurances in question have now been proven false."
So it would seem that, while WWE appreciated Ambrose giving them far advanced notice that he would not be resigning with the company, they were not under the impression that the reason Ambrose was declining to re-sign was because of an intentional desire to instead sign with AEW or any other major wrestling company. Had they been of that mind, perhaps the situation would have been handled differently. In fact, when I asked Tom if he thought the WWE would have gone the same route with Ambrose's final days had they known he was signing with AEW, he said, "I do not. I think in that instance he vanishes from TV completely." So does the WWE feel screwed, or at the very least misled, by Ambrose? "I'm waiting on an answer to that one myself," Tom said.
Vince McMahon and the WWE are not dumb. You have to assume they knew Ambrose signing with another 'major' company was at least a possibility since he'd be free and clear after his contract was up (no no-compete clause, etc). But instead of playing 'business as usual' or even diluting or straight burying Dean as his obligations to the company wrapped up, creative instead steered to an unusual route. Not only did they openly acknowledge that one of its top talents was leaving, but they also made it part of a storyline on TV. "WWE always believed Ambrose to be the least marketable of The Shield," Colohue told me. Plus, "the farewell tour was a way to get Roman back in action while having him wrestle as little as possible. It also helped boost Rollins in the run into 'Mania. Contrary to popular belief, it wasn't about Ambrose very much at all."
So was this farewell tour more of an indictment on 'the competition' (AEW, New Japan, etc) being seen as anything but, or an indictment on the way WWE viewed Ambrose himself as a performer and a brand?
Surely the WWE could have still done the Shield reunion without Dean's ongoing contract negotiations as part of the puzzle. Perhaps it made his babyface turn a little easier to justify from a storyline standpoint. It would still seem strange that WWE might openly admit that a top guy is leaving, and probably doing so to sign with a new competing company. Unless, as I believe, at the time they didn't think much of AEW or Ambrose. Vince may not have even been aware of what All Elite Wrestling was, and I doubt he viewed Dean as a big enough star to make any difference in any company he might join in the future. And if Dean's departure, or possible subsequent debut somewhere else, isn't going to affect WWE's bottom line, what's the harm in using his character to give Reigns and Rollins a rub and sell some new Shield merchandise on the way out?
Cocky? Sure. Self-righteous? Maybe. Wrong? We shall see.
In the days since Double or Nothing, is it possible some of the WWE's sentiments have changed? Might they be wondering if they missed the mark on Ambrose? Will the buzz Jon Moxley has created subside, or can a company like AEW ride the wave of momentum (and a new TV deal) and truly challenge for a piece of the wrestling pie? Colohue told me, "From what I've heard it's officially business as usual. They don't consider AEW a threat as of yet, but they are watching."
And WWE should be watching. It doesn't mean much to them to lose Dean Ambrose, but it means a lot for AEW (and even New Japan) to gain Jon Moxley. And therein lies the rub. It's why guys like The Revival are reportedly getting 2-3 million dollar contract offers. What might cost WWE more- overpaying a bit to keep their talent on the roster, or the buzz that talent's departure might create for the 'other guys?'
I do not believe that the WWE will ever not be the #1 wrestling company in the world. The question is, will there ever again be a true #2? And just how much distance can be maintained, or ground made, between those two spots? In the next few months, we will probably find out if the handling of Dean Ambrose's departure will become the new norm, or might be a pivotal turning point for the future in the way the WWE views the need to continue to protect their territory in this new landscape of the wrestling business.