Scott: How Will WWE Handle Kushida?
Being highly touted from Japan, concerns always arise. Scott tries to predict the future for our favorite little Time Splitter, Kushida!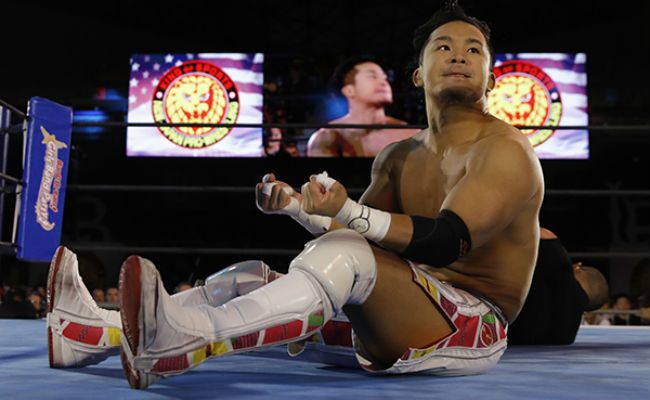 Being highly touted from Japan, concerns always arise. Scott tries to predict the future for our favorite little Time Splitter, Kushida!
Following his official signing with the company over Mania weekend Kushida made his in ring debut in the main event on this week's NXT. Following in the tradition of the newest talent going over Kassius Ohno.
While Ohno has a history of being put in this position he's still an interesting choice for Kushida's first opponent. As Ohno is larger helped make Kushida look like the underdog and he was capable of using his technical and athletic ability to hold his own. He would pick up the win making the wrestling genius tap out to the Hoverboard Lock.
The fact that he was in the main event and beat a larger opponent by submission is a good start for Kushida in WWE. Despite that there is still some concern about how he will be presented especially once he moves on from NXT.
Given that he is better known as a jr in New Japan winning the jr Heavyweight championship 6 times and the jr tag titles twice alongside Alex Shelly as the Time Splitters . He also won the Best of the Super Juniors twice.
Given this record you could be forgiven for thinking that once he signed he would go straight to 205 Live.  Most fans would see this as demotion but I don't think he would given as he clearly proud to be a junior. He would add a lot of star power to the show given the likes of Ali and Buddy Murphy leaving the brand.
On the other hand it could be that he is ready to wrestle with the heavyweights and didn't think he would be able to in New Japan. He's in his mid 30's just like Nakamura was when he came over so maybe he felt it was a case of now or never.
As seen from his time as the ROH TV champion he could hold his own against heavyweights. I'd love to see him as the North American Champion.
The concern from fans is WWE's treatment of Japanese wrestlers in the past. Tajiri while fondly remembered by some fans was never allowed to go much further than Cruiserweight or comedy character. Kai En Tai are remembered more from a segment involving Val Venis penis than any matches they had.
Hideo Itami's run is widely seen as being a disappointment but that's not entirely WWE's fault as he was hindered by injuries. Asuka was dominant in NXT but her main roster run has been very stop start so far. 
His impressive debut this week, with the fact that he's kept his name, and Back to the Future gimmick is a good start. Mauro even made references to Back to the Future on commentary. I wonder how it's going to work with him and Kenny Williams having similar gimmicks.
They'll have to settle it in a Marty McFly jacket on a poll match. There can be only one.
I'm happy to get to see Kushida get to face a mix of opponents from people his size like Gargano to larger opponents like Keith Lee. His Hoverboard Lock is a finisher that can be used on anyone. I'd love to see him vs Riddle in a battle of submissions as Kushida has an impressive MMA record of 6 wins, 2 draws and 0 loses.
He rarely got a chance to face heavyweights in New Japan. This could be a good chance for him to break new ground, leave the past behind, and move into the future.