JKJ's AEW Double Or Nothing Review
Take a look back at this memorable night–did it deliver what you expected?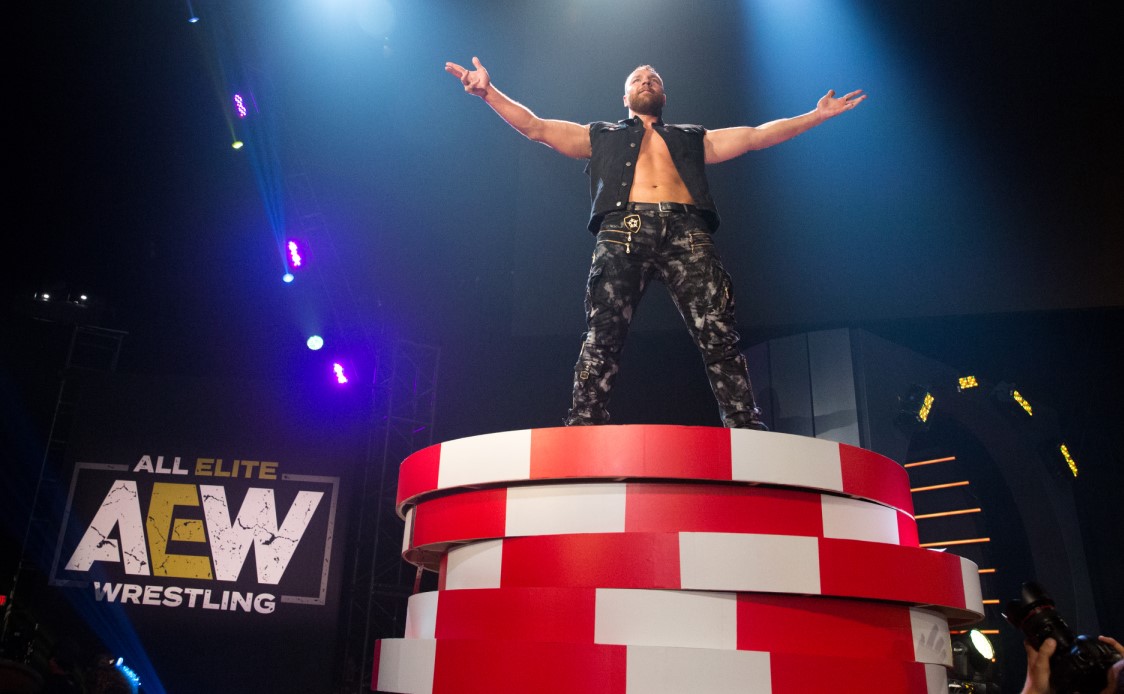 JKJ is back with your AEW Double Or Nothing Review, courtesy of the Thirteen | 10 apparel brand! Did the show deliver? (Spoiler alert: it did!)
WOW Indeed! I honestly have no words that can even begin to explain how I feel after this show!!! it was fantastic from moment one until the very end of production. AEW Double Or Nothing was quite simply a pleasure to watch!
As of writing it is currently 11:45am in the UK. I managed to go to bed and get some sleep around 5:30am (amongst the sound of the morning birds) I have since woken and had several coffee's….this was a much needed recipe for being able to begin writing a brief review of an absolutely fantastic pro wrestling show as All Elite Wrestling presented Double Or Nothing live from the MGM Grand in Las Vegas, so I may as well dive straight in to it beginning and all the way back to "The Buy In" with the Casino Battle Royal & the stunning Kip Sabian vs Sammy Guevara match……
---
---
AEW Double Or Nothing Buy In Kickoff Show
Casino Battle Royale
A ton of names to get involved here and please forgive me for not mentioning all but lets begin with the amazingly despicable MJF….this guy is money, Period! so following this sounded much more complicated than it was, with each entrant drawing a house card, they would all enter at the same time to whatever house card was pulled, this would happen every 3 minutes until each house are involved eventually leaving the last spot to the Joker card! the most notable first entry was Shawn Spears who arrive to a huge ovation and good for him, this guy is a talent. During the match we saw Marko Stunt fly and get hurt as he did in the ALL IN over the budget battle royal. the action was crazy and you catching a breath was difficult. Business certainly picked up with the arrival of the Joker…Hangman Page who is a legit star here from day 1! Page eventually won by eliminating MJF and the winner of this faces the winner of the shows main event Jericho v Omega at a later date.
Grade 3/5
Kip Sabian def. Sammy Guevara
This was a showcase of what both guys can do. If your like me and a huge fan and follower if the UK indy scene then Kip Sabian is familiar to you and you will be fully aware of his capabilities inside the squared circle. Do not sleep on this match as there are some high spots including an interesting finish.
Grade 3.5/5
AEW Double Or Nothing Main Show
SCU def. Strong Hearts
First things first, Frankie Kazarian looked so good tonight! I mean he is good but he looked immense and so comfortable in this environment. AEW wants to encourage and pride itself on Tag team wrestling (changing the count to 10 is a good start) so for me there is no better way to kick off AEW on PPV with a fast paced and hard hitting six man tag match. Personally I don't know much about CIMA, T-Hawk & El Lindaman but I do now! This is the best way imaginable for AEW to kick start this movement and if this match is anything to go by with how this sets the pace of the PPV then this a true treat for all involved! SCU picked up the win with the BME (Best Meltzer Ever).
Grade 4.25/5
Britt Baker def. Nayla Rose, Kylie Rae, and Awesome Kong…..Yes….Awesome Kong
A surprise is always very welcome, especially on a show the  magnitude of AEW Double Or Nothing, and the introduction of Awesome Kong to AEW from Brandi was insane! There is also no secret that Britt Baker is a star and the clear future or beginning to the AEW Women's division. Each woman again got well deserved time to shine here. Kylie Rae has new fan in me. Nyla Rose squaring off with Awesome Kong is a sight and I want more. The Powerbomb corner sport from Kong on the other 3 woman was received superbly by the crowd. The super kicks from Baker, Kylie and the spear from Nyla to take out Kong was a great spot…. we also learned that Kylie has a sick super kick as well as an insane Dead Lift German!! Baker won with a super kick of her own (Bay Bay) and a Ushigoroshi! Awesome match!
Grade 4/5
Best Friends def. Angelico & Jack Evans
This AEW tase team division is going to have strength in depth especially if this is the type of performances that we are going to see week in and week out. Angelico & Evans both got to showcase what they cans do but the Best Friends are just awesome!!! Chucky T is a character who can seriously move. That Crucifix in to the crusher looked like it almost killed Evans!!! There was some sick f'n tag moves throughout and Angelico & Evans came close when Angelico hit a knee on the running Barreta which led to a corner crucifix bomb and 650 splash from Evans (what a sequence!!!) Best Friends got the win with the doomsday day knee on Evans followed nay the stomp tag team crusher! Outstanding!
Th Aftermath attack is a must not miss!
Grade 4.25/5
---
Read: Andrew's AEW Double Or Nothing 2019 Ratings & Review
---
Hikaru Shida, Riho, & Ryo Mizunami def. Aja Kong, Yuka Sakazaki, & Emi Sakura
A match in which I didn't know many of the competitors, however, Hikaru Shida is AWESOME (She loves collecting POP figures, go check out her Instagram) and with that I now have a new favourite to follow! This was yet another hard hitting and super fast paced match. Look out for the tray shot to the head of Shida from AJA. A very similar match layout to the opener with extremely good agility and energy. When the match eventually broke up it was won when Aja hit the back elbow inadvertently on Emi Sakura thus allowing Shida to hit the running knee on Sakura for the win! Hello JOSHI!
Grade 4/5
Cody def. Dustin Rhodes
One of the biggest matches headed into AEW Double Or Nothing, the emotion from both entrances gave this an electric and big fight feel from the first bell! this is awesome chants break out within seconds. The pace of this match was so unexpected. The blood came early, Cody kicked out of 2 Cross Rhodes along the way. both guys traded hard shots with Cody on the end of boos. Cody eventually won the fight with his own Cross Rhodes. This was fantastic from Start to finish with pure emotion and the post match promo continued this and adds even more intrigue to what Dustin is going to do in AEW. WOW
Grade – 5/5
AAA World Tag Team Championships: The Young Bucks (c) def. Lucha Bros
AEW = Tag team wrestling, Young Bucks = Tag team wrestling, Lucha Bros = Tag team wrestling! I think you can see what I'm getting at here. This is that type of match that needs no introduction and no write up so I would politely say just go watch it, its simply awe inspiring….oh and Justin Roberts still does a fine job of introducing both teams! the crowd were hot for this since January. Is this the best age team match that I have ever seen? perhaps so! is it for everyone? it should be! This is one of those matches that you can easily show a non wrestling fan. The action was fast and furious but it culminated with spots every minute. Powerslam and spear combination by Matt Jackson was insane. Fenix with a roll through crusher for a near fall got the crowd even louder (how that was possible I don't know) Both teams showed why they are just incredible throughout. The 450 splash from Nick to Fenix was incredible. I should probably mention the destroyer on the hardest part of the ring by Pentagon on Matt Jackson followed by a second destroyer from Fenix on Nick…… there is just so much to write about here but The win for the Bucks came when they hit the Meltzer Driver on Fenix….I'm exhausted just writing about it! what a match this was!
Grade 5/5
AEW Double Or Nothing Main Event: Chris Jericho def. Kenny Omega and will face Hangman Page for the AEW Championship
How can anyone follow the tag match that came before? perhaps only Alpha vs Omega. Both entrances on point with Jericho flashing back to previous personas being spot on! JR called it and stated it was a big time atmosphere and he was correct….Note that Jericho does look in great shape here, I mean anyone that has to pick up a Cracker Jack barrel is Hench! I know a lot of people will compare this to the Wrestle Kingdom match and that's fine but this was bigger, a new arena in front of hungry fans, this seemed more physical but with similar spots. Kenny's V-Trigger does not get old! I love it!!! both guys hit each other with all the big moves but ultimately it was Jericho who used his new Judas effect finisher to take the pinfall win and now look to face Hangman Page. What.A.Match……but there is more after the bell Jericho grabbed the mic and demanded respect, a huge crowd pop lifted the roof off the building and it was established that Jon Moxley, yes Jon f'n Moxley was heading to the ring!!!! unbelievable moment which got me off my feet at 4:45am in the morning! Moxley hit both Jericho & the official with Dirty Deeds (this may get renamed) before assaulting Kenny and destroying him to close the show even throwing him off part of the entrance stage!
Grade 5/5
---
---
What a show! a huge debut for AEW! I just wish to say that as a lifelong WWE fan for 20 years I see this as healthy competition, I have seen many hate strong tweets towards several companies but the more quality wrestling the better for all of us!
I truly hope that you have enjoyed reading this and keep your eyes peeled for my upcoming NXT Takeover 25 Preview/Predictions & Review Posts along with NJPW Dominion. Thanks again to you all for reading. its your support that give us heart to bring these articles to you.