JKJ's AEW Double Or Nothing Review
Take a look back at this memorable night–did it deliver what you expected?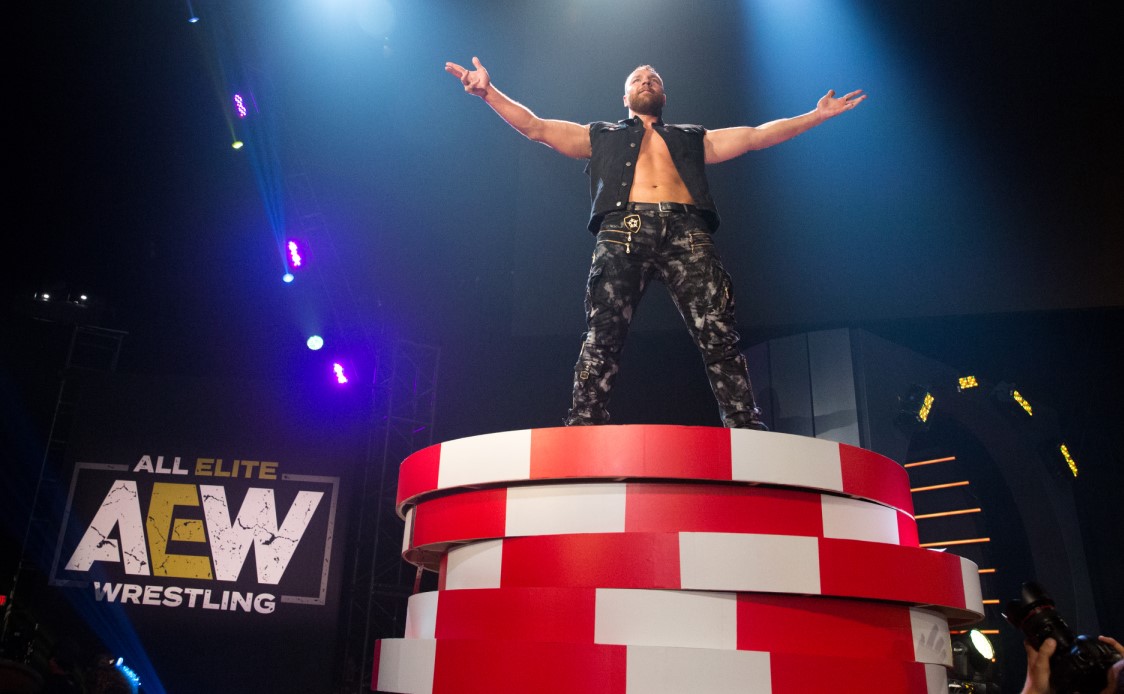 JKJ is back with your AEW Double Or Nothing Review, courtesy of the Thirteen | 10 apparel brand! Did the show deliver? (Spoiler alert: it did!)
WOW Indeed! I honestly have no words that can even begin to explain how I feel after this show!!! it was fantastic from moment one until the very end of production. AEW Double Or Nothing was quite simply a pleasure to watch!
As of writing it is currently 11:45am in the UK. I managed to go to bed and get some sleep around 5:30am (amongst the sound of the morning birds) I have since woken and had several coffee's….this was a much needed recipe for being able to begin writing a brief review of an absolutely fantastic pro wrestling show as All Elite Wrestling presented Double Or Nothing live from the MGM Grand in Las Vegas, so I may as well dive straight in to it beginning and all the way back to "The Buy In" with the Casino Battle Royal & the stunning Kip Sabian vs Sammy Guevara match……
---
---
AEW Double Or Nothing Buy In Kickoff Show
Casino Battle Royale
A ton of names to get involved here and please forgive me for not mentioning all but lets begin with the amazingly despicable MJF….this guy is money, Period! so following this sounded much more complicated than it was, with each entrant drawing a house card, they would all enter at the same time to whatever house card was pulled, this would happen every 3 minutes until each house are involved eventually leaving the last spot to the Joker card! the most notable first entry was Shawn Spears who arrive to a huge ovation and good for him, this guy is a talent. During the match we saw Marko Stunt fly and get hurt as he did in the ALL IN over the budget battle royal. the action was crazy and you catching a breath was difficult. Business certainly picked up with the arrival of the Joker…Hangman Page who is a legit star here from day 1! Page eventually won by eliminating MJF and the winner of this faces the winner of the shows main event Jericho v Omega at a later date.
Grade 3/5
Kip Sabian def. Sammy Guevara
This was a showcase of what both guys can do. If your like me and a huge fan and follower if the UK indy scene then Kip Sabian is familiar to you and you will be fully aware of his capabilities inside the squared circle. Do not sleep on this match as there are some high spots including an interesting finish.
Grade 3.5/5
AEW Double Or Nothing Main Show
SCU def. Strong Hearts
First things first, Frankie Kazarian looked so good tonight! I mean he is good but he looked immense and so comfortable in this environment. AEW wants to encourage and pride itself on Tag team wrestling (changing the count to 10 is a good start) so for me there is no better way to kick off AEW on PPV with a fast paced and hard hitting six man tag match. Personally I don't know much about CIMA, T-Hawk & El Lindaman but I do now! This is the best way imaginable for AEW to kick start this movement and if this match is anything to go by with how this sets the pace of the PPV then this a true treat for all involved! SCU picked up the win with the BME (Best Meltzer Ever).
Grade 4.25/5
Britt Baker def. Nayla Rose, Kylie Rae, and Awesome Kong…..Yes….Awesome Kong
A surprise is always very welcome, especially on a show the  magnitude of AEW Double Or Nothing, and the introduction of Awesome Kong to AEW from Brandi was insane! There is also no secret that Britt Baker is a star and the clear future or beginning to the AEW Women's division. Each woman again got well deserved time to shine here. Kylie Rae has new fan in me. Nyla Rose squaring off with Awesome Kong is a sight and I want more. The Powerbomb corner sport from Kong on the other 3 woman was received superbly by the crowd. The super kicks from Baker, Kylie and the spear from Nyla to take out Kong was a great spot…. we also learned that Kylie has a sick super kick as well as an insane Dead Lift German!! Baker won with a super kick of her own (Bay Bay) and a Ushigoroshi! Awesome match!
Grade 4/5
Best Friends def. Angelico & Jack Evans
This AEW tase team division is going to have strength in depth especially if this is the type of performances that we are going to see week in and week out. Angelico & Evans both got to showcase what they cans do but the Best Friends are just awesome!!! Chucky T is a character who can seriously move. That Crucifix in to the crusher looked like it almost killed Evans!!! There was some sick f'n tag moves throughout and Angelico & Evans came close when Angelico hit a knee on the running Barreta which led to a corner crucifix bomb and 650 splash from Evans (what a sequence!!!) Best Friends got the win with the doomsday day knee on Evans followed nay the stomp tag team crusher! Outstanding!
Th Aftermath attack is a must not miss!
Grade 4.25/5
---
Read: Andrew's AEW Double Or Nothing 2019 Ratings & Review
---
Hikaru Shida, Riho, & Ryo Mizunami def. Aja Kong, Yuka Sakazaki, & Emi Sakura
A match in which I didn't know many of the competitors, however, Hikaru Shida is AWESOME (She loves collecting POP figures, go check out her Instagram) and with that I now have a new favourite to follow! This was yet another hard hitting and super fast paced match. Look out for the tray shot to the head of Shida from AJA. A very similar match layout to the opener with extremely good agility and energy. When the match eventually broke up it was won when Aja hit the back elbow inadvertently on Emi Sakura thus allowing Shida to hit the running knee on Sakura for the win! Hello JOSHI!
Grade 4/5
Cody def. Dustin Rhodes
One of the biggest matches headed into AEW Double Or Nothing, the emotion from both entrances gave this an electric and big fight feel from the first bell! this is awesome chants break out within seconds. The pace of this match was so unexpected. The blood came early, Cody kicked out of 2 Cross Rhodes along the way. both guys traded hard shots with Cody on the end of boos. Cody eventually won the fight with his own Cross Rhodes. This was fantastic from Start to finish with pure emotion and the post match promo continued this and adds even more intrigue to what Dustin is going to do in AEW. WOW
Grade – 5/5
AAA World Tag Team Championships: The Young Bucks (c) def. Lucha Bros
AEW = Tag team wrestling, Young Bucks = Tag team wrestling, Lucha Bros = Tag team wrestling! I think you can see what I'm getting at here. This is that type of match that needs no introduction and no write up so I would politely say just go watch it, its simply awe inspiring….oh and Justin Roberts still does a fine job of introducing both teams! the crowd were hot for this since January. Is this the best age team match that I have ever seen? perhaps so! is it for everyone? it should be! This is one of those matches that you can easily show a non wrestling fan. The action was fast and furious but it culminated with spots every minute. Powerslam and spear combination by Matt Jackson was insane. Fenix with a roll through crusher for a near fall got the crowd even louder (how that was possible I don't know) Both teams showed why they are just incredible throughout. The 450 splash from Nick to Fenix was incredible. I should probably mention the destroyer on the hardest part of the ring by Pentagon on Matt Jackson followed by a second destroyer from Fenix on Nick…… there is just so much to write about here but The win for the Bucks came when they hit the Meltzer Driver on Fenix….I'm exhausted just writing about it! what a match this was!
Grade 5/5
AEW Double Or Nothing Main Event: Chris Jericho def. Kenny Omega and will face Hangman Page for the AEW Championship
How can anyone follow the tag match that came before? perhaps only Alpha vs Omega. Both entrances on point with Jericho flashing back to previous personas being spot on! JR called it and stated it was a big time atmosphere and he was correct….Note that Jericho does look in great shape here, I mean anyone that has to pick up a Cracker Jack barrel is Hench! I know a lot of people will compare this to the Wrestle Kingdom match and that's fine but this was bigger, a new arena in front of hungry fans, this seemed more physical but with similar spots. Kenny's V-Trigger does not get old! I love it!!! both guys hit each other with all the big moves but ultimately it was Jericho who used his new Judas effect finisher to take the pinfall win and now look to face Hangman Page. What.A.Match……but there is more after the bell Jericho grabbed the mic and demanded respect, a huge crowd pop lifted the roof off the building and it was established that Jon Moxley, yes Jon f'n Moxley was heading to the ring!!!! unbelievable moment which got me off my feet at 4:45am in the morning! Moxley hit both Jericho & the official with Dirty Deeds (this may get renamed) before assaulting Kenny and destroying him to close the show even throwing him off part of the entrance stage!
Grade 5/5
---
---
What a show! a huge debut for AEW! I just wish to say that as a lifelong WWE fan for 20 years I see this as healthy competition, I have seen many hate strong tweets towards several companies but the more quality wrestling the better for all of us!
I truly hope that you have enjoyed reading this and keep your eyes peeled for my upcoming NXT Takeover 25 Preview/Predictions & Review Posts along with NJPW Dominion. Thanks again to you all for reading. its your support that give us heart to bring these articles to you.
Andrew's AEW Fight for the Fallen 2019 Ratings & Analysis
AEW has another show! Does this feel more like Double or Nothing, or Fyter Fest?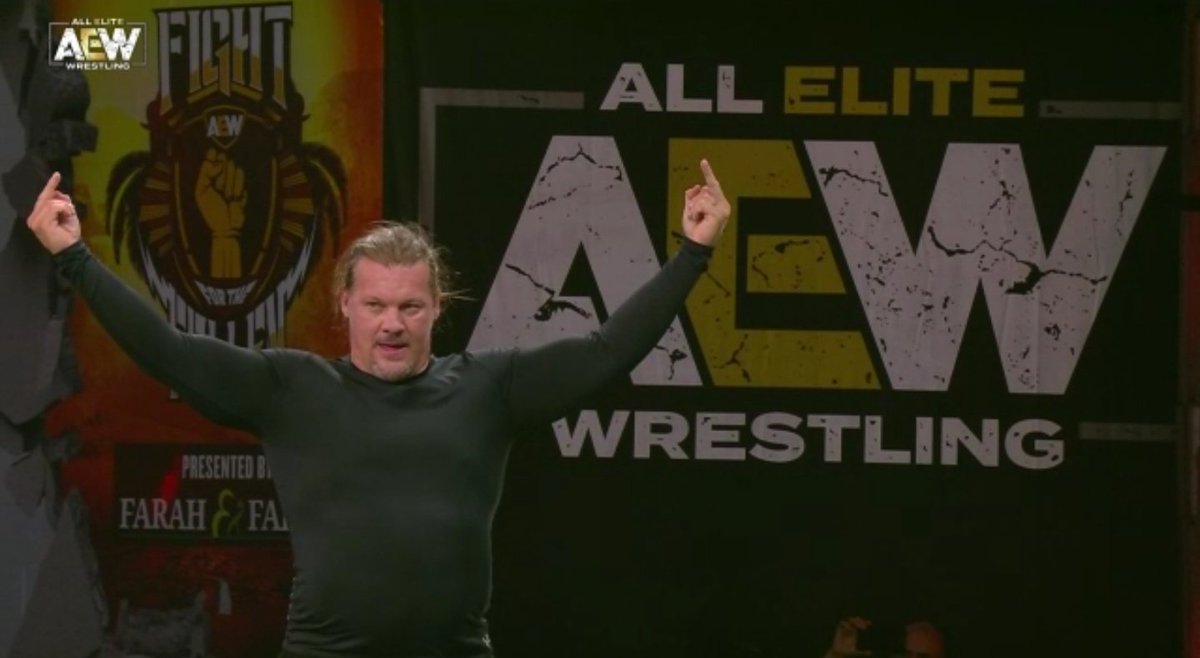 AEW has another show! Does this feel more like Double or Nothing, or Fyter Fest?
So I'm late to the party here since I get to have a life on occasion too, ya know?!
The Brotherhood facing the Young Bucks is all I'm really invested in, but maybe something will surprise.
Time to get to the show!
Ratings:
Peter Avalon w/ Leva Bates vs Sonny Kiss: Kiss wins via Kiss is It @5:10 – * 1/2
Britt Baker & Riho vs Shoko Nakajima & Bea Priestley: Shoko wins via Hurricanrana @15:40 – **
Jimmy Havoc, Darby Allin & Joey Janela vs MJF, Shawn Spears & Sammy Guevara: Spears wins via Death Valley Driver @13:10 – *** 1/4
Allie vs Brandi: Brandi wins via Bionic Spear @11:00 – * 1/2
Dark Order vs Boy and his Dinosaur vs Angelico & Jack Evans: Dark Order win via Fatality @15:15 – ** 1/2
Kip Sabian vs Hangman Page: Page wins via Deadeye @19:00 – ***
SCU vs Lucha Brothers: Lucha Bros win via Spike Fear Factor @15:00 – *** 1/2
CIMA vs Kenny Omega: Omega wins via One Winged Angel @23:00 – *** 3/4
The Brotherhood (Cody & Dustin Rhodes) vs The Young Bucks: Bucks win via Meltzer Driver @31:00 – ****
Analysis:
This Librarians gimmick is terrible and they know it. I say they know it since on BTE even made mention of Leva being a little delusional by saying everyone loves it and the Jackson's weren't expecting that take. Avalon may be an alright hand in the ring, but he's 5 foot nothing, with a porn stache, a bad gimmick and he was Norv Fernum. Sonny is athletic and quite entertaining, but I'm not sure how far that can take him. Some moves like a Twerk-sault and the Ass Ramming corner spot are just not something mainstream fans will embrace. So I'm more curious to see how the character will evolve. As for the match…it was pretty lame.
Britt might've gotten a concussion early on, cause she was talking to the referee often and never seemed quite right, but Bea was a mess. Bea is a hell of a paradox. The better portion of last year in Stardom, she wasn't good in the least bit, but she seemed to figure it out and was quite good in WOS. Plus she's current World of Stardom Champion, so that definitely shows growth. But holy man, she was sloppy as hell in this match. Every time Shoko and Riho got some momentum, Britt and Bea would mess it all up. This could've been a great match, if it wasn't embarrassing to watch at moments.
We've got a mish-mosh 6 man of faces versus heels, but MJF is mad at Spears for the attack on Cody. Then we've got Allin mad at Spears for taking the steam out of his match. Then we've got Joey Janela trying to get himself over, and it was a spot that made me groan. Why would you deliver a Death Valley Driver on the apron, then sell like an idiot, call out Jim Cornette, when the finish is a Death Valley Driver? The match was fast paced and fairly fun, but it made no sense aside from the Allin and Spears interactions.
Brandi does the great heel move with bringing out Awesome Kong as insurance, but neither Brandi nor Allie are strong workers…and it showed. A lot of space between moves, bad connections and the way Allie played off of interference or heel tactics just didn't feel genuine. I do like Brandi winning marred in cheating, it's very on the nose for how she's portraying herself. Plus we get Aja Kong to come out and make the save for Allie and insinuate Aja and Awesome may have a match. Aja may be older, but she's still that old school wrestler type who will rough you up just for fun. That should be good.
Angelico and Evans are nothing but flips. I can't tolerate that team at all. They have generic heel moments with cliche moves. Luchasaurus and Jungle Boy looked like a million bucks. Dark Order is kinda terrible honestly. A few tandem moves looked alright, but generally speaking Dark Order was just boring. Luchasaurus and Jungle Boy weren't hurt by the loss, but they are the ones to care about.
Superbad Sabian and the Hangman was a much better match than I think most initially thought. The pace got slowed down at different points, but the moves made sense and both men really got the story through. Sabian went after the injured knee since he's a flier but also has technical proficiency. Hangman proved himself to still be a resilient babyface for people to rally behind against the egotistical dickhead Jericho.
So when Jericho sneaks up and attacks Page after the match, it just furthered the story and the fan feeling. Simple yes, but it works well.
SCU and the Luchas were just a solid tag team match. I liked Daniels getting involved after being provoked, Scorpio and Pentagon going back and forth with taunts for a while and Aubrey dropping the glove, were all entertaining moments. A little more gimmick than wrestling at times, but we still got a solid match. No complaints at all.
This CIMA/Omega match started off pretty well like it was building towards a big match. It was a lot of Omega trying to prove who he is and CIMA trying to teach people who HE is. However, it turned into a stupid move spamming match. CIMA finishes people with a Meteora, and he did like 12 of them, it was inane. If anyone got annoyed at Omega hitting 20 V-Triggers, this was the same thing. If it weren't for the move spam, this would've been a damn good match. I was definitely disappointed in CIMA for playing into that spam style, when I've seen a good bit of his work and he's usually better than that. Finishers and false finishes for the sake of having them don't build suspense.
We get to the main event that BTE and a lot of the IWC were interested in after Cody's heartfelt promo. The Bucks turned up the visceral aspect by kicking away handshake attempts and spitting at them, so that raised the heat of the match. A bunch of moments in the ring where each team shone with double teams or just stereo spots. Seeing that Dustin and Cody still had some chemistry that it had the Bucks on the ropes was nice. Working on Matt's left arm was great since Matt has definitely gotten better at selling and being the one to get beat up the most. The Meltzer Driver gets hit on Cody, and the Bucks go over.
It looks like the Bucks wanted to have a moment to put the Rhodes' over, but then they admit they must be running short on time as other music hits and the check presentation procession comes out.
Overall Score: 6.5/10
This was better than Fyter Fest, but still had it's own issues. Some matches didn't have the suspense, some spots were shot awkwardly and then we had some sloppy and stupid stuff. Sure no one lubed up and got thrown in a kiddy pool, but there's multitudes of stupid things to do.
So yeah, with the Bucks openly admitting to why things seemed off, that's just comes off as amateurish. Most of the production they can easily get better on by October. But, it's one thing to have a diverse roster and another to have matches/characters that are just so far out there that casual fans won't get it or think are just stupid. There's a reason that "Indy stuff" isn't seen on national TV.
Rob: In Defense Of Silly Sh@#!
Rob steps out of his comfort zone to defend AEW–something you don't want to miss!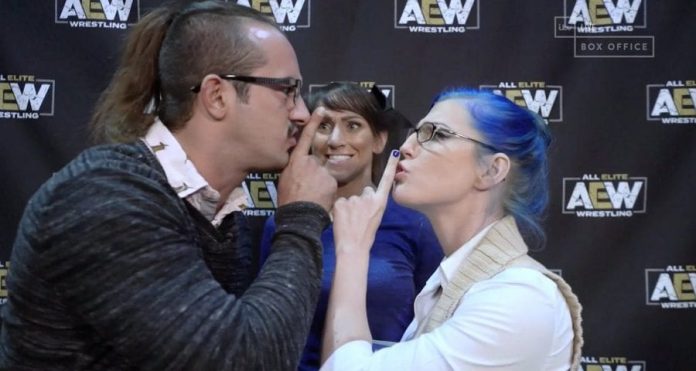 Rob steps out of his comfort zone to defend AEW–something you don't want to miss!
OK I'm about to do something out of character here – I'm going to defend AEW.  Anybody who follows me on Twitter or has read any of my previous stuff here knows that I'm not a big fan of the upstart company.  The short version is that I'm not a fan or just not as enamored with some of their top guys, particularly the Young Bucks and Kenny Omega, and I'm not big on how Cody has gone about taking shots at WWE while trying to say 'no, we're not starting any beefs here'.  I also am not big on how the wrestling media covers them because I think they're ignoring a lot of the things they're doing that would get all caps rants if WWE was doing it.  So for me to defend something they did is totally off brand for me.
So just what am I sticking up for here?  Namely, the goofy skits they did on their Fyter Fest preshow and the goofy elements of some of the preshow matches.  Now I did not see any of it but I saw that they were panned by just about everyone who cared to comment, with some even going so far as to say that if they were on a WWE show that Vince would get killed for it.  So while I won't comment one way or the other on how good or bad the set pieces were I will wholeheartedly defend doing them on the show.  Why?  Because that's wrestling.  Goofy characters, goofy skits, and goofy matches are as much a part of professional wrestling as blood feuds, workrate matches, and so on.  The execution matters but the existence of them has been voted on by the fans a long time ago.
Don't believe me?  Look at the viewing numbers for all the 24/7 Championship stuff.  Look at the views for the arm wrestling match between Braun Strowman and Bobby Lashley (11 million and counting).  Look what the highest rated segment in the history of Monday Night Raw is…..not any match or even an Austin vs McMahon segment, but the 'This is Your Life' segment with the Rock and Mick Foley.  Or even look at the things that aren't silly but aren't matches, either – backstage brawls, ringside fights, etc. – those routinely get more views and draw more interest than the actual televised matches.  You might think that's a shame but it's reality.  No matter what anyone else tells you it's a TV show that includes wrestling and not a wrestling show that's on TV.
You want the hard truth?  When it comes to pro wrestling on TV in the US, there really aren't that many people who are going to watch two or three hours of nothing but matches no matter how good those matches are.  The other stuff has always been the difference maker.  And yes, a lot of that stuff is silly.  You know what?  It's fine!!  Don't let these guys that go on and on about how they'd be ashamed to show some segment to someone who doesn't watch wrestling get the better of you.  Pro wrestling in the United States is silly, simple, lowbrow, least common denominator kind of entertainment.  Even the parts that are serious border on self parody if you examine them too closely.  (After all, who in their right mind would settle a beef with a co-worker by fighting them inside a cage?)  And there's nothing wrong with that.  You watch it because you like it; ALL OF IT, not just the parts that could pass for a legit sports competition.
At the end of the day if AEW is going to have any kind of long term shelf life they are going to have to master doing all the other stuff that goes on before and in between matches, and that's going to be trial and error.  You write five bad comedy segments and then you get two that hit.  They're going to need to find those two that hit, and that means ignoring all the people on the internet that are screaming 'don't be like the WWE!' because quite frankly those people either don't know what they're talking about or are those people who I think are honestly embarrassed that they are wrestling fans and want it to change to something that they don't feel ashamed to love.  Hey AEW, do yourself a favor and don't listen to those guys.  Embrace your wacky side and find your way to some stuff that works.