Joe's AAA Review & Results (5/26/2019)
Joe Dinan is here with your AAA updates, results, discussion, and more!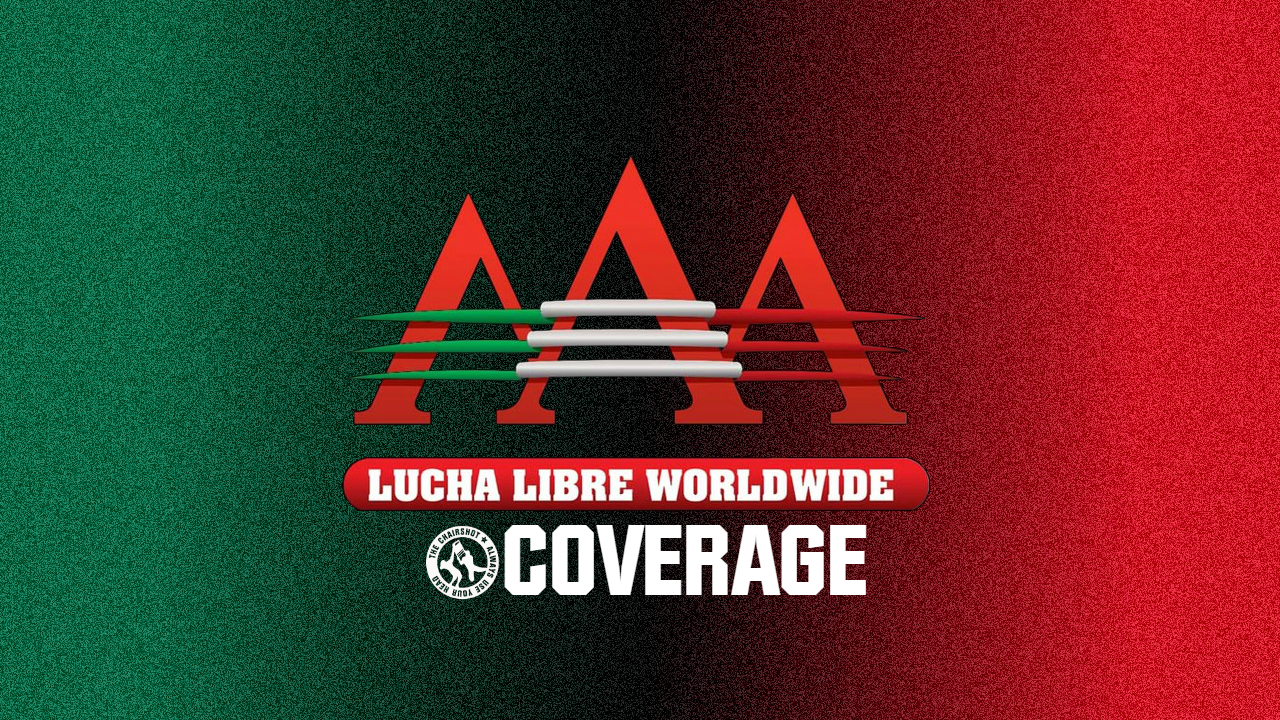 Joe Dinan is here with your AAA updates, results, discussion, and more!
Live on Twitch 5/25
I didn't watch the minis match because AAA doesn't care about them so I don't either. Daga is coming out here calling out the current champs, Drago, Laredo Kid, and Fenix. He breaks out into English to introduce the best female wrestler. It's Tessa Blanchard. Now he's talking about Perros del Mal. Out comes Taya. Taya being a pro cutting her promo in Spanish. They insult each other and Taya punches him. Tessa comes running out. She attacks her. Laredo Kid comes out to save Taya. He saves her and wants to fight.
Nino Hamburgeusa, Big Mami, and Draztik Boy vs Villano III Jr, Lady Maravilla, and La Parka Negra (Tigger Boy)
No La Parka Negra. Mami tries to convince Nino not to get caught up in Maravilla (hehe) but Maravilla attacks from behind. Maravilla sweet talks him but Tigger Boy kicks him. Maravilla works over Mami. After being worked over Mami hits a buckle bomb on Maravilla. Nino does the running senton in the corner on her and Tigger Boy. There's really a ton of posturing. Some light back and forth action. Maravilla hits a Spanish fly on Draztik Boy. A bunch of spots get traded. Nino does a sit out power bomb to Villano. Draztik Boy hits a Spanish Fly on Tigger Boy off of the apron. Nino hits a splash on Tigger Boy. Mami goes up for a splash on Maravilla but Nino helps her up. Villano crotches Mami. Villano and Maravilla superplex Mami. Villano hits a senton splash and Maravilla pins Mami with a frog splash. Lady Maravilla pins Big Mami with a frog splash.
Nino leaves with Maravilla. Mami is sad.
Winners: Villano III Jr, Lady Maravilla, and Tigger Boy
Dinastia vs La Parka Negra vs Flamita
Match wasn't advertised at all but hey AAA books on the fly. Dinastia and Flamita go at it while Negra stands on the apron. Dinastia goes for an asai moonsault but misses. Now Negra is working on Flamita. Dinastia makes his way back in and they help take out La Parka Negra and then go back and forth against each other. Flamita kicks Dinastia down then goes flying to the outside hitting a dive on Negra. Back in the ring Flamita hits a double standing Spanish fly. Dinastia gets Negra to the top and hits a Spanish fly and…wins? Dinastia pins La Parka Negra with a Spanish Fly.
Winner: Dinastia
Faby Apache, Taya Valkyrie, and Lady Shani vs Chik Tormenta, Keyra, and Tessa Blanchard
There's a ton of posturing and then Tessa and Taya go back and forth. Tormenta and Faby enter next and they go back and forth until Faby hit a hurricanrana to the outside. Shani beats up on Keyra. Tormenta and Blanchard come in and take everyone out. Faby and Shani work together to make a come back. Shani and Tormenta go at it. Shani gets a pin but the ref counts slow. Tessa hits a code breaker on Shani. Faby does a hurricanrana off of the apron on Tormenta. Daga runs down to clothesline Taya. Blanchard hits the underhook DDT for the win. Tessa pins Taya with a underhook DDT.
Faby attacks Tirantes after the match.
Winners: Chik Tormenta, Keyra, and Tessa Blanchard
Laredo Kid, Myzteziz Jr, and Hijo del Vikingo vs Super Fly, Jack Evans (Eterno), and Australian Suicide
Match starts out with each team trading spots. Standard stuff. Eterno and his horns introduce a chair and beat up on Laredo Kid. They rip at Myzteziz's mask. Vikingo gets disposed of. Myzteziz dodges some attacks. Suicide, Eterno, and Fly fall out of the ring. Laredo Kid does an asai moonsault onto the pile. Vikingo does a shooting star press and Myzteziz does a big dive. Back in the ring Laredo attempts a spot with Suicide which was very sloppy. Dangerous. Myzteziz does a tornillo on Eterno. Vikingo and Suicide trade strikes, and Suicide does a Canadian destroyer on him. Laredo Kid enters and works over Suicide. Laredo Kid leaps to the top and hits a hurricanrana on Eterno. Suicide leaps to the outside and misses an attack. Kid does a 450 off of the apron onto Suicide. Myzteziz Jr hits a tornillo splash over the top rope on Eterno. Super Fly hit a spanish fly on Vikingo. Vikingo fights back and drop kicks Eterno and then hits an imploder 450 for the win. Hijo del Vikingo pins Eterno with an imploder 450.
Winners: Laredo Kid, Myzteziz Jr, and Hijo del Vikingo
Drago, La Parka (Pagano), and Murder Clown vs Taurus, Daga, and Chessman
Match begins with Drago and Daga going at it. There's a bunch of back and forth action to begin the match. It actually remained in standard tag format much longer than most AAA matches. Pagano and Chessman exchange strikes and fight back and forth. Taurus spears Pagano. Chessman attacks Pagano with a chair. Daga postures to the crowd. Pagano tries to fight back to no use. Pagano hits a double neck breaker for the come back. Drago hits a head scissor on Taurus. Murder Clown hits him out of the ring. Murder launches Drago into a big dive. Pagano hits a middle rope flip dive on Chessman. Murder Clown press slams Daga onto the pile. Clown then hits a dive over the top rope. Murder fights with Taurus in the ring and does a 619. He hits a splash on Taurus but Chessman breaks it up with a chair. Pagano hits a back breaker on Chessman for a two broken up by Daga. Drago hits Daga with a Candian destroyer. Drago goes for a dive but Daga hits him with a trash can and puts him on a table. Daga goes for a dive but Murder knocks him off. Taurus and Murder fight for position on the apron but Murder death valley drivers him onto the table. Chessman kicks Pagano in the nuts twice and the ref doesn't see for the win. Chessman pins Pagano with a groin strike.
Chessman and Pagano cut promos on each other.
Winners: Taurus, Daga, and Chessman
Dr. Wagner Jr, Psycho Clown, La Parka and Puma King vs Blue Demon Jr, Rey Escorpion, Texano Jr and La Hiedra)
They announce that the Young Bucks defeated the Lucha Bros and they'll face each other in Mexico on 6/16. I believe Cody will be there too. Well I hey Hiedra is actually apart of this match. Originally La Parka wasn't in the match. They start brawling to start and Wagner is almost bleeding immediately. Demon slaps Wagner. La Parka gets beat on with a chair. Puma King gets worked on next. Then they hit a pose. Escorpion hits Texano by accident. Parka then gets the chair and hits everyone. Clown and Puma then do the fusion dance. And then Clown does it with Wagner. Wow. They're working over Blue Demon together. Wagner hits a dragon screw on Blue Demon and then the tecnicos hit poses. Clown takes on Escorpion and Texano. He hits Texano with a bullrope. Escorpion hits Texano by accident. They argue and Clown makes them kiss. Parka comes in and makes Escorpion and Texano hit each other by accident. Instead of doing the spot where La Parka puts someone's face in his crotch he instead kisses Hiedra. Wagner and Demon get in there and posture. Wagner drop kicks Demon to the outside and Demon pulls him off of the apron and attacks him with a chair. Puma runs over Hiedra a few times. King does a springboard dive to the outside and does a good job protecting Hiedra. Psycho Clown does a front flip off of the turnbuckle on to Escorpion. Parka dumps Texano to the outside and then Parka spears Texano through a table. Blue Demon is beating up someone who has a mask on. I guess an alley to Wagner. Wagner hits a michinoku driver on Blue Demon then his companion hit a frog splash for the pin. Dr. Wagner pins Demon after Demon was hit with a frog splash.
Winners: Dr. Wagner Jr, Psycho Clown, La Parka, and Puma King