Joe's Lucha Libre Weekly: News & Analysis (5/29/19)
Joe Dinan takes a look back at the week that was in the world of Lucha Libre!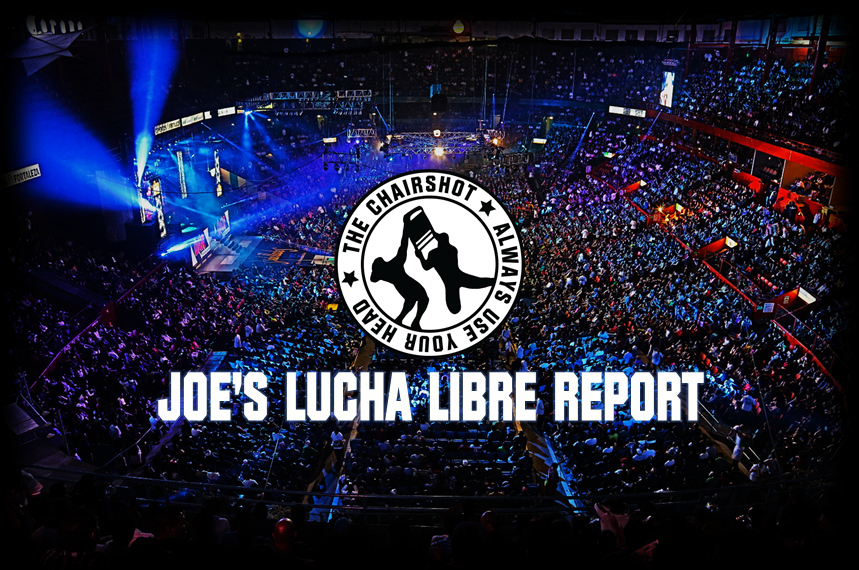 Joe Dinan takes a look back at the week that was in the world of Lucha Libre!
CMLL
I'm going to start summarizing this week in CMLL rather than separate it by shows. On the Monday shows they're doing a 3 week long version of the tag team tournament they just did for the main Friday show. Giving the Puebla audience a little something. The Puebla Shows are usually pretty fun shows. Niebla Roja and El Terrible won this weeks block and are set to face Volador and Mephisto next week assuming Volador is healthy enough. Or has the desire. This week's Tuesday show was said to have been a very fun show. There was a very good lightning match between Star Jr and Sagrado that went to a time limit draw. I feel like they do not utilize the time limit draw enough for lightning matches to set up future matches. Rush and Angel de Oro might be setting up a singles match next week. On the Friday show Virus lost his tag match which was weird since next Friday he's facing Metalico in a retirement match. Kaho Kobayashi and Amapola continued their feud which does have a lot of emotion behind it to set up their hair vs hair match next Friday. Ultimo Guerrero and Mascara Ano 2000 continued their feud leading into the show next week where they'll have a hair vs hair match as well. Mistico had a break out match against Cavernario in the main event in which Mistico won.
Next Friday's big show, El Juicio Final is looking like this Ultimo Guerrero vs Mascara Ano 2000 in a hair vs hair match. Caristico, Volador Jr, and Mistico vs Mr. Niebla, Cavernario, and Negro Casas. Diamante Azul and Valiente vs Gran Guerrero and Euforia for the tag team belts. Kaho Kobayashi vs Amapola in a hair vs hair match. Metalico vs Virus in a retirement match. Angel de Oro, Soberano Jr, and Niebla Roja face Mephisto, Ephesto, and Luciferno and in the opener Blue Panther Jr, Rey Cometa, and Black Panther will face Kawato, Misterioso, and Disturbio. So we have the rare 7 match card. I'm actually very excited about this card. A lot of matches with consequences and the undercard has some stacked names on it. I'm very happy Kaho Kobayashi and Amapola were given higher billing than Metalico and Virus. Metalico and Virus' feud started on the Sunday show while Amapola and Kaho have been more exposed on TV. And I like it too. It's a fun feud. Keep an eye on CMLL's twitter and Facebook or Rob Viper or Luchablog on Twitter as they'll have word if it's an IPPV or not since my next Weekly won't be out till after and CMLL likes to announce things the day before the show.
AAA
The biggest AAA news this weekend was the Young Bucks beating the Lucha Brothers at Double or Nothing. The Young Bucks will be in Mexico on 6/16 to face the Lucha Brothers. That card is a ways away but it looks to be a fun one. Anyway AAA also had a show during Double or Nothing which I was able to watch because Saturday was my only free day. So they're continuing this Nino Hamburguesa Lady Maravilla Big Mami feud which has been built up longer than any WWE storyline. It's getting a little repetitive for me but you know what, the crowd goes crazy for it. They continued the feud with Faby Apache and Hijo del Tirantes the heel ref who made a fast count. There wasn't that much major stuff on the show. There was a 8 person tag in the main event. Which for all the tags AAA has they don't do 8 man tags that often. Psycho Clown, Dr. Wagner, La Parka, and Puma King faced Blue Demon Jr, Texano, Rey Escorpion, and yes La Hiedra. She's benefitting the most from La Mascara rage quitting AAA. The tecnicos team ended up winning the match but really there wasn't anything special to build up the feuds.
AEW
I feel like I'm allowed to talk about AEW because there's Lucha talent there, specifically guys from AAA. The Battle Royal was skippable. Apparently there was talk of putting the preshow on TNT before the NBA playoff game and thank goodness they didn't. Not shitting on it but that preshow had me very worried. The Librarian segment should have either ended very quickly or just not happen at all. I know they pay off things from Being the Elite, this wasn't the place for it. The first match on the show, SCU vs the Stronghearts was a great opener. The surprise of Awesome Kong was pretty cool. Jack Evans and Angelico had a fun tag match with Best Friends. I loved the 6 women Joshi match. Cody and Dustin was on another level to me. What a tremendous match. Young Bucks vs the Lucha Brothers reminded me of Mike Awesome and Masato Tanaka in the sense that they've had a series of matches where they so desperately don't want the other to get over on the other so they keep trying to top the other. It was great. Kenny and Jericho was also a great main event. Jericho winning makes sense. Kenny is better when he's chasing the title. You need Jericho and his star power to build prestige and be that pedestal that someone finally conquers.
———
Small announcement. Nothing major really. After thinking about it some, I've decided to switch up how I do my reviews of the CMLL and AAA shows. An explanation why is, because I feel like since I'm not doing live play by play and I'm moreso summarizing the action as it happens, that it comes across as a little repetitive and scrambled. It's not a huge change, but I'm going to change it up by listing the finishes for each match or fall, then giving a brief summary about the important aspects of the match and the overall story of it and where it is headed or where I think it's headed. I think that's a more constructive way to review and break down these shows to give a feel as to the week to week workings rather than a vague play by play. I feel it'll be less repetitive on the eyes and on me honestly.
Back to the Lucha…